14 Golden Globe Dresses That Could Be Wedding Dresses
Jan 13, 2015
We LOVE award show season. Of course, it's great to see what TV and film stars get recognized for their great work, but let's be honest here, what we really get super excited about is all that red carpet fashion. From the utterly stunning to the downright disastrous, we can't get enough. But as you're ogling over your favorite starlet's dramatic gown, you might think to yourself, "That's gorgeous, but where would I ever wear that?" Well, hello brides-to-be! Skip the bridal expo, the red carpet is all the inspo you need to find the perfect dress. If you need a little bit of help getting started, you're in luck. Here are 14 looks we bride-ified from this year's Golden Globes.
For the Bling Fanatic
---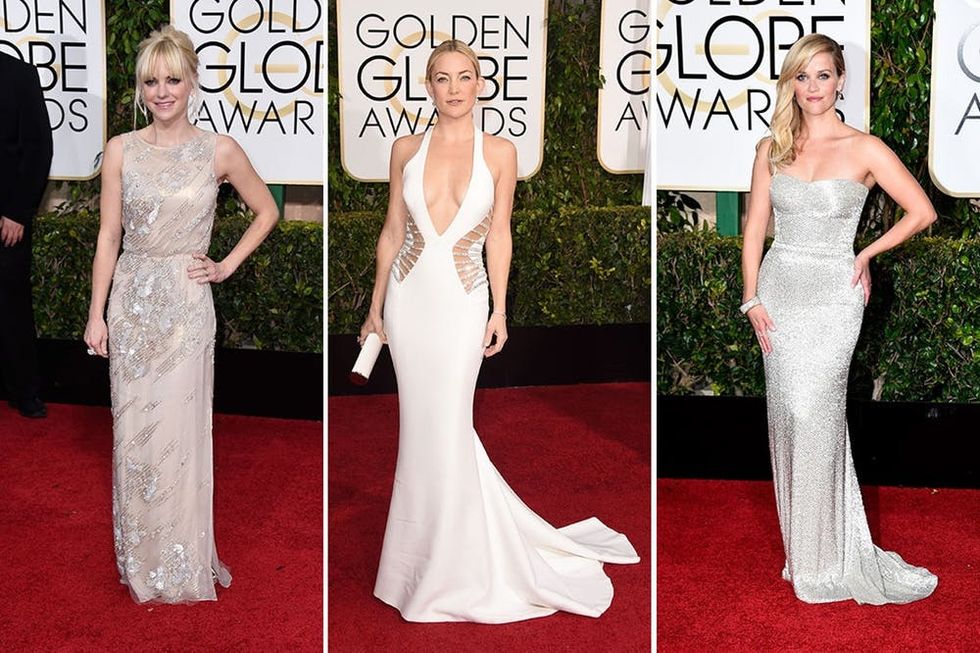 Whether you're looking to add a little bit of sparkle to your look or dip yourself head-to-toe in the stuff, these styles are a great example of how to rock glitter at both ends of the shimmering spectrum. (Photos via Frazer Harrison/Jason Merritt/Getty)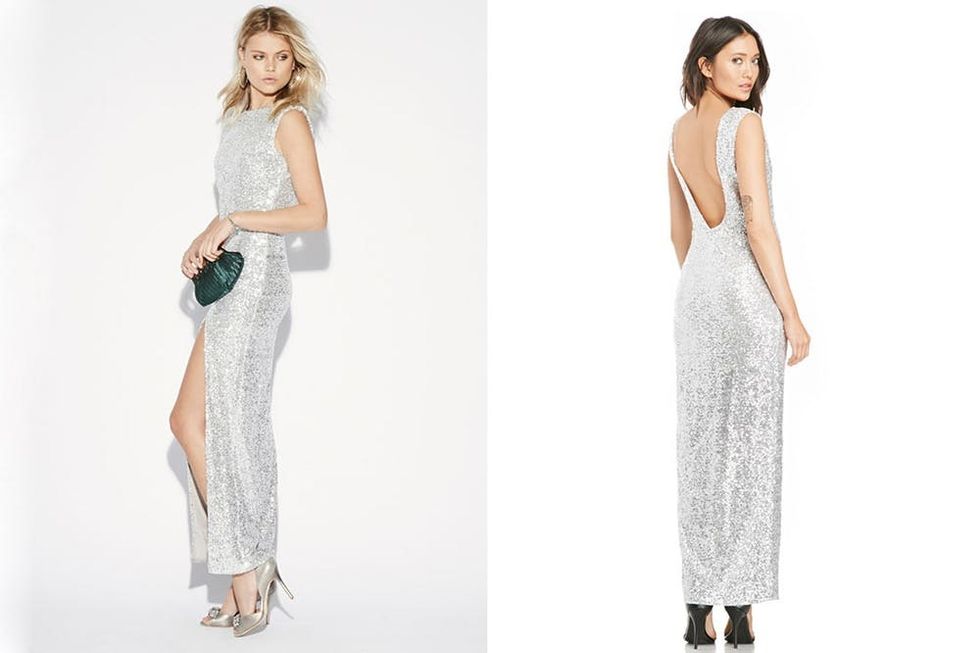 1. Sequined Maxi ($100): Go full glam on this whole wedding by channelling Reese Witherspoon's fully glittery gown. This definitely isn't for the timid, but hey, it's your wedding day. All eyes should be on you.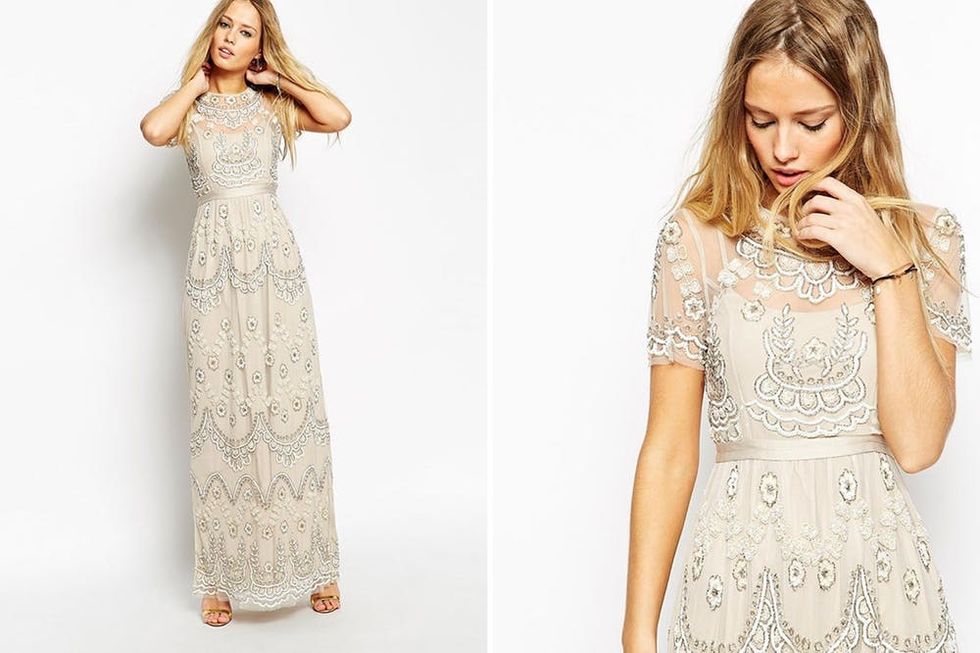 2. Embellished Tiered Petal Maxi Dress ($474): Channel the charm of Anna Faris' ensemble in this ivory-colored, beaded gown. Here you'll get a whole lot of sparkle without worrying about coming off like a walking disco ball.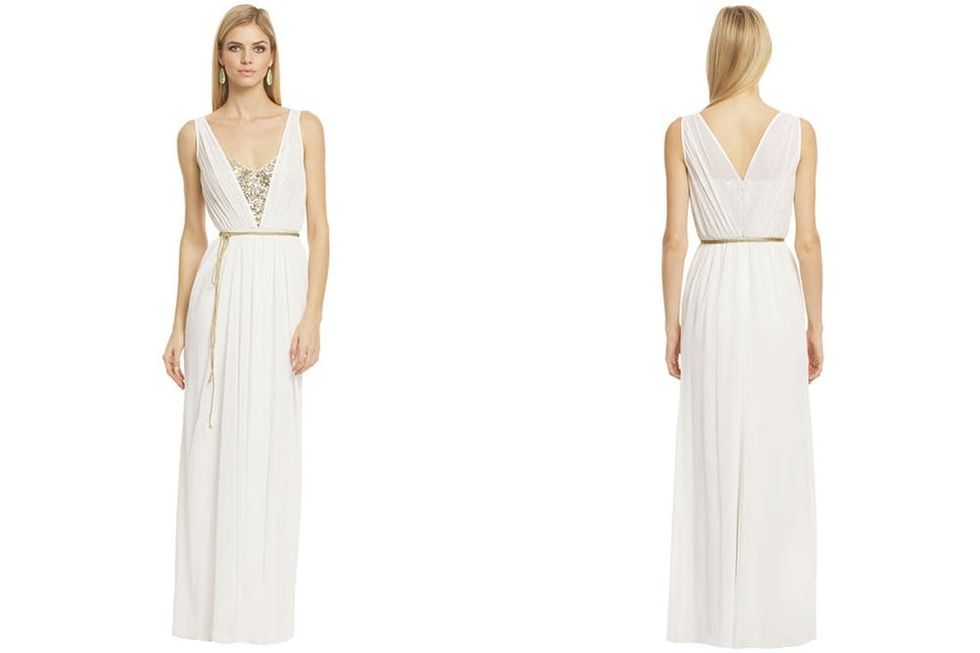 3. Rhodes Harbor Gown ($100): Kate Hudson's plunging neckline might be a bit (okay, a lot) too dramatic for a family affair, but you can still get both the drama and the bling with this dress that keeps that plunging neckline, but in a much subtler way.
For the Boho Bride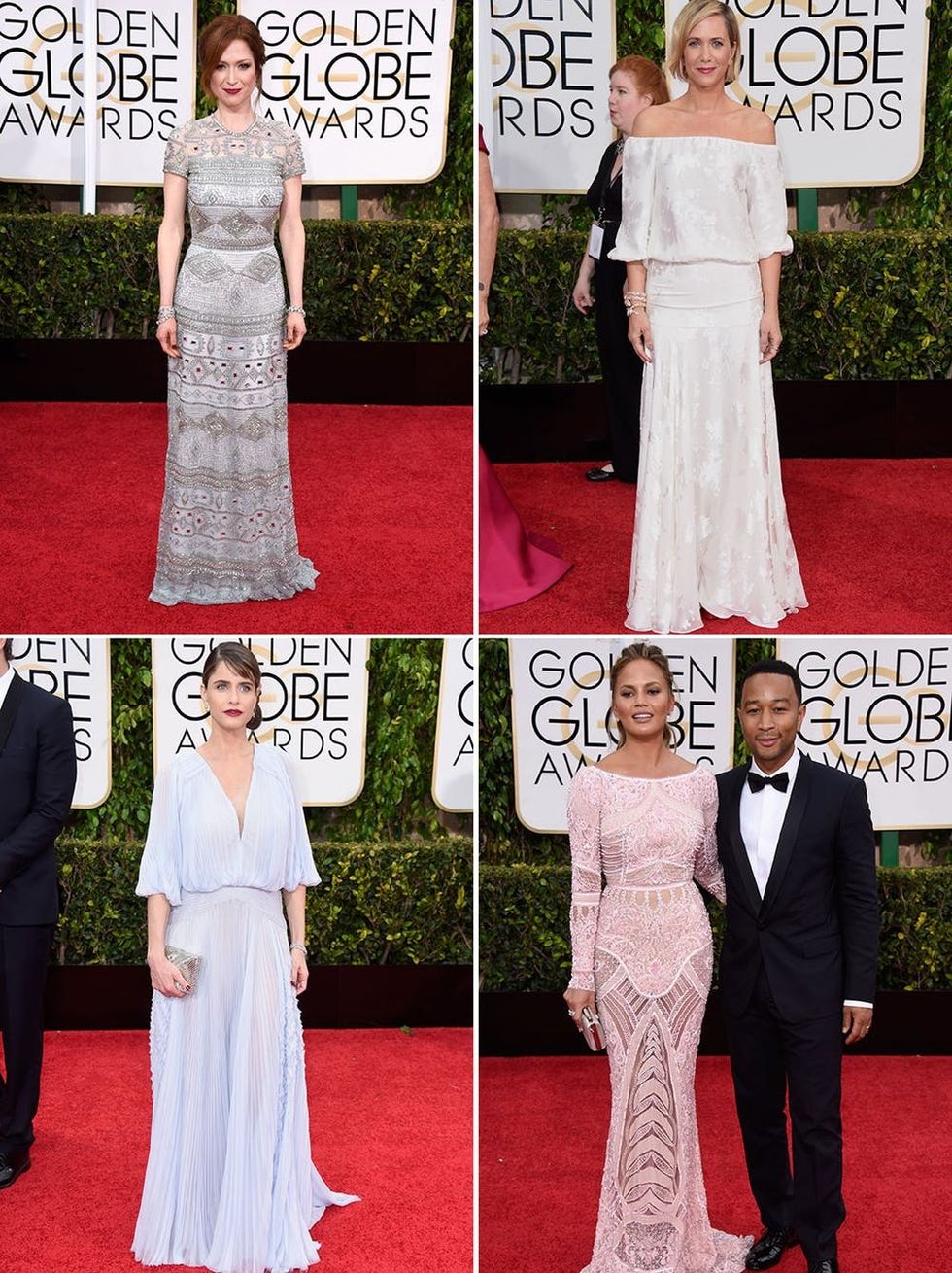 For the laid back, bohemian bride, these picks are for you. Whether you're getting hitched in a renovated barn or on a rooftop terrace, these super cool looks will look jaw dropping in either setting. (Photos via Frazer Harrison/Jason Merritt/Getty)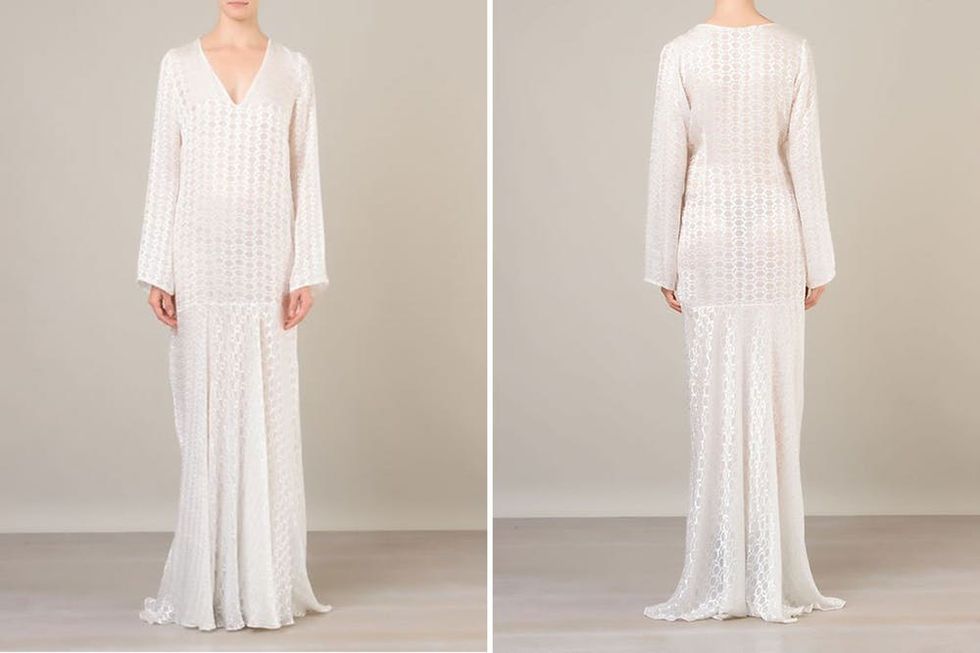 4. Geometric Pattern Long Dress ($596): Amongst all the short-sleeved gowns, Kristen Wiig's long-sleeved choice was a fresh of fresh air. This similar, relaxed boho dress is just screaming to be worn with a floral crown out in the Redwoods.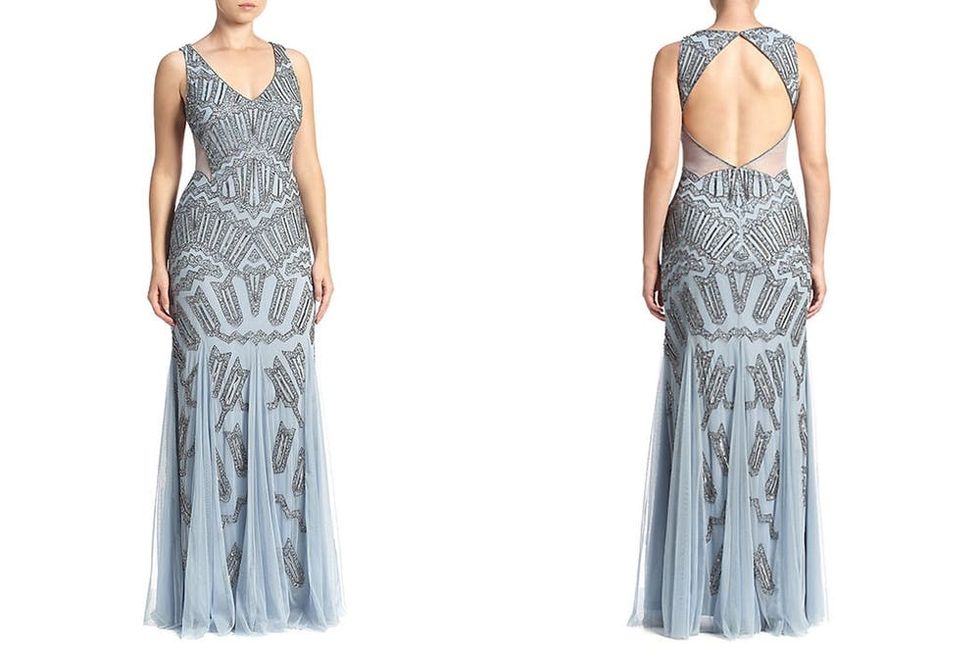 5. Adrianna Papell Long Beaded Dress ($500): Fall somewhere in between boho and glam with this dress inspired by Chrissy Teigen's gown. It's an alternative color for sure, but we say go for it.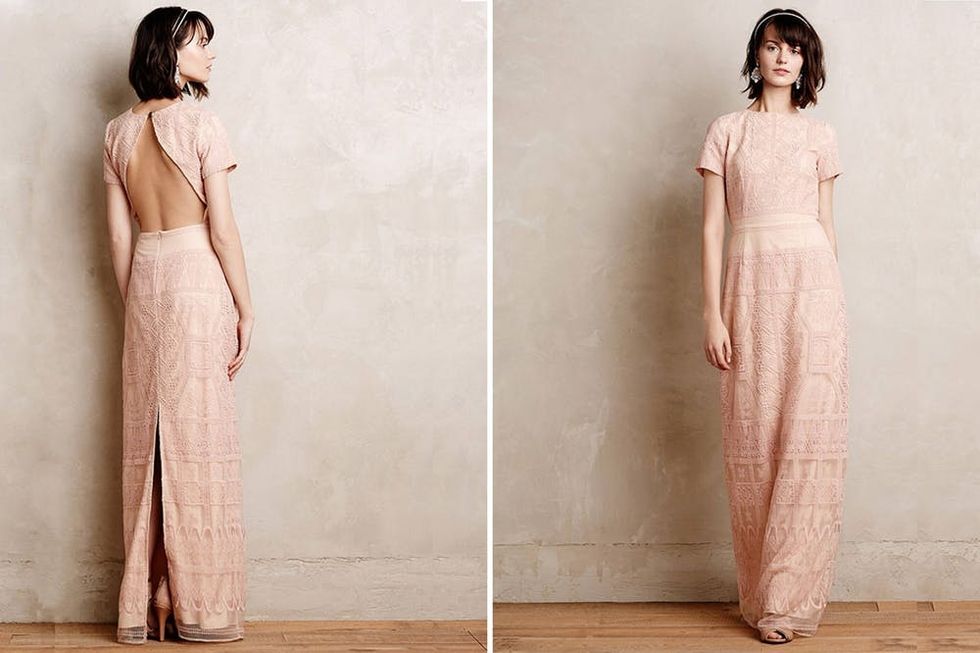 6. Amelia Gown ($528): Well hello, boho beauty! Whether you're headed to city hall or your backyard to tie the knot, this rose-hued piece is alternative enough to stand out, but still evokes a definite bridal vibe. If you're looking for a little more sparkle, try this Lace Petal Maxi Dress ($630) that's similar in color but with a little extra bling.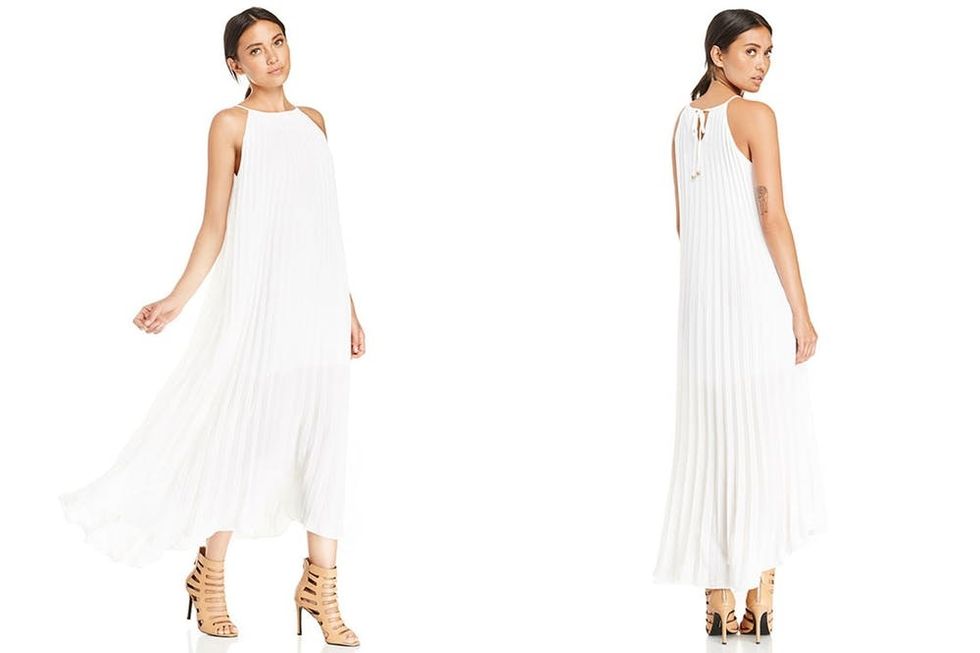 7. Line and Dot Pleated Maxi ($120): We're loving the accordion detailing Amanda Peet brought to this year's Golden Globes. Translate the trend in the same style, but in white for a more bridal kind of vibe. If you're missing those cape sleeves, pop this beaded cover up on over it ($150).
For the Ultra-Trendy Bride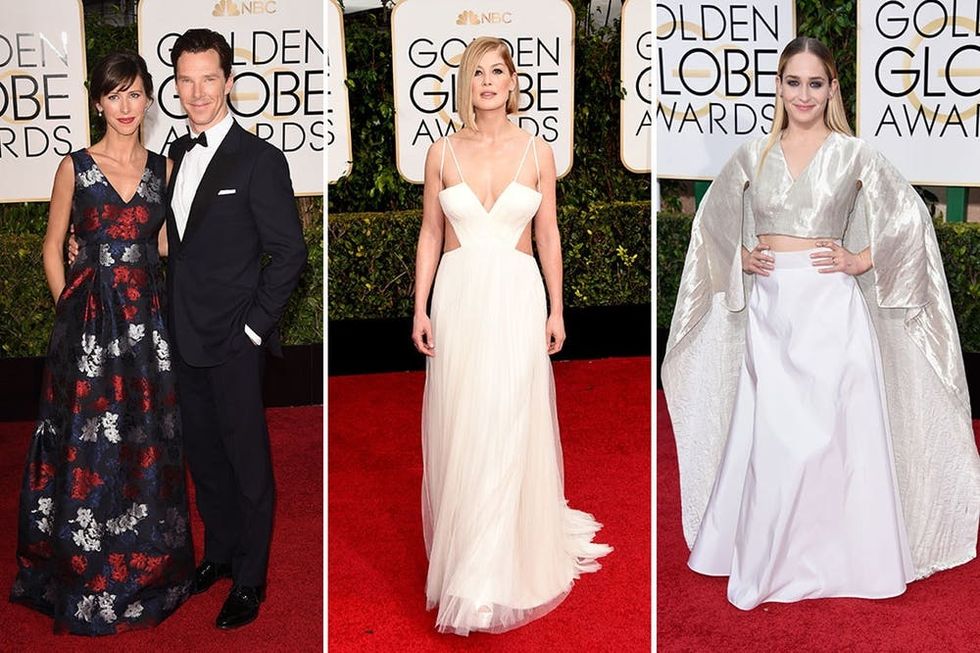 For all those risk takers out there, here are a few styles to try that you won't be seeing left and right come wedding season, which makes them all the more cool. Whether you decide to take hints from Jemima Kirke's caped gown or from Sophie Hunter's floral dress, the result is bound to be epic. (Photos via Frazer Harrison/Jason Merritt/Getty)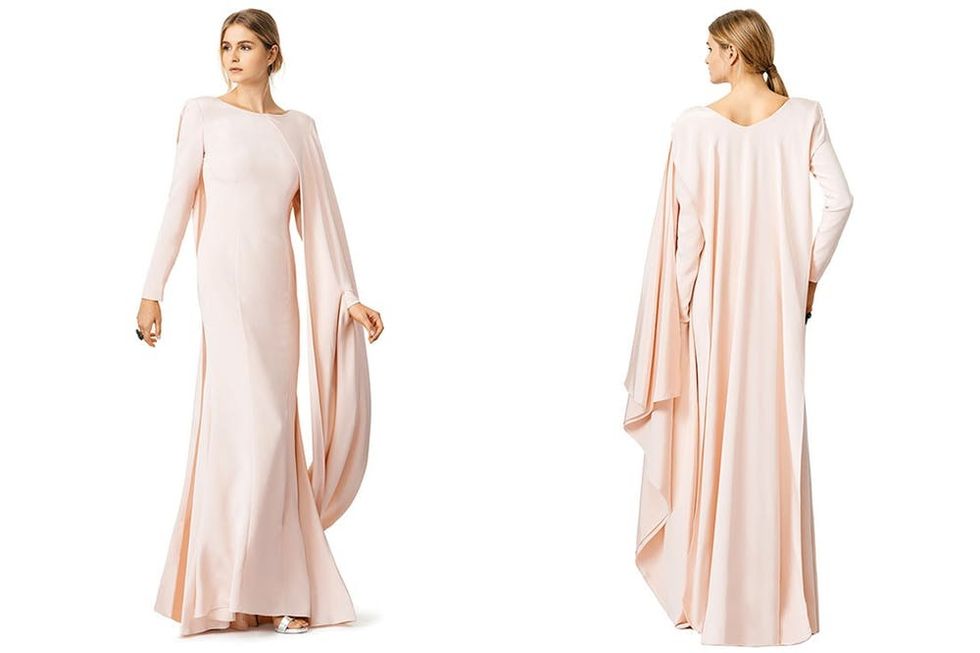 8. Blush Camila Gown ($450): Ditch the veil and go for this budding trend. Spotted all over the red carpet (and on Solange), attached capes look not only extra formal but dare we say, otherworldly – in a good kind of way. This piece is available to rent for $450, or if you have a budget of epic proportions, splurge on this Tom Ford Sleeveless Fitted Gown ($4, 372).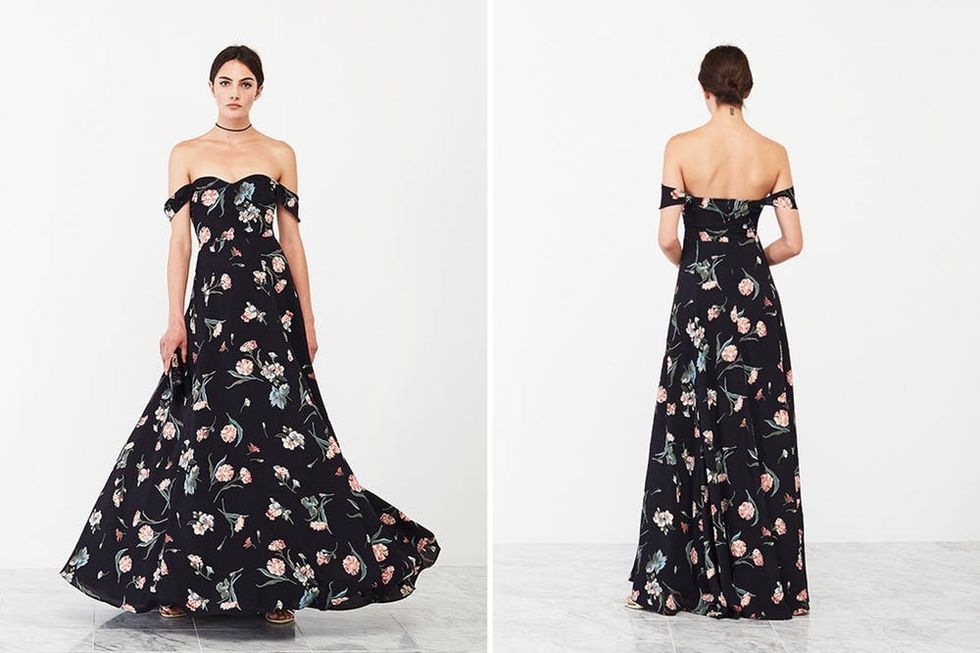 9. Constance Dress ($380): Floral might not scream "bridal" at first glance, but we say give it a chance. Paired with a matching bouquet and maybe even a floral crown, you'll look like Mother Nature herself.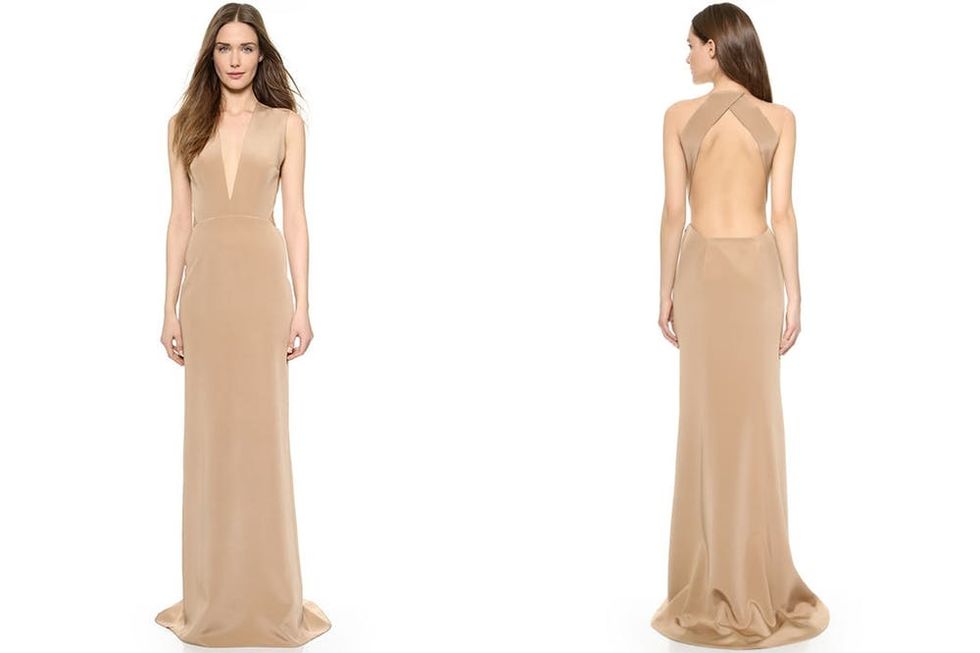 10. Backless Deep V Gown ($2,795): Sleek, simple and totally sexy, this ensemble might be minimal, but it sure does make a big impression. We're loving the nude color of this dress, but if you're longing for a classic white, try this BCBG beauty ($221).
For the Classic Beauty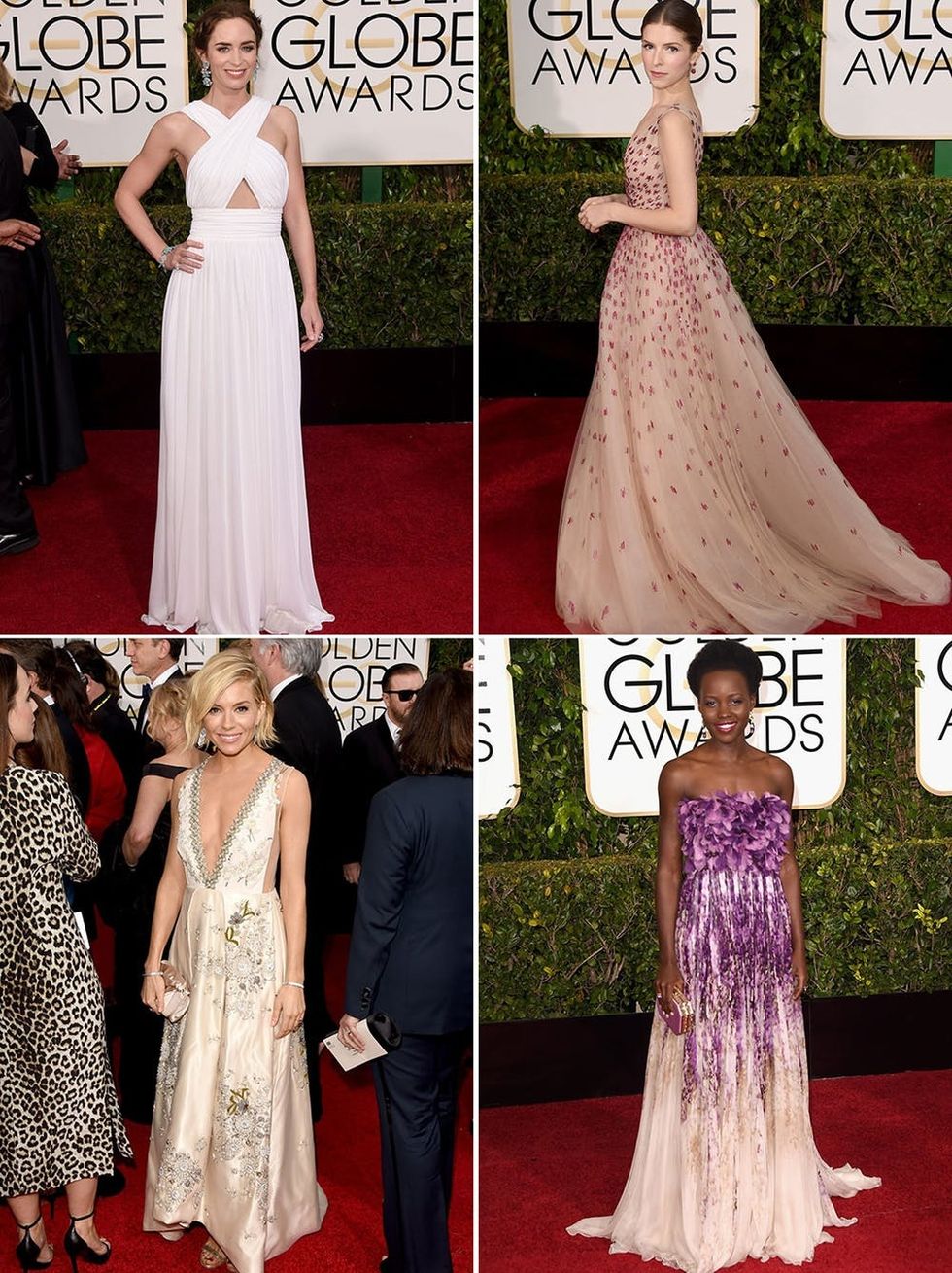 Sometimes you just can't be a classic. While most of these picks are embroidered and embellished, they still evoke a timeless sense of beauty that will look just as good in 50 years as it does today. (Photos viaFrazer Harrison/Jason Merritt/Getty)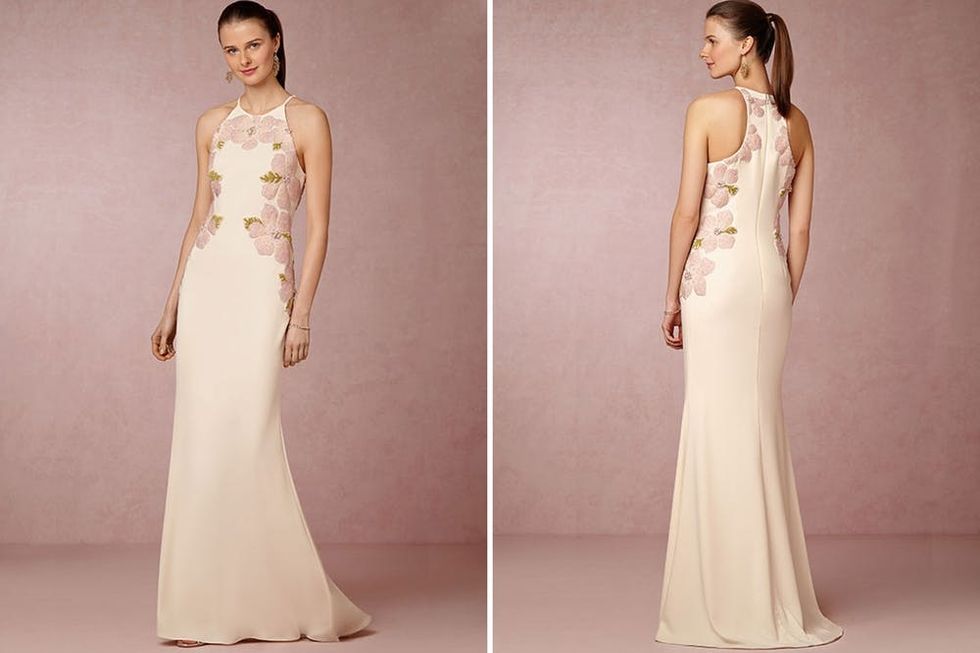 11. Calyspo Gown ($3,600): Pardon our drooling over Sienna Miller's bejeweled an embroidered dress. Keep the spirit of that style alive with this hip, high-necked option with floral embroidery in both the front and back.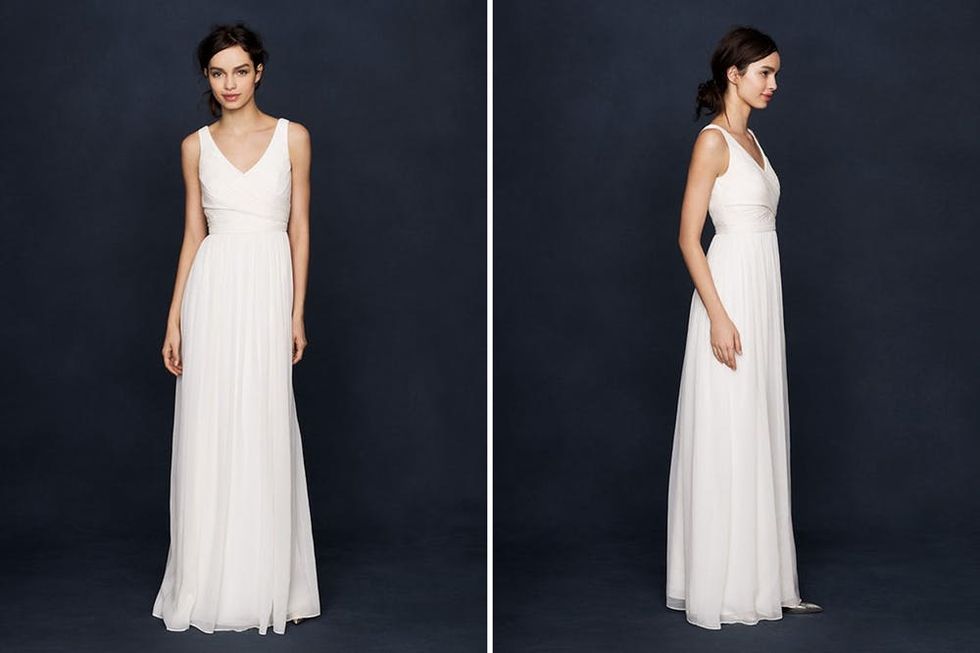 12. Heidi Gown ($595): Pick up on those Grecian vibes Emily Blunt is putting down and snatch up this empire waist dress that you can wear both on your wedding day and at your recommitment ceremony 50 years down the line.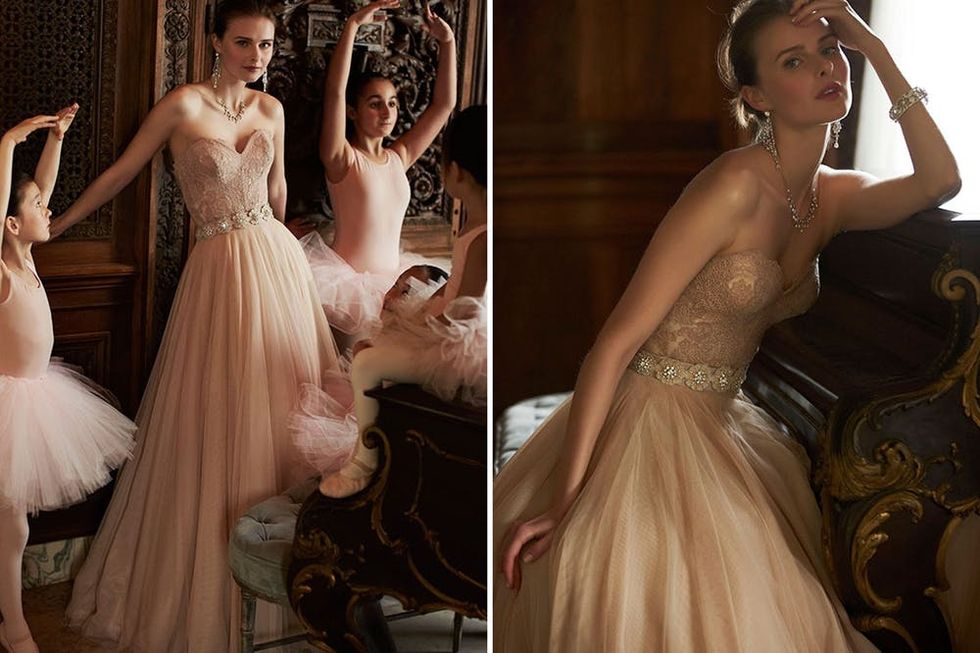 13. Carina Corset and Ashan Skirt ($1,860): We're calling it, this blush color is about to blow up in 2015. Get ahead of the trend in this ensemble – which is actually a tulle skirt and corset – resembling Anna Kendrick's princess worthy gown.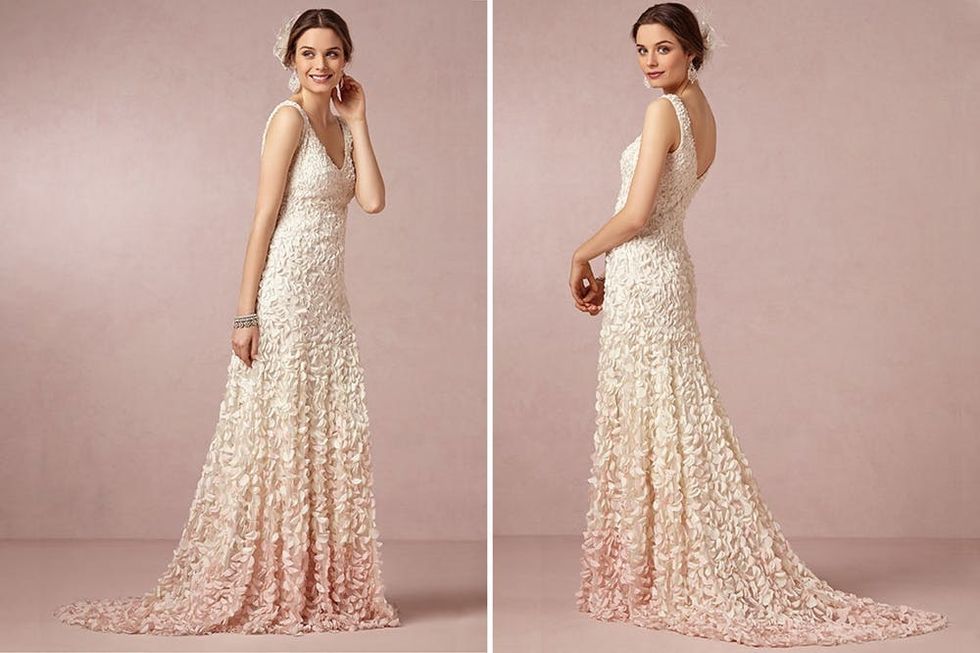 14. Emma Gown ($1,000): Petals for days! While this dress doesn't have the vivid violet color, it has Luptio's spirit – and that's really all you need right?
What red carpet dress do you dream about wearing on your wedding day? Share a pic with us in the comments below.
Cortney Clift
Cortney is the senior writer and special projects editor at Brit + Co. She typically covers topics related to women's issues, politics, and lifestyle. When she's not buried behind her computer you'll find her exploring New York City or planning her next big adventure.