Your One-Stop Holiday Gift Guide for Every Traveler in Your Life
Nov 30, 2016
Those who love to travel know that you do it for more than just the 'gram. You do it for the experiences, the memories and the ability to feel at home anywhere. Whether it's you who's hitting the road or a loved one who always has a ticket booked for a far off destination, there's something on this travel holiday gift guide for everyone (psst — Don't forget to check out our other holiday gift guides if you're in the gift-giving mood!). From chic carry-ons to must-have beauty items, this list is everything you need to give the best gift this year. Grab your passport and let's go!
GIFTS FOR THE WANDERLUSTER
---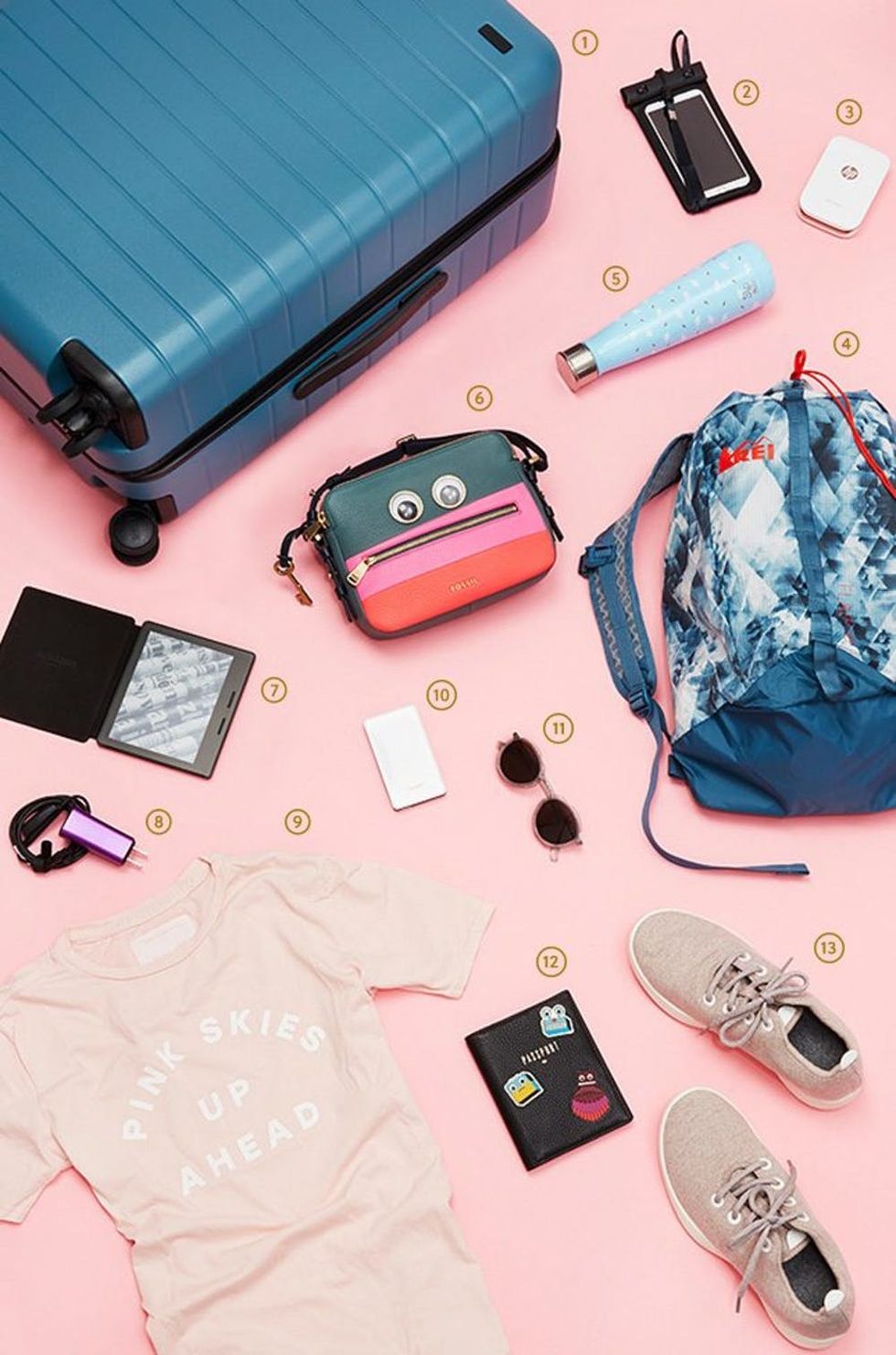 1. Away Travel The Medium Suitcase ($275), 2. Tethys Waterproof Case ($12), 3. HP Sprocket Photo Printer ($130), 4. REI Special Edition Flash 18 Pack ($40), 5. S'ip by S'Well Blue Polar Bears and Salmon Water Bottle ($25), 6. Fossil Piper Toaster Bag ($158), 7. Kindle Oasis ($290), 8. FINsix Dart Charger ($100), 9. Bando Pink Skies Ahead Shirt ($38), 10. Ventev Powercell 3015 Battery Charger ($35), 11. Warby Parker Grady Sunglasses ($145), 12. Fossil RFID Passport Case ($55) + Robot Leather Stickers ($18), 13. Allbirds Wool Runners ($95)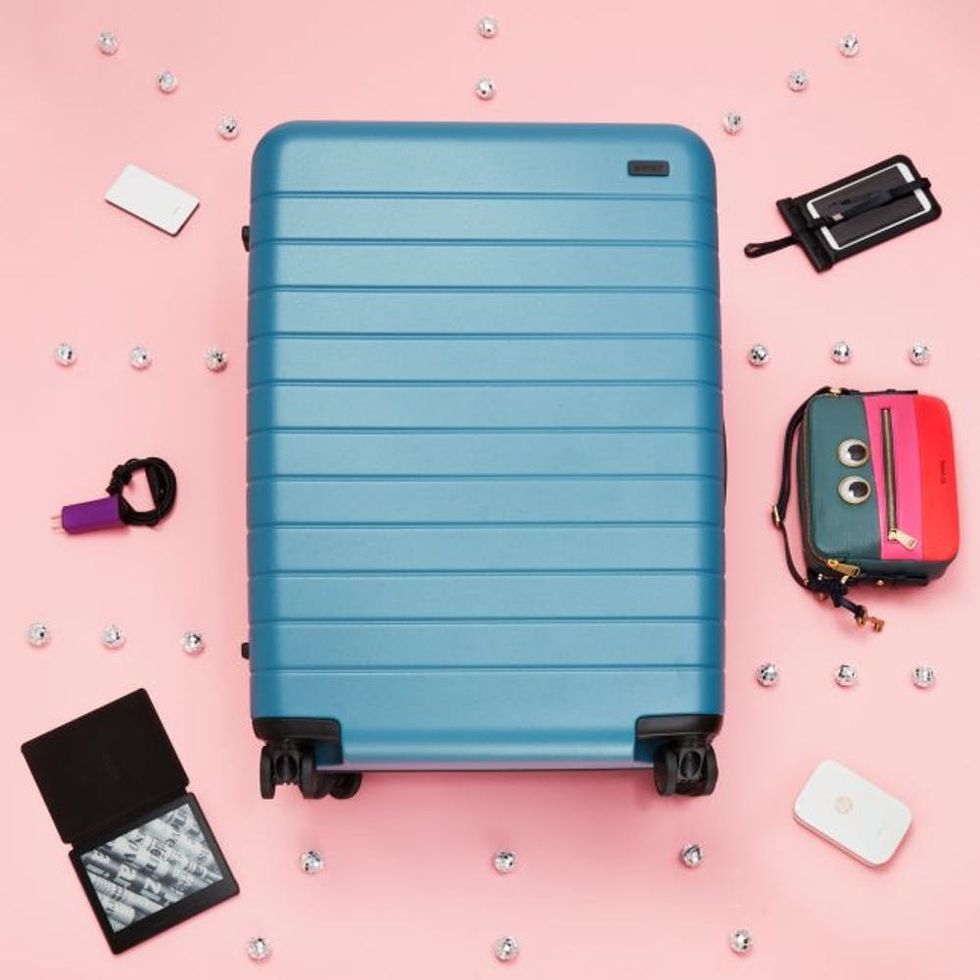 When you're on the go, you're gonna want a good book to read. The Kindle Oasis is the thinnest and slimmest new addition to the Kindle family and has the longest battery life thanks to its dual-battery charging system, with one in the body and one in the cover. The Away Medium check-in size is one of the lightest on the market — weighing in at only 8.5 pounds — and comes with an interior compression system, a TSA-approved lock built in AND removable laundry bag. Did we mention that the FINsix Dart Charger is the smallest laptop charger in the world? Everyone knows (small) size matters when you're on the road.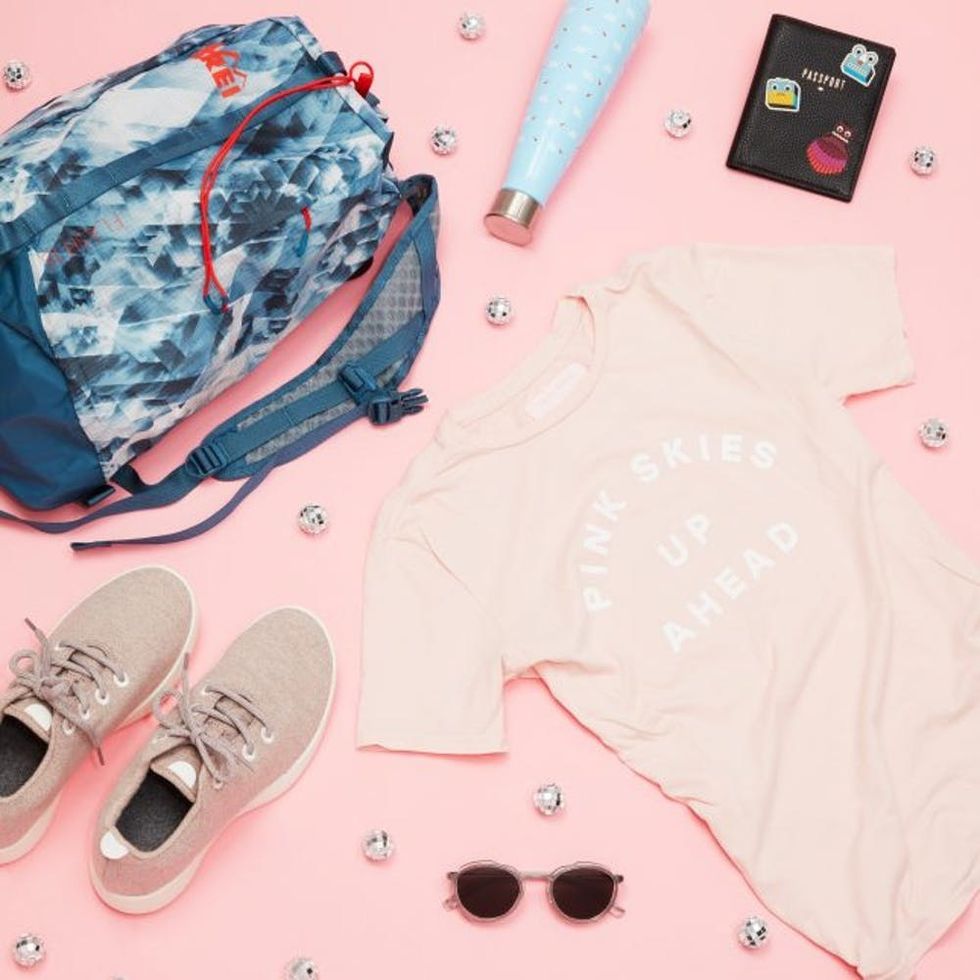 Once you're at your destination, you want to make sure you've got all the things you need. The REI Special Edition Flash 18 Pack is a lightweight yet stylish way to keep all your stuff together. The WB Grady shades keep your eyes protected in true jet-setter fashion and the Bando tee will keep the happy vibes coming. You travel bug-bitten babes never know where you're gonna wind up, so make sure your shoes are cut out for lots of walking. These Allbird Wool Runners are ultra cushy on your feet and don't compromise on style.
TRAVEL SIZED BEAUTY FOR THE WANDERLUSTER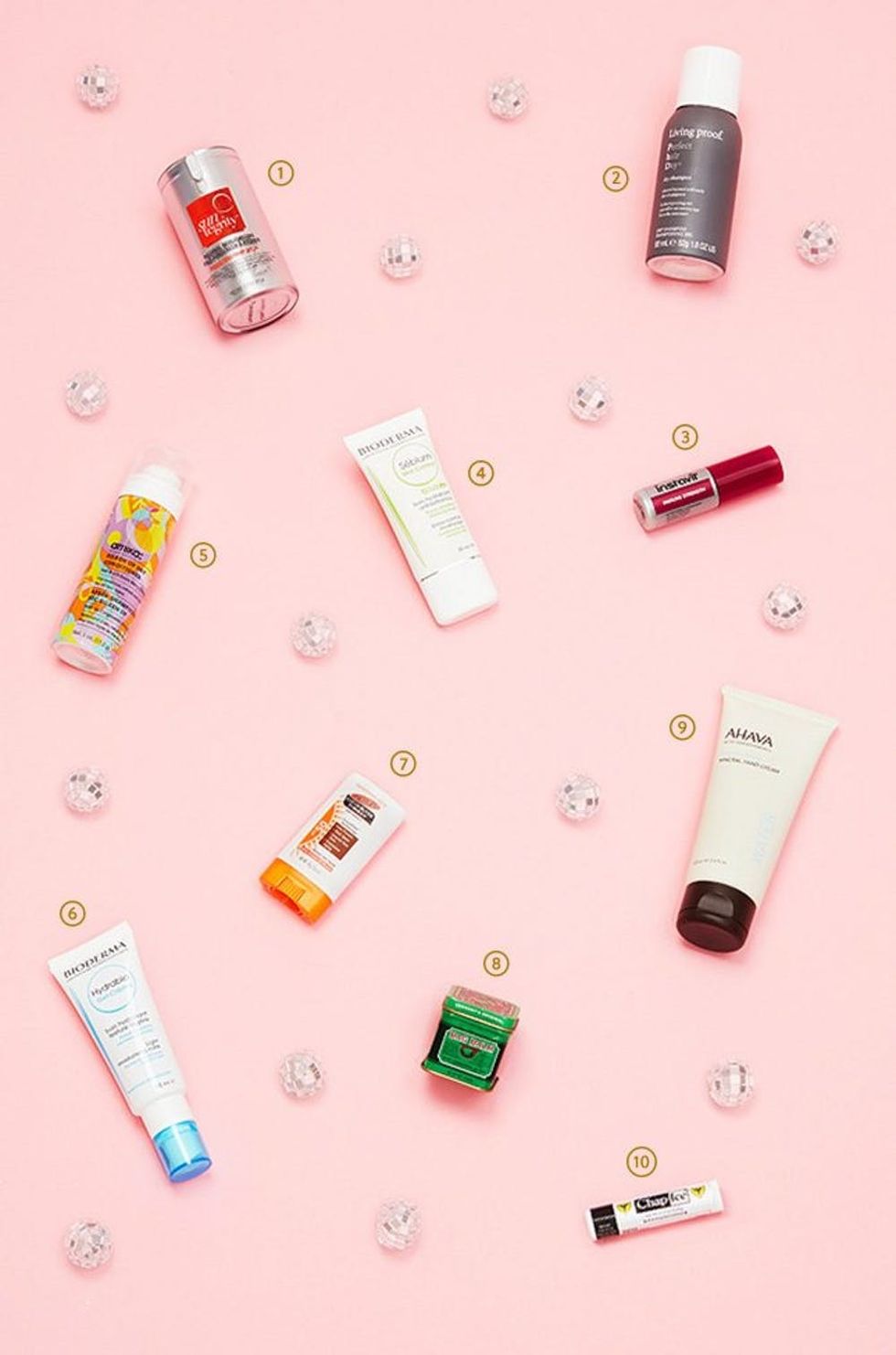 1. Suntegrity Natural Moisturizing Face Sunscreen & Primer SPF 30 ($45), 2. Living Proof Perfect Hair Day Dry Shampoo ($12), 3. Instavit Immune Strength ($16), 4. Bioderma Sébium Mat Control ($20), 5. Amika Silken Dry Conditioner ($10), 6. Bioderma Hydrabio Gel Cream ($25), 7. Palmer's Cocoa Butter Eventone Sunscreen Stick SPF 50 ($7), 8. Vermont's Original Bag Balm ($6), 9. Ahava DeadSea Water Mineral Hand Cream ($23), 10. ChapIce Original Lip Balm ($15 for 24 pack)
Sunscreen is a must when you're outdoors, so packing Suntegrity Sunscreen & Primer is non-negotiable. If you're in the market for a spillproof formula, go for the Palmer's Cocoa Butter Eventone Sunscreen Stick. To keep your coif smelling fresh, check out Living Proof's Perfect Hair Day Dry Shampoo and Amika Silken Dry Conditioner — in travel sizes of course. For chapped skin and dried cuticles (which are bound to happen when you globe-trot), you'll want an all-in-one product like Vermont's Original Bag Balm.
GIFTS FOR THE JETSETTER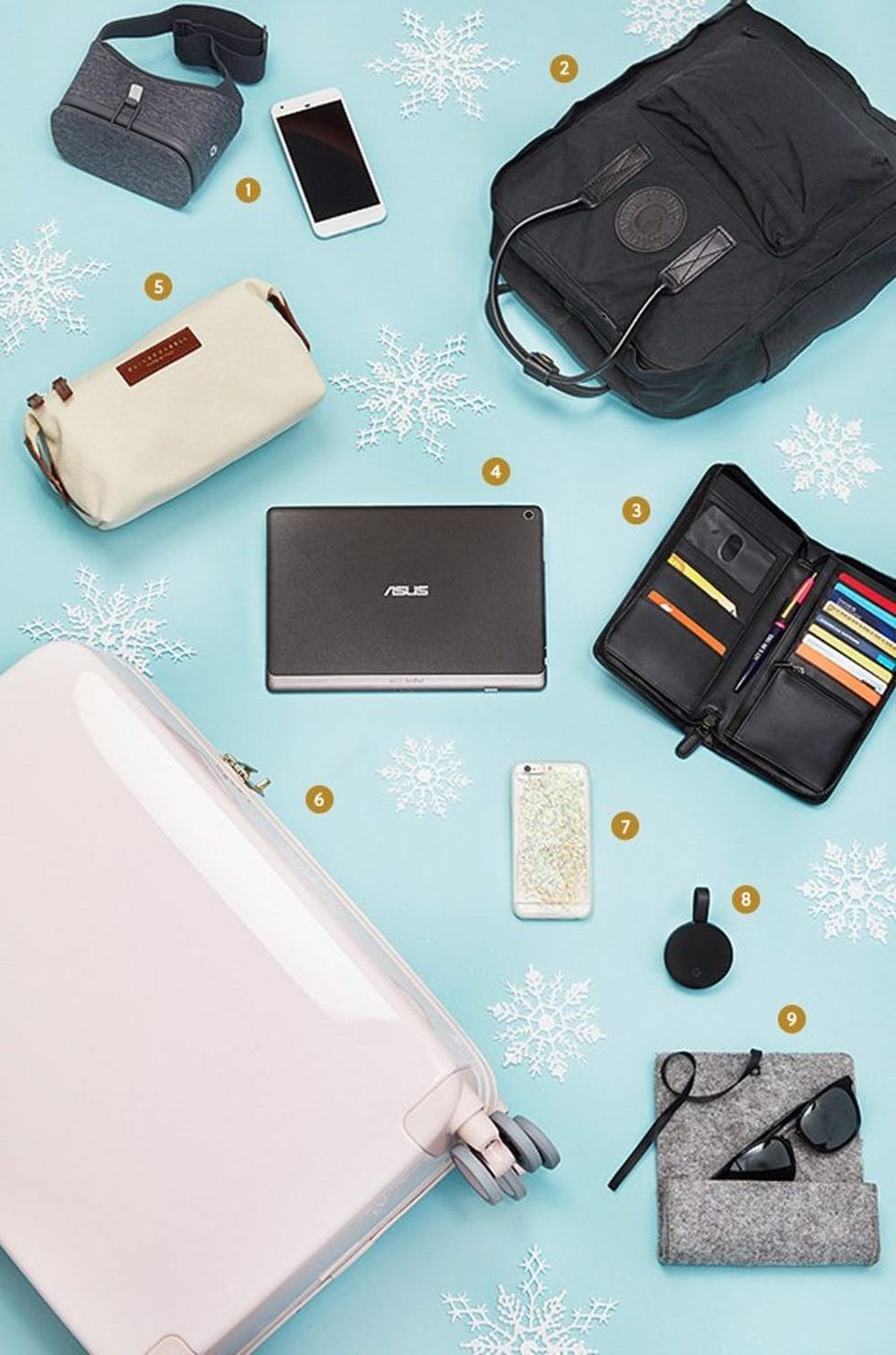 1. Google Daydream VR Headset ($79) + Pixel ($649), 2. Fjallraven Kanken Backpack ($75), 3. Pure Sir RFID Travel Wallet ($40), 4. ASUS ZenPad 10 ($150), 5. Oliver Cabell Arcata Travel Kit ($95), 6. Raden A22 Carryon ($295), 7. Bando Glitter Bomb iPhone 6S Case ($28), 8. Google Chromecast Ultra ($69), 9. Covry Vega Sunglasses ($95)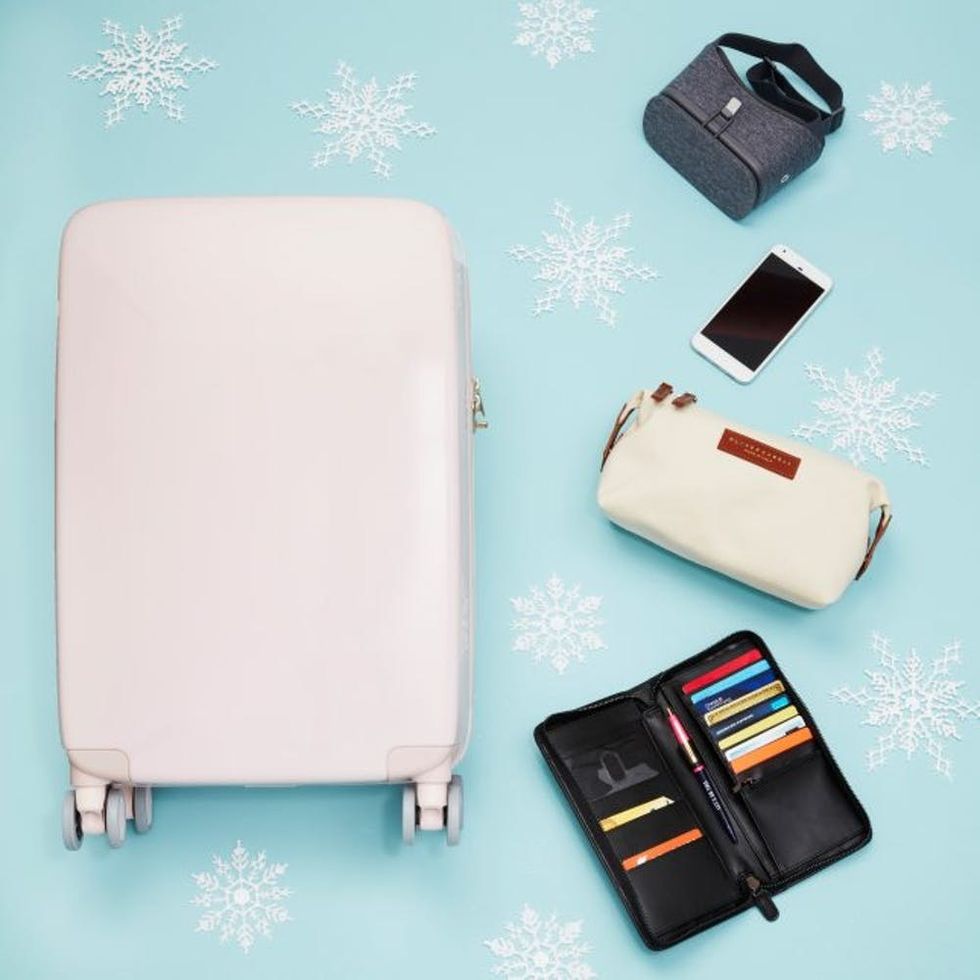 Raden's A22 carry-on is made with an ultra-durable polycarbonate shell and is the perfect TSA-approved size. It also has a built-in scale that weighs itself and two USB outlets to charge up your tech at the airport. Nifty! Oliver Cabell's Arcata Travel Kit is a gorgeous way to keep your toiletries organized. The Google Daydream and Pixel will keep you entertained throughout your flight with loads of VR games and movies.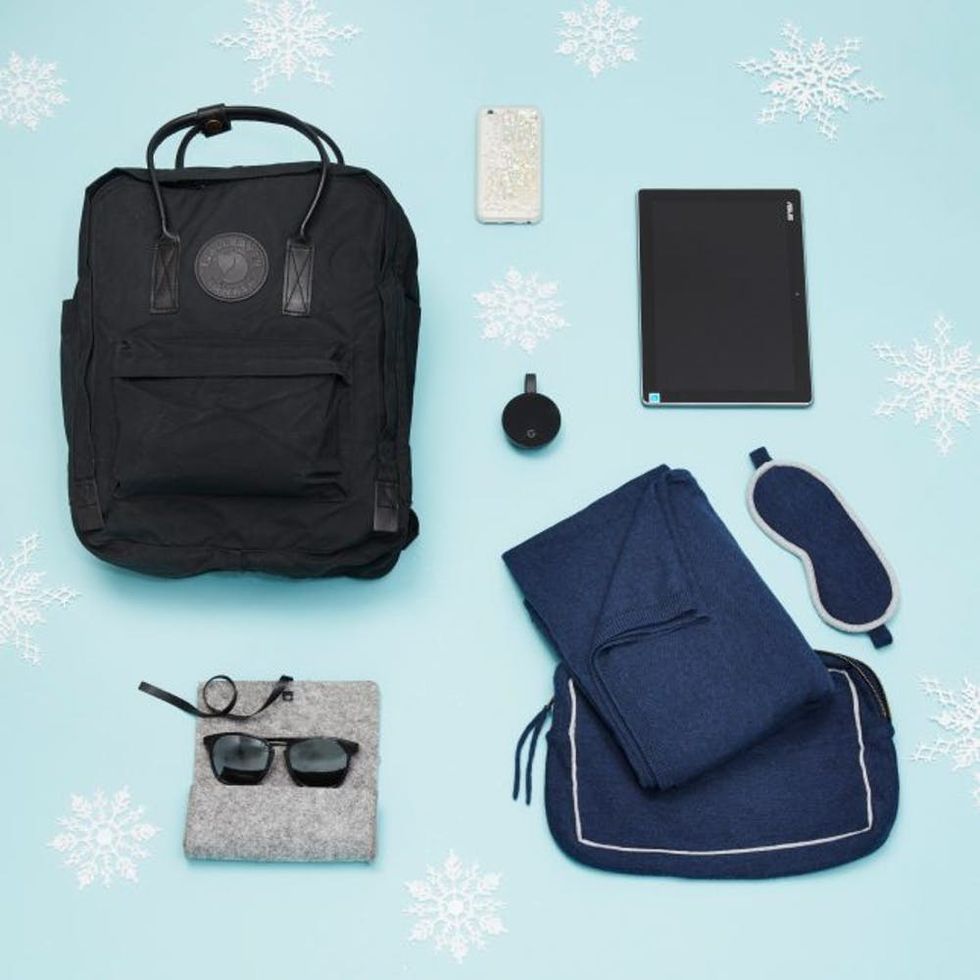 The Parachute Travel Kit ($160) comes with a Merino wool blanket, eye mask and its own matching carrying pouch. It's definitely the comfiest and most luxe way to relax on your flight. Once you get to the hotel, unwind by plugging in your Chromecast Ultra to keep up with all your fave TV shows in 4K. The Fjallraven Kanken backpack is the on-trend daypack you need while you're out exploring a new city and, of course, you'll want to bring a pair of Covry Vega sunglasses with you. Covry frames are expressly made for folks with a lower nosebridge, so you can stop pushing your sunnies up your nose all day long.
TRAVEL SIZED BEAUTY FOR THE JETSETTER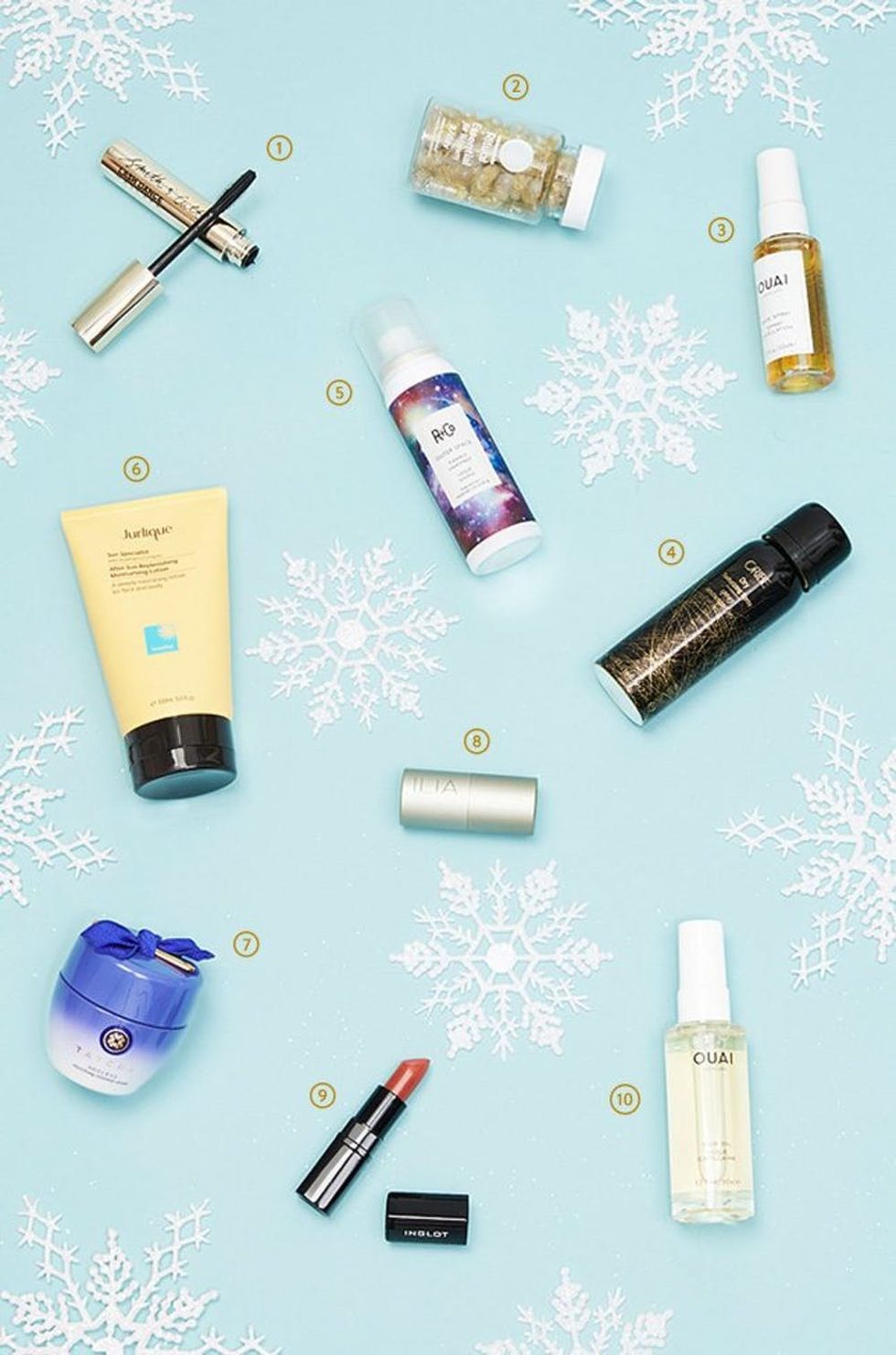 1. Smith & Cult Lash Dance Mascara ($28), 2. Ritual Essential for Women Vitamins ($30/month), 3. Ouai Wave Spray ($12), 4. Oribe Dry Texturizing Spray ($22), 5. R+Co Outerspace Flexible Hair Spray ($17), 6. Jurlique
Sun Specialist After Sun Replenishing Moisturising Lotion ($36), 7. Tatcha Enriching Renewal Cream ($185), 8. Ilia Cosmic Dancer Illuminator ($34), 9. Inglot Lipstick Matte 401 ($15), 10. Ouai Hair Oil ($28)
Traveling can certainly take a toll on your skin, which is why the Tatcha Enriching Renewal Cream is the luxurious way to put some oomph back into your complexion. Ouai Wave Spray will help you nail that rich girl wavy hair and the Ouai Oil will make your locks glossy AF. And to help you take care of your health on-the-go, Ritual Vitamins are a responsibly sourced subscription that's totally giftable too. Happy traveling!
Want more holiday gift-spiration? Check out the Brit + Co Holiday Gift-Topia and follow us on Pinterest!
 
Brit + Co may at times use affiliate links to promote products sold by others, but always offers genuine editorial recommendations.
Photography: Germaine Gatewood
Photo Styling: Kimberly Wang
Kimberly Wang
Kimberly Wang writes about all things pop culture, tech, style, and beauty. She's a Bay Area transplant and has an MFA in Creative Writing from Columbia University. On a sunny New York day, you can find her hanging out with her mini schnauzer Isabelle Jellybean on a blanket in Central Park.