5 Ways to Dress Down Your Fave Work Clothing for the Weekend
Oct 23, 2015
There's a good chance that your nine-to-five wardrobe and off-duty style are from two totally different worlds. And since you spend a good chunk of time at the office, we're guessing that your on-the-clock duds are dominating your closet, which makes those "I have nothing to wear" kind of moments turn into a total nightmare, especially when you're off duty. Suiting separates and boardroom-ready frocks at brunch — no, thanks! But those work-week essentials (and even your more elevated pieces) are totally capable of packing more punch than just outside of business hours. From proper pencil skirts to block heel pumps that punch up your commute, those dressed up duds are about to get an everyday makeover — and it's way is easier than you think. Here's how to dress down your work essentials to make them work 'round the clock.
How to Dress Down a Pencil Skirt
---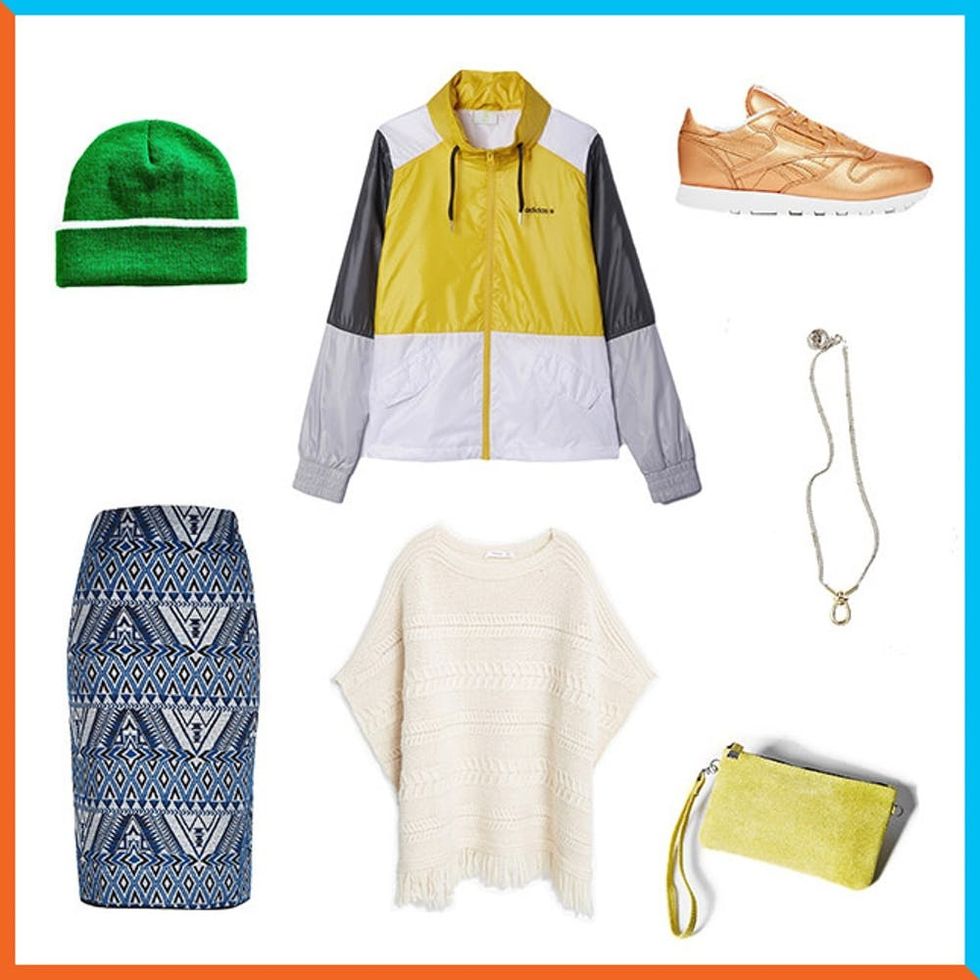 Pencil skirts say sophisticated and chic, but with just the right accessories they can be serious street-style bait. Balance out the figure-hugging silhouette with an oversized cape and a sporty color blocked topper for a more laid-back look. Sleek metallic sneakers pack an athleisure punch, while a bright beanie will keep you warm while adding edge to your amped-up off-duty getup.
River Island Blue Jacquard Pencil Skirt ($50) + Reebok X Face Stockholm Classic Leather Spirit ($92), Mango Fringed Cape ($80), Adidas Color Block Windbreaker ($50), Giles & Brother X Knot Pendant Necklace ($100), Silence + Noise Leather Wristlet $30, BDG Cuffed Rib-Knit Beanie ($19)
How to Dress Down Trousers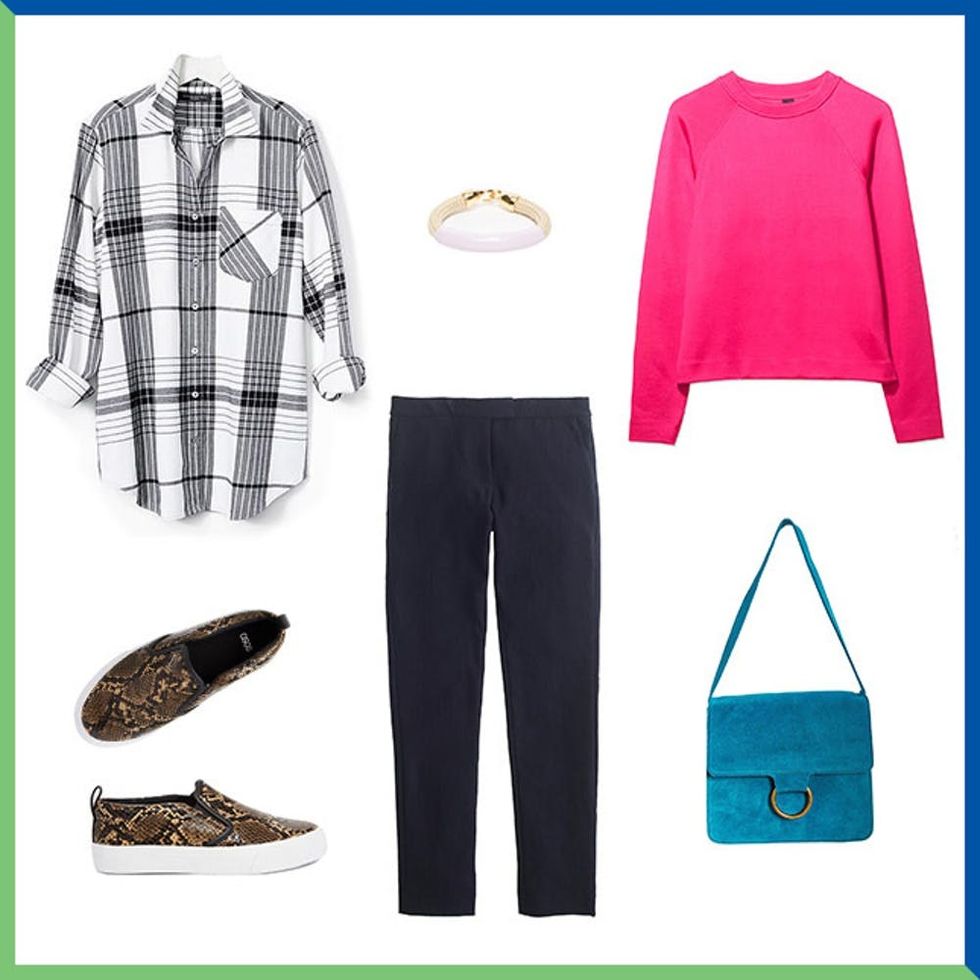 Tailored trousers are easy to work in just about anywhere, but to really cut their on-duty edge, pair up with pieces that scream off-the-clock, like a bright scuba sweatshirt, plaid top and slide on sneakers. Add in a few eye-catching accessories for good measure, like a bright suede sac and minimalist rope cuff.
J.Crew Ryder Pants ($98) + ASOS Delaware Sneakers ($45), Topshop Luxe Sweatshirt ($95), Orly Genger by Jaclyn Mayer Annabelle Bracelet ($83), Soft-Wash Bold Plaid Boyfriend Shirt ($70), Kimchi Blue Ring Shoulder Messenger Bag ($69)
How to Dress Down a Slip Dress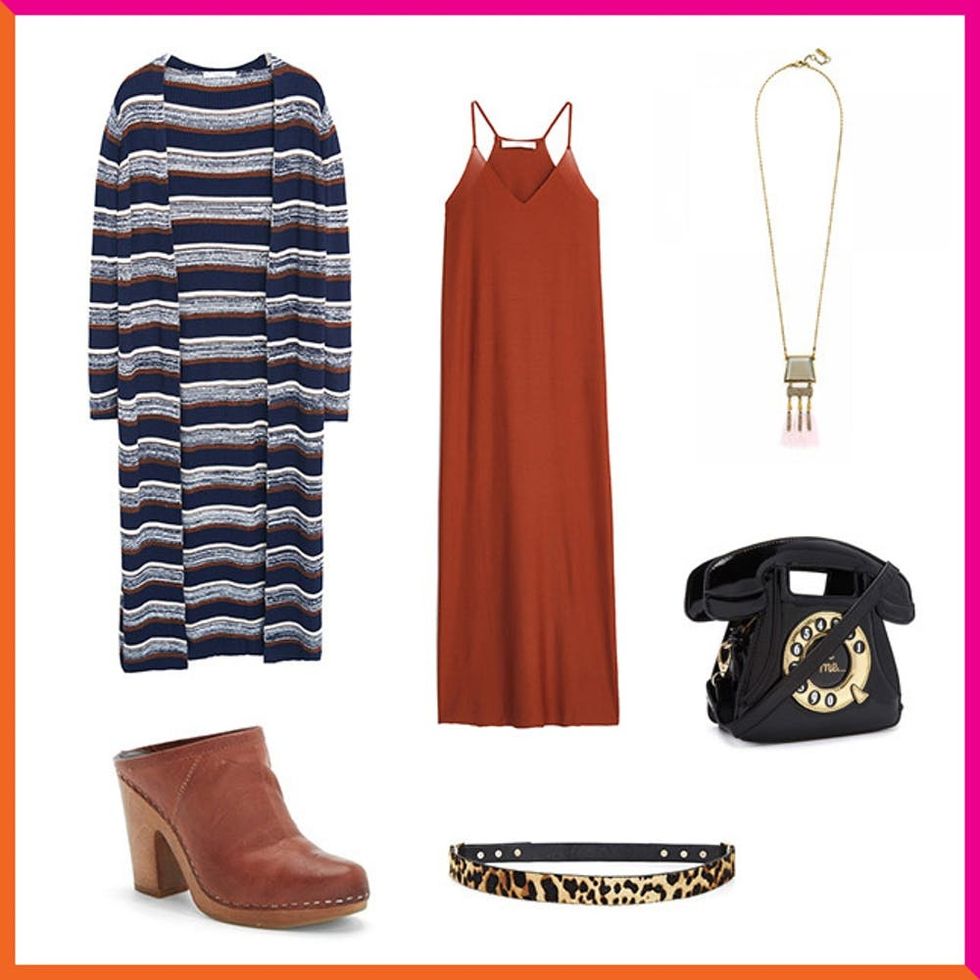 Don't let those special occasion dresses lay limp in your closet during off-peak party season. Layer them over long sleeve tops and clog-like kicks, or get wrapped up in a cozy sweater and wild waist belt. Bonus points for a fun, quirky clutch.
Mango Side Slit Gown ($70) + Forever21 Telephone-Shaped Crossbody ($18), BCBG Cheetah Stud Fur Belt ($68), Mango Striped Ribbed Cardigan ($80), Dolce Vita Ackley Mule ($170), Bauble Bar Joss Pendant Necklace ($38)
How to Dress Down Heels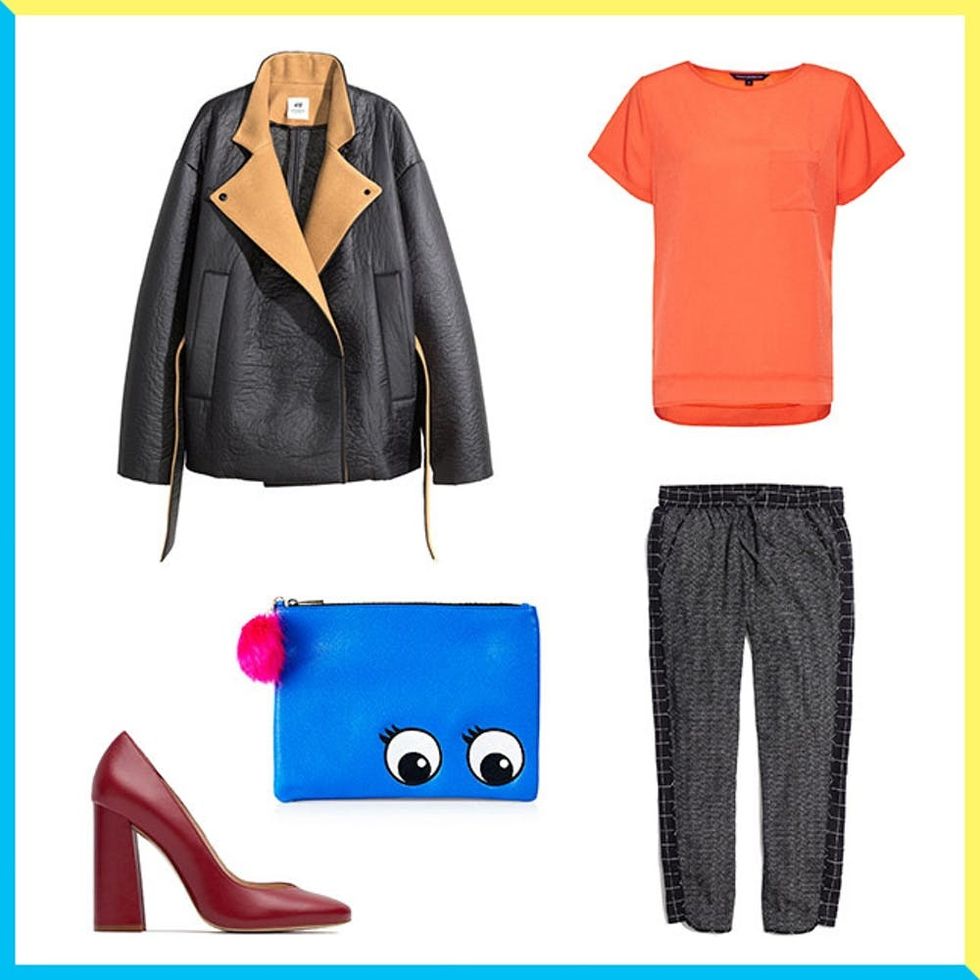 Nothing says dressed up quite like a sassy pair of pumps, but these wardrobe warriors go well beyond the call of duty. When you want to keep it casual, toss them on with crazy comfy joggers, a next-level tee and an oversized wool coat.
Zara Leather Block Heels ($90) + Wool-blend Jacket ($149), Topshop Embroidered Novelty Eyes Clutch ($40), Madewell Track Trousers in Graphgrid ($99), French Connection Polly Plains Pocket T-Shirt ($48)
How to Dress Down a Blazer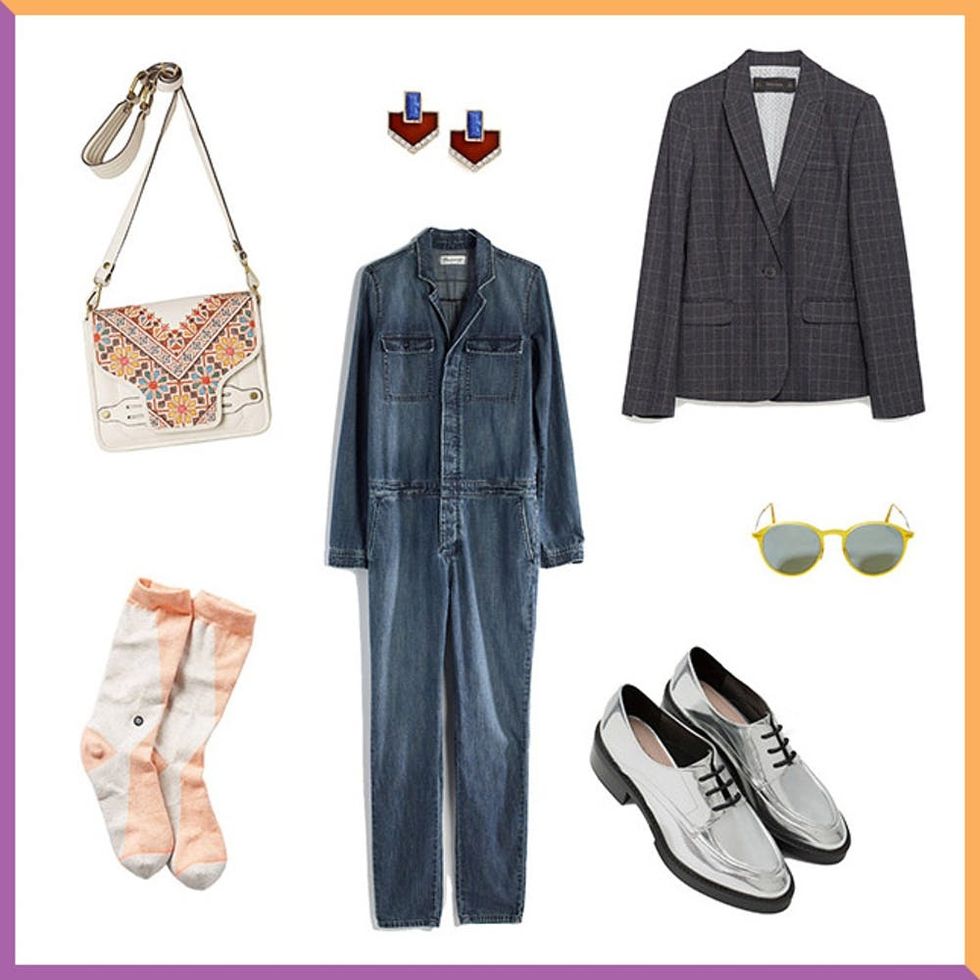 Blazers are like the basic that keeps on giving. They'll help you nail that presentation and your Friday-night ensemble. Jeans are a favorite weekend partner to this tried-and-true topper, but to really take your style one step further, toss it over a denim jumpsuit and quicksilver shoes. Funky socks are a must, and an embroidered bag will add an extra layer of intrigue to this spot-on pairing.
Zara Check Jacket ($99) + Oasis Semi Precious Chevron Stud Earrings ($11), Madewell Denim Surveyor Jumpsuit ($168), Stance Decoupe Socks ($10), Ray-Ban LightRay Round Sunglasses ($220), Zara Flat Lace-Up Shoes ($60), Ella Moss Tilework Crossbody ($228)
What office essentials do you wear off-duty? Tell us in the comments!
Libby MacCarthy
Libby MacCarthy is an urban planner turned writer with a love (bordering on unhealthy obsession) of all things fashion and beauty related. She lives for perfectly brewed coffee, farmer's markets, dinner parties and perusing impeccably designed boutiques. When she's not on the hunt for the latest trends, you'll likely find her plotting her next adventure or nose deep in a book. Libby currently splits her time between the East Coast and her adopted home of France. Follow her daily adventures on
Instagram
.