How to Make a DIY Spa-in-a-Box for Mom This Mother's Day
Apr 23, 2015
May is just a few days away, and that means we're starting to think about Mother's Day at Brit + Co HQ. Moms deserve the best. They work hard, they deal with teenagers that think everything is "soooo boring" (come on, yours did, right?) and they are always there to give you a hug when you need one. Since they are the ultimate multi-taskers, we think this day is an important one for them to relax. Today's mother's day gift idea we're going to make the sweetest spa-in-a-box for you to gift your mama. We've got three DIYs and a few other must-haves for your kit below.
---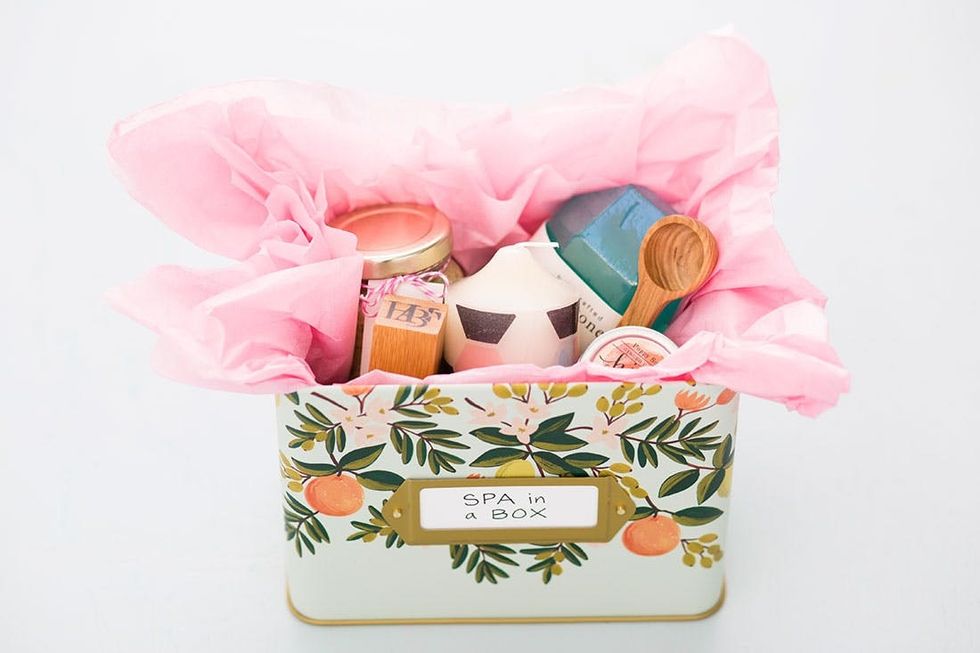 Face Mask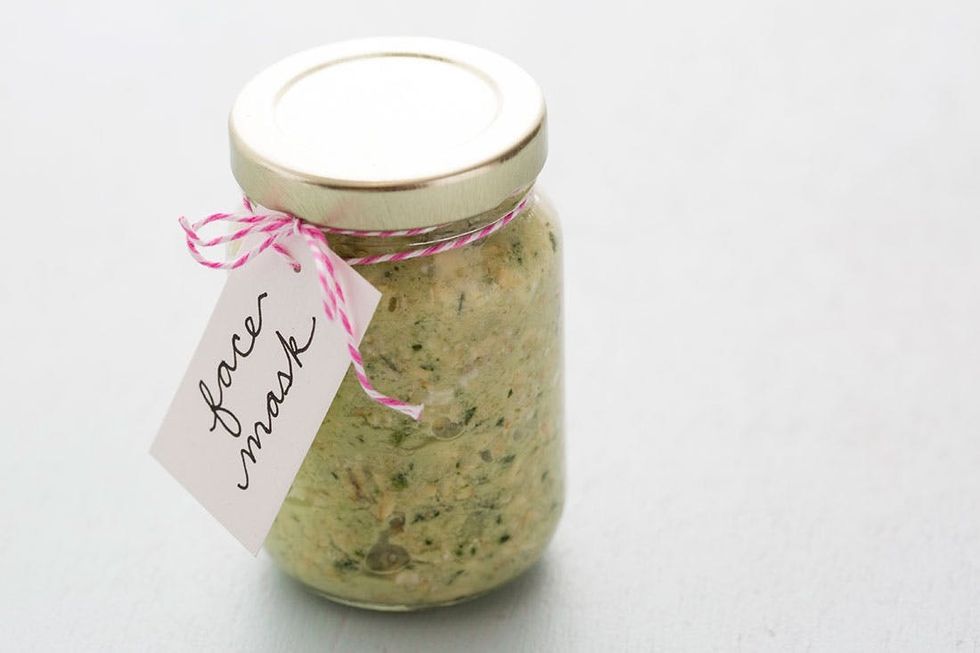 You've been staring at her face since the day you were born. You've watched her face change over the years, and you love every new wrinkle. Treat her with a DIY face mask.
Ingredients: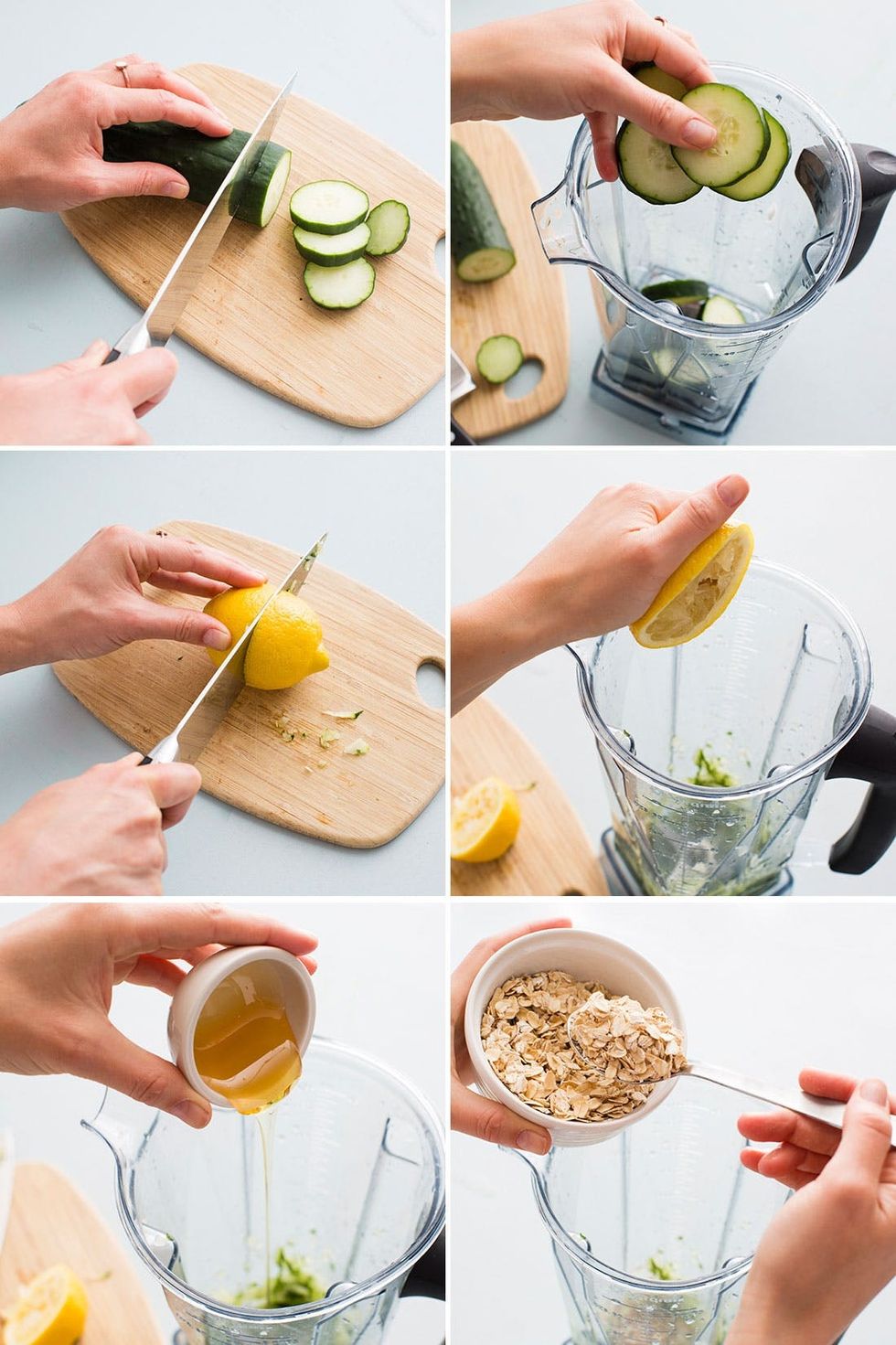 – half a cucumber
– juice from half a lemon
– ⅓ cup oatmeal
– 1 tablespoon honey
Chop half a cucumber and mix it in a blender or food processor. Then add the other items and mix to combine.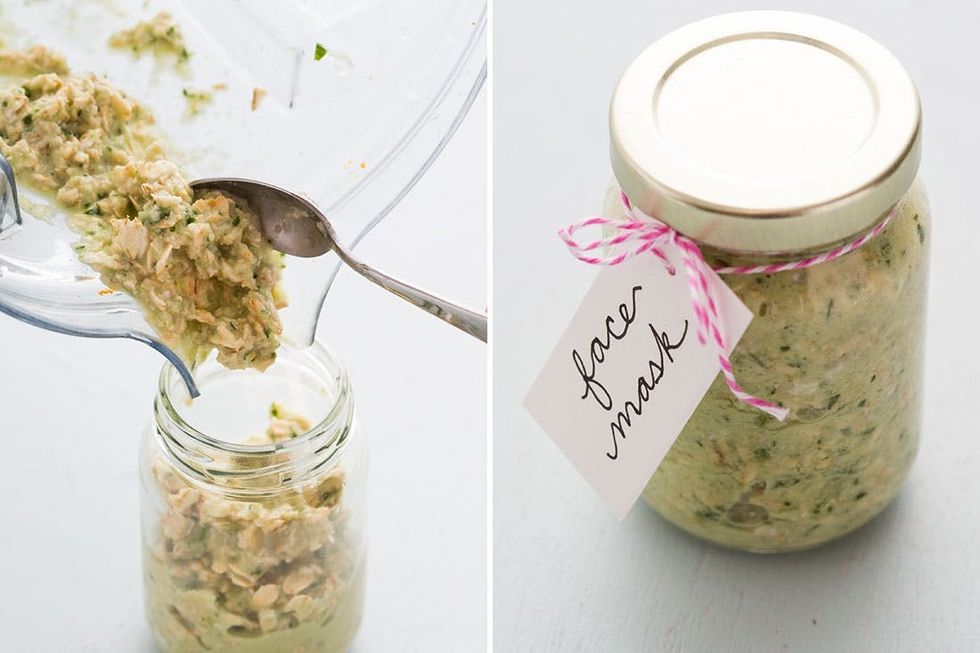 Pour your mask into a jar and make a cute label.
<br/>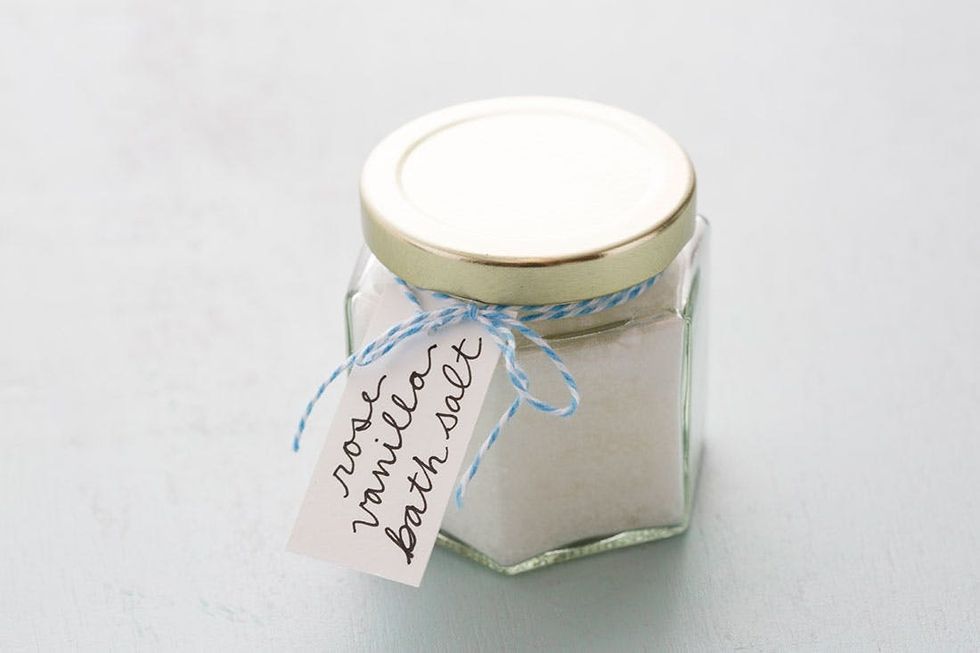 – ¾ cup Epsom salts
Bath Salts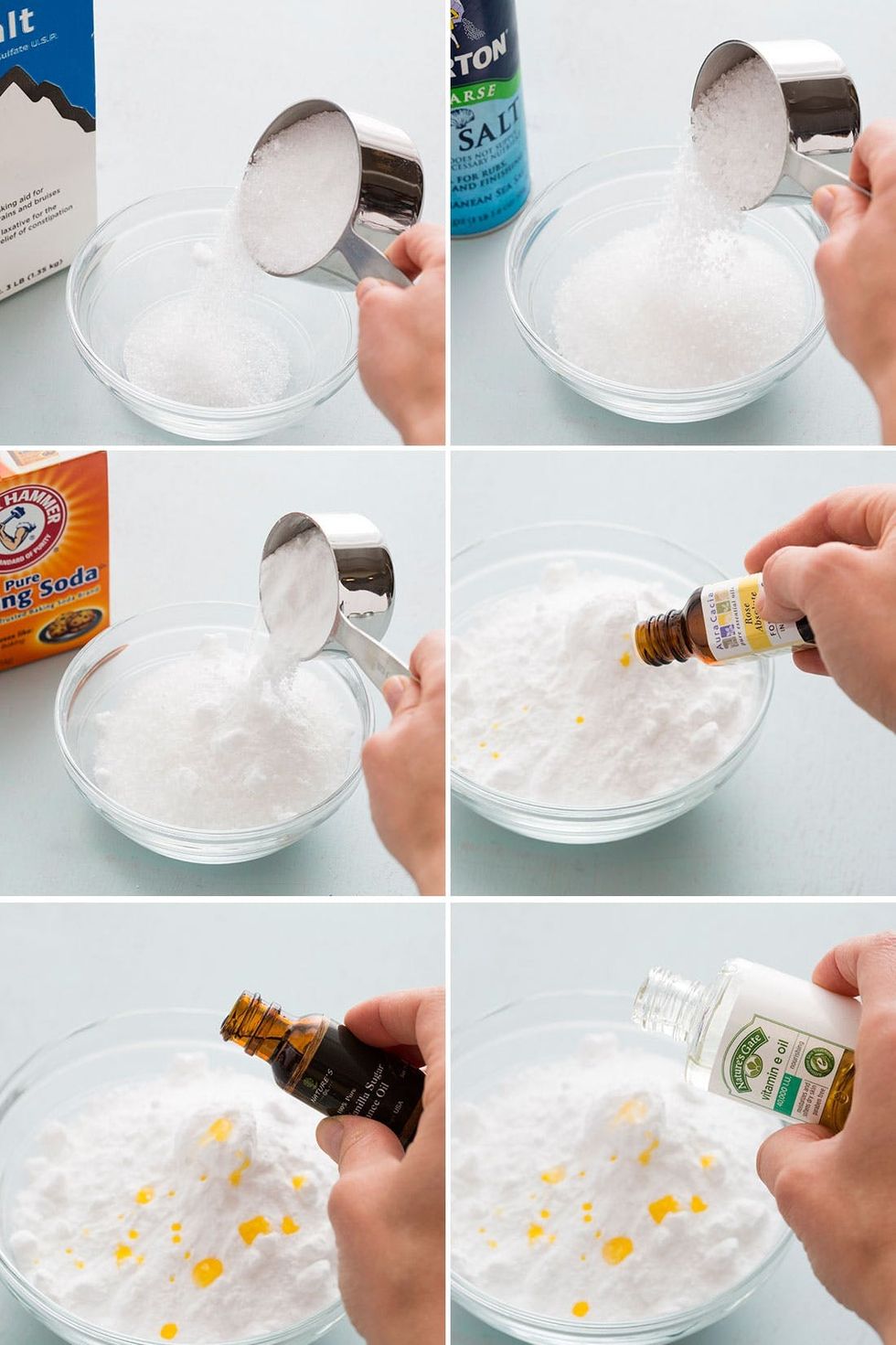 – ½ cup coarse sea salt
– ⅓ cup baking soda
– 4 drops rose essential oil
– 2 drops vanilla essential oil
– 6 drops vitamin E oil
Combine all of the ingredients in a bowl, mixing them together with a spoon.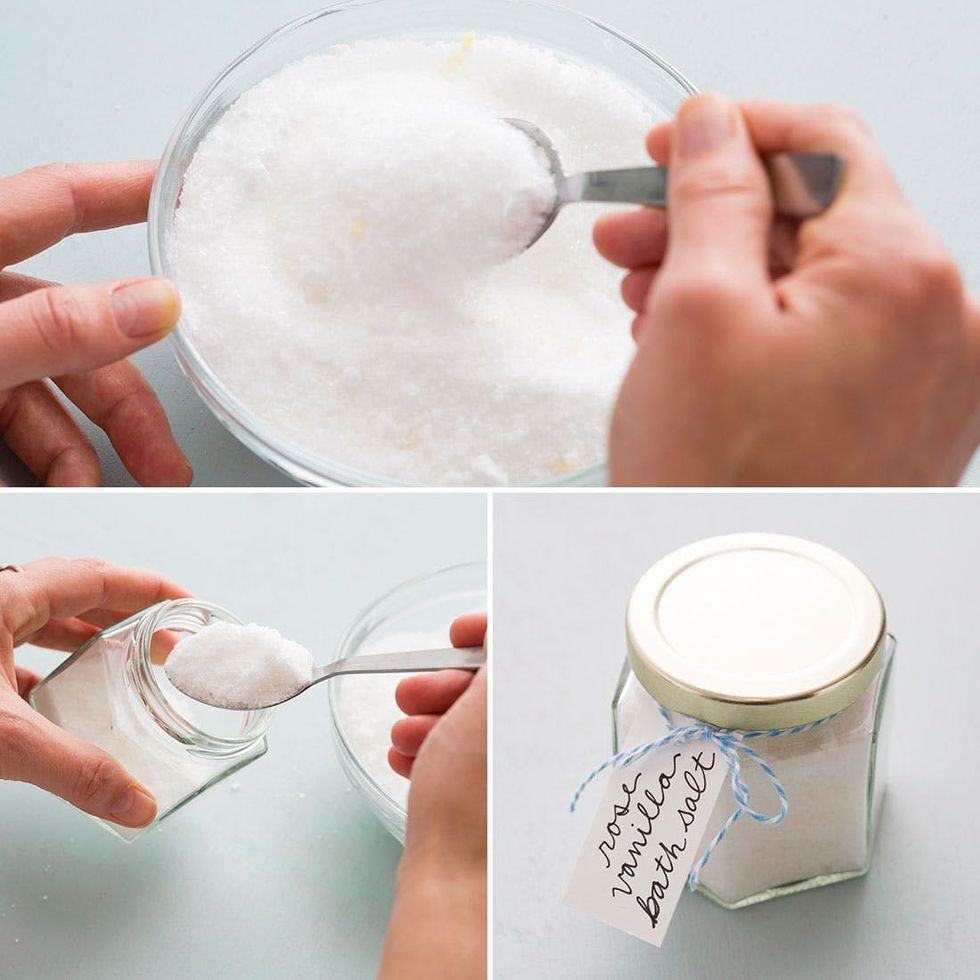 Pour your mixture into a jar and tie a label around the top.
<br/>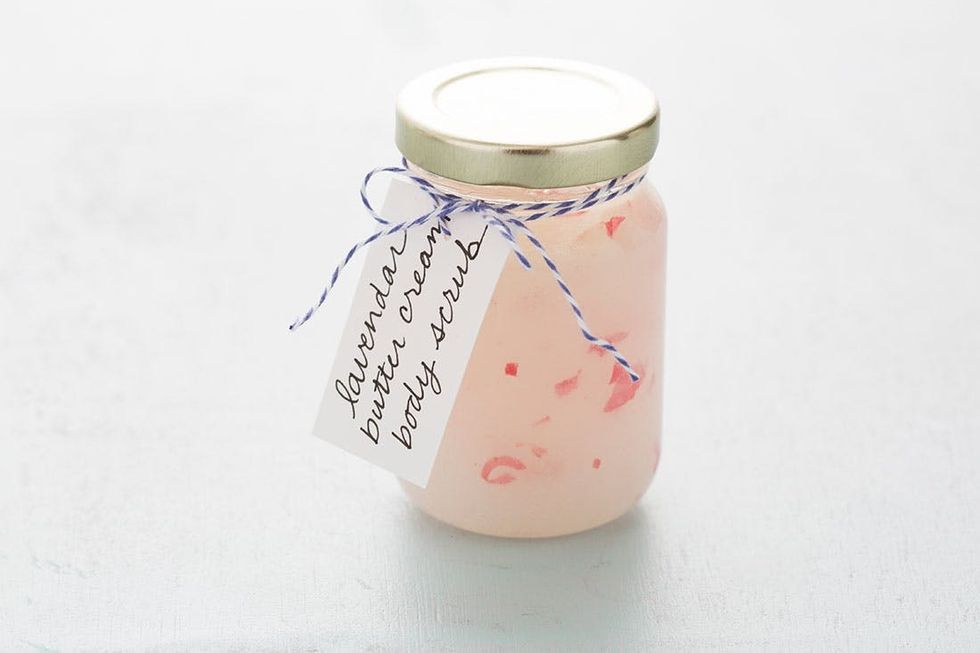 – 1 cup Epsom salt
Body Scrub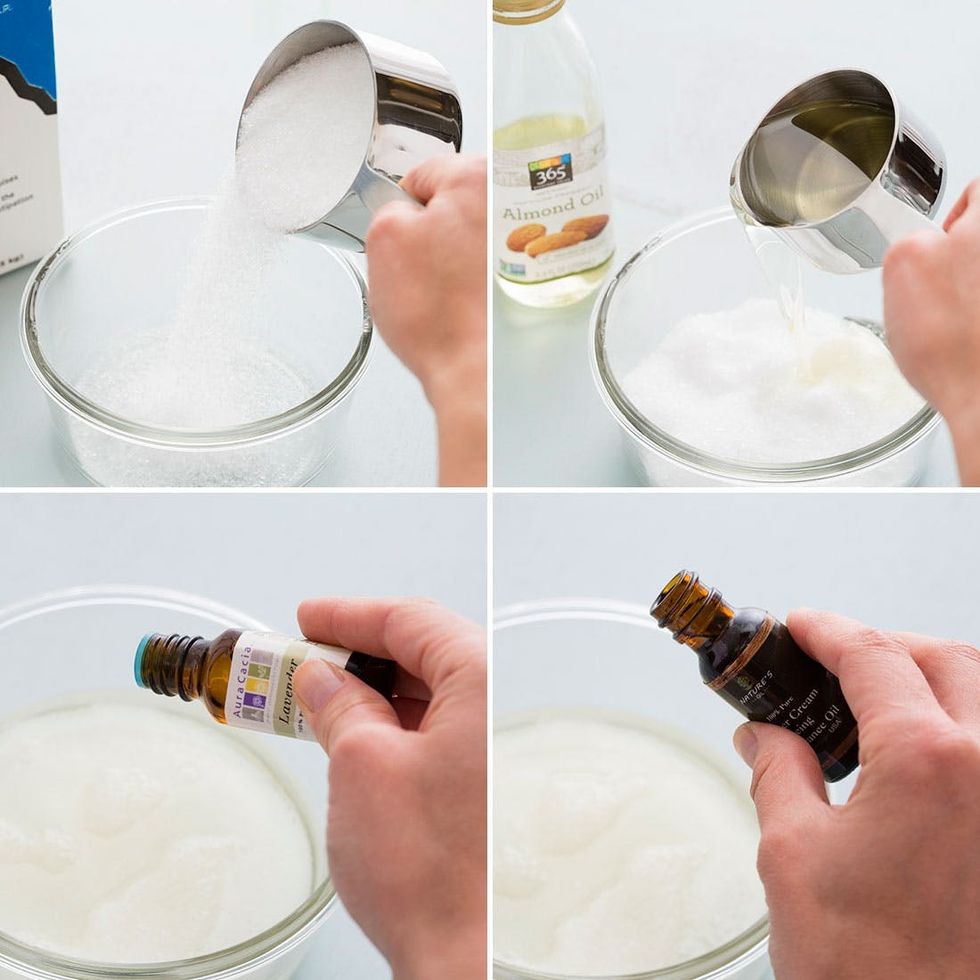 – ½ cup almond oil
– 4 drops lavender essential oil
– 2 drops butter cream essential oil
– crushed petals from one rose bud
Mix the first four ingredients in a bowl.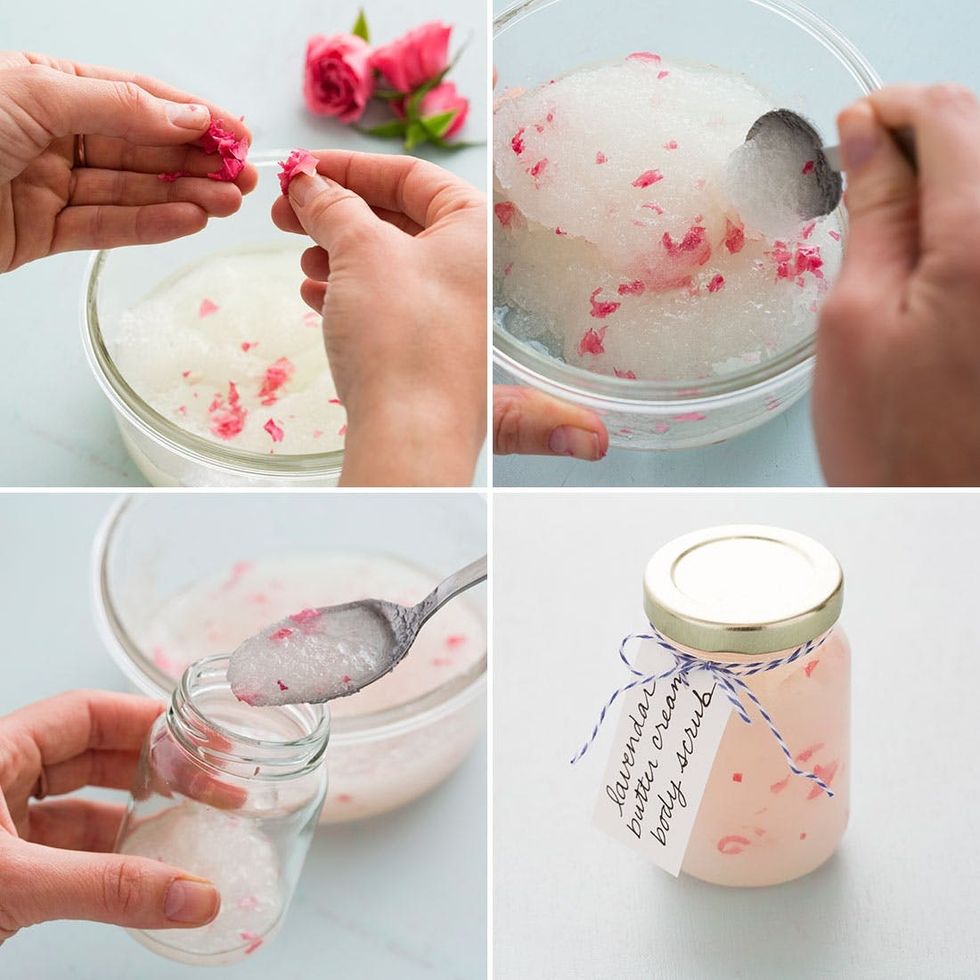 Then crush and tear the rose petals into tiny bits and add them to the mix. Pour your scrub into a bottle and you're all set!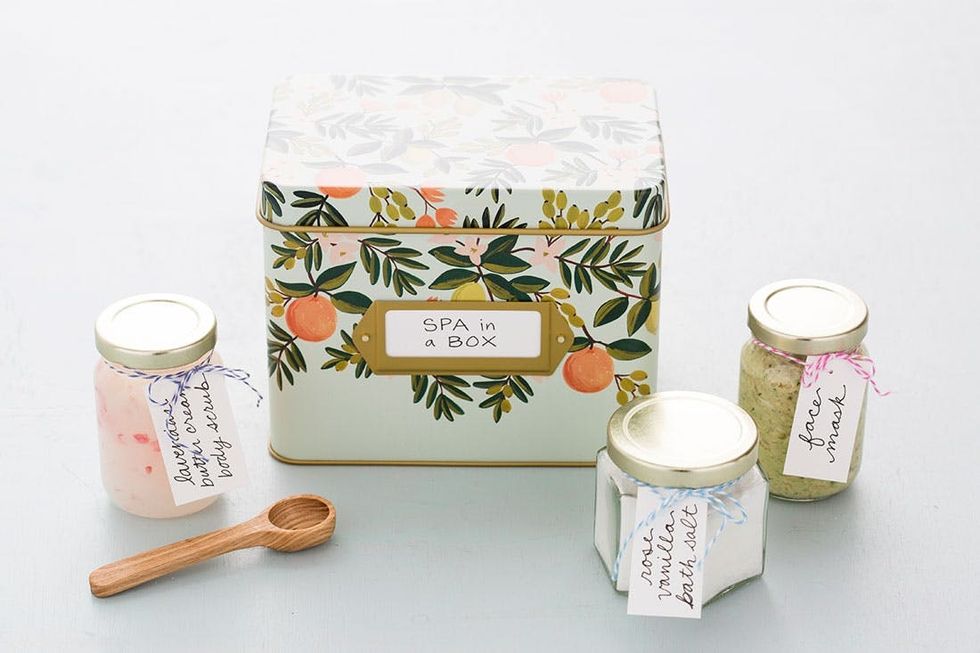 Your mom is going to be blown away by your thoughtfulness when she opens up this box and sees your homemade goods.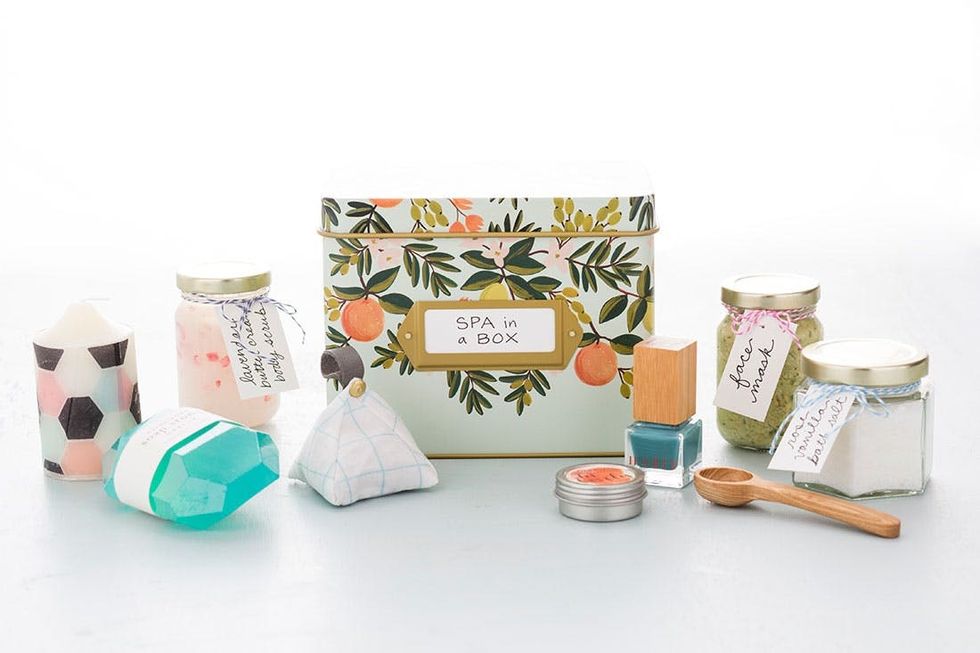 In addition to the body products we made, we've got some other items we suggest you add to the box.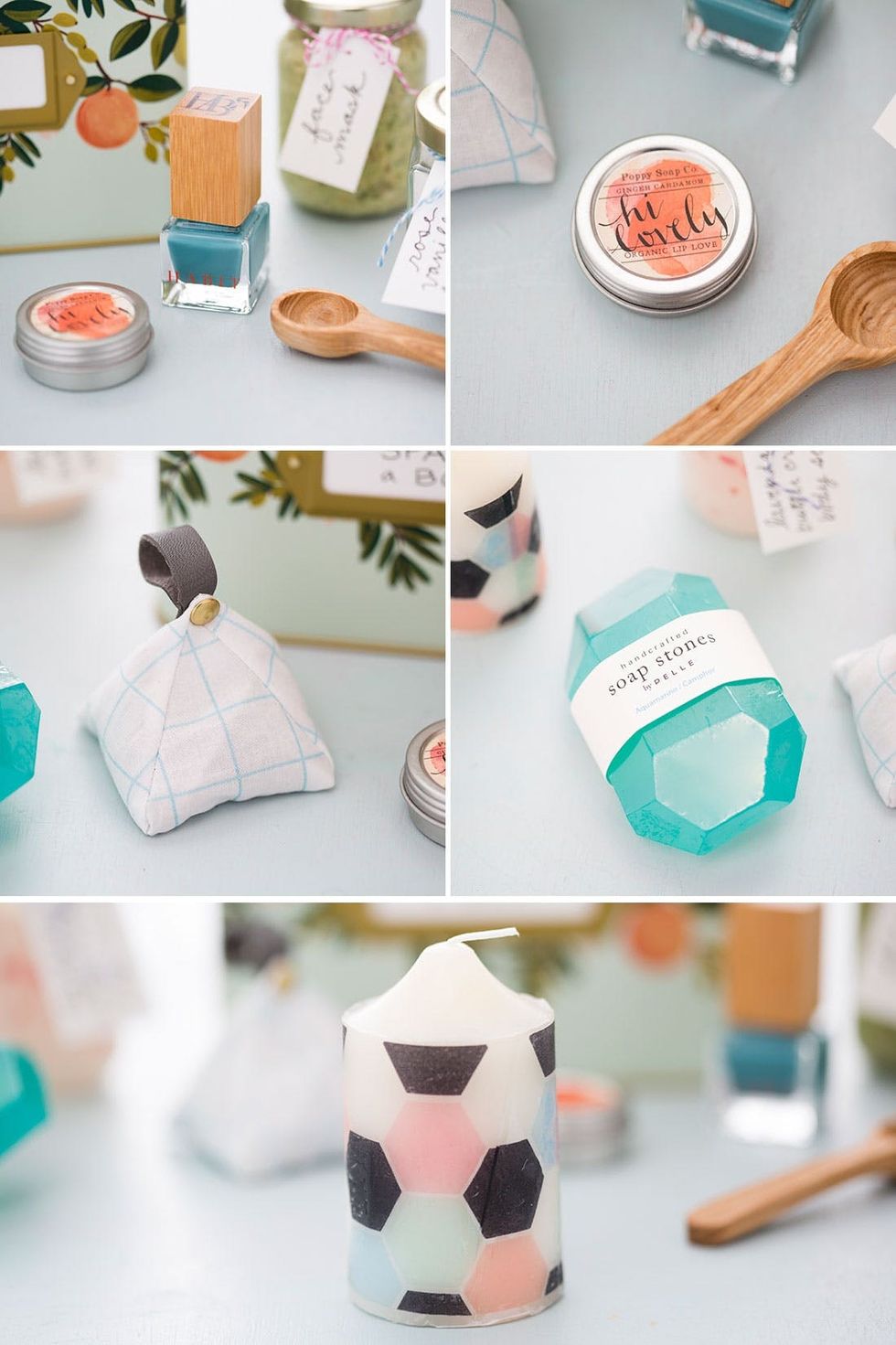 1. Lip Love Organic Lip Tints ($12): Made with love, these lip tints are crafted from essential oils and other ingredients your mom's lips will adore.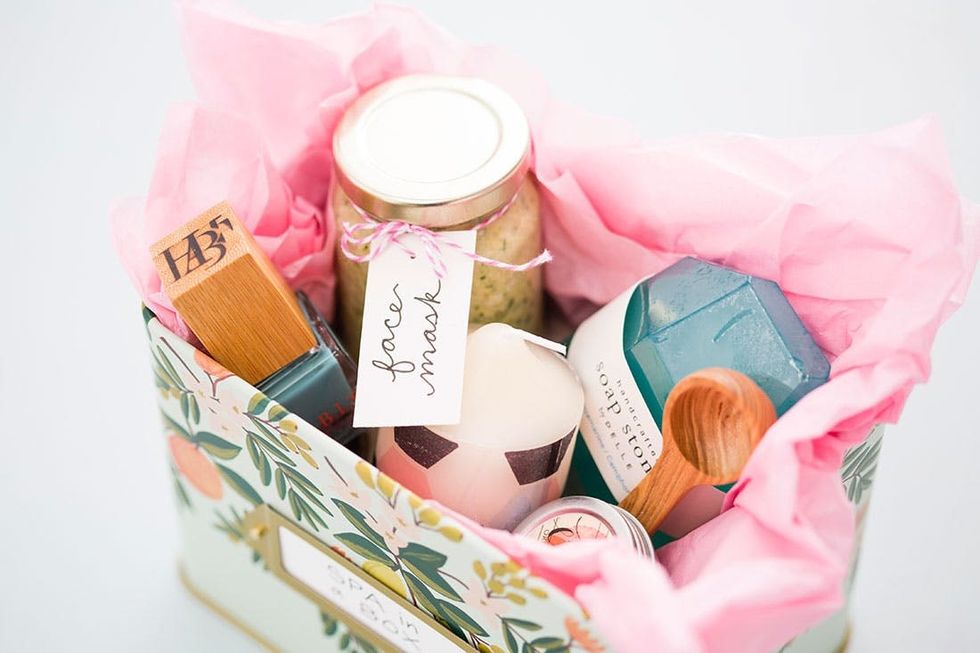 2. Camphor Soap Stone ($11): Mom won't want to use this soap it's so pretty. But once she does, she'll be completely taken by the smell. So good!
3. Prairie Nail Polish by Habit ($18): Once mommy dearest has emerged from the bathroom, spend some QT with her and give her a manicure.
4. Lavender Sachet: if you want to go the extra mile, DIY an adorable bag of lavender for mom's intimates drawer.
5. Patterned Candles: To create the right ambiance in the "spa," make these patterned candles with tissue paper and a hair dryer.
6. Citrus Floral Recipe Box: ($34): Love the box we used? Rifle Paper Co. strikes again. It's actually a recipe box we repurposed :)
Of course, mom will also need some bubbly, some plush white towels and a vase of fresh flowers.
Roxy Taghavian
Roxy has been creating and executing DIY projects since her very first trip to Michael's as a child. If there's a project at hand, she'll figure out how to make it. When she's not wielding her hot glue gun, she can be found at the beach, traveling to far off lands, reading and running at her gym "The Panhandle."
Home DIY
Still haven't taken up that new creative skills you swore you'd learn this year? Or ready to take your design skills to the next level? Let's say so long to the weirdest year ever by checking those big learn-something-new goals off our perpetual to-do lists.
We've teamed up with Clorox to give you the gift of unlimited creativity now through the end of the year. Once you sign up, you can take as many of our 120+ classes as you want for FREE for one whole month!
Here's how it works:

Head to brit.co/learn and sign up for the "All Access Pass."
Use the code "CLOROXCARES" at checkout to redeem your free month of classes.
You will be automagically signed up for Clorox's email list once you redeem your free all access pass. (It's the #1 Choice for Disinfection!)
Your pass lasts one month from when you checkout. This means you have unlimited access to all the classes during that month.
This offer is valid now through December 27, 2020.
Browse our catalog to find the right class for you, tell a friend and take the class together over Zoom, or organize a 'cocktails + crafts' night with a friend in your bubble so you can learn something new together.
What are you waiting for? Time to start learning all the things!

Thanks to Clorox for making this happen! When it counts, trust Clorox.
Lifestyle