We have to admit, there are more ways to rock a red lip than we may have led you to believe. You can go bold, choose the shade that's perfect for your skin tone, or ditch the lipstick all together! 'Cause along with hearts, lips are the latest romantic graphic to become totally wearable. It's a much bolder look to pull off—since we're used to seeing hearts just about everywhere, lips can seem a little cartoon-y at first. But we say embrace the playful print with these 16 lip-smacking good looks, especially during this time of year!
---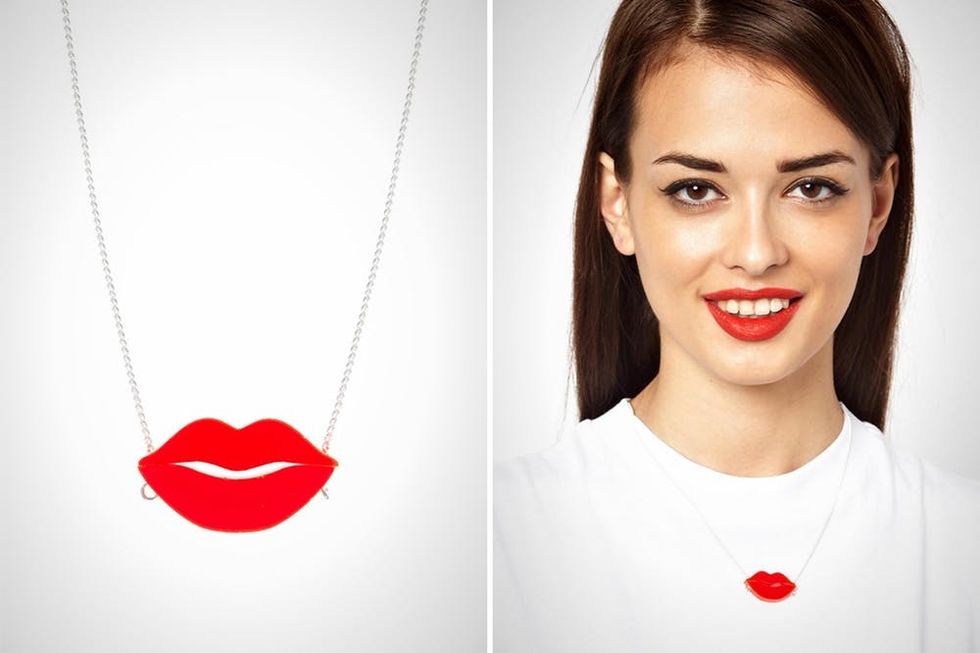 2. Tatty Devine Avant GArde Robot Lips Necklace ($30): We love the graphic pop of this acrylic lips pendant. Do your lips up the same way to make a statement.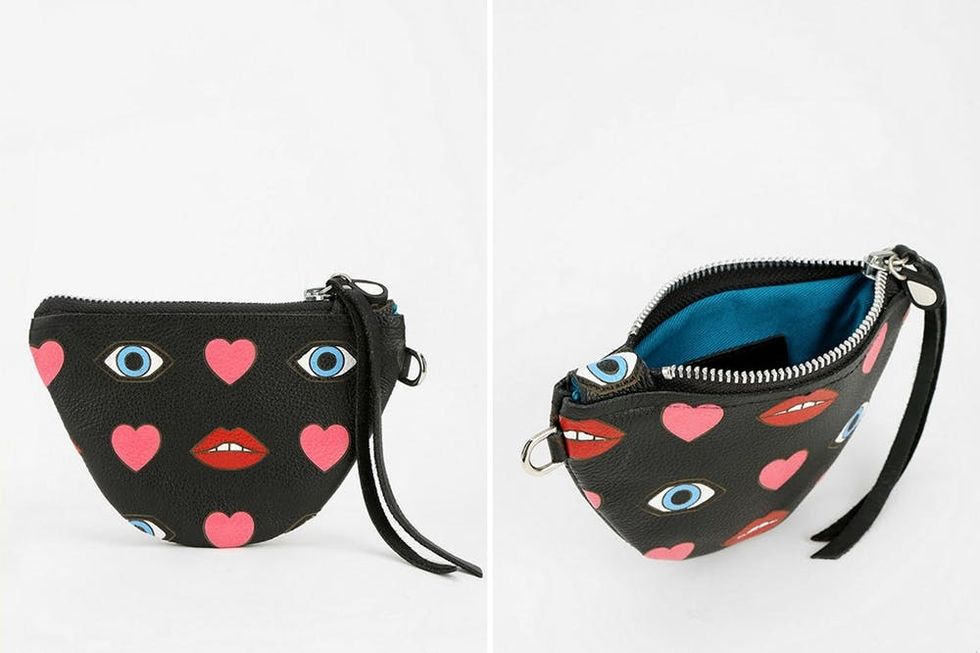 3. The Leather Atelier Eyes Lips Hearts Zip-Pouch ($149): In the highest of high fashion circles, eye and lip graphics are the best of friends. All we can think is that this coin purse looks like it could join the cast of Aaahh!!! Real Monsters.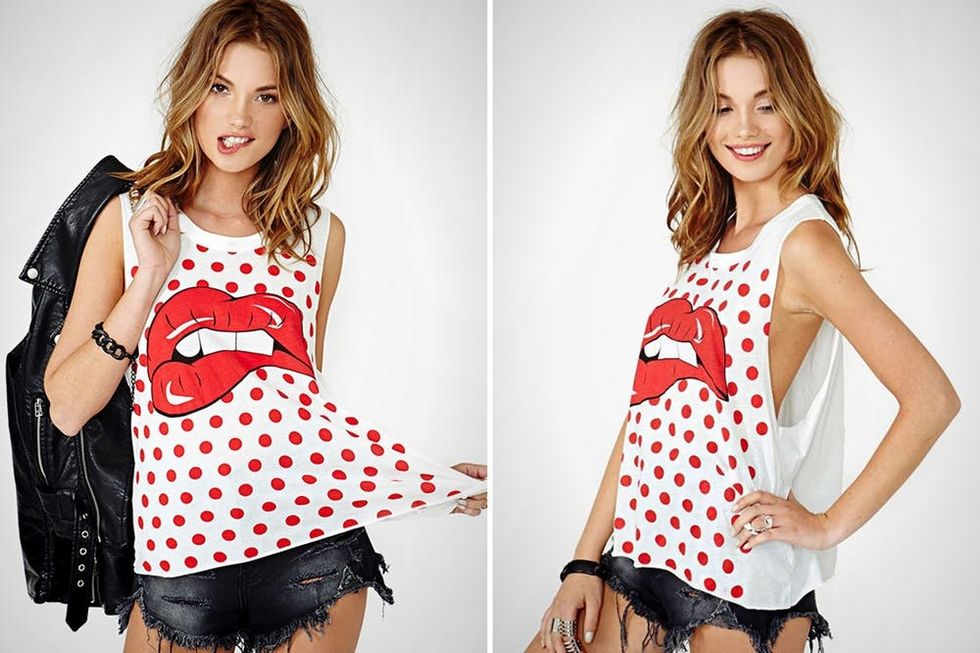 4. Dot Kiss Muscle Tee ($38): Thanks to Phillip Lim's Lichtenstein-inspired Kapow! pieces, cartoon-y couture is popping up all over the place. This dotted muscle tee follows suit swimmingly.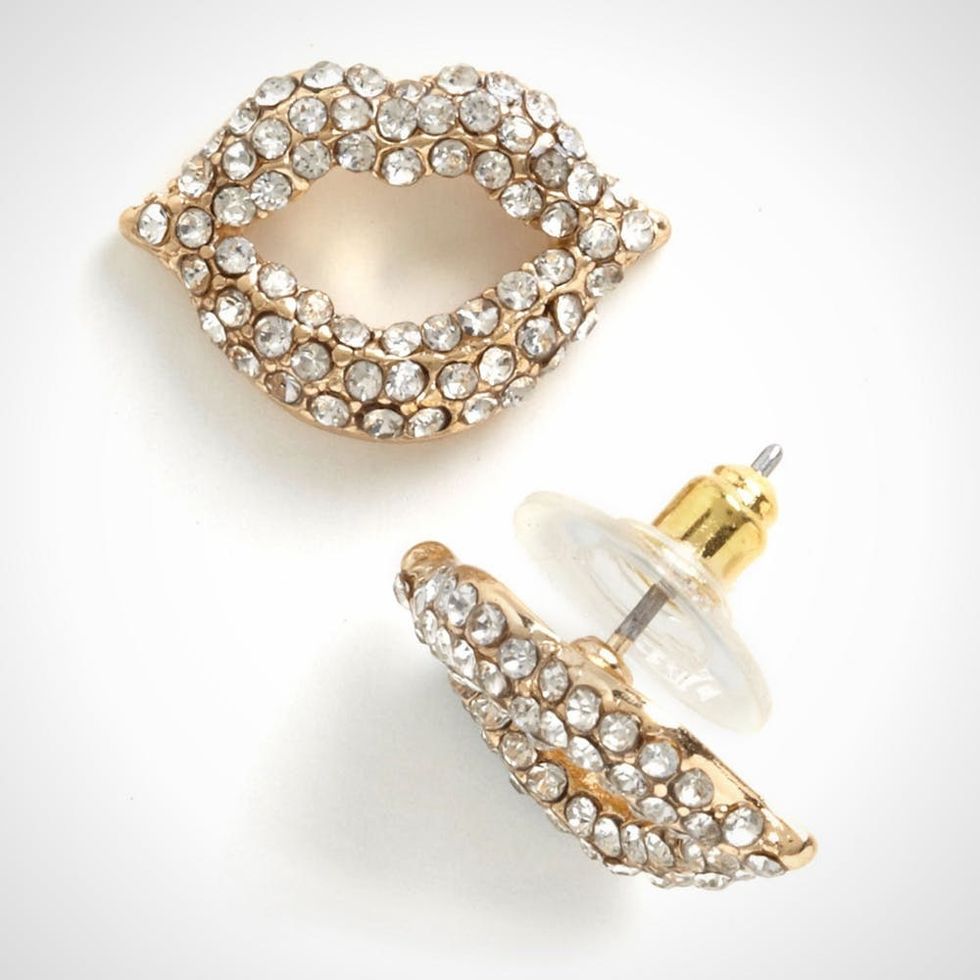 5. Little Kiss Perfect Earrings ($11): We're smitten with these gem encrusted lip earrings—they'd add a welcome touch of whimsey (and bling!) to your everyday getup.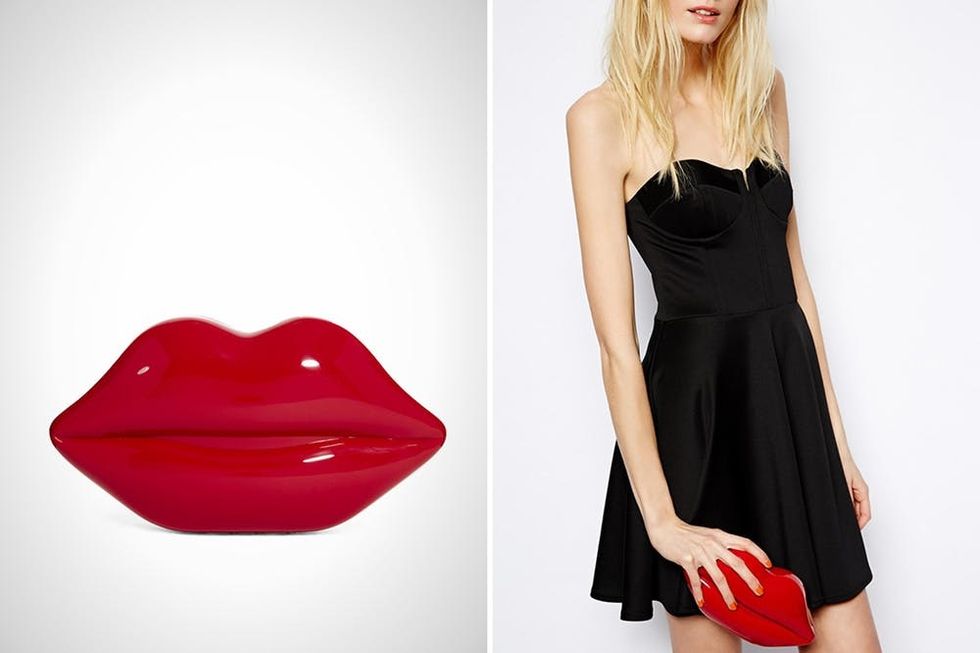 6. Lulu Guinness Red Perspex Lips Clutch ($420): We have to admit, this lips-shaped clutch is pretty freaking rad. But if we had to choose between it and the classic red lips novelty phone (it looks just like it, right?), we'd hands down go with the latter. You'll be equally happy and shocked to know that Best Buy sells the retro relic!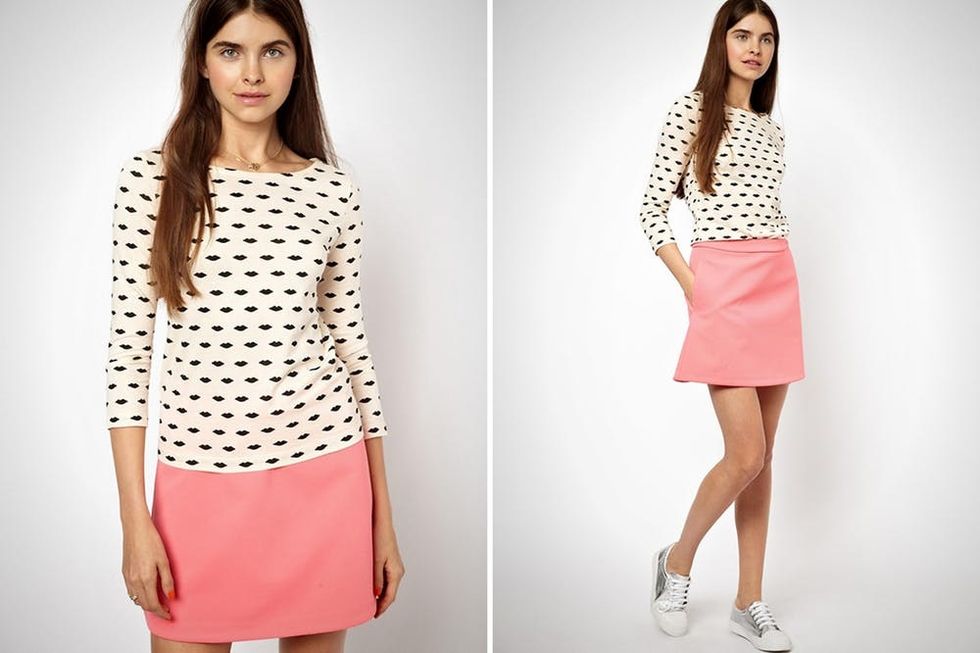 7. Sonia by Sonia Rykiel Exclusive to Asos T-Shirt in Lips Print ($112): Who ever thought that lips would be the new stripes? It's a super cute take on such a classic pattern. The preppy vibe is kept alive with the boat neck and three-quarter sleeves.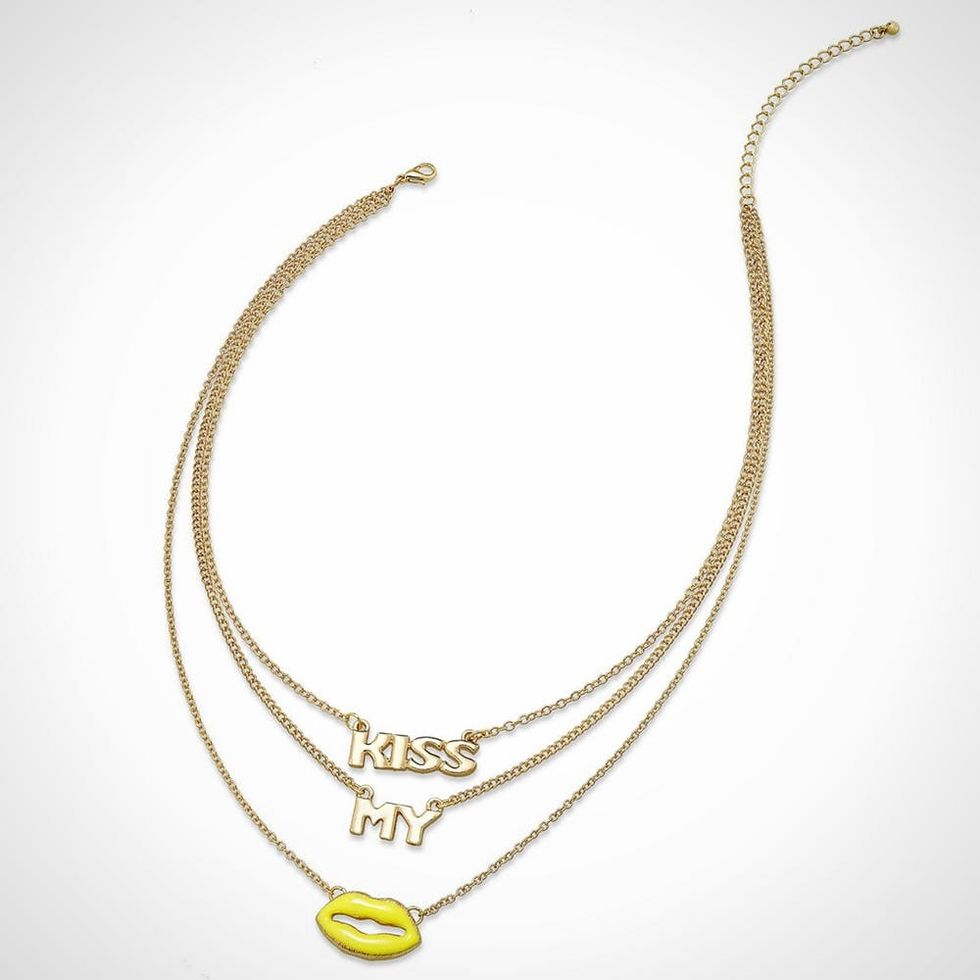 8. Material Girl Necklace Gold Tone Kiss My Lips Pendant Necklace ($7): This triple-tiered necklace rocks a refreshingly non-red lip that would look awesome paired with a black scoop neck. Only straightforward smoochers need apply!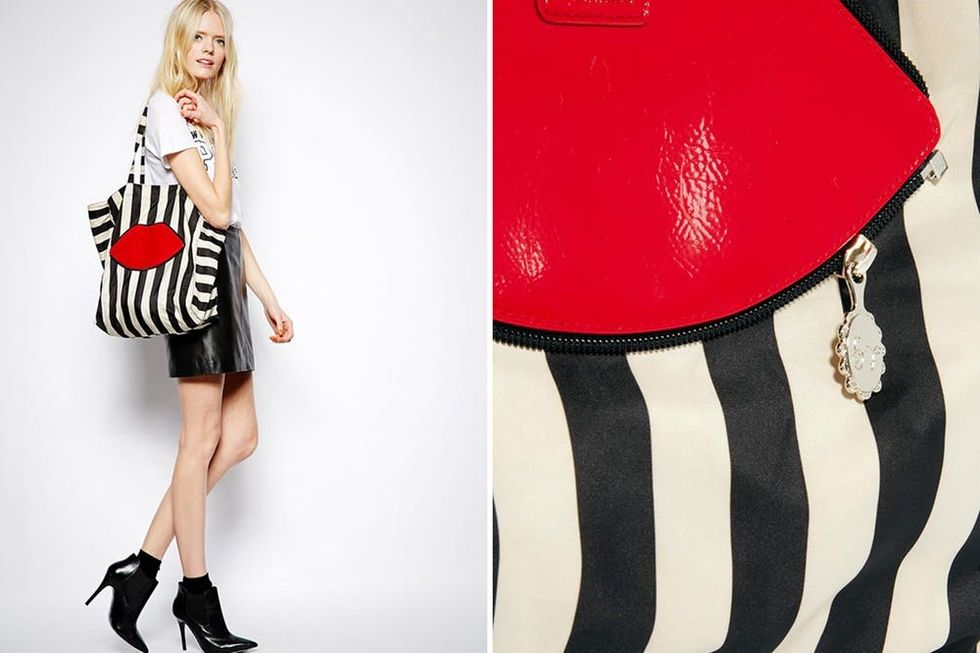 9. Lulu Guinness Striped Foldaway Shopper Bag ($65): This Beetlejuice-striped shopper is secretly a two-in-one bag: if you don't need all the space this tote has to offer, the large lips graphic unzips from the front and becomes a covetable clutch. Did that just blow your mind!?
10. Asos Curve Sweater With Elbow Lips Elbow Patch ($33): Lip-shaped elbow patches? What a cute way to stay cozy! Someone DIY this for us stat.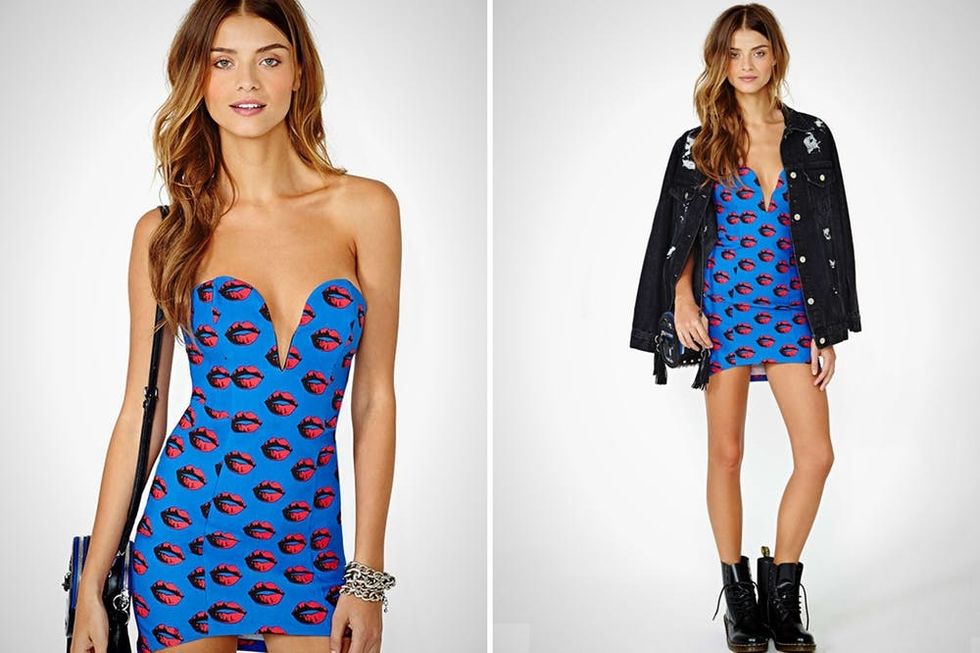 11. Nasty Gal Helix Dress Kisses ($72): Hail to the hot lips! Leave it up to NastyGal to give this bold blue mini dress with a sharply plunging neckline even more va-va-voom.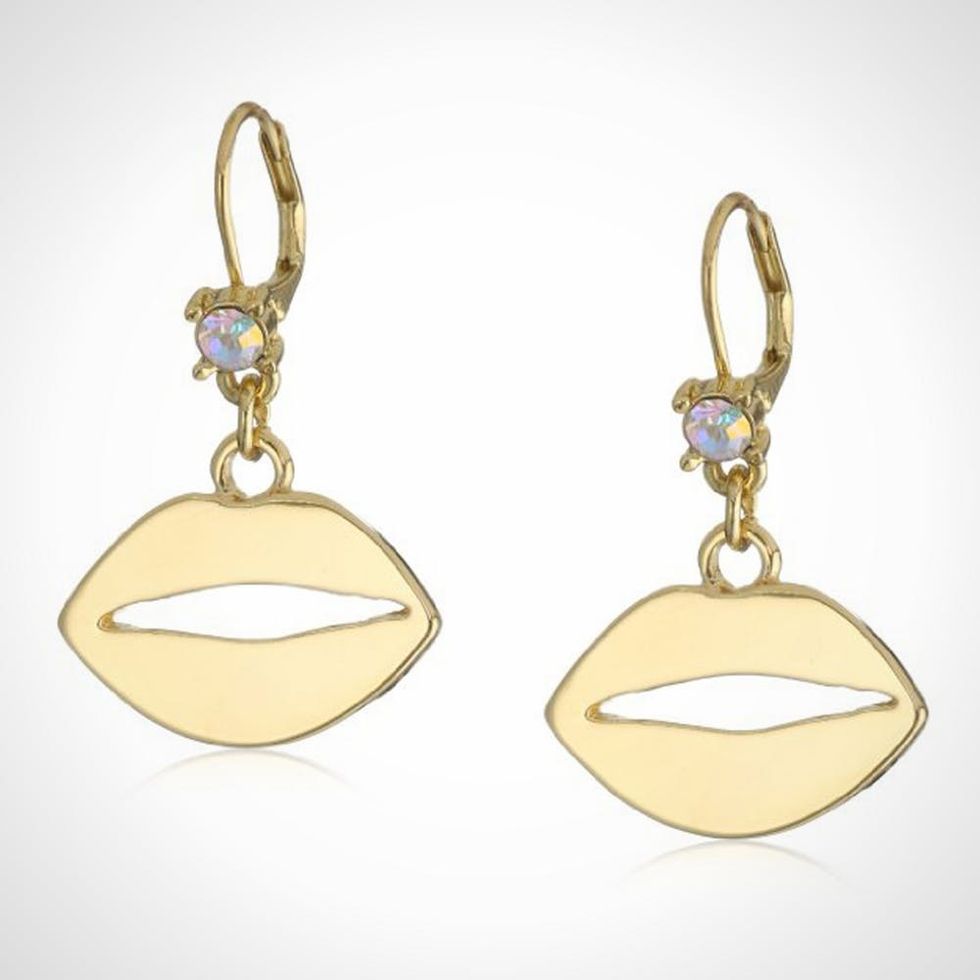 12. Betsy Johnson Status Lip Drop Earrings ($15): Every lady should have a pair of gold drop earrings at her disposal, so why not make yours lip shaped?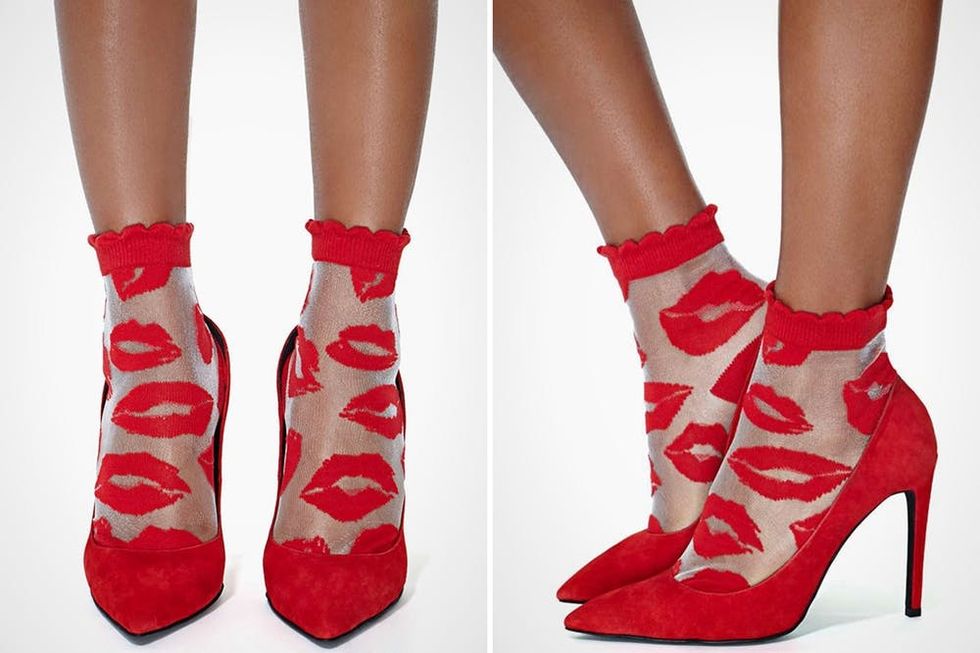 13. Sheer Kisses Socks ($8): These sheer socks are a must have if you're going all out with a red hot look for Valentine's Day. We love how they're unapologetically paired with red pumps.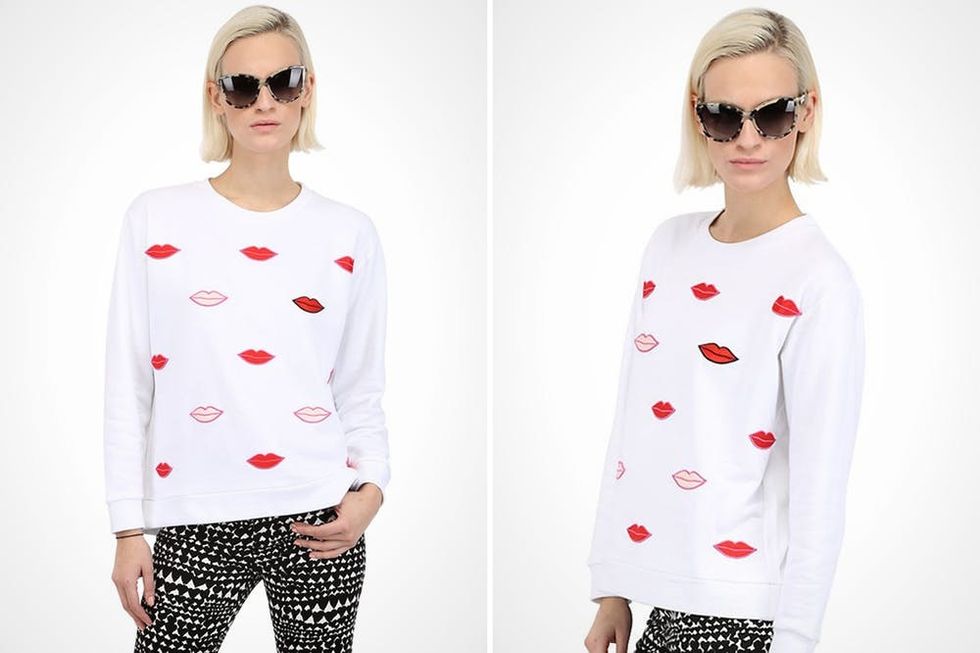 14. Lips & Hearts Cotton Fleece Sweatshirt ($540): You guys wouldn't believe how hot lips graphics are taking over the world of high fashion—big names like Saint Laurent, Alice + Olivia, and even Stella McCartney are lip locked, as you can see from this designer sweatshirt. If we had a sweatshirt savings account, you better believe we'd be adding this stunner to our cart.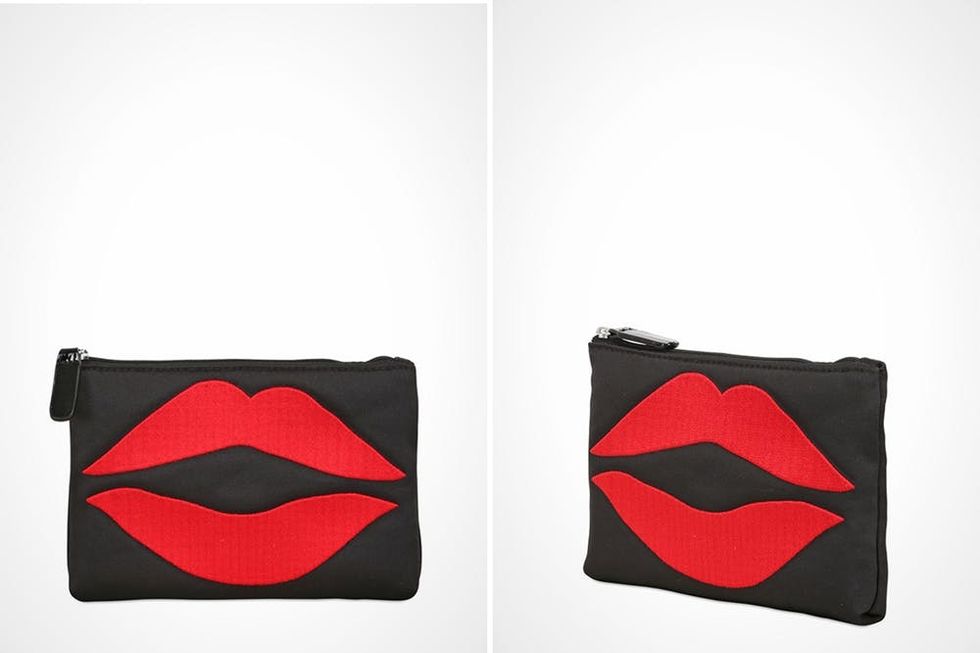 15. Lulu Guinness Lip Blot Coin Purse ($116): This might be our favorite lipsmacked item on this roundup: the blotted lips graphic provides the most perfectly simple pop on this small black coin purse. Obsessed.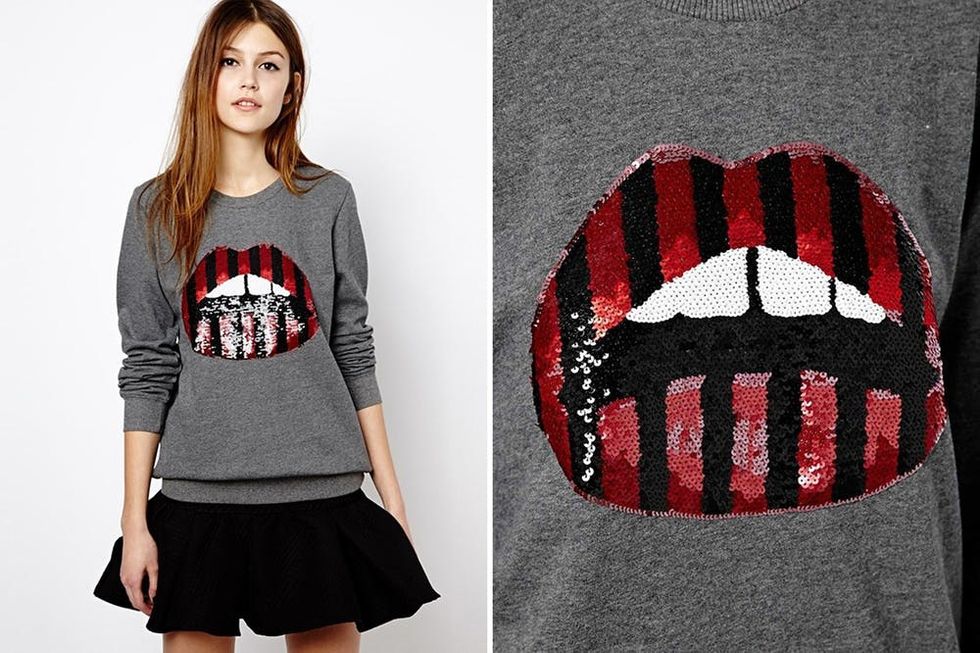 16. Markus Lupfur Stripe Sequin Lara Lips Sweatshirt ($467): No we're not just huge Rocky Horror fans, we're just suckers for sequined sweatshirts. I actually have a similar shimmering sweatshirt, so naturally we're way into this punchy piece.
What lip looks are you ogling? Are there any other graphics you're drawn to this holiday? Tell us in the comments below.