You may *love* the vibrant colors and whimsical prints that define mid-century modern decor, but your wallet may not. Fortunately, you don't have to spend big bucks to turn your home into a scene straight outta Mad Men. Rather than dishing out hundreds, consider these mid-century modern DIY hacks that'll make both you *and* your bank account happy. Scroll on to get inspired by your favorite trends from the '50s, '60s and '70s with these 20 DIY mid-century modern ideas.
---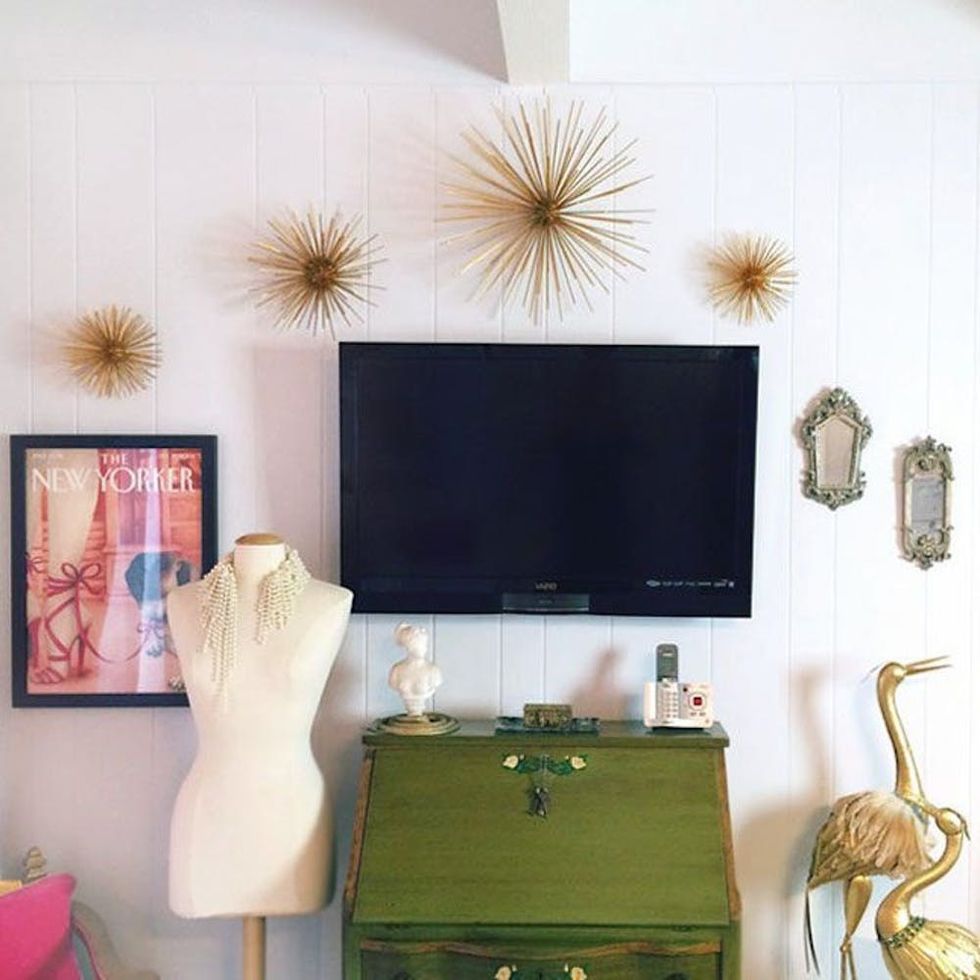 2. DIY Gold Sea Urchin: Replicate the iconic gold sea urchin (AKA starburst) wall decor using inexpensive items you can find at your local craft store. For each starburst, you'll need to slice a foam ball in half, stick it with bamboo skewers and coat the whole thing with gold spray paint. (via Love Maegan)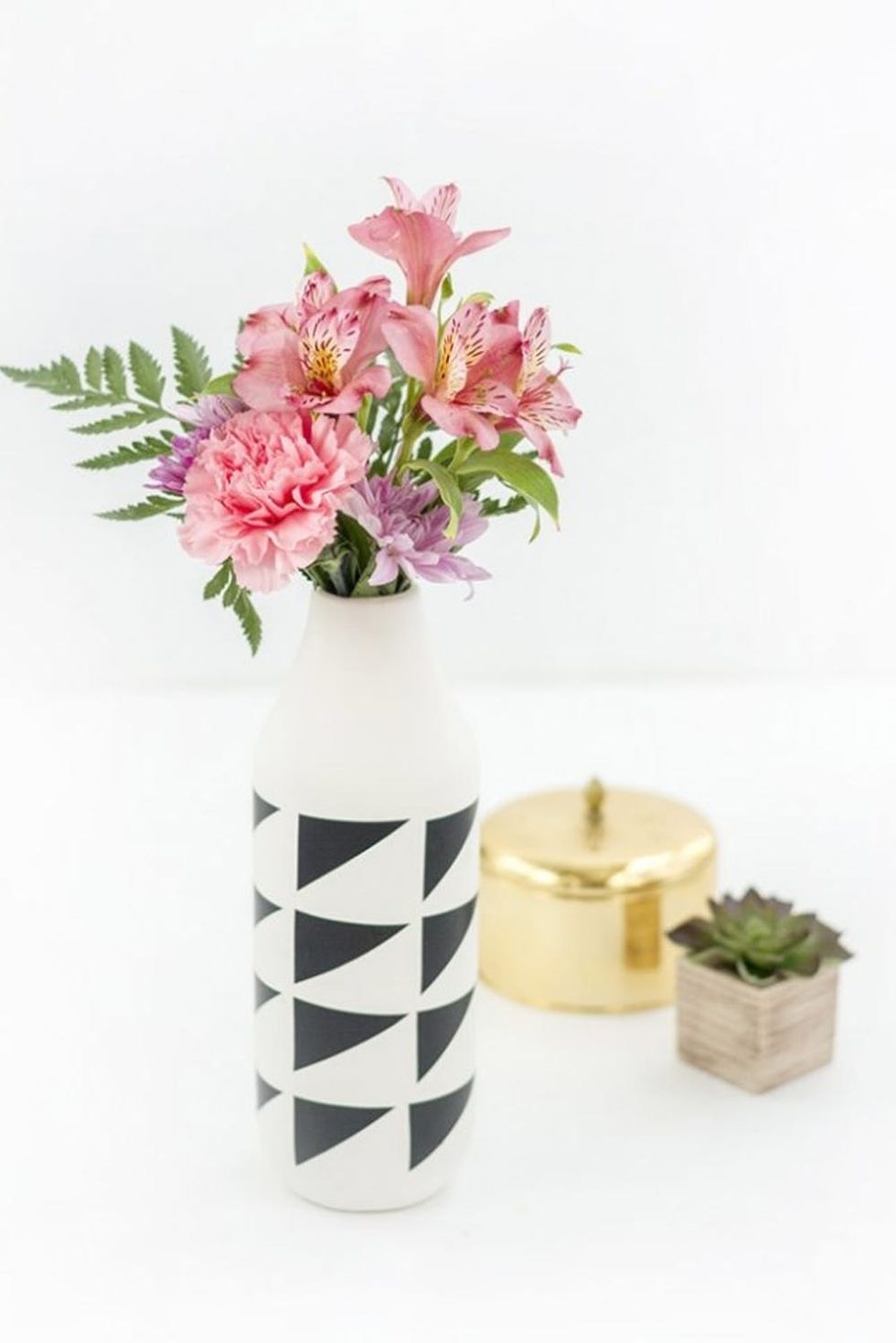 3. DIY Vase: Inspired by the Marlow Vase from CB2, this DIY version combines affordability and good ol' crafting fun. Though this vase features black peel-and-stick vinyl triangles, you can try a more colorful take. Consider multicolored honeycombs or another classic mid-century pattern. (via Dream Green DIY)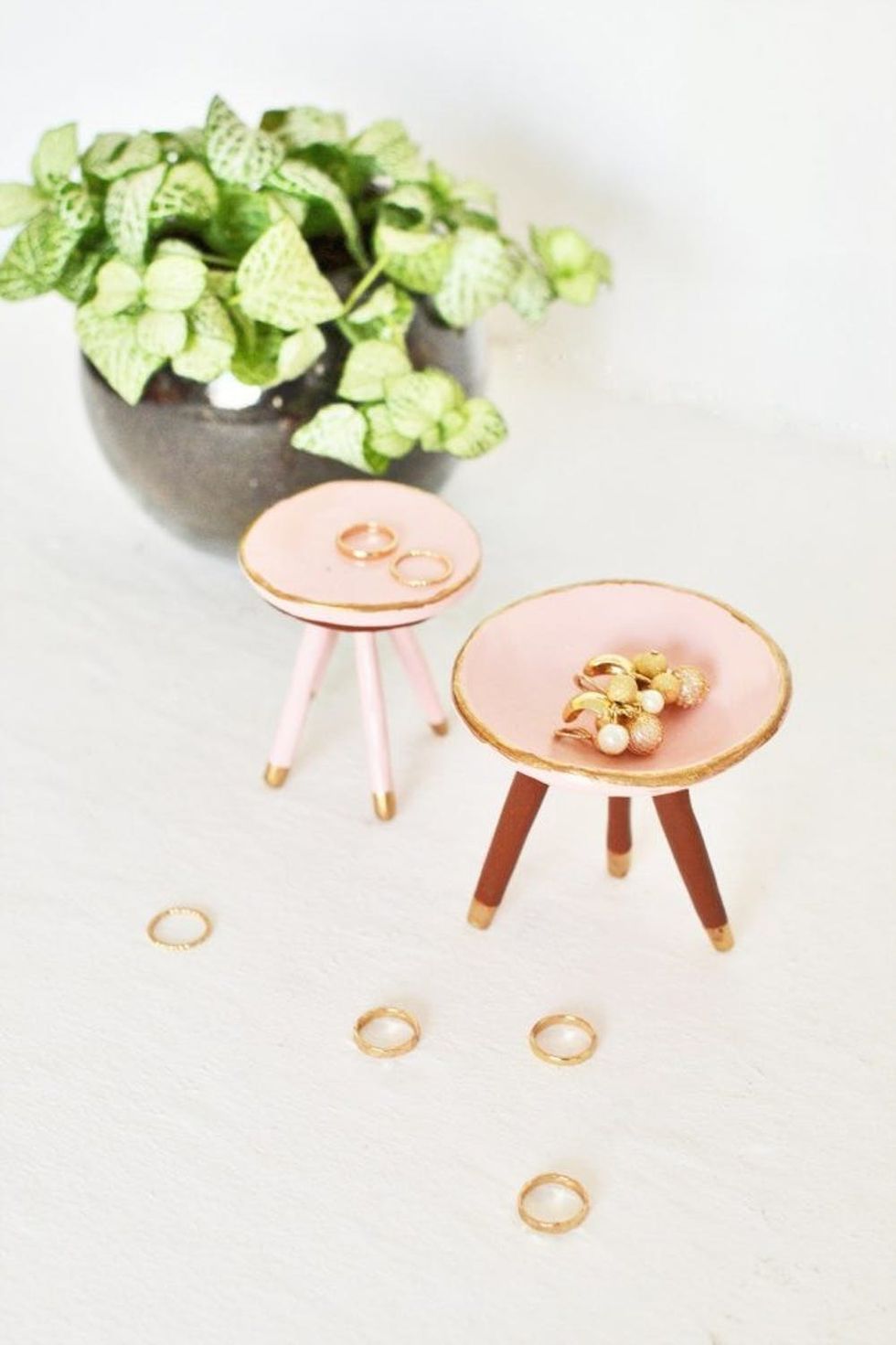 4. DIY Mid-Century Trinket Dish: TBH, it's a little hard not to drop what you're doing to make these especially adorable trinket dishes. If you're an accessories lover or a collector of unnecessary knick-knacks, this DIY is the cutest solution to your clutter. (via Enthralling Gumption)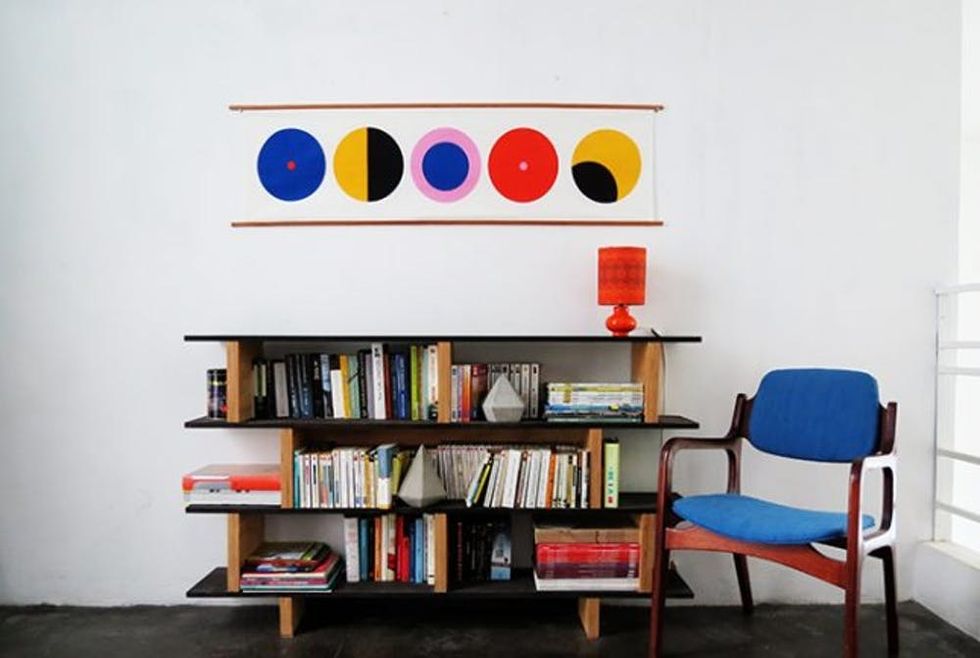 5. DIY Wall Art: Instantly brighten up your space with wall art, like this piece made from a table runner. Yup, you read that right. Luckily, you can do it too — and with any piece of fabric! Using a glue gun, adhere half-circle dowels to the top and bottom of your fabric and secure the whole thing to the wall with push pins or staples. (via Ohoh Blog)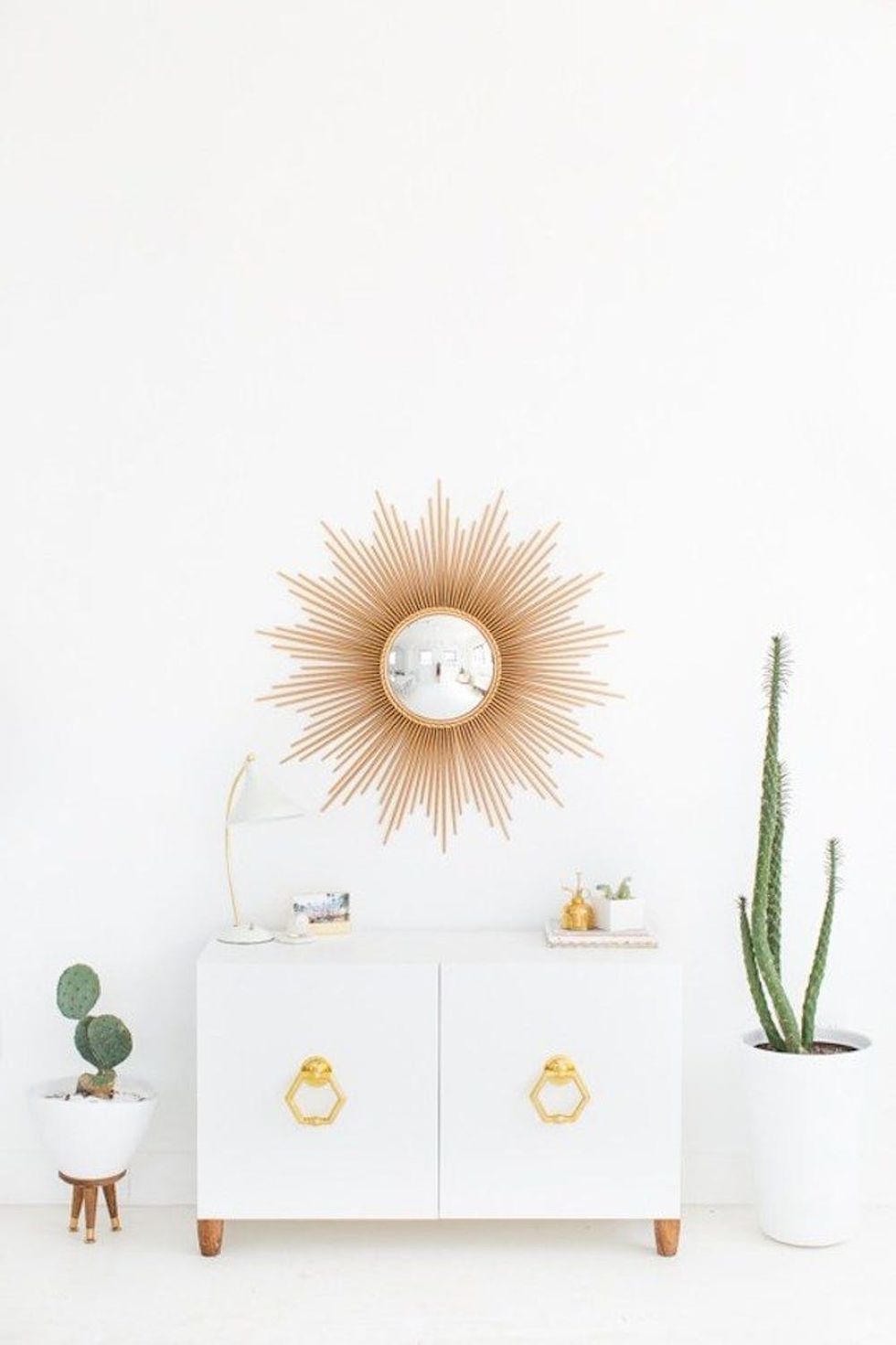 6. DIY Retro Sideboard: This retro DIY doubles as an IKEA hack, so if you've been wondering how to upgrade your BESTA shelf, look no further. To achieve this masterpiece, you'll need warm-toned wooden table legs and two hexagon door knockers. (via Sugar & Cloth)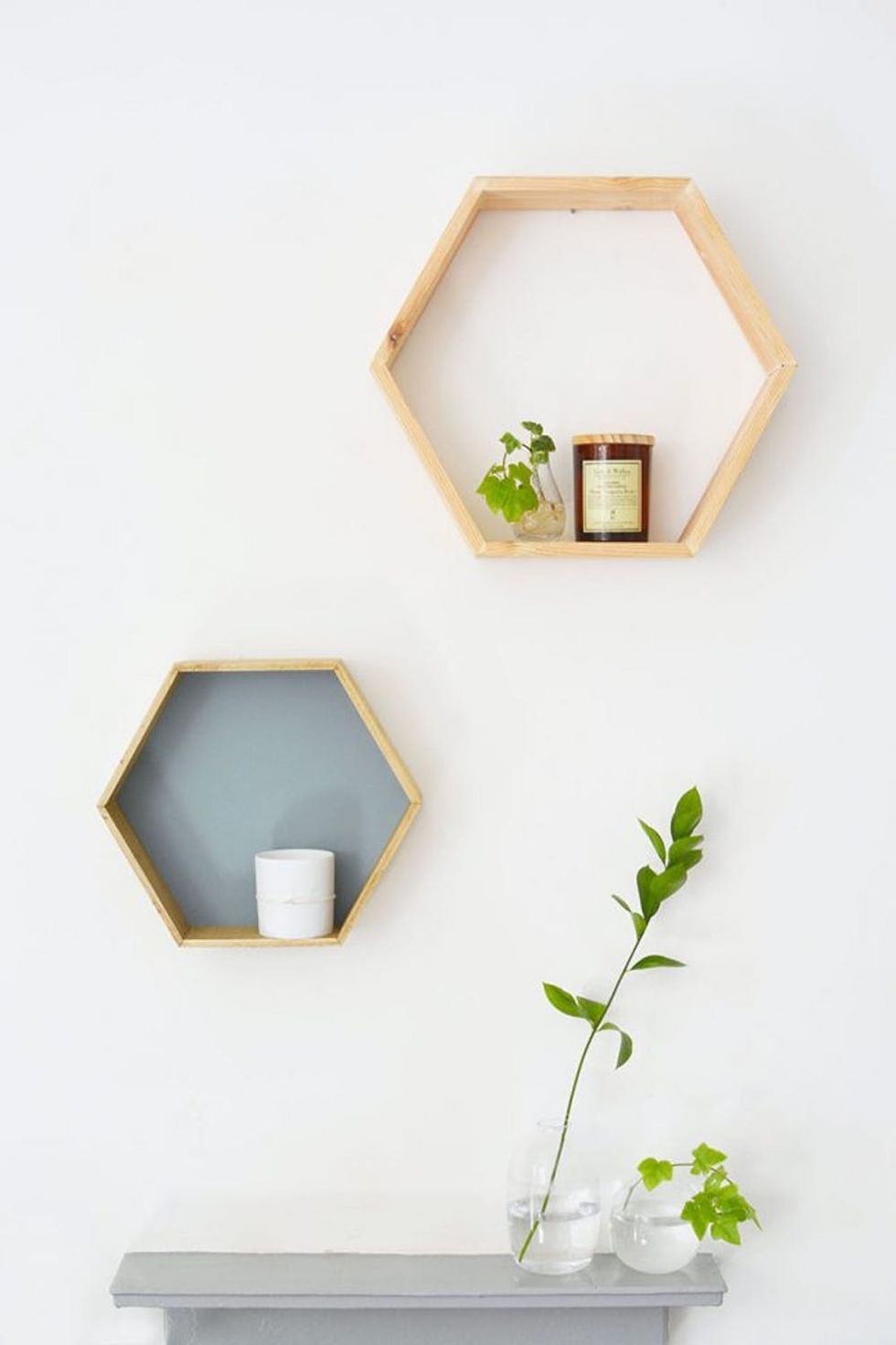 7. DIY Honeycomb Shelves: For a minimalist take, leave the shelves bare. Otherwise, add a backing and consider painting it a burnt orange or teal. Pro tip: Before cutting the six pieces of wood, ensure each piece is measured at a 30-degree angle. (via Burkatron)
8. DIY Vintage Campaign Desk: Stick to painting your campaign desk a vibrant coral for a more modern approach. Alternatively, you could play up the mid-century aesthetic with colors like pewter, tangerine or lime. (via That Winsome Girl)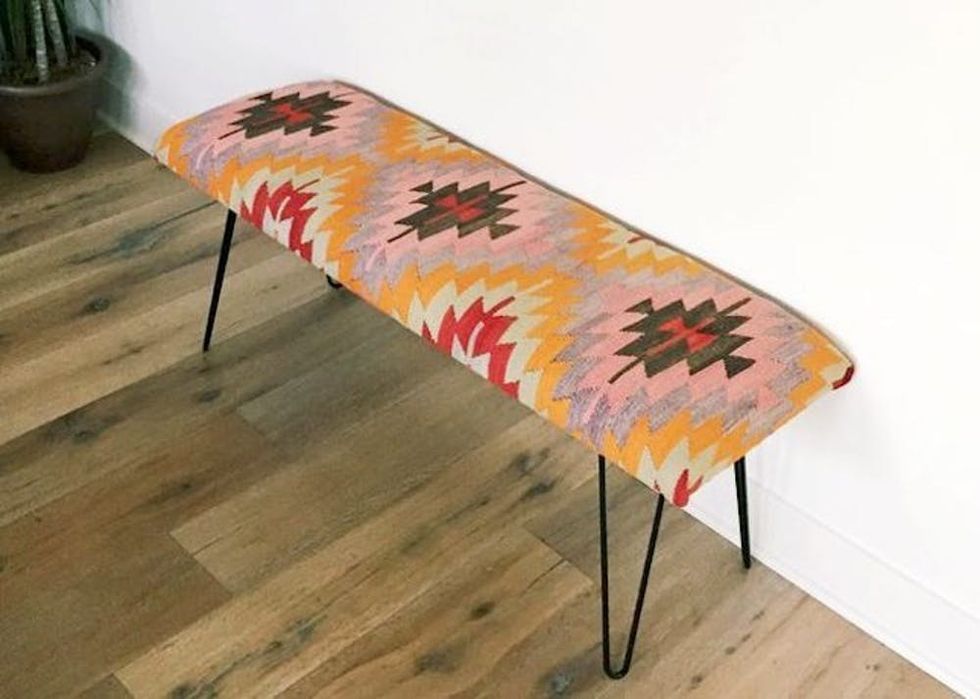 9. DIY Mid-Century Modern Bench: Brighten up your bedroom or entryway with this statement bench made from a colorful kilim rug. Combine the bold print with hairpin legs and you've got your very own mid-century modern home essential. (via eHow)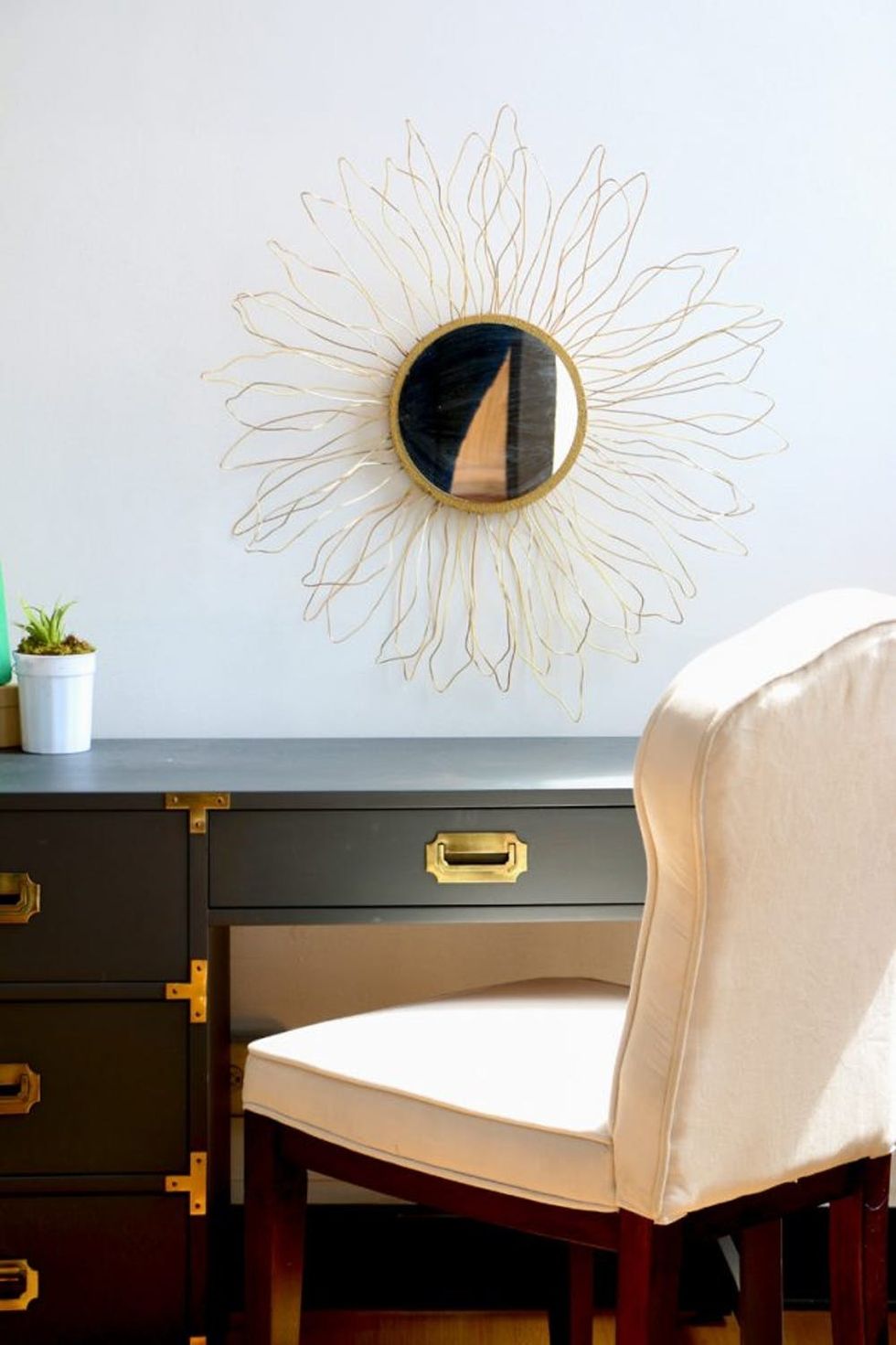 10. DIY Starburst Mirror: Mirrors are an easy way to visually brighten and open up a room. So why not spruce up your space with this stunning starburst mirror? Its vintage-meets-modern design would look great wherever you choose to hang it — whether it's in the entryway, dining room or living room. (via Blitsy)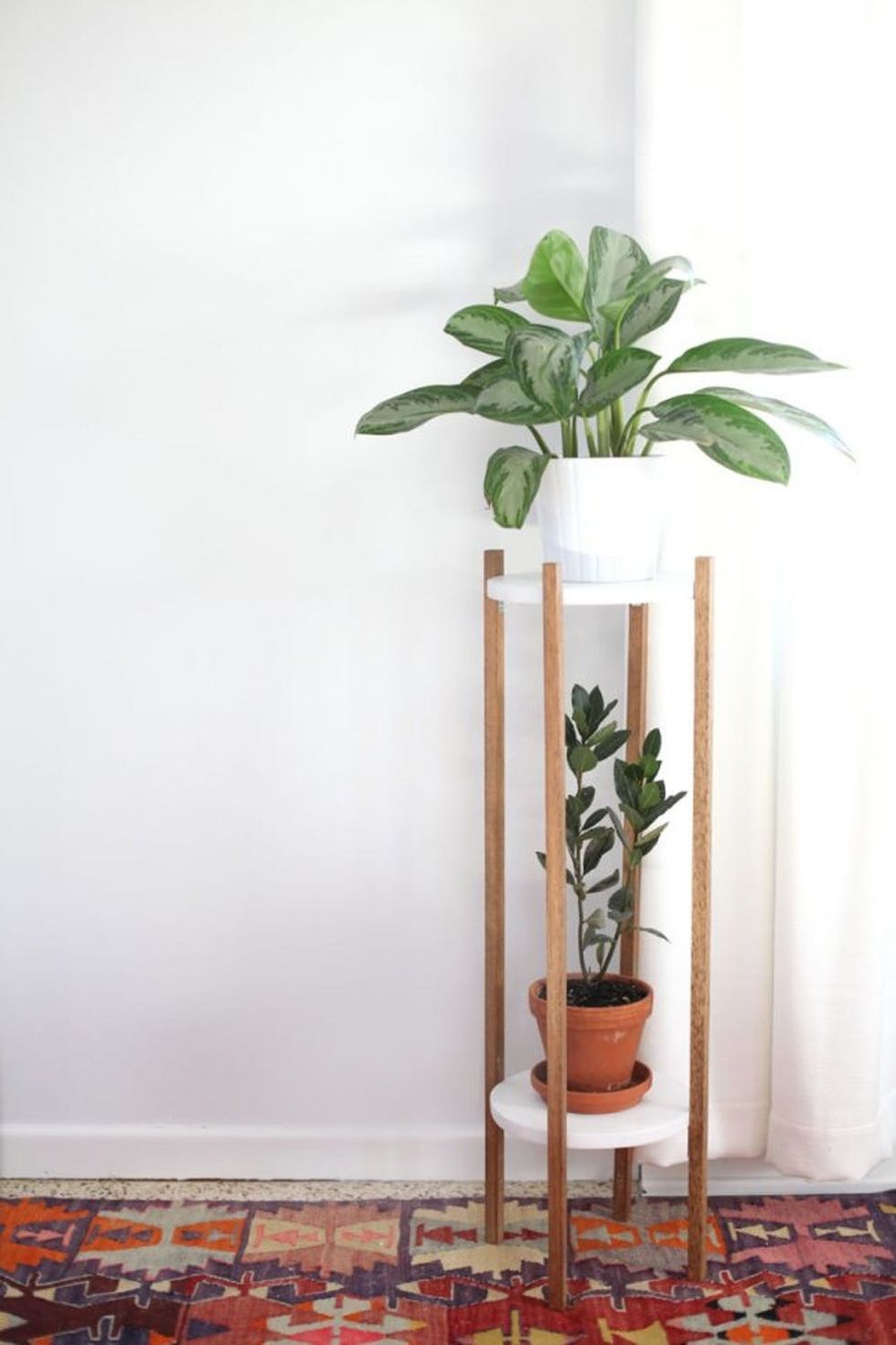 11. DIY Mid-Century Plant Stand: Pre-cut wooden circles and square dowels come together in this mid-century plant stand DIY. Achieve a similar classic minimalist look by painting the wooden circles white and leaving the dowels bare. (via A Beautiful Mess)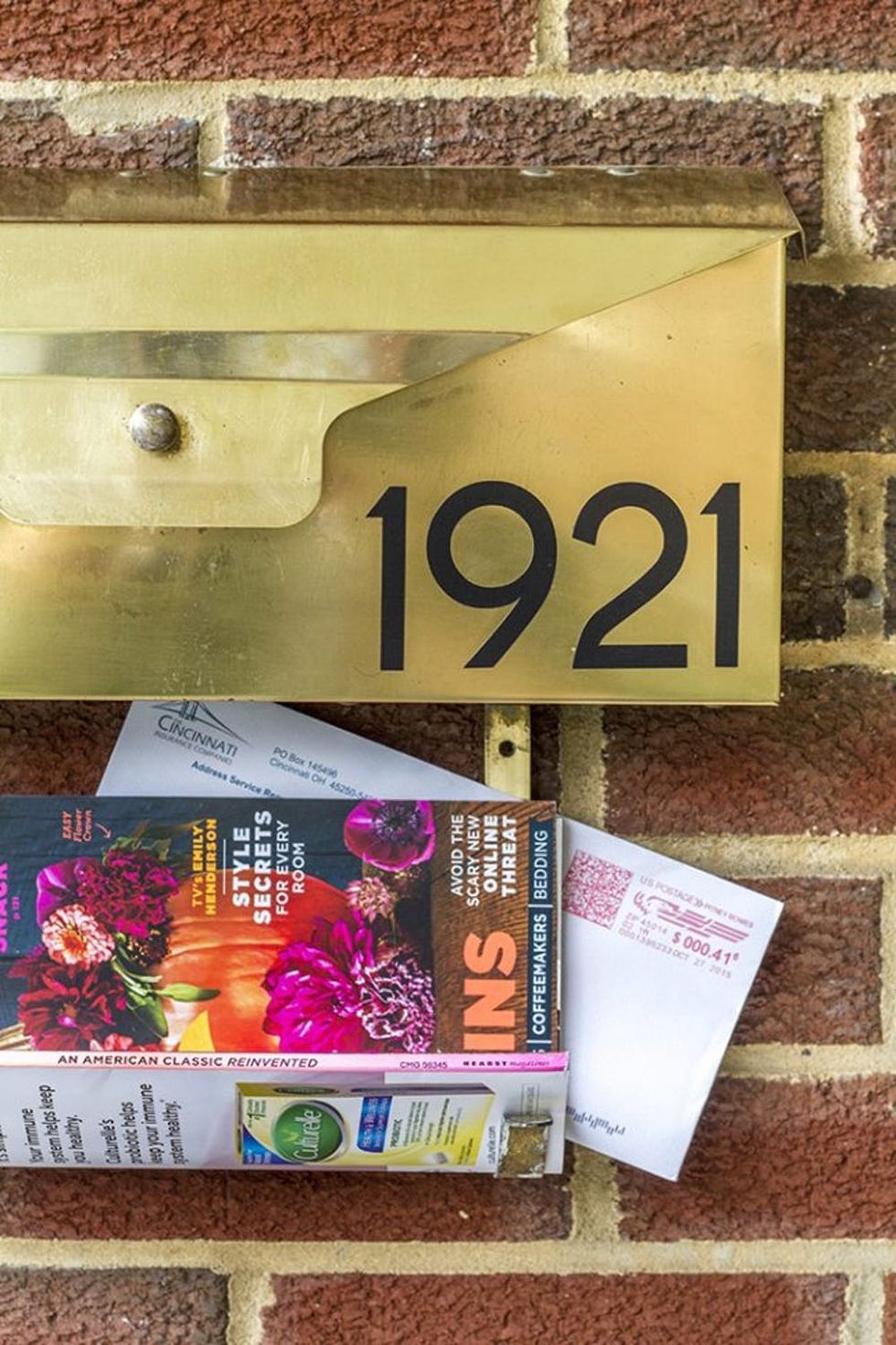 12. DIY Mid-Century Wall-Mounted Mailbox: Check eBay for a brass box like this one. Then add your house number with chunky black peel-and-stick vinyl letters to give your front porch a welcome vintage charm. (via Dream Green DIY)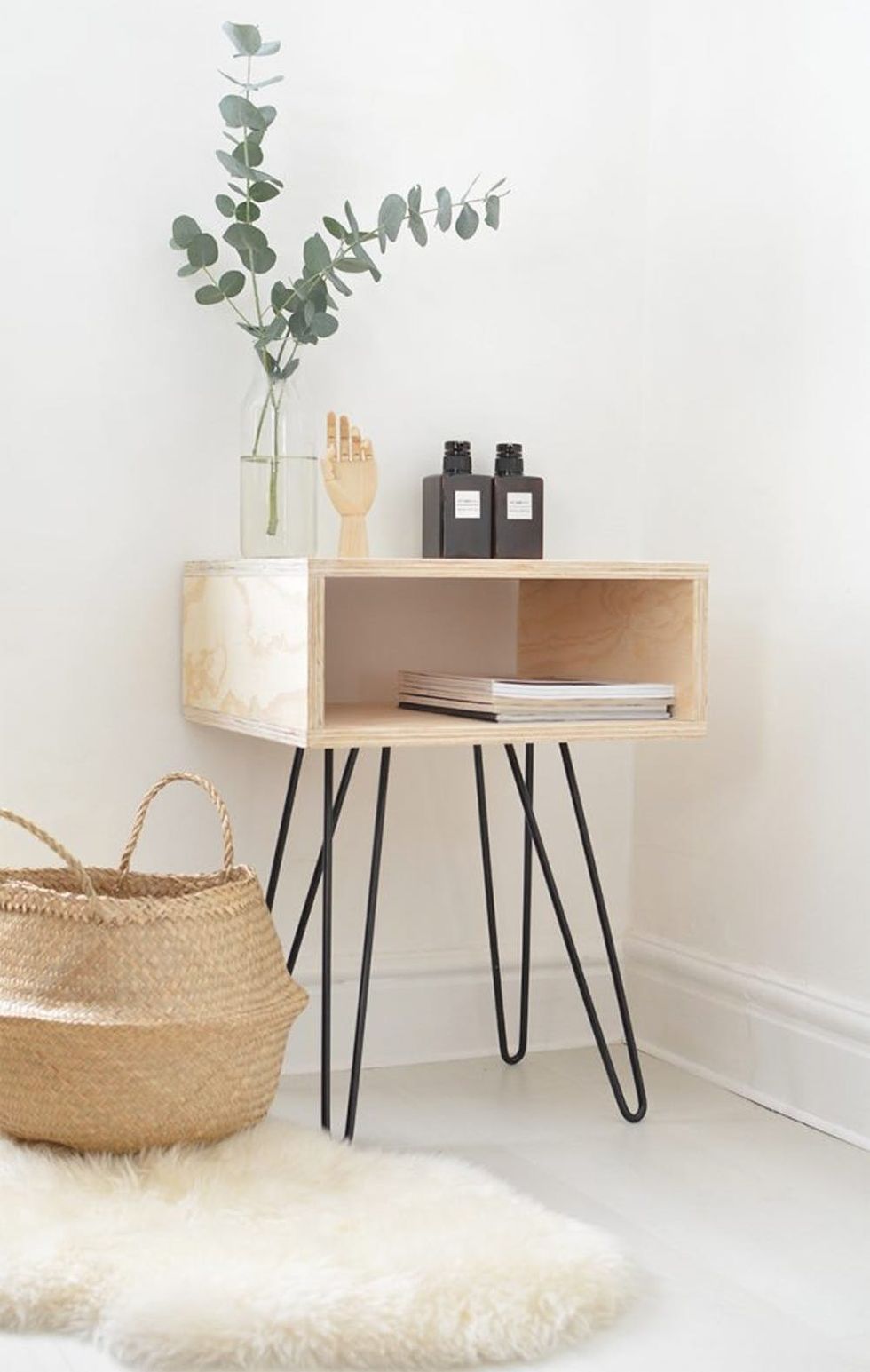 13. DIY Mid-Century Nightstand: If this bare wooden nightstand is a little too modern for your taste, vintage it up with something as simple as a honey-hued wood stain. Or, if you dig the simplified and minimalist design, just leave it be! (via Burkatron)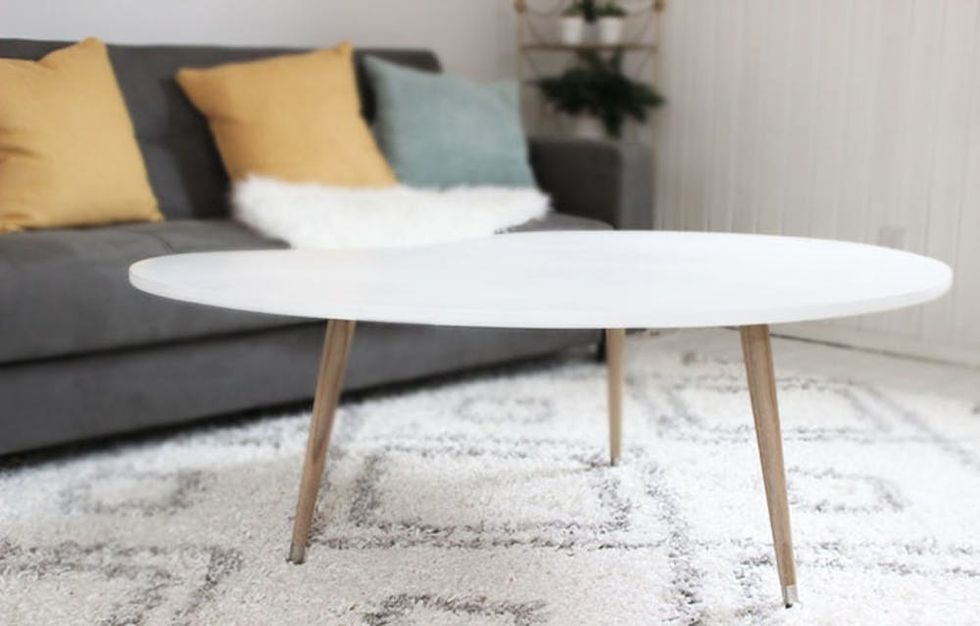 14. DIY Mid-Century Modern Table: Bring those mid-century modern vibes to your living room with this vintage-inspired coffee table. Though this maker chose to go with a jellybean shape, feel free to experiment with your own interpretation. For starters, consider a crescent, trapezoid or triangle with rounded edges — there are so many possibilities! (via Wonder Forest)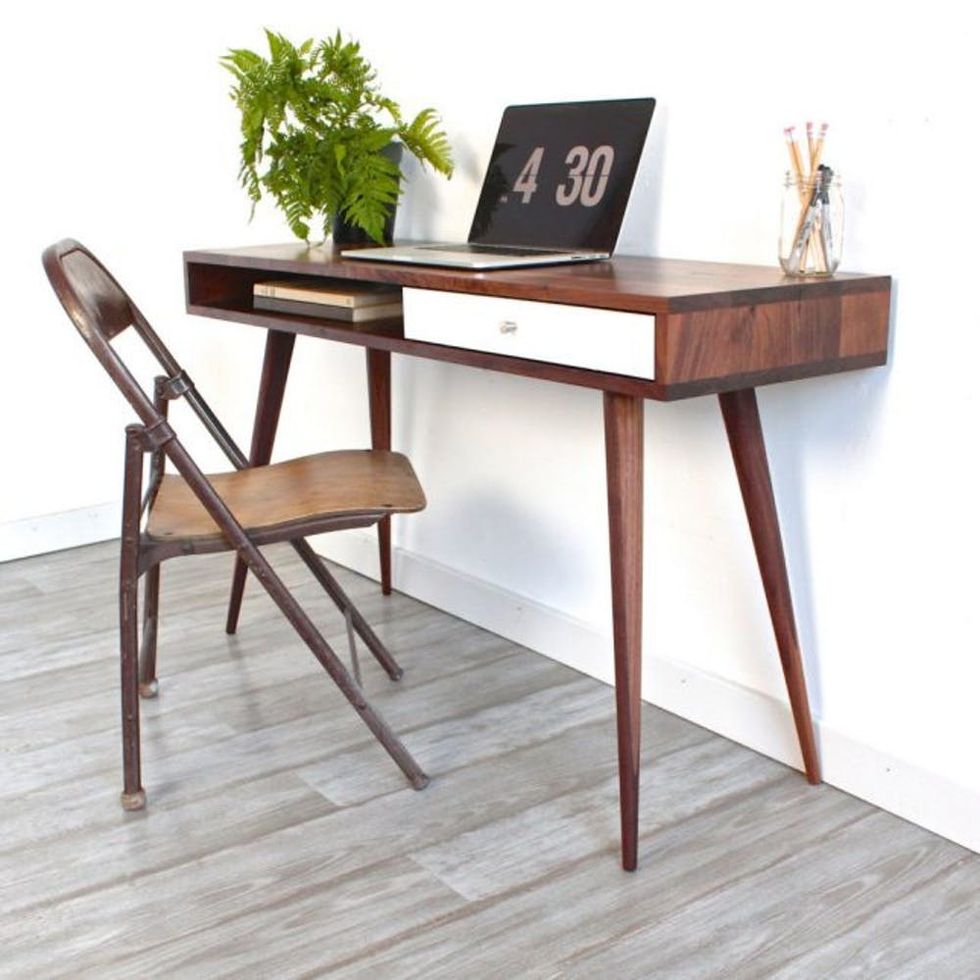 15. DIY Mid-Century Modern Desk: Though this Dot & Bo desk is no longer available, Amy from Hertoolbelt provides step-by-step instructions on how to achieve a similar look. To get a desk as sleek as this, you'll definitely want to take on this weekend project. (via Remodelaholic)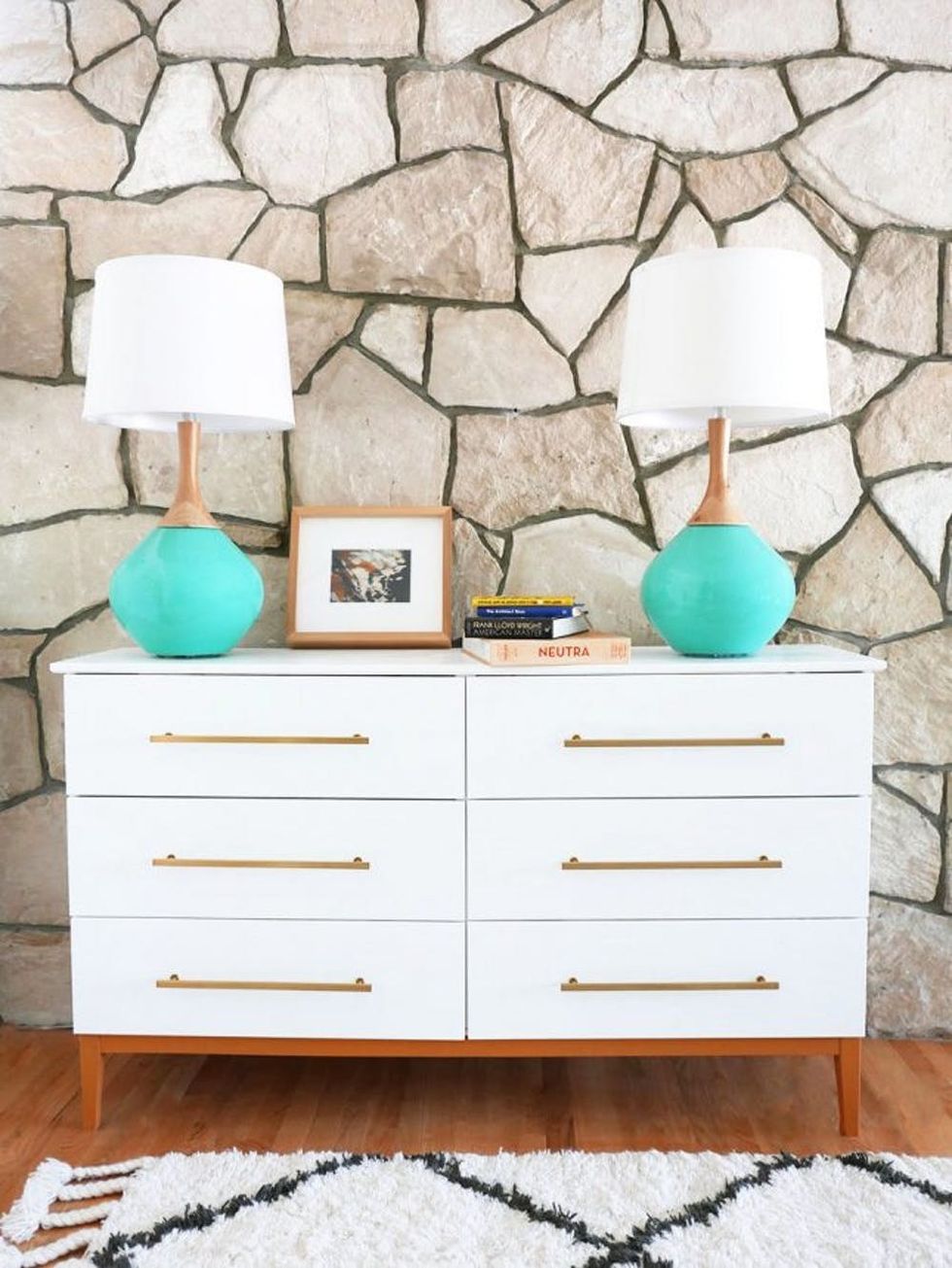 16. DIY Mid-Century Modern Dresser: Pair vintage with modern by combining neutral and warm tones in this IKEA dresser hack. Add a nice metallic touch with brass pulls for a retro sheen. (via A Vintage Splendor)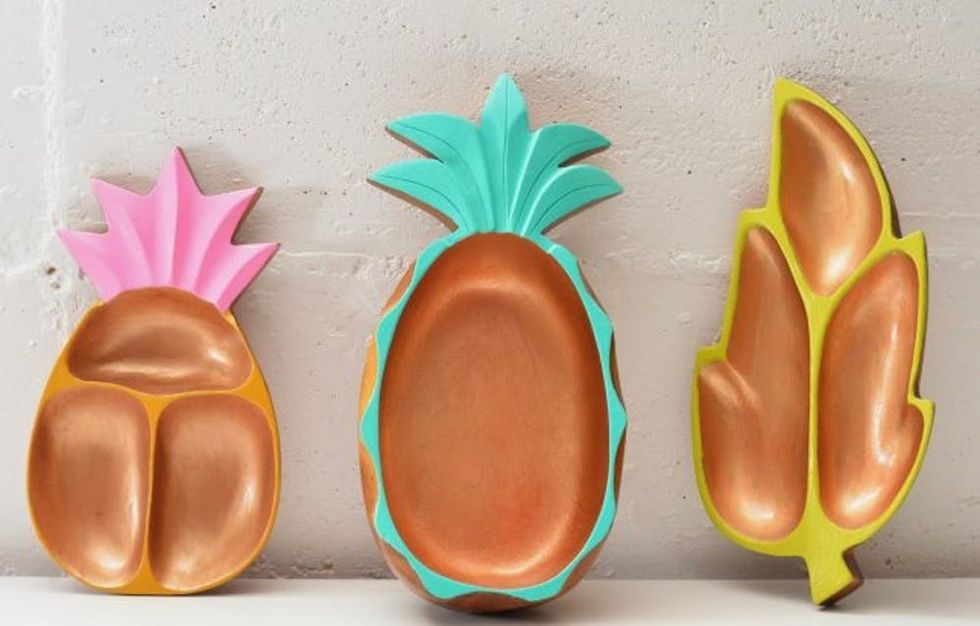 17. DIY Thrifted Wooden Bowls: Now you can incorporate your favorite summer fruits into your mid-century modern obsession. Paint the rim of each bowl a bright color; then once it's dry, seal it with a clear coat. (via Maize Hutton)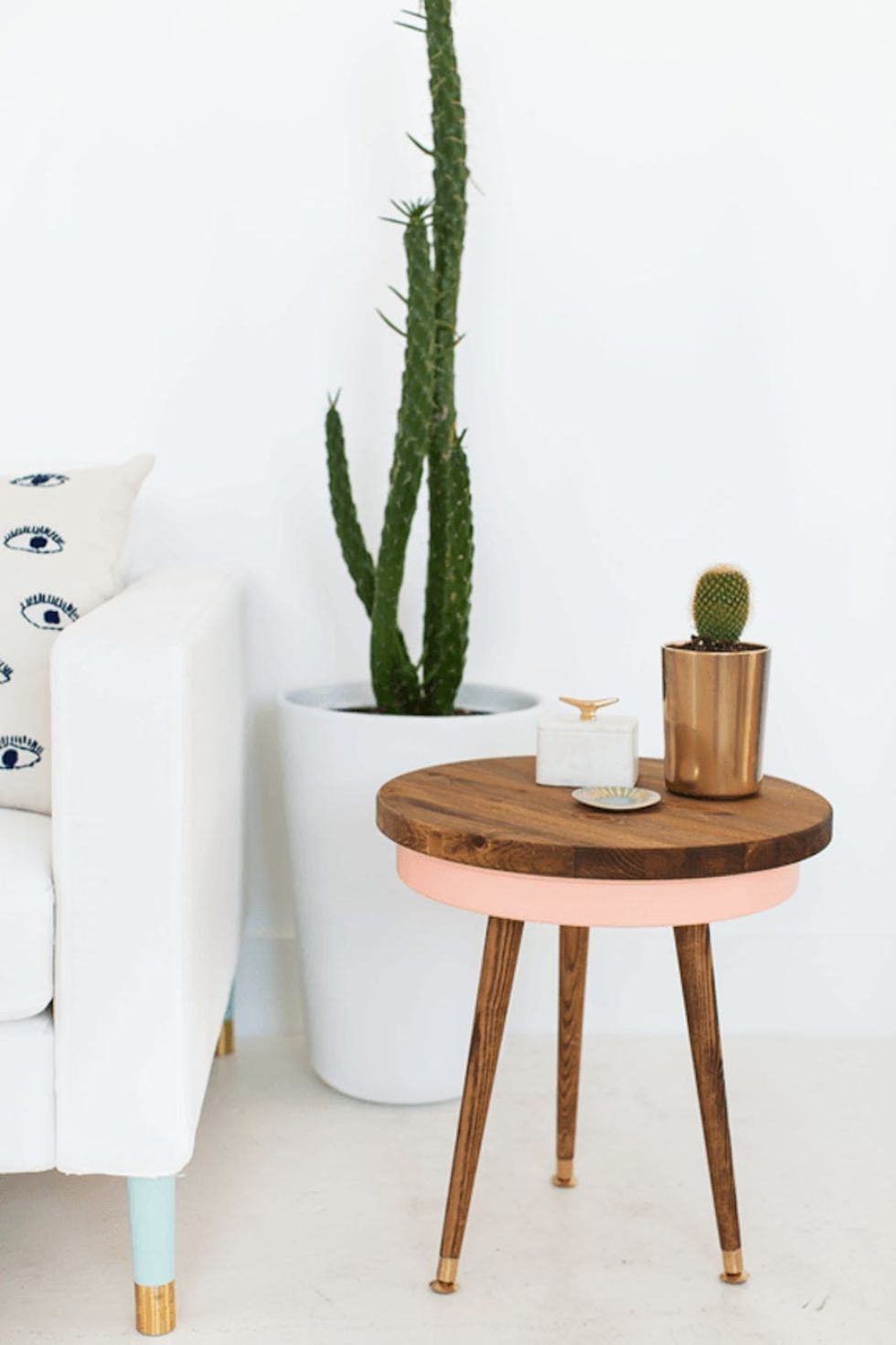 18. DIY Mid-Century Side Table: Set aside this weekend to put together this pretty side table your living room *totally* needs. Balance out the vintage wood finish with a refreshing pop of color. (via Sugar & Cloth)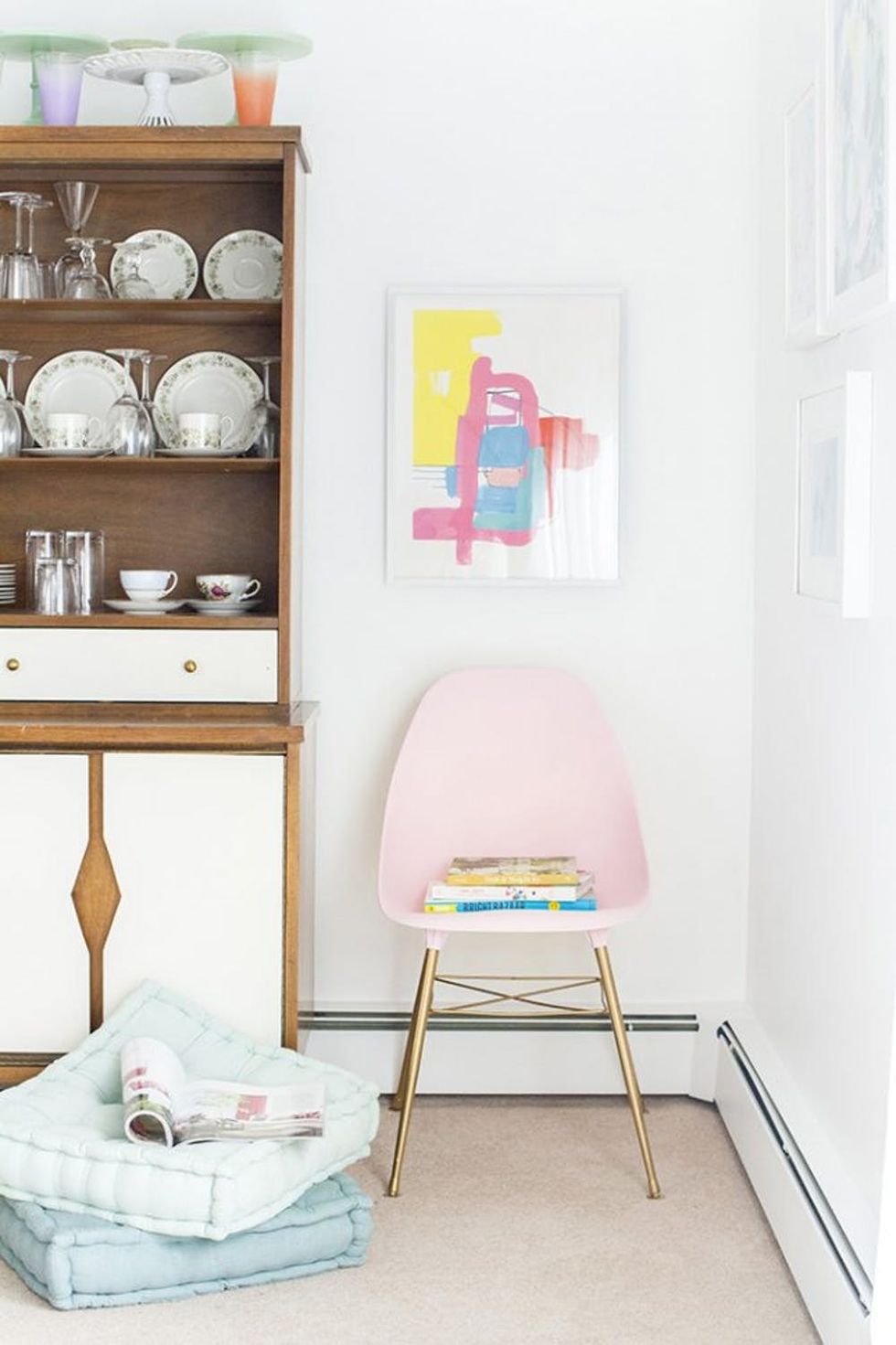 19. DIY Blush Pink Side Chair: Give your thrift store find a modern finish with pink and gold spray paint. For a more gender-neutral color, consider an invigorating shade of mint. (via Dream Green DIY)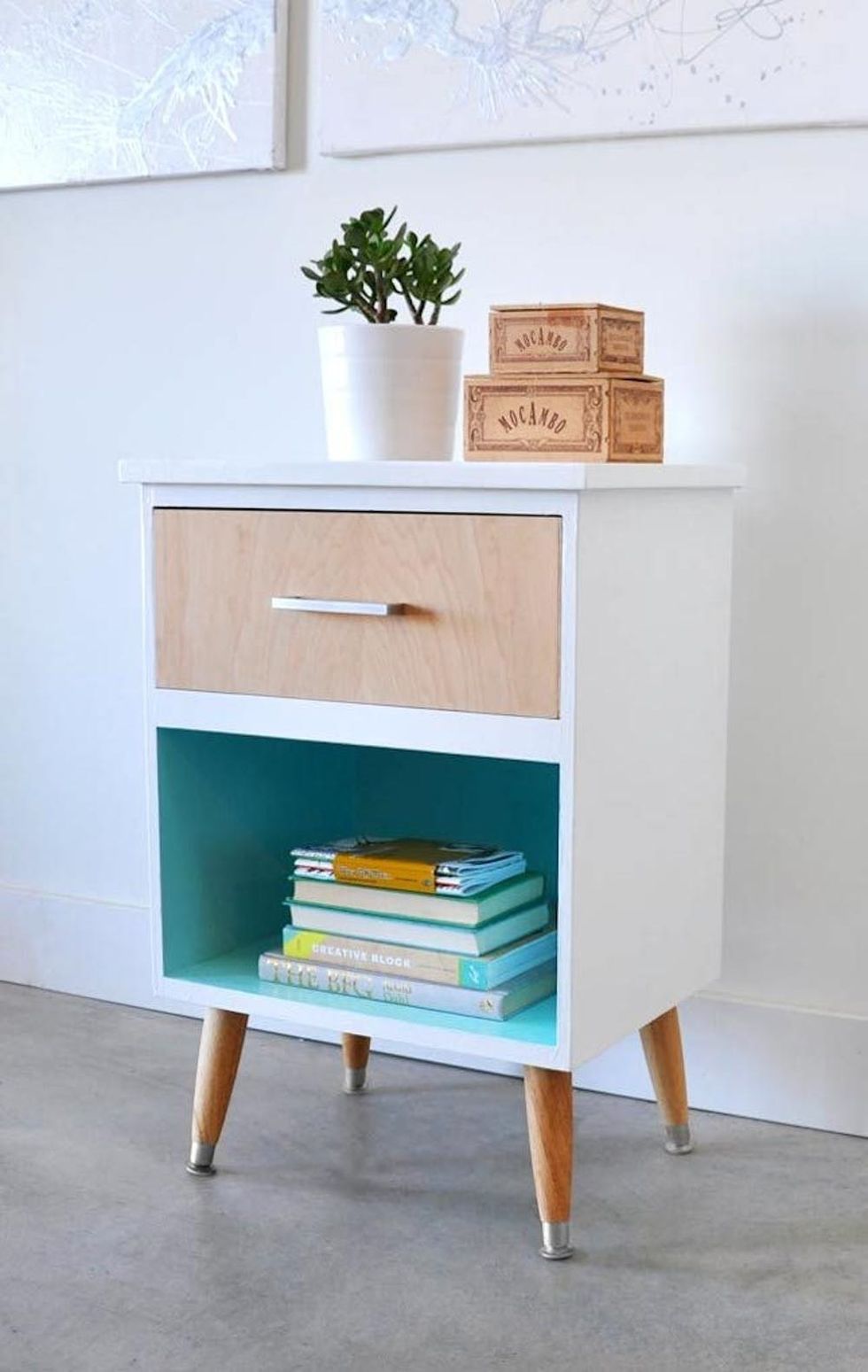 20. DIY Vintage Night Stand: As beautiful as the end product is, this modern vintage piece was once a frumpy cream-colored night stand. That proves that anything is possible — with maple veneer, tapered legs and paint, that is. (via Visual Heart)
Are you in love with mid-century modern decor? For more DIY decor trends, pop on over to our Pinterest!