Nearly 600 Activists Were Arrested at the #WomenDisobey Protest
Jun 29, 2018
Weeks ago, the organizers of the Women's March promised to "[P]ut our bodies on the line to demand the safety and freedom of the children being held in detention centers across the country." This call to action culminated in an act of "mass civil disobedience" in Washington DC on Thursday. Thousands of activists, many of them women, protested the Trump administration's "zero tolerance" policy for migrants crossing the southern border. According to media reports, nearly 600 participants were arrested while peacefully protesting.
This is actually happening. Americans are calling for ICE to be abolished. They've been terrorizing our communities for years! It's time. Every progressive candidate must say it! Everyone who says they care about immigrants should say it. #AbolishICE! #WomenDisobey pic.twitter.com/pPg7NQ9gZ8

— Erika Andiola (@ErikaAndiola) June 28, 2018
---
According to DCist, the Capitol Police made 575 arrests at Thursday's action. Sophie Ellman-Golan, who runs communications and outreach for the Women's March, tweeted that more than 630 were arrested, all of them women. Some of the arrestees were lawmakers, including Washington representative Pramiya Jayapal and Illinois senator Tammy Duckworth.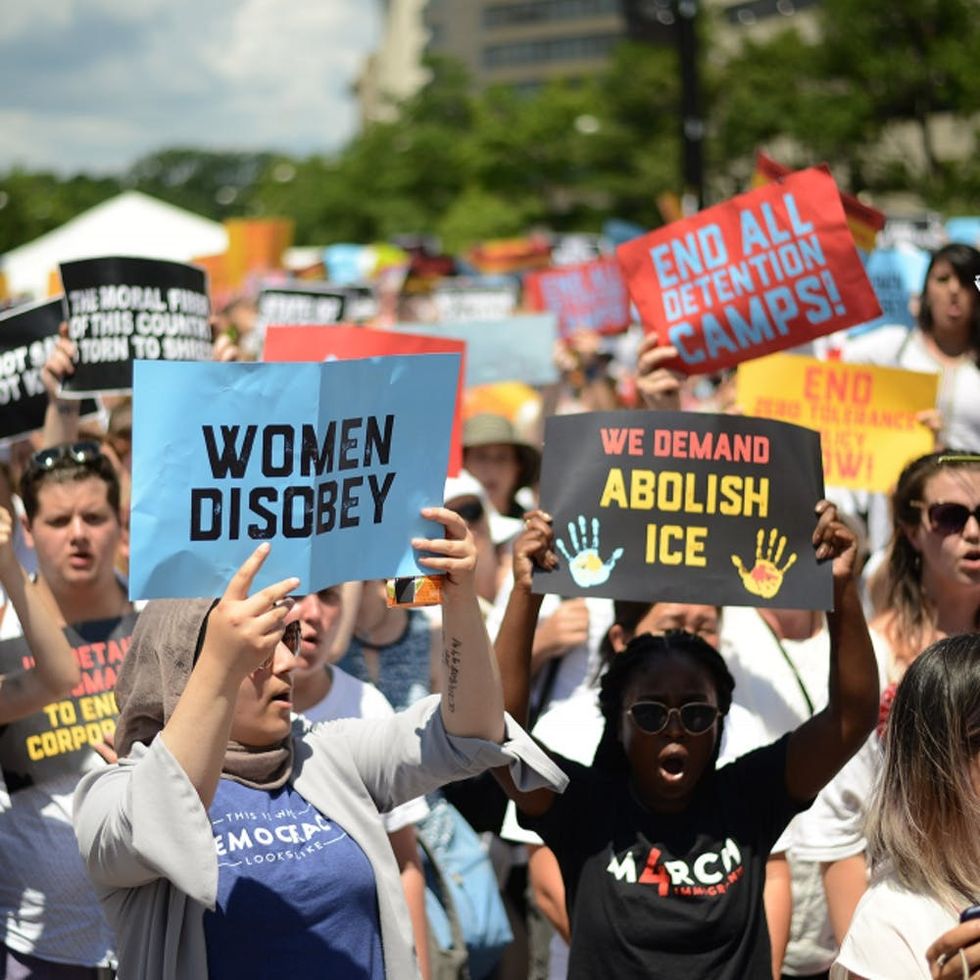 Protesters marched for two miles up Pennsylvania Avenue (the famed DC street that is home to the White House and other government buildings). The march made its way to the Hart Senate Building, where a number of protesters went inside the building, occupying the lobby. Activists chanted, and some wrapped themselves in foil emergency blankets, which have been seen in photographs of migrant children in detention centers.
With these women on our side, we can't lose! Thank you, hermanas. ✊🏾#WomenDisobey #AbolishICE #FamiliesBelongTogether pic.twitter.com/QriJNJpelw

— Voto Latino (@votolatino) June 28, 2018
The act of "civil disobedience" marks an escalation for the Women's March, which has previously carried out strictly legal marches and rallies. On the website promoting information about Thursday's action, the Women's March team said, "Marching is no longer enough, not when this administration is enacting policies that violently separate families, incarcerate children in detention camps and criminalizes human beings coming to our country in search of safety. Not when we see photos and videos of children separated from their families and held in child prison camps. Not when we hear their cries for their parents and see their fear and trauma."
Many other actions in protest of the Trump administration's immigration policies are scheduled for the coming weeks. Several others, including occupations and fundraisers, are ongoing. A national march is scheduled for Saturday, where many thousands are expected to participate around the country. Undocumented communities and their allies are sending the clear message that they will not stand for inhumane policies, and will continue to fight on.
What do you think? Tell us on Twitter @BritandCo.
(Photo by Astrid Riecken/Getty)
Elizabeth King
Elizabeth King is a politics, history, and culture writer based in the Twin Cities. She is generally pretty cranky but still enjoys traveling, music from the early 2000's, and plotting the resistance. Feel free to say hi on Twitter at @ekingc or check out some of her work at www.elizabethcking.com.
Politics