4 Cuts of Pork You Can Totally Slow-Cook
Jul 25, 2018

When you think of slow-cooker pork, it's easy to think of the pulled variety that gets sandwiched into buns or tacos — but there's so much more you can do with the other white meat. Whether in roasts, stews, or even a shareable rack of ribs, pork is incredibly versatile and offers another alternative to beef. Read on for our favorite cuts of pork to slow-cook.
---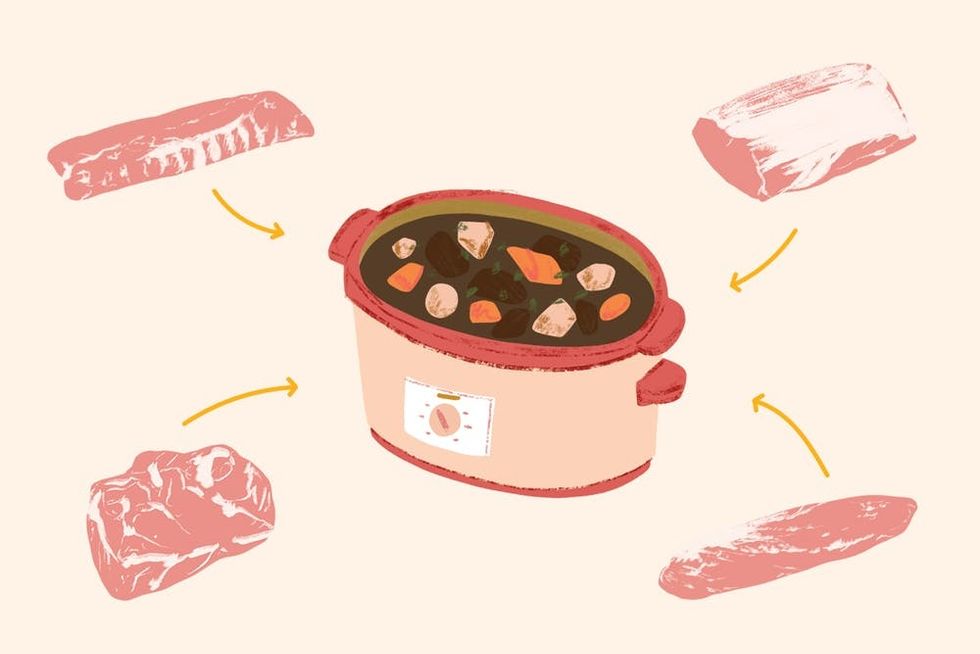 The Best Cuts of Pork For Slow-Cooking
Loin: This cut is best prepared as a classic roast. Add a deboned loin to your slow cooker with apples, pears, onions, stuffing, or whatever you fancy. Cook on high for three to four hours or on low for six to eight hours.
Ribs: Baby back ribs are technically bone-in loin, but the preparation is different enough that we consider it a different cut. Coat the ribs in plenty of barbecue sauce, cover, and cook for nine to 10 hours on low for fall-off-the-bone tender meat.
Shoulder: This cut of meat is incredibly versatile, particularly for stews or shredded meats as it becomes tender after hours of slow-cooking. For barbecue pulled pork, we recommend using a four- to five-pound boneless pork shoulder, seasoned generously with your favorite barbecue spices like chili powder, brown sugar, and garlic. Slow-cook for six to eight hours on high or eight to 10 hours on low, with a cup of chicken broth or stock. Strain and shred, and add barbecue sauce just before serving.
Tenderloin: Since this is the leanest cut of pork, keep a watchful eye on it so it doesn't dry out. Try it with spices or marinating it with red wine, lemon juice, or even a brown sugar/soy sauce mixture. Pork tenderloin should be cooked on high for three to four hours or until the center reaches 145°F.
A few notes about slow-cooking pork:
What's your favorite way to slow-cook pork? Tell us @BritandCo!
(Illustrations via Yising Chou / Brit + Co)
Rachel Bshero
Rachel Bshero is a freelance writer, food stylist, and content strategist living in Nashville, Tennessee. She is also a self-proclaimed Walt Disney World expert, dog mom, and cheese plate aficionado.