Spring Recipes: Vegetables Napolitana
Mar 16, 2016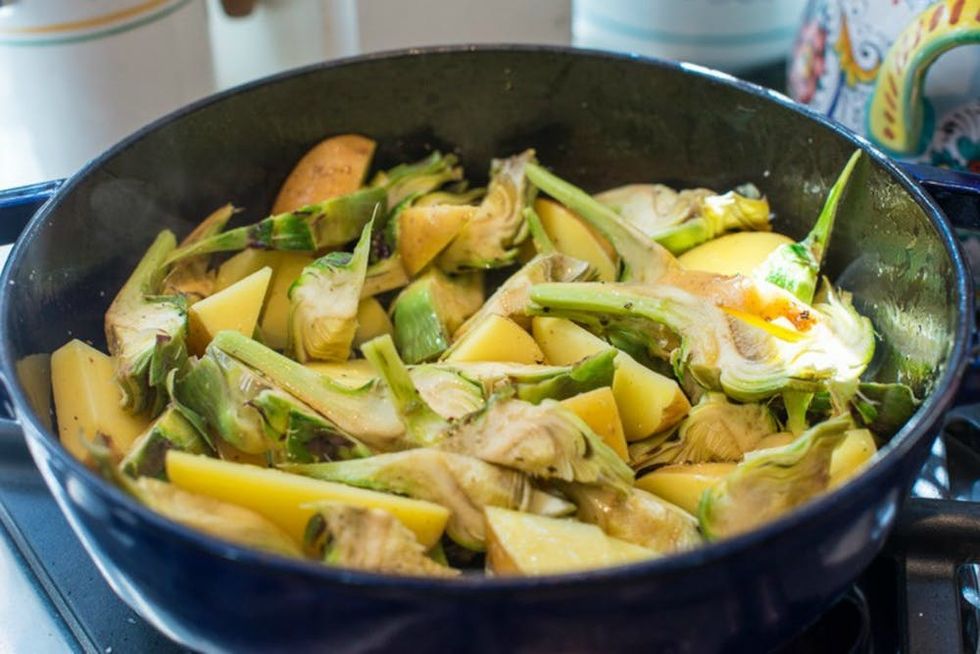 When we think of spring recipes, vegetable dishes immediately leap to mind. It's like we hunger for veggies after the heavy comfort foods of winter. And we're lucky in comparison to our ancestors. We're able to eat fresh vegetables year round, including hot house tomatoes and avocados, which would have been unheard of in our grandparents' day. My grandmother grew up on a farm, but even she would reminisce about being a young schoolgirl so hungry for greens that come spring she'd pluck young green onions right from the ground and slip them between two slices of bread for her lunch — without even rinsing the soil off! In honor of the spring thaw, here are 16 spring recipes to help us forget that winter ever happened.
---
When I'm looking for interesting vegetable dishes, I turn to some of my favorite Italian cookbooks. It may seem counterintuitive, with Italian food best known for pasta dishes, but Neapolitan cuisine especially, is strong on great vegetable dishes. This would not be all that surprising to most Italians, as the people of Naples were once referred to as mangiafoglie, or "leaf eaters" by other Italians.
Jeanne Caròla Francesconi, author of La Cucina Napoletana, and doyenne of Neapolitan cuisine in her day, devoted more than 70 pages of her renowned cookbook to vegetable dishes. We can find her books on Amazon, though we'd have to translate them from Italian. Instead, I take the easier route and follow Frank over at Memorie di Angelina, who is cooking up braised artichokes and potatoes, Neopolitan-style. Frank's other Francesconi recipes include fried peppers, fried zucchini and mushroom-style eggplant. I'm getting hungry just thinking about them.
Do you have a favorite spring recipe to share? Tag us on Instagram @britandco.
(Photo via Memorie di Angelina)
Sally Jones
Sally Jones is a writer and editor living in New York City. She has worked at many websites including iVillage, Ladies Home Journal, More, Parenting, Cosmopolitan, The Knot and YourTango, in jobs ranging from editor to COO. Renovation and interior design are her
unhealthy obsessions
hobbies. She has renovated every home she's lived in, including the rentals, and like... whoa, who does that? You can catch her at her blog
Renov8or
.