This Simple Home Decor Trick Will Instantly Make Your Home More Stylish
Jul 25, 2016
Obviously, there's no right or wrong way to decorate your home — we're strong advocates of the motto, "Collect what makes you happy and you'll create a space you love" — but there are a few designer-proven tricks that will make your home look more stylish and put together. One of those rules is the Power of Three, which will magically turn your coffee table, living room and bedroom into functional yet attractive spaces. The "rule" is pretty simple: Things arranged in odd numbers, specifically the number three, are more visually appealing to our brains. It's the quickest and easiest way to establish a pattern or a color scheme, and to avoid that stiff symmetry that comes with pairs. Keep scrolling for 14 examples of the rule of three you'll want to try ASAP.
---
1. The Perfectly Styled Coffee Table: Check any glam coffee table on Instagram and you'll immediately notice they all stick to the rule of three when it comes to arranging vignettes. Choose three objects of varying height to style everything: piles of books, candles and house plants. (via Style Me Pretty)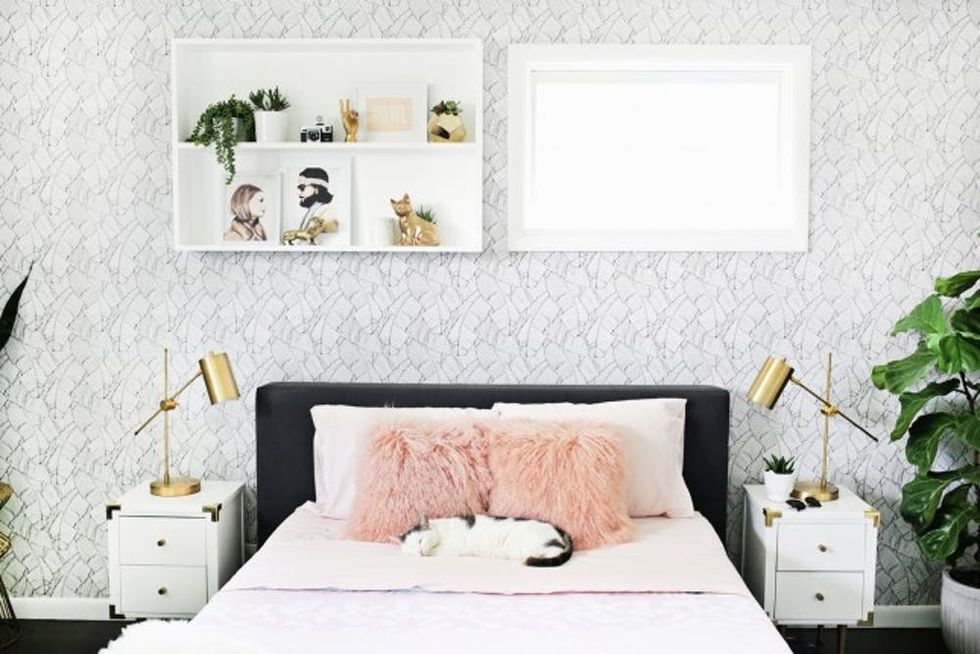 2. Softly Neutral: Color palettes work best in sets of three, but if bold color combinations are not for you, then choose neutrals or three varying shades of the same color, for a more calming room design. This bedroom uses gray, gold and soft pink to create a space that looks well-designed and welcoming. (via A Beautiful Mess)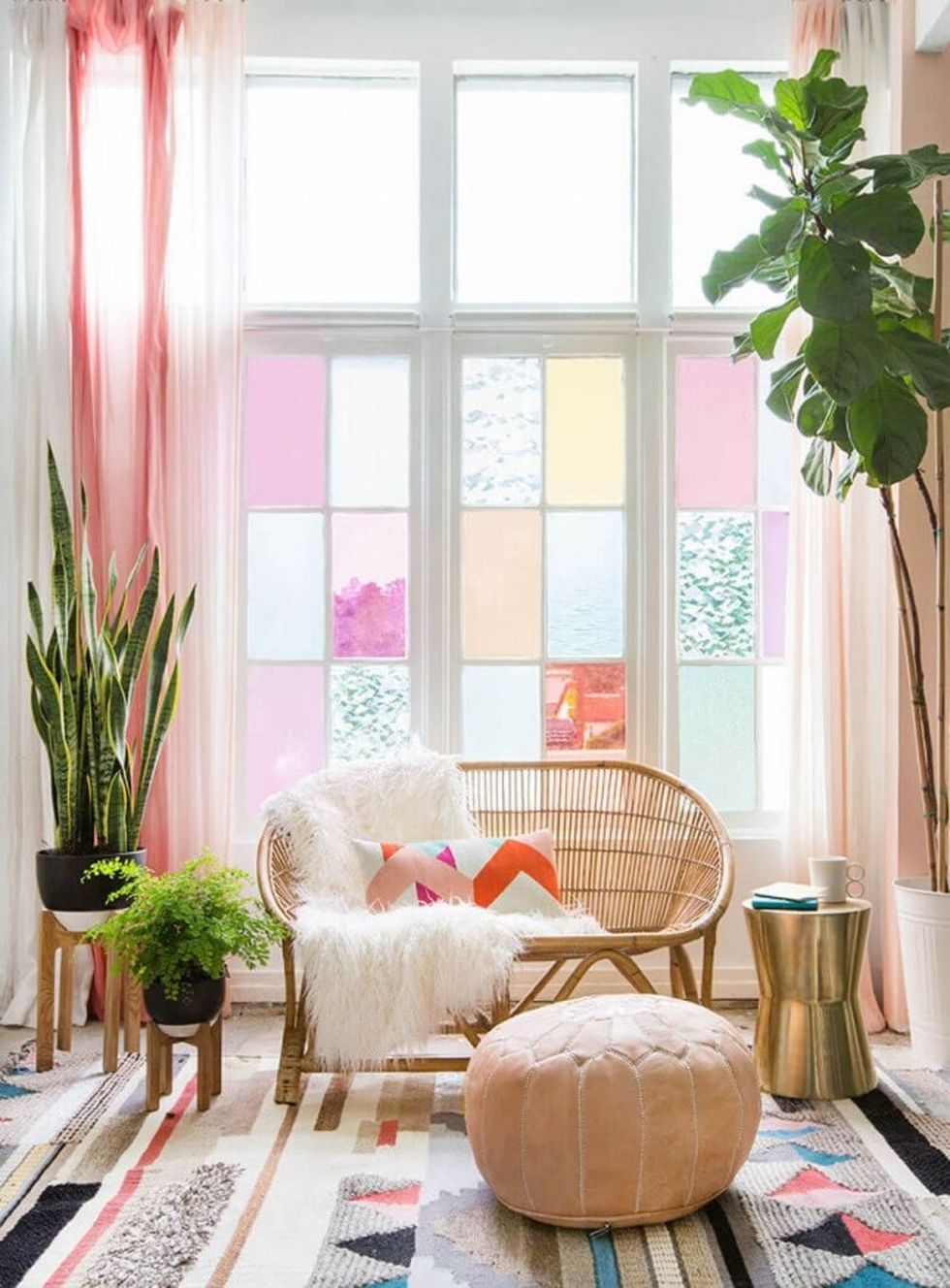 3. Plants in Sets of Three: The rule doesn't just mean grouping objects together in sets of three — it also works with textures. Bring in three different textures, like a metallic side table, a faux fur throw and a soft leather ottoman, to create a visually interesting vignette in your living room. (via Emily Henderson)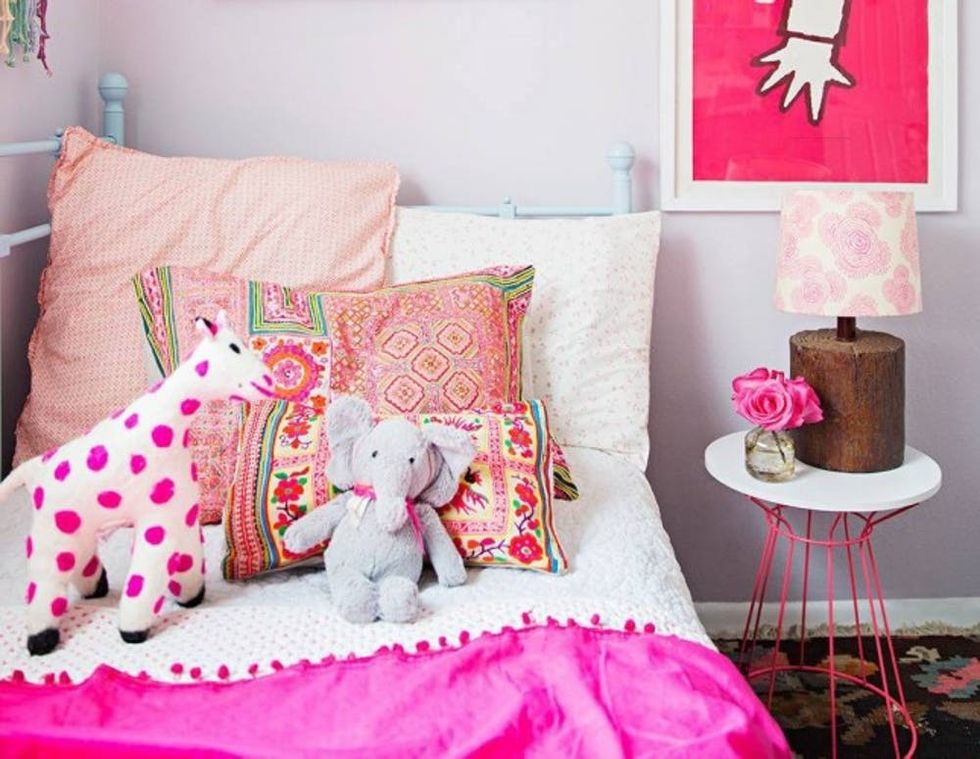 4. Repeat the Color Palette: Choosing a color palette can be fairly intimidating, and it's easy to stick with only one or two colors. If your space is feeling a little flat, introduce a third color — maybe something super bright and preppy — to make the room feel more complete. (via Domino)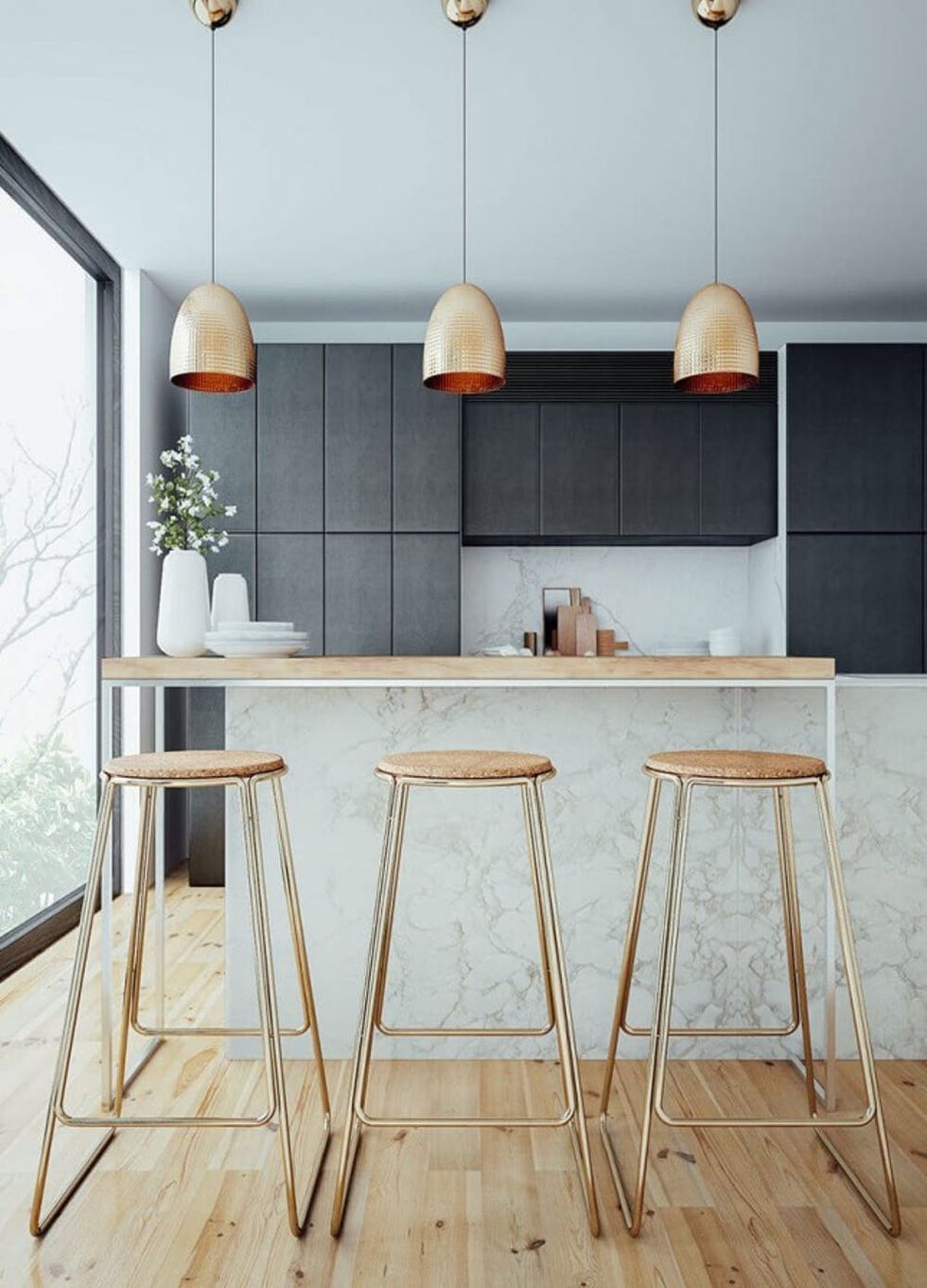 5. Threesome Seating Options: Three barstools and three pendant lights come together for a minimal and elegant kitchen bar. To keep the minimalist theme going strong, keep away from a lot of color variation in your room. You can use the rule of three to keep the space from looking flat with three major elements, like metallics, a wood counter and white vases. (via Behance)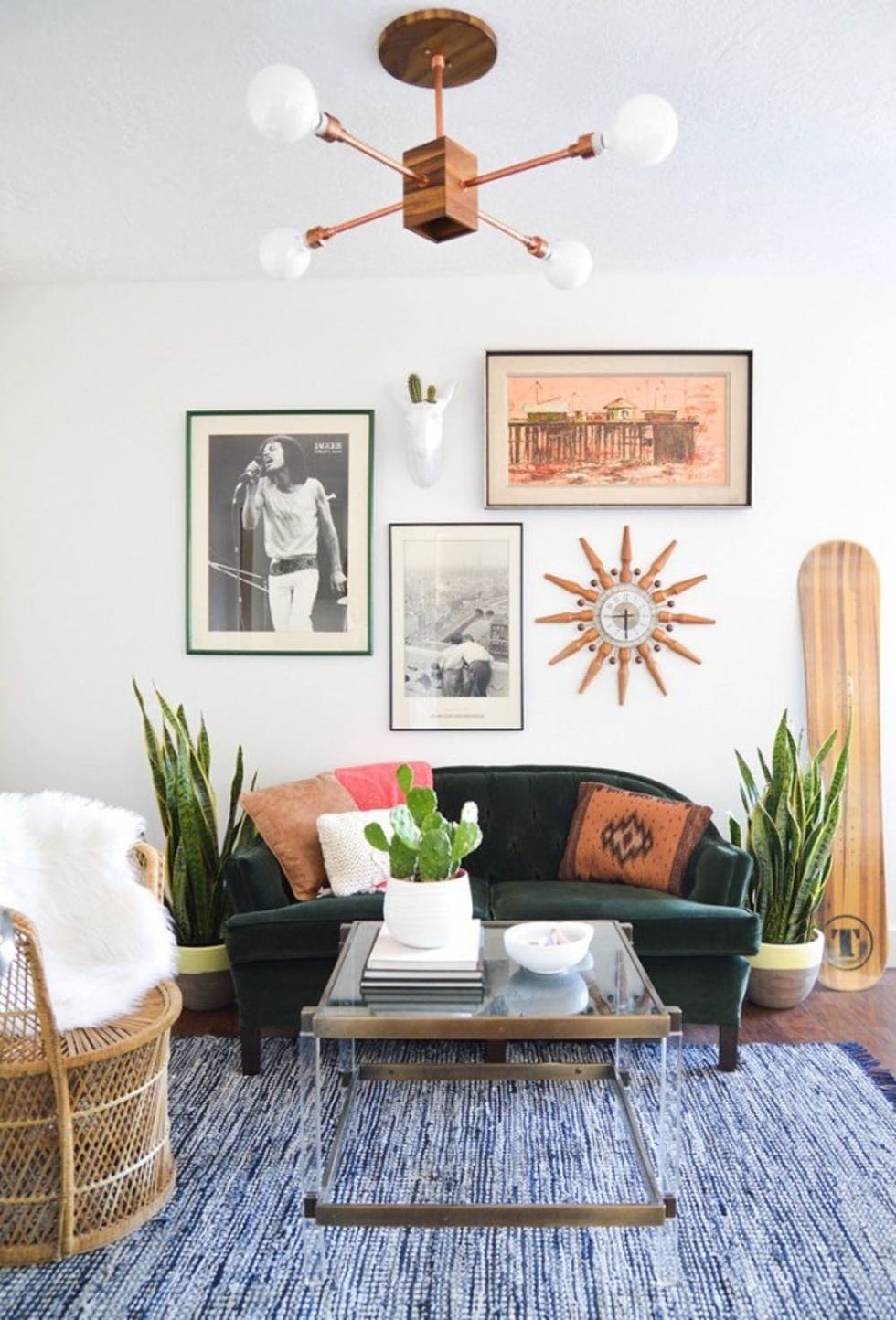 6. Tiny Living Room Styling: When hanging artwork or decor, two is too little. If you don't have the space for a huge gallery wall, three items (like the large prints above) automatically transform those pieces into a collection. Fill out the wall with a few three-dimensional objects and you'll soon have *five* pieces of artwork — another magic number. (via Vintage Revivals)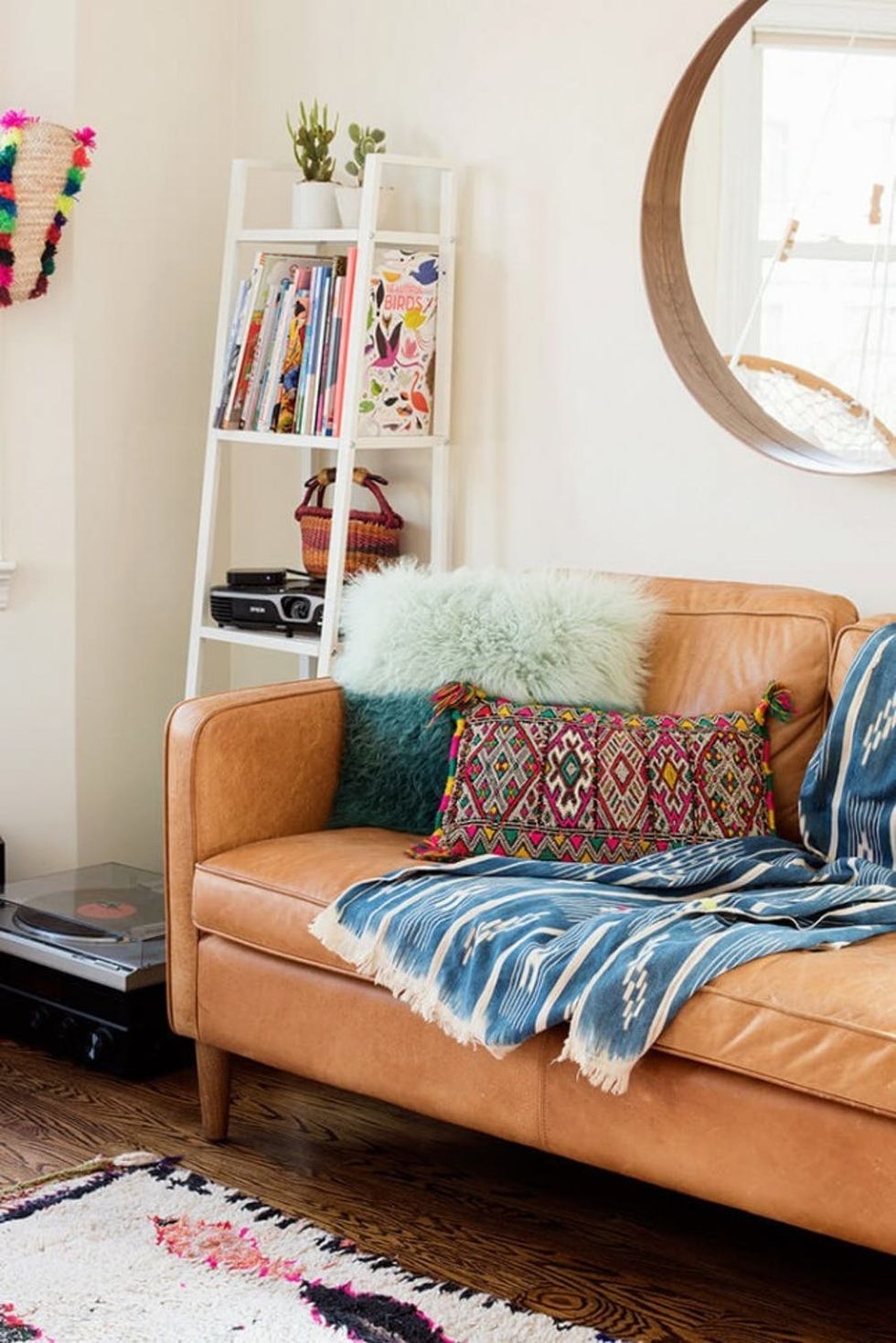 7. Perfect Sofa Styling: It's easy to get carried away with throw pillows and blankets and pile them on until your sofa is an indistinguishable pile of cushions. Stick to an odd number and *try* to limit yourself to two throw pillows and one throw blanket for an effortlessly cozy couch. (via The Glitter Guide)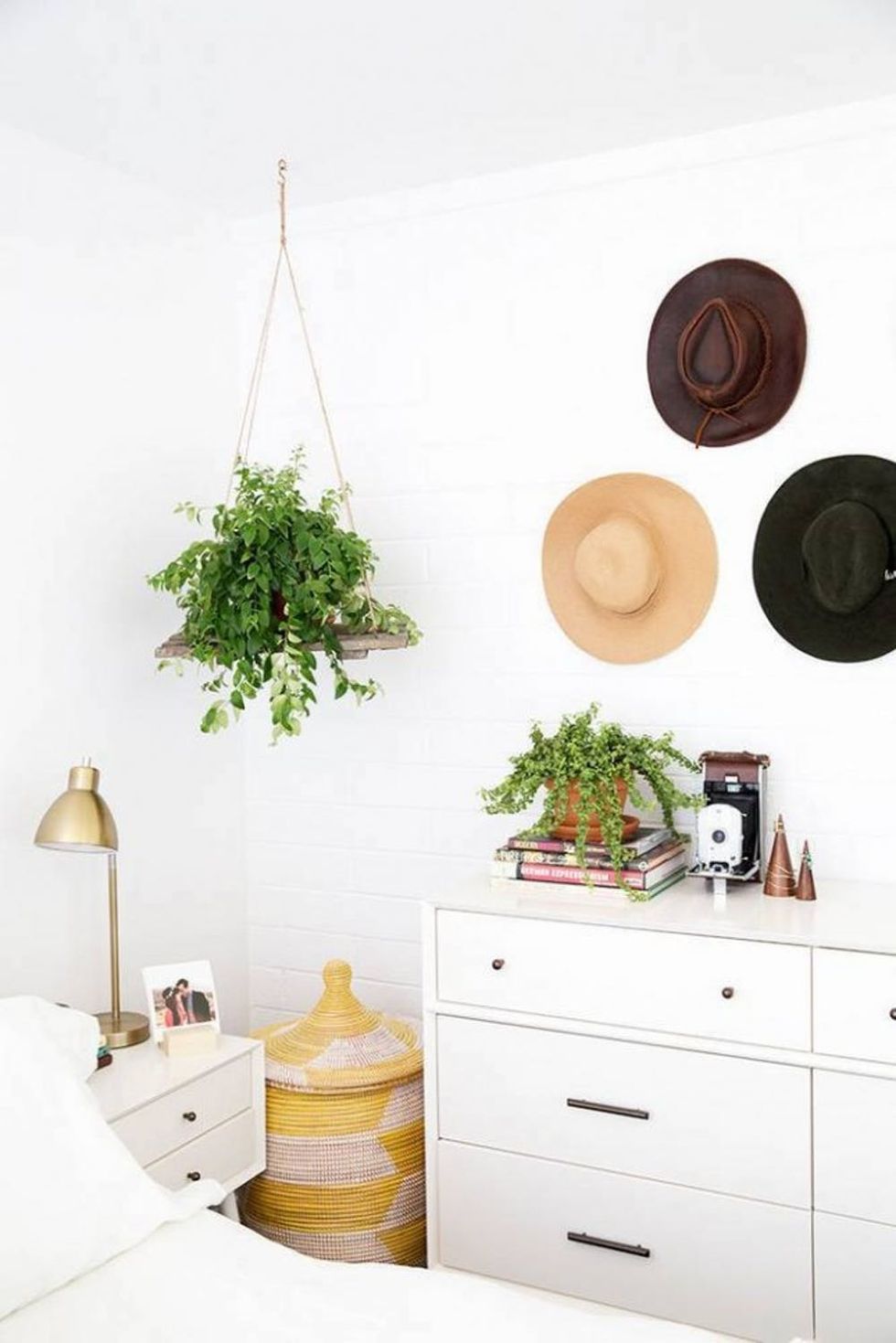 8. Hang a Collection in Sets of Three: Get your fashion collection out of the closet and onto the walls. Accessories like hats, scarves and jewelry look amazing on the walls, especially when you group them together in sets of three. (via Domino)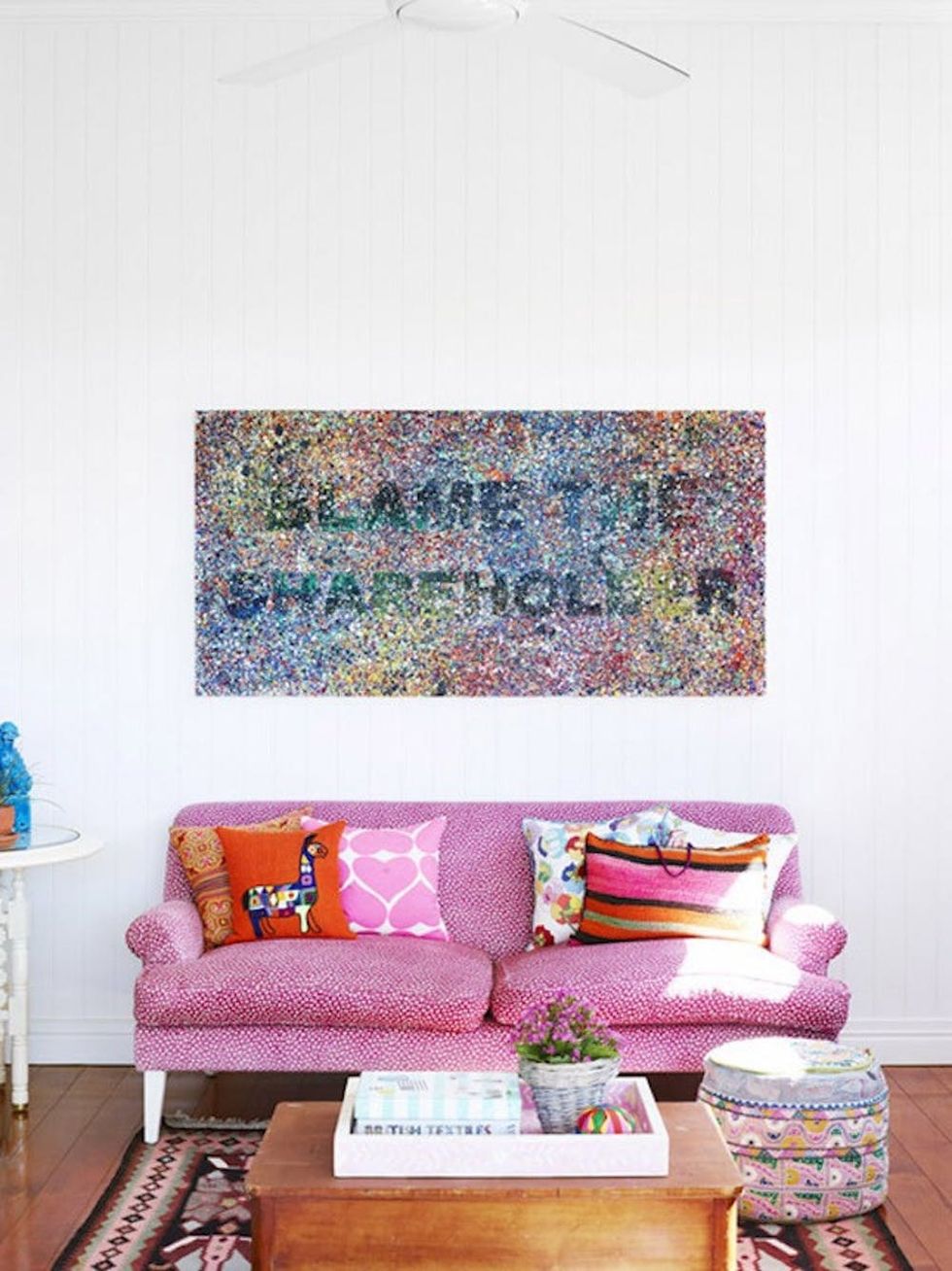 9. Repeat the Patterns: This space would feel totally different without that pouf on the side — a small but seriously chic addition. Avoid any perfect symmetry by bring in cool accessories you can move around. Just make sure there's a similar color theme to keep small spaces from looking cluttered. (via Design Files)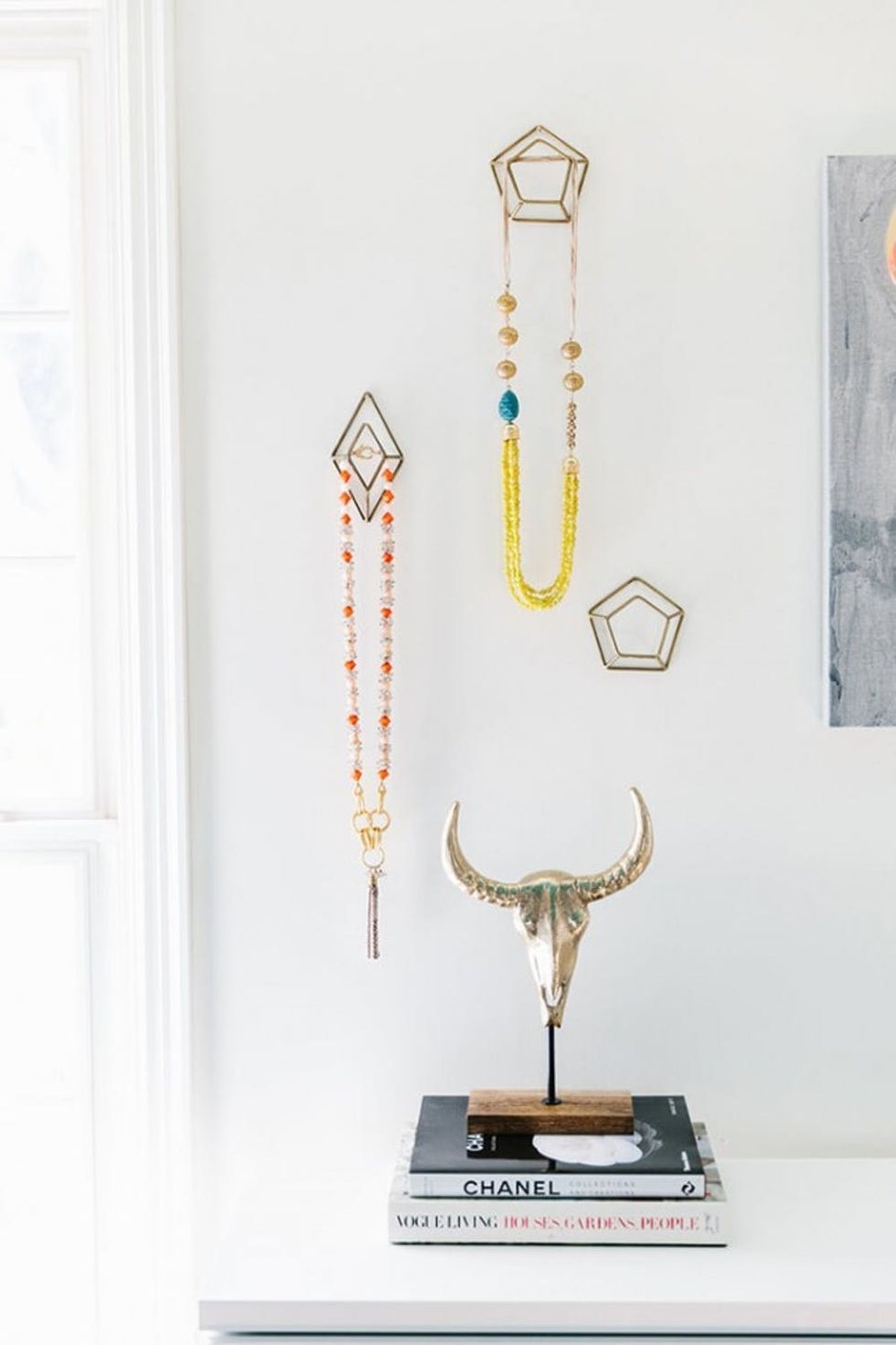 10. Hanging Storage: If you have an area that feels off, choose three items to fill the space. These three jewelry hooks all fall at different heights and look great in the bedroom — with or without your necklaces. (via The Glitter Guide)
11. Bedside Styling: Clusters of things that are grouped or highlighted in odd numbers work wonders in the bedroom. Try to think of a triangle when you're arranging things: A tall fiddle leaf fig plant, a nightstand and a cozy rug can all come together to make an elegant bedroom vignette. (via Domino)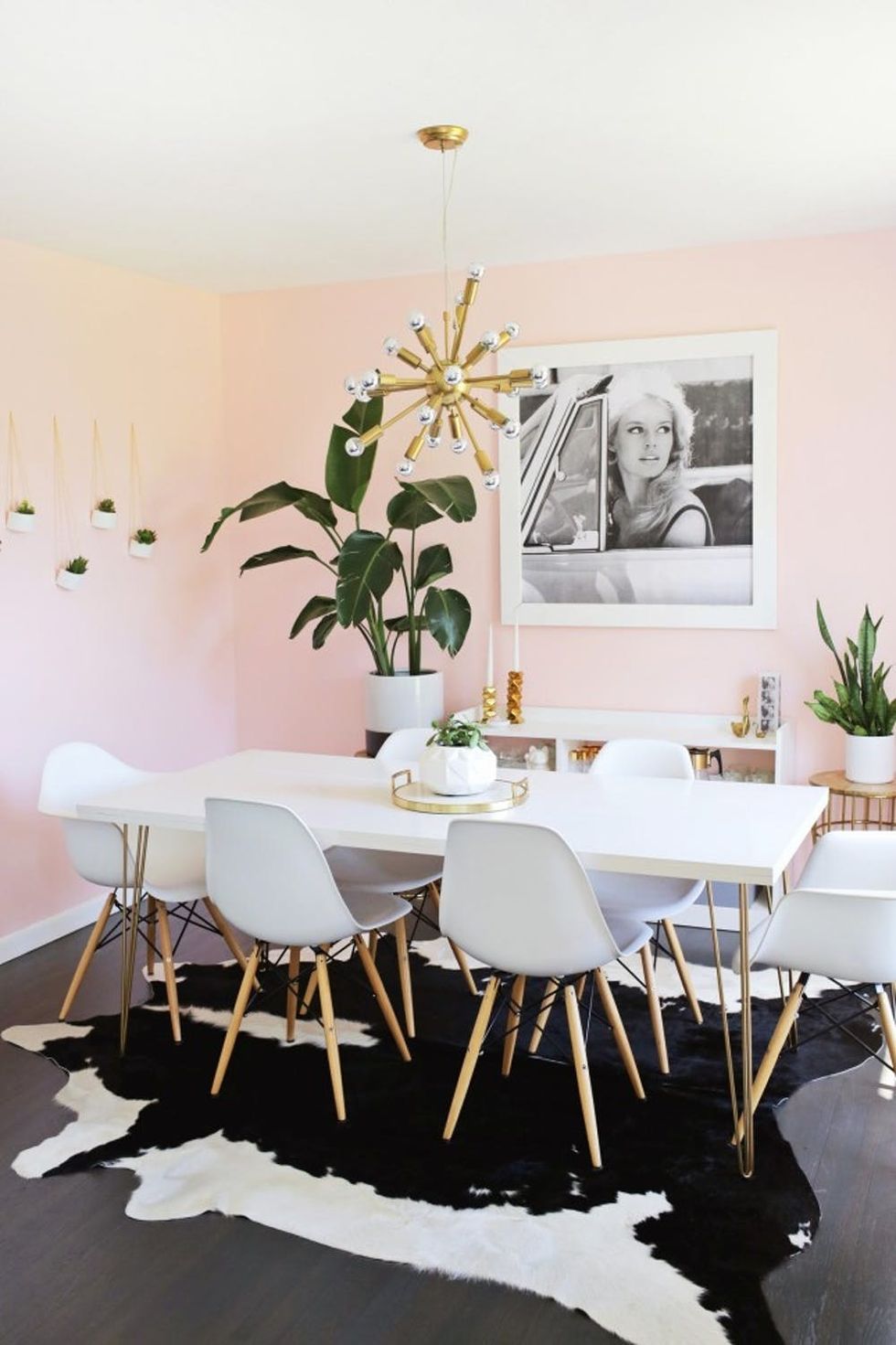 12. Switch Up the Layers: If your plant collection is nearing jungle status, consider switching up the heights to create more visual interest. Set shorter plants up on stools or tables and hang small plants on the wall for a cool trio of greenery in your dining room. (via A Beautiful Mess)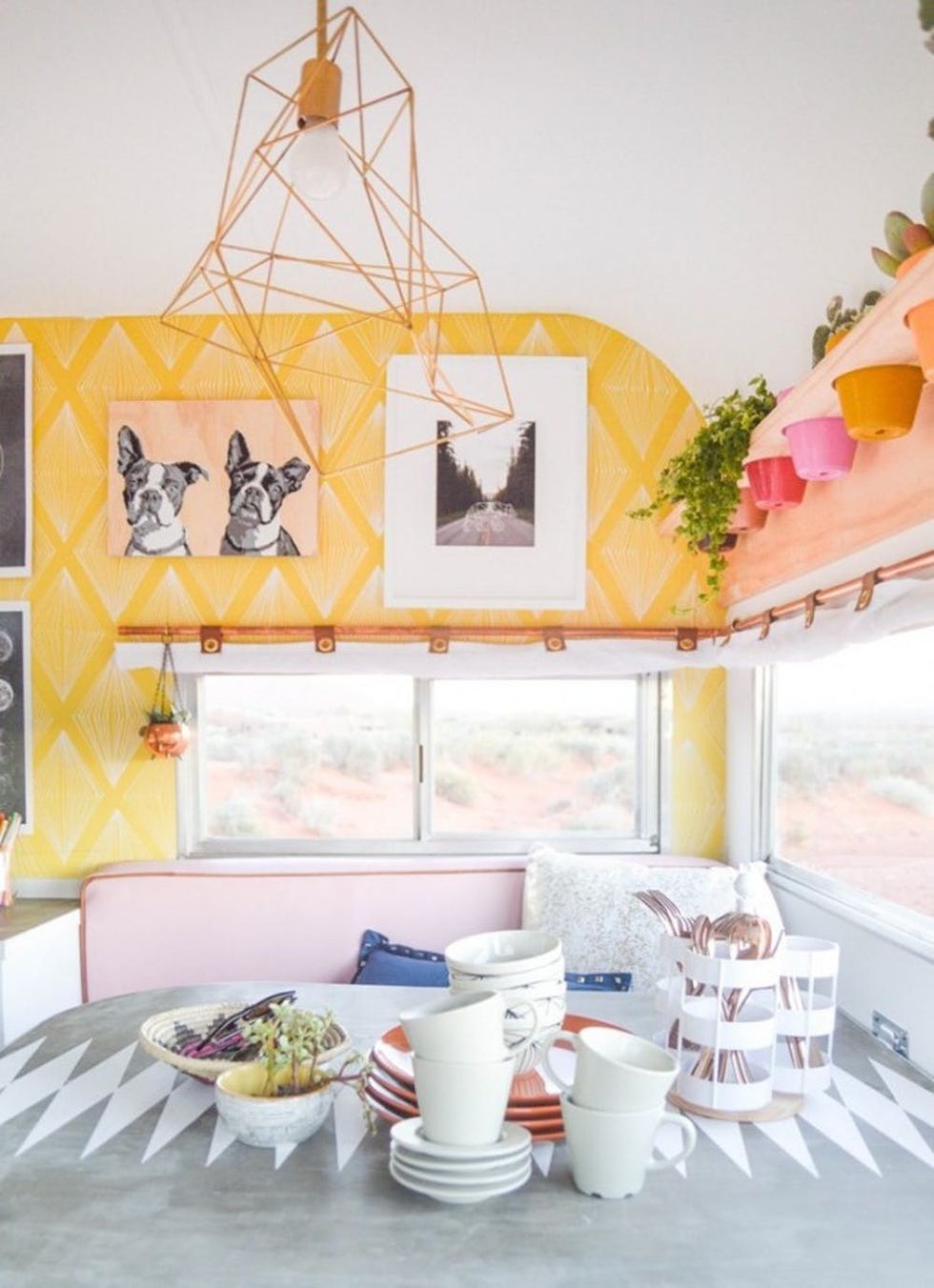 13. Camper Chic: Can you spot the repeating patterns in this seriously chic vintage camper? Here the geometric wallpaper, painted triangles on the table and a copper himmeli pendant light are a perfect example of how the rule of three can make a small space come together. (via Vintage Revivals)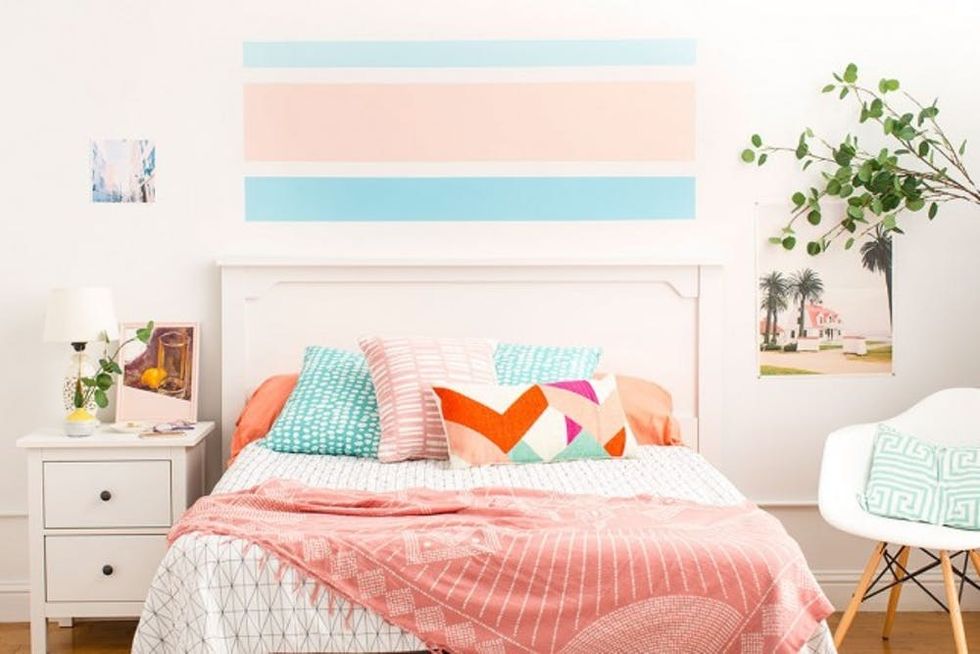 14. Three Stripe Wall Art: If you're looking for a really easy way to boost the style in your bedroom, look no further than this DIY wall art. Pick out your favorite color palette, paint on three chunky stripes of color in varying widths and kickstart the decoration process to create a cohesive look. (via Brit + C0)
Looking for more sneaky ways to add more style to your home? Check us out on Pinterest for more DIY ideas to decorate the home!