12 Ways to Rock Pastel + Gray Hair
Apr 13, 2016
Breaking news, ladies: We can have it all! Especially if having it all means rocking the gray and pastel hair trends simultaneously. Ever since gray hair for young people came on to the scene, we haven't been able to get enough of the granny-chic style. But it's high time we mix up your edgy-gal look — and what better way than with a bit of color? Whether you channel the denim hair trend or you're in search of some purple hair inspiration, we've got 12 pastel 'dos that are sure to liven up your silvery locks.
---
1. Mermaid Ombre: This shade is sure to make a splash! Channel those ethereal mermaid vibes and strut your stuff on the beach in this summer-ready aqua shade. (via @rossmichaelssalon)
2. Soft Pink Tint: Give your platinum silver locks a whisper of color with this barely there tint of blush pink. This shade brings a softer edge to your effortlessly cool style. (via @nyanelebajoa)
3. Patch of Purple: A single streak of color can make all the difference. Add an eye-catching pop of your favorite pastel hue to your granny 'do to make a major statement. (via @shelleygregoryhair)
4. Face-Framing Pastel: Finding it hard to part with your full head of gray? For a more subdued dose of pastel, opt for face-framing streaks in a complementary hue. (via @xander.photography)
5. Balayage Blue: If your go-to look is braids, braids and more braids, a head full of contrasting streaks will give your plaits some extra dimension. (via @kirstenzellers)
6. Dark Purple Sombre: Embrace bold color. Add some stunning contrast to your ashy gray 'do with with an ombre burst of deep purple. (via @pulpriothair)
7. Cotton Candy Streaks: What's summer without cotton candy? Celebrate the warmer weather with a look straight off the boardwalk (concession stand, that is). (via @shelleygregoryhair)
8. Light Purple Tint: Go all out with an allover blend of your favorite shades. Bonus points for styling your gorgeous shade in a head of fabulous mermaid waves. (via @kirstenzellers)
9. Purple Roots: Incorporate yet another hair trend — rainbow roots — to add intrigue to your gray strands. Pair with fairytale braids for an uber romantic feel. (via @unicorn.hair)
10. Denim Fade: Denim is the new silver. Transition to a new trending color with a gentle fade from gray to blue. (via @se_salon)
11. Watercolor Blue: Haphazard patches of vibrant blue give your look a watercolor feel. Style in a messy braid for the ultimate in casual-cool. (via @kirstenzellers)
12. Rose Gold: If you're obsessed with rose gold *everything,* bling out your hair with Champagne pink locks. Keep the tips gray for an unexpected contrast. (via @theconfessionsofahairstylist)
What hair trend would you like to rock? Follow us on Pinterest for more genius hair hacks and inspo.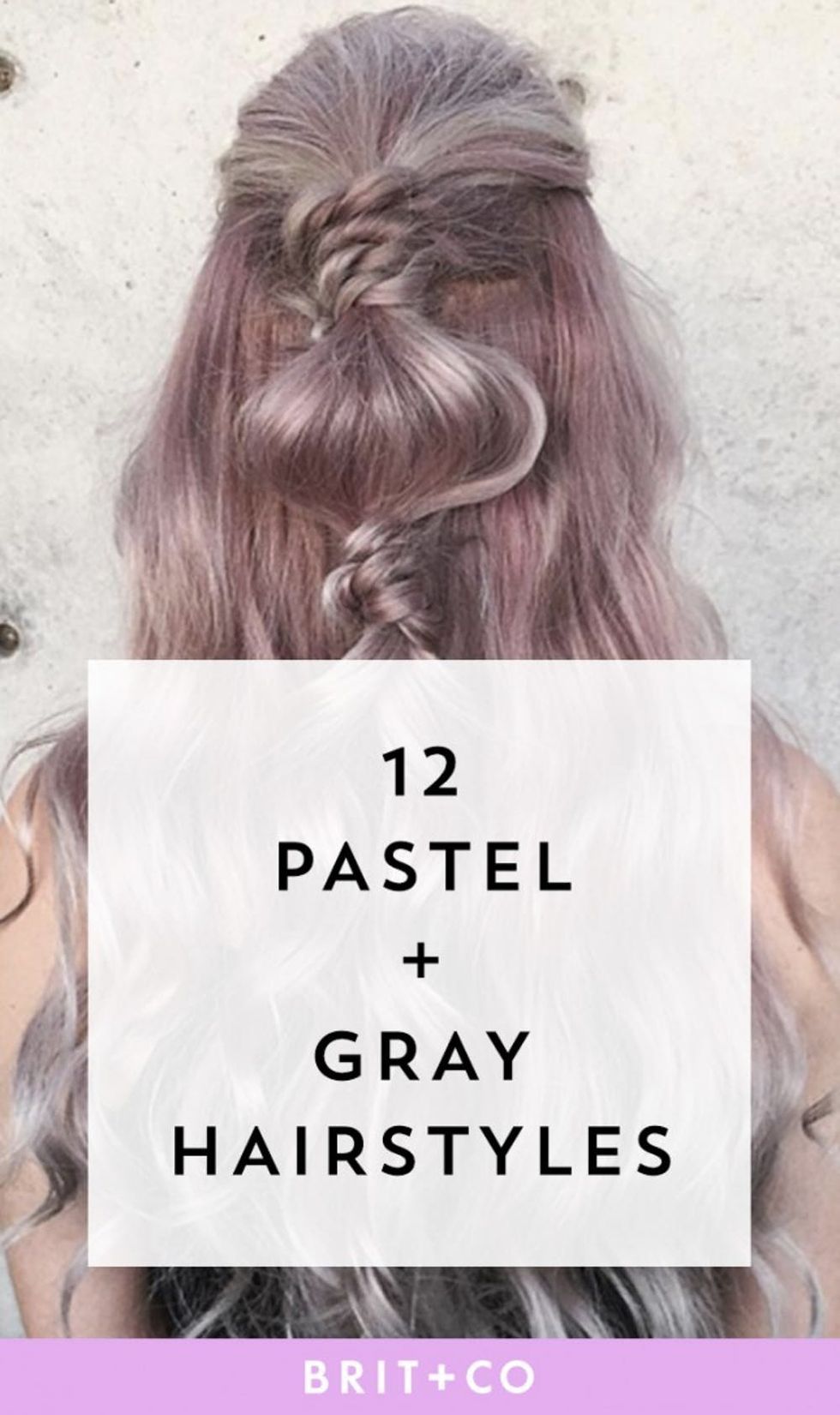 Wendelle Co
Wendelle is a Brit + Co contributor and a notorious pop culture and film junkie (with a passion for everything '90s). When she's not writing, you can find this San Francisco native brunching with her bestie or working at a wedding or two. You can follow her latest escapades on her Instagram @WheresWendelle