The Ultimate Rosé Cider Showdown: Angry Orchard vs. Trader Joe's
Sep 08, 2018
Already missing those warm summer afternoons sipping rosé without a care in the world? Never fear: Just because fall is nearing doesn't mean you have to give up your favorite pink drink. Two products on the market — Angry Orchard's Rosé Cider ($8 for a six-pack) and Trader Joes' new Henry Hotspur's Hard Pressed for Rosé Cider ($8 for a six-pack) — are bringing summer's best color into autumnal apple cider. Not sure which brand to buy? We decided to conduct a taste test to determine a clear winner.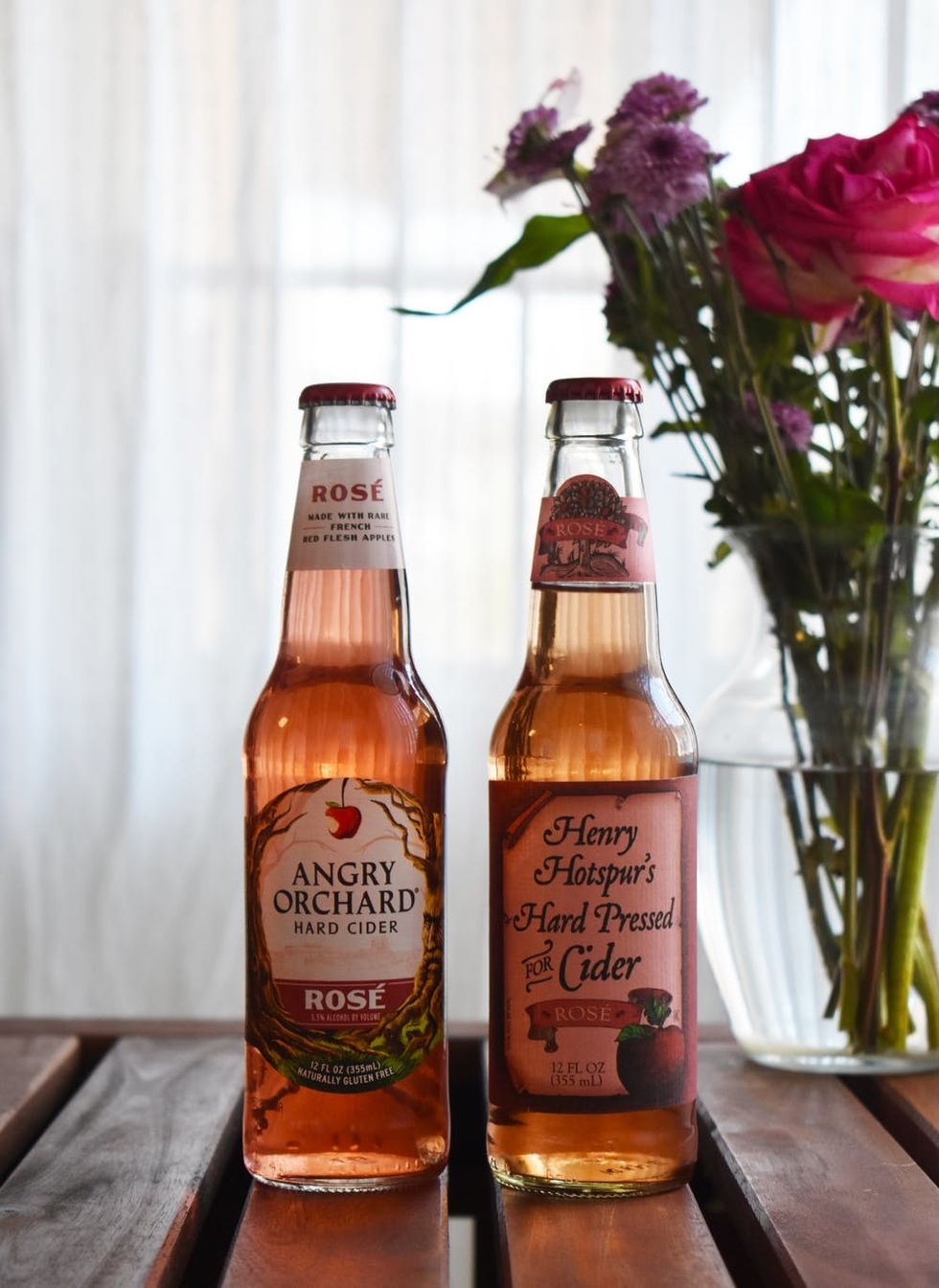 ---
THE APPEARANCE
Right off the bat, there's a visual difference. The Trader Joe's liquid has the pleasantly natural tone of a light, dry rosé wine. But when you hold it next to a bottle of the bright Angry Orchard drink, you'll see just how much rosy pigmentation the TJ's beverage lacks. (In other words, your Instagram of the Angry Orchard cider would get way more likes.)
THE TASTE
Both Angry Orchard and Trader Joe's have plenty of bubbles for a crisp, fizzy mouthfeel. Angry Orchard's cider is sweet, but not overly so, and satisfyingly refreshing. It tastes initially of apple and has a subtly floral aftertaste, which had us going back for sip after sip. (If you like to look at nutrition facts, you'll see that both bottles have fewer than 180 calories — and Angry Orchard has more than twice the amount of sugar, but let's not dwell on that.) Trader Joe's cider, however, had a strange, off-putting flavor, with an unexpected jam-like undertone that just doesn't blend well with the apple flavor. Though both products combine cider with rosy hibiscus, the TJ's combo doesn't come together as seamlessly as Angry Orchard's.
THE FINAL VERDICT
It's worth shelling out the extra dollar or so for a six-pack of Angry Orchard's rosé cider over TJ's Henry Hotspur's. You'll end up with a beverage that's tastier, more drinkable and, yes, more Instagrammable. As much as we love Trader Joe's and its hip, affordable boozy beverages, there was really no contest. Angry Orchard beats the grocery chain's rosé cider in appearance, taste, and drinkability.
What's your fave rosé product? Share it with us on Instagram @BritandCo.
Brit + Co may at times use affiliate links to promote products sold by others, but always offers genuine editorial recommendations.
(Photos via Sara Cagle/Brit + Co)
Sara Cagle
Sara is a food and lifestyle freelance writer in Los Angeles. She writes a weekly events column for the Los Angeles Times and loves writing food content for Brit + Co. After all, the English language's most fun adjectives are best applied to delicious foods. In her free time, she's a hip hop dancer, avid moviegoer, and thorough face-mask user.
Food News