These Chocolate Chip Cookies Can Help Ease Anxiety
Apr 14, 2019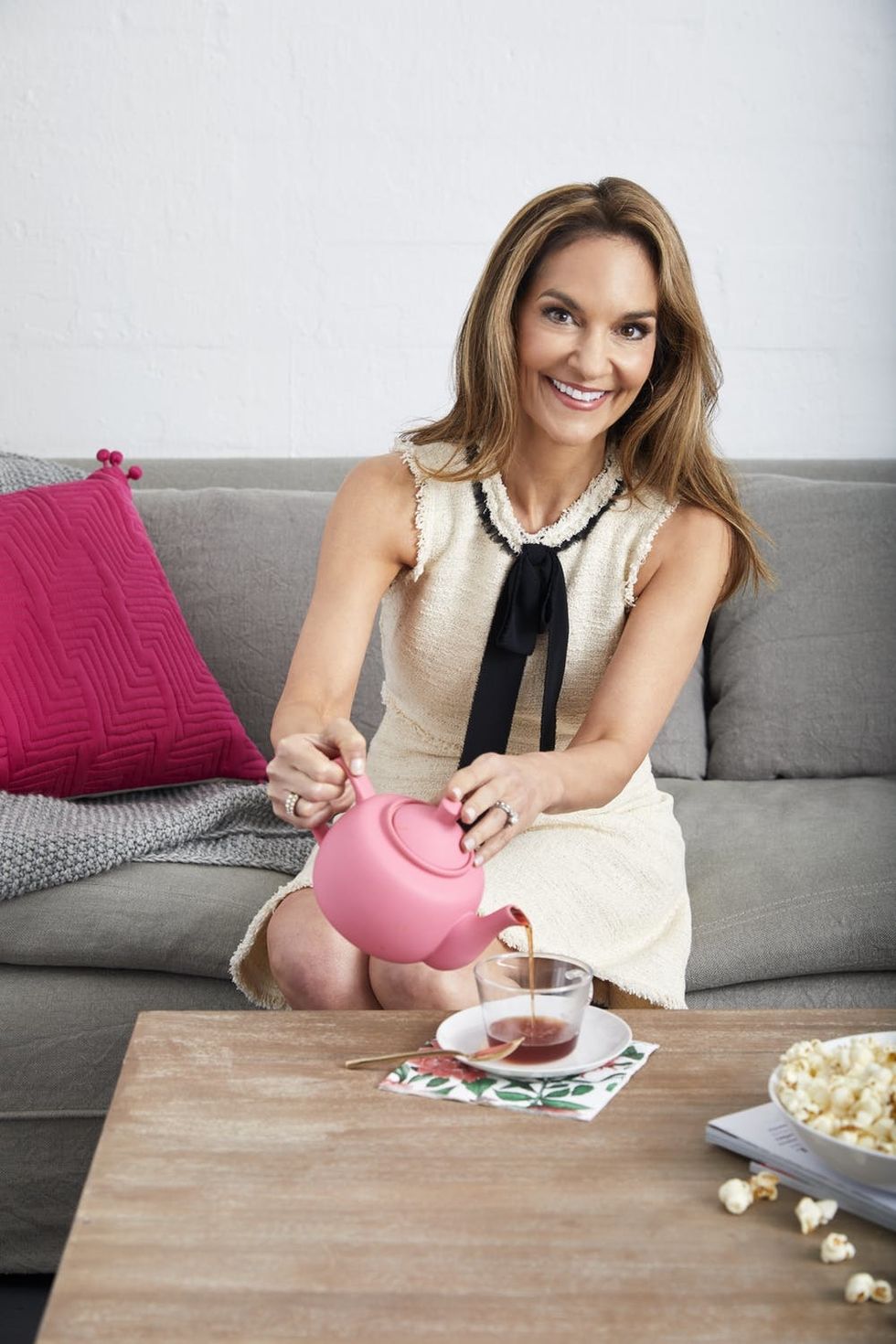 Registered dietitian, TODAY show nutrition and health expert, and self-proclaimed science nerd, Joy Bauer has devoted her career to uncovering the healing power of food. While what you eat can help reduce the risk of cancer and diabetes, the foods you consume can also ease anxiety. "The stat is that over 40 million Americans suffer from some form of anxiety. And to think that there really are nutrients and powerful ingredients that can help you is pretty amazing and remarkable," Bauer told Brit + Co in an interview at Yountville Live in California. If you want to naturally relieve anxiety, find out which foods to add to your diet below. Plus Bauer shares her chocolate chip cookie recipe that can help ease anxiety (yes, really!).
---
Chickpeas
"Chickpeas are a slow burn carb and will help to steady your blood sugar. They have tryptophan, an amino acid that is converted to serotonin in the brain, which is known to ease anxiety. Chickpeas also have folic acid, a B vitamin that is as a mood regulator," Bauer explained.
Recipe to Try: Chicken and Chickpea Soup
Oranges
"Vitamin C found in oranges, guava, peppers, and strawberries has been shown to help people feel less frazzled before exams and oral presentations. But it's not like you can have an orange and suddenly you feel better. You have to regularly have vitamin C-rich foods each day," Bauer told us.
Recipe to Try:Blood Orange Smoothie
Chia & Flax Seeds
"Chia seeds and flax seeds are plant-based sources of Omega 3 fats. And Omega 3 fats have been shown to help with depression and anxiety. So much so that psychologists are including them in regular treatment," Bauer said. "And the nice part is you can basically put those into anything. Flax seeds have to be ground. Chia seeds you can eat whole. Put them in smoothies, on your oatmeal, or into pancakes or muffin batter. I like to put them on my yogurt. You can throw them into the cookies," she added.
Recipes to Try: Chia Seed Pudding and Coco-Nutty Energy Bites
Salmon
"Salmon, because Omega 3 fats and vitamin D work together to help you feel a little less anxious," Bauer added.
Recipe to Try: Instant Pot Salmon Dinner
Chamomile
"Chamomile is the most studied and well-documented medicinal plant in the world. It helps to ease muscle tension and make you feel more relaxed. It sort of eases the worries of the day. And that's what's so great about having naturally decaffeinated tea before you go to bed," Bauer elaborated.
Recipe to Try: Bauer's Chocolate Chip Chamomile Cookies (recipe below).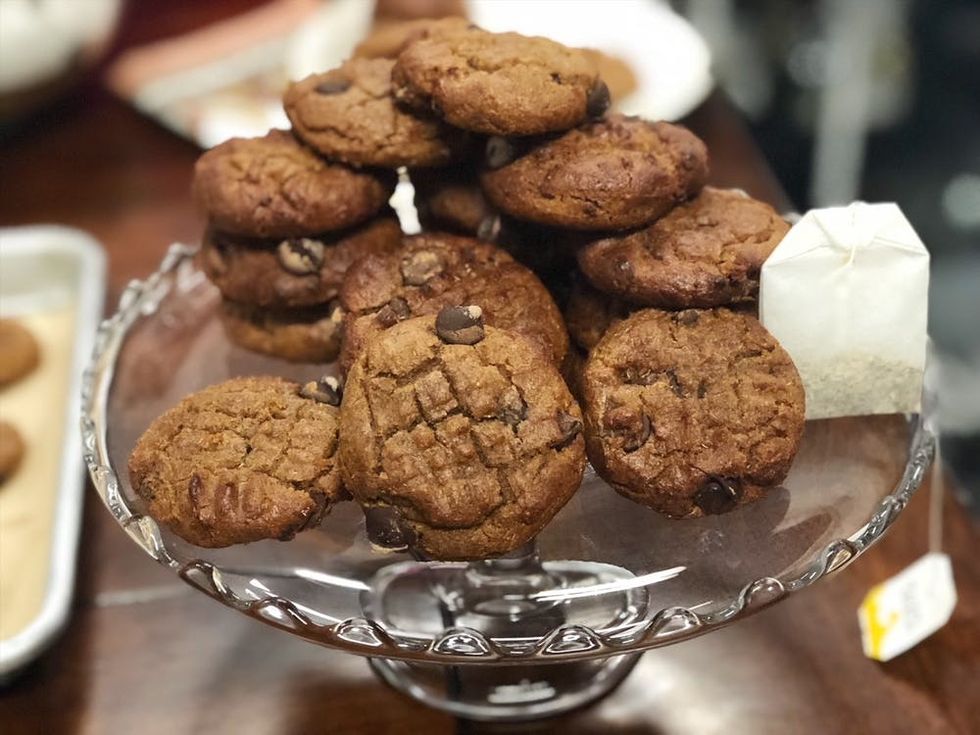 Chocolate Chip Chamomile CookiES RECIPE
(Makes about 26 cookies)
Recipe Notes: Add a tablespoon of flax or chia seeds in the batter for some extra calming powers. You can also easily make this recipe vegan by subbing the egg for a flax egg (1 tablespoon of flax + 3 tablespoons water) and maple syrup for the honey.
Ingredients:
nonstick oil spray
1 cup creamy almond butter
1 (15-ounce) can of chickpeas, drained and rinsed
1 egg, beaten
1/2 cup honey
1 teaspoon baking soda
4 chamomile tea bags (open tea bags, and use the dried tea leaves)
2 teaspoons vanilla extract
1 tablespoon melted butter (or canola oil)
1/2 to 3/4 cup semi-sweet chocolate chips
Directions:
1. Preheat oven to 350°F. Mist a baking sheet with nonstick oil spray or line with parchment paper and set aside.
2. Purée chickpeas in a food processor and then add to a large mixing bowl with remaining ingredients (except chocolate chips) and combine. Fold in the chocolate chips. Alternatively, you can toss all ingredients (except chocolate chips) into a food processor, and pulse until chickpeas are pureed and everything is well combined. Do not over mix.
3. Scoop the cookie dough into balls (about 1 heaping tablespoon each), and place on prepared baking sheet. Gently press down on each cookie with the back of a fork—in two different directions to make a criss-cross pattern (if the batter is too sticky, mist the fork with oil spray).
4. Bake for about 15 minutes. They're extra delicious served soft and warm.
RELATED: Try These 13 Healthy Cookie Recipes for a Guilt-Free Sweet Fix
(Recipe from Joy Bauer; photos via Lucy Schaeffer)
Gabi Conti
Gabi Conti has two passions in life: food, and dating. She went on 10K hours of dates in her 20s and is sharing her knowledge in her first book 20 Guys You Date In Your 20s, which drops with Chronicle in the spring of 2020. Gabi is a writer and host, who currently hosts and writes a weekly entertainment show Hollywire Vlogs, she wrote and hosted 423 episodes the Elite Daily Show for Verison's go90 and Elite Daily. She has contributed dating and wellness articles to Cosmopolitan, Hello Giggles, POPSUGAR, mindbodygreen, and Elite Daily. You can follow her on Instagram @ItsGabiConti.
Healthy Eating