Comedian Louis C.K. Has Reportedly Cancelled All Appearances *AND* His Latest Movie's Release Ahead of a "N.Y. Times" Story
Nov 09, 2017
UPDATE (NOVEMBER 9, 2017, 3 PM EST): Since this story was posted, the New York Times has published the accounts of five women who have come forward with allegations of sexual misconduct against C.K. Following years of unsubstantiated rumors of misconduct, this report marks the first time women have gone on the record with allegations.
**
---
Comedian and filmmaker Louis C.K. was set to premiere his latest movie, I Love You, Daddy next Friday in his adopted hometown of New York City. But just one day ahead of the film's launch, The Hollywood Reporter reports that C.K. has canceled both the screening and any promotional appearances he was scheduled to make because of a potentially damning new story, which will reportedly be published by The New York Times in the near future.
Although no one is aware of exactly what the Times will be reporting, The Hollywood Reporter says that the cancellations are directly related to whatever is in the story, and not the film. Since catching wind of the forthcoming report, the actor-director has dropped out from an appearance on Thursday's Late Night With Stephen Colbert, having his spot filled by Shameless star William H. Macy.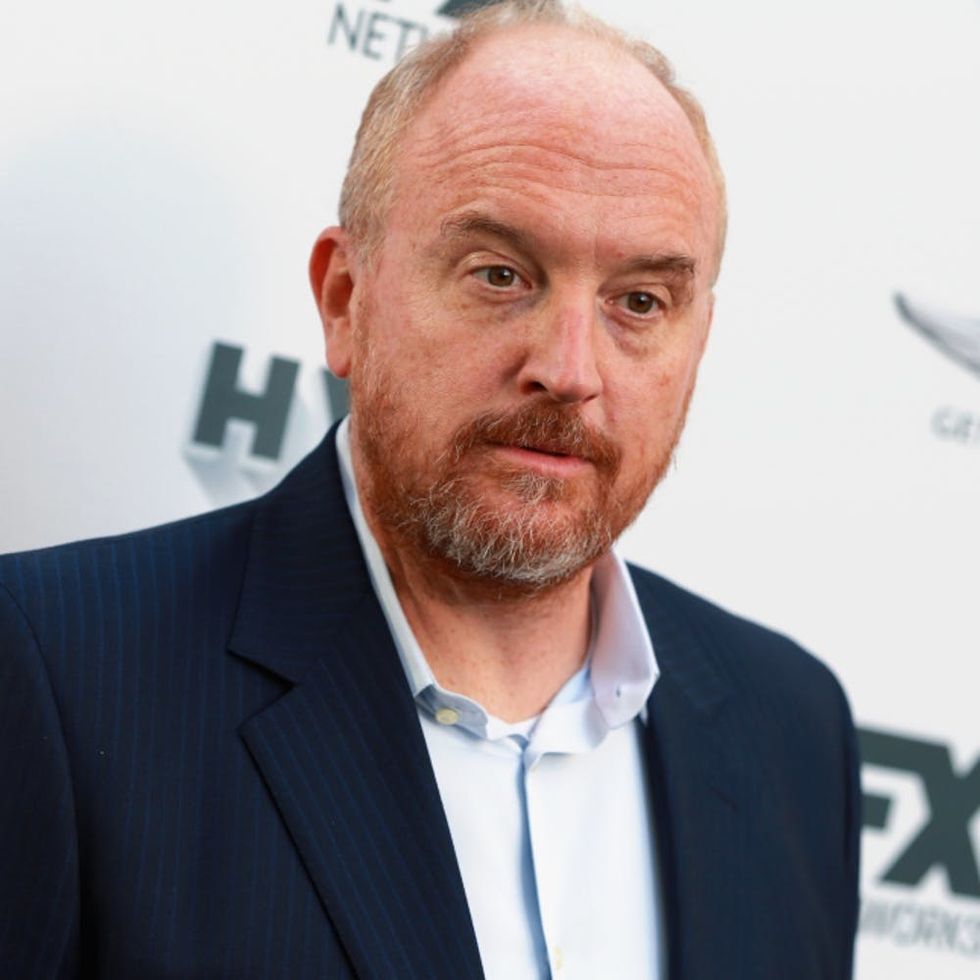 C.K.'s film was shot earlier this year — entirely in secret — and premiered at the Toronto International Film Festival this past September. The dramedy tells the story of a successful TV writer-producer who attempts to stop his 17-year-old daughter's (Chloë Grace Moretz) growing admiration and relationship with a 68-year-old filmmaker (John Malkovich). Many have pointed to Malkovich's character as a stand-in for the infamous filmmaker, Woody Allen, who married his adopted daughter, Soon-Yi Previn, after a secret affair that started when she was a teen.
The film received some early criticism for C.K.'s use of the N-word, as well as jokes about the assault of children. At the time, C.K. defended the film's script, telling THR, "We're depicting oxygen-rich people who live in these beautiful apartments and offices saying whatever they want. Folks say shit to each other. You can't think about the audience when you're making the thing. If you do, you're not giving them something that came out of your gut. You'll be making something that you're like, 'Is this okay for you?'"
While the film draws parallels to Allen's real life, it also plays out a lot like Allen's film Manhattan, in which a teen, played by Mariel Hemingway, has an affair with a 46-year-old filmmaker, played by Allen himself. Besides reportedly canceling the film's premiere as well as his appearances, as of publication, C.K. has yet to make a comment about the story.
What do you think the Louis C.K. story will be about? Tell us @BritandCo!
(Photo via Rich Fury/Getty)
Kat Armstrong
Kat has been a writer, social media maven and mom for longer than she's willing to admit. She's also spent time in front of and behind the camera, interviewing celebs, politicians and acting as a producer for fashion and artistic photography shoots. When she isn't writing for various orgs and publications, she's hanging with her kids, husband and French Bulldog, Peter, in Toronto, Canada.
Current Events