DWTS: Athletes' Keo Motsepe and Jennie Finch-Daigle on Their Biggest Competition
May 14, 2018
Keo Motsepe and Jennie Finch-Daigle are one of six couples left on Dancing With the Stars: Athletes. Along with Mirai Nagasu and Alan Bersten, Adam Rippon and Jenna Johnson, Chris Mazdzer and Witney Carson, Tonya Harding and Sasha Farber, and Josh Norman and Sharna Burgess, they survived the first two weeks of the four-week season and are heading into their third on Monday, May 14.
The race for the Mirrorball is shaping up to be a tough one, but Finch-Daigle — who helped lead Team USA to softball gold at the 2004 Olympics — knows a thing or two about performing under pressure. And she has a great coach in Motsepe, who is in his seventh season as a pro on DWTS. We caught up with the pair in between rehearsals for Monday's new episode and got the scoop on their partnership, their upcoming performance, and their biggest competition.
---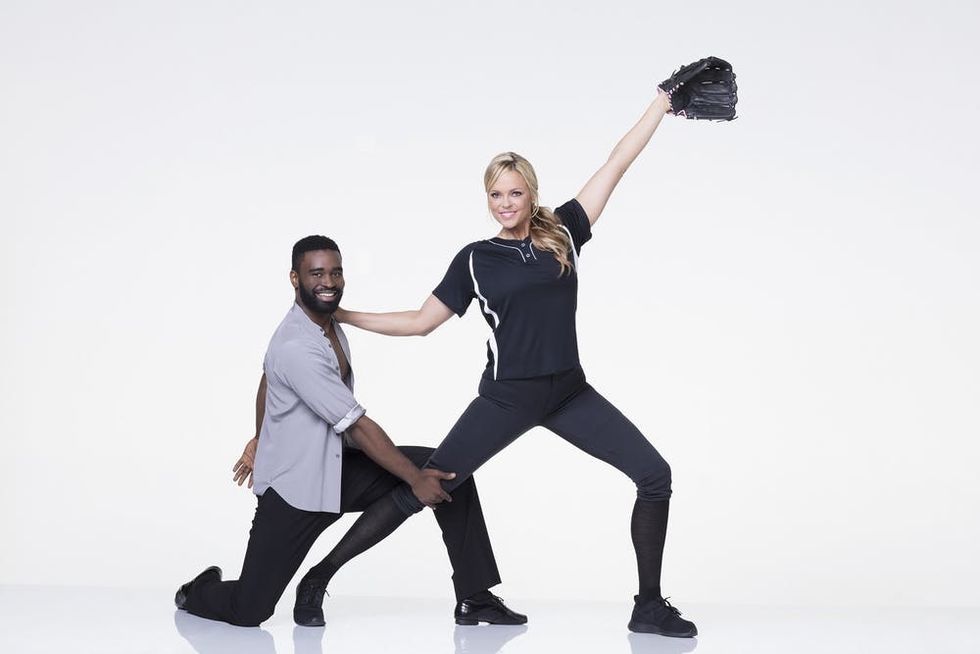 Brit + Co: Jennie, what was your reaction when you were asked to do Dancing With the Stars? Were you a fan of the show before that?
Jennie Finch Daigle: Yeah, it's something that I always thought would be an amazing opportunity and experience, and then when I found out it was the athlete version and it was a shorter season, I was like, oh, for sure. Because being a mom a three, I thought it would be way too difficult to pull off a normal season. So it felt like this was a perfect opportunity to take advantage of it, be a part of it, and learn how to dance.
B+C: Did you know anything about Keo before you met him?
JFD: No, other than seeing him on the show. That was it.
B+C: Keo, did you know anything about Jennie before you met her?
Keo Motsepe: For sure. I have a very good friend who's into softball. He loves softball so much. And he told me, "It'd be so cool if you danced with Jennie Finch!" Even my parents — when I told them who I was dancing with, my mom was like, "Oh, yeah, the blonde?" So I knew who she was, but through my parents and my friends.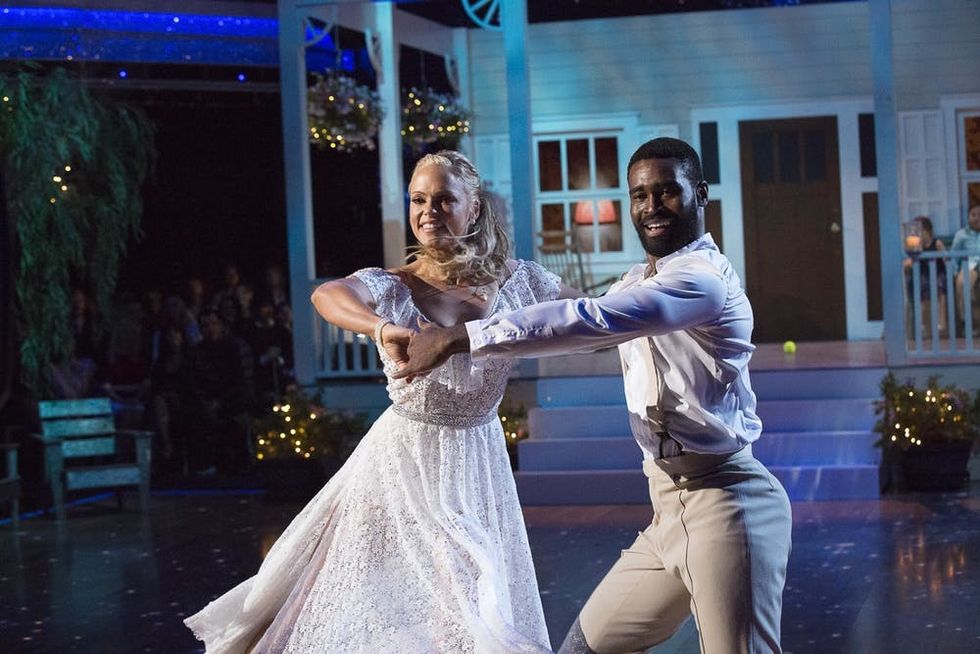 B+C: Jennie, what was your biggest fear going into this? And what were you most excited about?
JFD: I think my biggest fear was just being so far from my comfort zone. I've never felt great on the dance floor. I've never really had rhythm. I found rhythm through sports, but other than that, I don't have any. And then the time crunch — it's not like we have months to train. You're kind of thrown into the fire and you have to perform on the big stage in front of millions of people a week-and-a-half later.
And then I think what I was most looking forward to was kind of the same thing, just learning to dance from the best of the best and getting that opportunity and just seeing what I was capable of. And it's so much fun to be able to get costumes made and hair and makeup done and just to be a part of this experience.
B+C: What do your kids think of you doing the show?
JFD: At first I don't think they really understood. But then going out to California and actually being a part of the first show, now they're dancing maniacs. Oh my goodness, it's so funny and so cute. They love Keo. It's been so much fun. They're really getting into it and enjoying it and having Keo around. It's a good experience.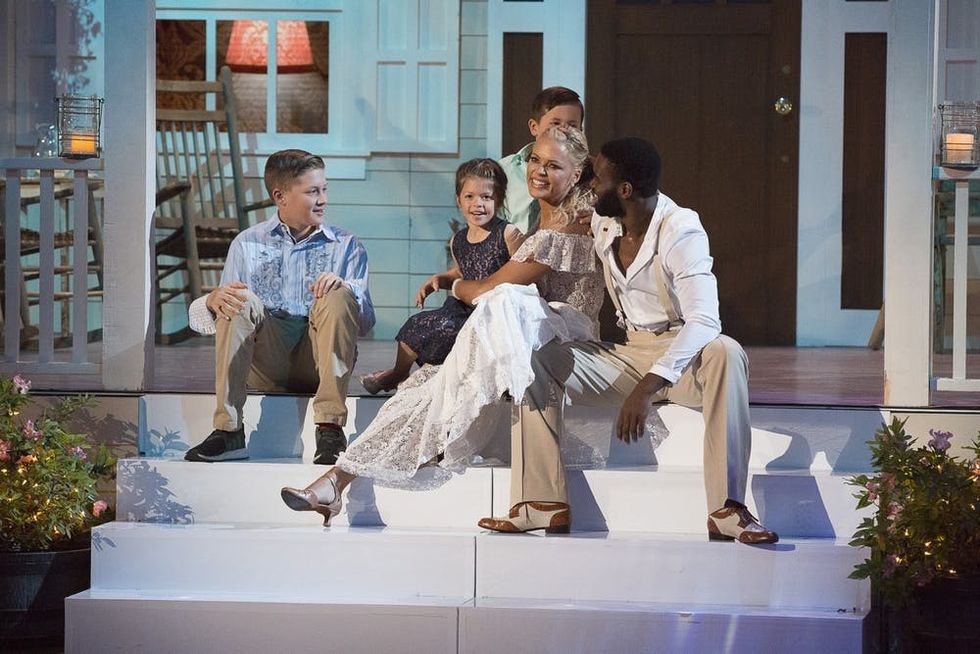 B+C: What were your first days of rehearsal like?
KM: First days, wow. Well, first of all, when I teach somebody, I have to see how well they move. I taught her how to walk. I literally taught her how to walk properly. … That was our first day. And then also technique, the basics of dancing. I don't think she expected that. I think she wanted to just come into the studio and be a champion, like, "I know how to dance!" I was like, "No, I'm going to teach you how to walk first, and then we'll talk about [dancing]."
JFD: I had an extra set of clothes ready because [I thought] I was going to sweat through my first outfit. I was ready to get out there, and here we were walking. I was like, "This is so not what I expected. You're supposed to make me a dancer, not just a walker. Let's go!" But just like anything, I think my mind was 18 steps ahead. You have to learn the fundamentals and basics first before you get there.
B+C: You're going into week three of competition now. Can you share anything about what you're working on?
KM: We're doing the Viennese waltz for Monday, but we have two dances — we have one that's just me and her, and then another one that's called a battle. We're battling with Tonya [Harding] and Sasha [Farber], and we're doing a cha cha.
B+C: Which dance has been the most challenging so far?
KM (to JFD): Why are you looking at me?! [Laughs]
JFD: You're my coach! Which one was hardest to teach me?
KM: Nothing is hard to teach you. Nothing is hard.
JFD: I think [the hardest thing] is just trusting my stuff. And I think the performance part has been tough for me, because I think I'm emotional and I think I'm over-the-top with it, but when it's on TV or on film or recorded, it's like, "Wait a minute, how do I go five levels further to make it look like that?" I think as an athlete, I've always tried to have a competitor's face, and with dancing you have to show emotion, which I guess I'm not used to.
KM: It's different emotions every day. It's a fine line, because sometimes you look at your package, and you talk to me about, like, "Oh my god, that time in my life," but then you come on the floor and do a happy dance and it doesn't work. Like, hold on, it doesn't make sense. She's talking about how sad she is. When we choreograph, we choreograph based on the story. So if you're talking about your husband or anything like that — so beautiful and romantic — and then you come on the floor and you're sad, it's kind of weird.
B+C: Are you guys happy with your scores so far?
KM: No. [Laughs] The last one, I wasn't happy. I think we could have done better. I think there's always room for improvement. So it makes us push even harder. So here we come on Monday with an awesome dance. I'm very proud of this dance. It's going to be very beautiful.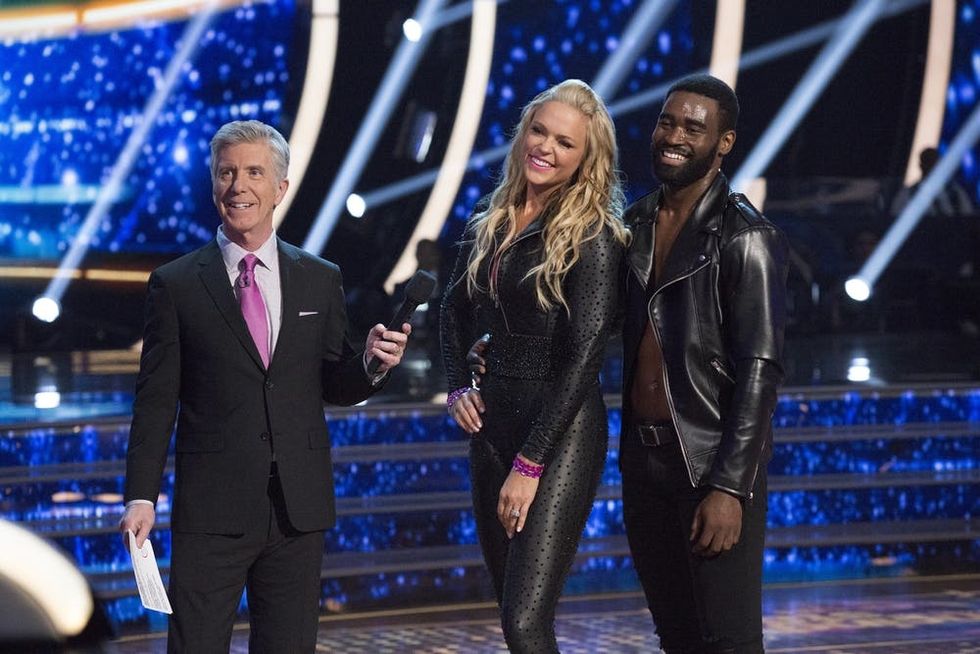 B+C: Keo, what's your favorite thing about working with Jennie?
KM: My favorite thing about Jennie is she's so tall. [Laughs] As a guy, when you have a tall partner, your frame looks good, your lines look good. But other than that, I think she's a hard worker. And seeing her with her kids and her family, it's a blessing for me to be around that. Seeing how Jennie and her husband are just so in love, I think every day is just so beautiful. I'm like, wow, that's what true love is all about. Nothing else matters.
B+C: Jennie, what's your favorite thing about working with Keo?
JFD: I think his heart. He's always so joyful. I love his laugh. And he's super-patient with me. He loves what he does, and he's passionate about it, and he loves people, and he brings joy wherever he goes.
B+C: Who do you see as your biggest competition this season?
JFD: I think ourselves, in a way. It's intense. I mean, two people are going home every week, so it's not like you can pace yourself. Every week it's like the finale, almost, because anybody can go home. Obviously people who are performers, I think they might have an advantage there, but ultimately, we've always tried to just focus on ourselves and not what other people are doing or who we're up against.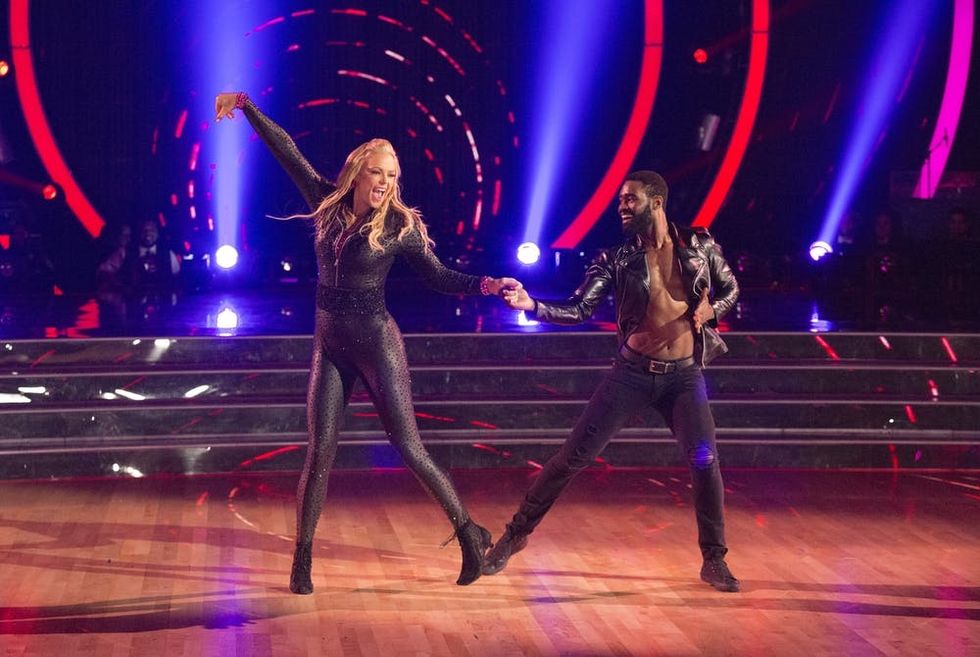 B+C: Jennie, which was more nerve-wracking: performing on Dancing With the Stars for the first time, or pitching in the Olympics?
JFD: I mean, my heart was racing [for both]. But I feel way more prepared on the softball field. I trained my whole life for that. This is like, I'm trying to pretend I'm a good dancer with two weeks of training. Like, that's not going to happen. But with Keo, I'm hoping! I'm trying to fake it until I make it.
KM: I'm happy with where she is right now!
This interview has been edited for clarity and condensed.
(photos via ABC/Craig Sjodin + ABC/Kelsey McNeal)
TV