11 Unexpected Fall Color Combos You Need to Try Now
Oct 31, 2015
Along with an onslaught of super chic layers — capes, fluffy scarves and of-the-moment-oversized sweaters to name a few — one of the best parts of fall has to be the reemergence of all those rich jewel tones and foliage inspired-hues. It might be tempting to deck yourself out in classic black, camel and gray all season long, but with so many eye-catching colors to choose from, why limit yourself to neutral hues? Color is also one of the easiest ways to ward off blah vibes and a killer combo is a surefire way to get you through the season in style. Gather a little color inspo below, then make a beeline to your closet to pair up your own.
---
Mustard + Navy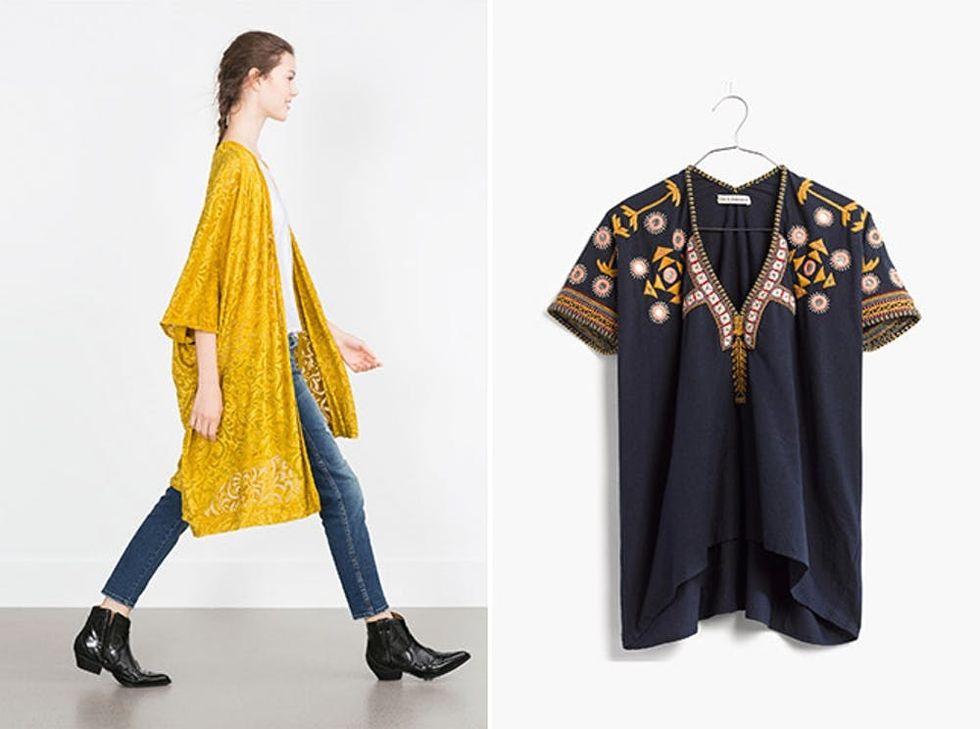 Ulla Johnson Silk Fe Top ($380): Navy is the perfect partner to any bright hue, striking just the right balance of classic and contemporary. Mustard and golden rod hues are especially appealing with the darker shade of blue making that little bit of sunshine effect really pop.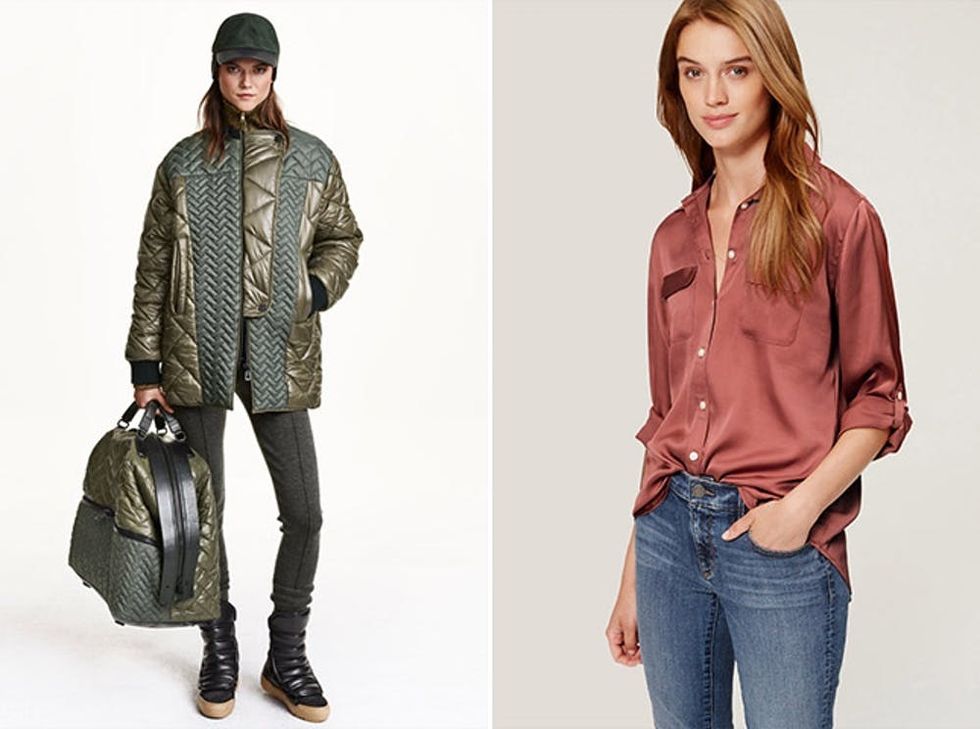 Loft Utility Blouse ($50): Elegant and feminine, this understated and incredibly pretty pairing is amped up even more with hot-right-now silhouettes (boxy, oversided) and fabrics (so-soft silk).
Olive + Dusty Rose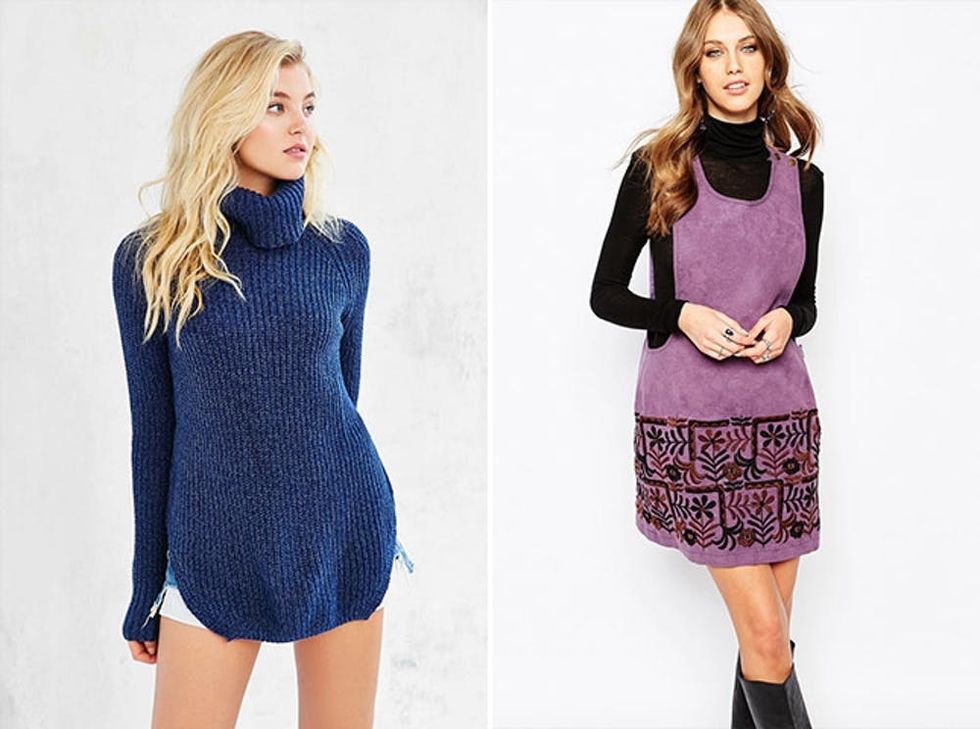 Anna Sui Swedish Garden Embroidered Dress ($390): Violet is a versatile hue, transitioning effortlessly into every season and holding its own with a variety of different colors. Pair it with cobalt for an unexpected, yet totally flawless look — they complement each other perfectly, while still maintaining an element of cool contrast.
Cobalt + Violet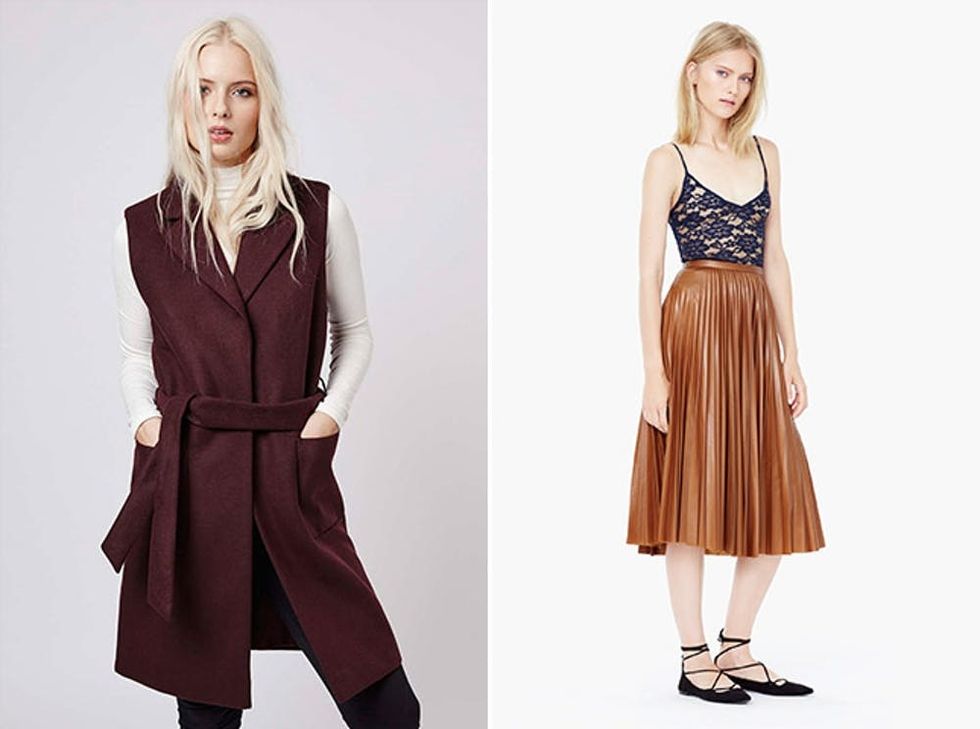 Mango Pleated Midi Skirt ($80): Nothing says autumn quite like warm, intense shades like burgundy and tobacco. The dream team of cold weather dressing, they'll make everything from suiting separates to laid-back duds look catwalk-ready.
Burgundy + Tobacco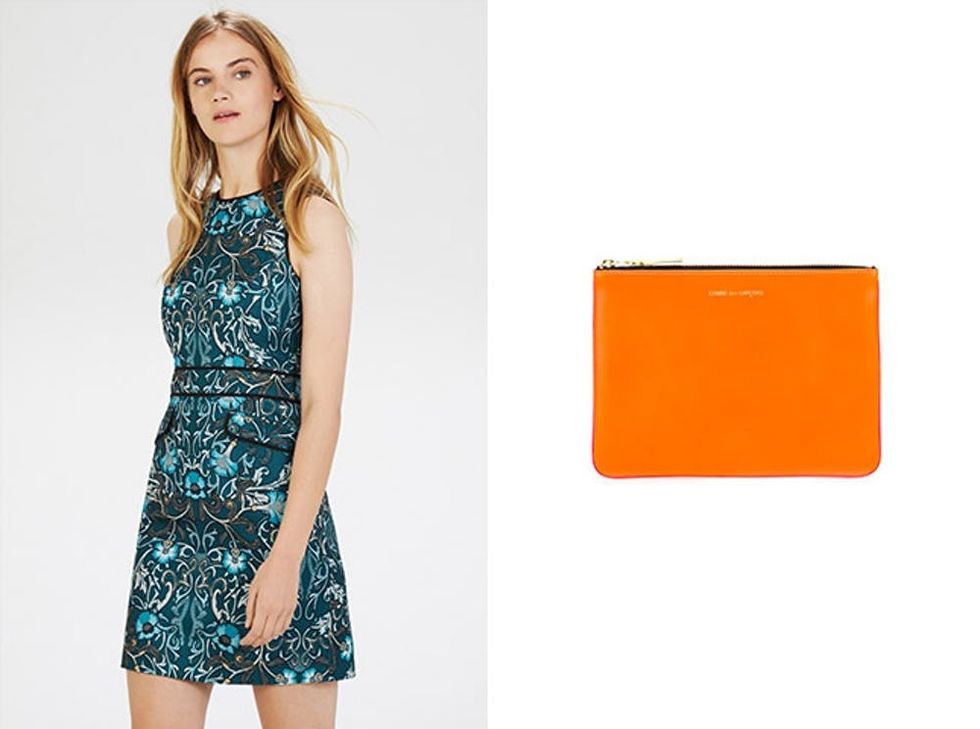 Comme des Garçons New Super Fluo Purse ($102): When you want to make a statement, teal and orange are the way to go. Each is eye-catching on its own, but together they pack a serious punch.
Teal + Harvest Orange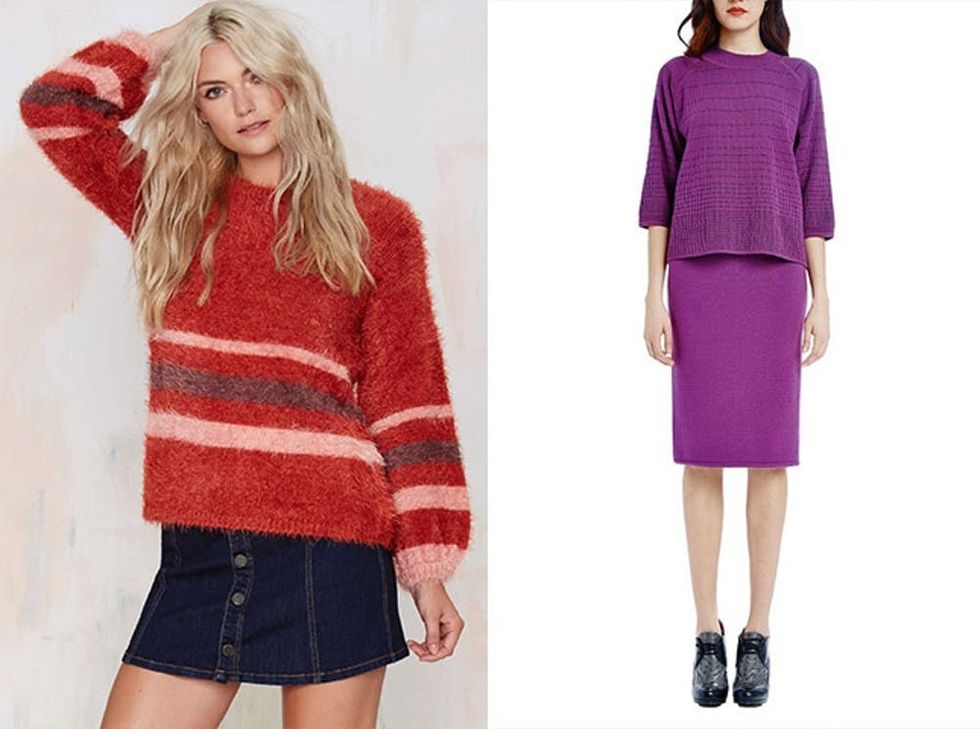 Raoul Dense Knit Pencil Skirt ($205): If you're needing an extra boost to get you through a rough week, make shades of siren red and fuchsia your go-to. Energetic, fun and anything but understated, nothing can get you down with this pair by your side.
Red + Fuchsia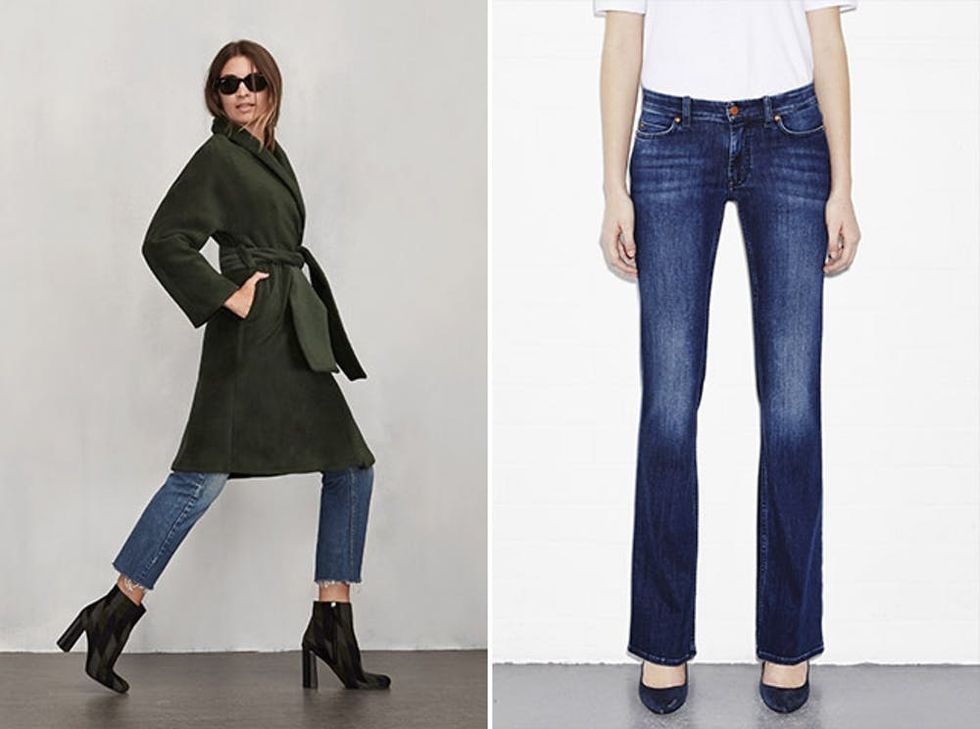 MiH Jeans London Jean ($210): Deep shades of green will instantly impart an edge of sophistication to your favorite pair of denim, with luxe fabrics and on-trend silhouettes, like this oversized belted coat, taking things to the next level.
Forest + Denim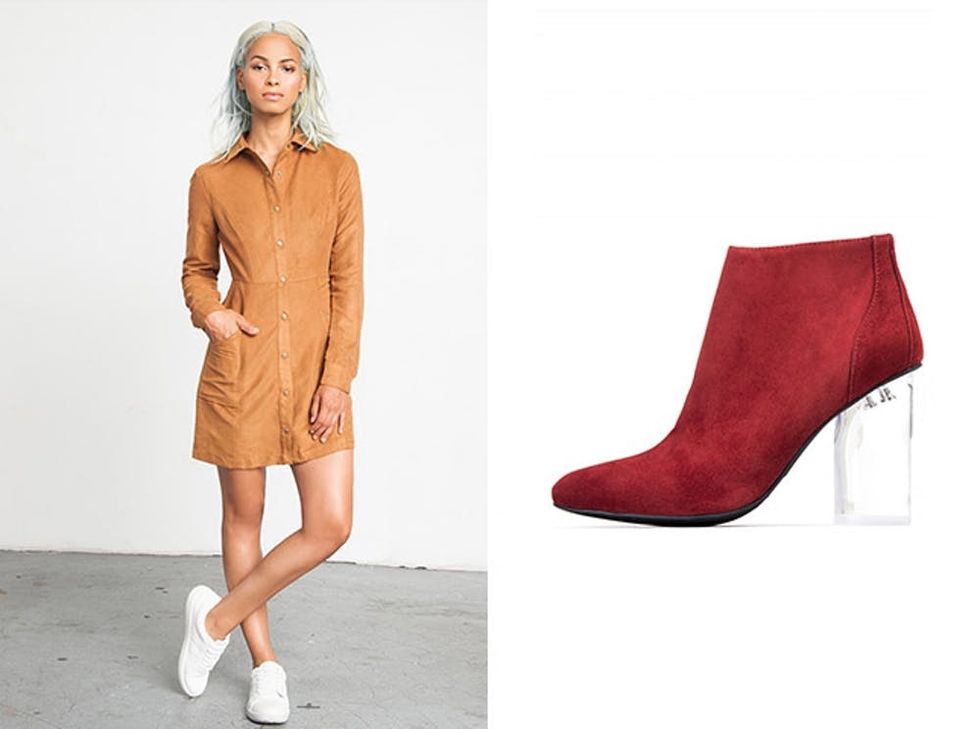 Jeffrey Campbell Glendon Boots ($200): What happens when you combine two classic, yet stunning hues? Straight up sartorial magic. Rust offers a more understated approach to red, while camel adds warmth and contrast.
Camel + Rust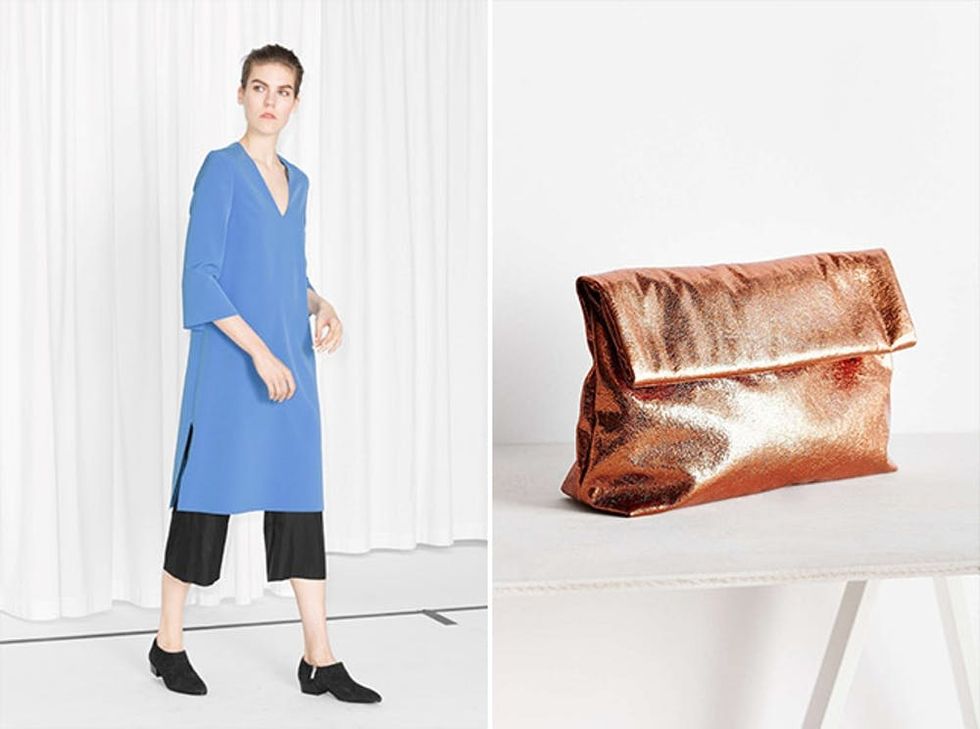 Silence + Noise Oversized Paperbag Clutch Bag ($52): Pastels aren't just for the spring and summer months anymore — they're now nailing it in the fall too. Dress them up with chic and sleek metallics for an unexpected 9 to 5 getup or a killer night out look.
Pale Blue + Gold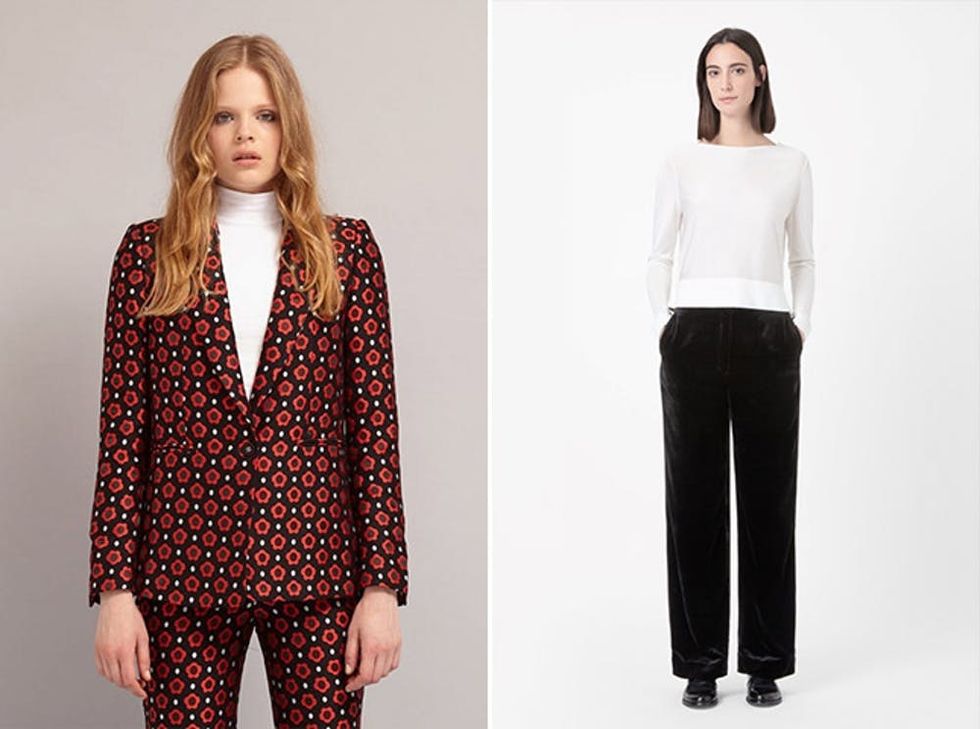 COS Velvet Trousers ($175): Command the room with an on-point getup in bold black and red. Whether you go for funky prints or simple solids, you're sure to turn some heads (and spark a little style envy).
Red + Black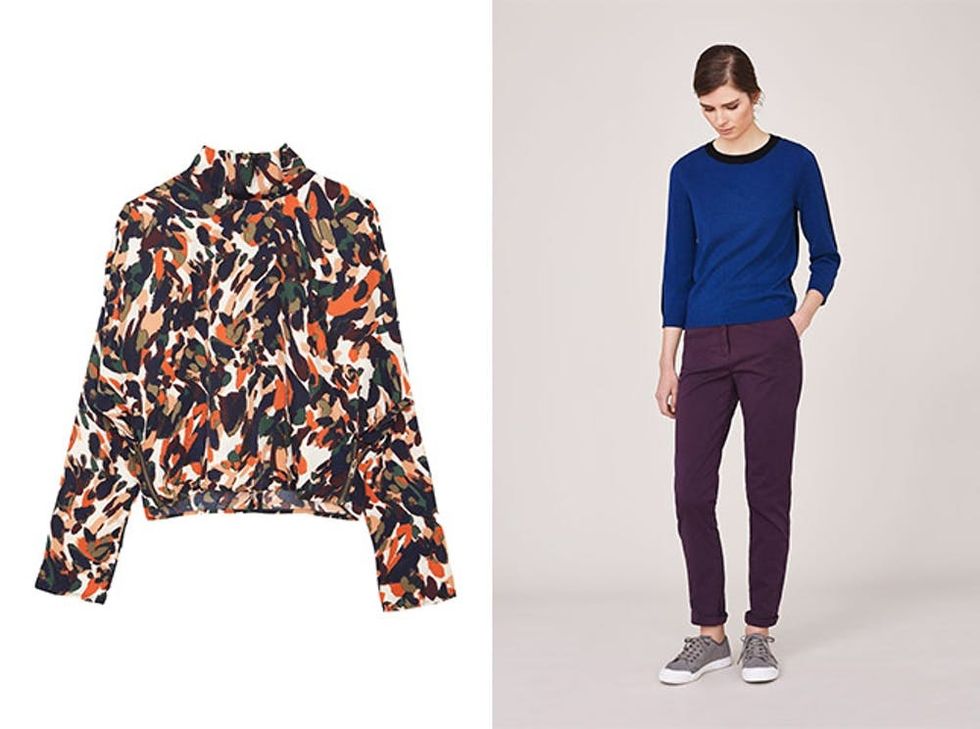 Toast Aubergine Flat Front Trousers ($135): Who says pumpkin spice is reserved solely for baked goods and caffeinated beverages? Channel this season's favorite flavor in a printed top with splashes of burnt orange, then toss it over deep eggplant pants for a look that screams fall.
Pumpkin + Eggplant
Libby MacCarthy
Libby MacCarthy is an urban planner turned writer with a love (bordering on unhealthy obsession) of all things fashion and beauty related. She lives for perfectly brewed coffee, farmer's markets, dinner parties and perusing impeccably designed boutiques. When she's not on the hunt for the latest trends, you'll likely find her plotting her next adventure or nose deep in a book. Libby currently splits her time between the East Coast and her adopted home of France. Follow her daily adventures on
Instagram
.