13 Ways to Wear Color for Neutral-Loving Ladies
Apr 14, 2015
Some of us have a real thing with color, as in, we're afraid of it and don't know what the heck to do with it. And maybe color just isn't your thing and you're totally okay with it (more power to you!), but for anyone that wants to shift their wardrobe away from a color palette of pastels and neutrals, or just plain figure out what to do with all those colorful pieces hiding in the back of your closet — this one's for you. These 13 ladies know a thing about style, including how to rock a little color and totally own it. Start taking notes; we're about to break it all down.
---
1. A Bright Bag: If you want to work in a little color without going big, a brightly hued accessory is the way to go. Start out with pieces like a funky clutch, statement jewelry or a bomb set of heels — small touches that make a big impact. And later, when you're feeling more confident, graduate to bigger, more prominent pieces (think your day-to-day must-haves) like your work tote or trench. (via Daria Daria)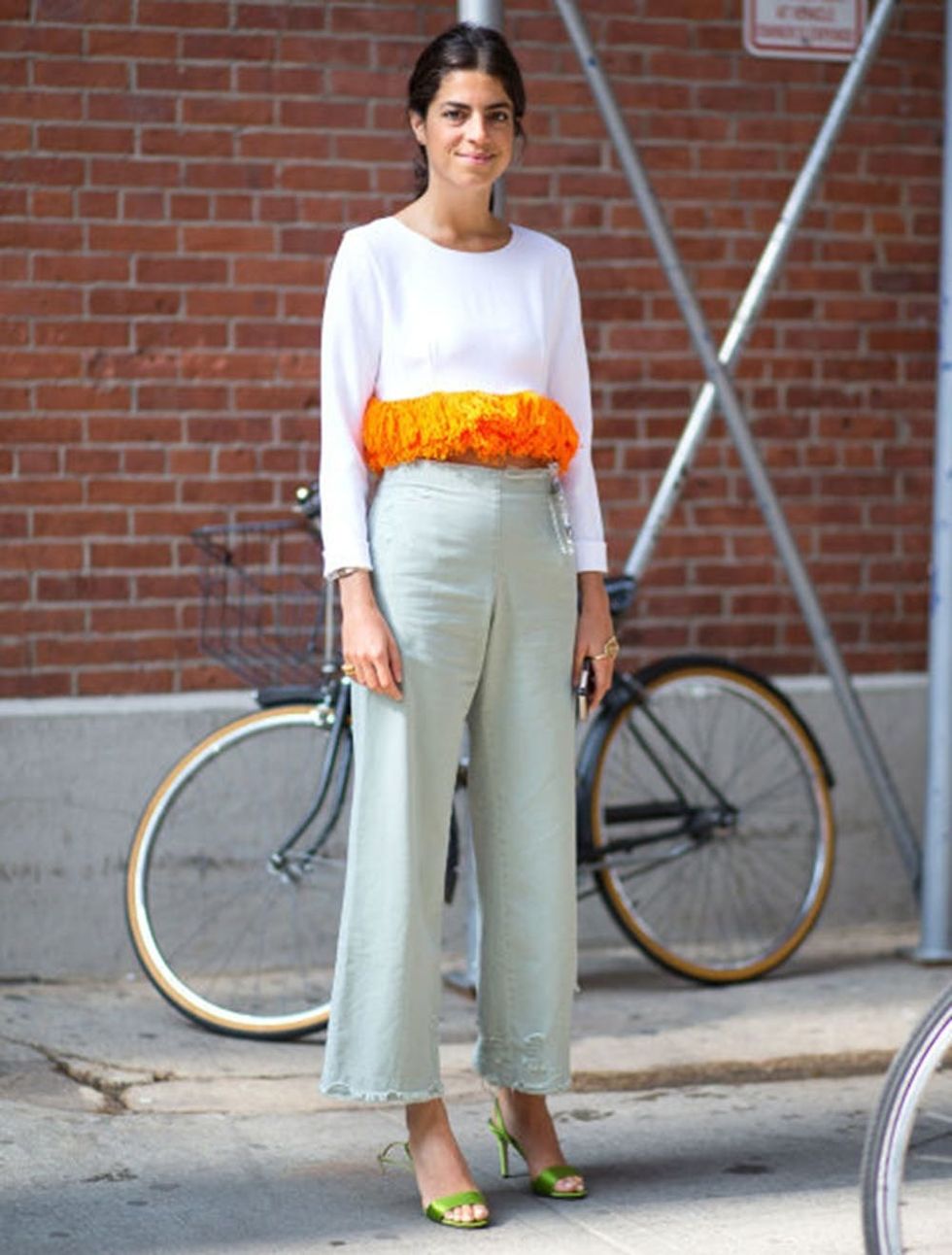 2. Vibrant Details: Leandra Medine knows how to keep it real and is no stranger to flashy getups. The ManRepeller shows that even a minimal amount of color, when paired with neutrals, can go a long way without taking your look over the top. All it takes a colorful accoutrement or two. (via Harper's Bazaar)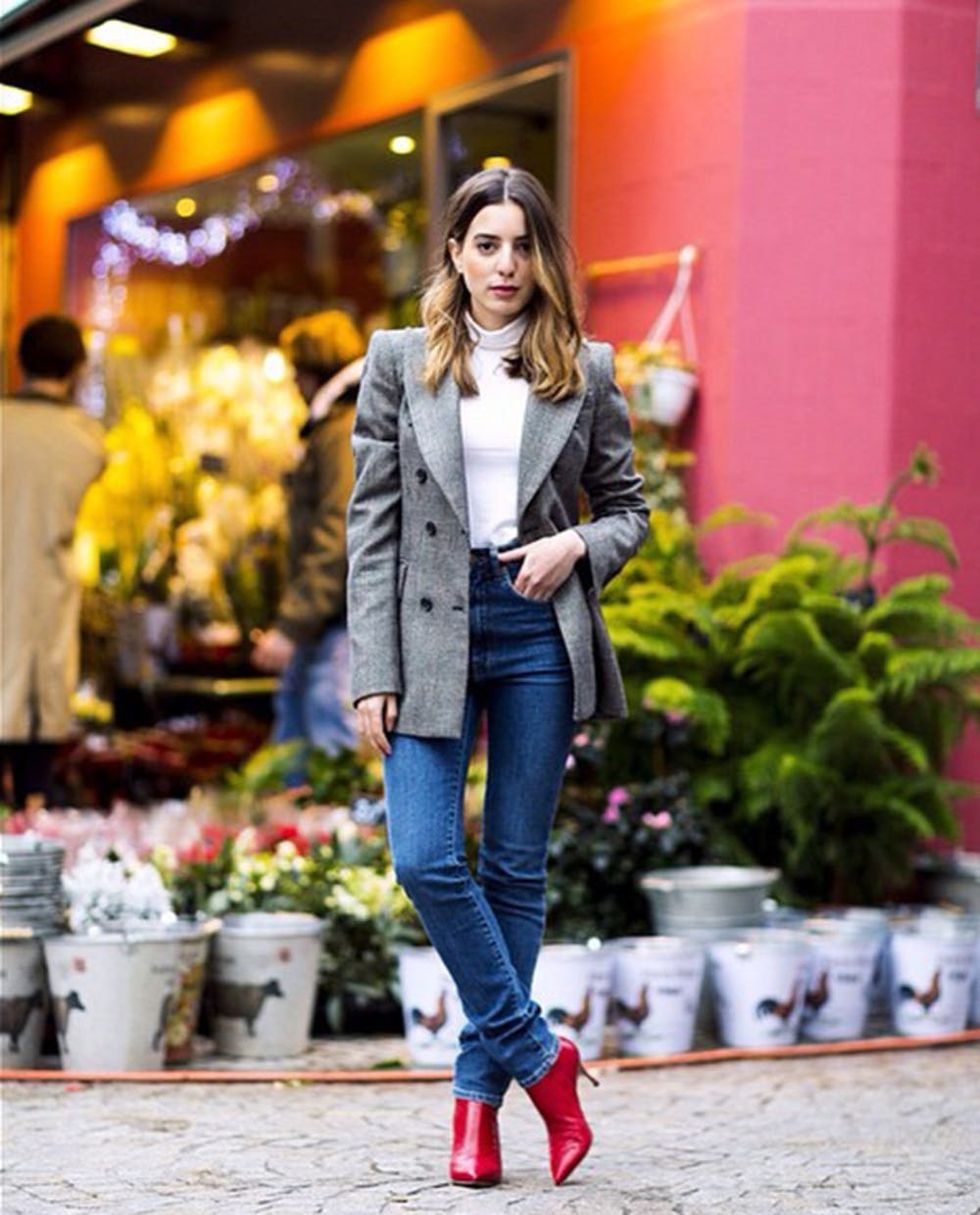 3. Flashy Kicks: Shoes are arguably one of the most important elements of an outfit, and if you're looking to spruce up your ensemble, this is an easy place to start. Neon heels or fiery red booties offer some serious wow-factor, but won't steal the show. (via @sarah_nait)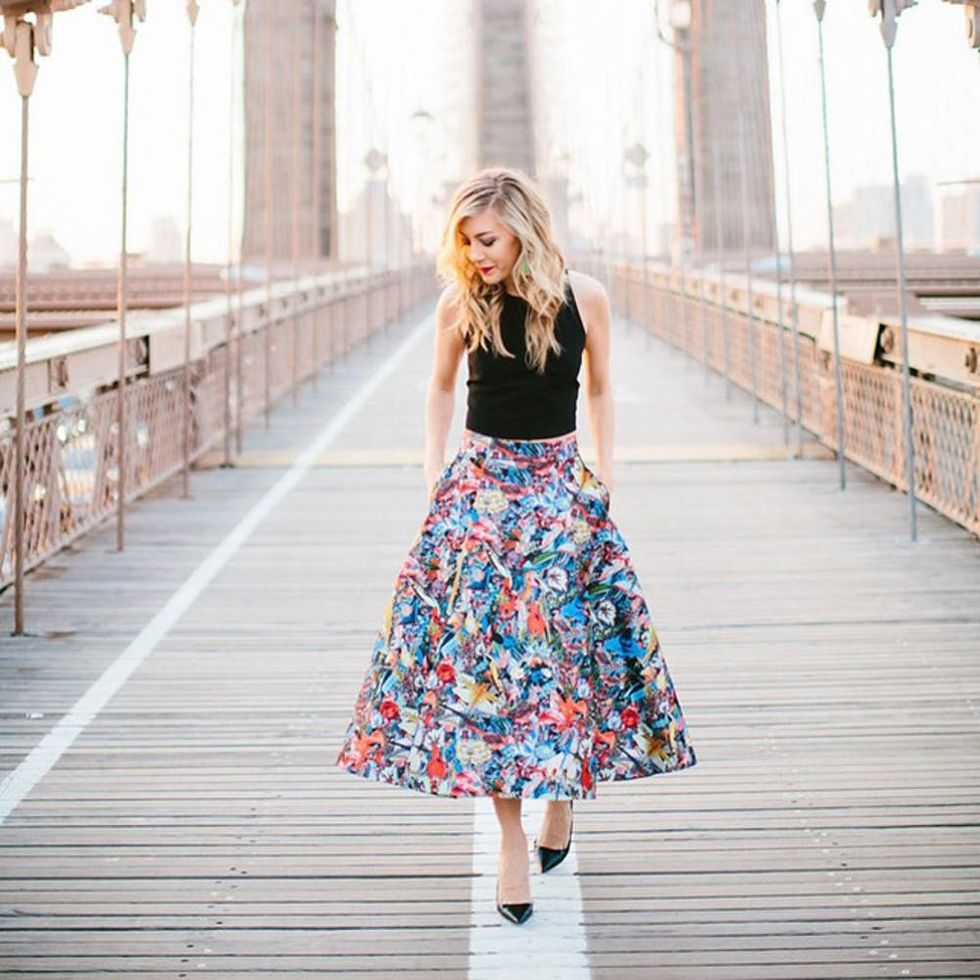 4. Wild Prints + Ladylike Separates: Flirty, feminine silhouettes like A-line midi skirts or a fit-and-flare dress balance out bold hues and wild prints for a look that's playful, edgy and far from boring. (via @ashleynii)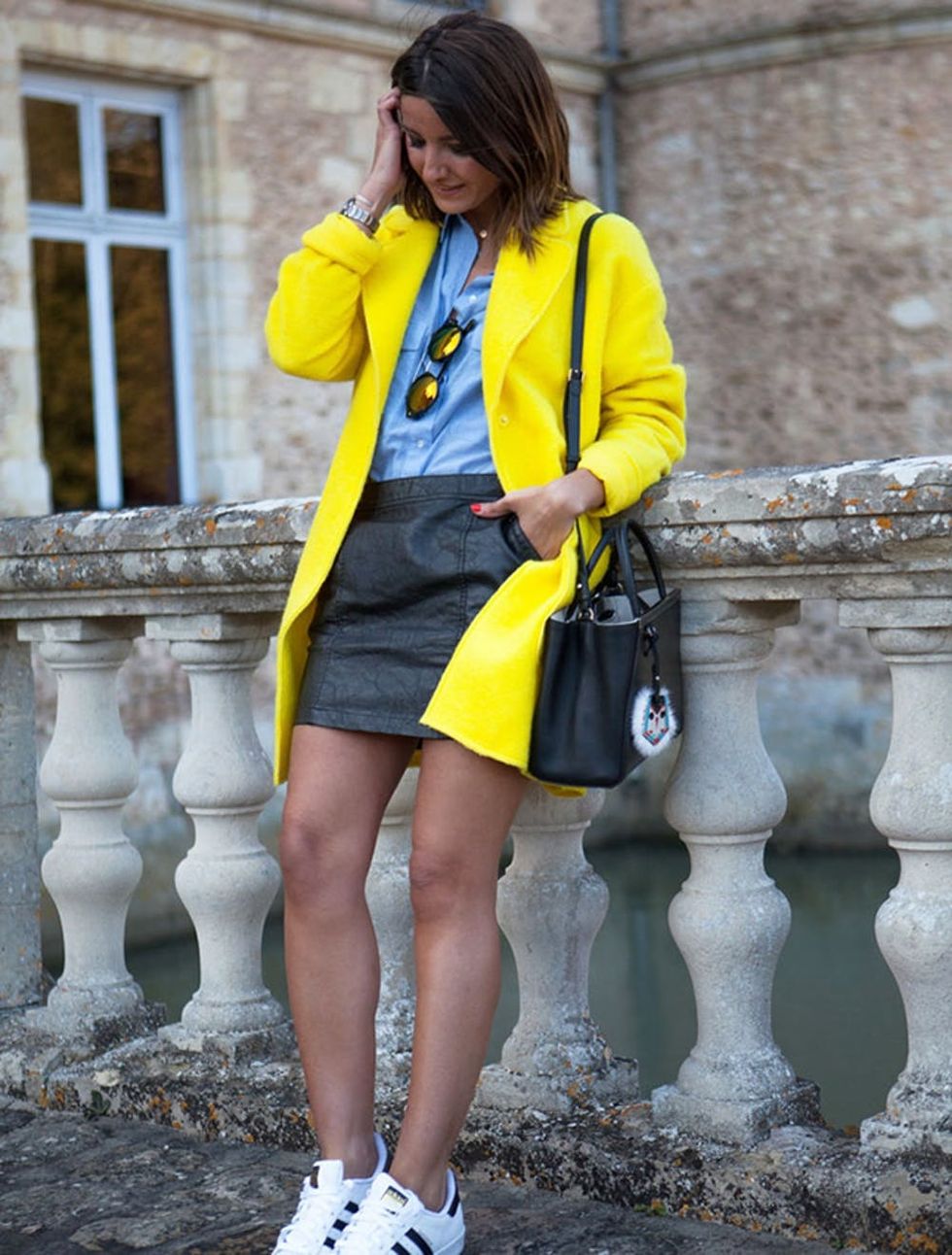 5. Bold Outerwear: For those days when a coat or jacket is deemed necessary, you need a fabulous style that's just as show-stopping as what you're rockin' underneath. Choose outwear that packs a punch, whether you dig a sunny shade of lemon yellow or a punchy purple hue. (via Lovely Pepa)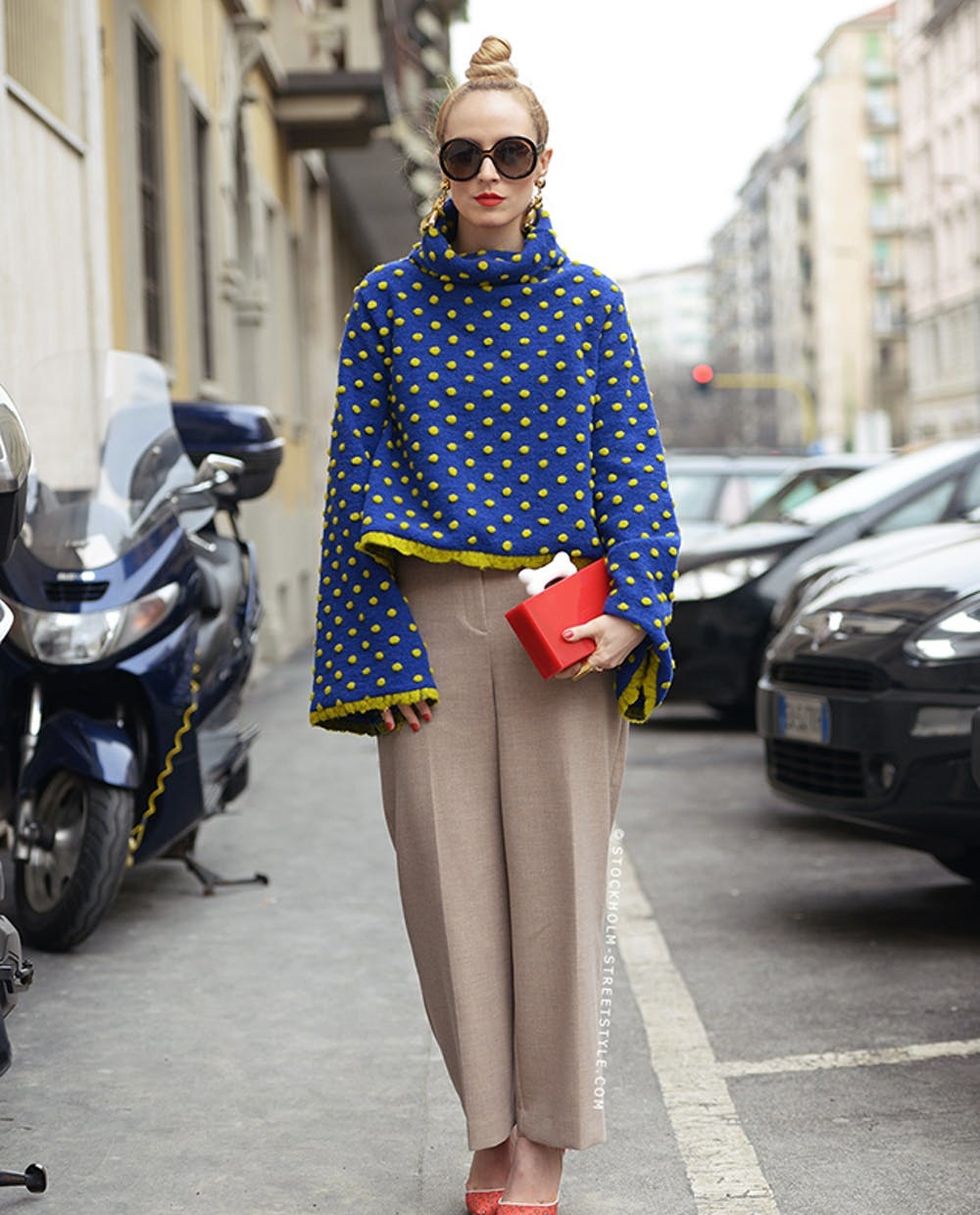 6. Statement Sweaters: If we learned anything this season, it's that sweaters are now a serious fashion statement, whether you go crazy chunky or '90s chic with a fitted turtleneck. Forget cream-colored cable knits and embrace brilliant blues, unexpected greens and pronounced pinks. Bonus points for colorful, textured extras. (via Stockholm Street Style)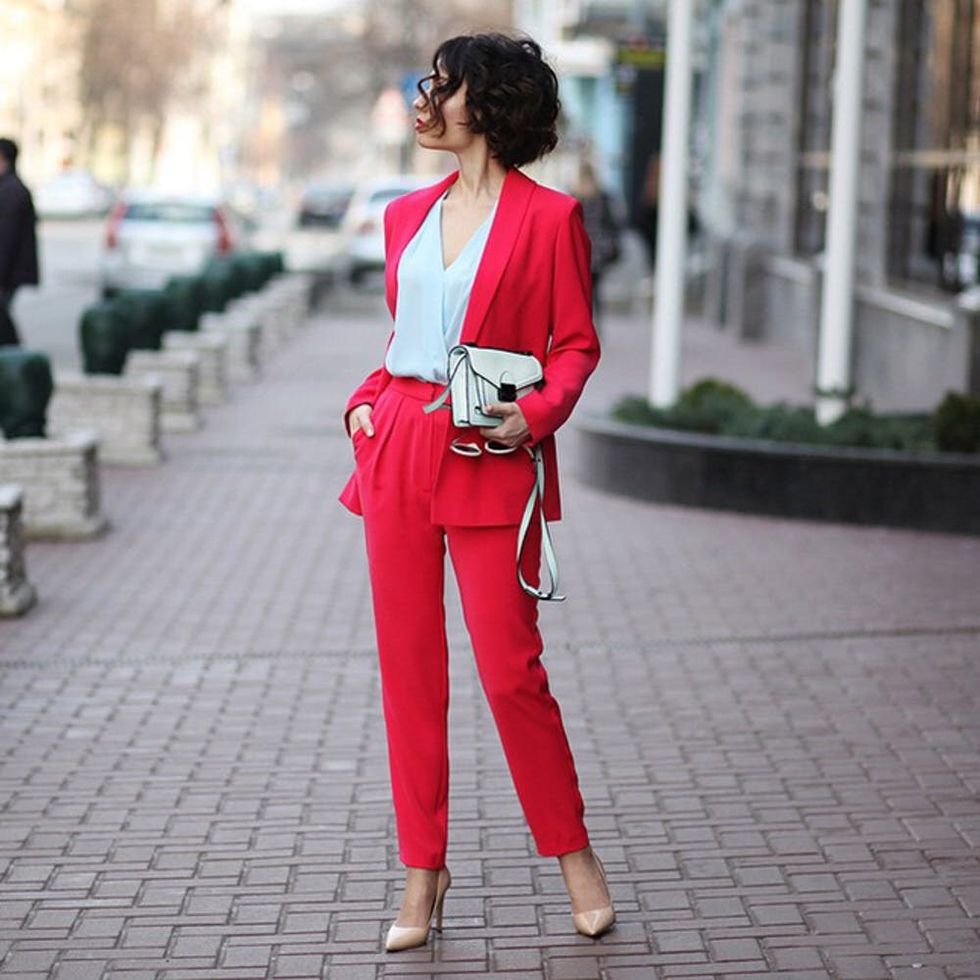 7. A Showy Suit: Sonya Karamazova proves that workwear doesn't have to be boring. Ditch your those black and gray threads for something that really packs a punch. Call us crazy, but we think this shade of siren red just screams #girlboss. (via @sonyakaramazova)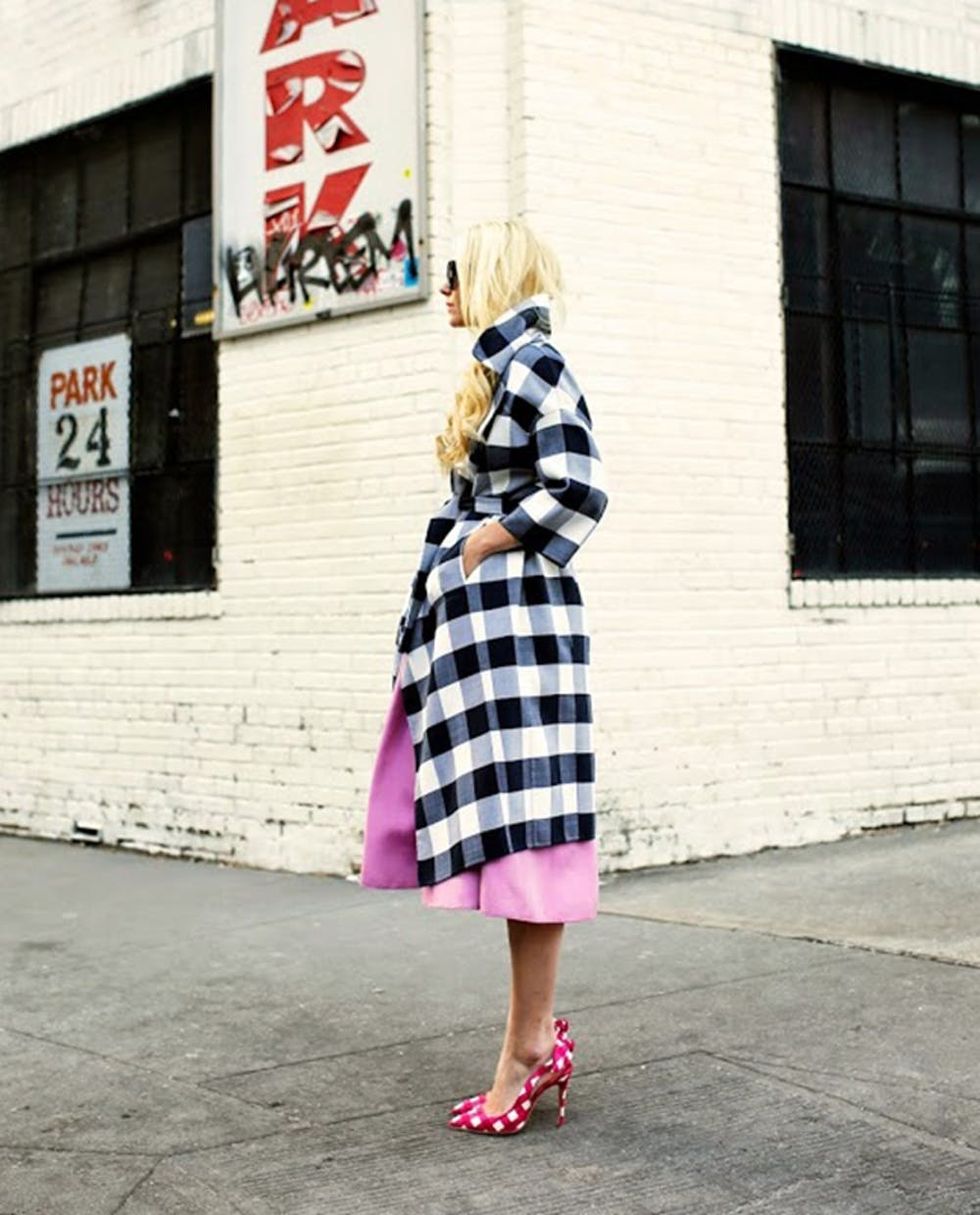 8. Pops of Color: If you're afraid of being overpowered by your getup, layer on a neutral-colored topper to break things up. (via Atlantic Pacific)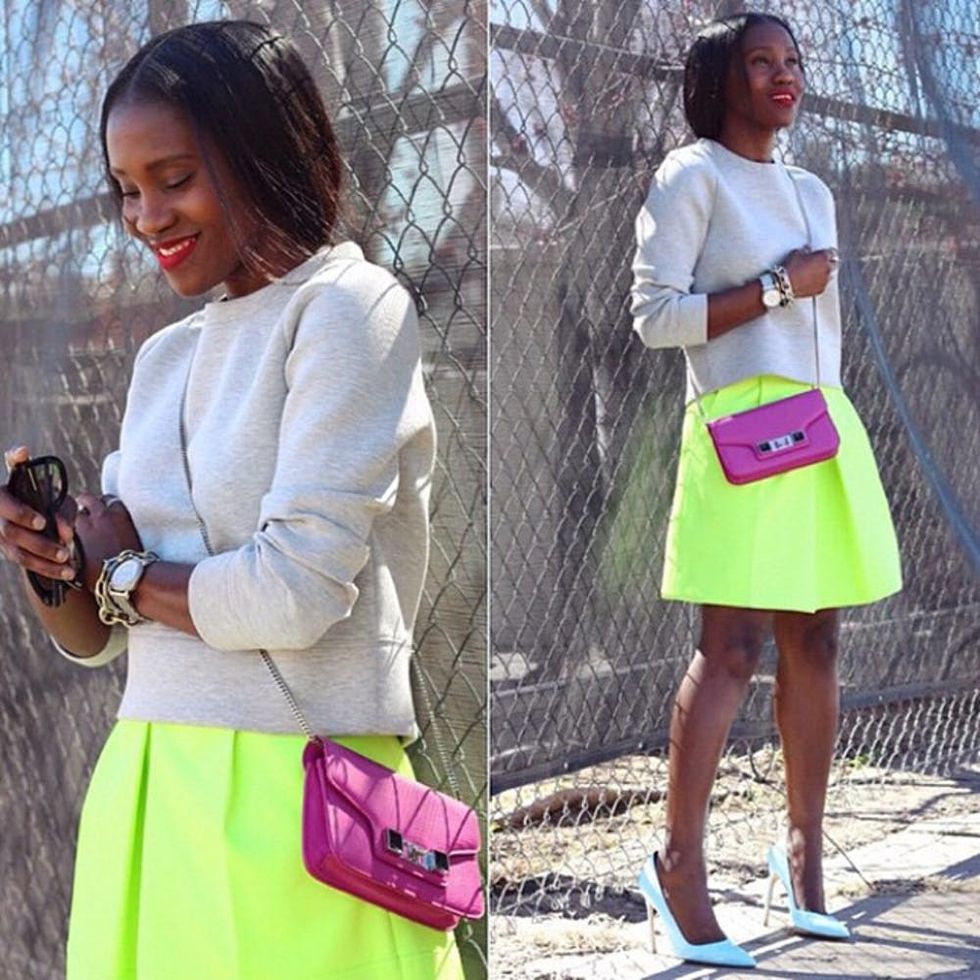 9. Grounding Pieces + High-Impact Hues: A gray top keeps Ranti Onayemi's look grounded, allowing her to play with multiple high-impact hues. (That neon skirt is totally nailing it!) (via @rantiinreview)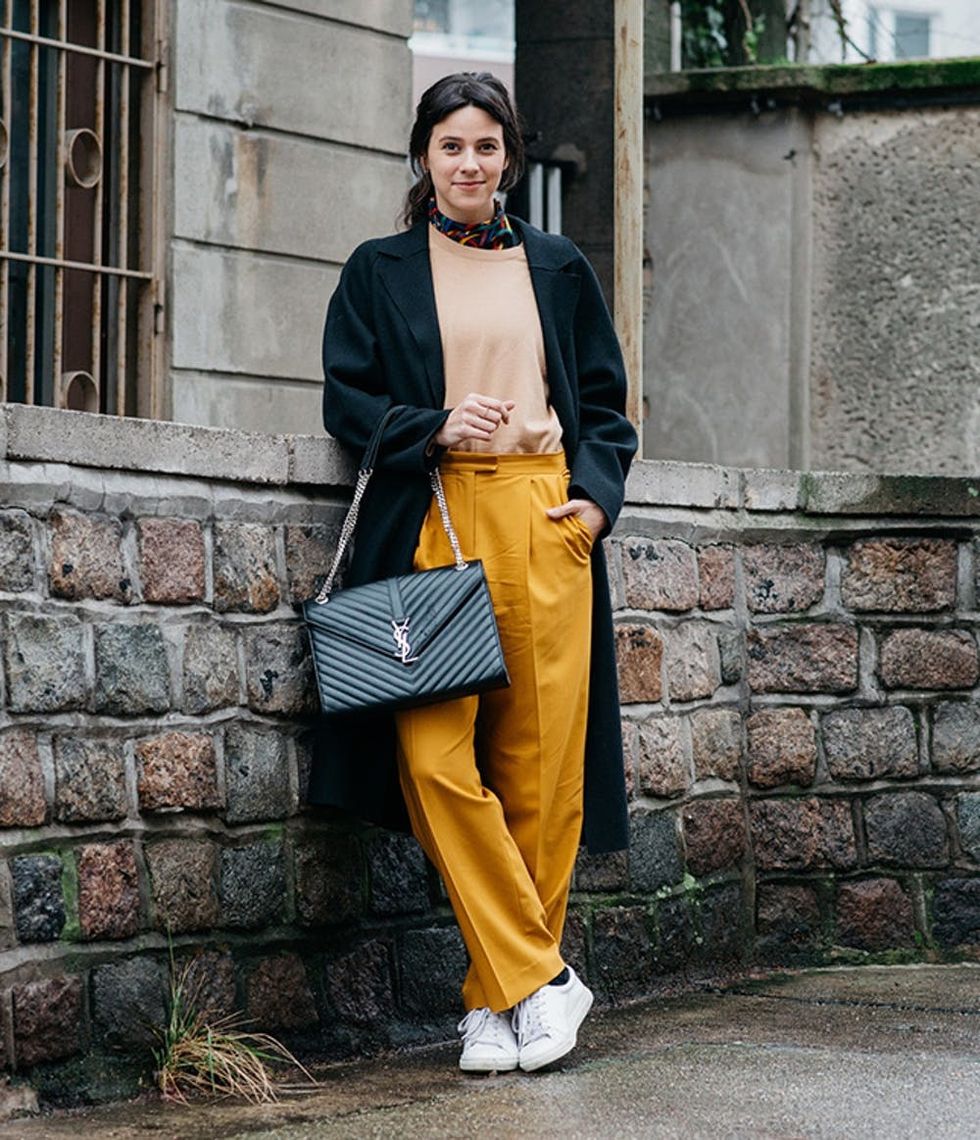 10. Tinted Trousers: Color doesn't have to be in your face. These mustard yellow pants have a more muted tone, but they still bring the sartorial heat. These make a killer base for a 9-to-5 look; just add a polished top and sleek coat and you're ready to go. (via The Locals)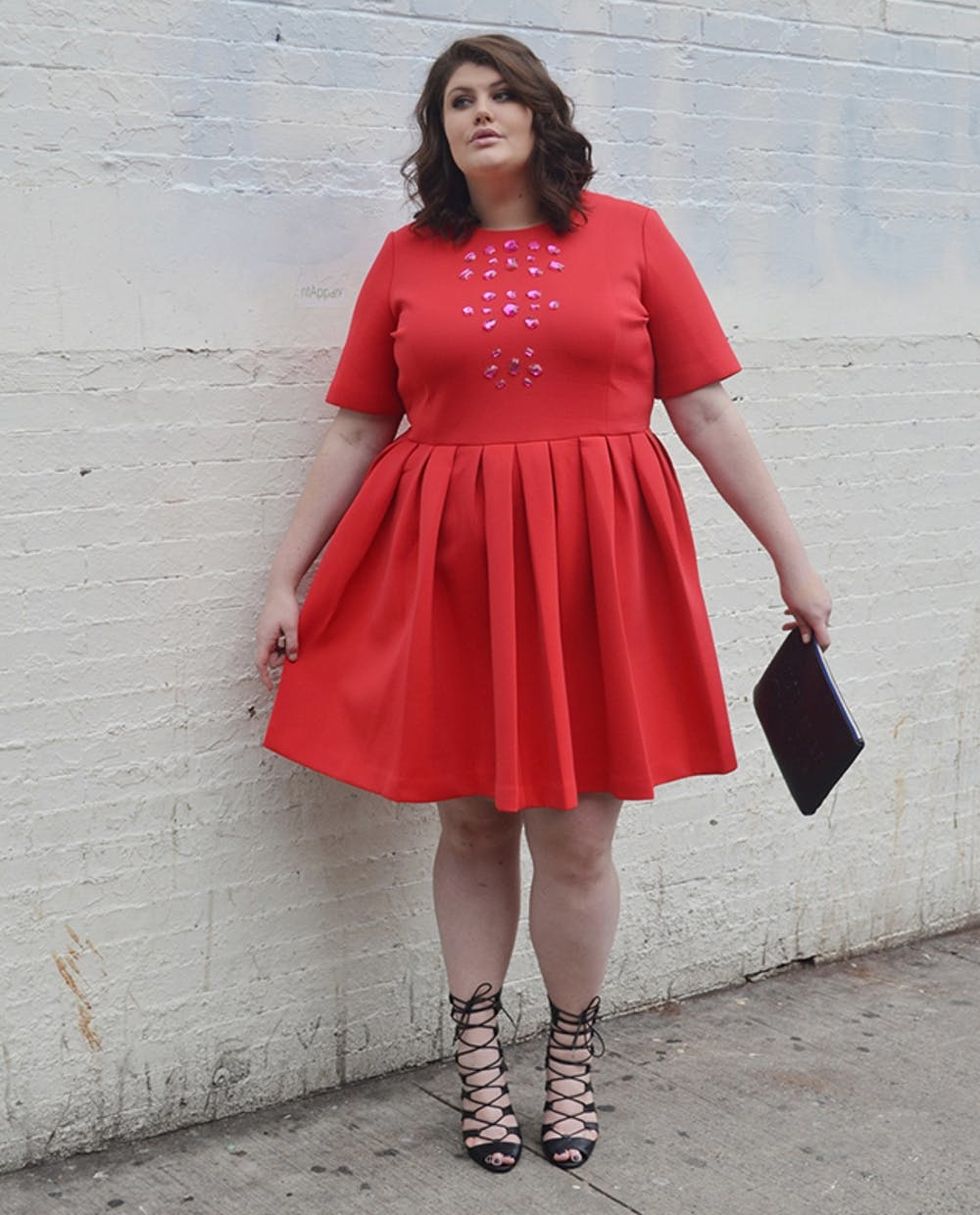 11. Elevated Cocktail Dress: Kiss that LBD goodbye. Shake up dinner and drinks with a sassy red frock or an equally as eye-catching jumpsuit in a floral green print. (via Manfattan)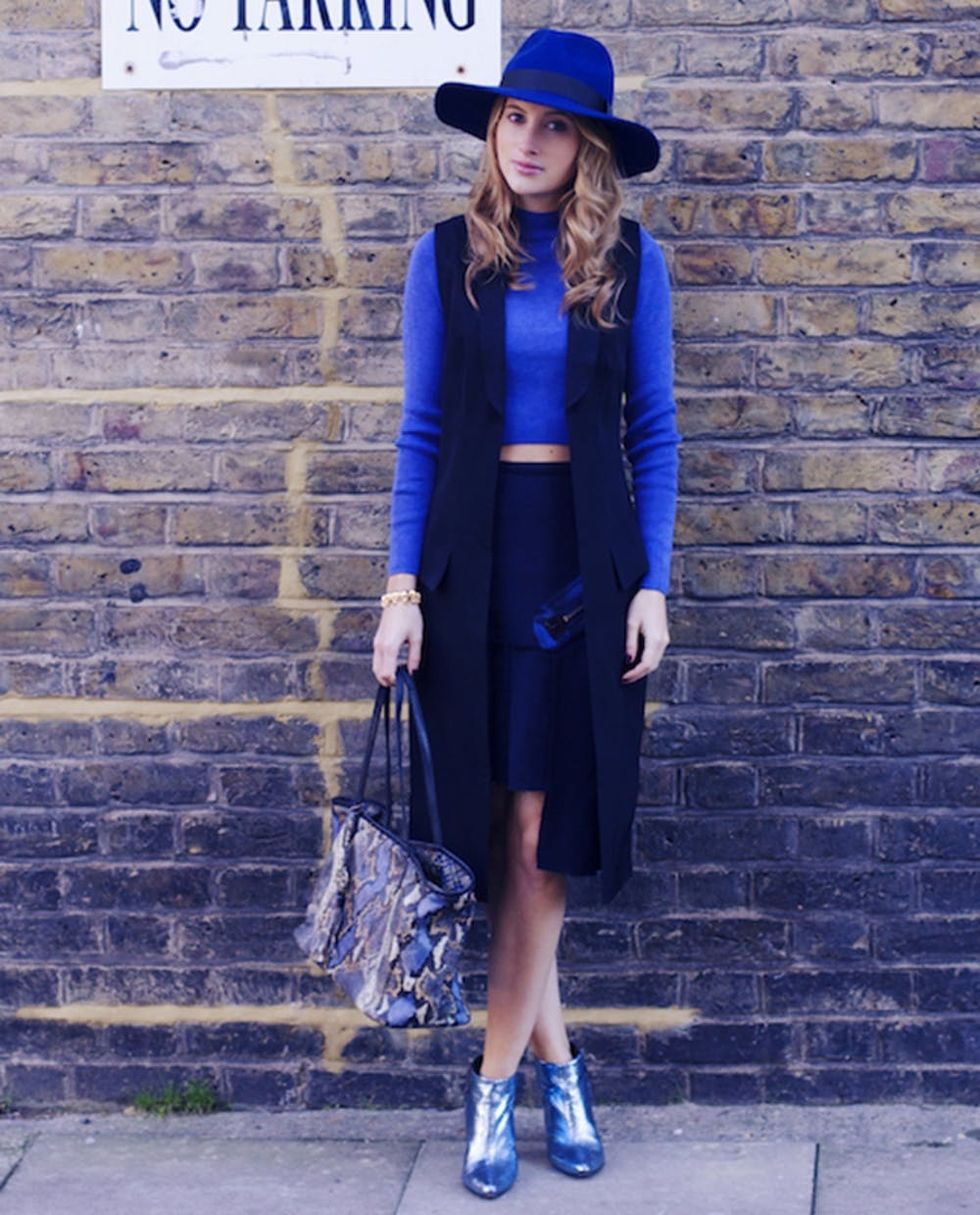 12. Monochromatic Color: Go big, or go home. Rock that color from head to toe (literally). To keep things interesting, like Rosie here, use multiple shades in order to break things up and add dimension. (via At Fashion Forte)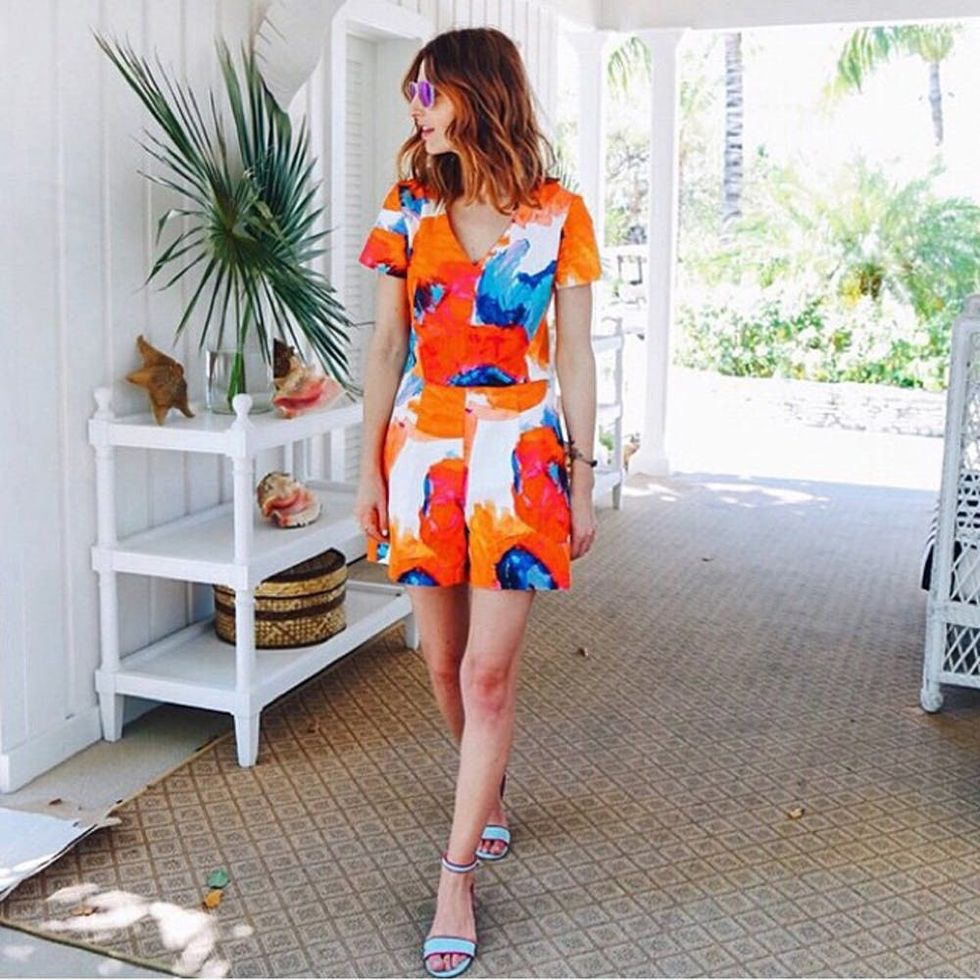 13. Vivid Vacation Essentials: Not comfortable embracing color in your natural habitat? Save your fun, cheerful pieces for vacation. Because black at the beach is just so blasé. (via @jessannkirby)
What's your favorite way to play with color? Tell us in the comments!