The Best Makeup for Your Zodiac Sign: Gemini Edition
Jun 19, 2016
Calling all Gemini, and wishing you all a very happy birthday month! This round of our zodiac sign makeup series features our very own set of twins, Beth (our associate editor) and her twin sis Abby. What better way to showcase the idea of finding balance in the dual nature of this sign than to bring these two lovely ladies together to rep opposite ends of the spectrum? Neither of these looks is quite as bold as our blue brow and lavender cat eye makeup look for Aries, but they bring plenty of wearable drama, with green lips and hacks inspired by Kylie Jenner.
---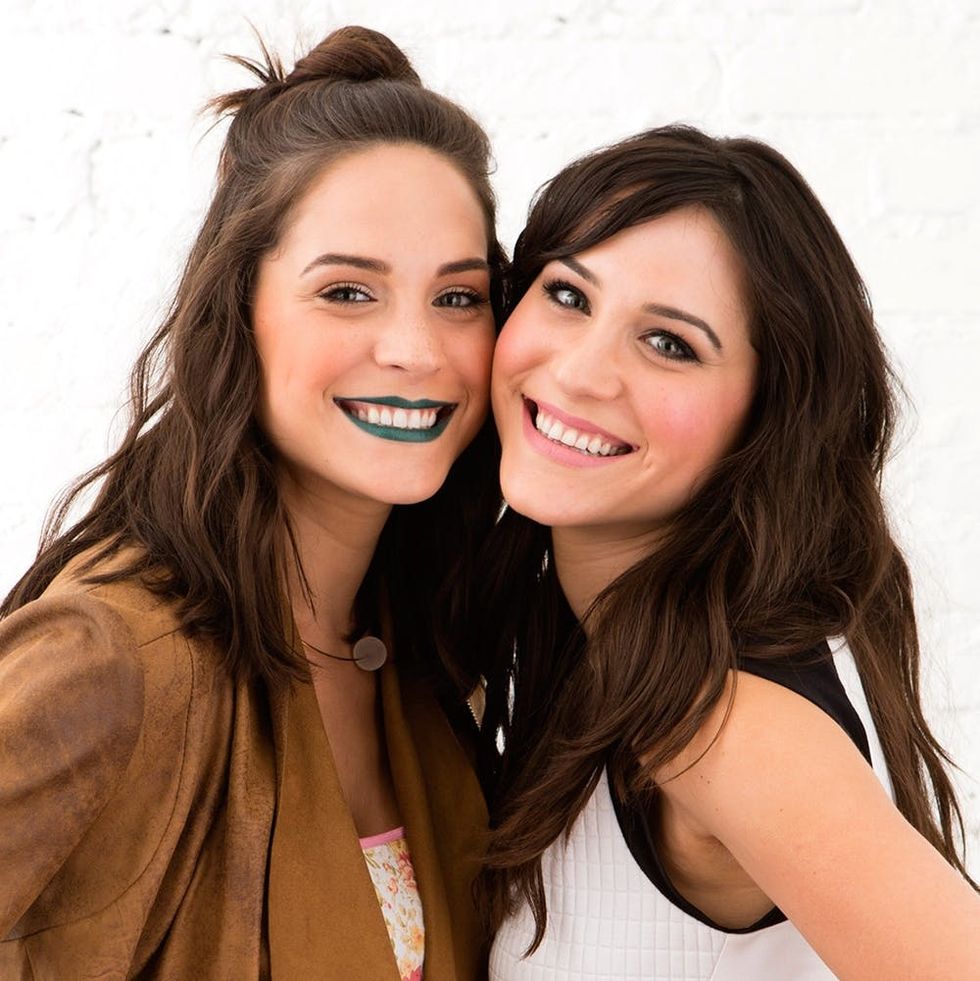 Gemini Beauty Profile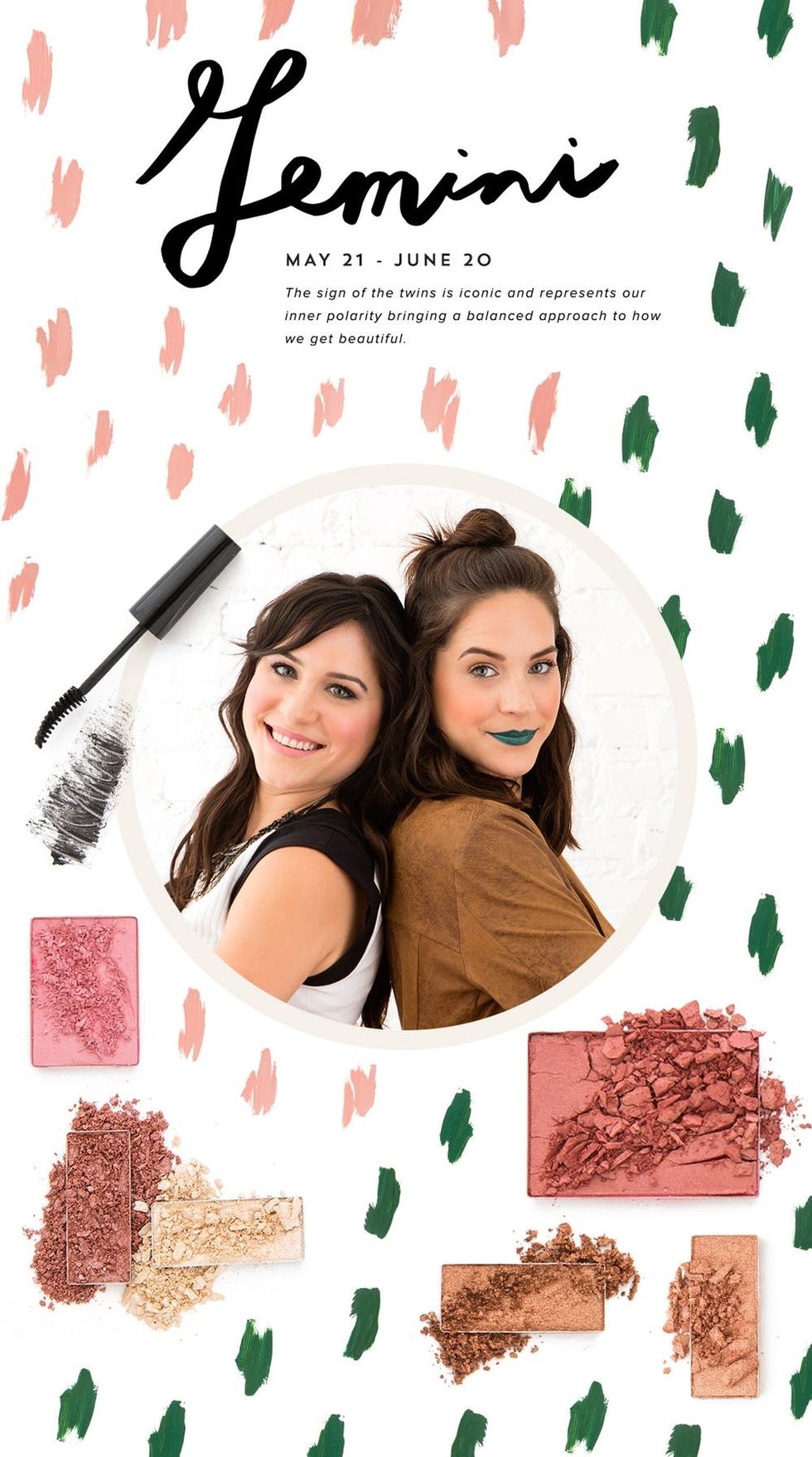 Gemini, an air sign and the third in the zodiac calendar, is known to possess both the yin and yang of personality traits. On one hand, we have the good girl gone bad wearing a simple bronze base paired with a wild-child green metallic lip. On the other hand, we have a vixen who never wants to miss a trend, mixing her go-to subtle smokey eye with a Kylie Jenner lip color hack. Routine and boredom are major no-nos, and a Gemini goddess refuses to sit back and watch the world go by, incorporating must-have makeup into her daily looks.
Get the Look for Gemini Abby: Bronzed Base With a Metallic Green Lip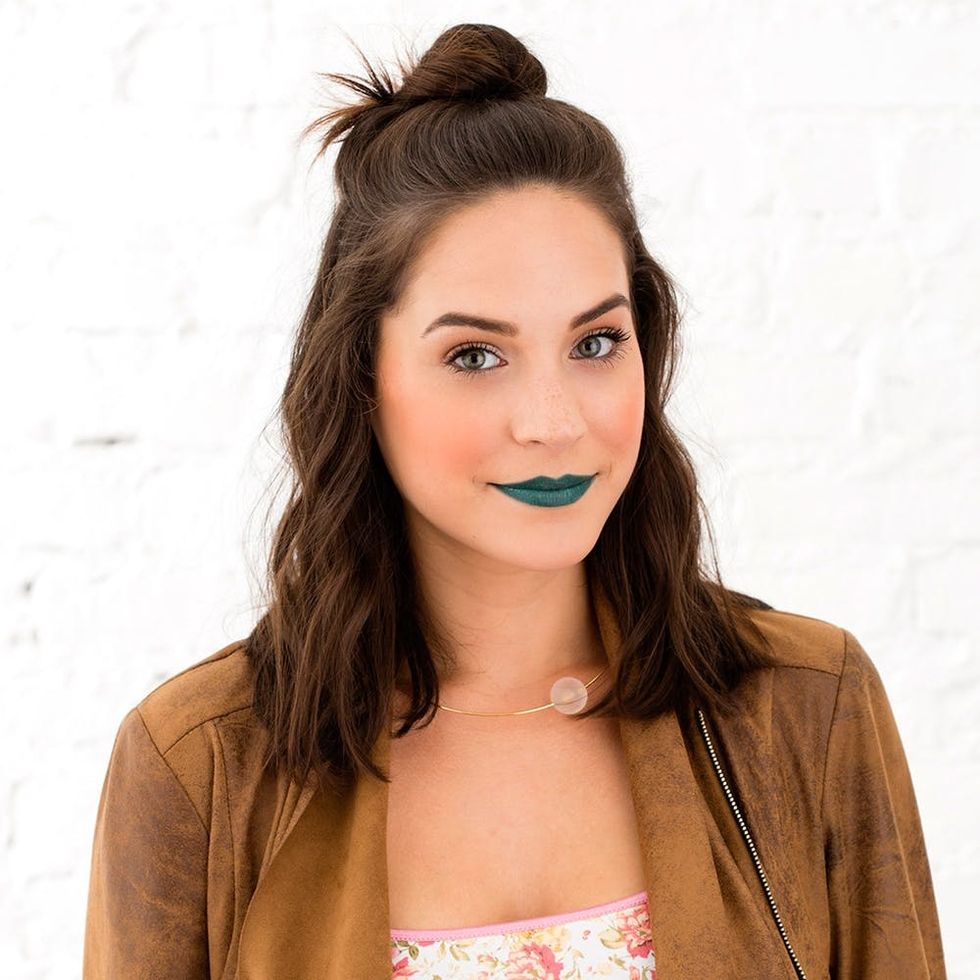 Prep — Flawless Face: Follow our flawless face tutorial to build the foundation for this look. Skip the highlighter so you can keep your base matte — that way it won't compete with the green lip.
Step 1 — Bronzed Base: We used an orange-toned shimmering blush to get this look going. Abby is wearing NARS Blush in Taj Mahal ($30) on her cheek bones as well as the creases of her eyelids.
Step 2 — Metallic Green Lip: You really have to commit to this color, but if you're vibing it, without a doubt you will knock 'em dead all day long. This is one of those hues that women and men swoon over when they see someone pull it off. Ladies, the color that will change everything — Kat Von D Studded Kiss Lipstick in Plan 9 ($21).
Finishing Touches — Tight Line + Mascara: When you're wearing this dramatic of a lip, you can keep your eyeliner fairly simple. The best way to do this is to tight line the inside of your lash with a smudge-proof black eyeliner like Juice Beauty Defining Eyeliner in Black ($16).
Get the Look for Gemini Beth: Subtle Smokey Eye With a Hacked Kylie Jenner Neutral Lip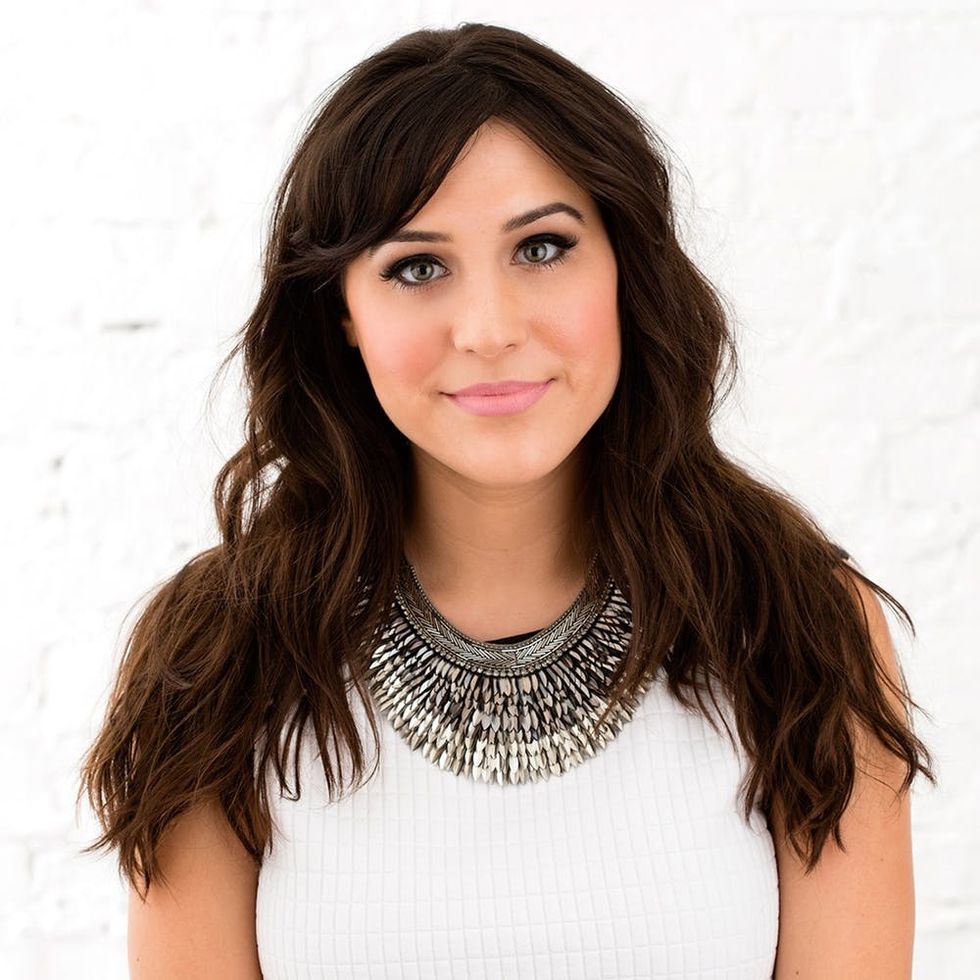 Prep — Flawless Face: Follow our flawless face tutorial to build the foundation for this look. Feel free to go big on the highlighter! It's all about that glowing, radiant skin here.
Step 1 — Subtle Smokey Eye With Lashes: Start off by highlighting your brow bone with a bright shimmering shadow, or use a product like Tata Harper Very Illuminating ($40). Then deepen your crease with a neutral brown shadow like Naked from the Urban Decay Naked Palate ($54). For that smokey finish, line your eyes with a deep black eyeliner and then smudge over it with a charcoal or black shadow in the same Naked shade. Throw on a pair of false lashes to really seal the deal.
Step 2 — Kylie Jenner Lipstick Hack: It's almost a given that no one wants to spend the money or go through the trouble it takes to get your hands on Miss Jenner's lip kits. Luckily, you don't have to! Simply grab this dupe, Stila Stay All Day Liquid Lipstick in Rosa ($24), to get the look of her light pinky-nude (AKA Candy K).
Finishing Touches — Bold Yet Natural Brows: Throw on your favorite brow gel to help tie this babelicious look together. Beth is wearing the trèStiQue Define, Sculpt + Set Brow Pencil in Espresso ($25).
I'm sure you can imagine how much silliness went on during this shoot! If you can't, here's a sneak peek behind the scenes. I couldn't resist jumping in a photo with these two goofballs!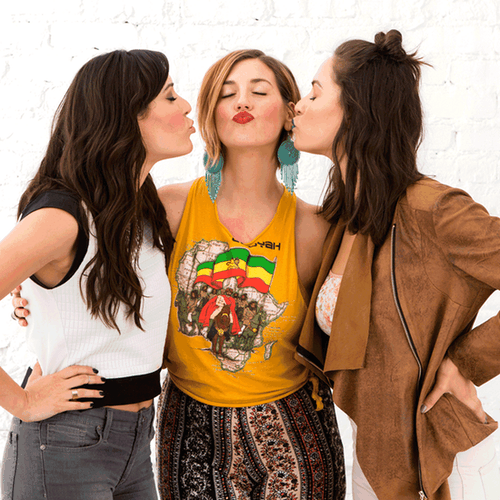 One minute they'd have their game face on, and the next some inside joke that they both found hilarious would make them crack up (#twinning)!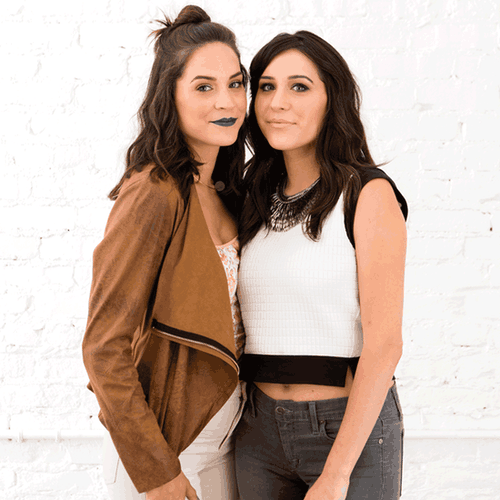 Of course, you don't have to be a Gemini to participate in these gorgeous looks. We just want to inspire you with this month's birthday babes so you, too, can achieve this mystical makeup goodness.
Share your looks with us by tagging us on Instagram, and for more beauty inspiration, follow us on Pinterest.
Brit + Co may at times use affiliate links to promote products sold by others, but always offers genuine editorial recommendations.
Art Direction/Hair + Makeup/Styling: Misty Spinney
Photography: Kurt Andre
Models: Beth Wischnia + Abby Wischnia