How to Nail a Glitter-Free Holiday Makeup Look in 15 Minutes
Dec 22, 2015
Not every gal swoons as hard as others over all things glitter, but that doesn't mean they're out of luck when it comes to looking festive with their holiday makeup. Whether you're sick of sparkle or you just don't want to go there (those flecks have a way of sticking around long after you want them to), there are other super glam ways achieve that special occasion-worthy look minus the glitz. I have you covered with an alternative: this super simple, five-step, no-glitter makeup tutorial that's just as much of a standout as any glittery look.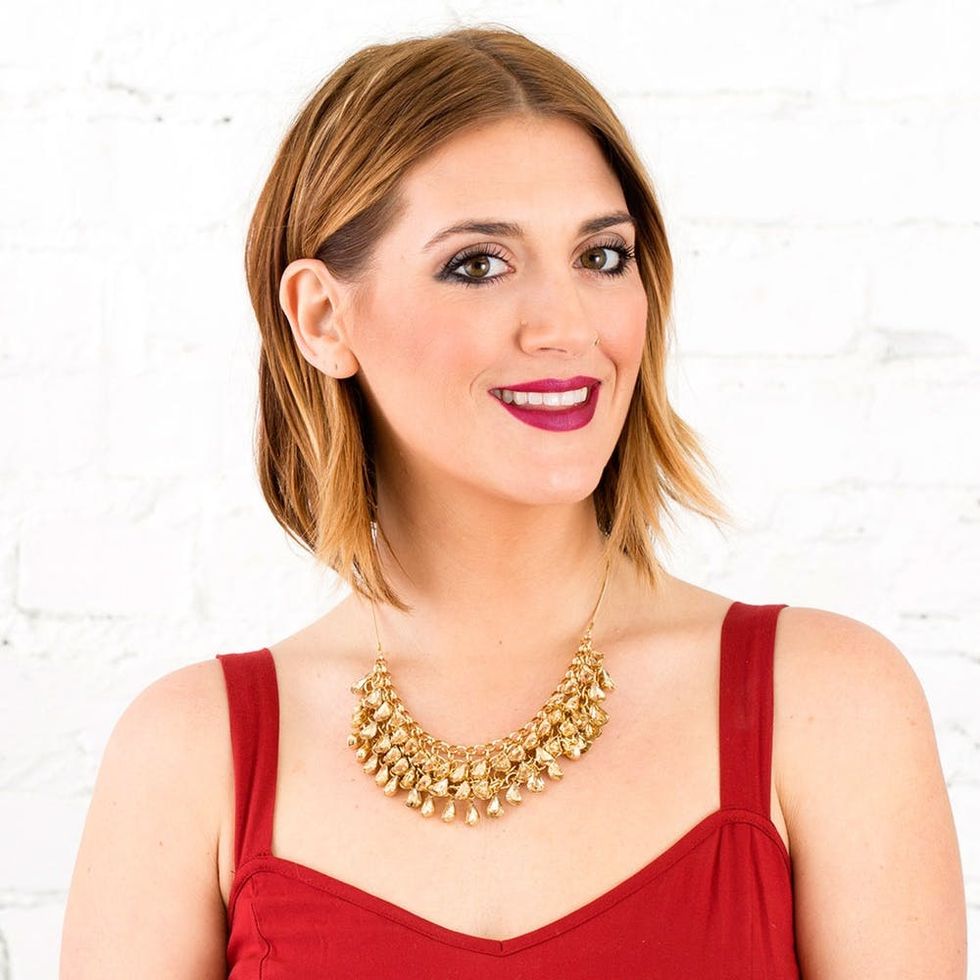 ---
Prep: Hydrate + Prime

You always want to start your makeup routine with a moisturizer or hydrating serum to make sure you're caring for your skin. On top of that, when you're doing your makeup for an event that may involve extra drinking, eating and dancing, you should take the extra step of applying a primer to your face like Benefit Cosmetics Stay Flawless 15-Hour Primer ($32). This will help your makeup go on more evenly and help it last for hours

Step 1: Mattifying Foundation

Most foundations are going to leave your skin with a somewhat dewy finish, even if you powder over it. I like to use a powder foundation with buildable coverage like Benefit Cosmetics Hello Flawless SPF 15 Powder Foundation ($34). Apply with a brush for lighter coverage or with the makeup sponge with tapping motions for a fuller, longer-lasting coverage.

Step 2: Contour + Highlight in Matte

Contour: Go matte with your bronzer to continue with this super non-glisteny look. I am using the Anastasia Beverly Hills Contour Kit ($40), the shade that is in the center of the lower level. Apply to the hollows of your cheeks, down the sides of your nose, along your hairline and down into your jawline and lightly on your neck.

Highlight: Finding a matte highlighter is a little more difficult, but what I like to do is apply a powder that is a few shades lighter than my skin tone and either a yellow or pink undertone to brighten. I actually opted for a combination of the two powders on the left and in the center of the top row of powders in the Anastasia Beverly Hills Contour Kit ($40). Apply to your upper cheekbones, down the bridge of your nose and above the cupid's bow of your lip.

Step 3: Mauve Matte Blush

One of my favorite matte blushes to use is Benefit Cosmetics Dallas Box O' Powder Blush ($28). This is a soft mauve hue that I swear seems to look amazing on every skintone in one way or another! Apply to the apples of your cheeks and blend up toward your temples.

Step 4: Smudgy Matte Eyes

Highlight: Apply a matte cream highlight shadow to your brow bones, inside corners of your eyes and slightly onto your eyelids.

Smudgy Liner: Apply a black eyeliner along your lower lash line, extending outside the corners of your eyes and slightly up into the crease of your eyelids. This is meant to be done in a messy kind of freehanded way. I like to make stippling (tapping) motions with the liner for that smudgy effect. You can go over this with a deep black matte shadow to set the liner and intensify the look.

Mascara: Go bold here! Apply several coats of deep black mascara to both your upper and lower lashes for that drama.

Step 5: Bold Berry Lips

Because my eyes are smokey yet still subtle, I like to go bold with my lip for an event like a holiday party. I am wearing a Kat Von D Studded Kiss Lipstick in Wolvesmouth ($21). This is technically a metallic berry hue, but the finish is so subtle that it has just enough sheen to help your lips look matte but not dry! I am OBSESSED with this color!

Still glowing, just not glittery!

Tastefully smudgy smoldering eyes paired with a bold berry lip tied together with mattified flawless skin is just what you need to pull off your next bold makeup look, which you can do in a matter of minutes. Hopefully you will be feeling so beautiful on the inside that your presence and personality will shine brighter than anything.
What's going to be your signature makeup look this holiday? Show us your looks by tagging uson Instagram.
Misty Spinney
Misty Spinney is a hair stylist, makeup artist, and fashion stylist with a strong background in design and deep passion for creativity.