Keeping Up With the Kardashians Recap: KimBo$$ Arrives
Nov 13, 2017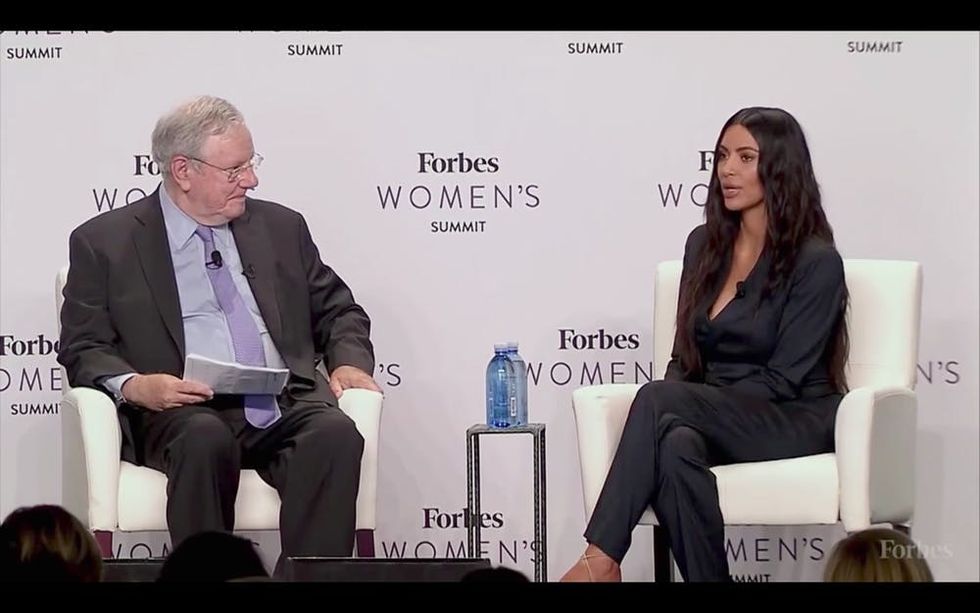 Kim may be in the spotlight the most this week, what with support from Selena's sister, a baby shower, and some T-Swift shade, but all the Kardashians get to enjoy a little drama on this week's Keeping Up With the Kardashians. Khloé reveals to Kim and Kourtney that she and Tristan will be living in Los Angeles from July to October. Great news for her family considering that she's spent most of her time in Cleveland this year, but the move is not so easy. Sure, Khloé has a great home in Calabasas, but Tristan practices at UCLA and Khloé needs a rental home in the city. After all, how will Tristan ever get to Los Angeles from Calabasas with all that notorious traffic?
---
Kendall being the only family member who knows how to use Zillow, I guess, shows Khloé some listings. Khloé really wants help from her mother, but Kris can't help Khloé look for a house because she's helping Tristan plan Khloé's surprise birthday party. Kris has to deal with Khloé being disappointed with her until the party goes off without a hitch and cements Tristan as an all-around good dude. He goes even further into super-good-dude territory when they agree that he should just live in the Calabasas house full-time. This guy's sense of compromise is going to make him an A+ dad to a kid who will likely come into this world with a licensing deal for their own basketballs that double as lip kits.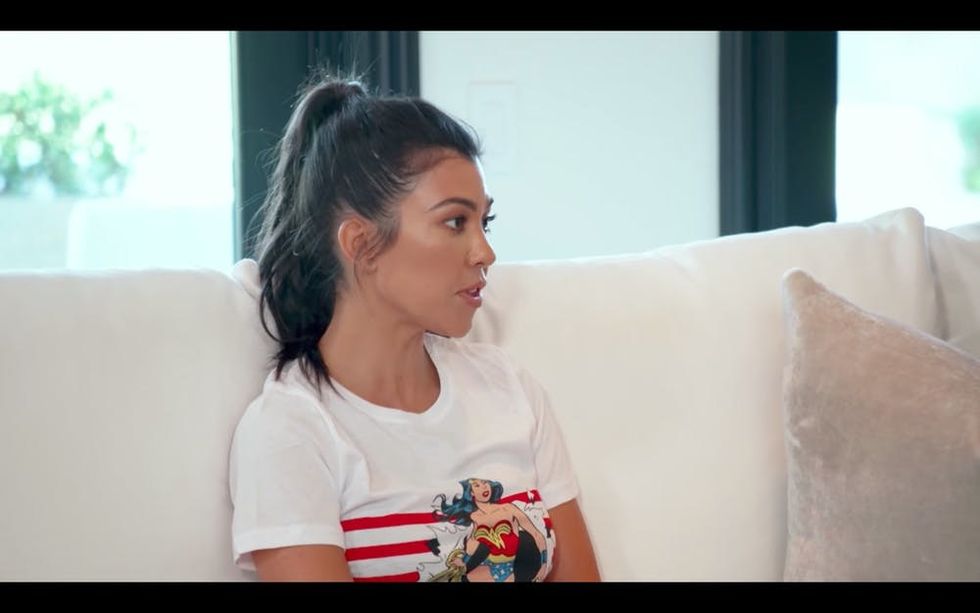 Speaking of lip kits, Kim is preparing for the launch of KKW Beauty, which is definitely not anything like Kylie Cosmetics or Fenty Beauty. Her entrepreneurship is skyrocketing in 2017 and a trip to New York to be interviewed by Steve Forbes solidifies that Kim is the true boss of her brand. But being the boss means shouldering even more responsibility for missteps. Her first promo images for her contour kit come out fairly dark and Twitter users accuse her of doing blackface in her ads.
With the blackface controversy seemingly behind her after some crisis management, Kim throws a launch party at her house complete with every YouTube beauty blogger I've never heard of and a rose ceiling thrown together last minute by Kanye's florist. What a dream! The true measure of the party and launch's success is that Kim eats a grilled cheese sandwich, breaking her super strict diet from last week! Intuitive eating is great and looks great on you, KimBo$$!
Kourtney, unfortunately, has been reading more Tony Robbins and makes all the girls chant, "The quality of your life is the quality of your relationships," at an otherwise uneventful lunch. Later, when Khloé is complaining about her lost luggage, Kourtney throws out more Robbins positivity platitudes and Kim, Khloé, and Kris come down on her for the extreme nature of her positivity.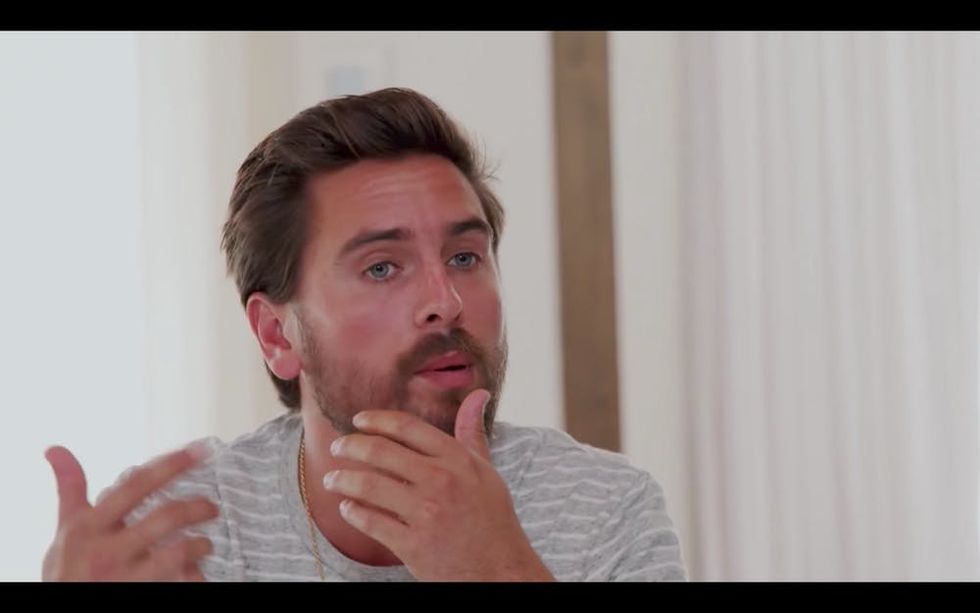 And of course, Kourtney's full-blown positive swing ends up having some negative consequences, particularly when it comes to Kardashians' Least Valuable Player, Scott Disick. Kourtney doesn't invite Scott to Khloé's birthday party and Scott confronts her about it, calling her fake. When she talks about it with Khloé, she realizes that she needs to tell Scott that he doesn't get an automatic invite to every family function.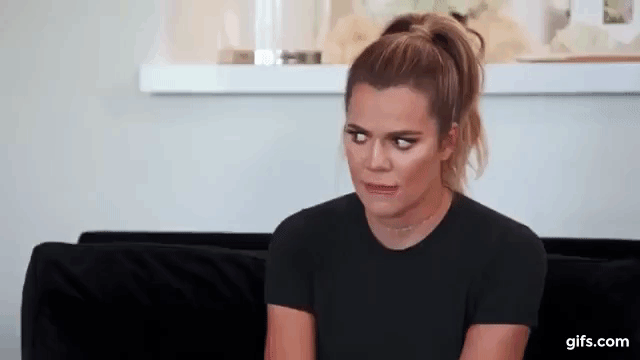 She lets Scott know that his antagonistic behavior makes her not want to see him when the kids aren't involved. He comes back at her with yet another declaration that he behaves badly because he loves her and she should respect that. After Kourtney tells him that he knows how to get his act together and needs to do so, the two of them leave the room holding hands as he jokes about them getting married at 40. CUT IT OFF, KOURT, THIS IS NOT A CUTE LOOK AND YOU'LL LOSE MVP OVER THIS.
Who's your KUWTK MVP? Tell us @BritandCo.
(Photos via E! + Getty)
TV
Feeling a little throwback to that time you had to speak in front your whole school assembly? Public speaking is scary! And so is presenting, pitching, and all the things you need to do to put your business out there. In this week's Selfmade course, we roped in a few experts to break it all down for you. Read on for our weekly recap, made possible thanks to a sponsorship from Office Depot.
<p>Presentations are all about the audience. Aristotle said if you want people to listen to you, to feel inspired, and to be motivated to action, there are three things you must do:<br></p><p><strong>1. Seek understanding:</strong><strong> </strong>First ask yourself, why do you care about this, and what are you trying to achieve? And second, understand where your audience is coming from so you can better relate to them and communicate effectively.</p><p><strong>2. Make your content clear:</strong> Of course it'll make sense to you because it's your brand that you've been steeped in, but it must make sense to the audience. </p><p><strong>3. Have a memorable delivery:</strong> How can you seem enthusiastic about what you're talking about and convey that you care so it'll stick with the audience after your presentation is over. </p><p>In our current remote landscape, your next presentation might be virtual. Here are some basics for strong communication through your screen:</p><ul><li><strong>Have your camera at eye level.</strong> Eyes should be across from the green light, and you never want to look down at your audience. Mimic eye contact by looking at the camera. </li><li><strong>Try to be two to three feet away from the camera</strong> with framing just below the shoulders and just above the head.</li><li><strong>Face a window</strong>, check your lighting, and consider your background.</li><li><strong>Turn off all notifications</strong> across your devices.</li><li><strong>Keep your feet on the floor</strong> to straighten your posture.</li><li><strong>When a visual or slide goes up</strong>, the audience will automatically try to digest the slide and might miss what you're saying, so be sure to tell people what they're about to see in a concise sentence before you flip to the slide, and then break it down in more detail once it's on screen. </li></ul>
<p>Ready to shout your message from the rooftops? And to start bringing in sales? Office Depot OfficeMax has got your back, with a full suite of<a href="https://www.officedepot.com/cm/services/office-depot-services?cm_mmc=bl-_-aq-_-url-_-bc&amp;cm_mmca1=internal&amp;cm_mmca2=uf&amp;utm_source=blog&amp;utm_medium=social&amp;utm_campaign=bc_na_url_internal_uf_aq&amp;utm_content=tea_na&amp;utm_term=tea" target="_blank" rel="noopener noreferrer"> business solutions</a> to help you succeed, including<a href="https://www.officedepot.com/cm/print-and-copy/print-services?cm_mmc=bl-_-aq-_-url-_-bc&amp;cm_mmca1=internal&amp;cm_mmca2=uf&amp;utm_source=blog&amp;utm_medium=social&amp;utm_campaign=bc_na_url_internal_uf_aq&amp;utm_content=tea_na&amp;utm_term=tea" target="_blank" rel="noopener noreferrer"> print &amp; copy services</a> to make sure your message comes through loud and clear.</p><p><br>Head to<a href="https://www.officedepot.com/cm/marketing/selfmade-promo?cm_mmc=bl-_-aq-_-url-_-bc&amp;cm_mmca1=internal&amp;cm_mmca2=lf&amp;utm_source=blog&amp;utm_medium=social&amp;utm_campaign=bc_na_url_internal_lf_aq&amp;utm_content=tea_na&amp;utm_term=tea" target="_blank" rel="noopener noreferrer"> Office Depot's Selfmade page</a> to check out even more amazing business resources (and discounts!) to help you accomplish more on your entrepreneurial journey. These offers are available for a limited time only, so be sure to take advantage of all this goodness while supplies last.</p>
<div class="htl-ad" data-unit="contentbanner" data-sizes="0x0:1x1,1x2,4x4,320x100,300x250|970x0:1x1,1x2,4x4,300x250,728x90" data-prebid="0x0:contentbanner_mobile|970x0:pagebreak_desktop" data-refresh="viewable" data-refresh-secs="30" data-targeting='{"pos":"1","post_id": "{{post.id}}"}' ></div> <div id="teads-ad"></div>
Money