14 Meatless Pizza Recipes That Prove You're Not Missing a Thing
Jun 20, 2016
Meatless Mondays can be a great way to set yourself up for healthy eating all week, and you don't have to subsist on raw vegan dishes and buddha bowls to do it. Pizza — that perennial comfort food — can help ease the transition to a more veggie-centric diet, and is sure to become a regular part of your meat-free cooking repertoire. While (TBH) there's no more perfect food than a simple cheese slice, there are some deliciously creative toppings that will elevate pizza night to a whole new level. Arugula and olives, blueberries and feta, artichoke and caramelized onion, anyone? The list goes on. Whether you're a full-time vegetarian or just looking to cut back on meat, here are 14 meatless pizzas that are all the inspo you need.
---
1. Roasted Garlic White Cheese Pizza With Arugula: This fresh and simple pie has all the savoriness we crave in a pizza. Homemade crust is smothered in white roasted-garlic sauce, covered with fresh mozzarella and fontina cheeses, baked to gooey perfection and hit with a mound of crisp, bright, lemony arugula salad to balance out the flavors. (via Show Me the Yummy)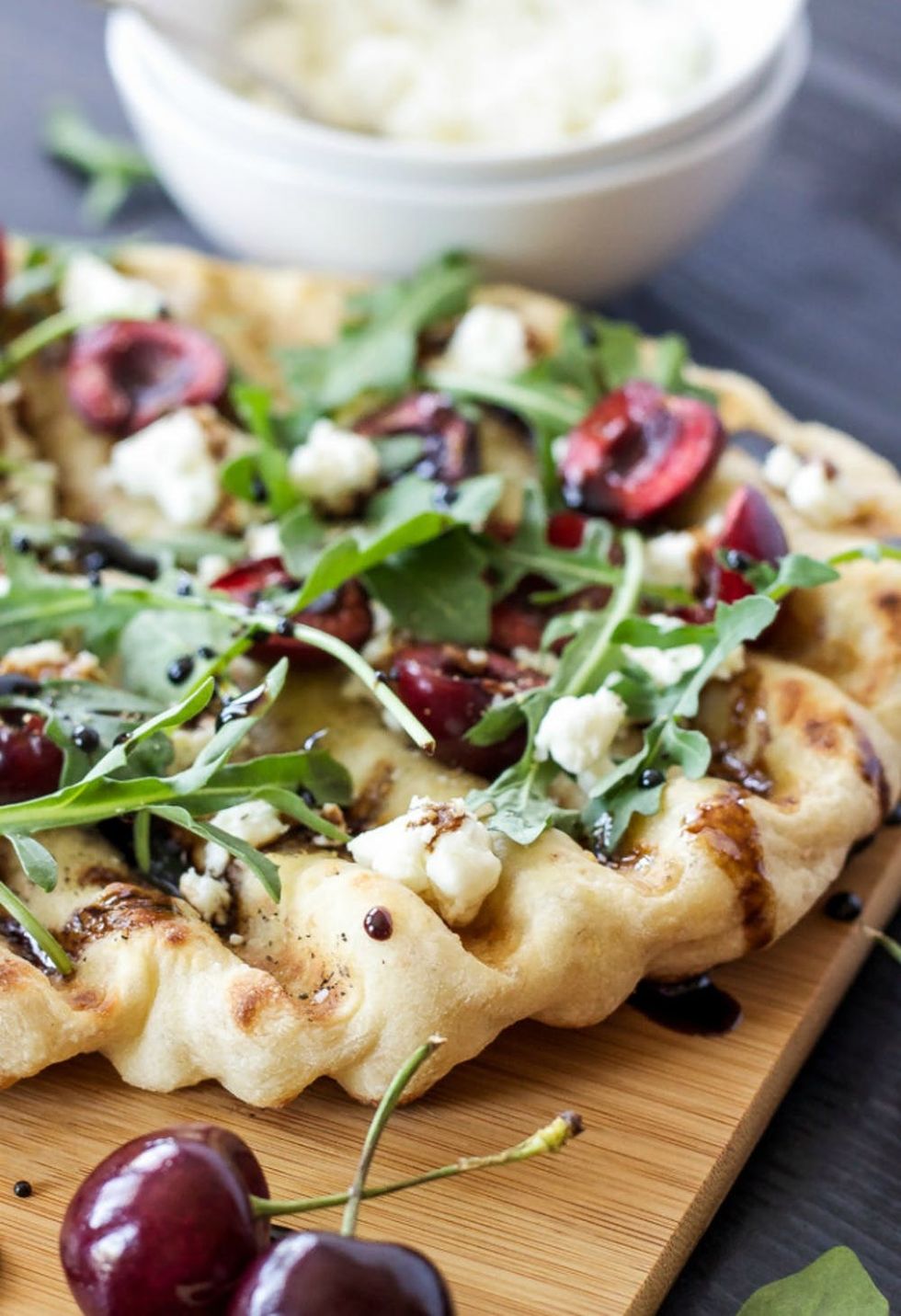 2. Grilled Cherry, Goat Cheese and Arugula Pizza: Did you do a double take at *cherries* on pizza? If so, prepare for a new taste sensation. Sweet seasonal cherries complement bitter arugula and salty goat cheese, making a truly tasty triumvirate. Bonus: This one's grilled, so you don't even have to turn on the oven. (via Recipe Runner)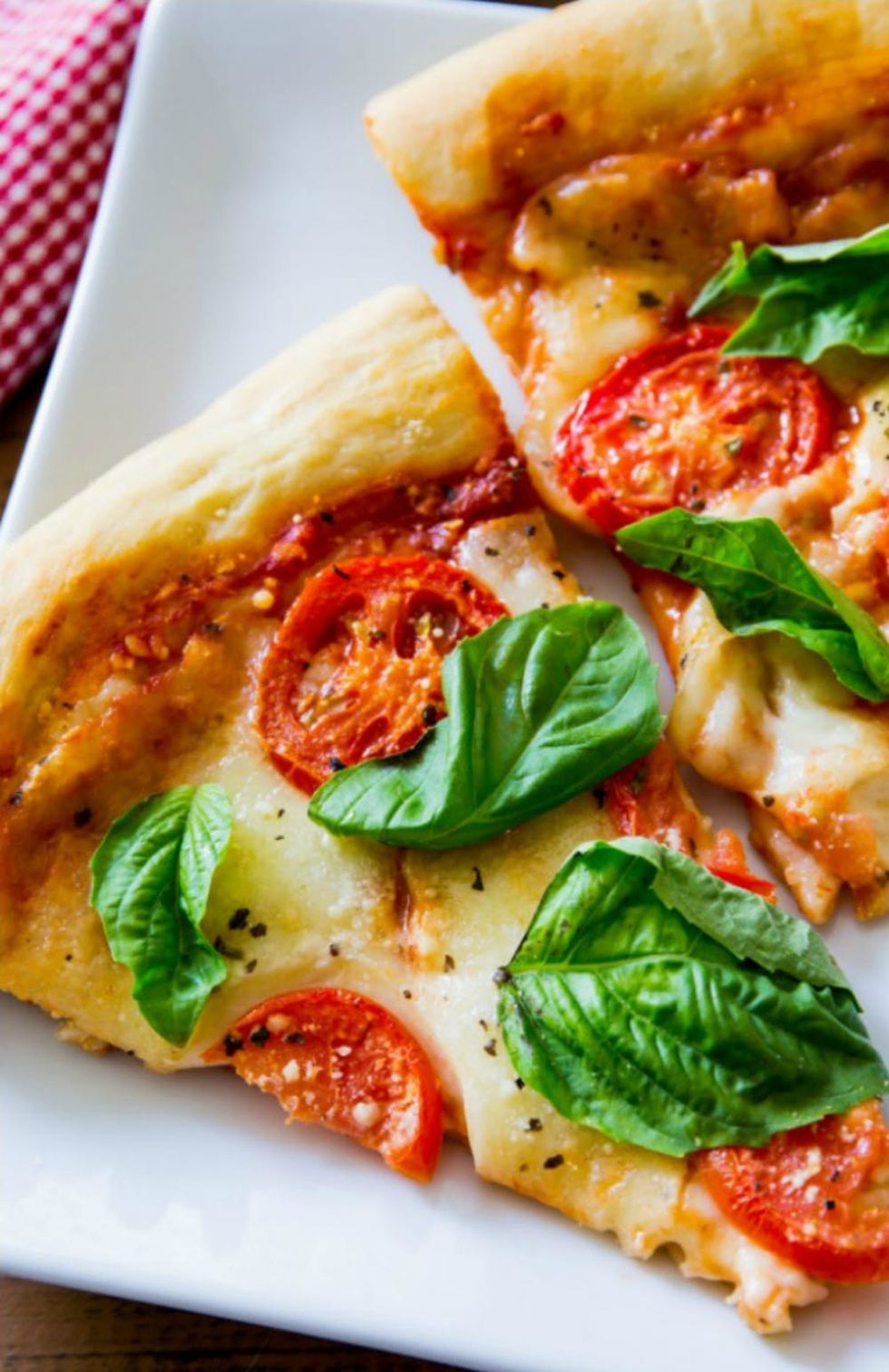 3. Classic Margherita Pizza: You can't beat a fresh, simple classic. Margherita pizza showcases the best flavors of summer — vine-ripe tomatoes and fresh basil — for a grown-up take on plain cheese pizza. (via Sally's Baking Addiction)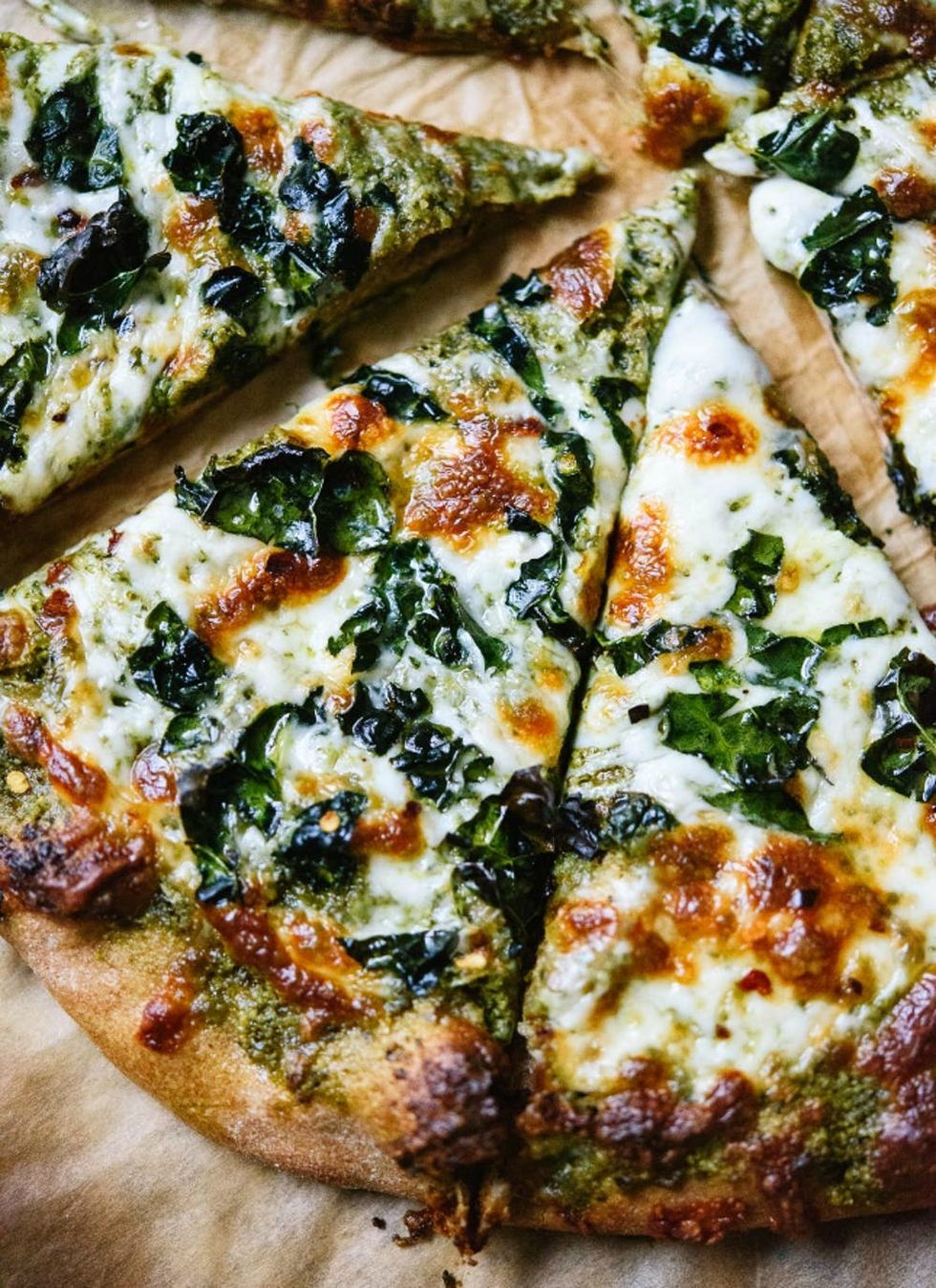 4. Kale Pesto Pizza: If you love pesto, you'll dig this super-healthy version made with pecans and kale. A dash of red pepper provides just the right kick of heat. (via Cookie and Kate)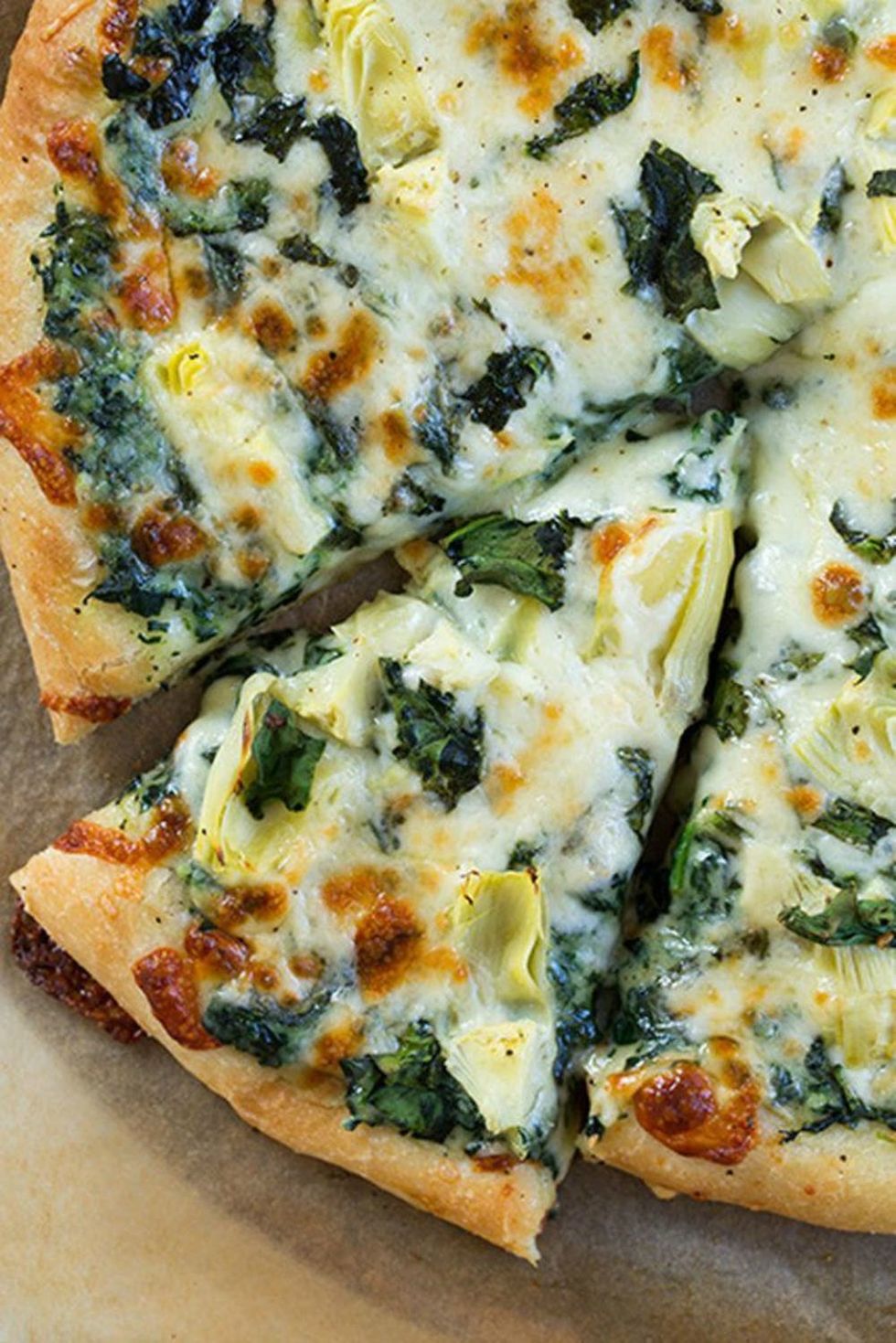 5. Spinach Artichoke Pizza: You know the spinach artichoke dip we all love so much? This pizza is like that, but served up on a crispy crust. Your taste buds will do the happy dance. (via Cooking Classy)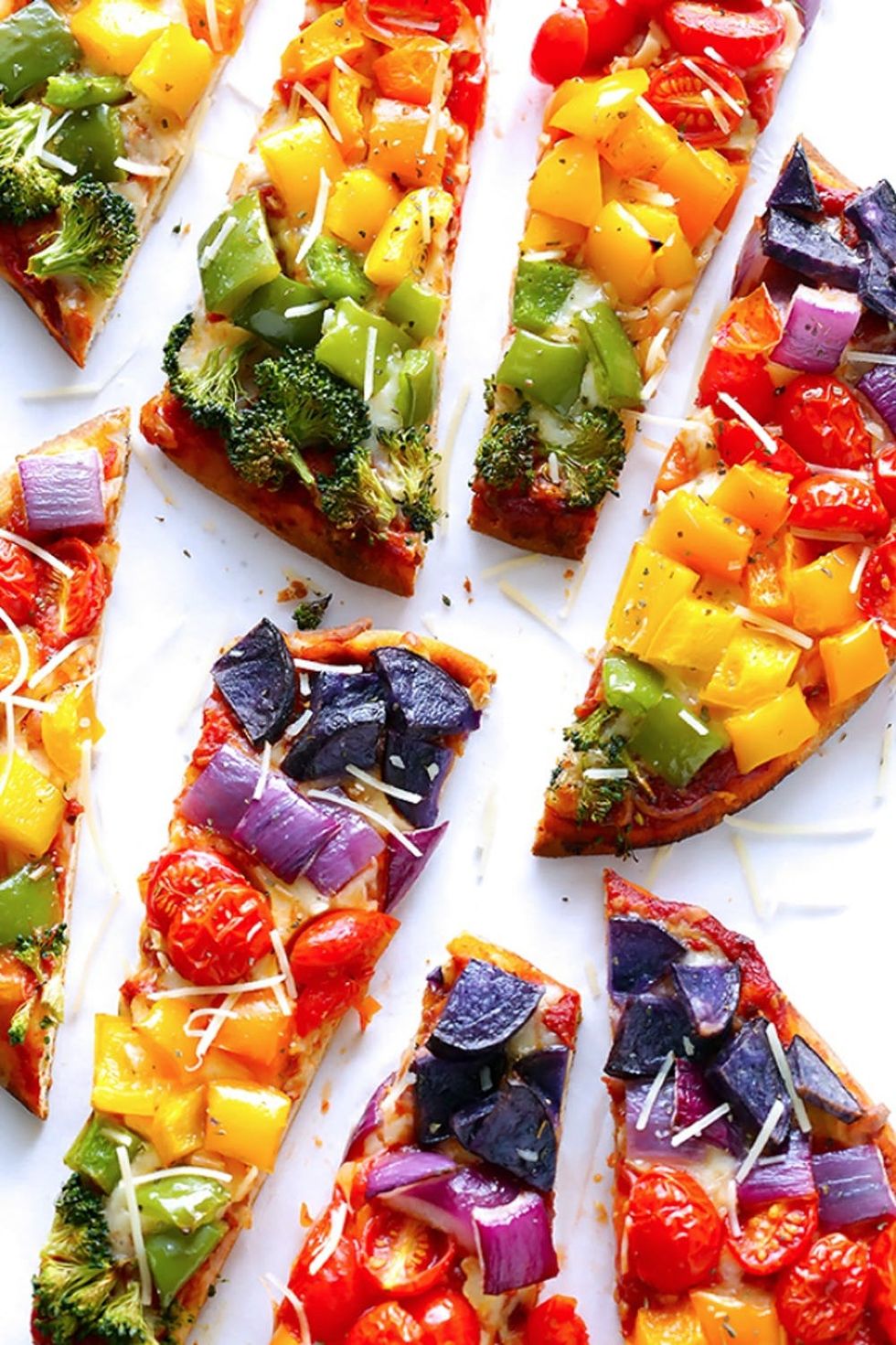 6. Rainbow Veggie Flatbread Pizza: This pie makes it easy to taste the rainbow. A crust of naan bread is slathered with spicy tomato sauce and mozzarella, then topped with your favorite vegetables. It's as delicious to look at as it is to eat. (via Gimme Some Oven)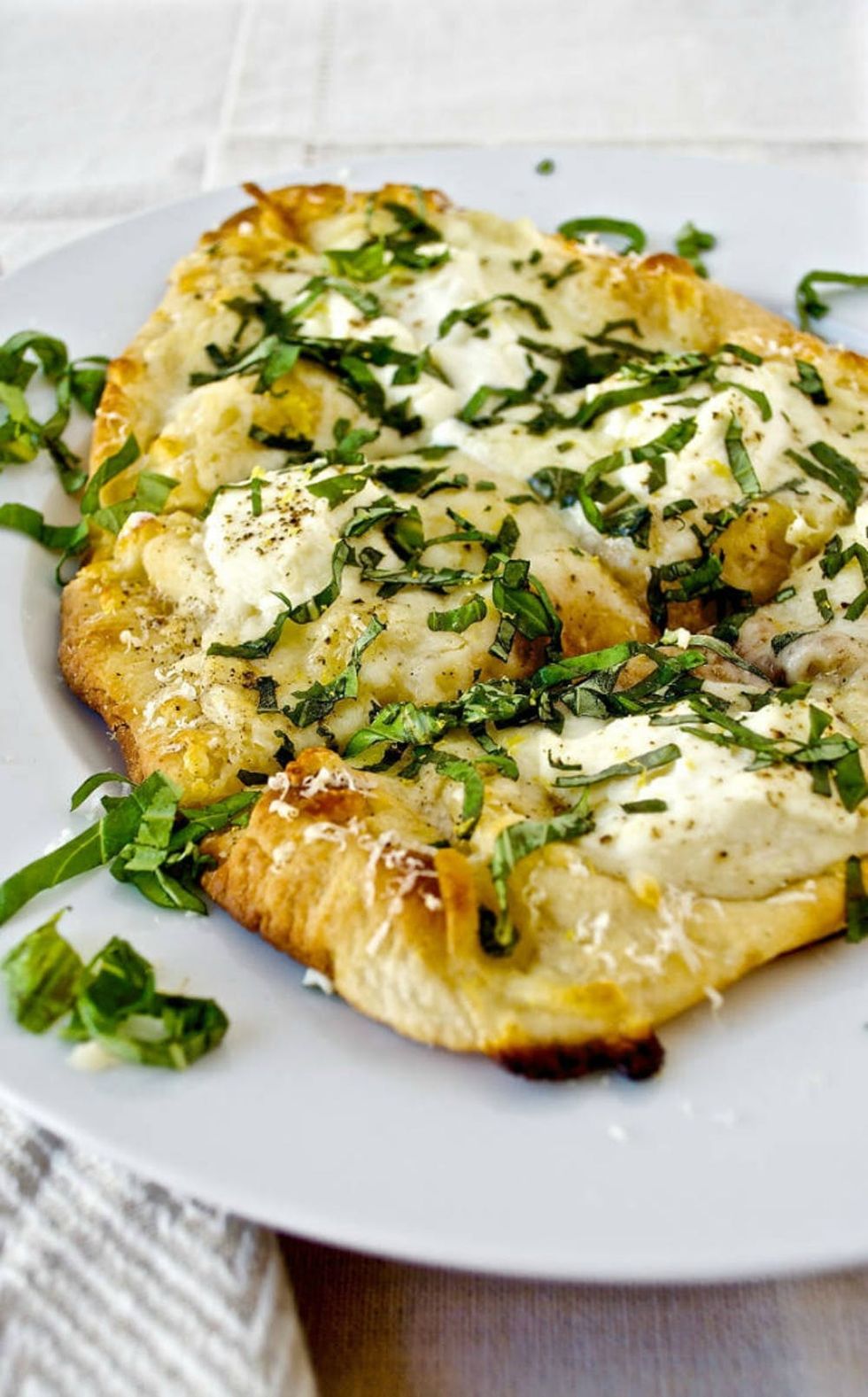 7. Lemon Ricotta White Pizza: This summer pie is super minimal, yet entirely delectable. You'll be in comfort-food heaven. (via Modern Granola)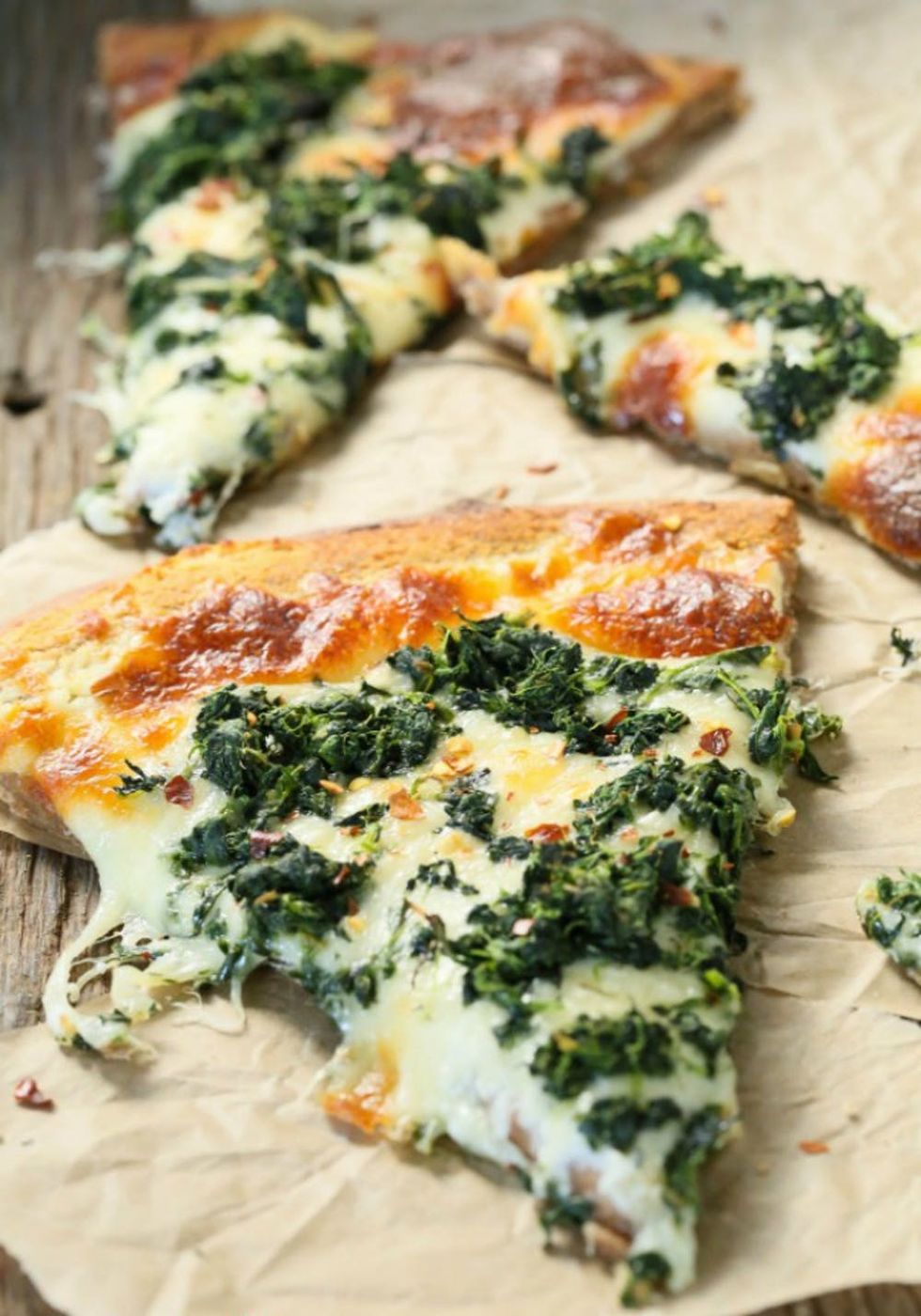 8. Roasted Garlic Spinach White Pizza: Holy moly, this roasted garlic spinach white pizza is to die for. The roasted garlic has a sweet, caramelized flavor that perfectly complements the spinach and cheese. Don't skimp on the garlic; roast all five heads! (via Eat Good 4 Life)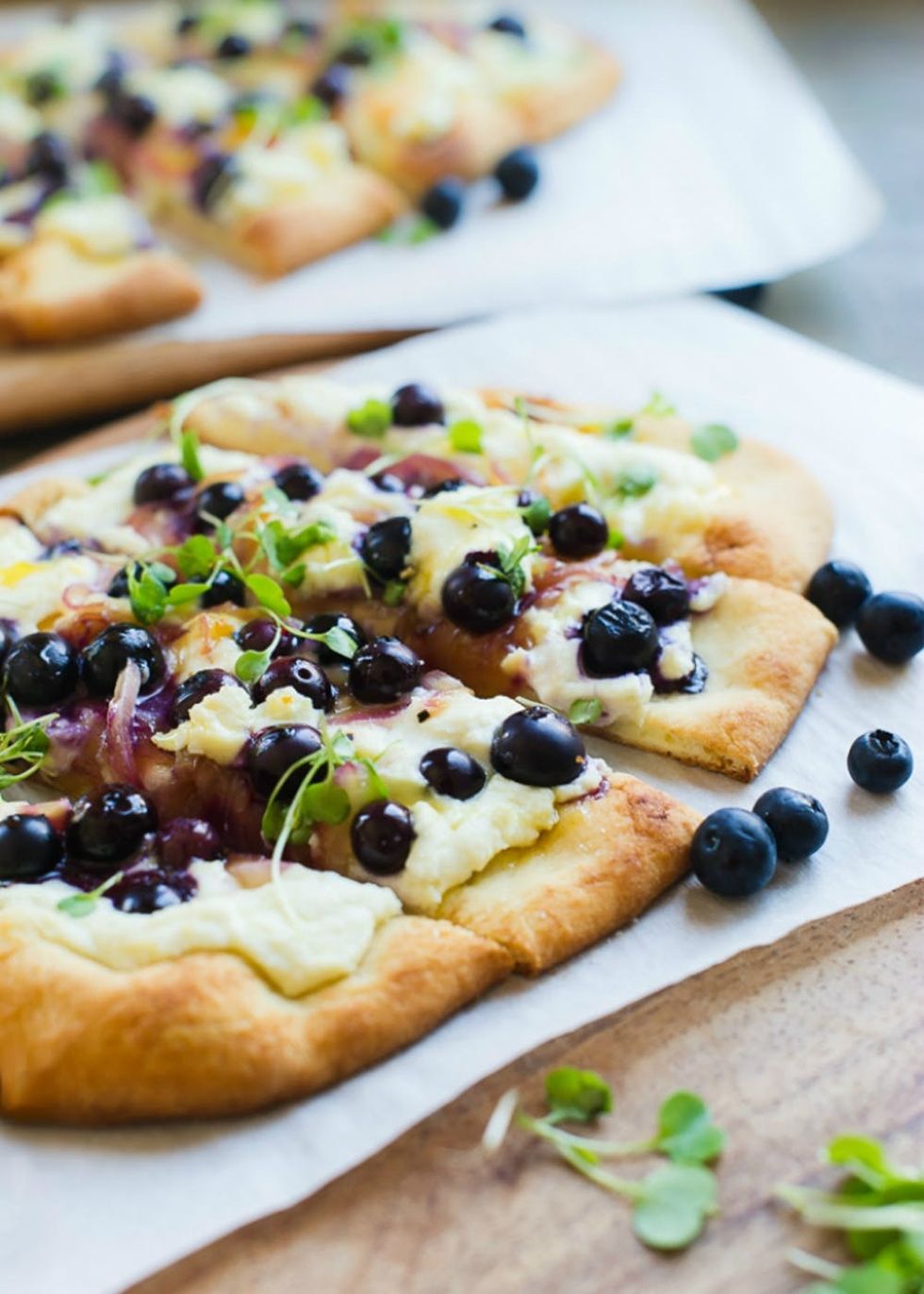 9. Blueberry, Feta and Honey-Caramelized Onion Naan Pizza: You might not think of fruit when you think of pizza, but plump blueberries pair perfectly with honey-caramelized onions. Every gooey bite delivers the salty, sweet, savory and spicy goodness you desire in a pizza. (via Kitchen Confidante)
10. Caramelized Onion Feta Spinach Pizza With White Sauce: This feta spinach pizza is exploding with so much flavor, you'll salivate at just the look and smell of it. Even the die-hard carnivore at the table will be satisfied by the meaty mushrooms on top. (via Little Spice Jar)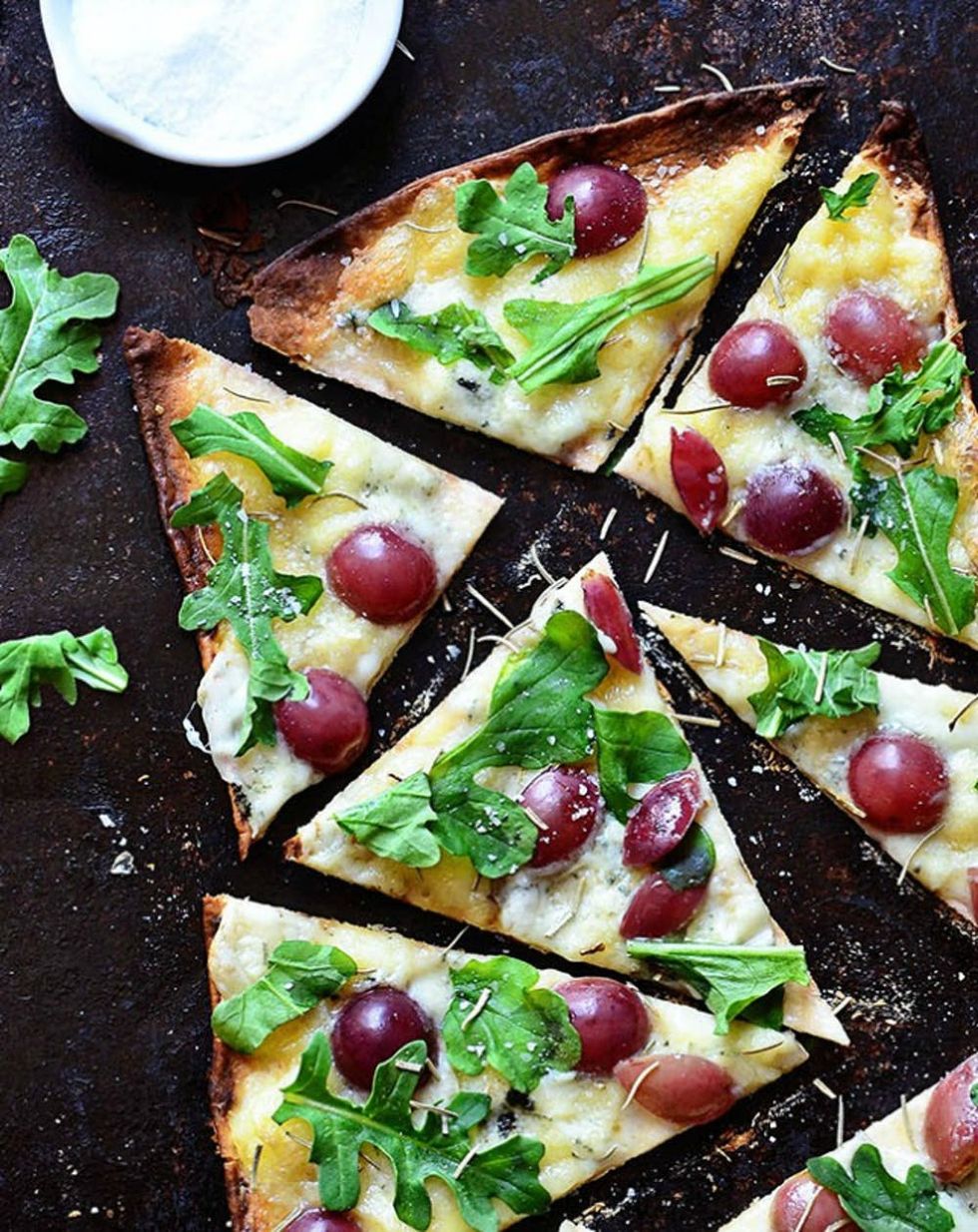 11. Grilled Grape Brie and Arugula Flatbread Pizza: You know how well brie pairs with grapes on sandwiches and in salads, so why not apply that pairing to pizza? It's got that sweet and salty combo that sets our tastebuds tingling. And the thin, grilled crust of this flatbread really delivers the goods. (via Tidy Mom)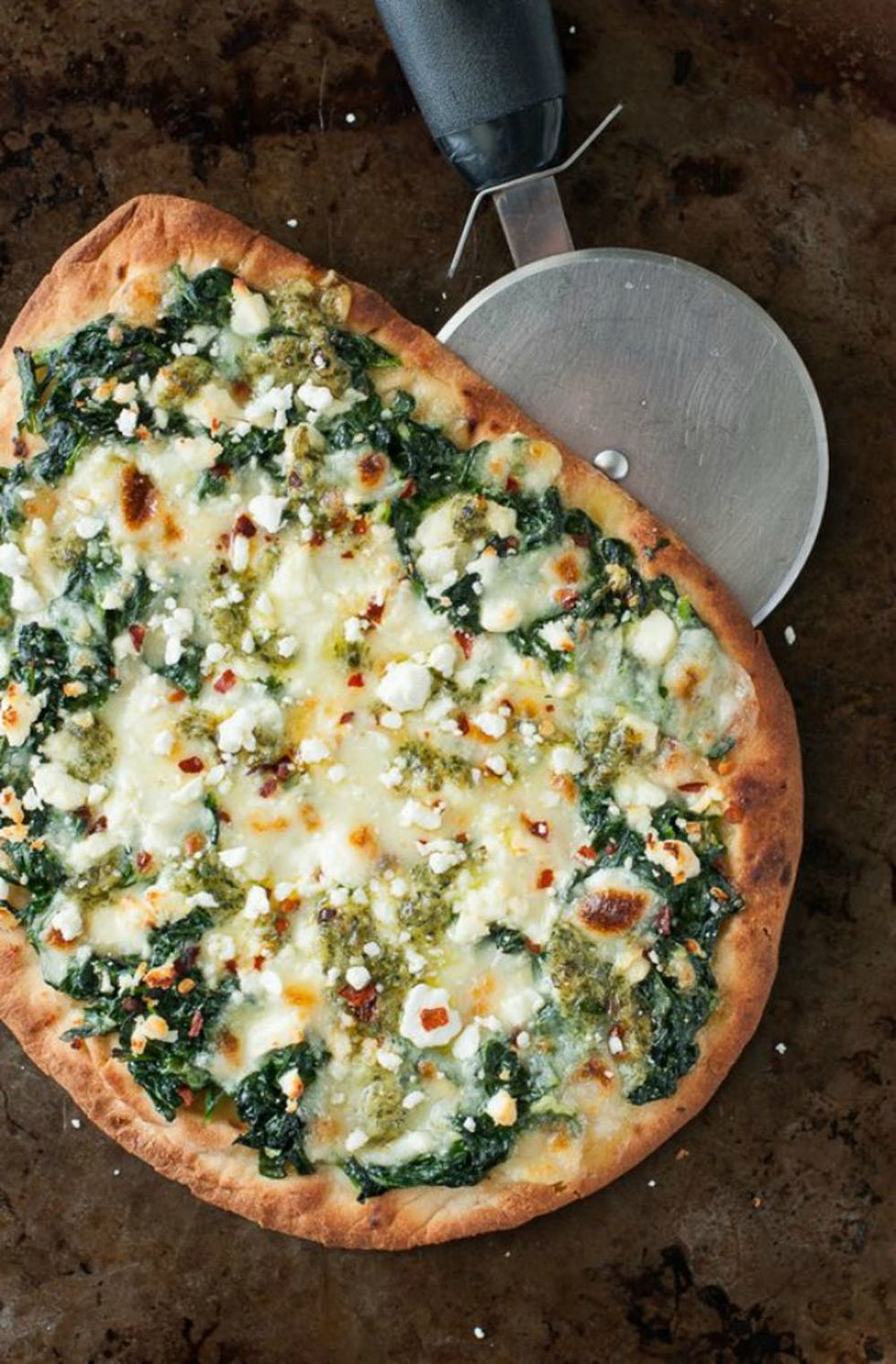 12. Three Cheese Pesto Spinach Flatbread Pizza: What happens when you top a garlicky flatbread with homemade creamed spinach, three kinds of cheese and pesto? Your new fave pizza combo, that's what. You'll never get tired of this one. (via Peas and Crayons)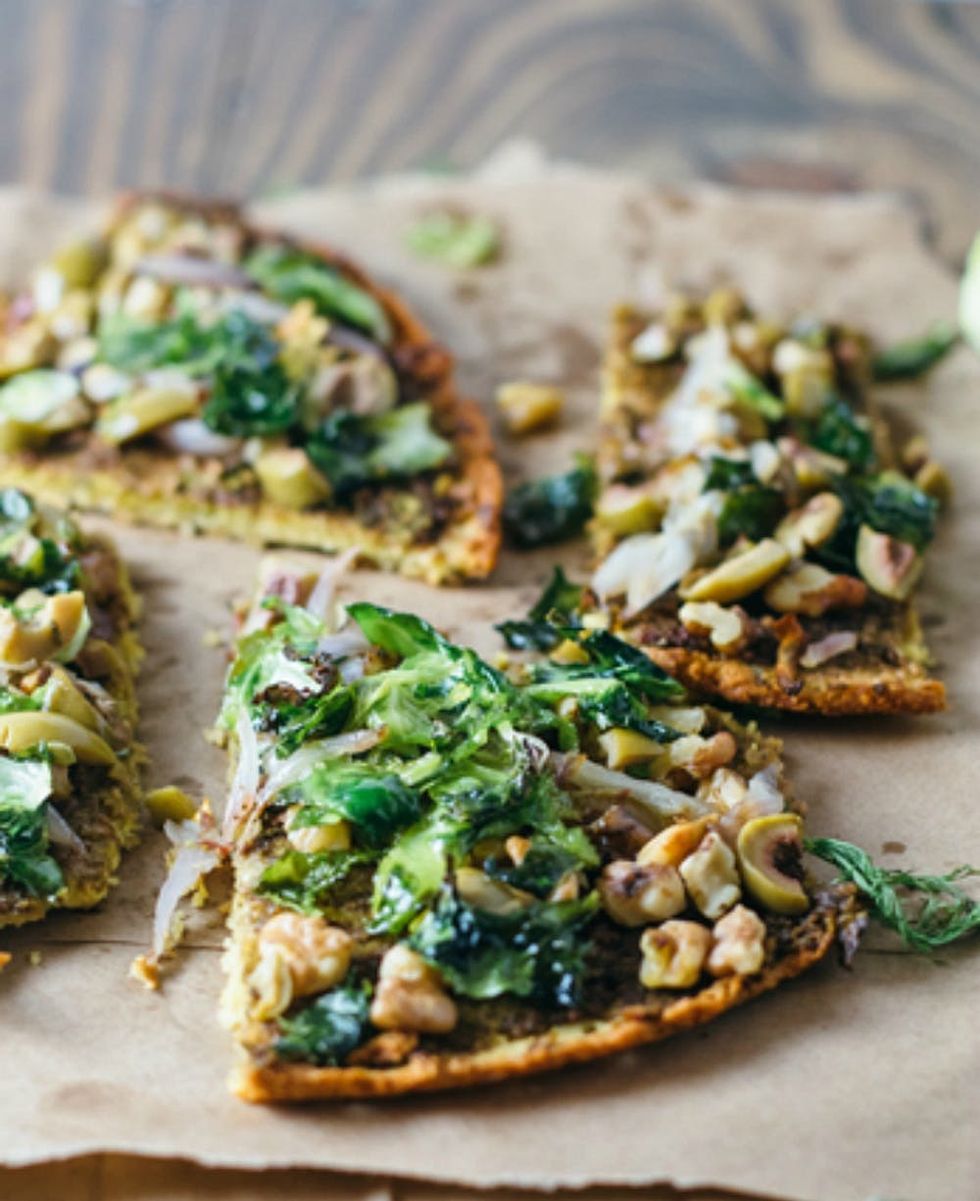 13. Socca With Beet-Top Pesto: This is for all the GF eaters in the house! A batter of chickpea flour and seasonings is ladled into a cast-iron skillet and baked until almost crisp. The finished deal is topped with braised shallots, walnuts and brussels sprouts. A true veggie lover's pizza, it's totally delicious and totally GF. (via Rooting the Sun)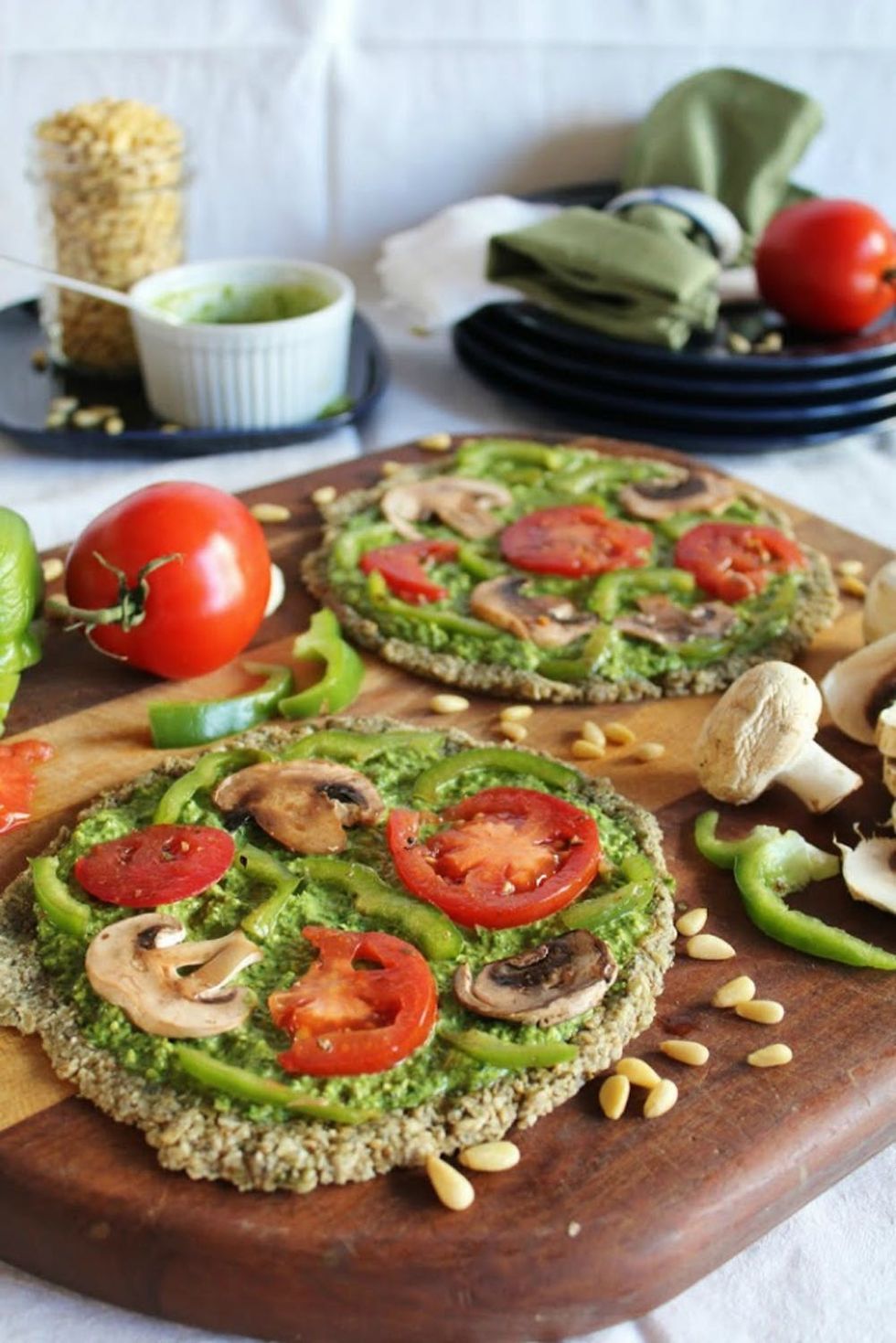 14. Raw Pizza With Spinach Pesto & Marinated Vegetables: You might be saying, wait a minute, raw pizza? But this is the real deal. Crushed nuts and seeds make a credible crust for the spinach pesto sauce and veggies. You might want to top it off with a nut cheese or cashew créme for good measure, but it's delicious on its own. (via This Rawsome Vegan Life)
Do these meatless pizzas hit the spot? We have more! Follow us on Pinterest.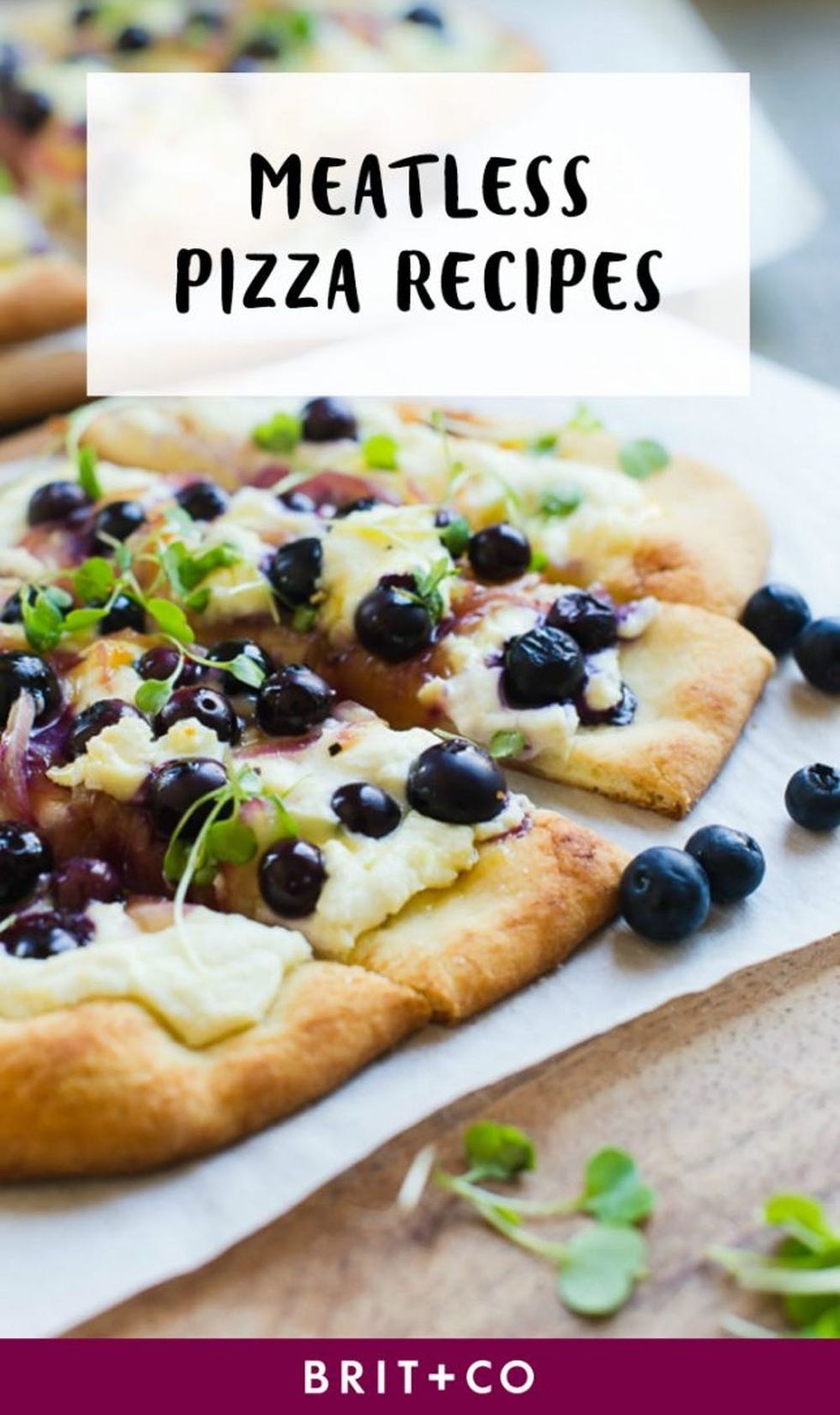 Sally Jones
Sally Jones is a writer and editor living in New York City. She has worked at many websites including iVillage, Ladies Home Journal, More, Parenting, Cosmopolitan, The Knot and YourTango, in jobs ranging from editor to COO. Renovation and interior design are her
unhealthy obsessions
hobbies. She has renovated every home she's lived in, including the rentals, and like... whoa, who does that? You can catch her at her blog
Renov8or
.