Cozy on Up With a Netflix and Chili Party This Winter
Dec 28, 2016
The holidays are coming to a close, but we've decided that we don't want to stop celebrating. Since the winter is now upon us, I think we can all agree that it's much easier to just stay inside and enjoy the warmth :) We've crafted up the perfect "just 'cause" party for you and your gang to throw this winter — Netflix + Chili! Whip up a nice large pot of this whiskey chili and have the whole crew over for marathon sessions of your favorite Netflix shows. We called in one of our Brit + Co engineers, Bailey Stoner, and her girlfriend, Shana, to host this party :) They were rockstars and I can't wait to have them back at B+C to model again.
---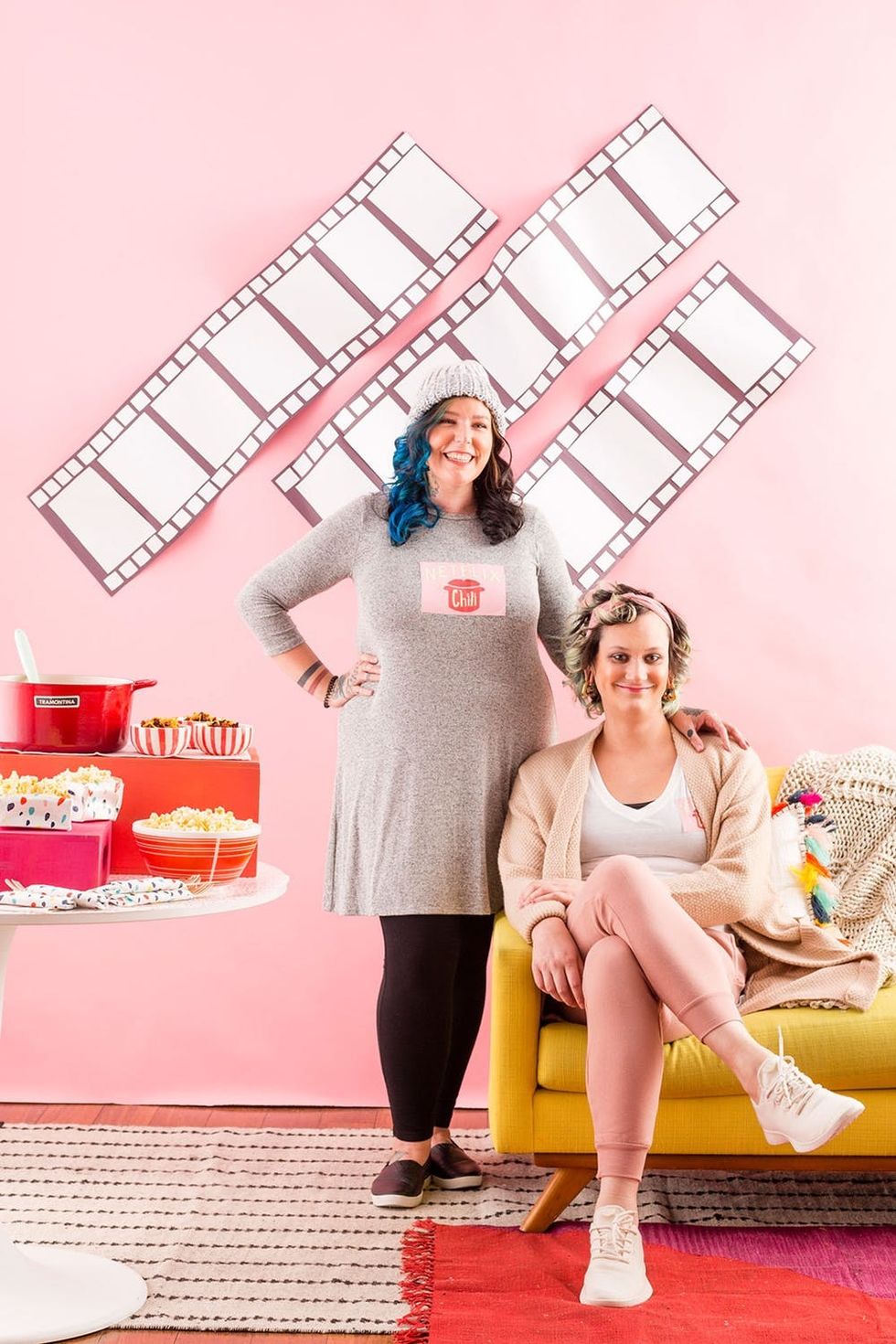 Whiskey Chili Recipe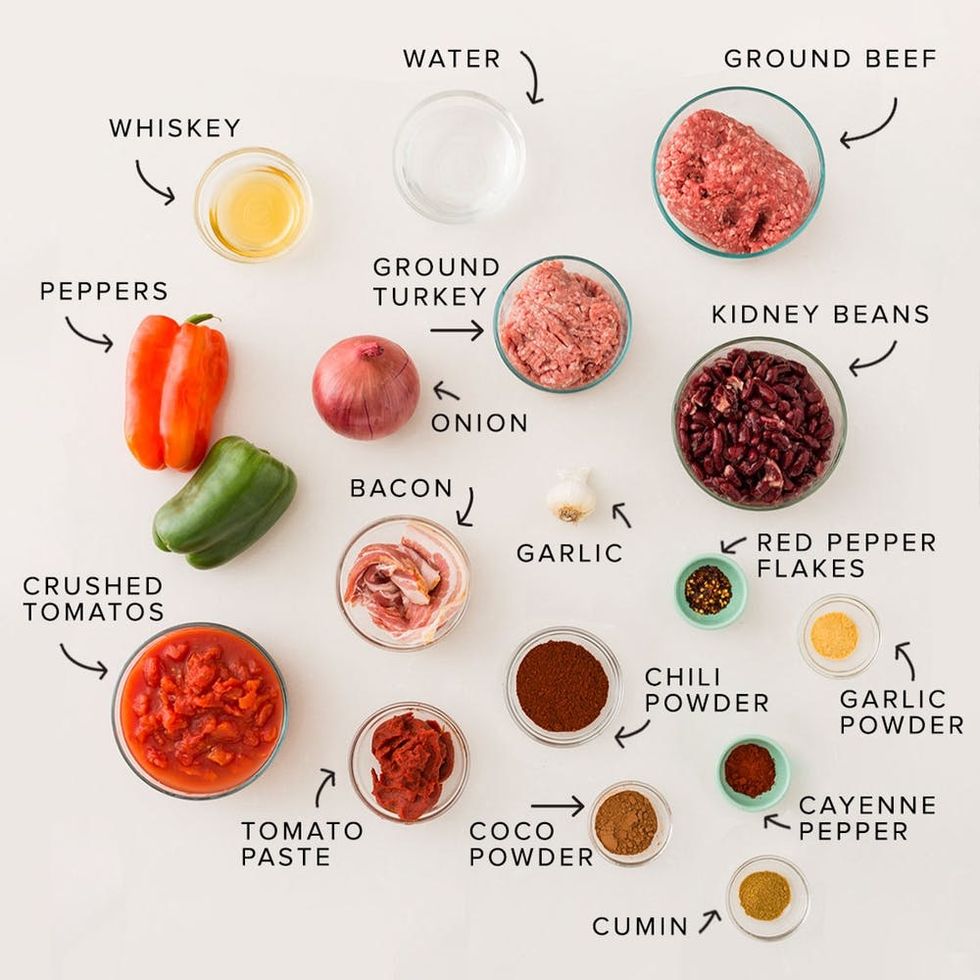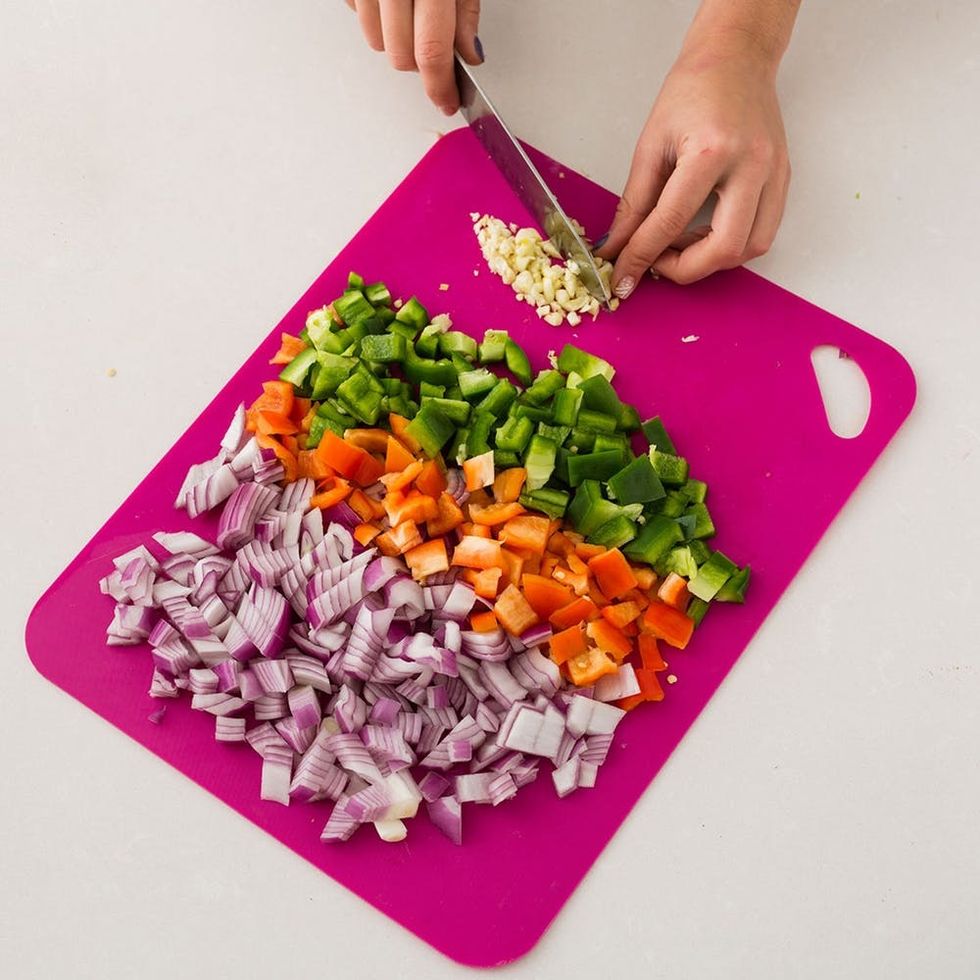 Chop, chop, chop! Dice those veggies and mince that garlic!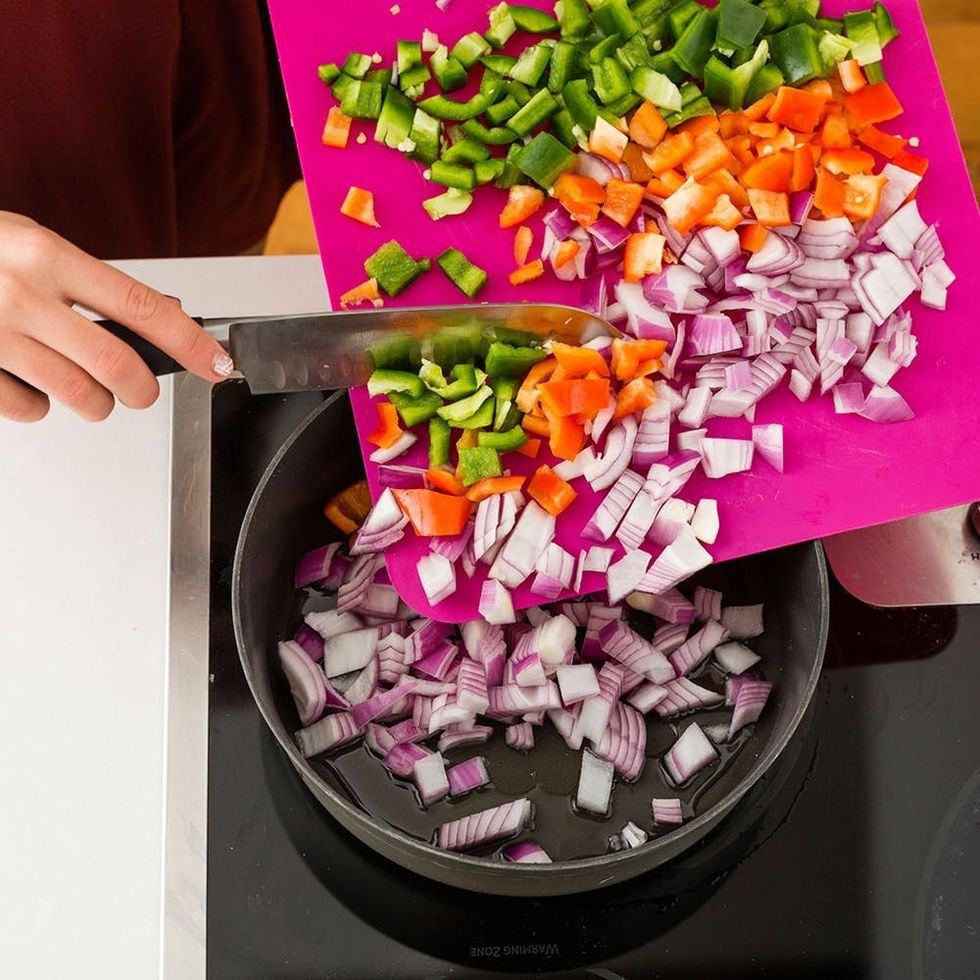 Add the garlic and veggies to a large pan with a tablespoon of oil. Cook until tender.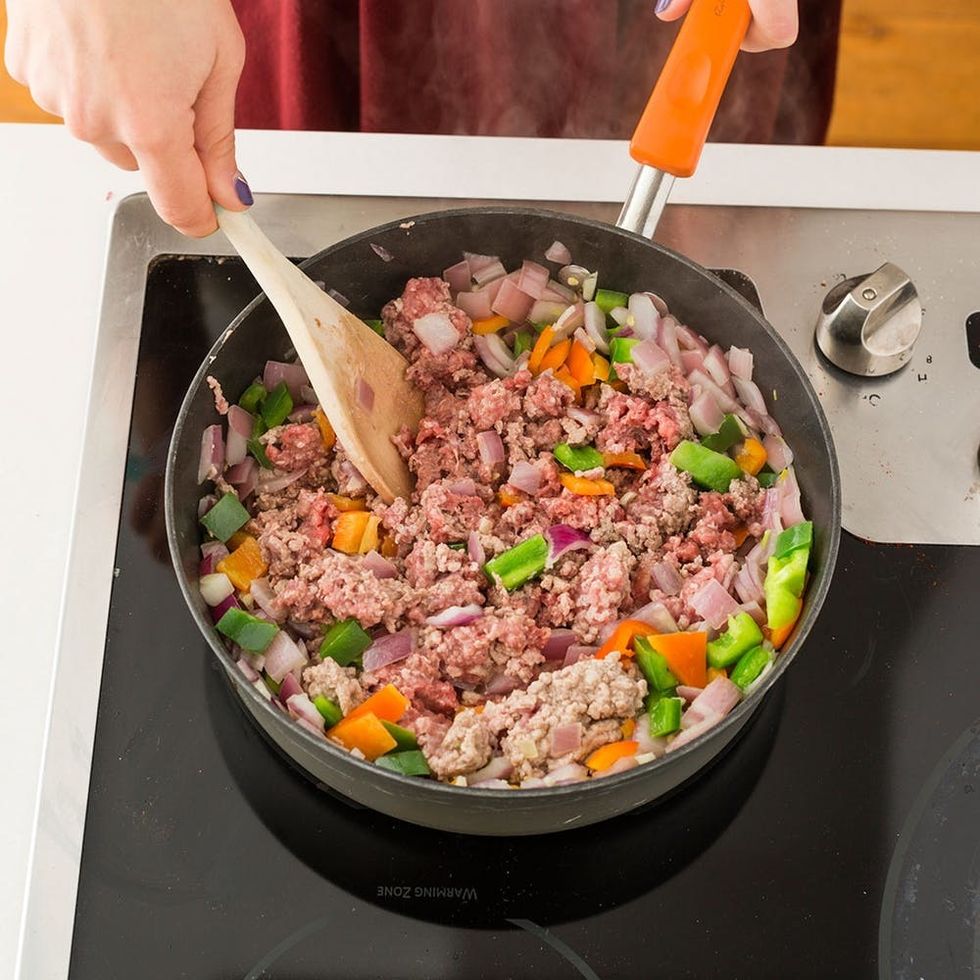 Add in the ground pork and beef and cook thoroughly.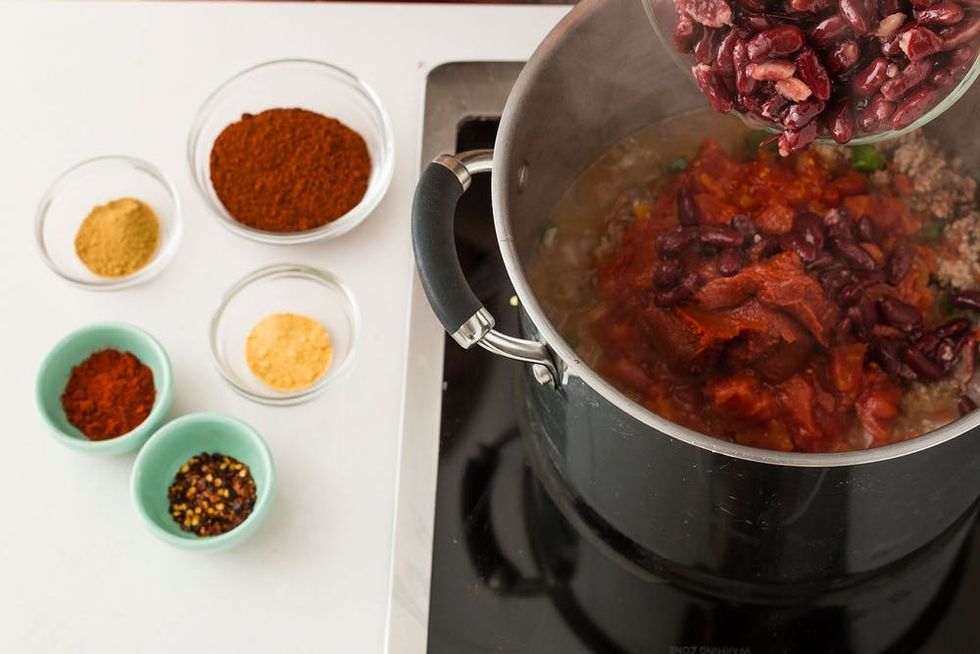 Transfer the meat and veggies to a large stock pot and start adding in the rest of the goodies. Dump in the crushed tomatoes, tomato paste, beans, chili powder, cumin, garlic powder, cayenne pepper and water.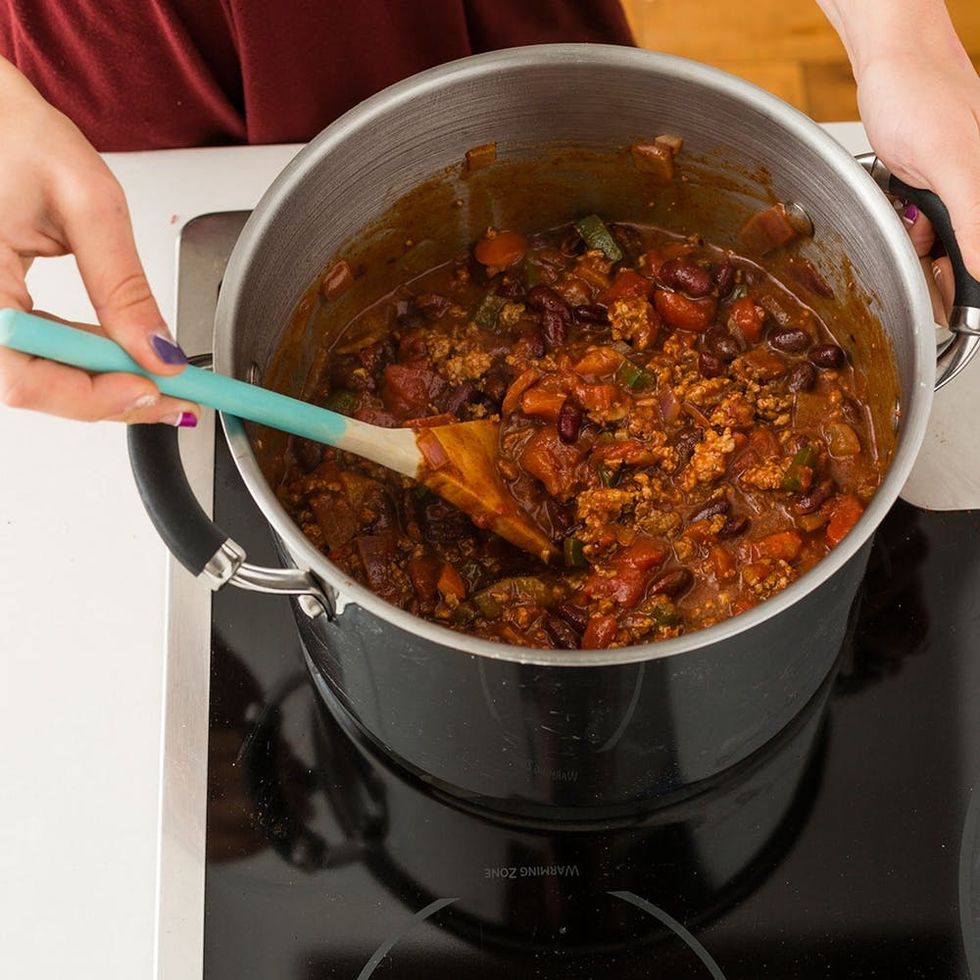 Stir it all together, cover and let it simmer for one hour. Stir occasionally.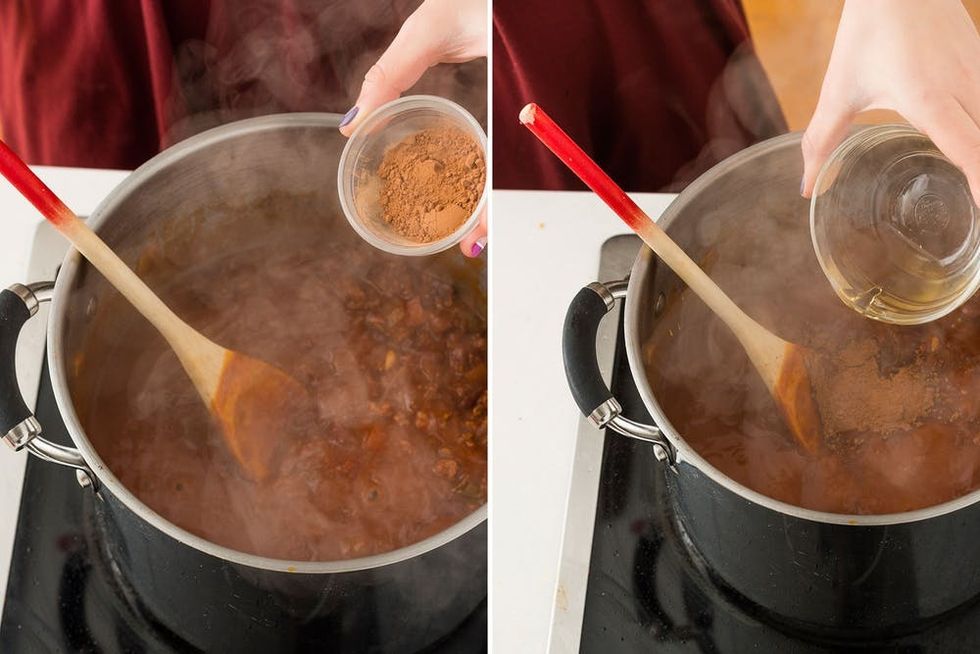 After the chili has simmered for one hour, add in the cocoa powder and whiskey. Stir and simmer for an additional 10 minutes.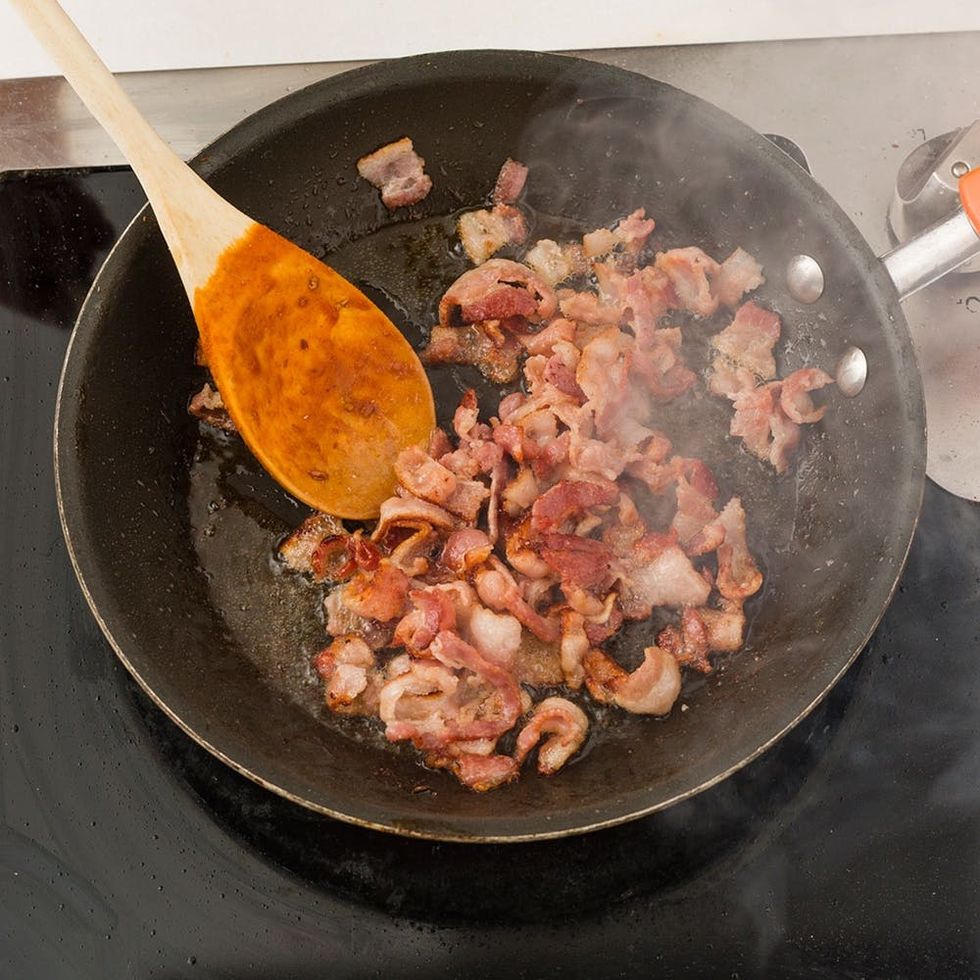 While the chili is simmering, cook up the bacon until it's nice and crispy. Drain and set aside for the perfect garnish.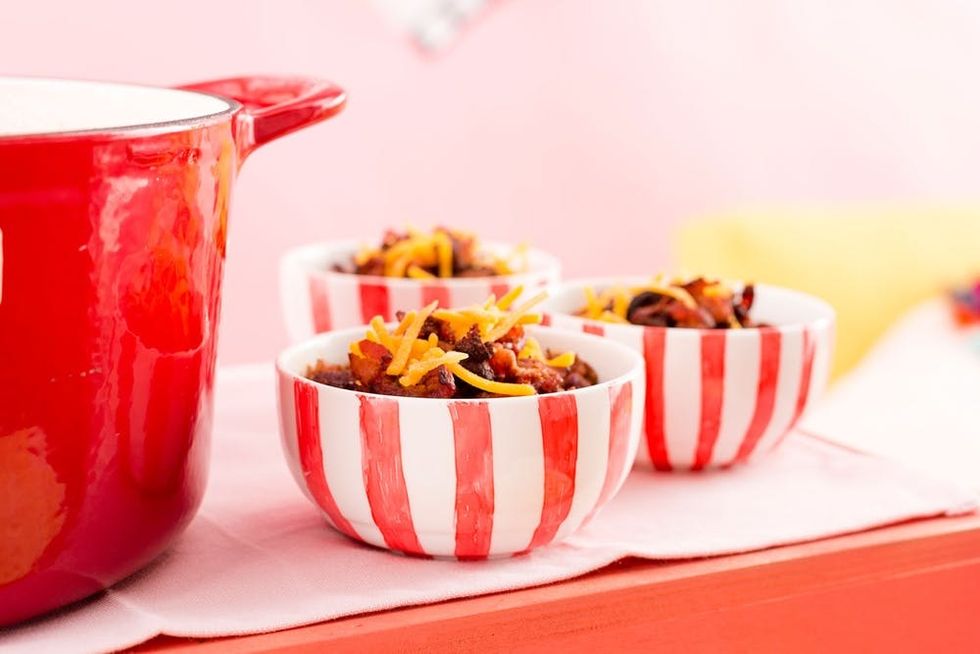 CHILI — get in my belly! Top off your chili with shredded cheese and crispy bacon.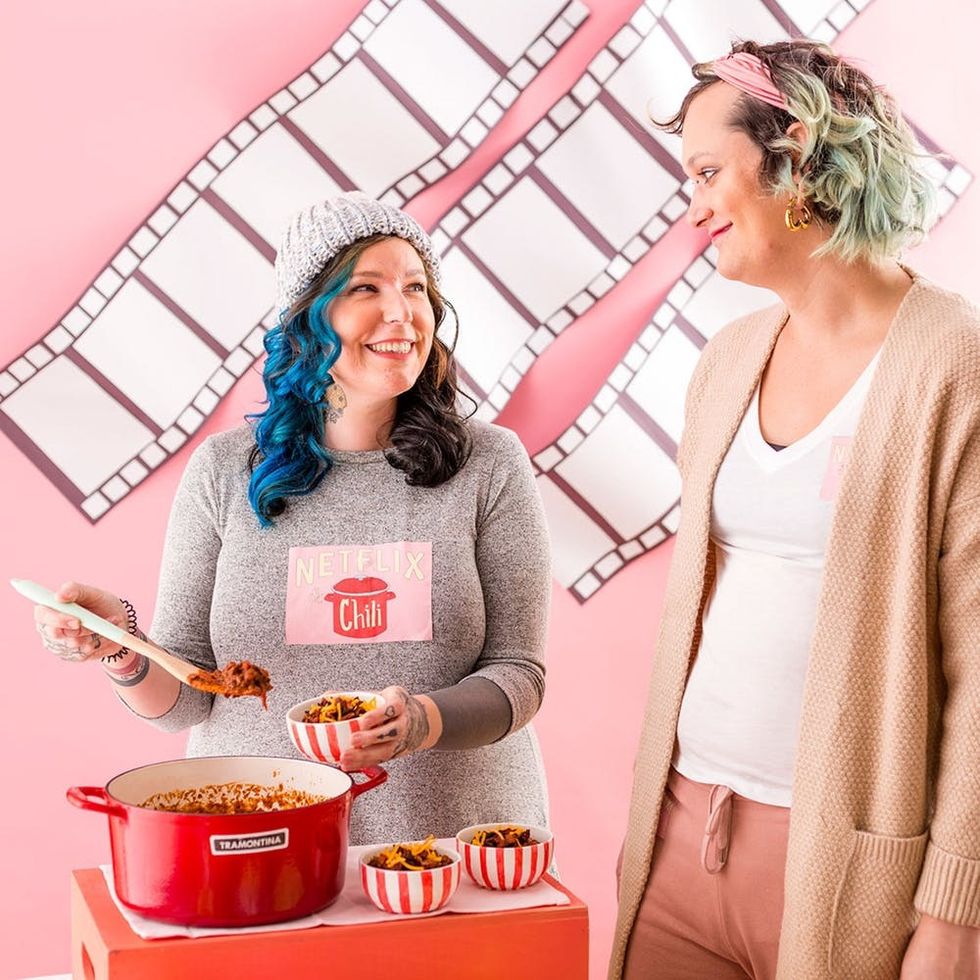 We added a special DIY touch to the chili bowls to make them feel more like popcorn containers. We bought these porcelain bowls and used a red oil-based pan to create the thick red lines. Stick the bowls in a 375-degree oven for 30 minutes to have the paint set onto the porcelain. Tada! Custom popcorn-inspired bowls for your warm chili.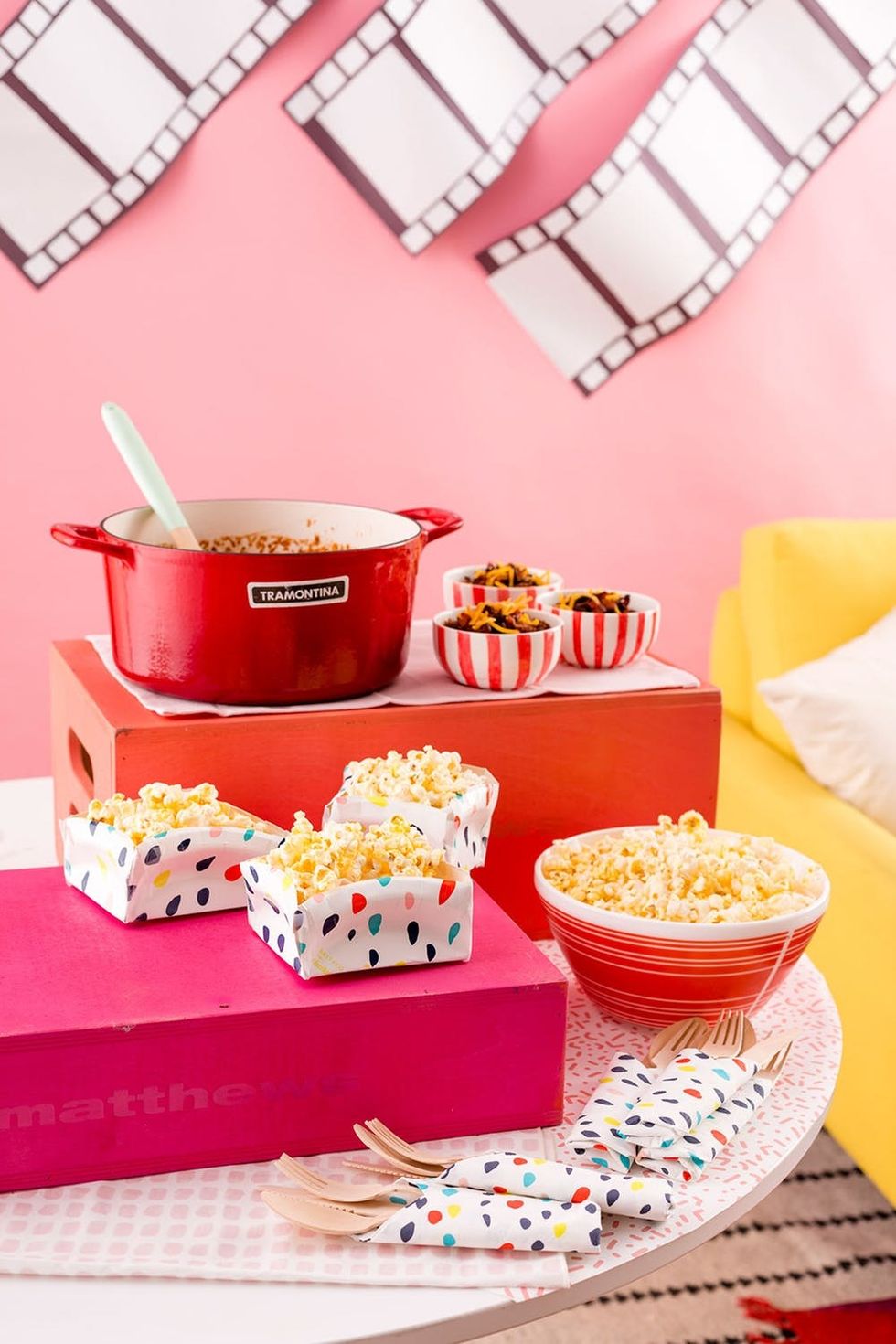 When having guests over it is always easier to create a self-serve table. Let your guests pick and choose what they want to eat. We created this side table filled with all the movie-watching necessities — warm whiskey chili and popcorn! Wrap up sets of utensils in napkins for an easy grab and go.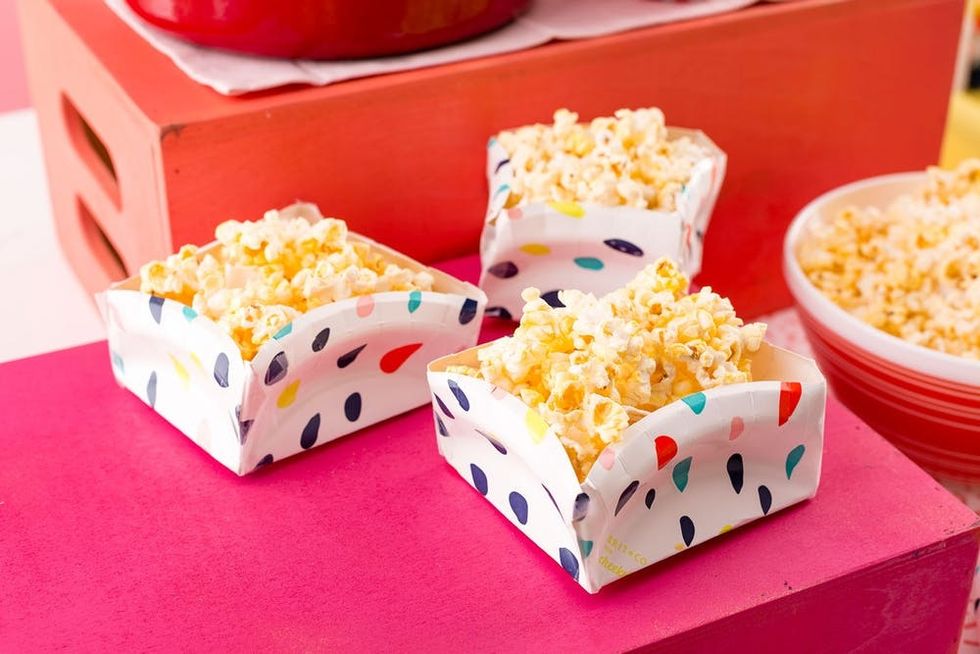 Let's be real: No movie/Netflix party is complete without popcorn. We used our very own line of disposable partyware, Brit + Co x Cheeky, to create these DIY popcorn bowls. All you need to do is create a square on the backside of the plate. Cut four straight lines from the outside edge of the plate until you hit each corner of the square. Bend the flaps back to create the walls of the box and tape the edges together for an easy DIY popcorn holder.
Psst: What's great about Brit + Co x Cheeky is that, when you buy one pack of Cheeky plates, they then give one meal to someone here in the US. This is all due to their amazing partnership with Feeding America. Cheeky products are available at Target stores nationwide, plus Target.com for a limited time.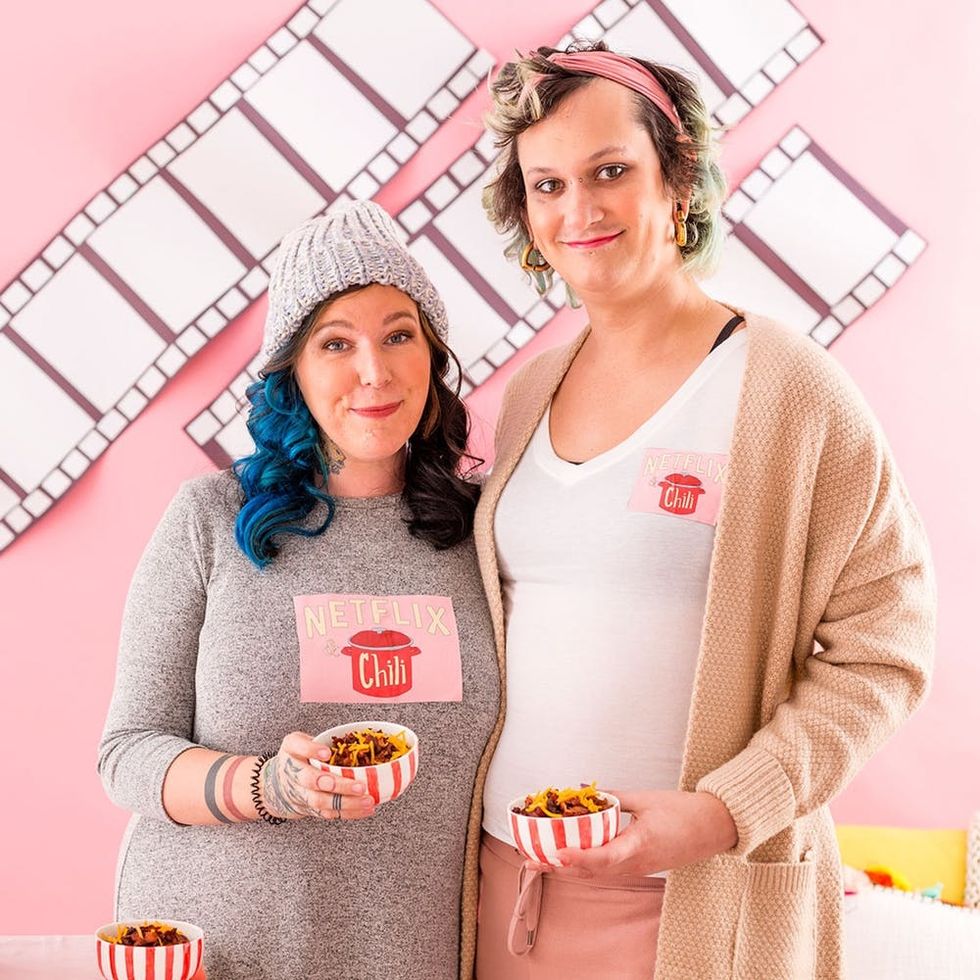 A party isn't legit unless it has a photo booth backdrop. We created this movie reel backdrop by using black and white construction paper. It is really just a pattern of large squares with smaller squares on the outer edges. Adhere them to the wall with a little wave to give it that traditional film vibe.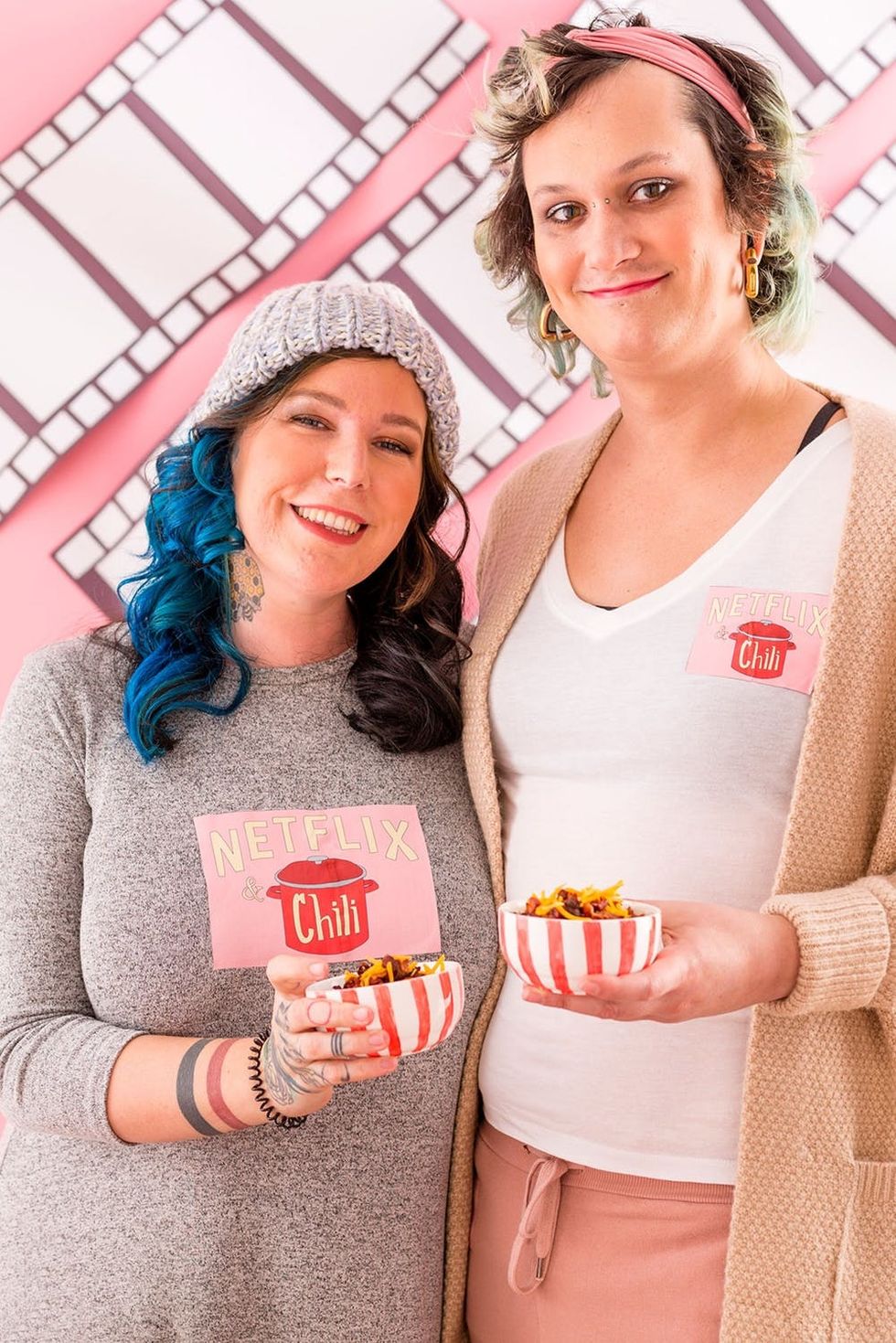 Take your winter party to the next level with custom swag. Download this Netflix + Chili printable, print it onto photo transfer paper and iron it onto some cozy sweats for you and all of your friends.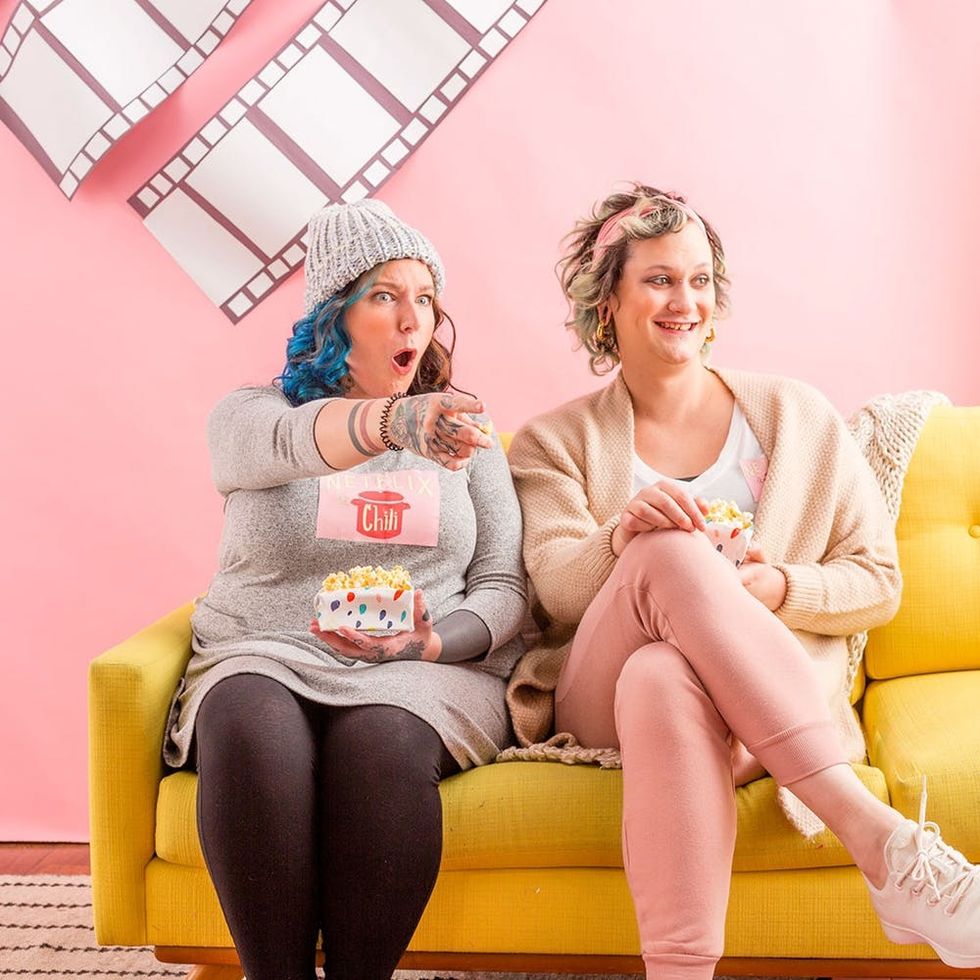 Now let's turn on some Netflix :) Need ideas of what to watch — we've got you covered. Check out these 10 shows and movies that are perfect for a winter weekend.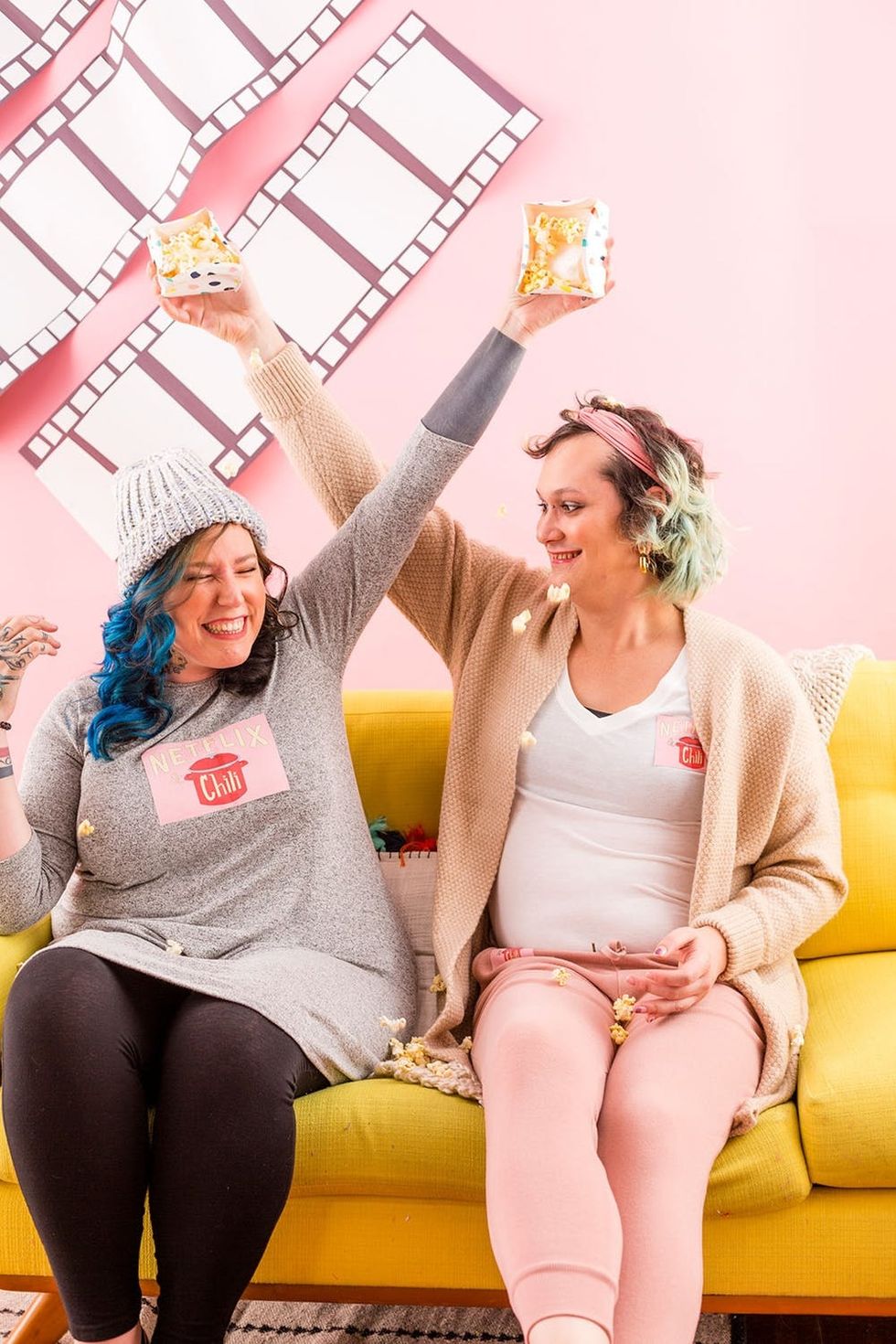 Food fights will never get old.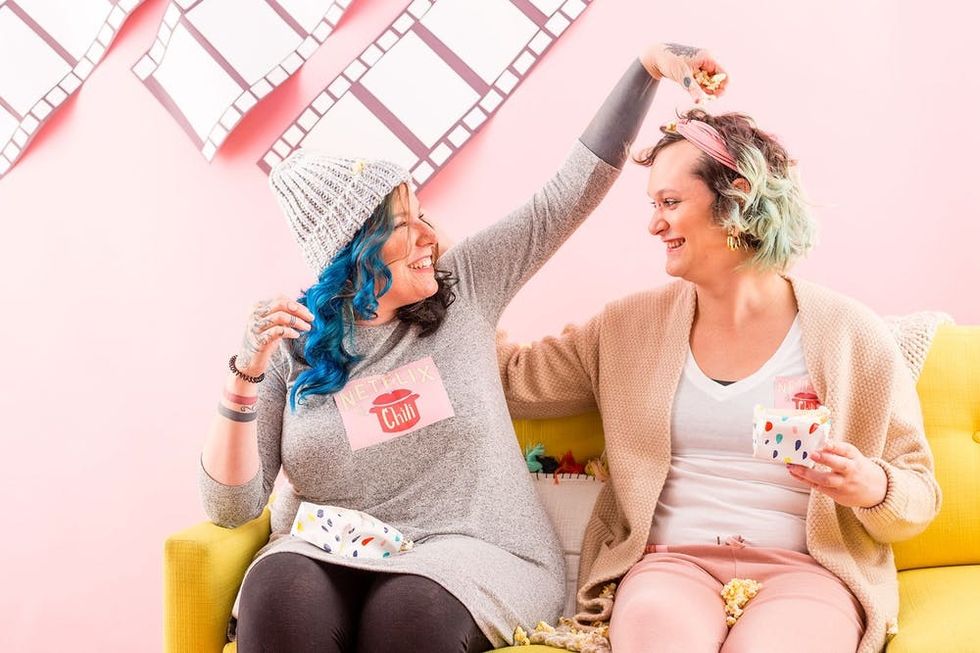 But as an adult, once you spill something, you have to pick it all up :)
Special thanks to Bailey and her girlfriend Shana for hosting this Netflix + Chili party!
Show us your party inspiration by tagging us on Instagram + using the hashtag #iamcreative!
DIY Production and Styling: Kelly Bryden
Modeling: Bailey Stoner and Shana Abell
Photography: Chris Andre
Brit + Co may at times use affiliate links to promote products sold by others, but always offers genuine editorial recommendations.