17 Next-Level Sandwiches That Will Make Lunch Your Favorite Meal
Mar 11, 2016
There's something completely comforting about having your entire meal at your fingertips… literally. Maybe it's the fact that sandwiches begin and end with two pieces of carb-loaded goodness, but there's a reason why they've been your go-to since you were a tiny tot. We'll eat them sweet and savory, for breakfast or even filled with holiday leftovers. Whether you're packing them for an epic spring picnic with girlfriends or fixing yourself lunch on a workday, these 17 creative sandwich recipes for lunch will rock your world *and* your taste buds.
---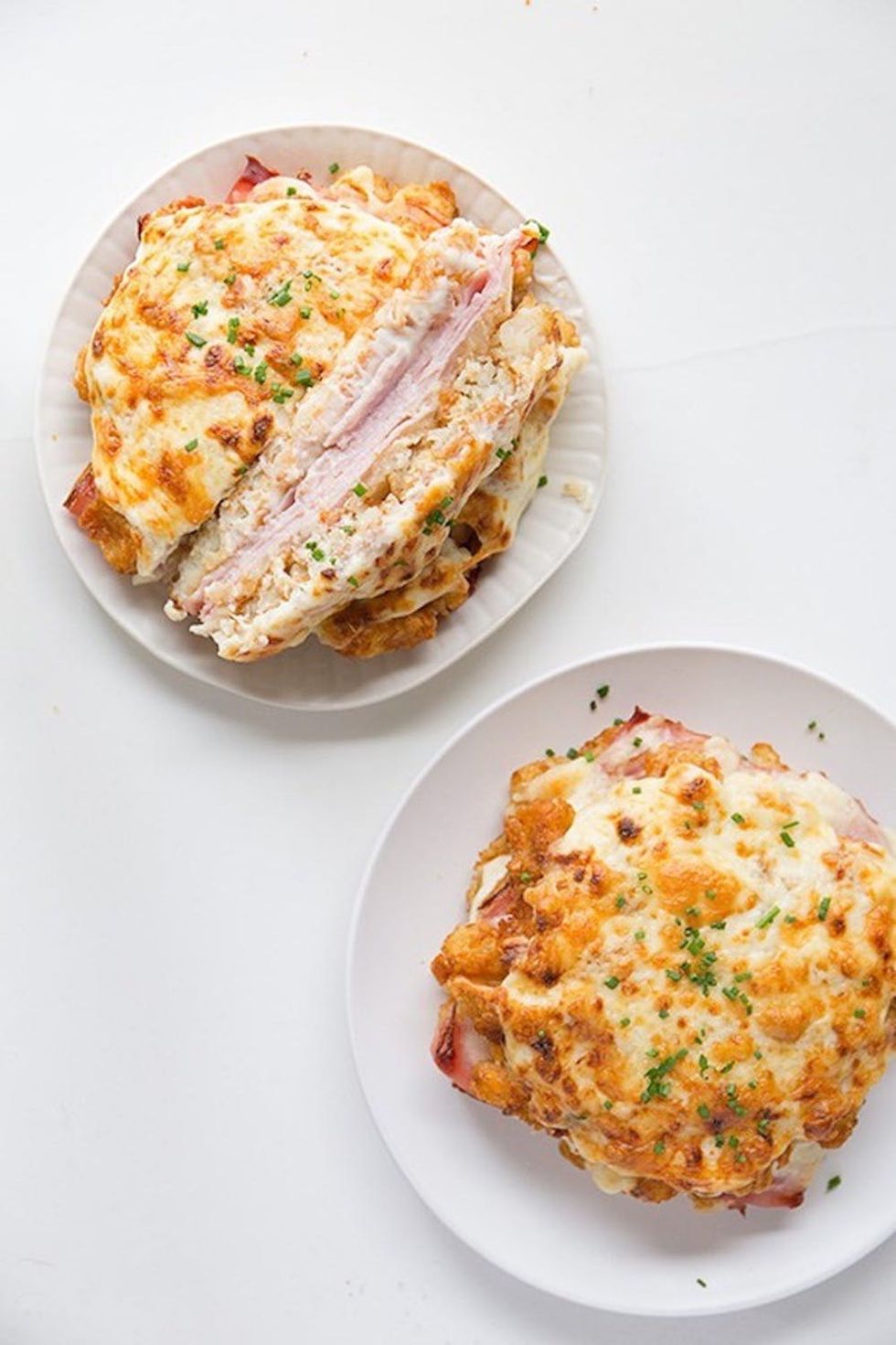 1. Waffled Hash Brown Croque Monsieur: Just to be clear, what you're looking at is a sandwich with waffled hash brown "bread," black forest ham, fontina cheese and a healthy dose of béchamel sauce for good measure. Throw an egg on top, and you have a complete breakfast. (via Real Food by Dad)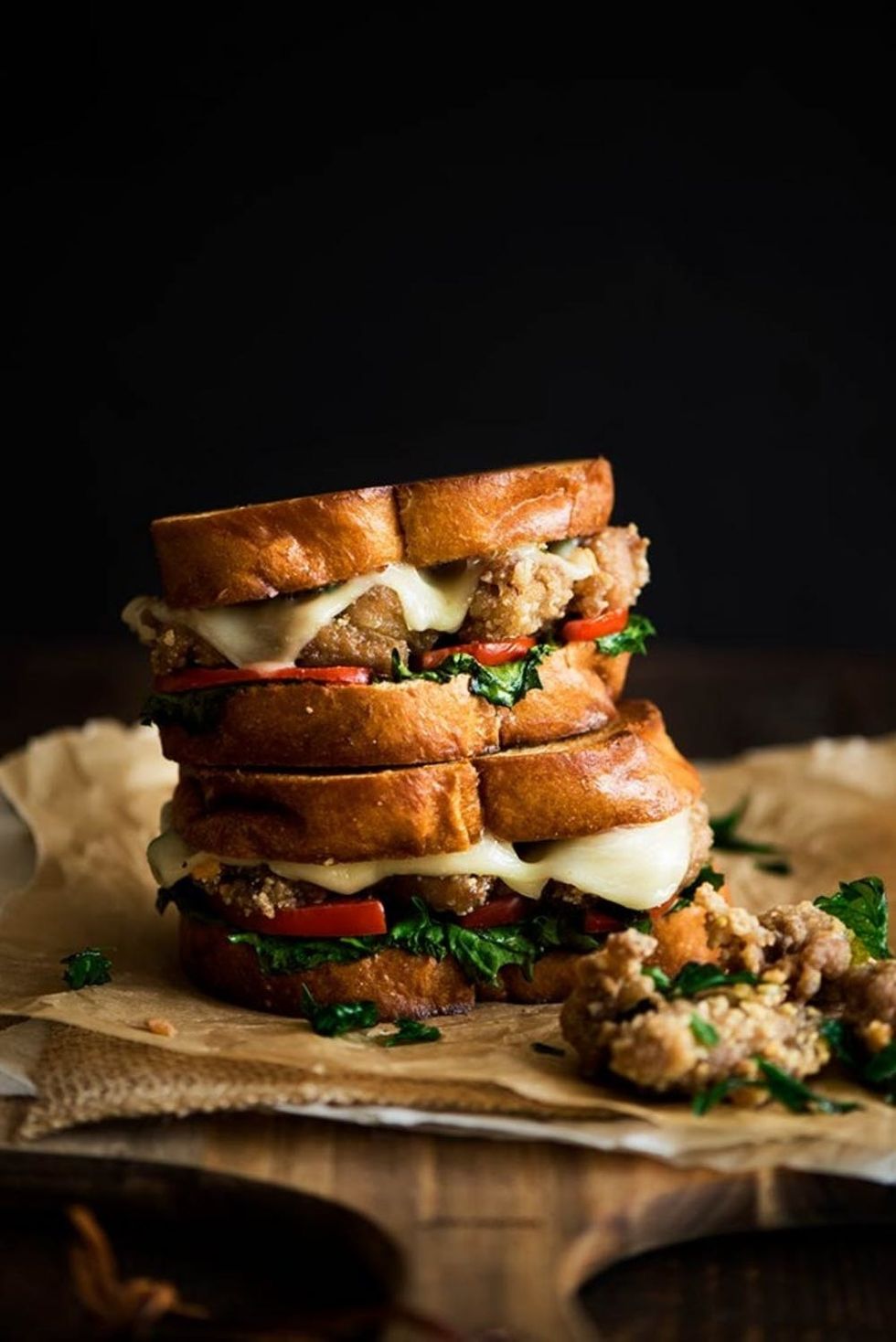 2. Taiwanese Popcorn Chicken Grilled Cheese Sandwich: Don't be intimidated by the name of this grilled cheese sandwich. It may be a labor of love, but the time spent is well worth the major flavor payoff you get in the end. You're going to want to eat the fried chicken as soon as it's done, but your patience will be rewarded with a sandwich that's unmatched. (via Curious Nut)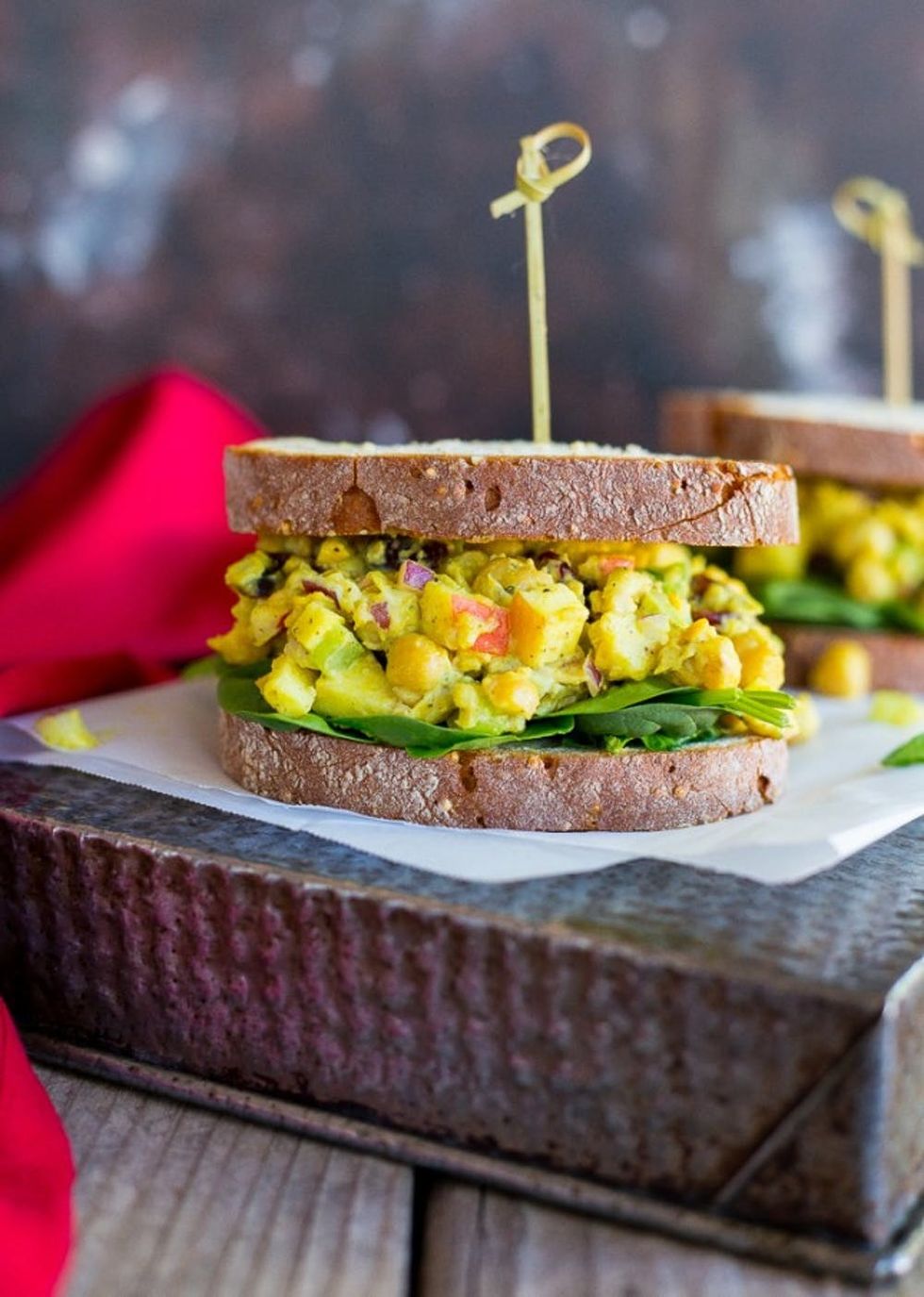 3. Curried Chickpea Salad Sandwich: If you're a fan of hummus, then you'll be all over this sweet curry spiced sandwich. Chunks of apple, raisins and celery are tossed with roughly mashed chickpeas for a quick and easy — but totally mind-blowing— vegetarian lunch. (via She Likes Food)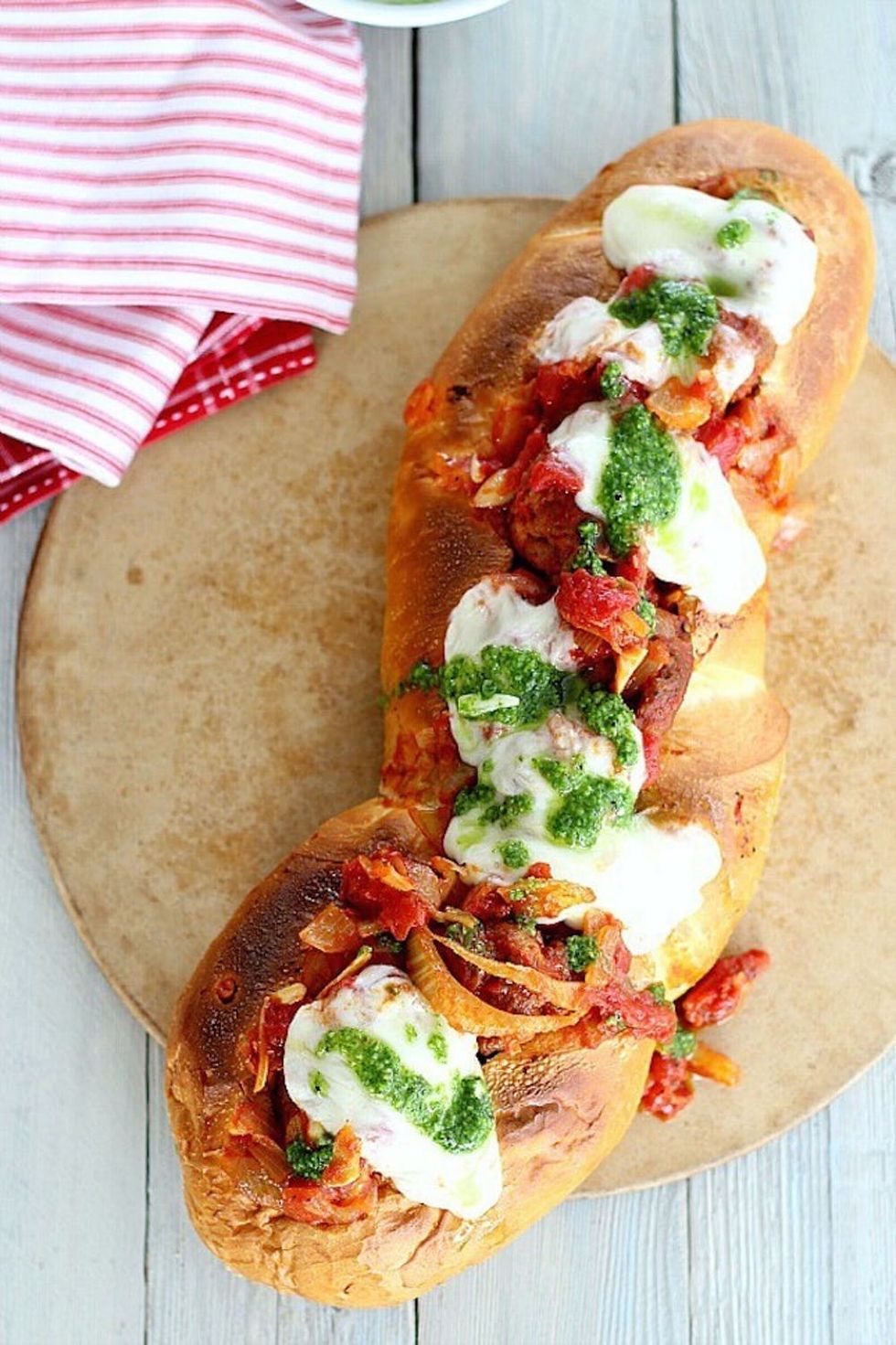 4. The Best Meatball Sandwich: This sub uses two different types of sausage, homemade tomato sauce and a fresh basil paste in an attempt to back up its "best meatball sandwich" claim. The results are in: It totally delivers! (via Good Dinner Mom)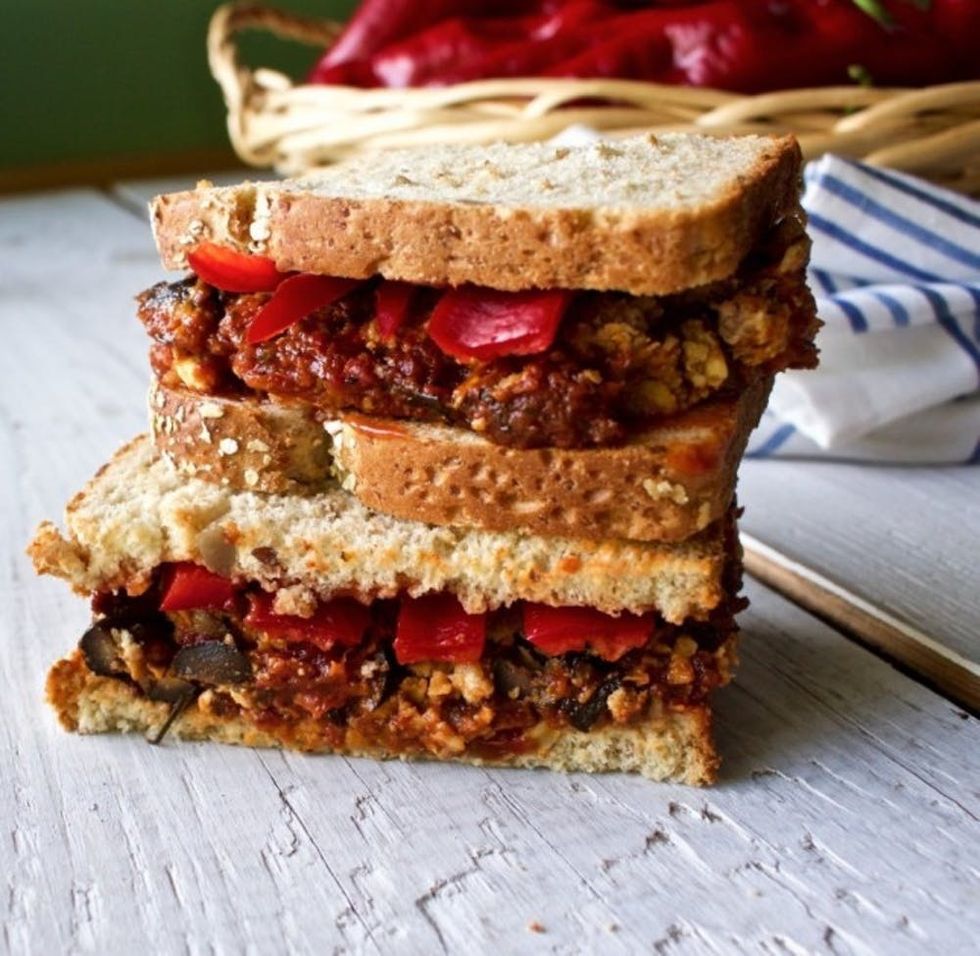 5. Italian Stuffed Meatloaf Sandwich: This is *not* your momma's meatloaf sammie. Mix up a flavorful Italian meatloaf one night, and you'll have a lunch the next day that'll make all your co-workers super jealous. (via Homemade Food Junkie)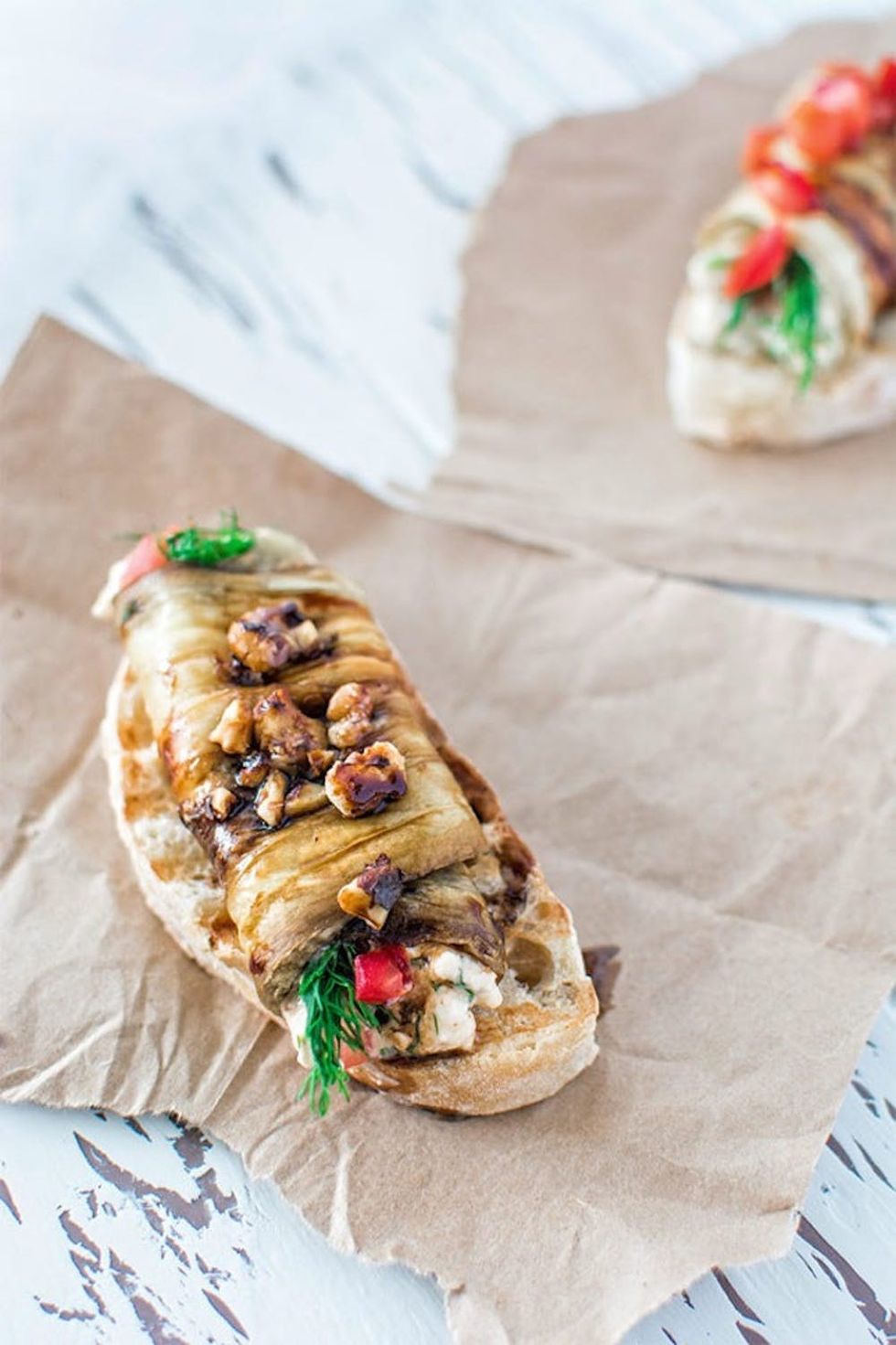 6. Eggplant Roulades With Feta: Even though they're open-faced, these roulades eat just like a sandwich from a fancy restaurant. They're stuffed with creamy feta + crunchy walnuts and doused in a balsamic reduction. Enjoy with a glass of rosé to complete the bistro vibe. (via Cooktoria)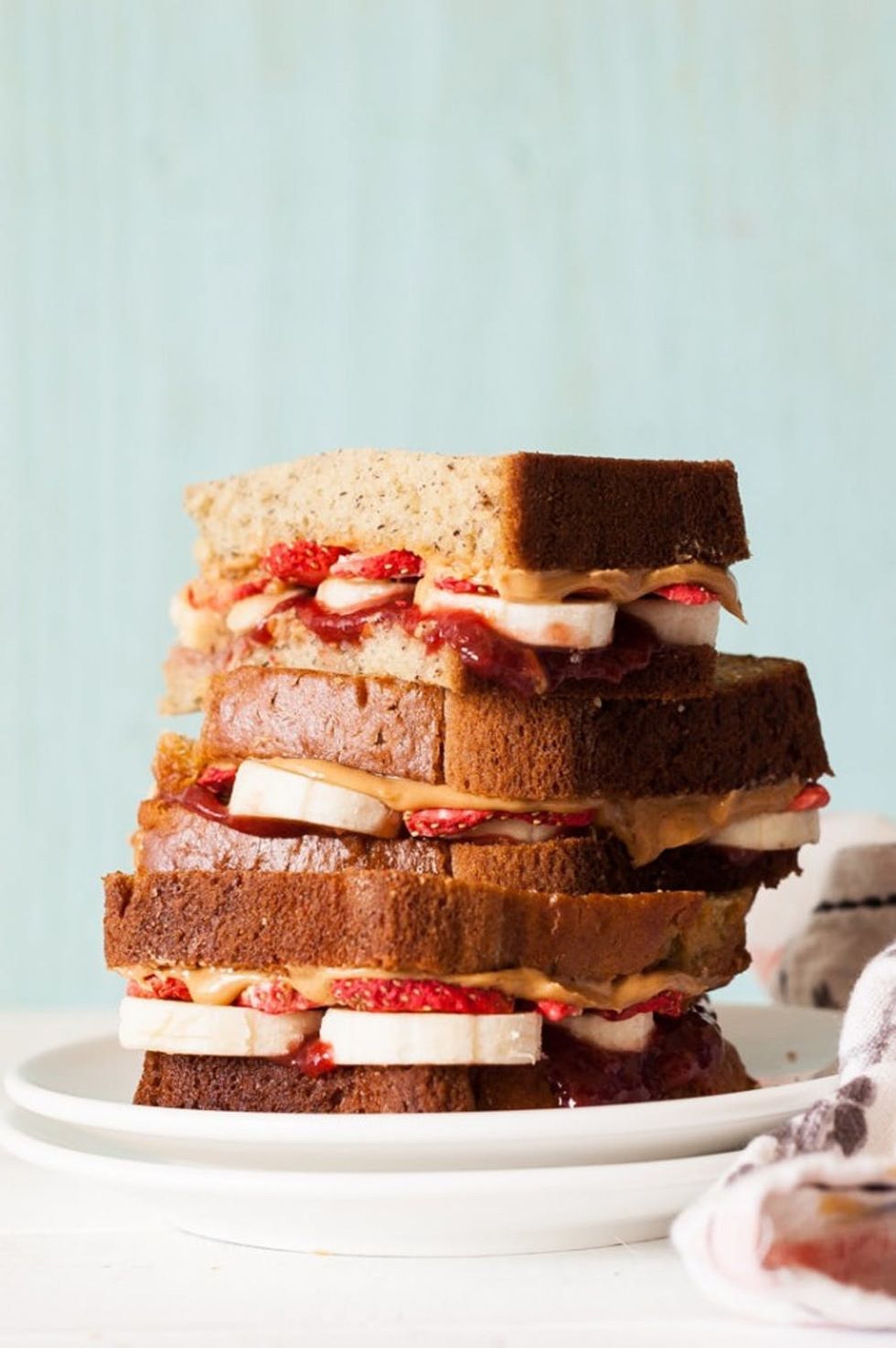 7. Banana Berry Monster PB&J Recipe: This is a far cry from the crustless PB&Js you had as a kid. First of all, that isn't just any bread — it's homemade banana bread. Wedged between the slices are layers of peanut butter, strawberry jam, freeze-dried strawberries and sliced bananas. Your 12-year-old self wishes it had this sandwich every day after school. (via Handmade Charlotte)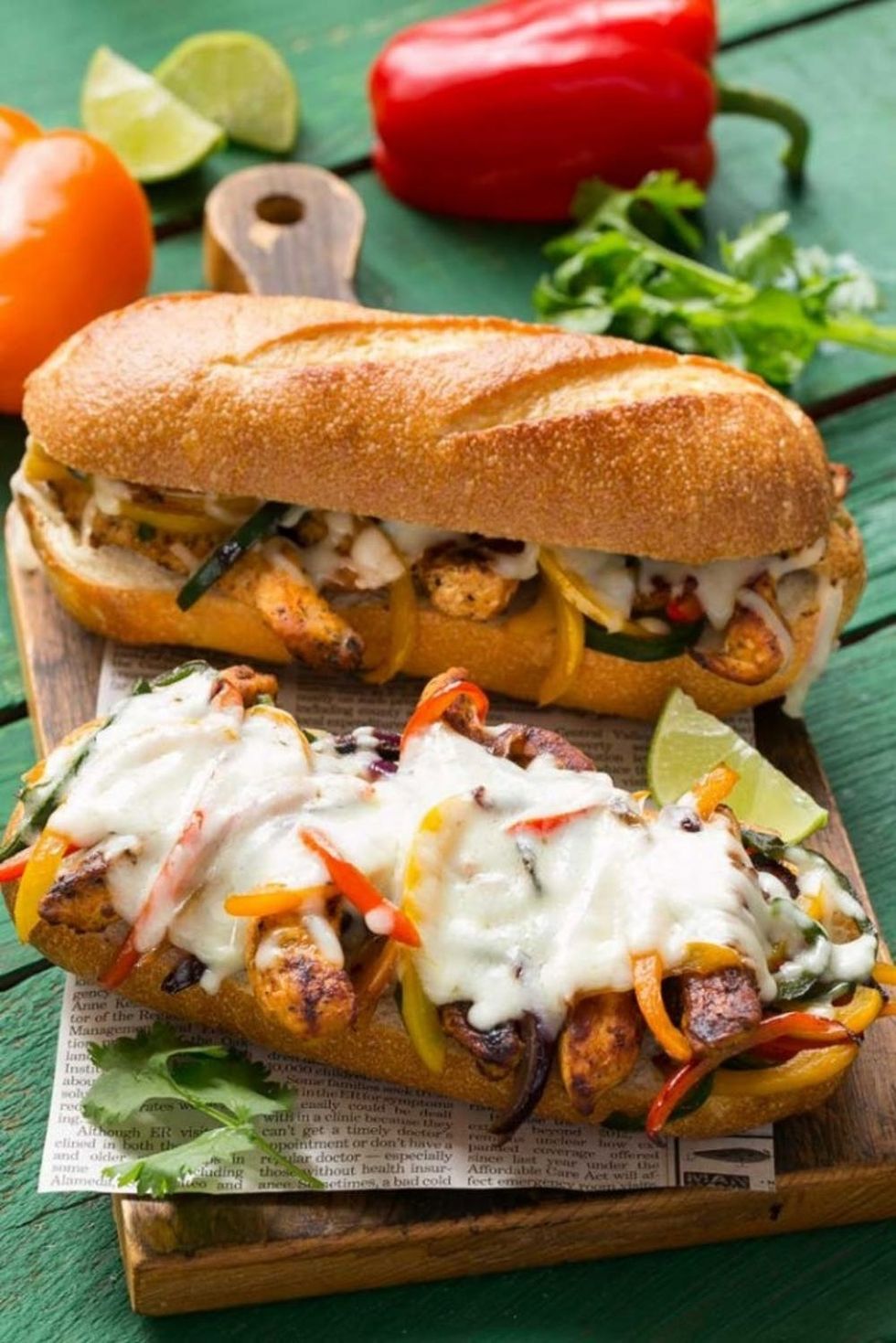 8. Fajita Chicken Cheesesteak Sandwiches: Spice up fajita night by ditching the tortillas and opting for a hearty hoagie roll. This mashup of a Philly cheesesteak and fajitas is a fun meal that would make a great lunch or dinner. (via Dinner at the Zoo)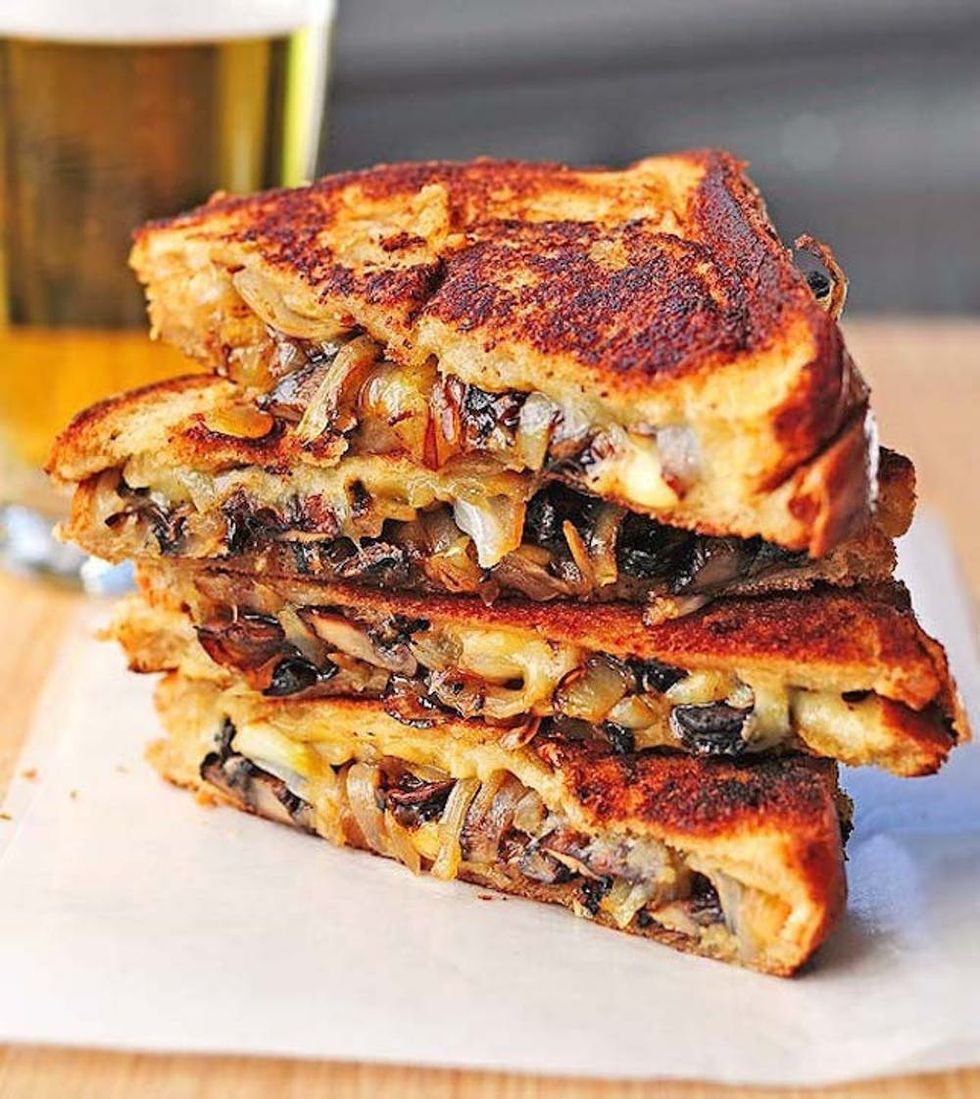 9. Grilled Cheese With Gouda, Roasted Mushrooms and Onions: Even if you're not a mushroom lover, this grilled cheese could potentially convert you. Roasting the mushrooms and onions gives them an intense and rich flavor that's only matched by a perfect mound of shredded gouda. Good luck making it to a table before you devour this one. (via She Wears Many Hats)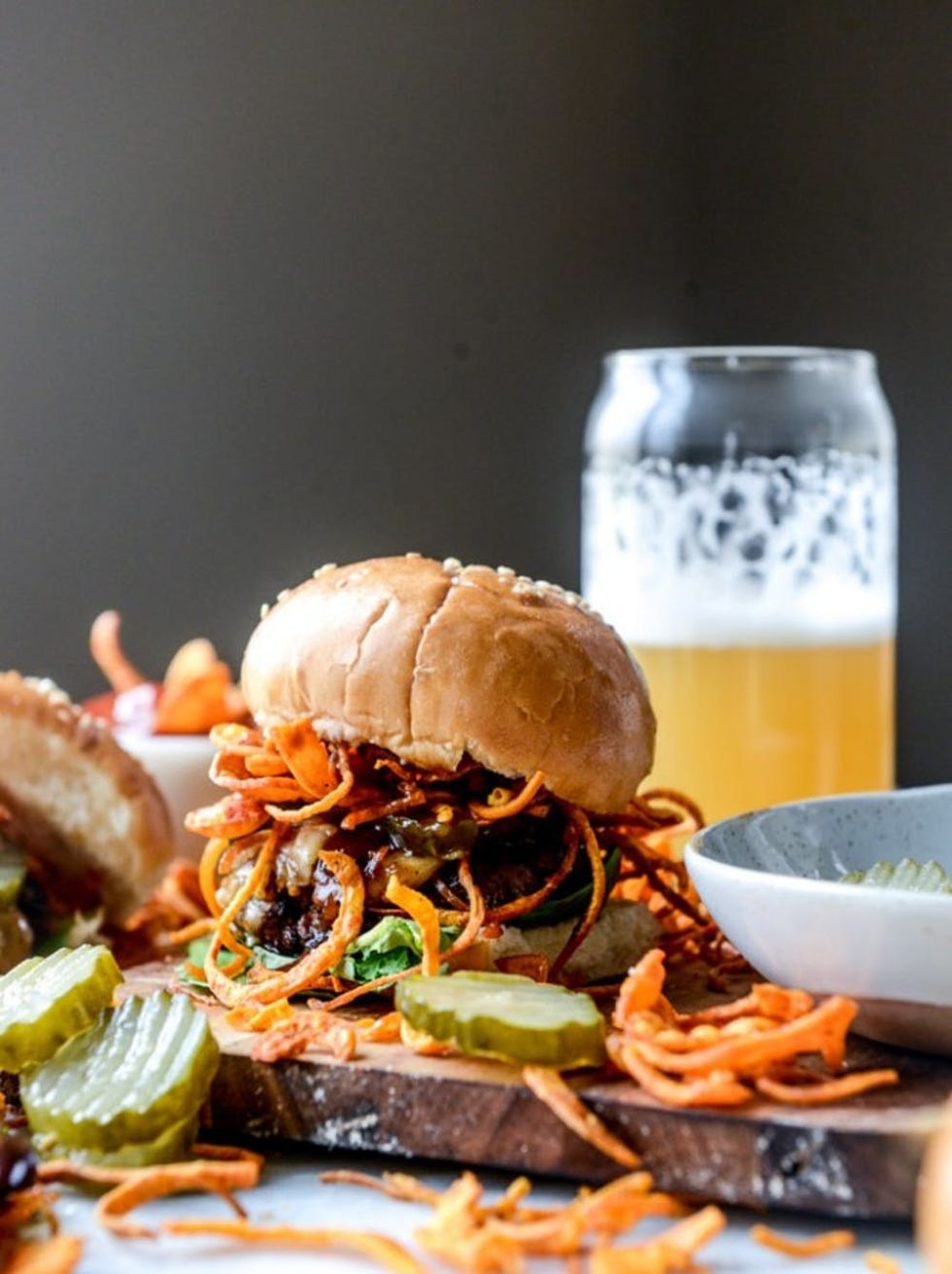 10. BBQ Havarti Burgers With Sweet Potato Curly Fries: It's unacceptable to have your curly fries next to your burger; you need to have them on your burger. And drenched in BBQ and havarti cheese. A cold beer is highly recommended in this situation. (via How Sweet It Is)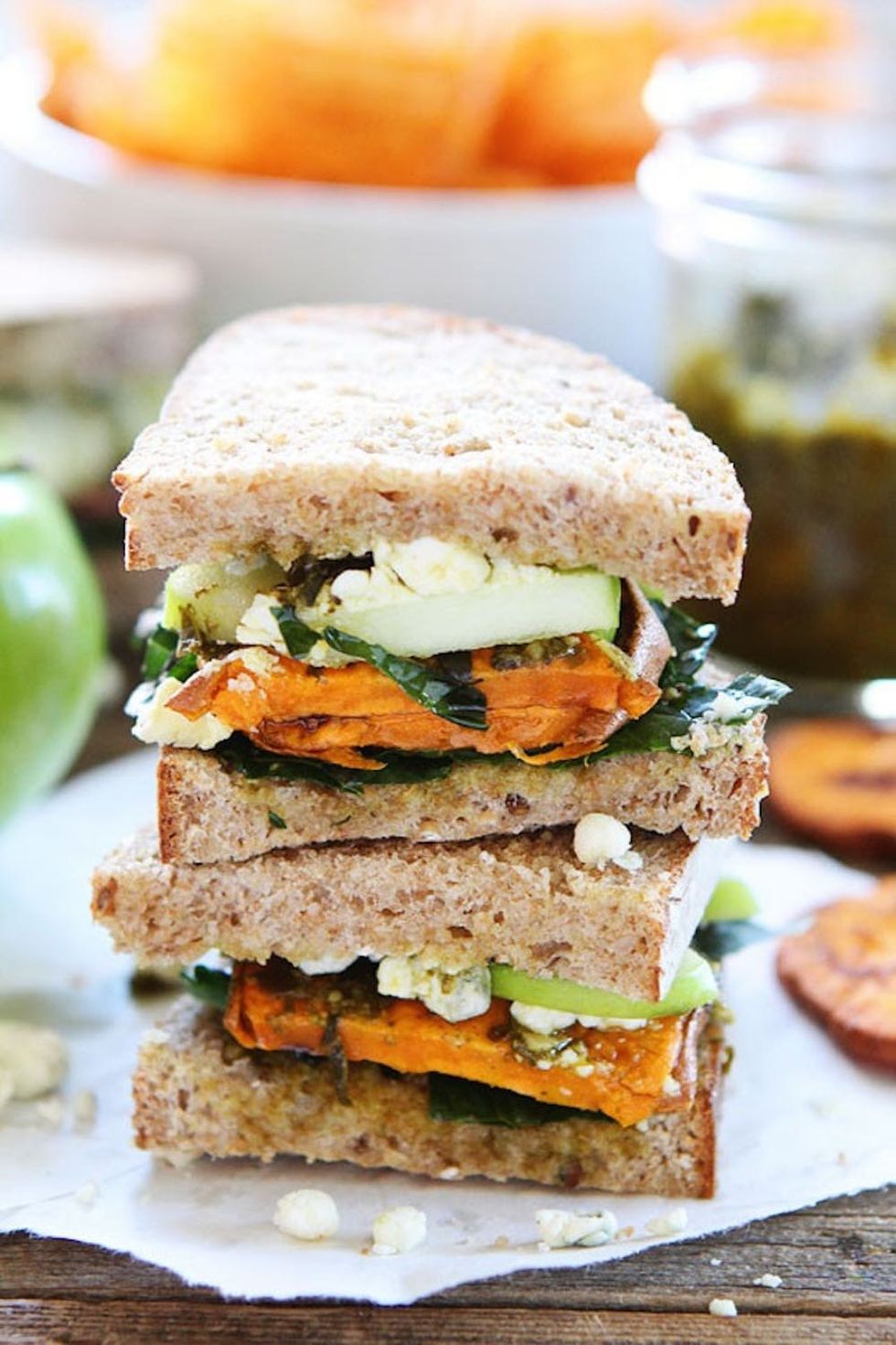 11. Roasted Sweet Potato Sandwich With Apples, Pesto, Kale and Blue Cheese: Rustic wheat bread loaded with seeds would be a perfect vehicle for the earthy ingredients in this sandwich. It's so hearty and palatable, you won't even miss the meat. (via Two Peas and Their Pod)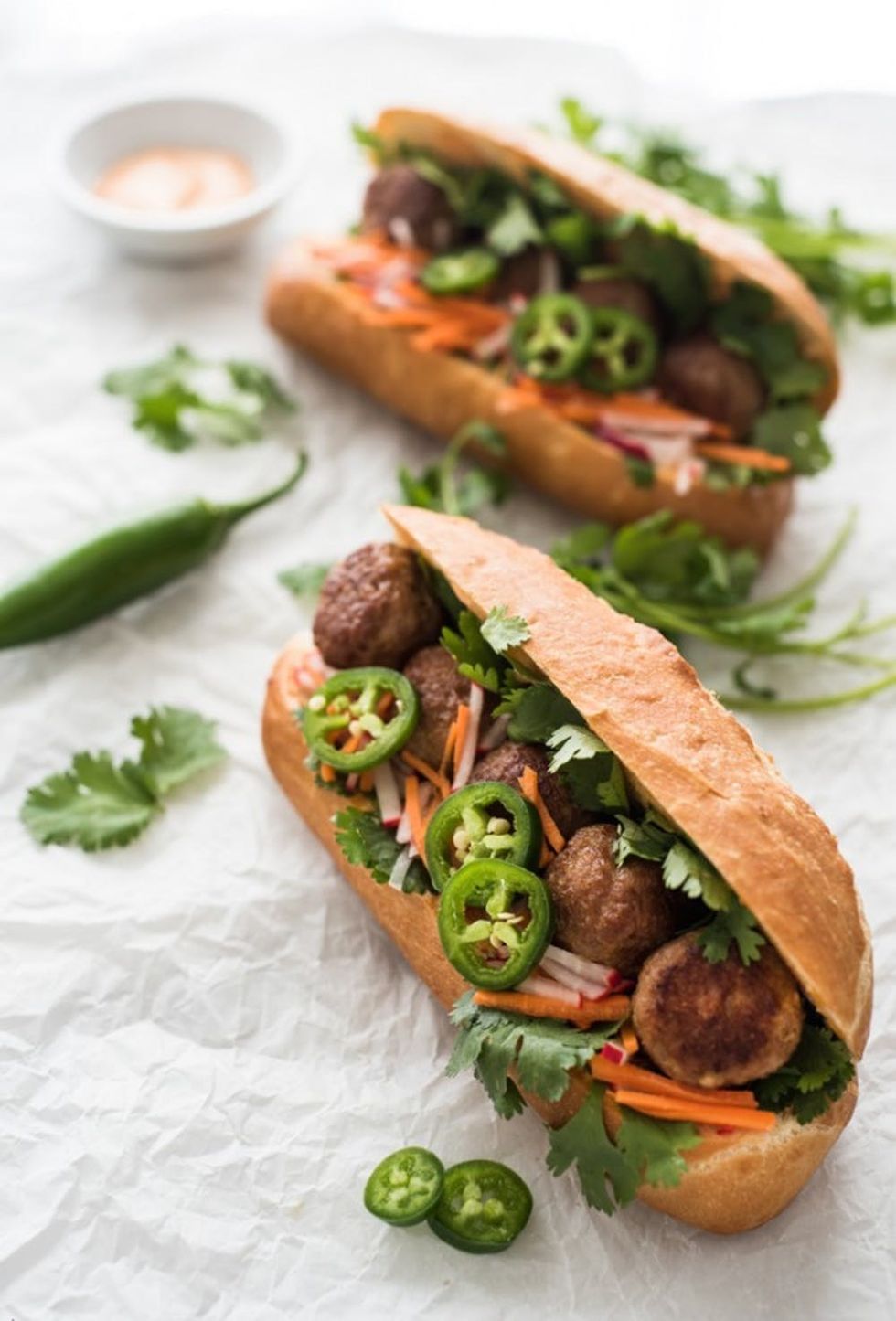 12. Meatball Báhn Mì Sandwich: This sub may look (and sound) difficult to make, but the whole thing comes together in just 25 minutes. You may want to double the meatballs to freeze and serve as an appetizer on another day… they're that good. (via Hapa Nom Nom)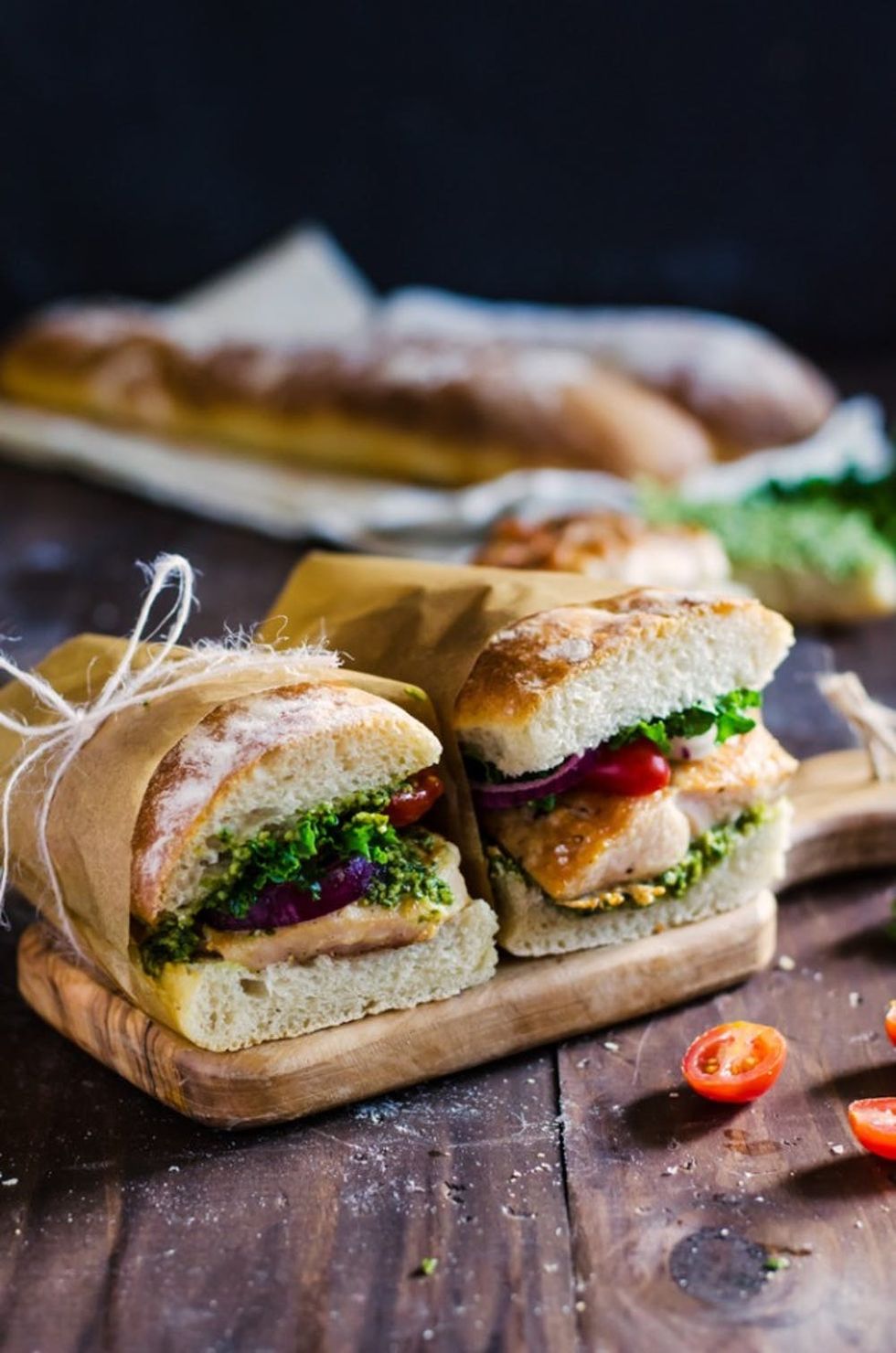 13. Chicken and Pesto Sandwich: Save money, and make your favorite chicken pesto deli sandwich at home with this simple recipe. It's a good thing homemade pesto is a cinch to make, because with so few ingredients, it really shines in this sandwich. (via A Cookie Named Desire)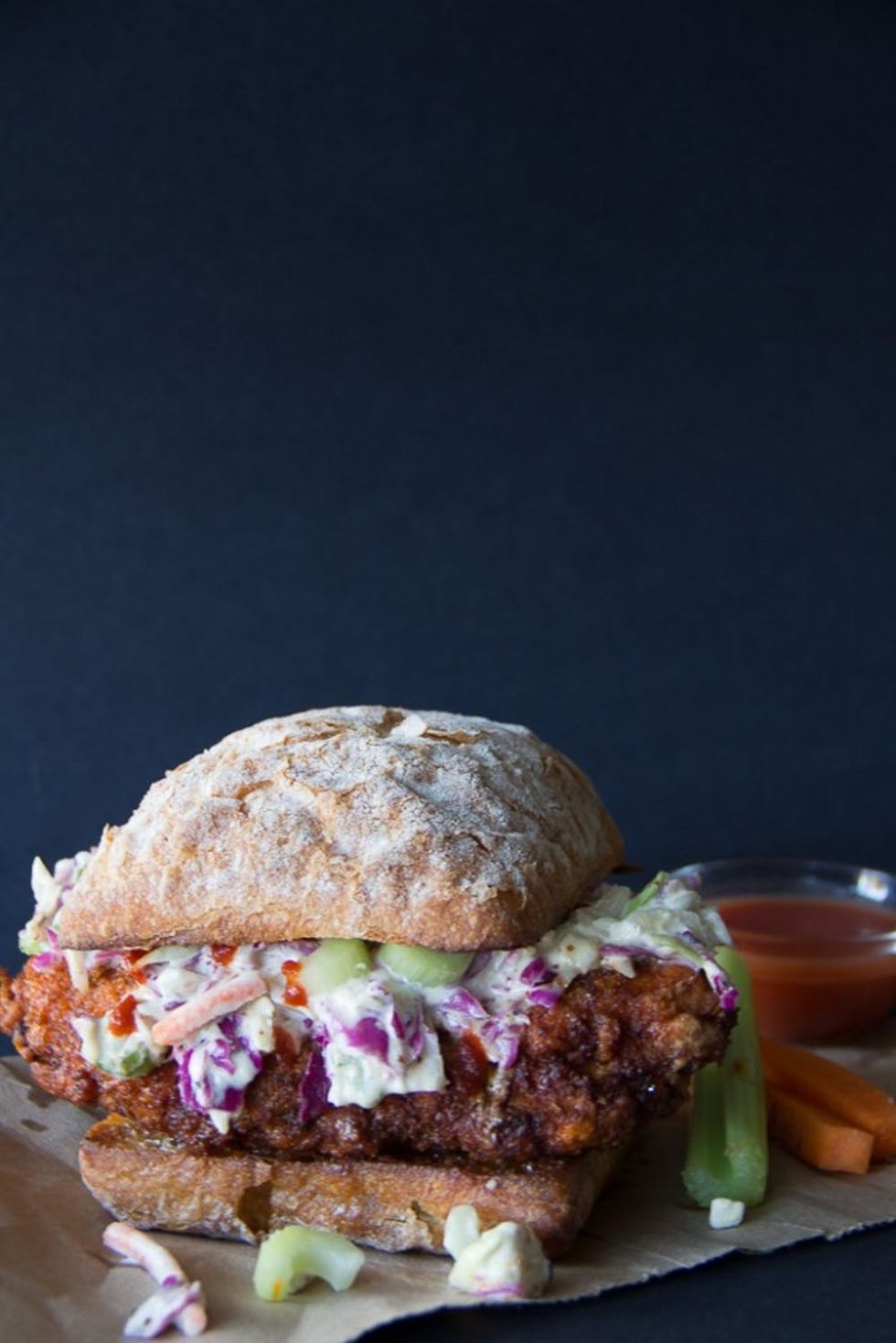 14. Buffalo Chicken Sandwich With a Gorgonzola Slaw: Buffalo sauce and blue cheese go together like peanut butter and jelly. You haven't experienced a flavor explosion until you sink your teeth into a bite of juicy fried buffalo chicken topped with a cold and crunchy Gorgonzola slaw. (via Say Grace)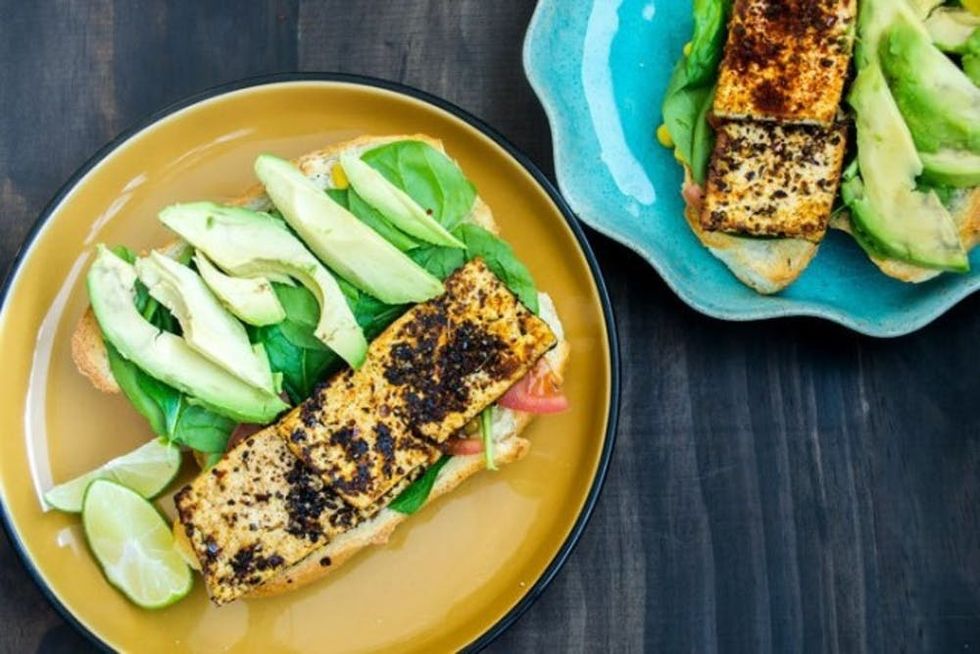 15. Blackened Tofu Sandwich: At first glance, you may think there's a blackened piece of fish on top of that hoagie roll. With a generous sprinkle of cajun seasoning and a high-temperature sear, tofu suddenly stars in a sandwich that could pass at a seaside restaurant. (via Vegan Food Lover)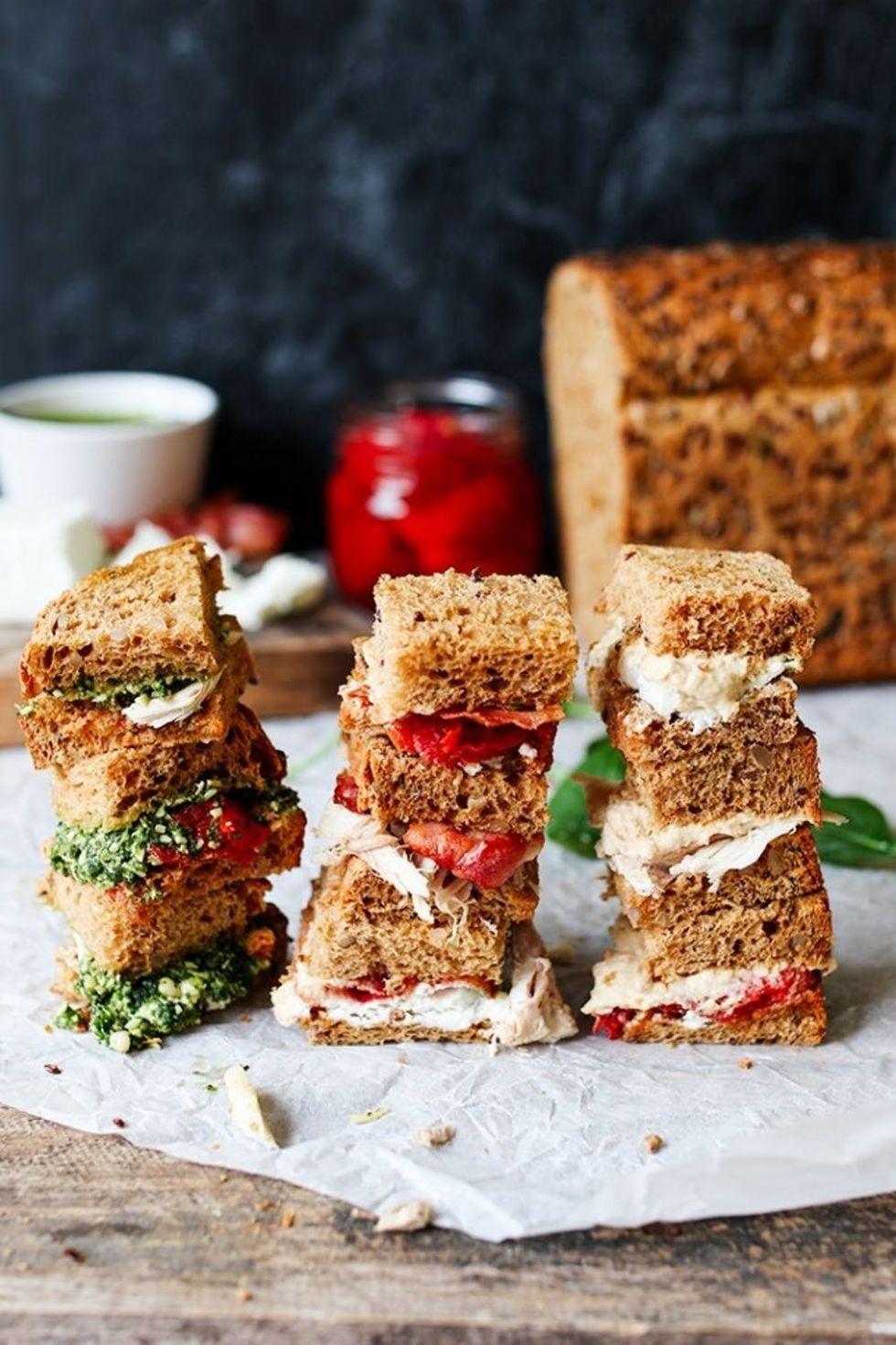 16. The 9 Combination Sandwich: This genius hack lets you try nine different sandwiches in one meal. Six fillings arranged on your bread in a particular pattern — some width-wise, some length-wise — create nine unique flavor combinations. (via Kitchen Sanctuary)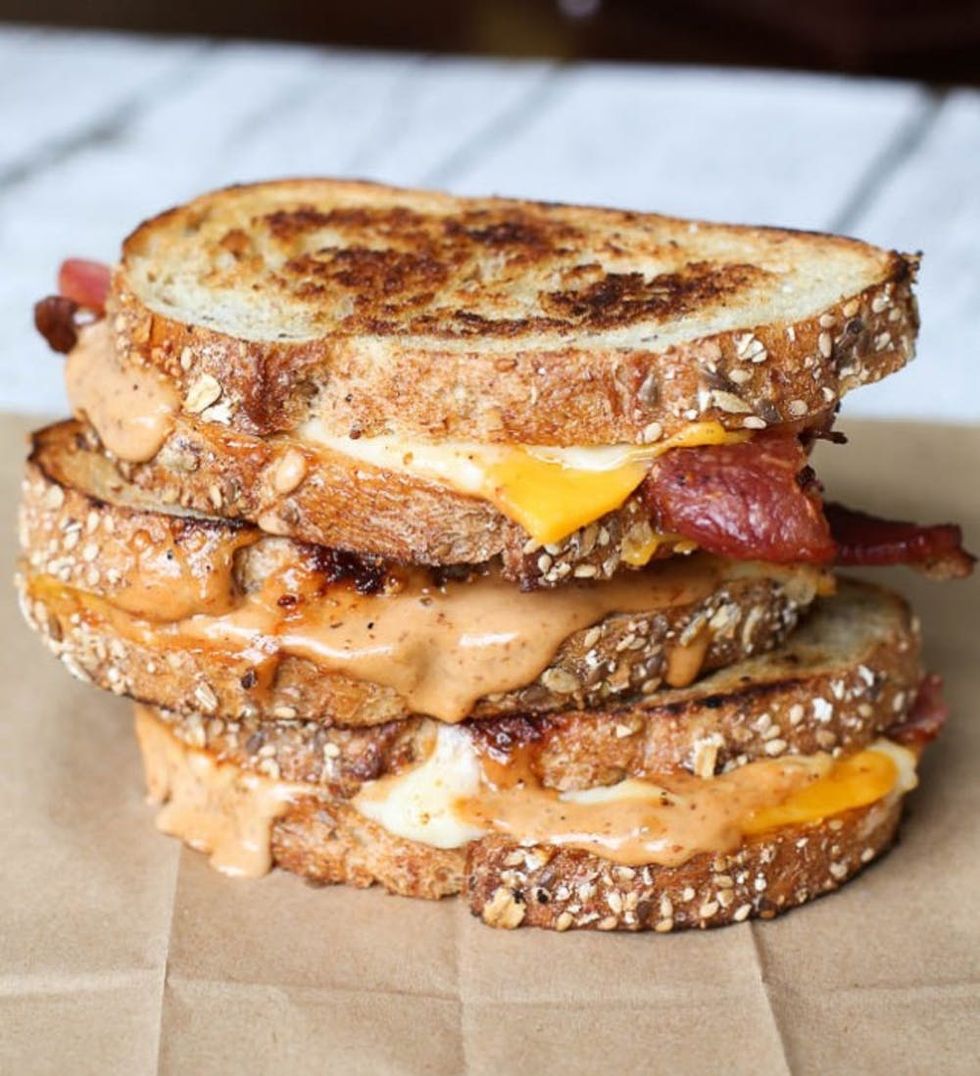 17. Bacon Cheddar Grilled Cheese With Sweet Mustard: There's not a lot that can go wrong here: sweet BBQ dijon spread, cheddar AND mozzarella cheese and, of course, bacon. This sammie is for sure going to get you major brownie points. (via Fashion Edible)
Follow us on Pinterest for more easy + delicious lunch ideas.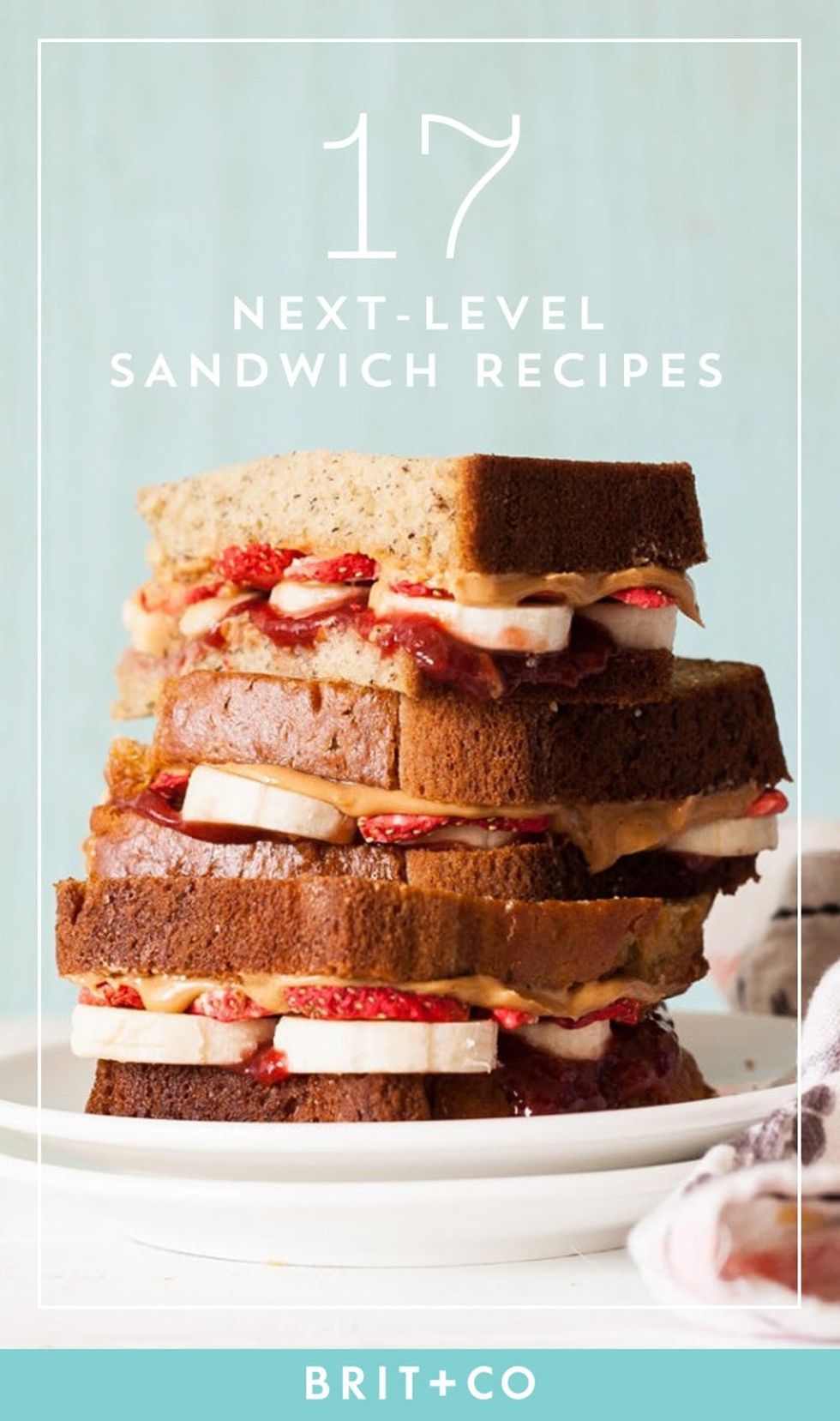 Paige Johnson
Paige is a blogger, food writer and culinary master from Louisville, Ky. She's a newlywed who's obsessed with dogs and renovating her 117 year old home. When she's not working on her blog —
My Modern Cookery
— you can find her binge watching F.R.I.E.N.D.S with a triple shot latte in-hand.