Parkland Shooting Survivors Are Storming State Capitol in Protest of Gun Laws
Feb 21, 2018
After a Miami area representative's attempt to push through legislation banning the sale of AR-15s in Florida was blocked yesterday, students throughout the state continue their journey to change gun laws.
This week, a number of students from Marjorie Stoneman Douglas High School gathered at the Florida state capitol in Tallahassee to demand new, safer gun legislation. More joined the ranks today, creating a formidable mass of young people who are tired of waiting passively for change.
---
The rally in Tallahassee to end gun violence. So encouraging to see young adults taking a stand & making their voices heard! #NeverAgain #DouglasStrong #ParklandStudentsSpeak #MarchForOurLives pic.twitter.com/BE9zobq8st

— FADSS (@PublicSchoolSup) February 21, 2018
"We're what's making the change," student Alfonso Calderon said on Tuesday. "We're going to talk to these politicians tomorrow. We're going to talk to them the day after that. We're going to keep talking, we're going to keep pushing until something is done because people are dying and this can't happen anymore."
The students from Parkland were joined from others across the state, and those who couldn't make it to the state capitol staged walkouts chaperoned by teachers. Teens from schools close to Parklandmarched up to 10 miles to connect with those not able to attend the rally at the legislature Wednesday morning.
Republican Governor Rick Perry says that he hears the kids and wants to help create change in the state, aiming for Friday for new legislation to be released. "I am bringing local and state leaders together to find solutions on how to prevent violence in our schools and keep guns out of the hands of mentally ill individuals," he said.
"This is an urgent matter that we must address quickly."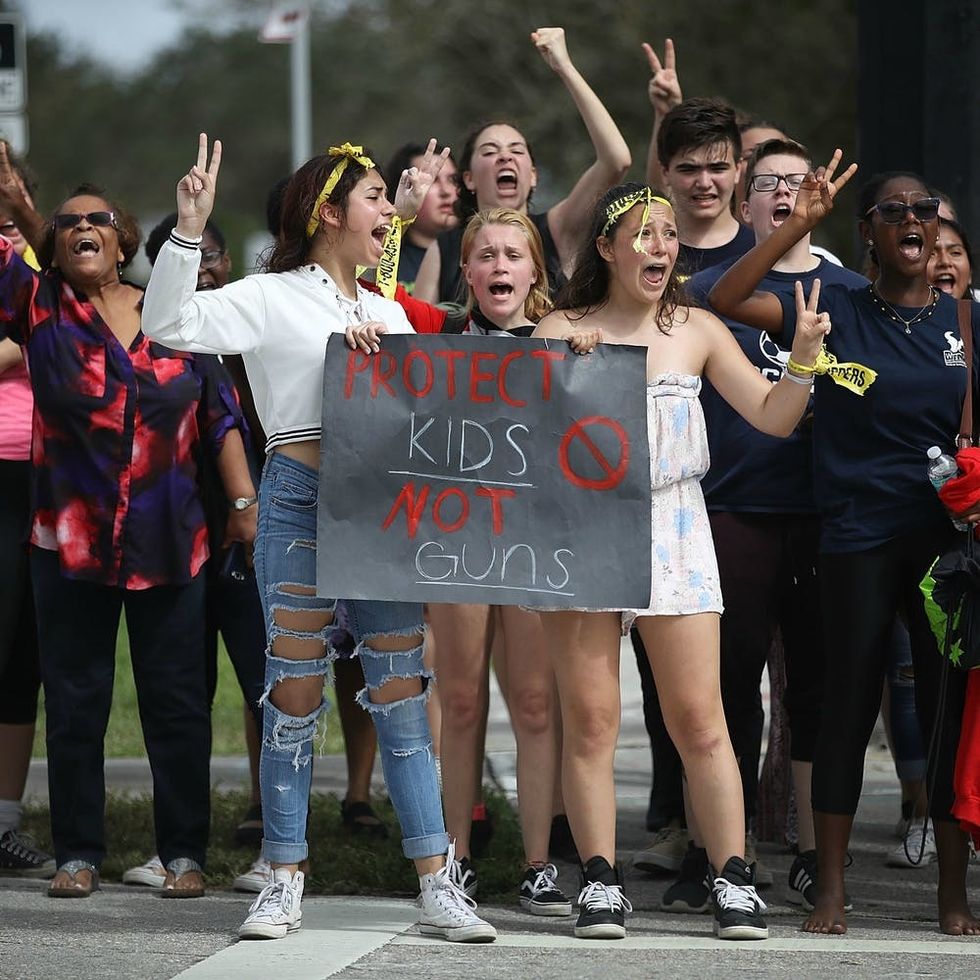 The students have been praised for their action in the aftermath of last week's tragic shooting, rallying, planning meetings with lawmakers and continuing to fight with the support of their peers across the state and country. But it's worth noting that they are still kids, and many are suffering from extreme trauma and PTSD. Reports of drug and alcohol use are up in the community; some teens reporting an inability to sleep, a fear of loud noises and, unsurprisingly, some students are afraid to be left alone or even to leave the house to attend classes.
With so many students across the country and their families rallying around the MSD students, at least one school district in Texas has sent word to parents that if their children participate in planned national walkouts in March, they will be suspended from school.
"Please be advised that the Needville ISD will not allow a student demonstration during school hours for any type of protest or awareness," wrote Superintendent Curtis Rhodes. "Should students choose to do so, they will be suspended from school for 3 days and face all the consequences that come along with an out of school suspension. @
"A school is a place to learn and grow educationally, emotionally and morally," Rhodes added in his letter. "A disruption of the school will not be tolerated."
Will you be supporting student walkouts in March? Tell us @BritandCo!
(Photo by Joe Raedle/Getty Images)
Kat Armstrong
Kat has been a writer, social media maven and mom for longer than she's willing to admit. She's also spent time in front of and behind the camera, interviewing celebs, politicians and acting as a producer for fashion and artistic photography shoots. When she isn't writing for various orgs and publications, she's hanging with her kids, husband and French Bulldog, Peter, in Toronto, Canada.
Current Events
Still haven't taken up that new creative skills you swore you'd learn this year? Or ready to take your design skills to the next level? Let's say so long to the weirdest year ever by checking those big learn-something-new goals off our perpetual to-do lists.
We've teamed up with Clorox to give you the gift of unlimited creativity now through the end of the year. Once you sign up, you can take as many of our 120+ classes as you want for FREE for one whole month!
Here's how it works:

Head to brit.co/learn and sign up for the "All Access Pass."
Use the code "CLOROXCARES" at checkout to redeem your free month of classes.
You will be automagically signed up for Clorox's email list once you redeem your free all access pass. (It's the #1 Choice for Disinfection!)
Your pass lasts one month from when you checkout. This means you have unlimited access to all the classes during that month.
This offer is valid now through December 27, 2020.
Browse our catalog to find the right class for you, tell a friend and take the class together over Zoom, or organize a 'cocktails + crafts' night with a friend in your bubble so you can learn something new together.
What are you waiting for? Time to start learning all the things!

Thanks to Clorox for making this happen! When it counts, trust Clorox.
Lifestyle