Meet Pearl Hair: Summer's Next White-Hot Hue
May 12, 2017
Hair color trends are one of the best kind of trends — they're more permanent than your OOTD but require less commitment than a tattoo you might regret later (although these new audible sound tats just may be worth it, TBH). These past few months, we've seen every type of hair under the sun, from graffiti hair (the perfect pick for all those music fests) to unicorn and geode hair with their eye-popping colors that go hand-in-hand with warmer seasons. The newest shade of summer has just dropped, however, and trust us when we say, it's one that might stick around longer than the average hair: pearl tresses.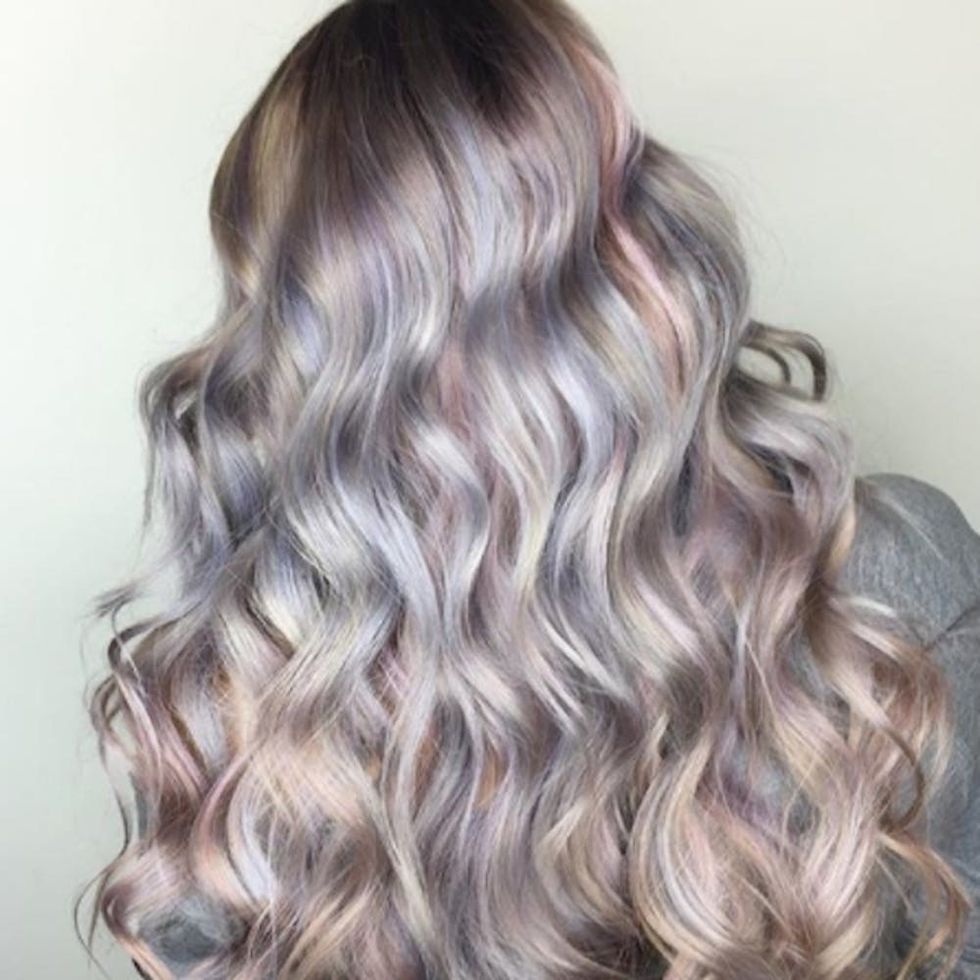 ---
Featuring an opalescent pearl-hued base that's fit for a mermaid (er, make that, mer-babe) with pretty pastel highlights, the color is similar to the holographic hair trend, but a *touch* more subtle. Both hairstylists and satisfied customers alike have been taking to Instagram to show off the gorgeous art. Check it out!
1. Accented Ends: Elissa Wolfe, a hairstylist in Vancouver specializing in balayage, created this shimmery look, saying it was the result of leftover pastels. Impressive!
2. Shimmering Goddess: Another Vancouver artist, Erin Murphy, transformed a client's hair into a beautiful purple-green-icy blonde wonder that makes you wish you were under the sea.
3. Abalone-esque: Stylist Ursula Goff captioned this one, "When your client's color fades to abalone" and tagged it #motherofpearl. Truer words never spoken.
4. Pinky Pearl Dream: This pinky spin on the pearl trend is definitely heart-eye-worthy. Take note, rosé gold fans!
5. Not Your Mother's Pearls: The gorgeous muted hues of this style fit the "pearl" moniker perfectly.
What hair color are you crushing on right now? Tell us @BritandCo!
(h/t Bustle, feature photo via ObnoxiousHair/Instagram)
Shea Lignitz
Shea can be found in the nearest bookstore or brewery, exploring the great outdoors, or blasting Led Zeppelin. She grew up in the cold and rain of Northern California's redwoods but is currently wandering around Texas.
Hair
If you lack a certain way with words, then perhaps you can rely on showing how you feel this holiday season with an artful greeting card you can make at home! Brit dropped by our crafting studio where we teamed with Camp by Walmart to create a choose-your-own-adventure holiday card tutorial. In the interactive video, it's up to you to decide what type of card you want to make — sentimental, or stylish? Three-dimensional, or keep it simple? After you've selected your design vibe, Brit helps you assemble it all together so your last-min card is ready to send. Get ready to pick up a few new DIY tricks when you watch the video now!
Holidays