Pizza Hut Just Invented Its Cheesiest Pizza Crust Yet… and It Has POCKETS
Nov 16, 2017
Pizza Hut took everyone's favorite cheat night food and upgraded it with a brand new stuffed-crust that has our mouths watering like crazy. Allow us to introduce to you the Ultimate Cheesy Crust Pizza! (Side note: Does anyone else remember when they invented the hotdog-stuffed crust back in 2013?) Just when we thought we couldn't love pizza any more than we already do (really, though: A recent infographic revealed that 13 percent of Americans are eating pizza on any given day), you might want to put your sweatpants on for this one, guys, because things are about to get SUPER cheesy.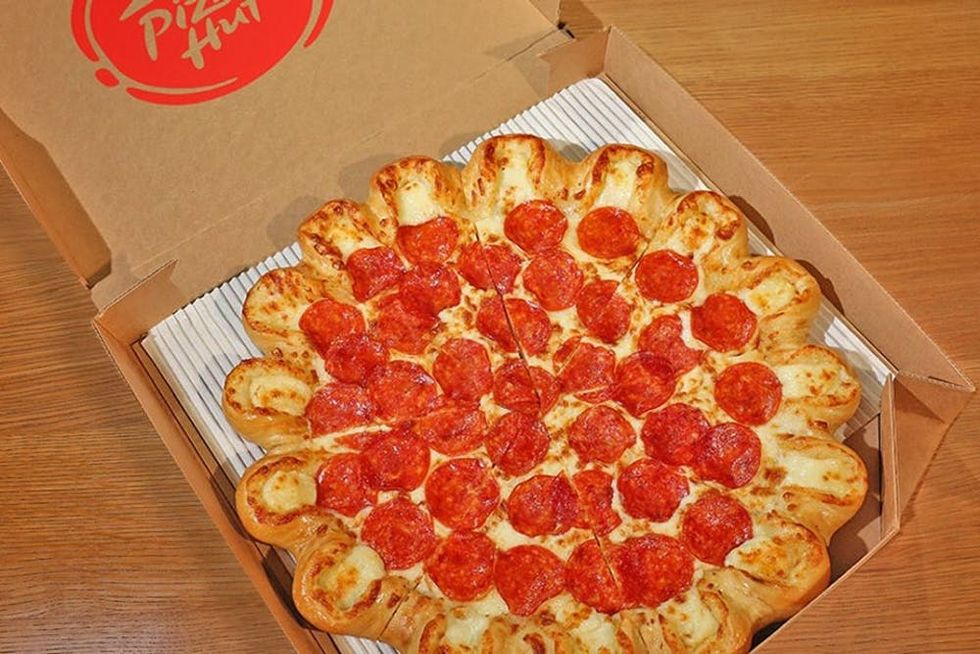 ---
In place of a regular crust, the new Cheesey Crust Pizza pie features a full 16(!) pockets of not one, but FIVE gooey melted cheeses including provolone, white cheddar, asiago, fontina, and, of course, mozzarella baked into its rounded edges. In case that wasn't not enough to liven up your crust game, you can opt for the "Hut Favorite" dough, which includes — you guessed it — even more cheese! (A dusting of grated Parmesan, to be exact.) Pies start at $13 and go up from there, with final rates depending on the number and type of toppings added.
It's no coincidence that this mega pie — which can only be ordered in a 14-inch "Large" — hit the market right around the holidays. "The Ultimate Cheesy Crust Pizza is the perfect addition to upcoming holiday festivities," explains the Hut's VP of Brand Marketing and Consumer Insights, Zipporah Allen. "… We believe there are no better times than those shared over a fun and delicious meal together." We consider this a pizza mission accomplished. This pie is only around for a limited time, though, so curl up, grab some pals, and place your order STAT!
Follow us on Pinterest for more holiday food fun!
(Photos via Pizza Hut)
Sophie Wirt
When Sophie isn't writing, she can be found experimenting with DIY nail art and singing along to old school Britney Spears jams.
Food News