This Brand Got into Hot Water for Its Refugee Dress
Aug 04, 2017
This is one instance in which you'd hope brands might think twice before sending their merch out into the world. In our current rocky political climate, a Brooklyn store is catching heat for an insensitively named a dress.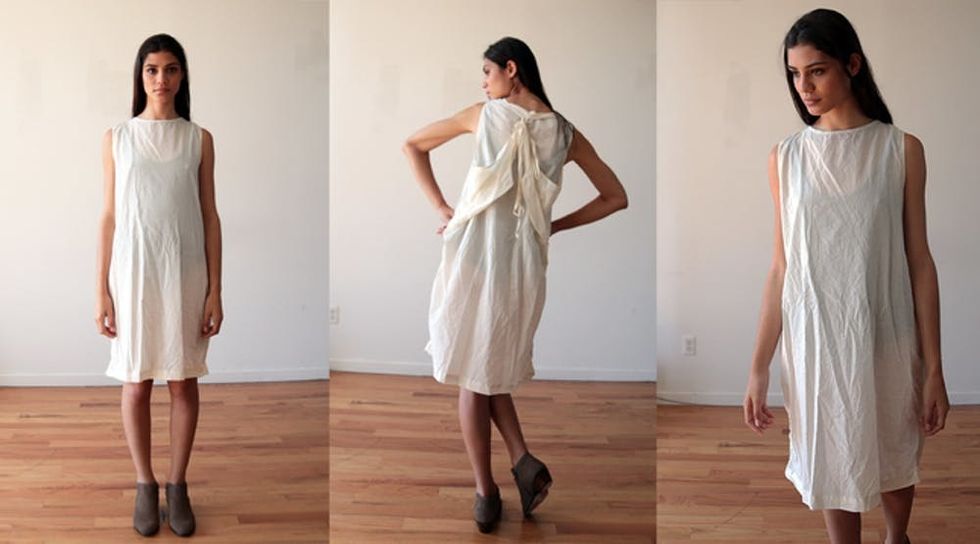 ---
Indie shop UZI NYC had been selling a cotton shift dressed dubbed the Refugee Dress ($119) since 2007 in white, black, and navy, and Mic reported on the product's tone-deaf moniker on Wednesday.
Co-founder Mari Gustafson noted that when they named the style 10 years ago, it was supposed to start a discussion. She explained, "We named the dress in 2007 when we could not see ourselves escaping the reality of a global economy spinning out of control. We feel that it is important to keep these issues within public discourse… We could have named the dress anything we wanted but then we wouldn't be having this discussion."
But the discussion that's happening doesn't exactly seem like what the brand may have hoped for, and Twitter users aren't buying the name-as-conversation-starter story.
This tasteless named dress is still for sale on #UZINYC and still mocking a humanitarian crisis https://t.co/r9mLLwM8TF

— Marilyn Bastedo (@m_bastedo) August 3, 2017
Who thought it was okay to call this the 'refugee dress'??? Absolutely disgusting from @uziuzinyc #uzinyc https://t.co/DtjIuPyeRD

— Grace Wyld (@GraceWyld) August 2, 2017
Please check @uziuzinyc 's distasteful and disrespectul item "Refugee dress" @SanaSaeed @ajplus @namirari https://t.co/P368aI5C2C pic.twitter.com/b9Wu6E64C9

— Arousa Naqvi (@veiledevolution) August 1, 2017
/UZINYC, what are they thinking? Wouldn't something like, AK47NYC be more appropriate? NY Cos trying to make a dollar off of refugees. sad

— FRO (@Blackbuck004) August 3, 2017
Gustafson still stands by the brand's naming decision. She said in a non-apology, "The language we have used to describe our fabric is common within the fabric industry, it in no way references human beings." She acknowledged the backlash by saying, "We understand that we have unintentionally offended some people with whom we share the same concerns, but in that process we have also been able to amplify our shared message."
However, since the controversy broke, the brand has since changed the style name to the Oxford Dress.
What do you think of the latest clothing controversy? Let us know which retail gaffe is your most memorable @BritandCo!
(h/t Refinery29; photos via UZI NYC)
Elyse Roth
Elyse Roth is a freelance writer and editor who is a midwestern transplant in NYC. She loves to explore the city, plus you can find her at a Broadway show or the ballet usually once a week. When she's not finding things to do in New York, she's thinking about where she can travel next. She's combined her love for food and TV into a blog where she makes food eaten on her favorite TV shows at tvdinnerblog.com.
Style News