These Runway-Inspired Cakes Add a Stylish Element to Your Wedding
Jun 18, 2017
Runway couture as you've never seen it before is how we'd describe Arlette Novelli's over-the-top cake creations. The San Francisco-based pastry chef brings her love of architecture, fashion, and art into everything she touches at her Three Little Cakes studio. Alexander McQueen, Carolina Herrera, and Elie Saab are just a few of the fashion designers she's paid homage to and the results are *almost* too pretty to eat.
"I love pulling inspiration from these amazing pieces and putting them into something edible," says Novelli. "Two of my favorite events that I look forward to each year are New York Fashion Week and the Met Gala. I'm always in awe of the avant-garde gowns that float down the red carpet and in a couple of weeks I'll be making a cake inspired by Blake Lively's Versace gold dress with blue feathers."
---
Looking for a new way to upgrade your wedding day style? Look no further than a few of Novelli's ultimate confections and the designers that inspire her.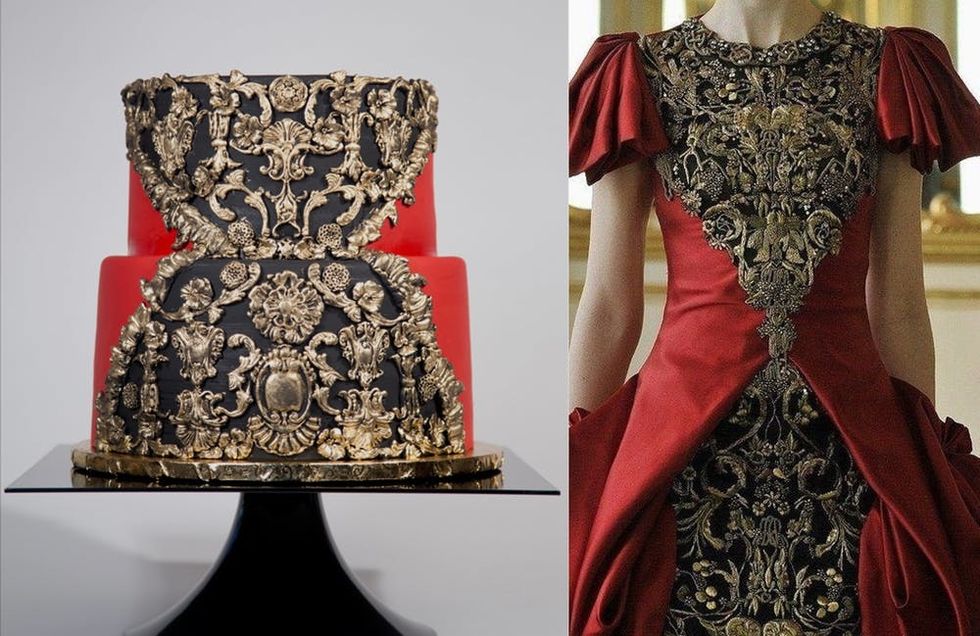 1. Alexander McQueen: "This cake was inspired by a beautiful red and black gown created by Alexander McQueen," says Novelli. "The customer was having a 50th 'Casino Royale' birthday party and she wanted a red and black cake, so I could not resist recreating the embroidery on this textile." (Photo via Douglas Novelli)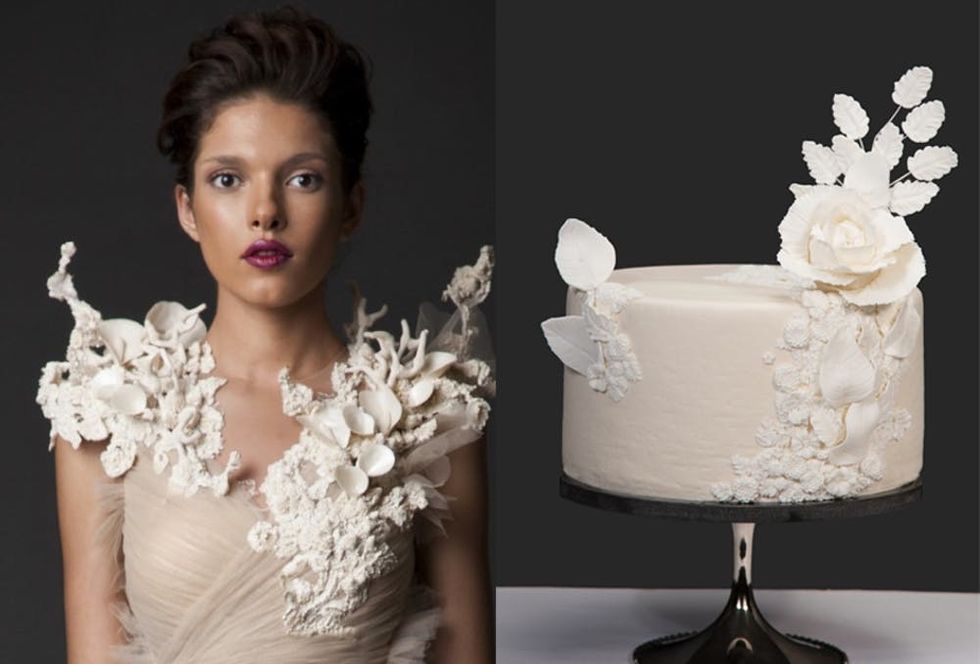 2. Krikor Jabotian: "Krikor Jabotian makes incredibly romantic gowns, and this design had so many details with coral and leaves that I just fell in love with its architecture," she says. (Photo via Douglas Novelli)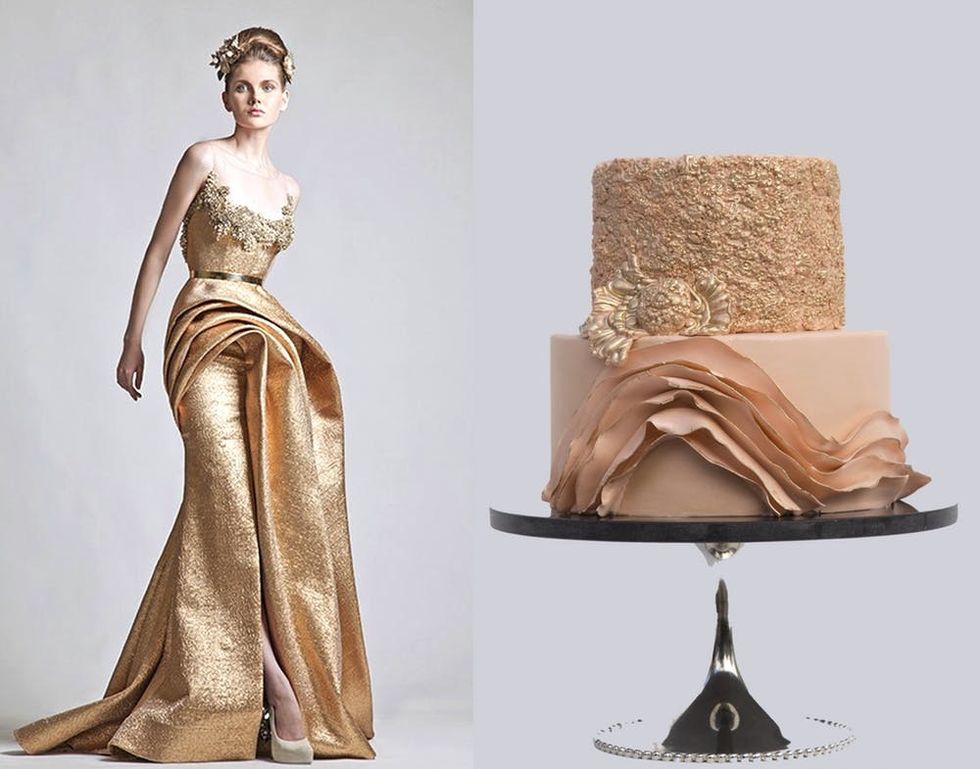 3. Krikor Jabotian: "This gown was so goddess-like — I loved the flow of the lines and the tiny beading detail," says the mother of three (that's who her bakery was named after). "It was not easy making fondant flow in that way, but what I loved most was making the small beads for the top tier." (Photo via Douglas Novelli)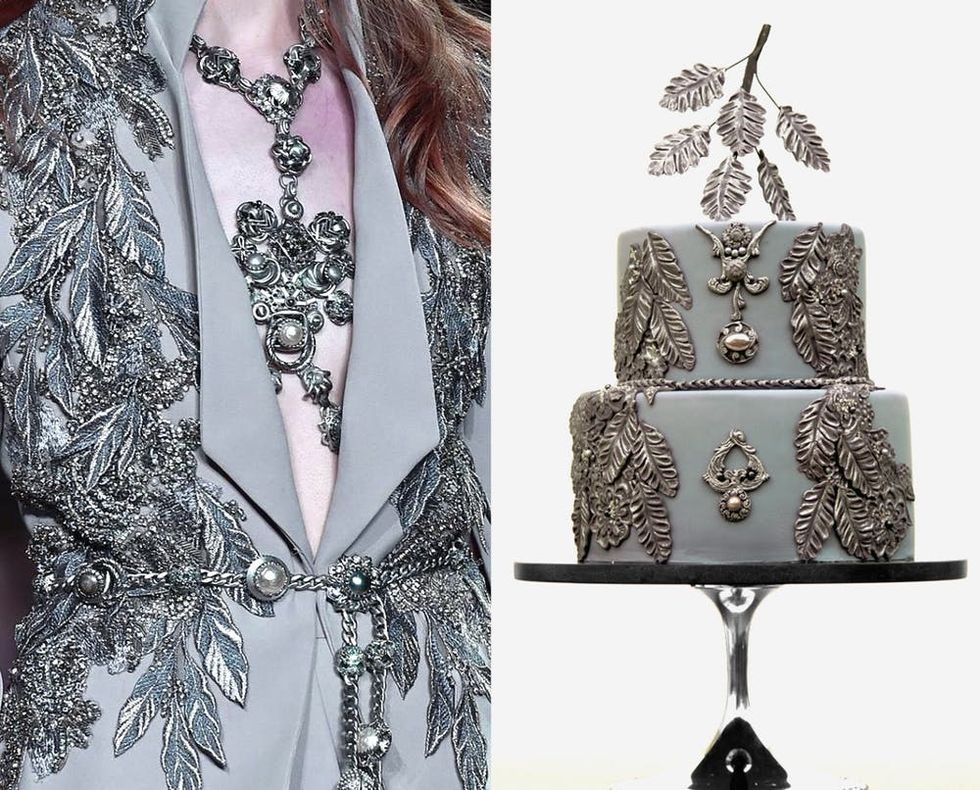 4. Elie Saab: "Who doesn't love the embroidery on this jacket? I tried to recreate it with fondant leaves that I hand sculpted," she explains. (Photo via Douglas Novelli)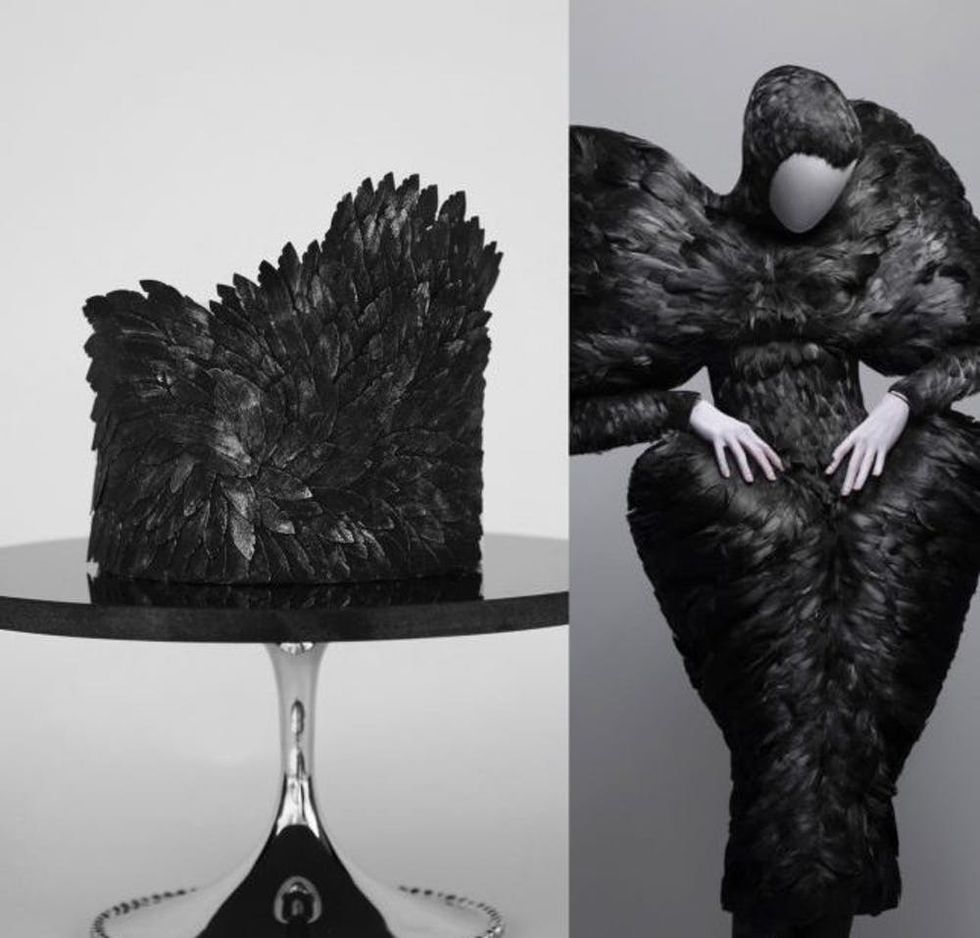 5. Alexander McQueen: "'The Horn of Plenty' was exhibited at the Met as part of McQueen's 'Savage Beauty' exhibit, so I had to pull inspiration from this and create a cake using edible black feathers," Novelli notes. "Although it's very simple, it's one of my favorite cakes." (Photo via Douglas Novelli)
Which cake is your favorite? Tweet us @BritandCo!
Kelli Acciardo
Kelli Acciardo is a travel, fashion, and beauty writer who spends most of her time in NYC, when she's not traveling around the world. Obsessions include: viral dog videos, spicy margaritas, the perfect metallic bronze eye shadow, and a great bathrobe. Her work has been published in Brit + Co, Bustle, Marie Claire, Refinery29, xoJane, InStyle, Seventeen, POPSUGAR, Women's Health, Teen Vogue, Martha Stewart, and Redbook.
Wedding Style