18 Brilliant Ways to Decorate Your Stairs
Sep 19, 2013
When it comes to the home, we're all about adding color and creativity in unexpected places. From art in the Louvre to colorful furniture legs, we've made it our business to scour the web for the most creative, innovative, and inventive ways to customize our space. As we slowly but surely Brit-ify our new office space, we're making a point of brainstorming creative ideas for every nook and cranny. This week's focus? The stairs! Here are 18 inspiring ideas for decorating your stairs, from song lyrics to florals, to our old friend chevron.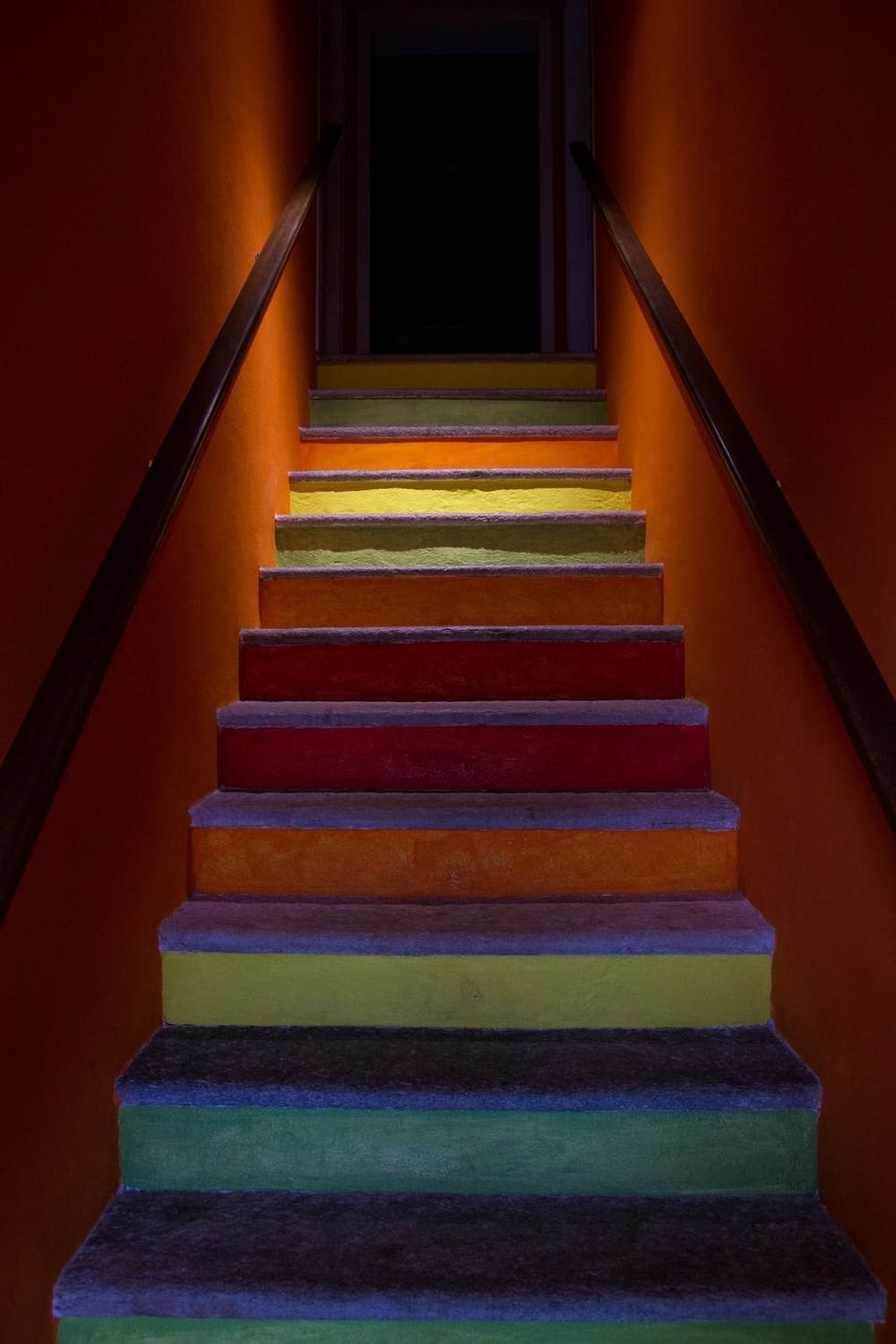 ---
1. Rainbow Bricks: How awesome are these painted bricks? You could also do this on regular steps to create a fake brick pattern. Wait.. maybe that is that they did here after all! (via Getty)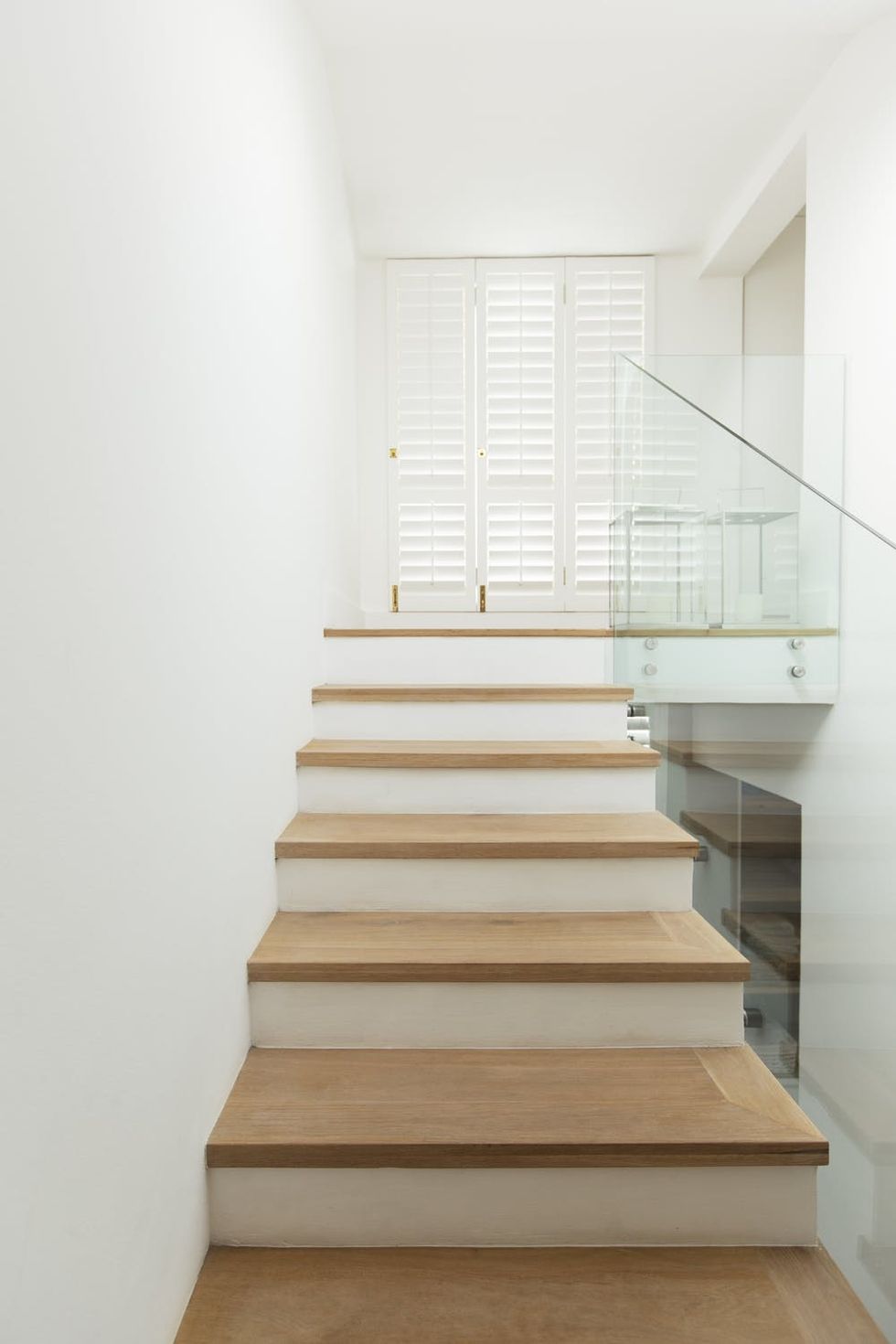 2. White and Wood: Highlight natural wood stairs by contrasting the ends with modern, white paint. (via Getty)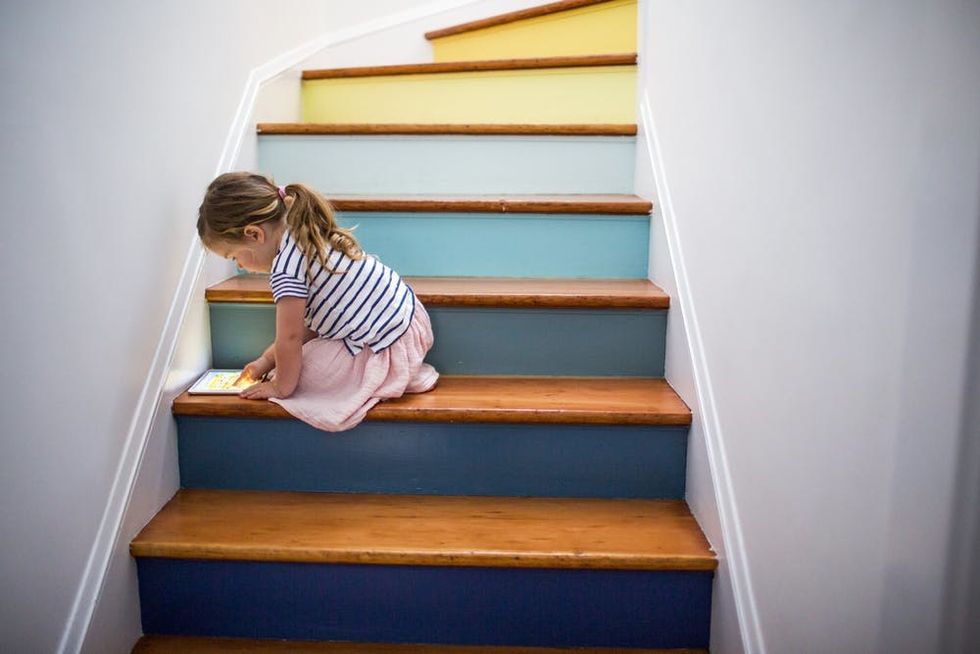 3. Ombre Stairs: This aqua and pale yellow ombre design totally transport us to the sea. (via Getty)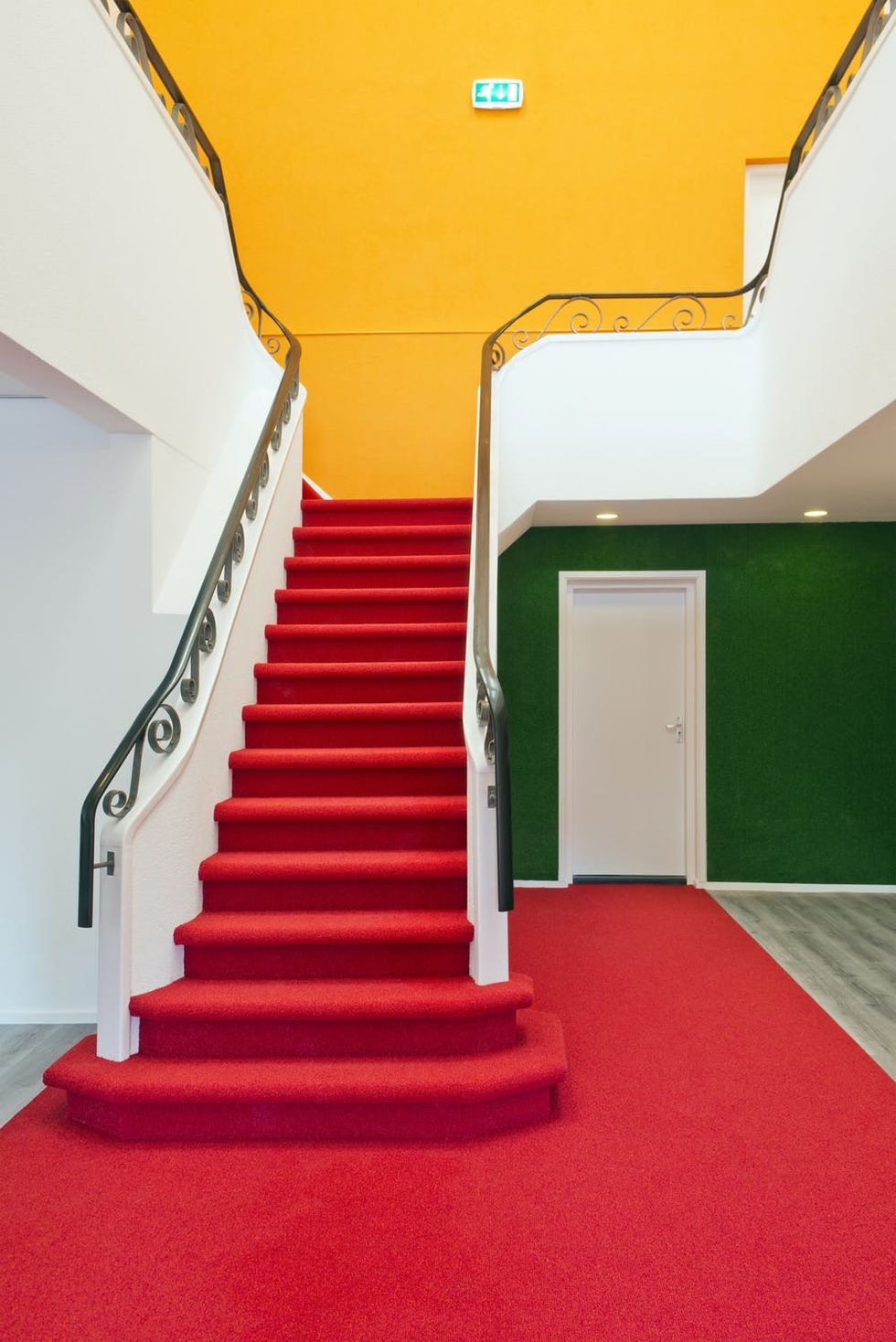 4. Bold Carpet: Color block your home with carpeting for a dramatically bright effect. (via Getty)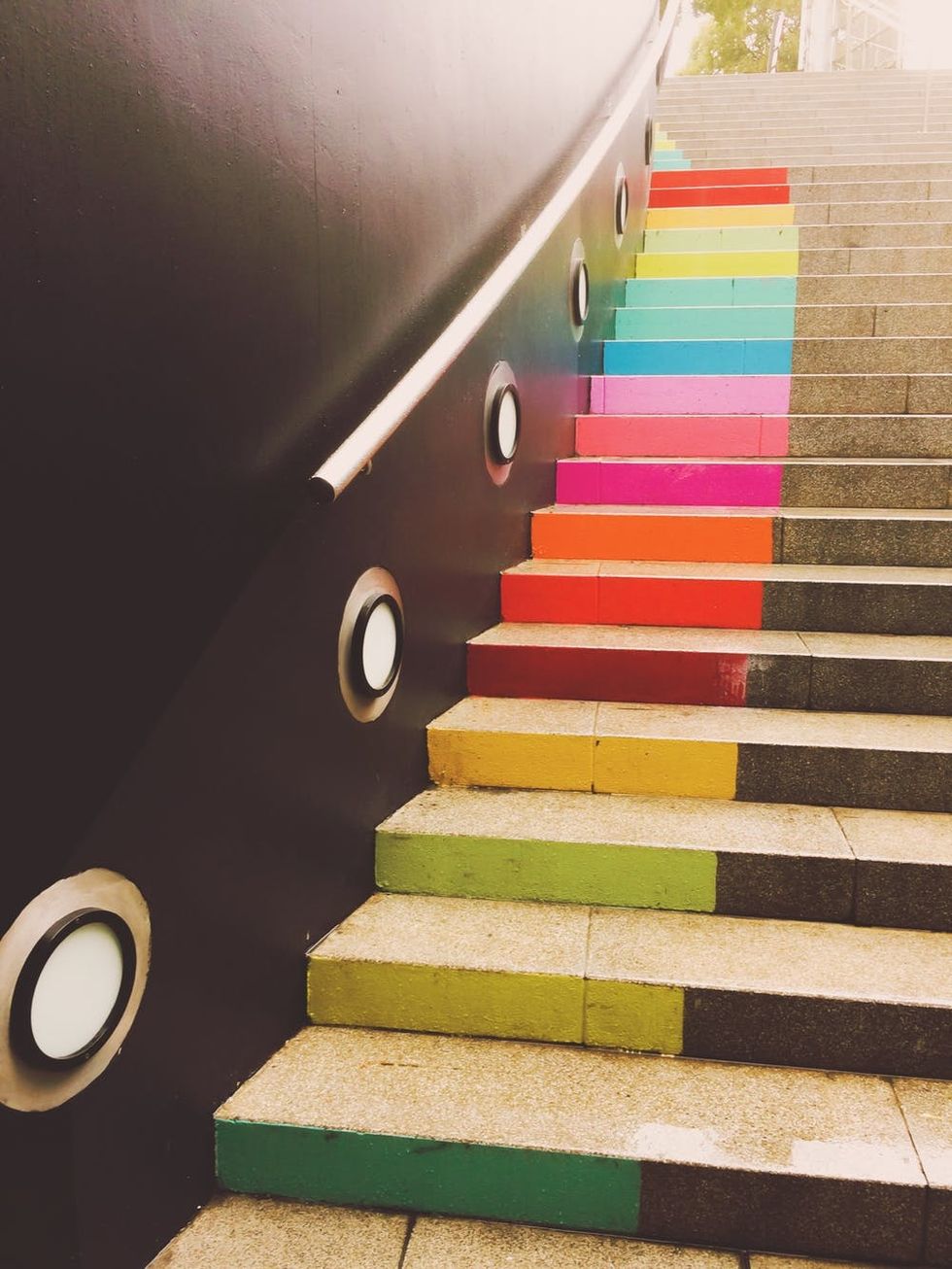 5. Handpainted Stairs: For a more whimsical approach, channel your inner illustrator to create this inspiring, technicolor look. (via Getty)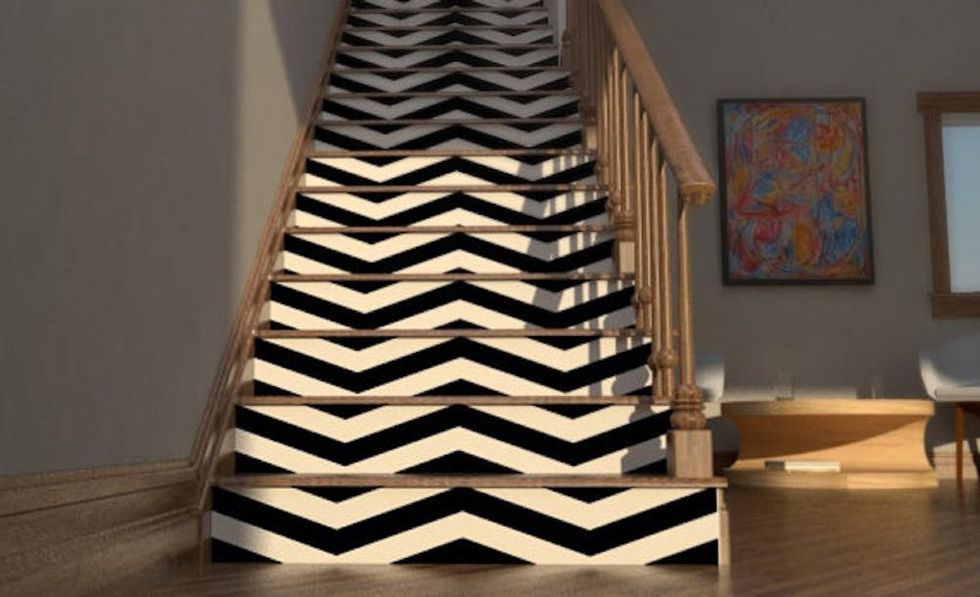 6. Chevron Stairs: We've always gotta give a nod to chevron, especially when it's as convenient as online shopping for decals you can actually buy! Brit + Co Pick: potandkettlestudios Chevron Removable Wallpaper ($29)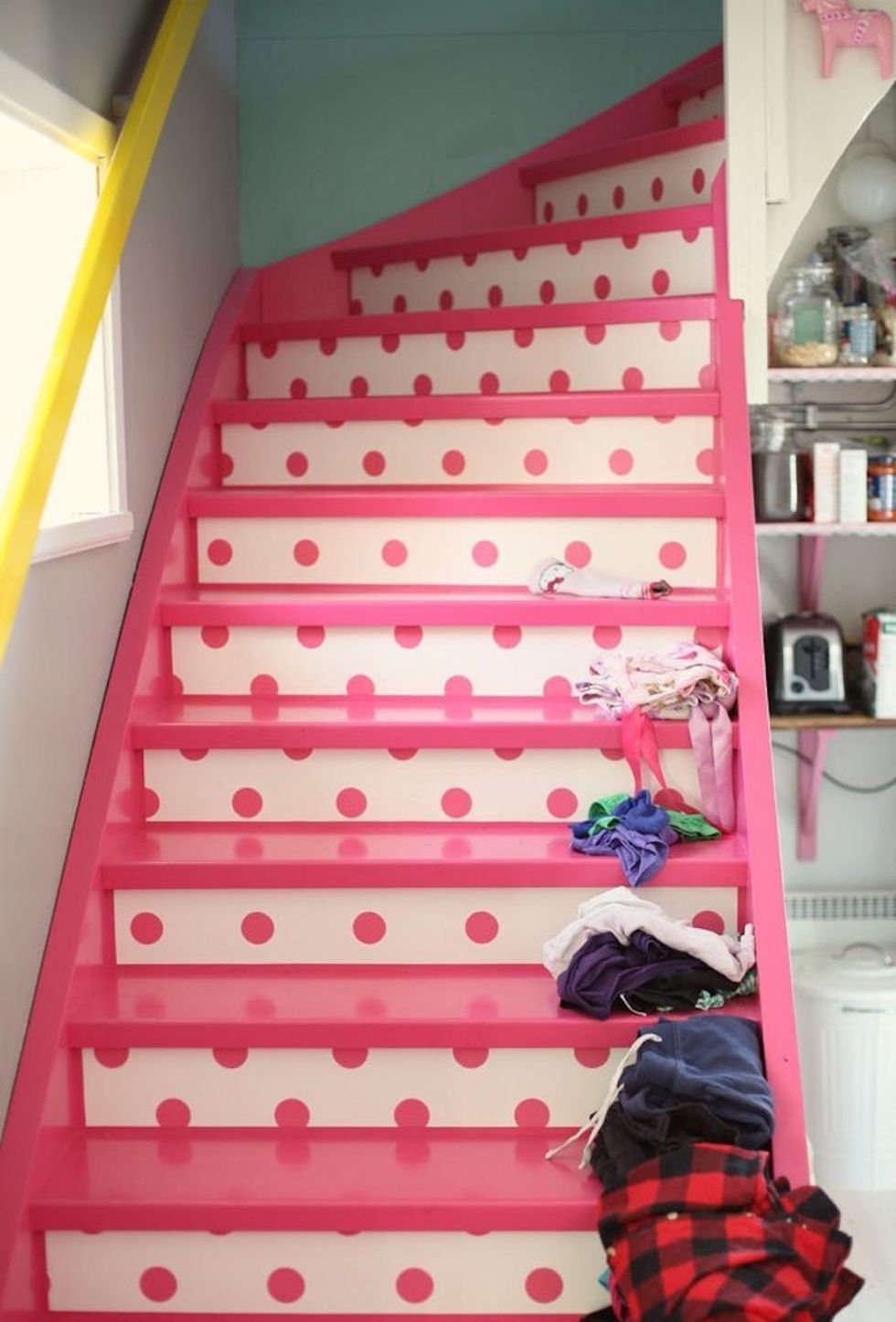 7. Polka Dot Stairs: While the combination of the pink and polka dots might seem a touch girly, we like the concept and would love to see it done in black and white with pops of brighter colors. (via Dos Family)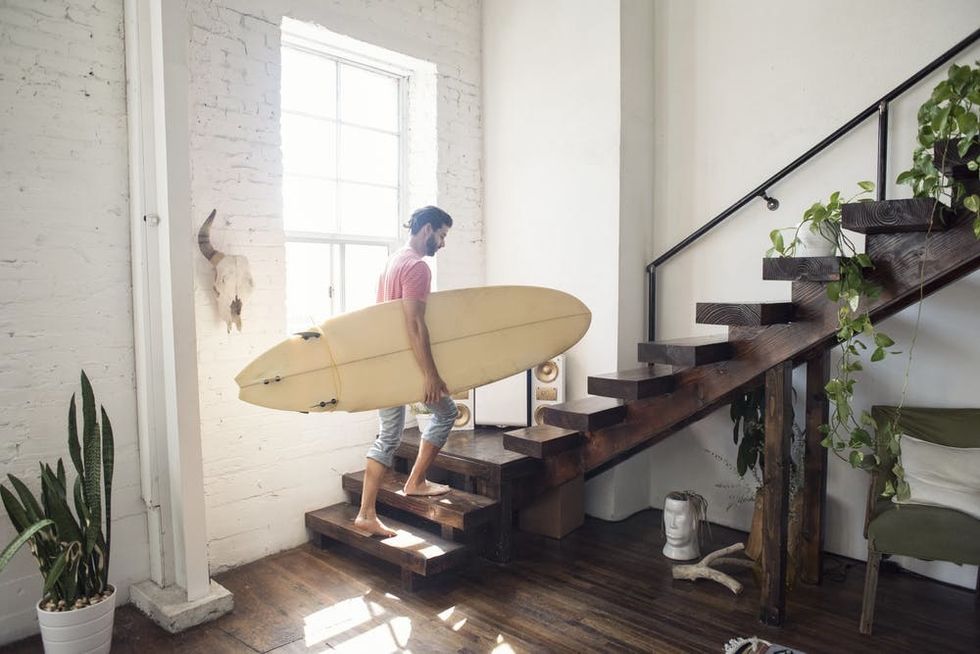 8. Cascading Plants: Transform an open stairwell with living decor! Pick some varieties that even you can't kill and enjoy the luscious green accent to the room! (via Getty)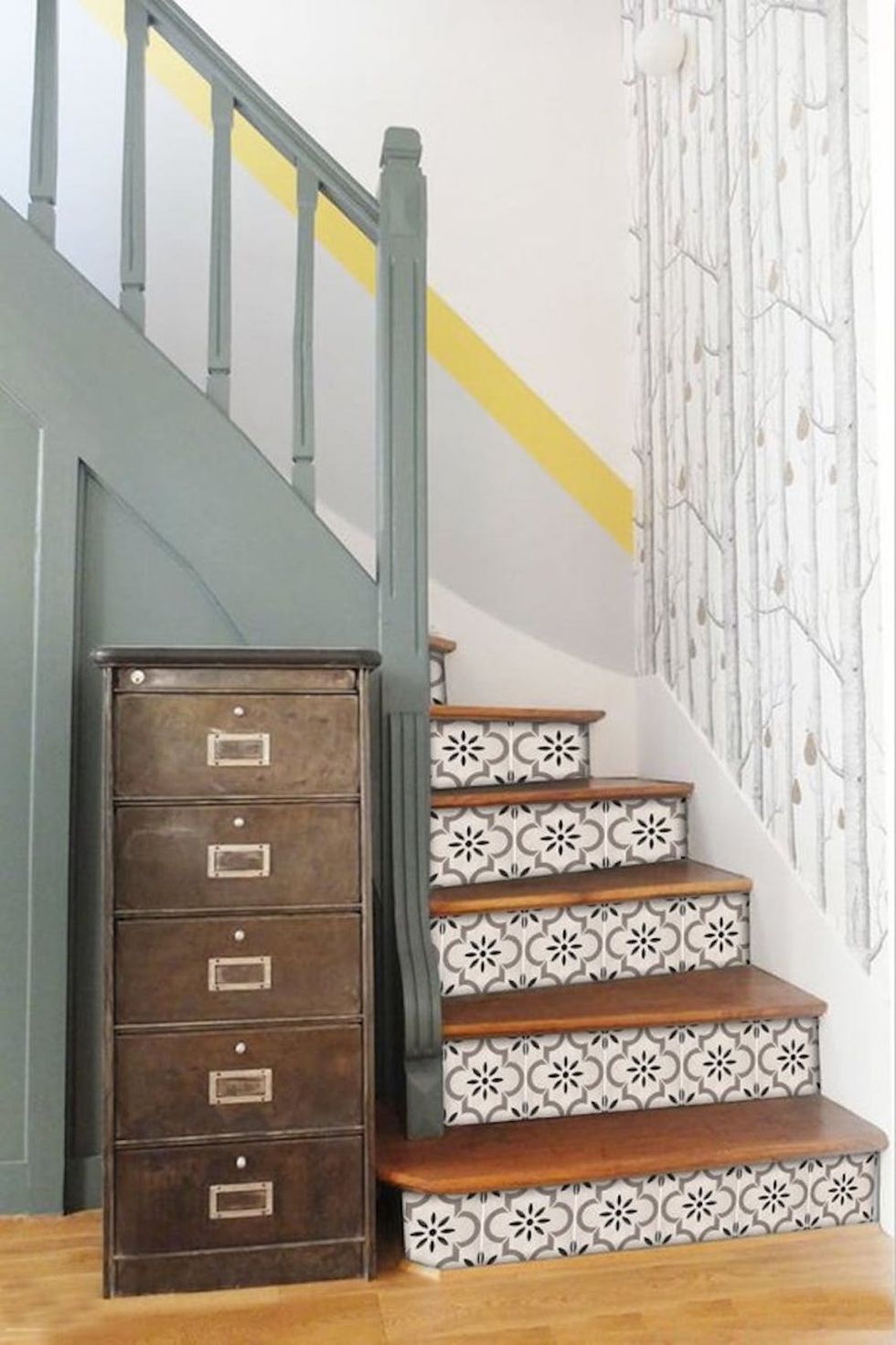 9. Art Deco: Give your home stairs an artsy, tiled effect — minus the messy and expensive tiles. Thank goodness for stickers!! Brit + Co Pick: Quadrostyle Stair Riser Stickers ($12+)
More ideas to consider:
10. XOXO: Cue up MIA's XXXO and rock out while recreating this great DIY project. (DIY Network)
11. Yarn Bombed:Yarn bombers strike again! (via Design Milk)
13. Teal and Yellow: Last, a simple color pairing of deep teal and yellow to add a modern playfulness to a typical staircase. (via Wohnideen)
13. Zebra Stairs: Make it wild with animal print paint, decals, or wallpaper. (via Amber Interior Design)
14. Mice: This look is too cute! We love the idea of doing something similar for basement or attic stairs, where all those creepy crawly critters hang out. (via Houzz)
15. Song Lyrics: The fonts, the colors, and the Doors lyrics. What's not to love? (via Pinklet and C)
16. Beirut Colors: This is our favorite of the bunch. We love the geometric design and the crazy colors. (via Skyscraper City)
17. Seaside Hues: The pastels on this interior design are anything but Easter-y. (via Houzz)
18. Bold Patterns: Make it pop with bold colors and stenciled out patterns. We particularly love the color coordination with the table in the back. (via Home Renovations)
How will you transform your stairs? Snap and tag us @BritandCo!
Brit + Co may at times use affiliate links to promote products sold by others, but always offers genuine editorial recommendations.
Anjelika Temple
As Chief Creative Officer and Founding Partner at Brit + Co, Anjelika Temple brings her voracious consumption of all things creative and colorful to DIY projects, geeky gadgetry finds and more. When she's not DIY-ing her heart out, you'll find her throwing dinner parties with friends or adventuring with her husband David, their daughter Anokhi, and their silly dog Turkey.
Home Decor Inspo