11 Modern Groom Looks That Ditched the Traditional Tuxedo
Jun 22, 2016
Your fiancé has a unique style that is all their own, so you want to make sure to show it off on your big day! While your groom might not have a lot to say about the centerpieces and he didn't flinch at the unexpected wedding colors you picked, he'll definitely care about how he looks. The 12 stylish groom outfits below are unique and perfect for your dapper dude. From trendy colors to unique bow ties, there is something on the list for every groom-to-be.
---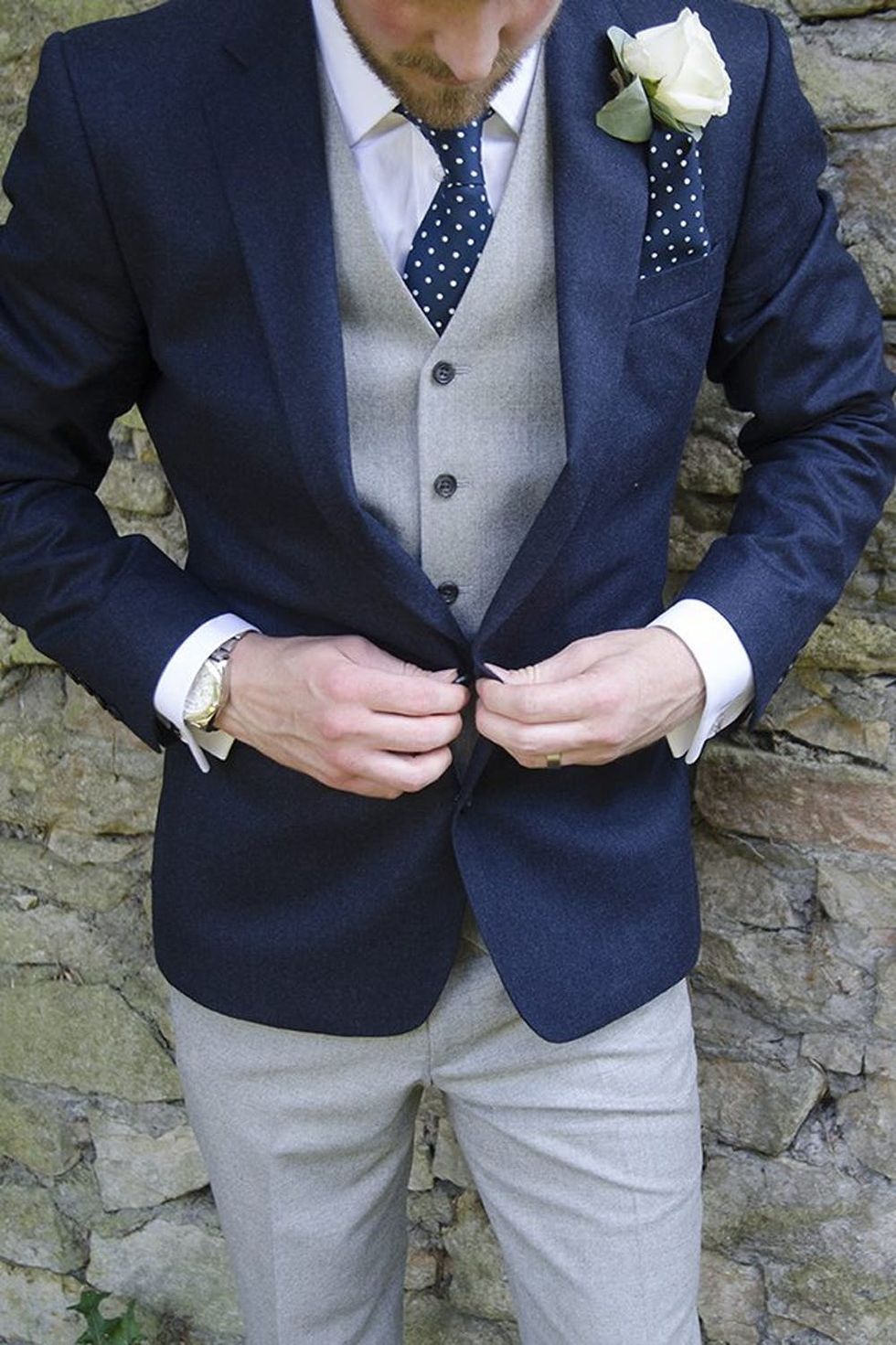 1. Something Blue: Gray and navy is a color combination that never gets old. Your husband-to-be will look absolutely dashing in this ensemble complete with a polka dot tie and pocket square. (via Chanelle Knapp Photography / Whimsical Wonderland Weddings)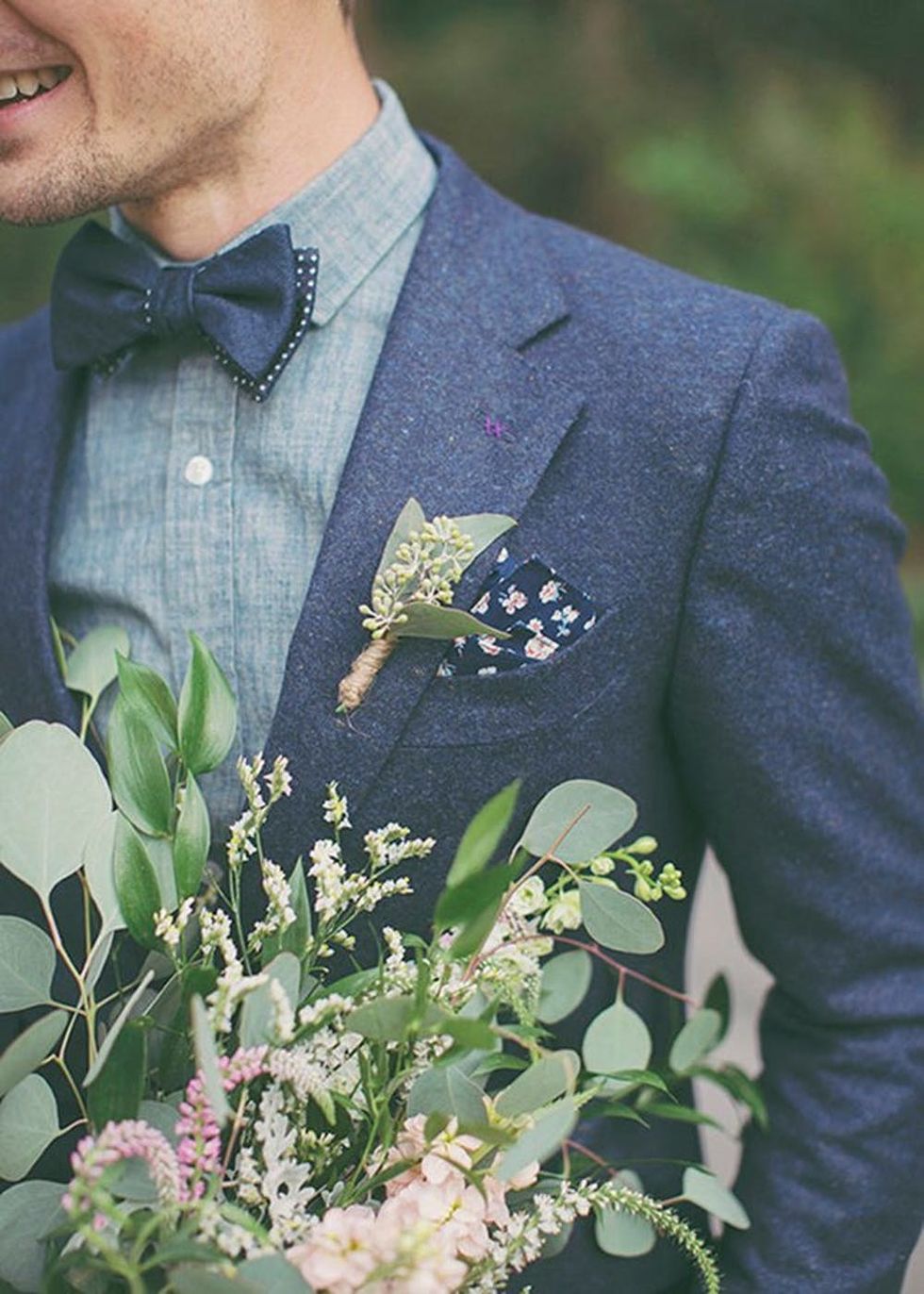 2. Homespun Honey: Ditch the vest for a linen dress shirt and a double bow tie for a more laid-back look. Add a patterned pocket square to really top off the backyard vibe. (via Alixanne Loosle Photography / 100 Layer Cake)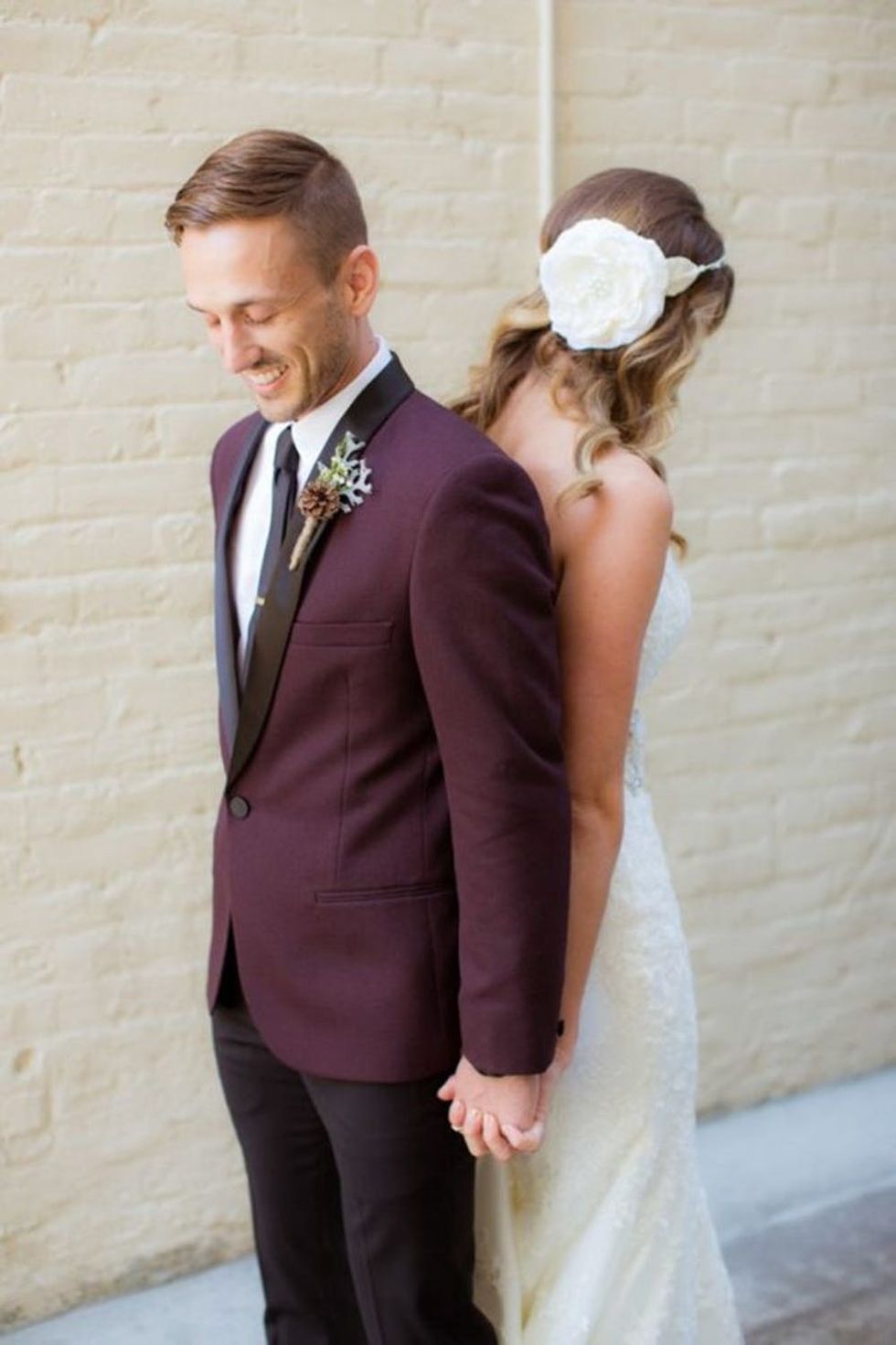 3. Modern in Maroon: Trade in the typical black tuxedo for a moody maroon jacket that is anything but average. The dark hue will look stunning standing next to your gorgeous wedding dress. (via The Youngrens / Style Me Pretty)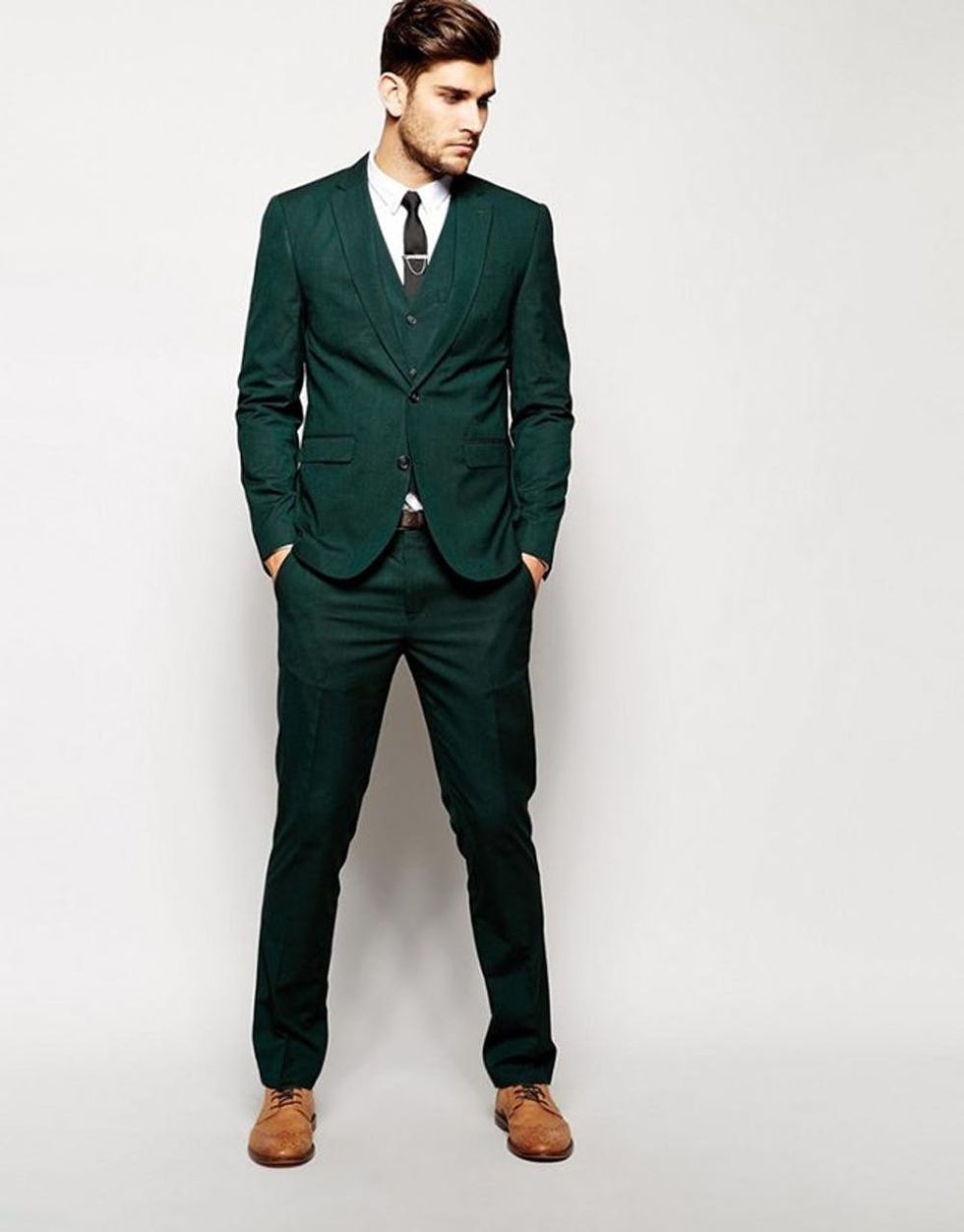 4. Emerald Edge: Match your emerald-cut diamond with this stunning suit and all your guests will be green with envy. You'll be racing down the aisle to get a closer look at your handsome man. (via ASOS)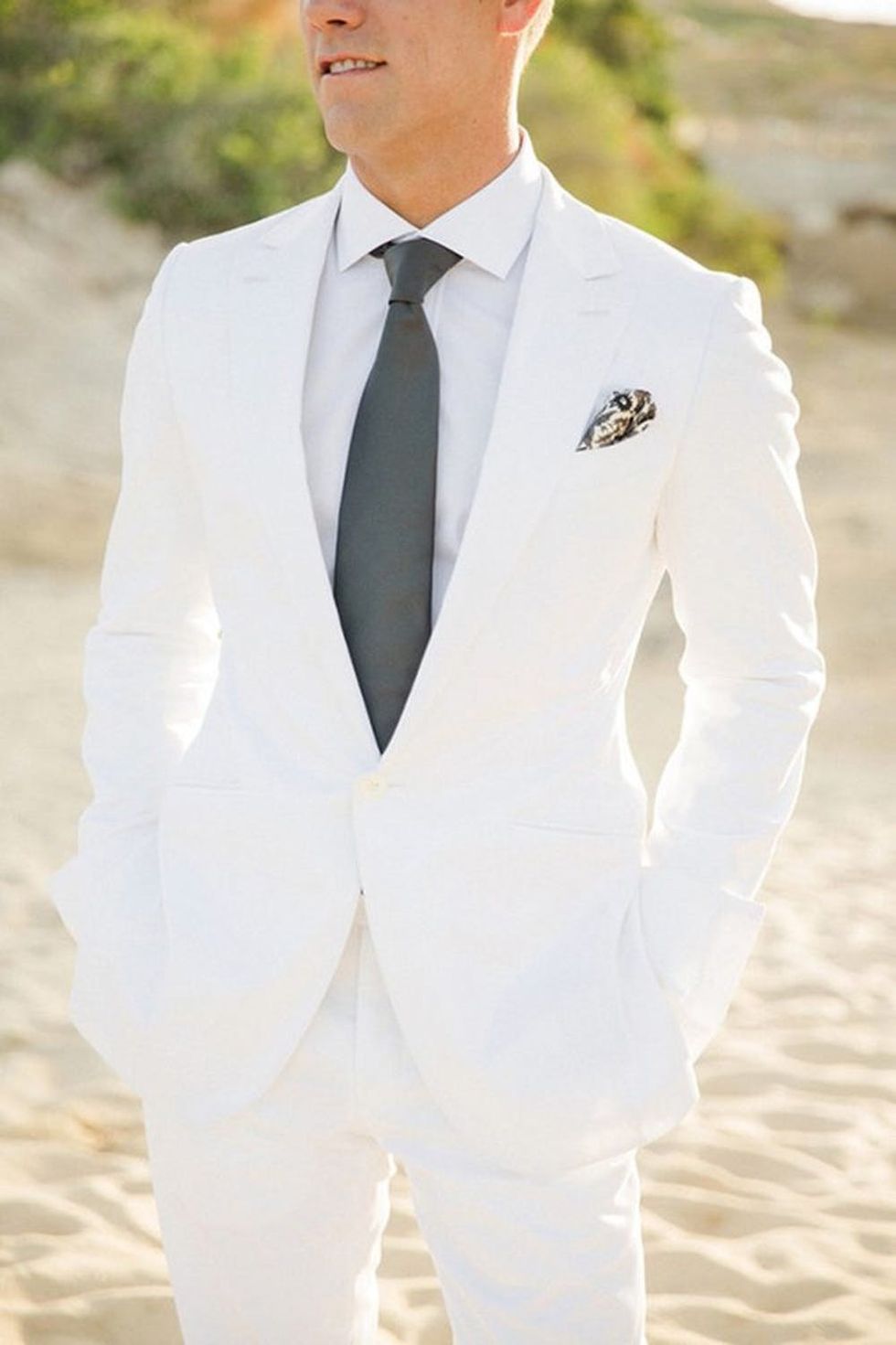 5. White Wedding: Brides aren't the only ones dressed in white these days. Dressed head to toe in a stark white, you and your groom will share the spotlight. (via Sara Richardson Photography / 100 Layer Cake)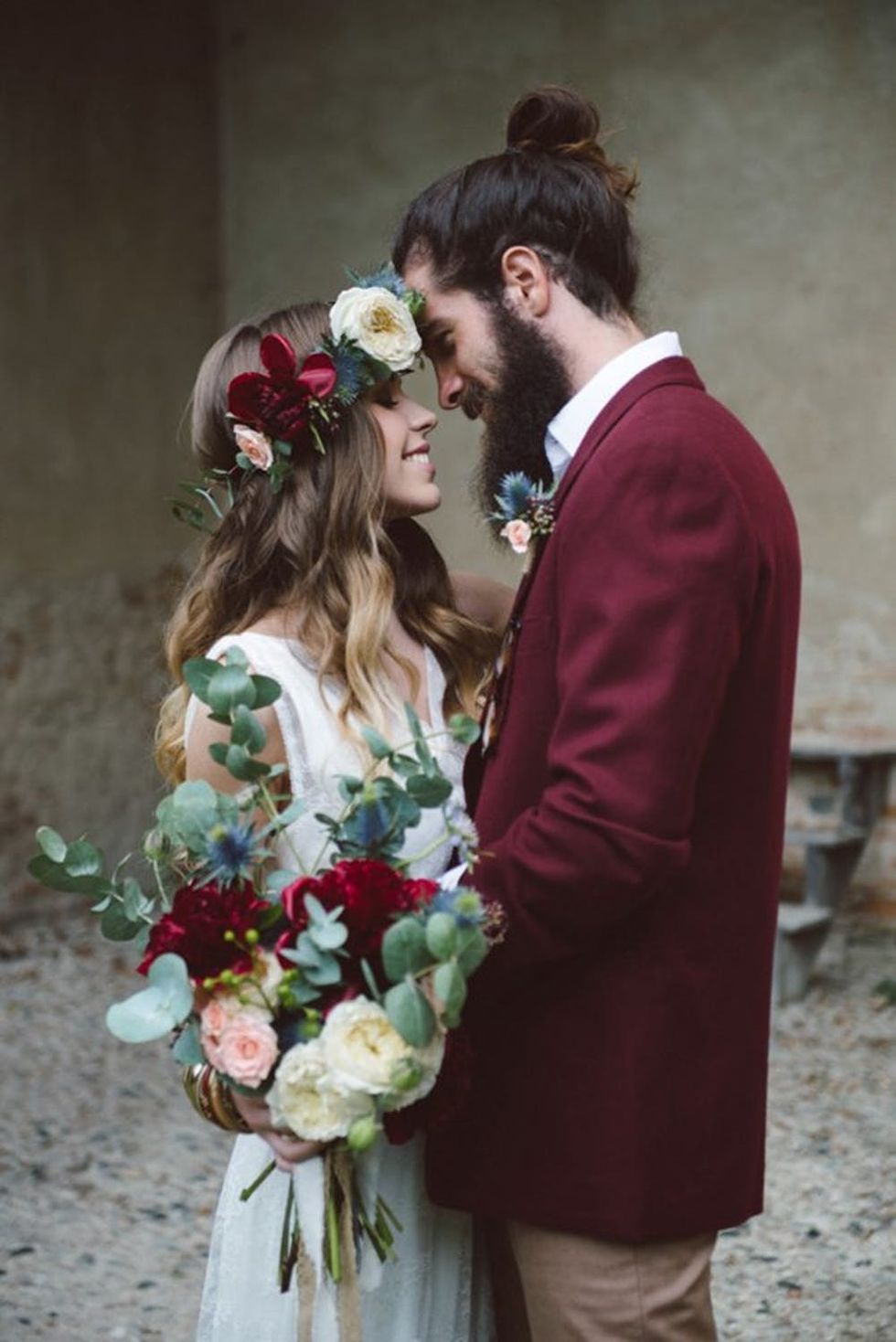 6. Handsome Hue: Pairing a maroon jacket with khaki pants and a beautiful bride is a flawless combo. But don't stop there — complete your wedding style with matching maroon flowers in your bouquet and floral crown for an instant crowd-pleaser. (via Margherita Calati Photography / Bridal Musings Wedding Blog)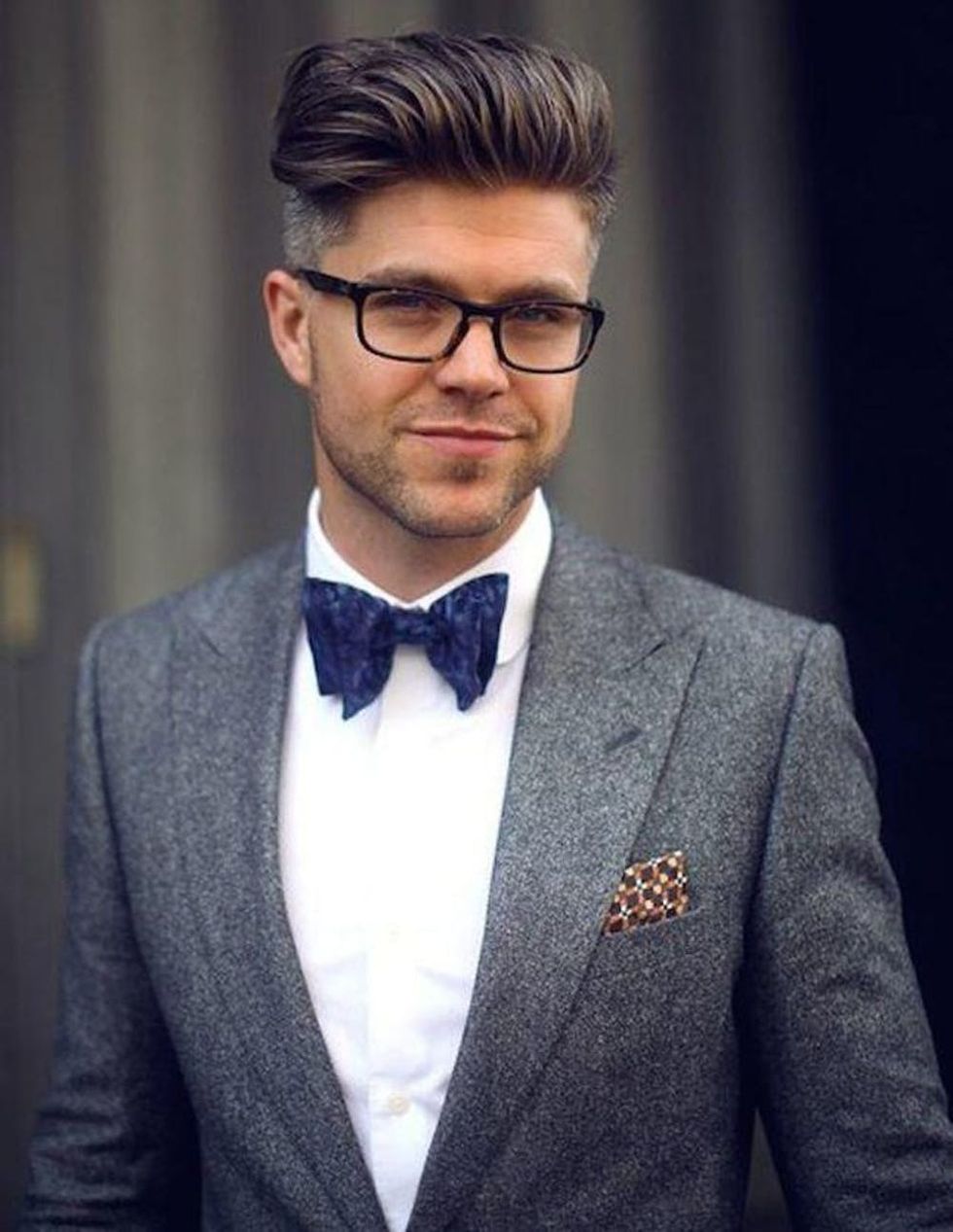 7. Trio of Textures: This ensemble is the complete trifecta. The jacket, bow tie and pocket square are perfectly mismatched to create a stylish look that would make any bride swoon. (via Jonathan Daniel Pryce / Garcon Jon)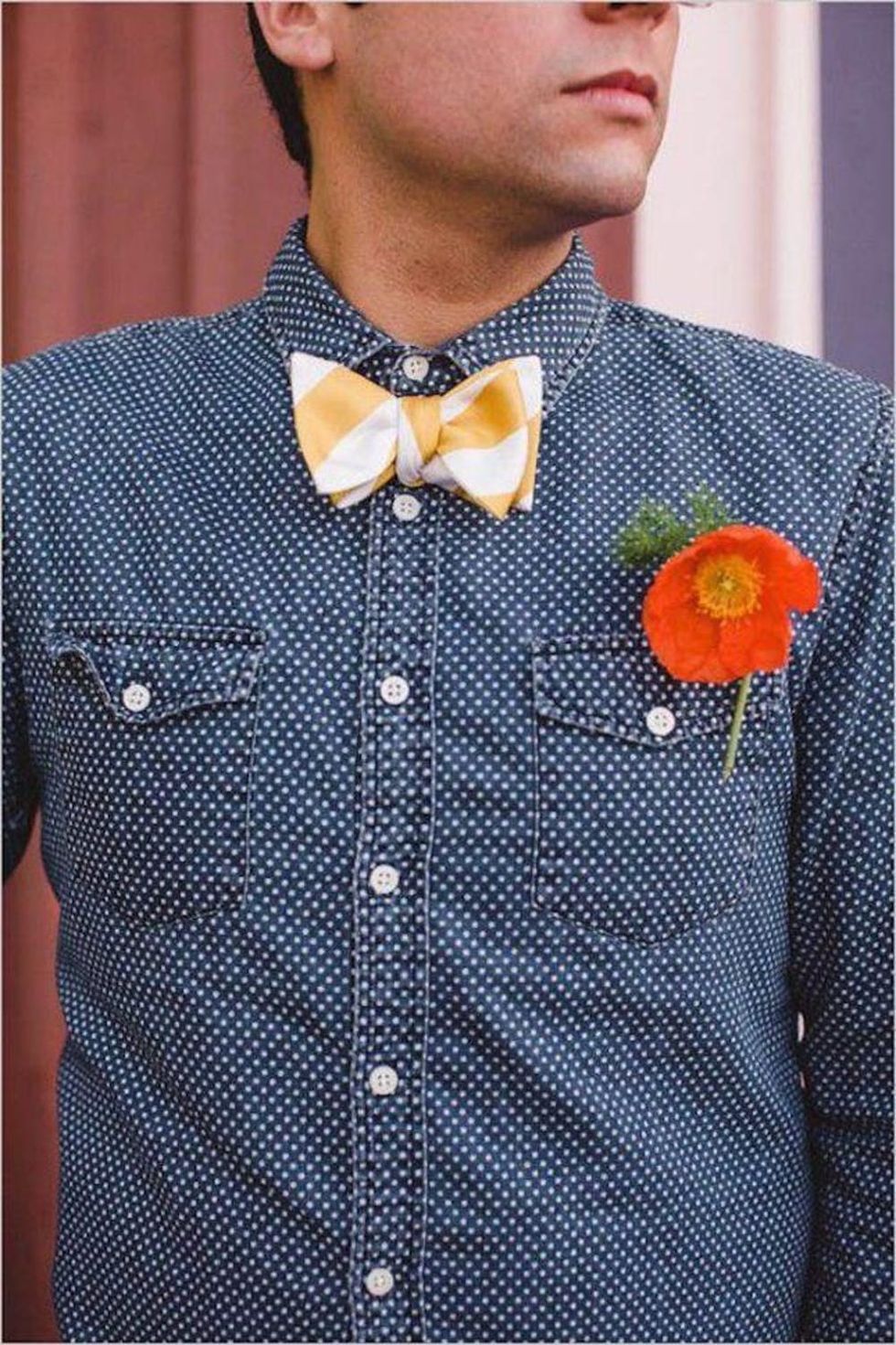 8. Preppy Polka Dots: Skip the vest and jacket for a polka dot button-up that is fun and fashionable. Spice it up with a bright boutonniere and you've got an instant stud. (via Mathieu Photo / Wedding Chicks)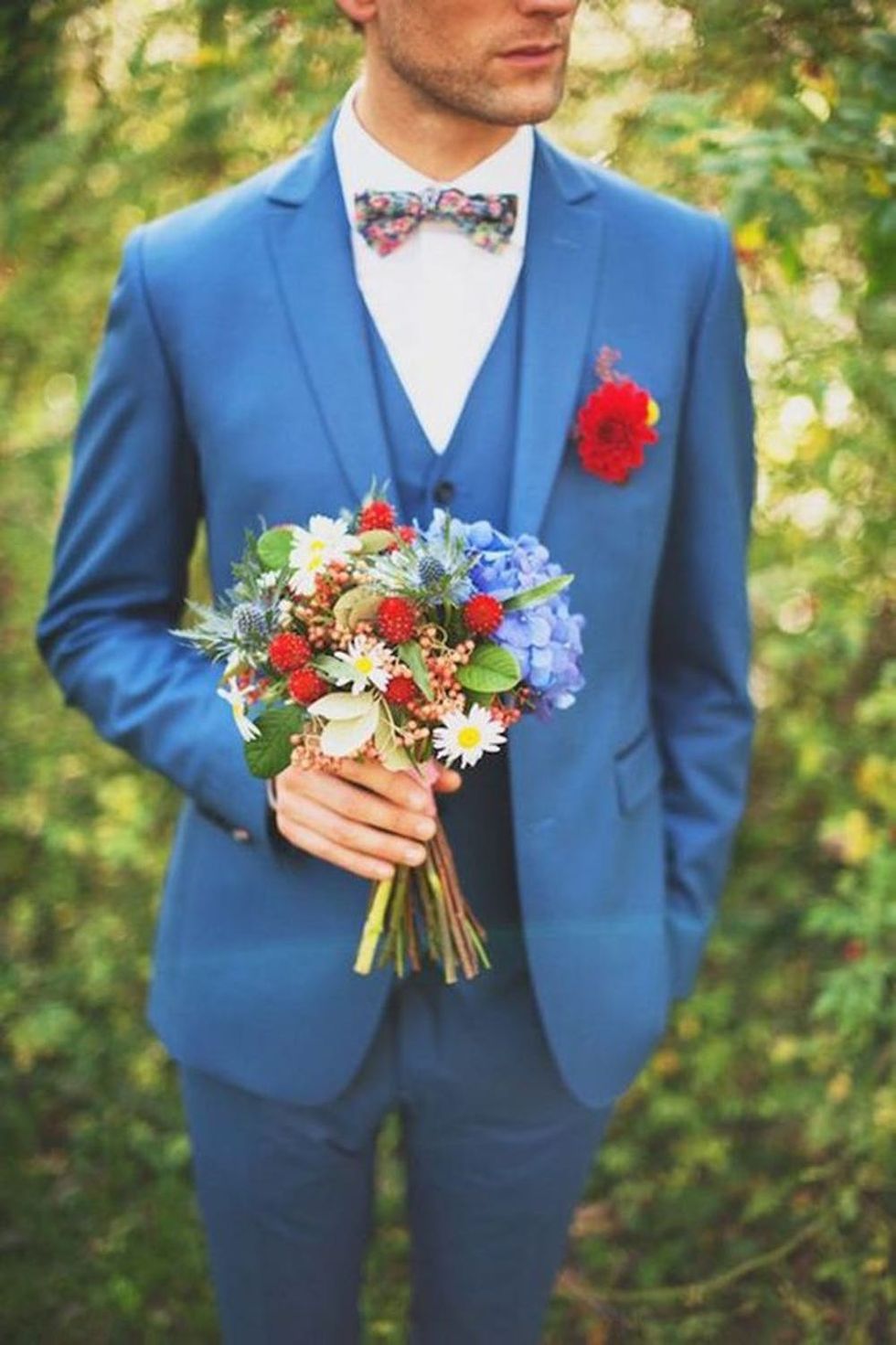 9. Brilliant Bow tie: Give your guy a little extra flair by choosing a bow tie to complement your bouquet. The extra thought will create a style that's a match made in heaven. (via Marion Heurteboust Photography / Aisle Perfect)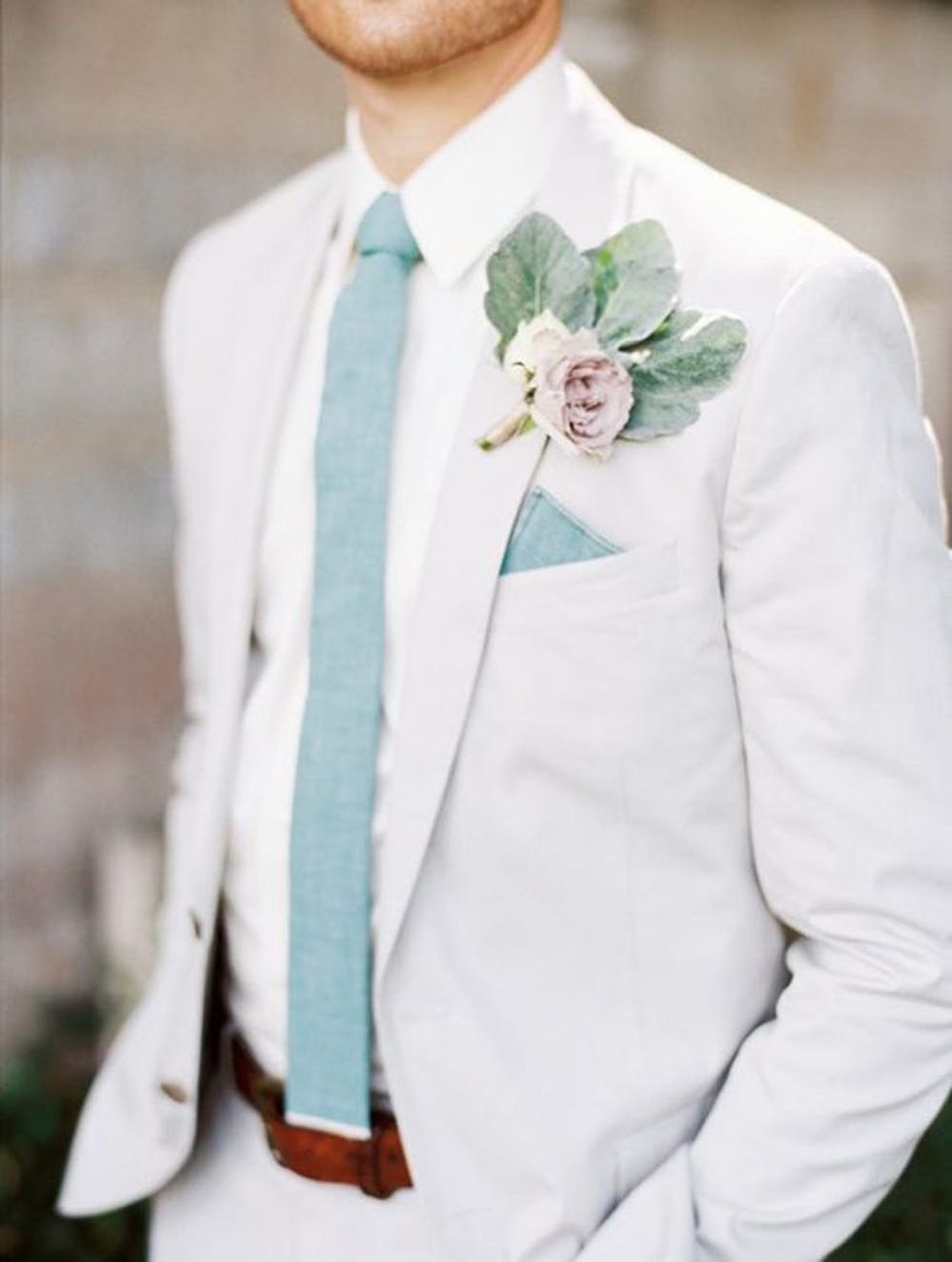 10. Cool Mint Blue: This lovely and light combination of cool gray and mint blue are perfect for a destination wedding. It's the best blend of laid back and sophisticated. (via Whitney Neal / Style Me Pretty)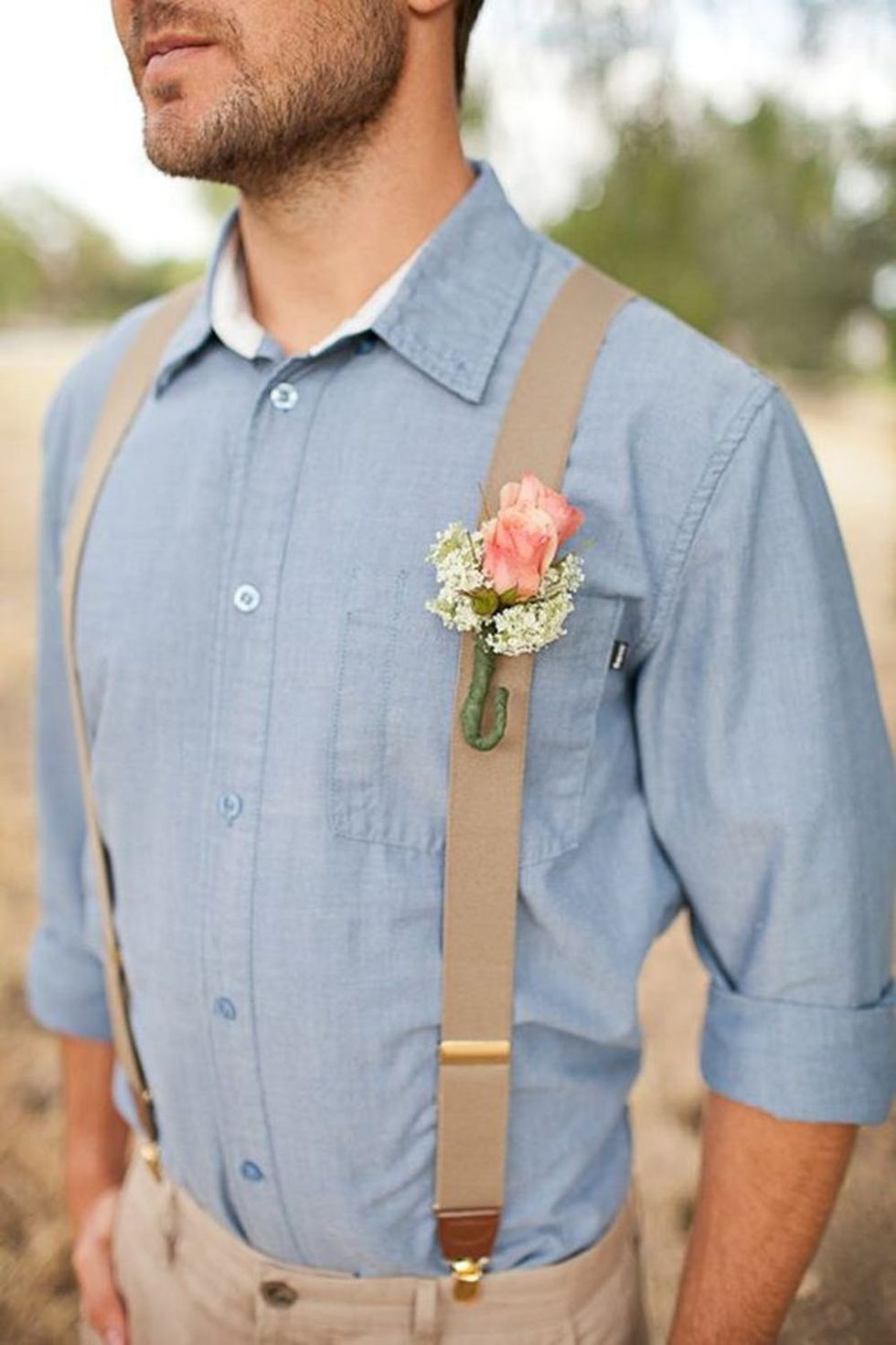 11. Boho Chic: Nothing will look better at your backyard wedding than this tan and baby blue look. The suspenders and baby's breath boutonniere really add to the boho charm. (via Janelle Marina Photography / Wedding Chicks)
Check out all things Brit + Co Weddings, and follow us on Pinterest for more groom + wedding inspo.