The Hashtag #ILookLikeanEngineer Shows the Many Faces of Women in Tech
Aug 04, 2015
It's pretty exciting that the STEM community is finally becoming more inclusive towards women (two thousand and late, much?). We have apps to teach young girls how to code and big companies like IBM making things easier for working mamas but unfortunately women in those fields still face some workplace issues.
Isis Anchalee, an engineer in Northern California wrote an essay recently about how she sometimes felt like her work environment was toxic. "Most people are well intentioned but genuinely blind to a lot of the crap that those who do not identify as male have to deal with," she says in her essay on Medium. Isis says she's faced weird sexist interactions at work including a male coworker throwing dollar bills at her and sexist backlash from a recruitment campaign with her face on it. The consensus seems to be that most of the men she works with are "nice" and "well intended" but that "this industry's culture fosters an unconscious lack of sensitivity towards those who do not fit a certain mold."
---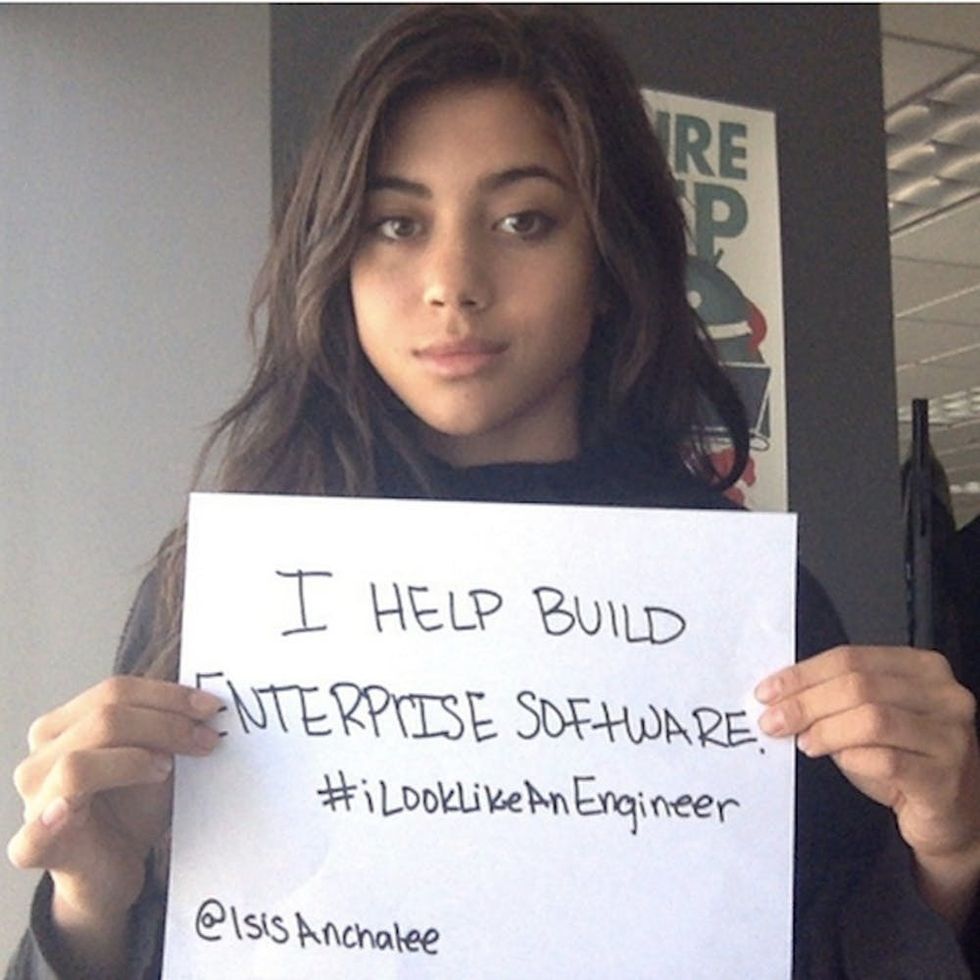 Isis wanted to challenge this mold so she put out a simple call to action to women in her field to post pictures of themselves on Twitter. The pics came in under the hashtag #ILookLikeAnEngineer and show just a small sampling of the huge amount of diverse, beautiful and talented women engineers (or as we like to think of them: engineers).
#ILookLikeAnEngineer who could use more sleep. No need to run my creds, I'll still be an eng without your validation. pic.twitter.com/KhCBh8LPNL

— ¯_(ツ)_/¯ (@EricaJoy) August 4, 2015
Speaking about @reactjs #ILookLikeAnEngineer pic.twitter.com/drIYQQmzoi

— Nicole Sullivan (@stubbornella) August 4, 2015
Developed an app that securely overwrites & deletes Android metadata. Now I'm a cyber engineer #ilooklikeanengineer pic.twitter.com/immzyEtfyD

— buttaluv. (@bunxgawd) August 4, 2015
Self-taught iOS dev, got a dev degree (1st in class), spoke @ WWDC & more, co-founded @tutulab #iLookLikeAnEngineer pic.twitter.com/qSeAuo90Lh

— Natalia Berdys (@batalia) August 4, 2015
#ILookLikeAnEngineer who likes mesh routing, IoT stuff, standardization, and handbags that look like other things pic.twitter.com/DFA79jOhRk

— lotterleben (@Lotterleben) August 4, 2015
I build accessible UIs, have a CS degree, actually dream about bug fixes… & collect food hats. #ILookLikeAnEngineer pic.twitter.com/sEaHOReymv

— Cordelia (@cordeliadillon) August 4, 2015
#ILookLikeAnEngineer Embeded software for medical systems. 15 years an engineer and loving every minute of life 😃👍 pic.twitter.com/g6Savgrtjm

— Roxanne July (@RoxanneJuly) August 4, 2015
Isis hopes this campaign will help people see the diverse faces of tech and maybe combat some of the sexism therein. "I just want to make it clear that we are all humans," she says. "And there are certain patterns of behavior that no one should have to tolerate while in a professional environment."
Have you ever faced sexism in the workplace? Tell us in the comments!
(Feat Image via @isisAnchalee)
Molly Sanchez
Molly Sanchez is a writer, comedian and lover of burritos everywhere. She has written for The Bold Italic, Liquid Bread, Thrillist and HelloGiggles. She devotes her time to Bloody Mary research, exploring San Francisco and promoting wide spread shower beer awareness and appreciation. Find her on Twitter @seriousmolly trying to get famous people to laugh at her jokes or on Instagram @mollyfuckingsanchez where she swears a lot.
Tech