The Ultimate Hair of the Dog Cocktail: Kombucha Punch
Jun 02, 2012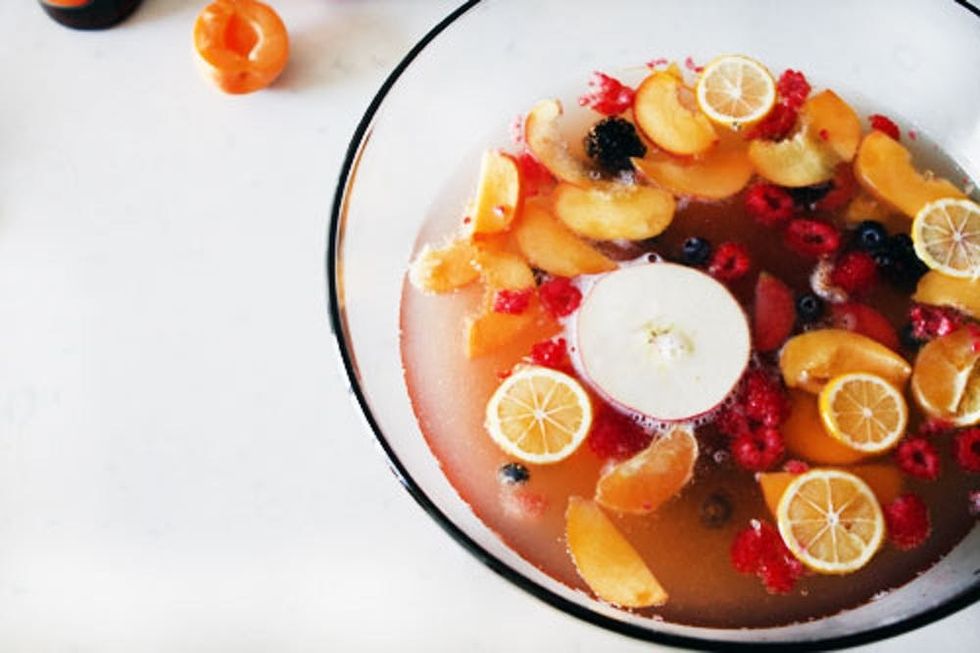 We've all got a few go-to remedies for curing what ails you after a late late night. There's the movie-watching naptime approach a la our DIY New Year's Eve Recovery Kit. There's french fries for greasy goodness, fresh fruit for body cleansing, coconut water for cool refreshment, and kombucha for crazy antioxidants. There's the reliable Hair of the Dog technique, usually in the form of a Bloody Mary, Mimosa, or Bud Light. And then there's the Ultimate Hair of the Dog Cocktail. Kombucha Punch.
---
– 3 bottles of kombucha
– fresh fruit
– alcohol! (vodka and something bubbly)
Here's what we used: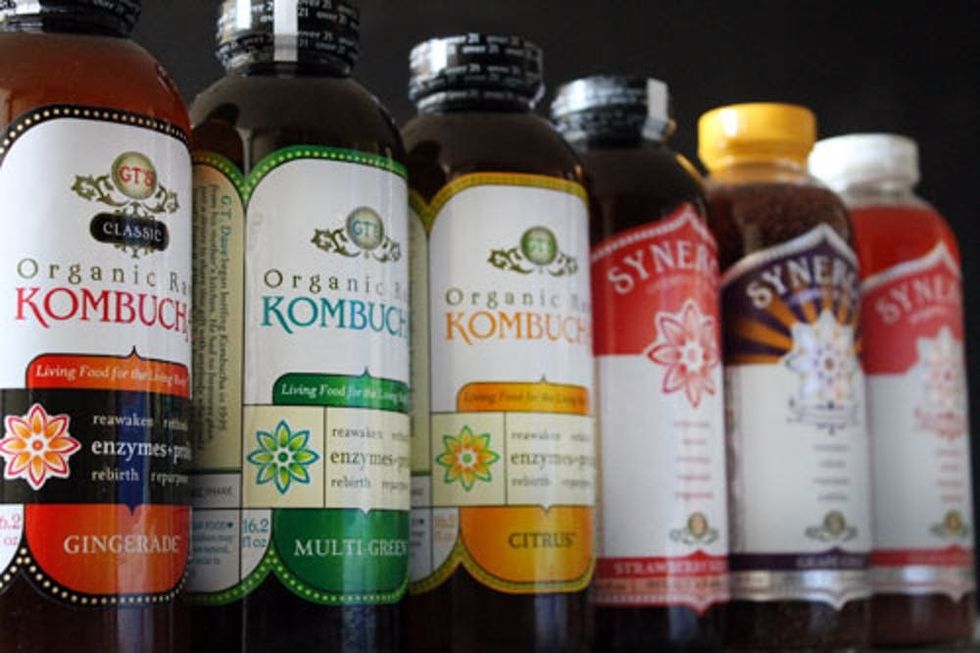 Kombucha
– 1 bottle of Synergy Strawberry Serenity
– 1 bottle of Gingerade Kombucha
– 1 bottle of Citrus Kombucha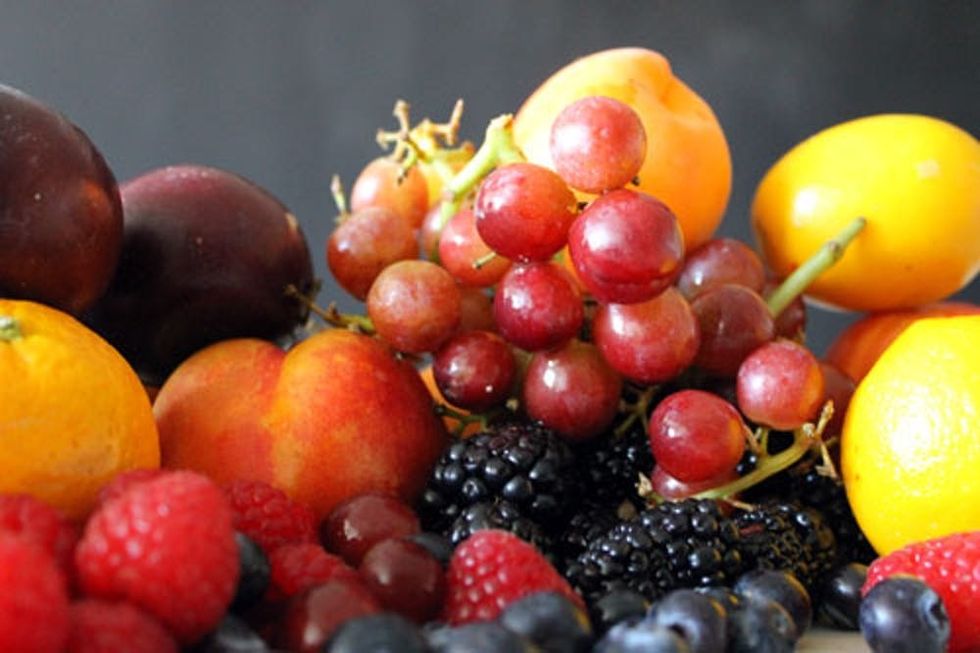 Fruit
– 1/2 an apple
– 1 plum
– 1 nectarine
– blackberries
– blueberries
– raspberries
– 1/2 a meyer lemon
– a handful of grapes
– 1 orange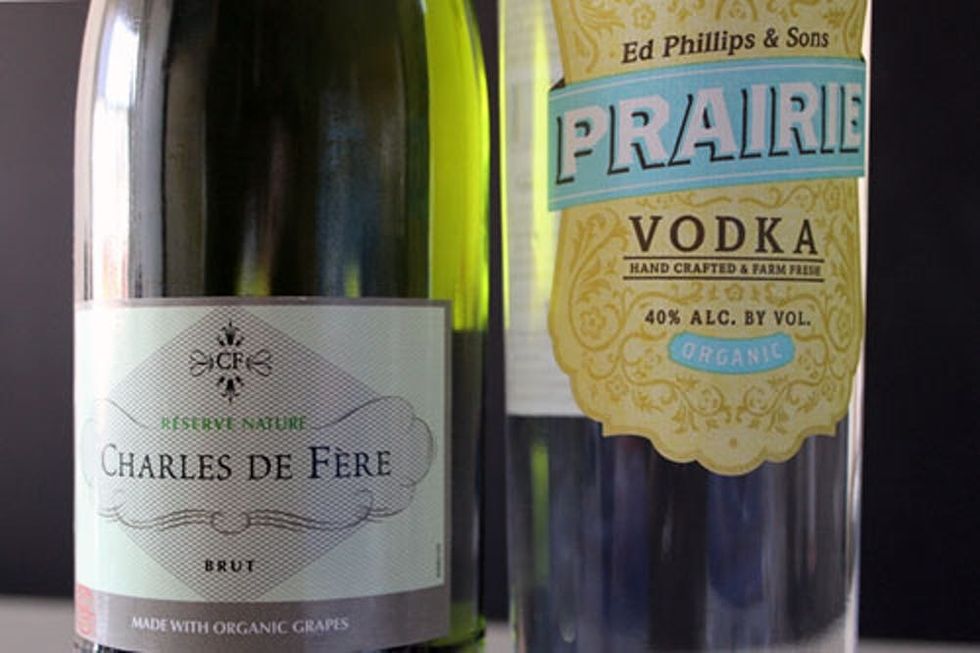 Alcohol
– 2 1/2 cups of Prairie Organic Vodka, or any vodka of your choice
– 1 bottle of Charles de Fere Organic Brut, or any champagne or prosecco of your choice
This is super simple recipe, and easy to improvise and build upon.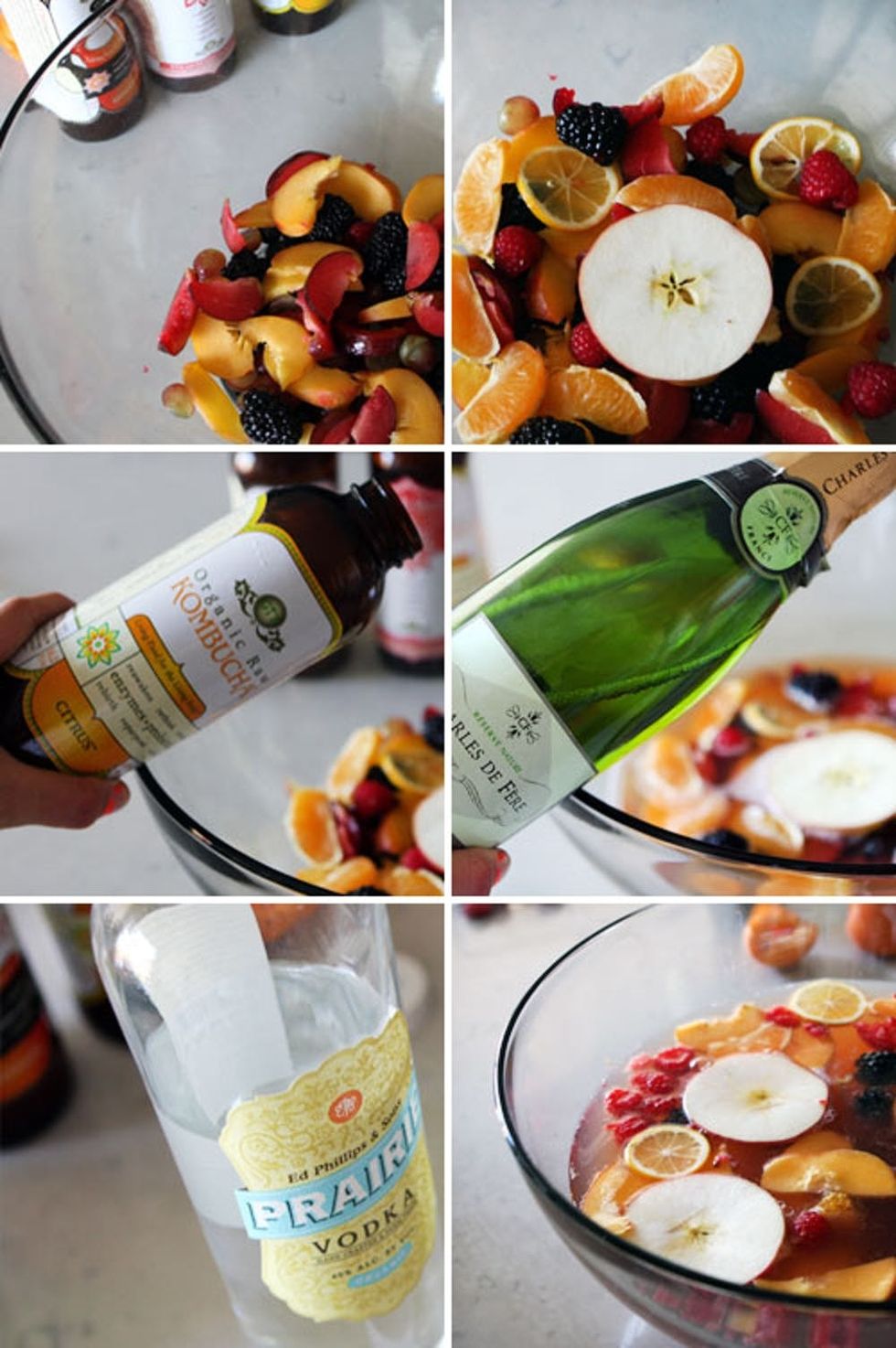 First, we sliced up the nectarines and plums and tossed them in a bowl with about 1 cup of each kind of berry.
Add in some sliced apple, sliced lemon slices, and peeled orange wedges.
Pour in all of your Kombucha. Stir. Add in the bottle of champagne. And finally the vodka. Stir everything together.
Chill for at least 2 hours before serving, or pour over ice. We definitely recommend chilling if you've got time!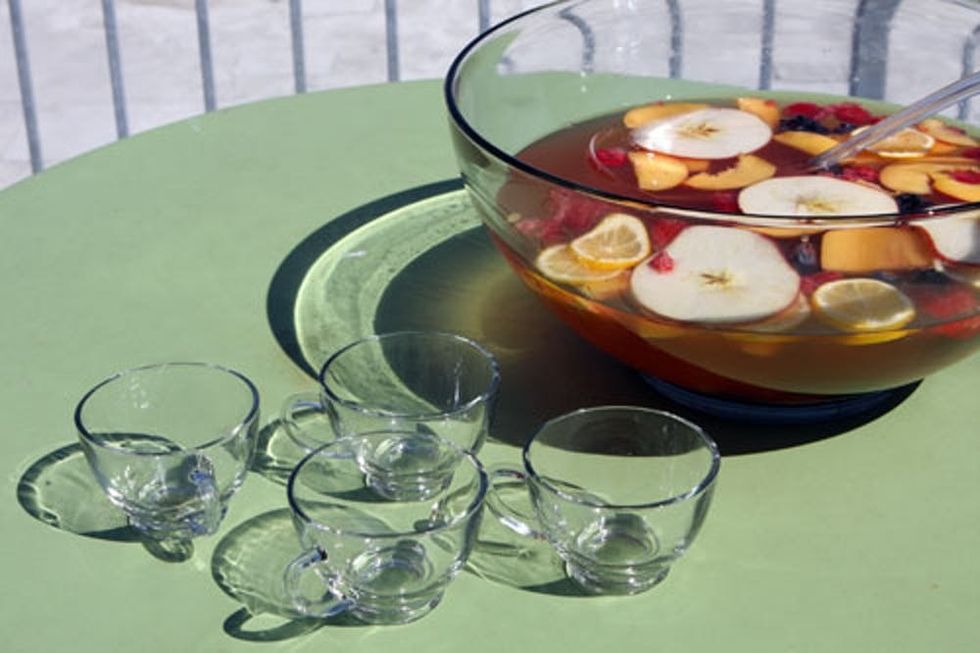 Then head to your rooftop, find a vintage lime green table, and have yourself an afternoon cocktail.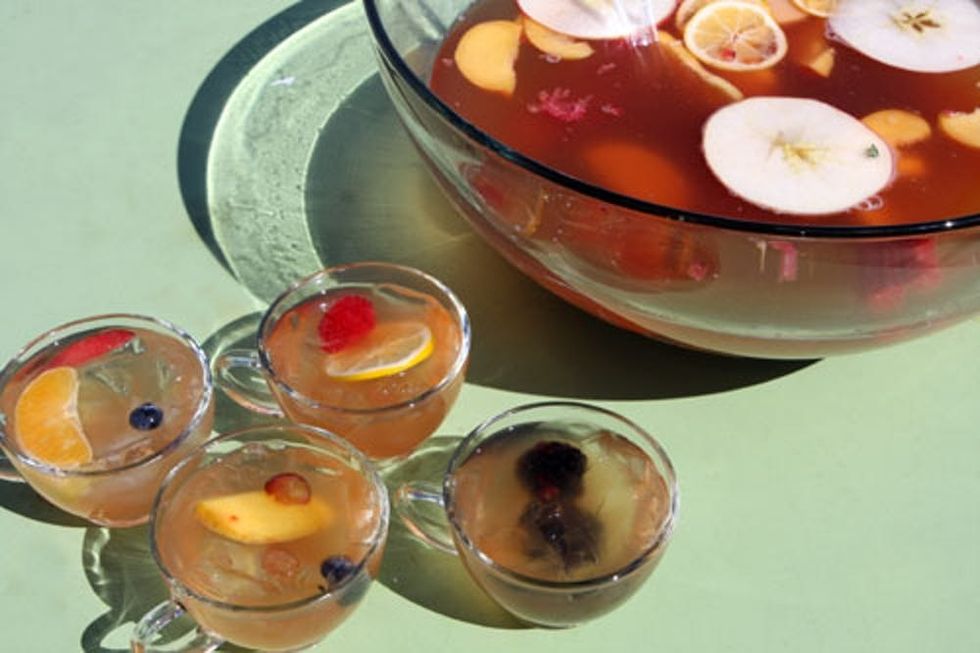 Bonus points if you have a giant punch bowl with the most adorable punch cups around.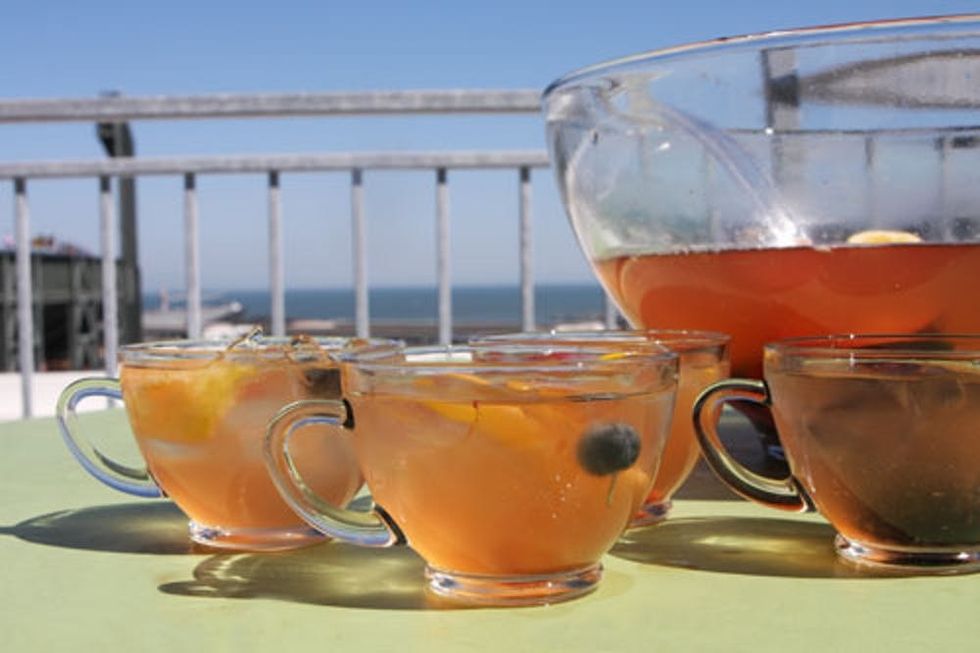 Double bonus points if it happens to be a super clear, sunny, blue sky kind of day. Oh, summer. :)
Stay tuned for refreshing cocktails all summer long. Now get outside and get your daily dose of Vitamin D! And if you've got a favorite summer drink recipe we should try out, let us know in the comments below or find us on Twitter.