The Women Behind the Pro-Choice Handmaid Protests
Jun 22, 2017
In late March, women dressed as handmaids from Margaret Atwood's classic dystopian novel, The Handmaid's Tale, assembled in the Texas state capitol in protest of several anti-abortion measures moving their way through the state legislature. The book is now a hit show on Hulu, and similar handmaid protests in Ohio, Missouri, California, and New York — where women dressed in foreboding red robes and stark white bonnets — have gone completely viral and captured the attention of a country that seems always to be fighting over healthcare.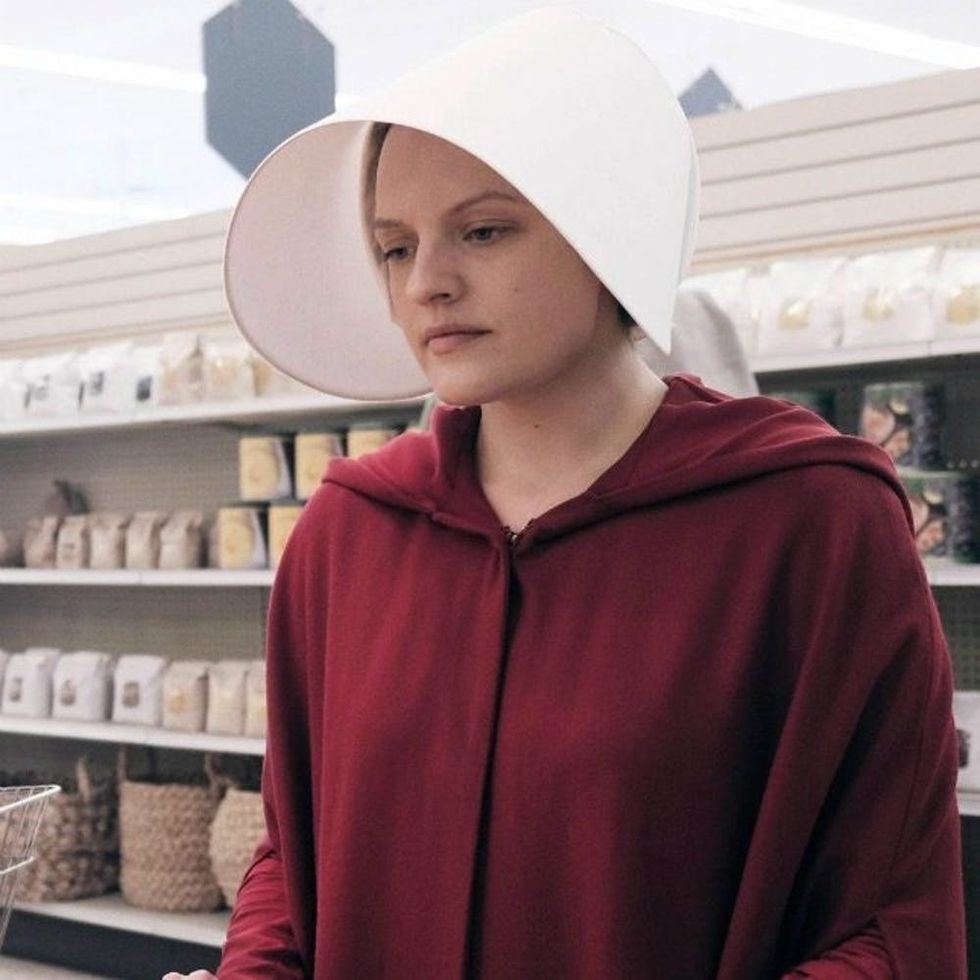 ---
Atwood's book and the Hulu show tell a harrowing story of female subjugation and oppression in a near-future theocratic US government. In the story, women are forced to have children. To protest abortion measures that would restrict women's access to safe and affordable reproductive care, the IRL handmaid protesters adopt the symbolism of the story to make a point about draconian and dangerous anti-choice bills and laws.
The first Austin, Texas protest was organized by Heather Busby, executive director of NARAL Pro-Choice Texas. Women in full handmaid costumes lined the rotunda of the Capitol building, where conservative legislators were working on five bills that would restrict abortion access. The protesters have gathered two additional times in Texas: once in April and again in May.
Katherine Miller, a pro-choice activist who lives in Austin, Texas and has participated in both handmaid protests in Texas, tells Brit + Co that although the heavy cloaks they wear to their events are restricting (and very hot; this is Texas, after all), she knows the message they are sending by donning these outfits is one of empowerment and inspiration. And not just for women, Miller tells us, but for all people.
"I want people to see our actions and call their representatives," she says. "Tweet them, FB them, show up at town halls and meetings and challenge their misogyny face to face."
The #OhioHandmaids waiting silently as the state considers the next plan to force women to give birth against their wishes or medical advice pic.twitter.com/pGBBBlK9rO

— NARAL ProChoice Ohio (@ProChoiceOH) June 13, 2017
Pro-choice activists in Ohio staged their own handmaid protest on June 13 to push back against Senate Bill 145, which aims to end access to a common second-trimester abortion method.
As all the protests have been, the Ohio handmaid protest was a collaborative effort between various pro-choice groups, including NARAL. Jaime Miracle, deputy director of NARAL Pro-Choice Ohio, helped to organize the June 13 protest, and tells us that the Ohio chapter of NARAL partnered with the state's chapter of Women Have Options, an abortion fund.
Miracle tells Brit + Co that after NARAL and WHO decided to partner, they found the red capes at a local party supply store, and WHO executive director Stephanie Sherwood made the bonnets. "We have a great core of activists who help with protests and clinic escorting in Columbus Ohio, so we reached out to those folks and formed a Facebook group to organize the logistics," she tells us. "It actually came together fairly easily. People are ready to fight."
Miller says that the Ohio contingent of handmaids plans to protest in Austin again on July 18, and that the group is having a sewing party this weekend to get all the costumes ready for the event. As a principal element of the protest, the costumes mean a lot to the women who wear them. Miller says she herself doesn't sew, but the parties are meaningful events for her.
"The sewing aspect is a deep connection for me," she tells us. "My mother (who passed in 2002 from lung cancer) was a talented seamstress. She gave me many books as a younger woman; Handmaid's was one [of them]. So seeing the women sew and create and to be inside a garment made of love really cements my belief in what we do as sacred."
Have you seen or even participated in a Handmaid-inspired protest? Tell us about it on Twitter @BritandCo.
(Image via Hulu)
Elizabeth King
Elizabeth King is a politics, history, and culture writer based in the Twin Cities. She is generally pretty cranky but still enjoys traveling, music from the early 2000's, and plotting the resistance. Feel free to say hi on Twitter at @ekingc or check out some of her work at www.elizabethcking.com.
Womens Health