What to Buy in March for Max Savings
Mar 01, 2017
We've made it through the dark days of February, and it's finally time to start thinking about packing away our winter coats. As we begin to see spring as the light at the end of the proverbial tunnel, we have so much to look forward to: the return of rosé, weekend afternoons spent outside, and (of course) spring fashion. If you like to get your kicks with a little bargain shopping, March is a great time for you too, thanks to end-of-winter sales.
Scroll down to find out more about which items are priced especially well this month!
---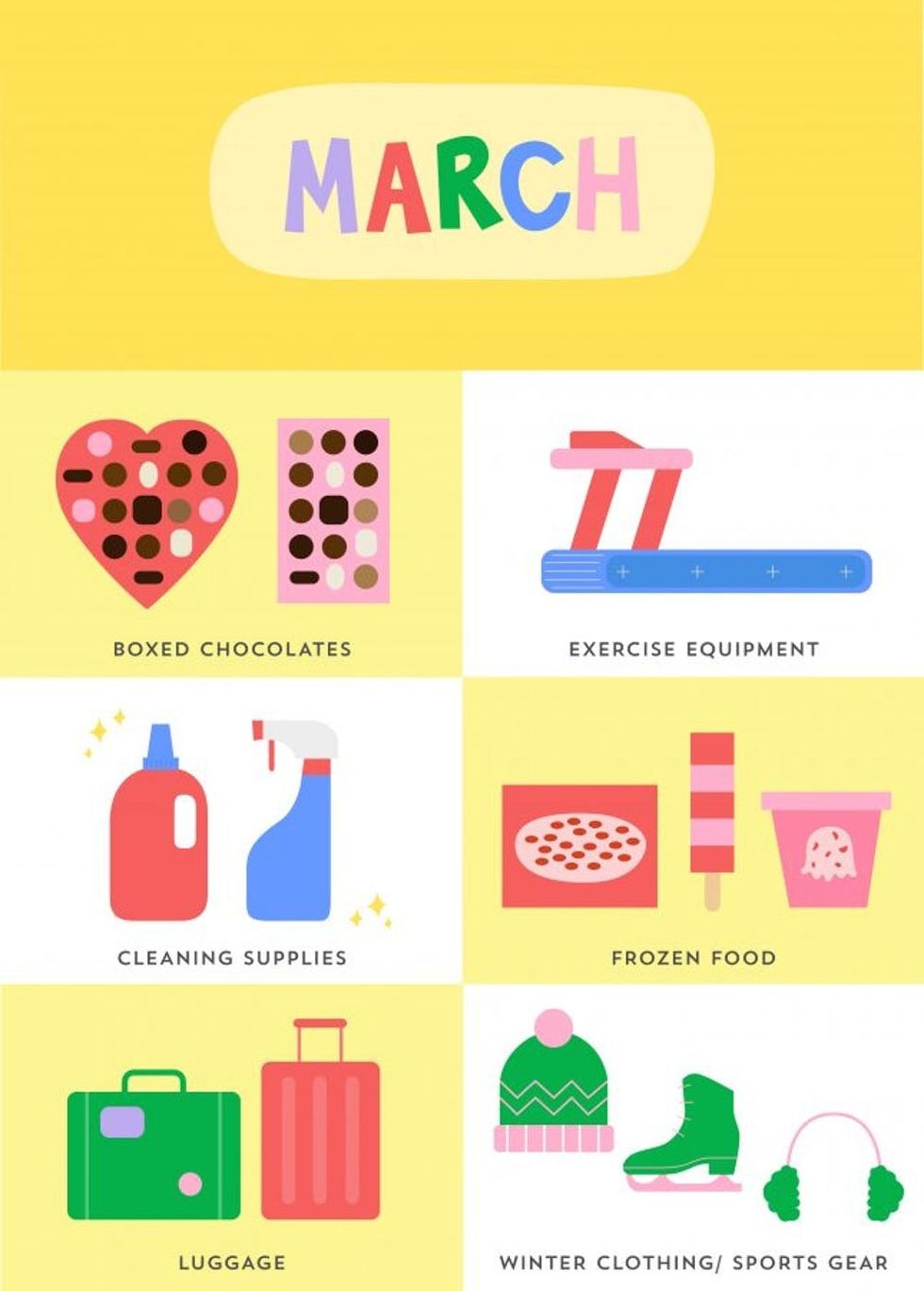 1. Boxed Chocolates: The romance (and stress) of Valentine's Day is behind us, but there's no wrong time of year to eat chocolate. Stores will be rolling out discounts on all of the high-end candy gift boxes that didn't sell in February, so be ready to jump on those great deals. You'll be glad to have these on-hand next time a present-giving occasion comes around — or, better yet, the next time you want to give yourself a treat.
2. Digital Cameras: Major camera brands tend to release their newest products in the late spring, so March is a great time to look for deals on last year's models. This retail cycle works out particularly well for us, since we want to be ready to document graduation season and all of our summer travels.
3. Exercise Equipment: If you've been considering buying a treadmill or elliptical machine so you can create a home gym, March is the ideal time to do it. Stores are still stocking the equipment that hasn't yet been picked up by fitness-driven New Year's Resolution-ers, and you'll likely find that they're running sales in order to clear out that inventory. Who says that we shouldn't take advantage of others' abandoned health goals so that we can pursue our own at a better price?
4. Cleaning Supplies: Spring cleaning, anyone? Retailers know that we're all starting to think about tidying our nests at this time of year, and they're making it easier for us to do so by discounting cleaning supplies and cleaning equipment, such as vacuums. Maybe this means we're running out of excuses for the thin layer of dust sitting on all of our things…
5. Frozen Food: March is National Frozen Food Month (what, you don't usually celebrate it?), so supermarkets and big box stores will be offering plenty of coupons and sales on all of our favorite fruits, veggies, desserts, and pre-made meals. Part of the beauty of frozen food is that it doesn't go bad, so scoop up all of your kitchen staples now while the deals are good!
6. Luggage: With the spring and summer travel seasons just around the corner, luggage manufacturers and retailers know their products are in high demand. Whether you're looking to make a fashion statement with your next suitcase or simply need a new carry-on, March is the perfect time to prepare for the big trips you have coming up!
7. Winter Gear: For all the snow bunnies out there mourning the upcoming end of another ski season, we have some good news for you — March is also the perfect time to scope out and purchase new gear and equipment. Options may be limited, but the prices will be really good, so turn that frown upside down and do some bargain hunting! Even if you're not a big fan of winter sports, you can still find deals on everyday sweaters, boots, and other cold-weather clothing in March.
Are there other things that you only buy in March? Tweet us @BritandCo!
(Design: Marisa Kumtong, Featured photo via Getty)
Alli Hoff Kosik
Alli Hoff Kosik is a freelance writer who is passionate about reading, running, rainbow sprinkles, her lipstick collection, watching embarrassing reality TV, and drinking pink wine. She lives in Brooklyn with her husband and (in her dreams, at least) three golden retriever puppies. Listen to her talk books on
The SSR Podcast
.
Adulting