100+ Women-Run Small Businesses We're Supporting This Year
Nov 24, 2020
We've met some truly unbelievable women this year through two action-packed sessions of our 10-week entrepreneurship course, Selfmade. Over 450 women brought their dream business ideas to the table and and put in the work to bring them to life with mentorship and support from expert coaches and the Brit + Co team at every step of the way.
As a little thank you, we thought we'd express our gratitude to these hard-working women by shining the spotlight on the budding entrepreneurs who launched their product-focused businesses ahead of Small Business Saturday. Follow them, share their brands with your friends and family, and support them in any way you can!
---
While this is just a sampling of the amazing Selfmade businesses you can shop for the holidays, there are also a number of service-oriented small businesses that launched from Selfmade that you can support too! Browse the variety below that spans from life coaching services to graphic design and photography needs for brands and individuals.
Acton Circle is the go-to design studio for purpose-driven organizations and nonprofits looking to amplify their mission and expand their reach. Through professional and impactful design, they turn big ideas into strategic, valuable content that converts: user-friendly websites, infographics, marketing materials, high-level design strategy, and more.
Aliya Bora Creative uses her decade of media experience to help women entrepreneurs tell their story and create video content for social media.
An Organized (After)Life was founded by Jen Gumbel, an estate planning and probate attorney and legal educator to equip people with the information they need to leave a manageable to-do list and to challenge them to make real legacy.
Ava Scott Designs produces elegant everyday fashion for transgender women.
Backstory is an online resource for women with back problems to gather, learn and thrive. With curated educational and lifestyle content, specifically tailored to women with scoliosis, Backstory is designed to make life with chronic back pain a little easier.
Being Unraveled is a lifestyle agency dedicated to providing customized life management and personal concierge services to meet clients' uniuque needs. They help you manage your day-to-day lives so you spend less time tasking and more time doing what pleases you.
The Bookery gives personalized book recommendations. See what the community is reading, and let the Bookery team hand-pick your next read.
Brain Gardening creates and curate evidence-based resources for cultivating wellness through neuroplasticity that can be incorporated into an existing self-care practice or serve as an introduction to neural retraining techniques.
Brent & Jo Studio is a team of digital nomads who provide strategy and design for small businesses with tall dreams. The 100% woman- and minority-owned web agency is led by Jo Magliocco, who founded the business in 2016. HOLIDAY DISCOUNT: Use code SELFMADE for 20% off website & social media templates, and 10% off all website design and branding packages booked with a deposit before the end of the year. Brent & Jo Studio also offers free 20-minute consultations and free coffee when you book.
Bringing Death Into Life is a business breaking the taboo of talking about death and supporting clients through the options and processes of getting their end of life wishes in tip top order.
Bumble Fleur creates sophisticated, original and artful floral arrangements in Minneapolis, MN.
Casita & Co. is an interior design studio focused on bringing the concept of belonging to the spaces where you are making a life.
The Creative Folks is a brand with a mission to bridge creativity and business. Their content creators focus on helping creators and creatives learn about business through workshops, events, and podcasts/content. Their agency team works with businesses to fulfill their creative needs in both branding and graphic design).
College Thrifts by Patricia Garcia is an inclusive peer-to-peer platform for students/alumni to buy and sell their gently used college branded items in order to provide a cost-effective and sustainable alternative to high-priced college gear.
Dreas Doodles Studio is a creative studio that brings to life big ideas in colorful and unexpected ways. This comes to life through collaborations, commissions, products and more.
Eventworks is a full-service event production agency comprised of a team of experts passionate about their crafts and creating shared experiences that are informative and transformative. They use their clients' business objectives and key messaging to develop unique, full-cycle, wholistic programs, while nurturing long-term client and partner relationships locally, nationally and globally.
Evolve Coaching & Consulting offers anti-racist leadership coaching in a one-on-one or group setting with founder Jen Nguyen. HOLIDAY DISCOUNT: 20% off group coaching.
Fab Life Now teaches women to master their personal finances. Learn the best ways to increase the money in your bank accounts and in your pocket! Founder Allyson Dennen's specialty is helping women rebuild after divorce. Start by learning the top 12 money mistakes women need to stop now.
Finding Hope Today offers mental health and addiction counseling and resources through online sessions and life coaching services.
FutureMap helps first-generation students navigate the college-to-career transition. It provides job readiness workshops, career coaching, internship matching, and on-the-job support and community for first-gen students.
The Genius Retreat by Dr. Fatimah Williams is a virtual wellness and planning experience for high achievers to reflect and renew for 2021. HOLIDAY DISCOUNT: Use code selfmade15 for15% off on General Admission tickets.
Grace Schupp Designs is a business and branding coaching agency that gives business owners the tools they need to communicate their unique story to attract their ideal clients.
Gracious Adventures is an online resource and shop that provides young girls the tools they need to help build their confidence and give them courage. Gracious Adventures also provides tools like encouragement cards, affirmation cards, encouraging mirror clings, and stickers that motivate and encourage.
Girl Talk is a safe space for women to give and get advice. On the website, users interact by asking and answering questions in a forum style on topics like career, money and love. Girl Talk users find nonjudgemental help and through their shared experiences and stories, real connection.
Hey Mom Collective is a self-care and empowerment community for women navigating motherhood and work. As a certified life and success coach, founder Anastasia Naftalieva help moms in business overcome overwhelm, breakthrough the cycle of burnout, and ultimately achieve their goals as an empowered leader.
Hi + Hello Photography is a San Francisco Bay Area newborn and family photographer whose sessions focus on fun, color, and real memories.
Honeyland Films creates emotive short films for brands.
I Suck At Marketing With creative and marketing expertise, ISAM aims to transform your exhausting experience into something positive. Your feelings about marketing should reflect the excitement and passion that comes with starting and growing your business.
Inkwhy, Inc. helps startups, businesses, and non-profit organizations access curated services, vetted tools, and marketing solutions to grow and scale, gain visibility for their leaders and their brands, and build capacity to operate more effectively. HOLIDAY DISCOUNT: Mention SELFMADE in booking link for a free LinkedIn profile review and an additional 30-minute session.
Jasmin Plouffe is a graphic designer/brand strategist helping small businesses turn their excitement into a visual reality.
JDS Projects is a female-founded talent management agency for women, with an emphasis on connecting diverse women of color influencers and thought leaders with like-minded brands. HOLIDAY DISCOUNT: Free 20-minute consultation on brand partnerships challenges
The Joy Of Gathering is an online community for virtual wedding (and anything wedding) planning. They help brides create an intimate, connected and beautiful online wedding.
Life Experience Design teaches people to get clarity on their ideal lives using a well-established design thinking framework and offers fully remote coaching.
Lisa Wiseman Photography use emotional, connected, and soul-searching portraiture to bring brands to life.
Makelane is the MasterClass for women starting ecommerce brands.
Mommifaceted Media is a boutique digital media network for mom podcasters and content creators. Their content is created to address the unique challenges that multicultural moms face.
Melinda Jackson LTD is a social impact consulting agency that specializes in online courses and one-on-one consulting programs to help you create solutions for some of the biggest challenges facing our world. HOLIDAY DISCOUNT: For 50% off a one hour, one-on-one social impact strategy coaching session, use code 10FOR20 here.
Mighty Kind is the world's first anti-bias education magazine for kids (and their grown-ups)! Latina-owned and mom-run by Nadine Fonseca.
More Love and Light is a life coaching platform by Kathleen Vital-Herne dedicated to empowering women of color to harness inner peace, live confidently, and create more fulfilling and purposeful careers. Professional development, centered on wellness.
Mujeres on the Rise by Melba Tellez is a platform that connects Latina women and provides them with resources and tools to grow their careers.
Navigating Parenthood shares tools, resources, support services, and education to semi-crunchy expecting, new, and veteran families with the goal to help them navigate through this journey called parenting. HOLIDAY DISCOUNT: 30% off with code BRIT.
Nicole Williams Collective develops high-converting communication plans for women and service-based businesses that generate remarkable results. HOLIDAY DISCOUNT: Get a 20% discount at NicoleWilliamsPR.com or FabulouslyFearless.co using code SELFMADE20.
Parker Anne Design offers graphic design services out of San Diego, California. HOLIDAY DISCOUNT: 15% off all graphic design services.
Passports and Grub by travel writer Tomiko Harvey helps travel brands delve deeper into why they overlook the value Black content creators bring to the table and asks the hard questions of how do we change the narrative on how both Black travelers and Black content creators are perceived.
Ready Set Dinner by Petra Wintner currently offers FREE services to use, just sign-up and get weekly recipe collections and shopping list specifically created for the needs of your family.Restore Media by Sara Miltenberger seeks to make positive climate change through consulting and educational opportunities.
The Relm Project creates resources for people who want to follow their dreams of becoming a blogger, social media influencer, or small business owners without doubt or insecurity. It offers coaching services in addition to providing a supportive community of like-minded individuals — all of which will assist them in getting closer to becoming what they define as successful.
Ride Out Lyme is a nationally-recognized social startup partnering with SoulCycle to host charity rides and wellness events that inspire, offer hope and strength while providing much-needed funding for Lyme patients in need of financial assistance to pay for their medical needs.
The SisSTAR Loop highlights women-owned business and professionals and serves as a bridge between business and consumers to help reach new audiences, customers, and elevate brand awareness through events, pop up shops, online content, social media, and more.
Simply Social Corp a digital marketing agency focused on helping startups, small businesses, and executives reach their potential online. As a business owner, it's hard to do it all. Free up your time as a business owner and use digital marketing to increase your bottom line. HOLIDAY DISCOUNT: Mention SELFMADE or BRIT&CO on your free discovery call and you'll receive 10% of any package!
Sojo Signal is the future of diverse employee experience software creating a world class people analytics platform that focuses on diverse employees. With Sojo Signal, employees can share their experiences without fear of retaliation and businesses can learn actionable strategies to decrease turnover and talent costs.
SoleOrganizer helps the everyday person become organized in their space and life by creating organized systems offering resources that educate and inspire the everyday person to become organized.
Something Designs' mission is to simplify joy. Moms don't need more work, so Something Designs empowers you with easy ideas, curated experiences, and organization products to eliminate the hassle and time of figuring out how to give the kids something to do. HOLIDAY DISCOUNT: Use code STOCKINGSTUFFER20 to get a free stocking stuffer with $35 purchase.
SPARC was created to address the disparities in minority communities with regards to autism diagnosis and access to resources. Through trainings, interactive workshops, and public events, SPARC aims to improve on the 4's of Autism: Awareness, Acceptance, Affirmation, and Advocacy.
Spotless Girl aims to help women struggling with PMS by balancing their hormones naturally, without the pill! Founder Audrey Gerber is a health coach that specializes in female hormones and helps women lose weight, regain their energy, and help them regain their vibrant life.
Swag by Asayo is a group gift service offering customizable swag boxes featuring product from Black and Latinx-owned small businesses.
TechnoChic inspires crafters to make epic projects by providing easy to follow tutorials, inspiration, kits and curated materials that enable crafters to make interactive projects with lights, audio, motors and more. HOLIDAY DISCOUNT: 10% off when you use this link (to be reflected in your cart).
Tenley Clark Photography is a commercial creative content photographer and artist located in the sunny Bay Area. Tenley Clark is also an educator, teaching photographers how to add magic to their own photographs and brands at conferences and through online courses.
The budafly method will transform your mind, body, and spirit with dance, fitness, and pilates classes online and outdoor!
Tutorvators is a boutique-learning center dedicated to helping children thrive. They service children from pre-K to middle school from general needs to special needs such as ADHD, dyslexia, and dyscalculia.
Yumday celebrates food stories and food people.
Holidays
Artist Dev Heyrana On How Bravery, Resilience and Sunshine Influence Her Work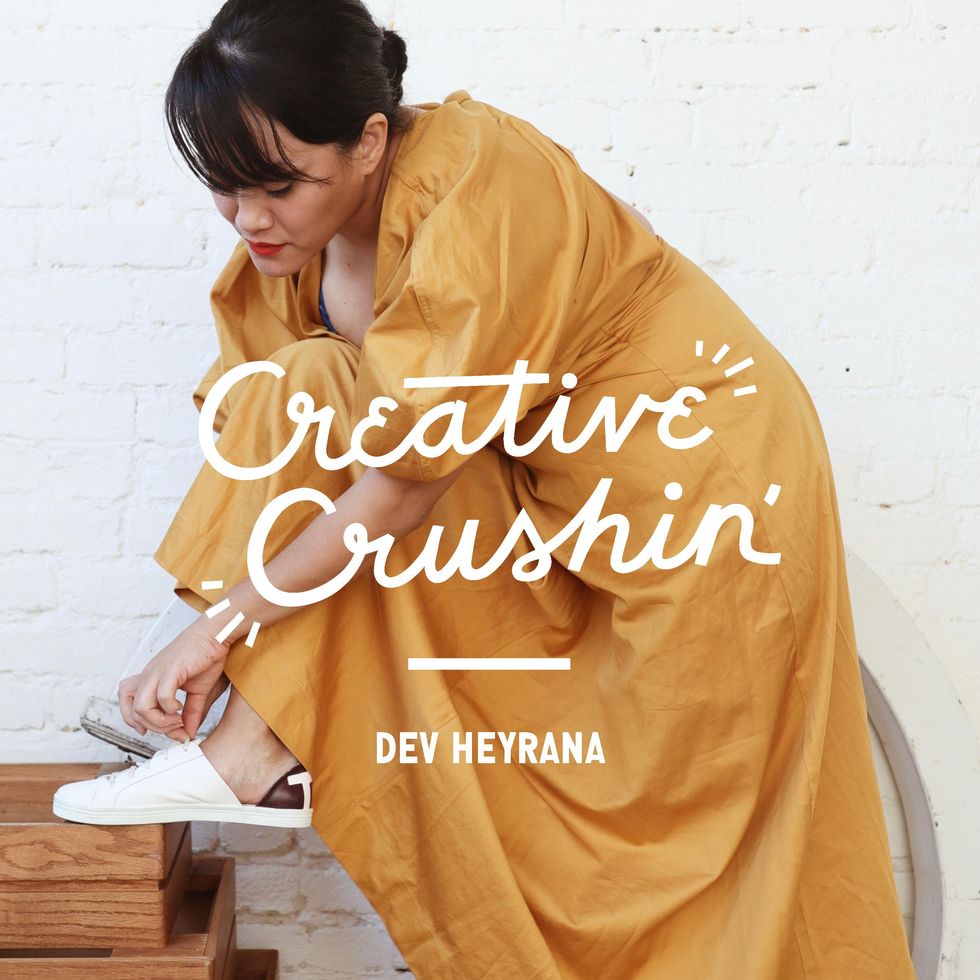 Ever meet someone who you feel immediate kinship with on a deep almost spiritual level? That is legit every person's experience upon meeting Dev Heyrana, the star of this edition of Creative Crushin'. A fine artist, hip hop dance teacher and constant collaborator, Dev's particular brand of creativity is one-of-a-kind. She manages to be warm, welcoming and woke, with a focus on inclusivity, social justice and motherhood that comes through in every piece of art she creates.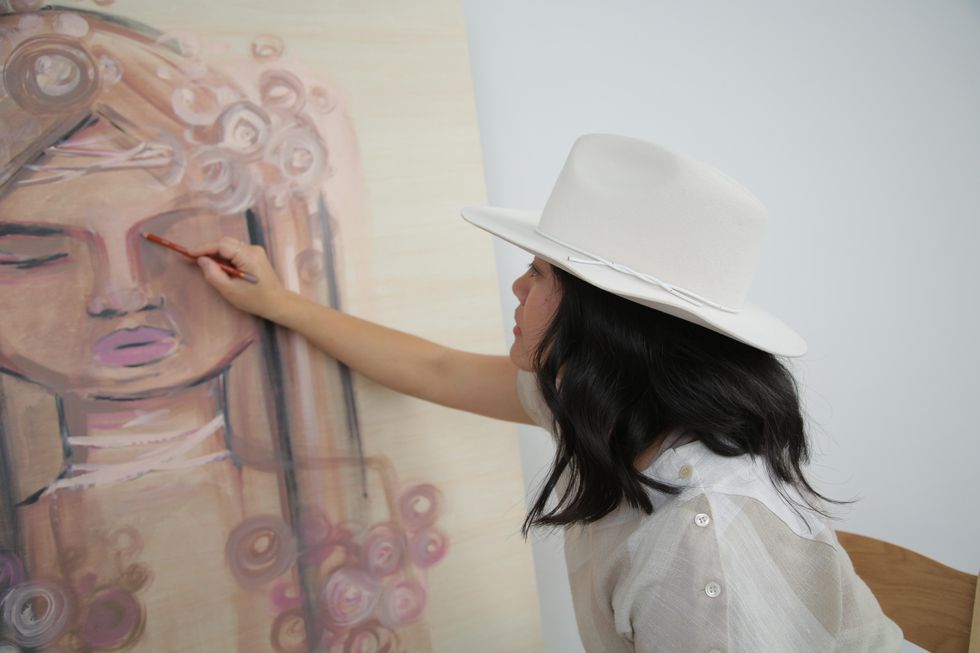 Anjelika Temple here, co-founder of Brit + Co and one of many humans who has benefitted from Dev's boundless generosity and kindness. We first connected at a launch event, then I asked her if she and her family would like to model for a B+C shoot (they did!), then months later, I asked the IG universe if anyone would be down to co-parent with me for a day so I could speak at a conference. Dev said yes! And for those that know her, none of these serendipitous moments are surprising.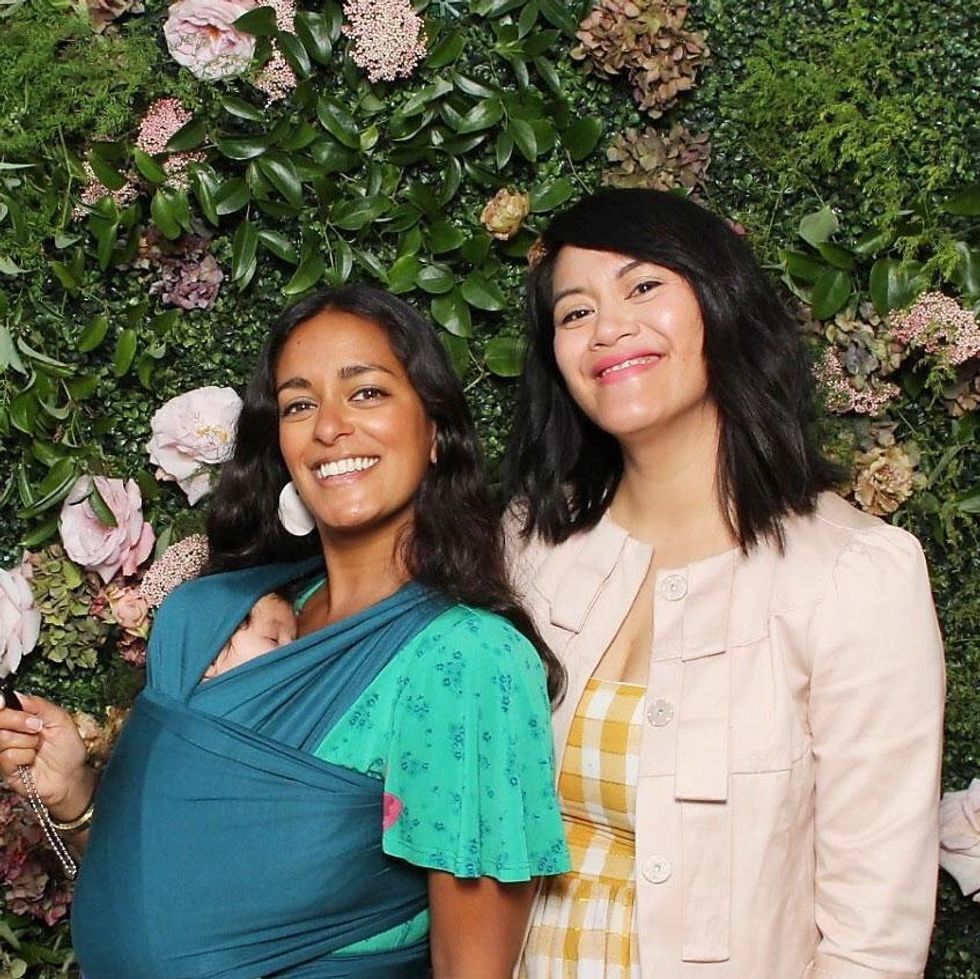 Now it's time to delve more into Dev's story, her creative inspiration, her thoughtful approach to parenting and what makes her more passionate than ever about bringing her point of view and artistic voice into the universe.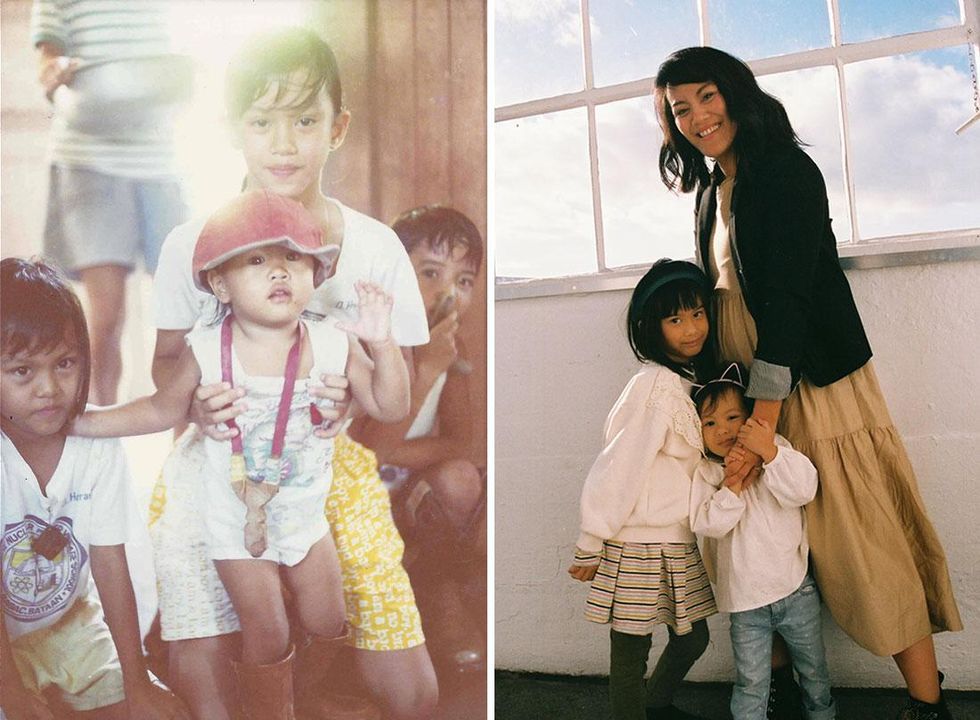 Anjelika Temple: First, foundations. Where did you grow up? What is your heritage? What did you study in school? Where do you live now?
Dev Heyrana: Born in The Philippines and immigrated to the U.S. when I was 9 years old. Me and my family are from the island of Cebu and I'm a proud Cebuana. My childhood in the Philippines felt like freedom. I had my swimsuit in my backpack for whenever we decided to swim and I biked everywhere.
Immigrating here at 9 yrs old was a transition, to say the least. My parents had big dreams but the move was heavy on them. It wasn't easy. I had to grow up fast. I took care of my sisters while my parents worked night shifts. By the age of 12 I would cook dinner and get my sisters ready for bed. Something I didn't realize was that kids my age didn't do those things until I got older. We would play these make-believe games to make, in hindsight, our hard situation brighter.
I think this is really when art played a big role in my life. It was something I could escape in and always felt healing.
I witnessed racism towards my family and didn't know how to make sense of it. These events left a mark. I was a quiet kid and observed everything and everyone around me. I think about my grandparents, Lolo Jose and Lola Rita, a lot as I walk through life. When I make decisions. As hard as it feels, you have two choices, do you let it take you down or take it one step at a time forward. I kept going and it really shaped me as to why I am the way I am today.
I studied Fine Arts at The Corcoran in DC. I owe that decision to my art teacher, Mr Giles, in High School. He was retiring and wore a Hawaiian shirt every day during my senior year. He was a curmudgeon and I felt incredibly special since out of everyone in the school he really believed in me. As grumpy as he seemed to the class, he would tell me things like "Go into the other studio and break some glass, then put it on a canvas." He's the reason why my abstract pieces have elements like clay and sand in them.
I've had incredible mentors and all were teachers. Mr. Giles in High School and Christine George in College. Christine was the one who told me to go either to New York or San Francisco because "D.C. is no place for an artist like you." She told me to not listen to anyone, how I can still paint, be a graphic designer, and, if I choose to, have a family. I've never had anyone tell me anything like that before.
I took a chance because of her. Moved and went to Design School in 2006 and I've stayed in the Bay Area ever since, raising two girls with the love of my life.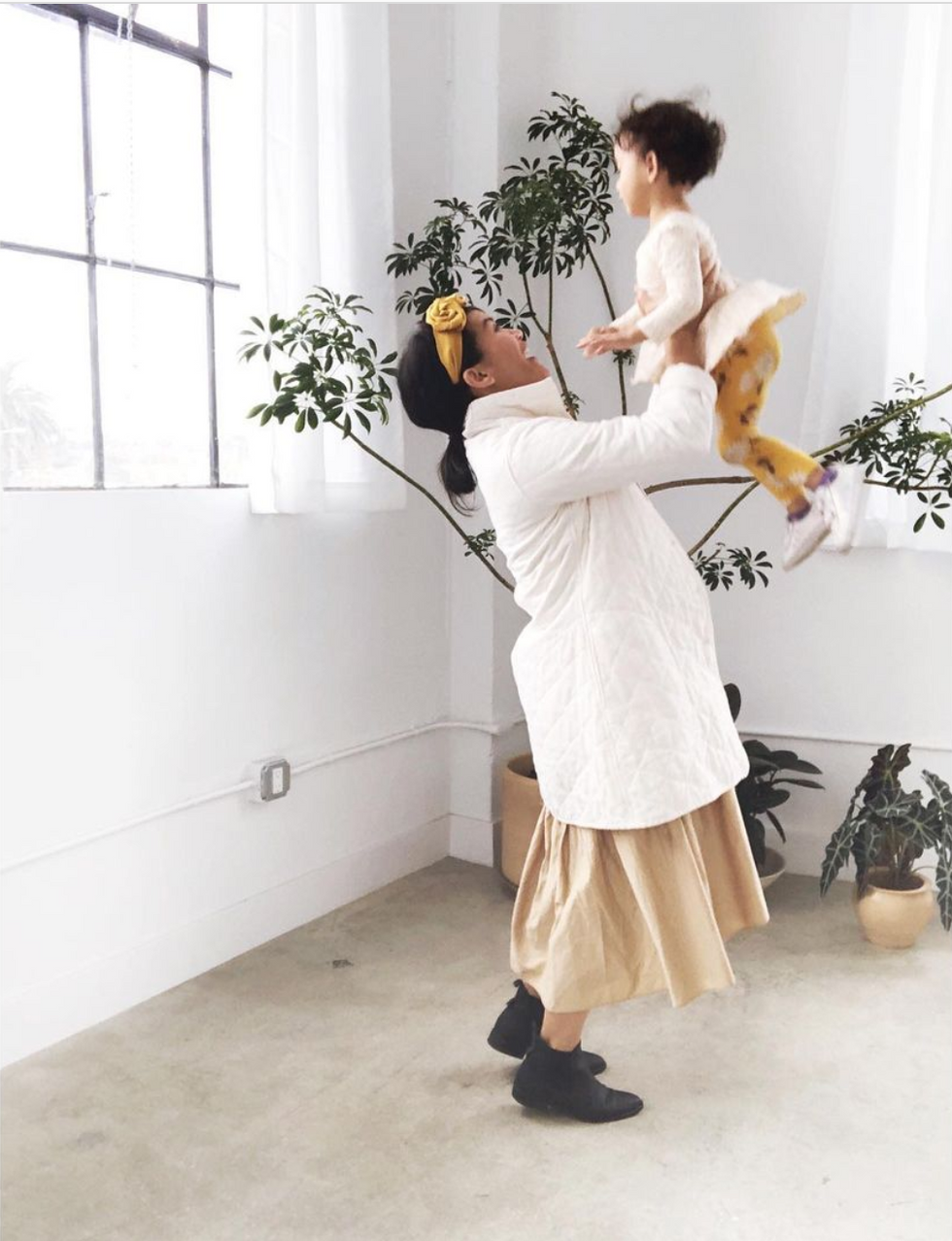 Anj: You are one of those magical human beings that has figured out how to be a full-time artist. What was your career path like before you were able to dive fully into your creative passions?
Dev: The most radical thing I could have done in my family, I did, I went to college for Fine Arts. A mix of being so young and having to do it on my own, I went with the school that gave me more scholarships. Even then I worked three jobs to be able to get through it. Hard work is ingrained in me.
With my sculpture background, I fell in love with Print and Packaging and why I came out here to San Francisco. I appreciated the security of having a career in Graphic Design. I also learned how to work with clients and the business side of things. Even then, I never stopped painting.
A few years ago I went through a pretty hard time with my health. I dealt with six surgeries in one year and I still have to do some follow-up ones. That experience almost broke me and what got me through was my family and painting in bed while I recovered.
When I finally got back on my feet, my heart just wasn't in Graphic Design anymore. So I made a two year plan. With a toddler and a mortgage, I wanted to make sure my steps were thought out. I put myself out there as an Artist while I still worked in Design. After a year I worked part time as a Graphic Designer and stepped down from my Creative Director position. I loved it, to be creative as an Artist and as a Designer. I looked at 2018 as my year to make the jump. If my work as an Artist balances out with my salary then I would quit in the Summer of 2019. And so here we are. I also am sharing a studio with my good friend, Naomi PQ, and I feel like my creative drive is just beginning.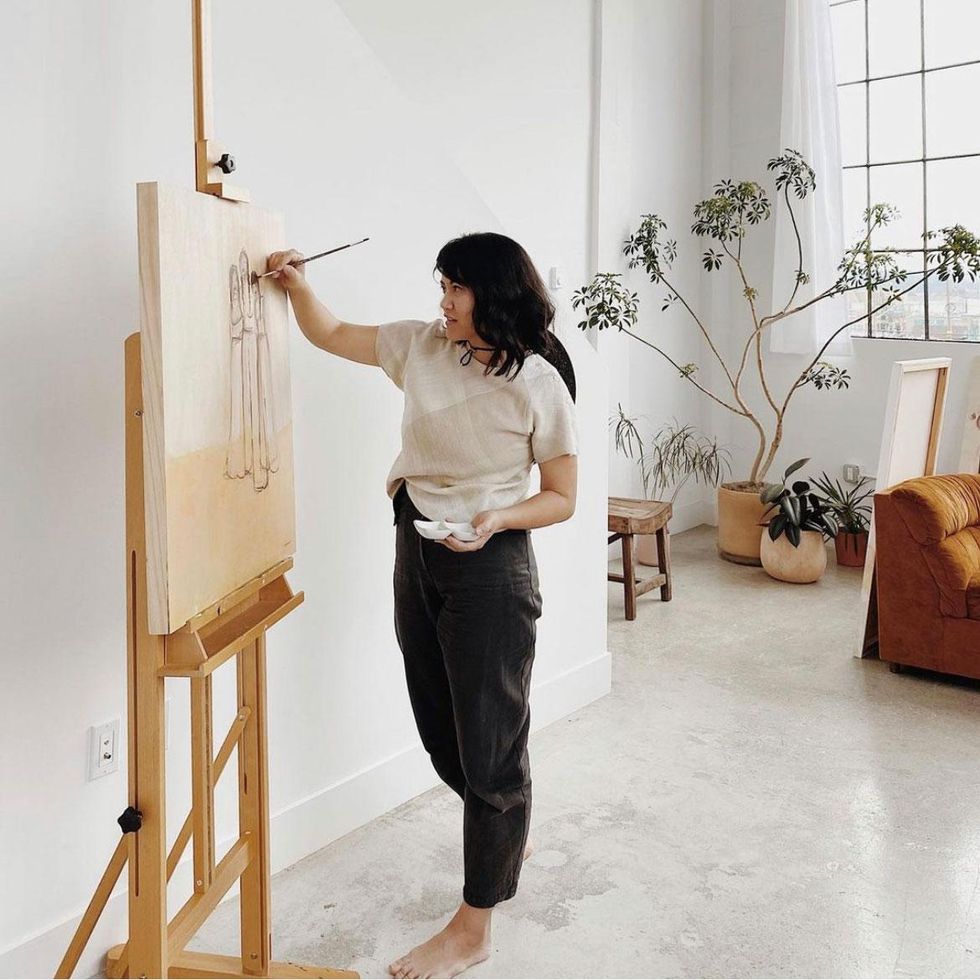 Anj: What do you love about painting? How do you feel when you're in a creative flow state?
Dev: Like every part of me is free. Free to express myself through the stroke of my hand. How all of it leads back to my heart. These elements I use to paint have a mind of their own and how I need to respect the process.
It centers me and reminds me that the process is just like the life we lead. I know I still have so much more to learn but while I'm painting no matter how it's going, I'll embrace this moment.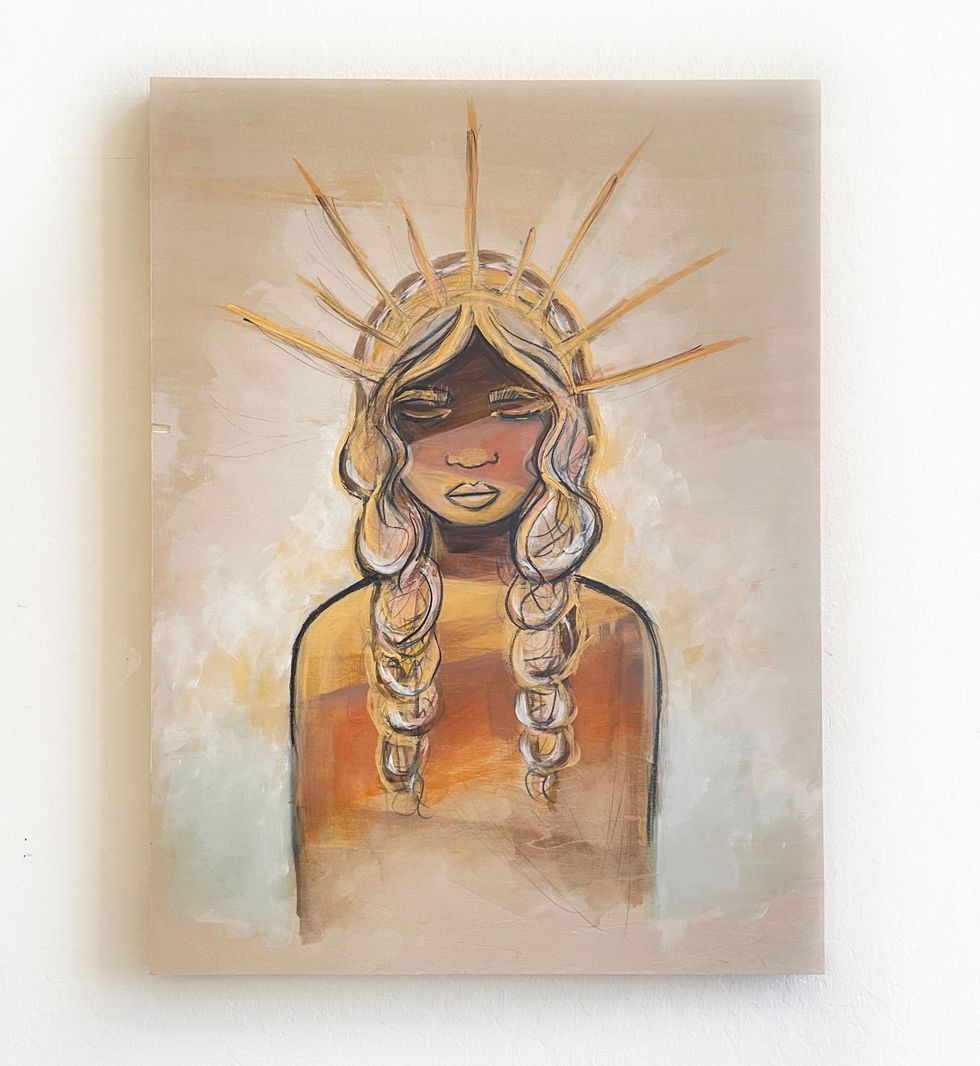 Anj: You reference your roots quite a bit in your work. Talk to me more about how your roots inspire your work.
Dev: One of my earliest memories is of my Lolo Jose teaching me how to water mango saplings. He converted to Buddhism when my mother was young, so he viewed the world with love and kindness. I didn't realize it then but watering those mango trees were life lessons. We need to take the time to nurture, practice patience, and respect all living things. I still imagine him walking beside me often, carrying his teachings as I find my way in this world.
Nature and the Sun drive my pieces. My abstract works are fragments of moments. Like the sunset I grew up with when I was seven years old in the Philippines, like how I saw the water in Cebu when I dove in as a young adult, and like when I saw the redwoods with my children for the first time.
I see earth in our skin and especially when I paint people. How our mango trees grew and blossomed because the dark earth was rich with nutrients. I imagine the Sun piercing through these women I depict. I paint their love and bravery because their resilience cannot be contained. I want to celebrate all of it.
This is the beauty of Art, I am able to paint exactly how I see it.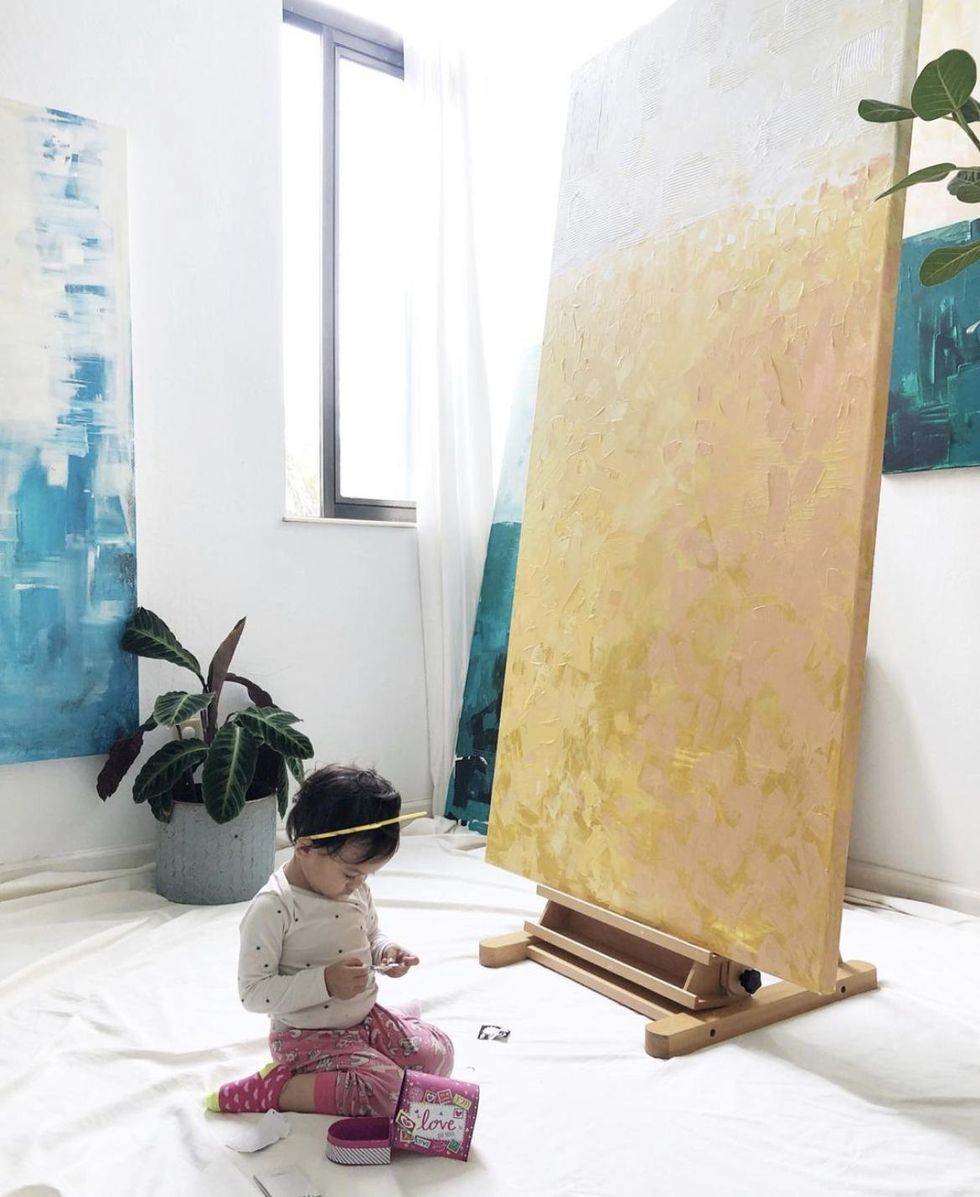 Anj: Motherhood and your daughters are also central themes in your work. How has motherhood changed your approach to creating artwork?
Dev: Everything. I was still deep in my Design Career and I would paint at home. One day Quinn, who was 3 years old at the time introduced me at the park to a mom. "This is my mom, she's an Artist." It struck me that my toddler knew who I was more than I knew myself. That's really when I really owned it. I am more fearless because of my girls.
I own my body, I thank people when they compliment me, and I am selective but fearless when I use my voice. I am more in tune how I speak about myself because of them. When I paint these women I want to celebrate them. I notice how I embrace myself is translated in my paintings.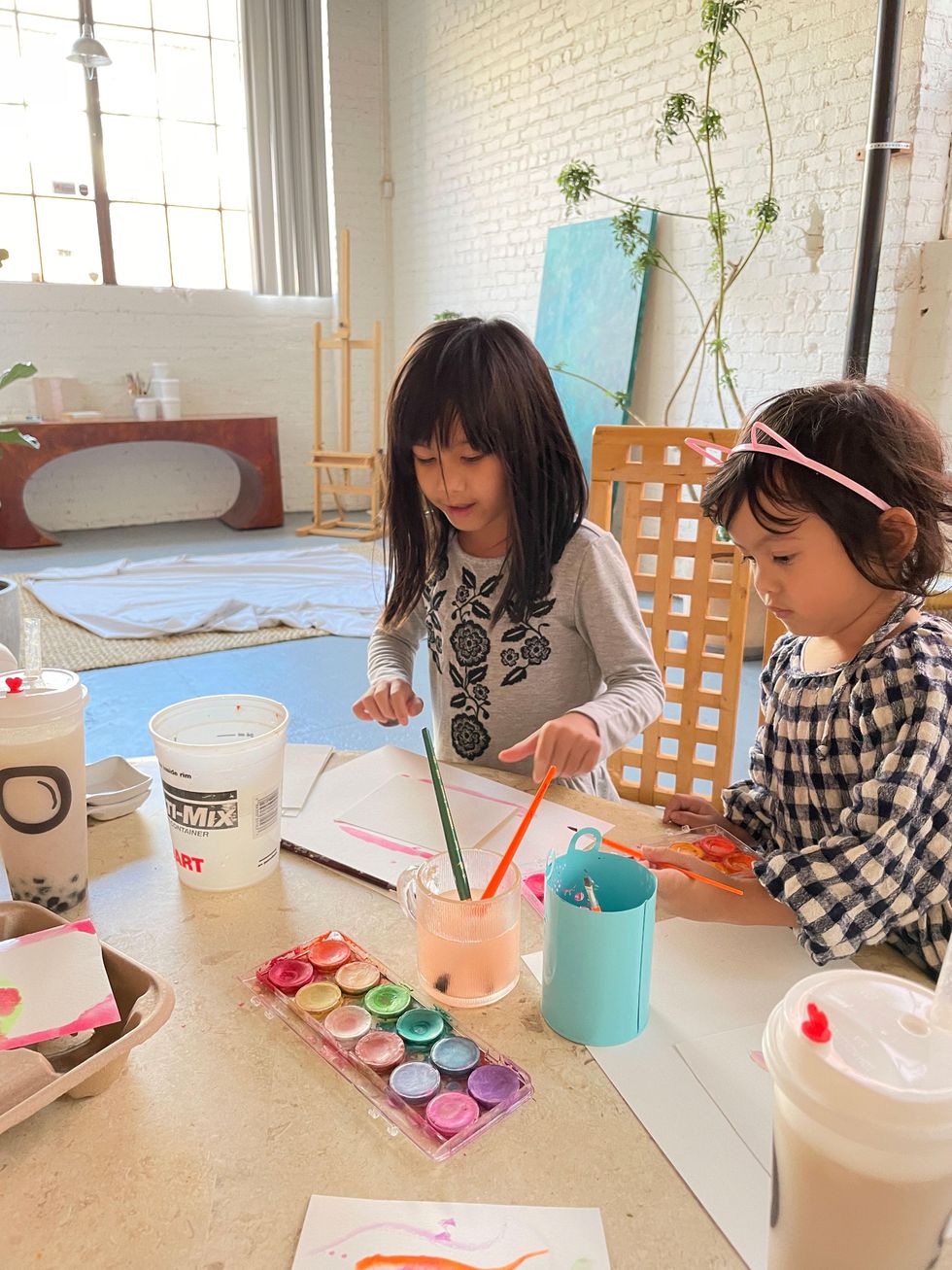 Anj: What advice can you give to parents who are trying to tap into their kiddos' innate creativity?
Dev: I don't have a lot of guidelines set up. I'll say "Let's draw the biggest fish we can draw" or "how many silly lines can we make" and I let them lead me. They ask me questions, show me things, and I sit there with my coffee watching their eyes wide with excitement. Watching them in their creative process is pure joy for me. Those silly lines can turn into a dragon or waves and next thing we know, we're drawing a big beach scene. My advice would be that you can suggest something to start it off but be open to how they take it. It is such a beautiful window into their minds.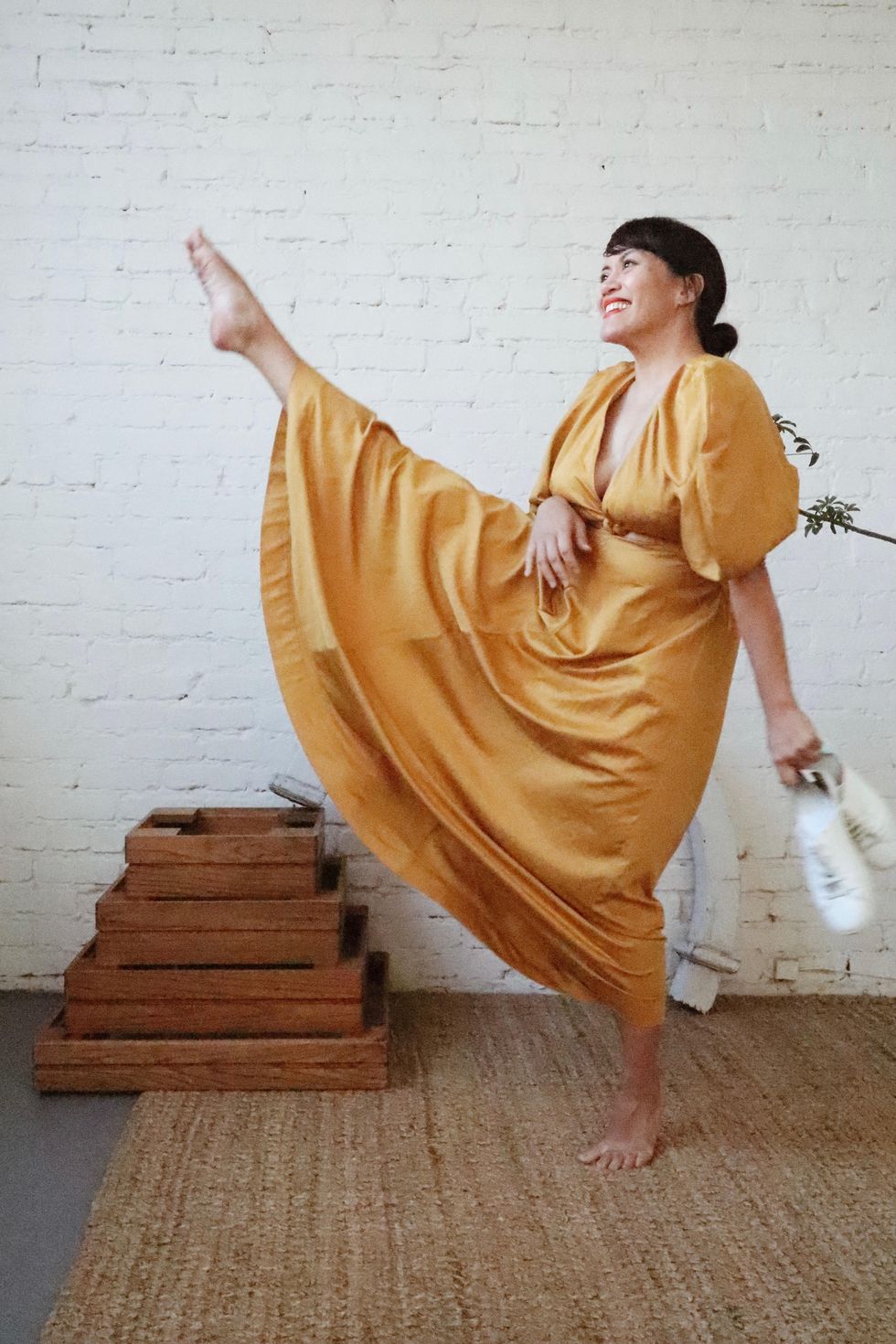 Anj: Shifting gears to HIP HOP DANCE! Talk to us about his component of your creative expression.
Dev: I loved the Hip Hop scene in DC and discovered how much fun the clubs were in college. My friends told me about this Hip Hop Crew I should try out for, I was so scared because I've never taken a dance class in my life. I got in and it was like having another family. We competed all over the East Coast, it was a blast!
I found hipline when I started my first Design Job and needed an outlet. It was exactly what I needed and one of the owners asked if I was interested to teach. I've been teaching there since 2009 and am still going strong. It's a wonderful community of women. Now we're virtual and reaching clients all over.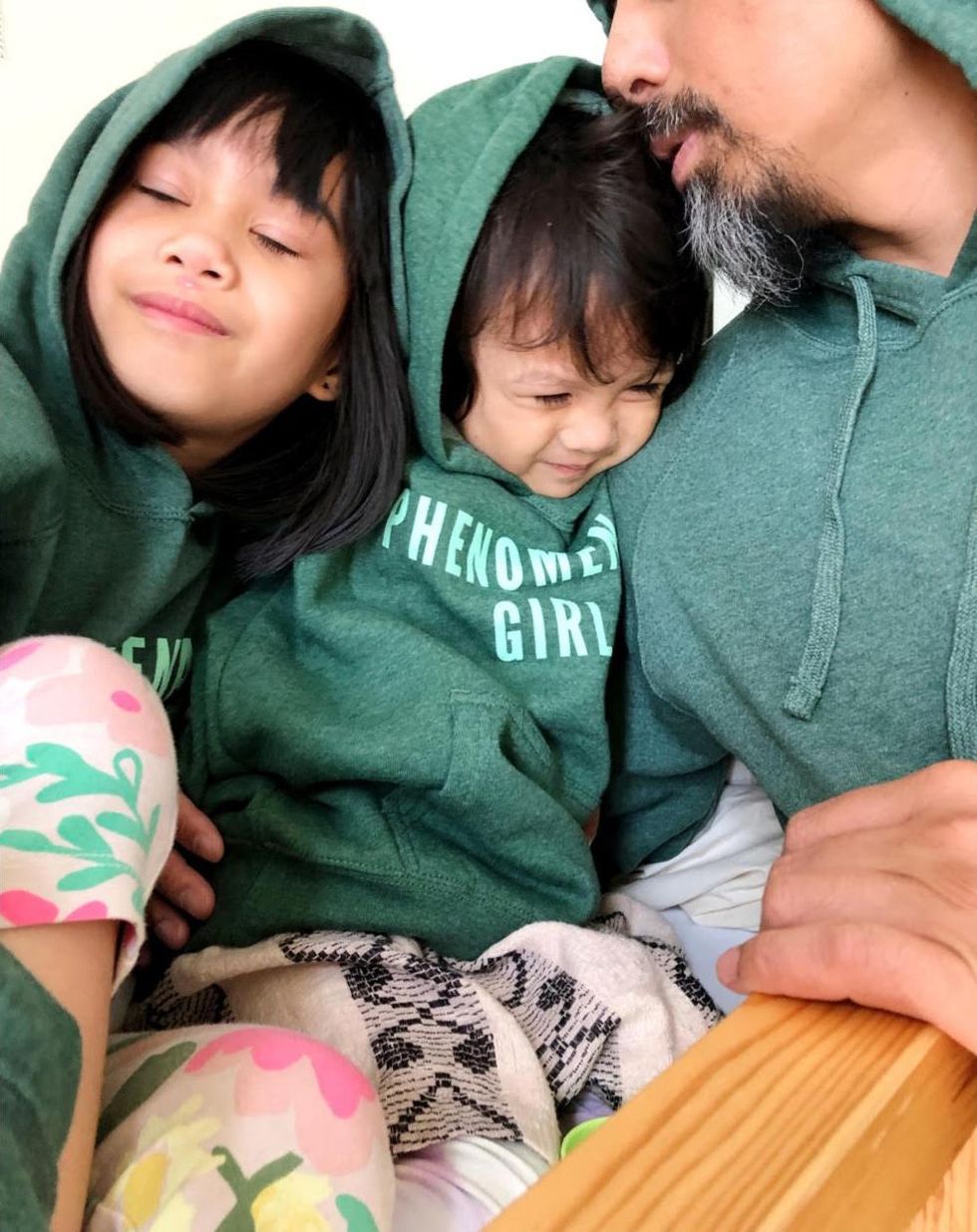 Anj: What does a typical [pandemic] day look like for you? How does it differ from your rhythm before COVID?
Dev: I've been practicing being kinder to myself lately. Both me and my husband work full time and so having the girls at home is a challenge. Some days we are amazed by how smooth it went and then there are others where if the girls are clean and bellies are full, it's a total win.
Now that we're on month 8 our rhythm before covid felt more chaotic to be honest. I felt like we were always rushing out the door while carrying so many bags. Now my husband and I try to have coffee together, if he has a break from his meeting, and we sit with Quinn before school to see what she has to do for the day. Rowan's preschool closed down but we were able to find a wonderful speech therapist for her and she has an Adventure Pod we go to two times a week.
The one thing we really try to do is go outside once a day. Have some magic in their childhood no matter how small. It could be just going up for a hike by our home and picking up leaves, riding our bikes, or watching the sunset from our window. Seeing how the girls' react to these adventures we have is pure magic.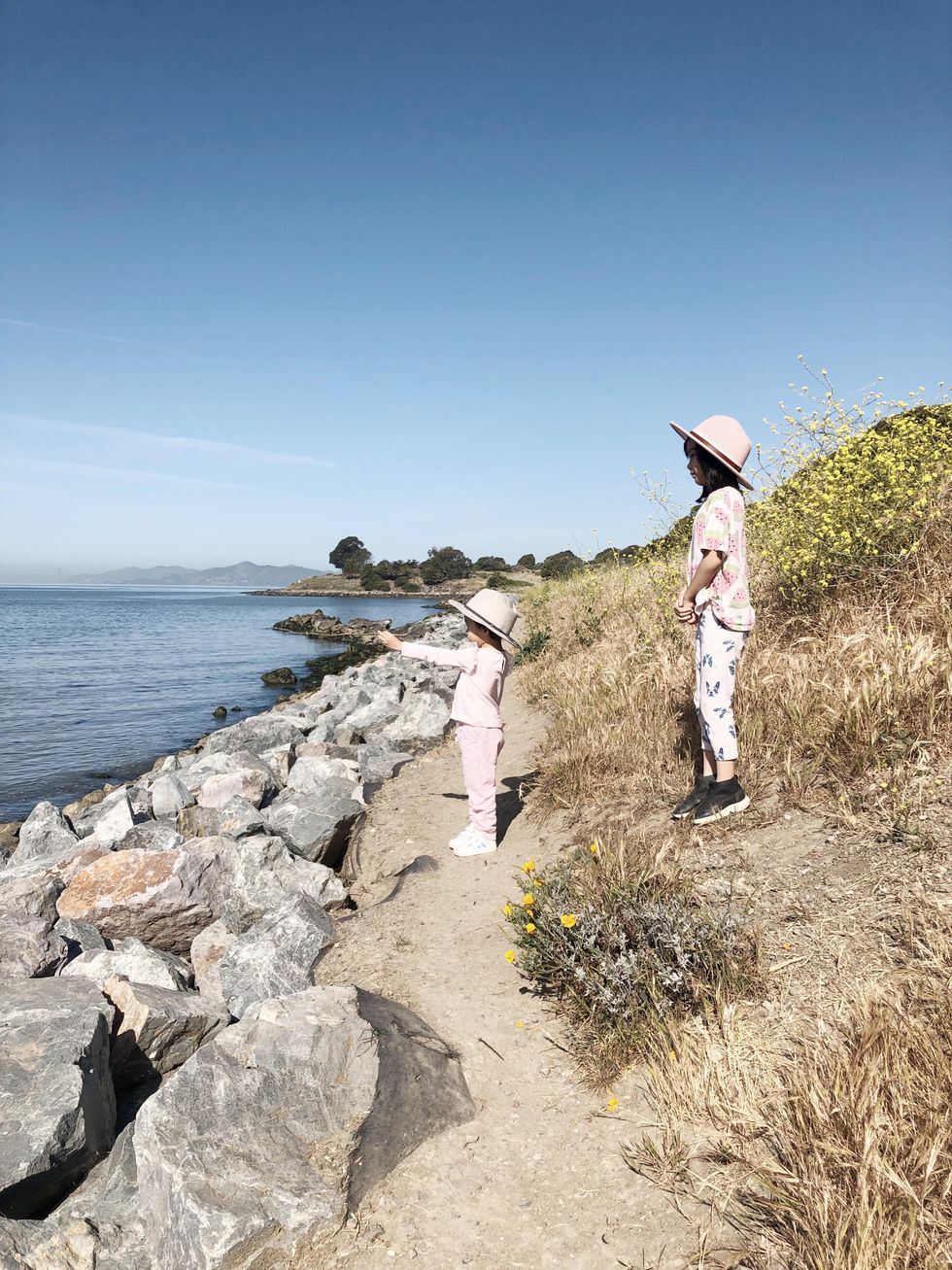 Anj: When you get creatively blocked or burnt out, how do you reset? Do you have tips you can share?
Dev: I go outside. I go out for a hike or go to the beach. Even if it's 15 minutes, something about grounding yourself in Nature is really healing. I also do exercise where I doodle for two minutes because it feels doable. Judgment-free doodles, always opens the doorway to more.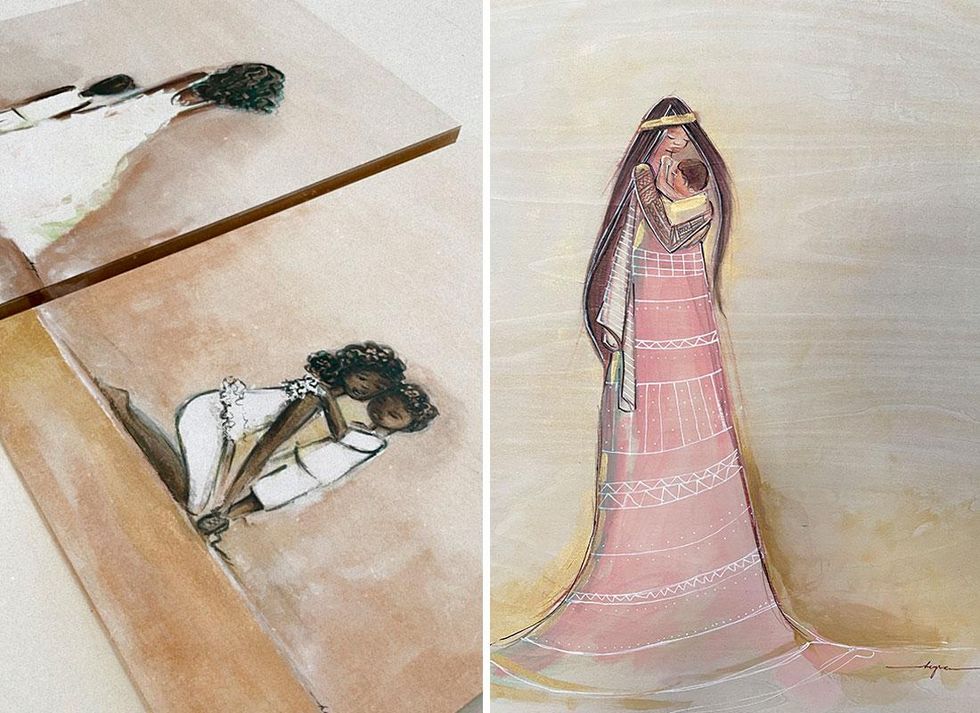 Anj: I know firsthand that community-building is huge for you. Tell us more about what your support system and creative community looks like.
Dev: I feel a lot of love and strength when I think of my community. My relationship with my sister led the way what women supporting women looks like. It's listening, asking questions, remembering, cheering for all the wins, being there even if it's hard, and taking time to invest in them. The way me and my sister show up for each other is why I have these amazing women in my life. I can talk to them about my family, motherhood, and we're all trying to balance it all while sharing my most recent project. I feel really blessed especially looking back in my college years where I don't know where Art would take me.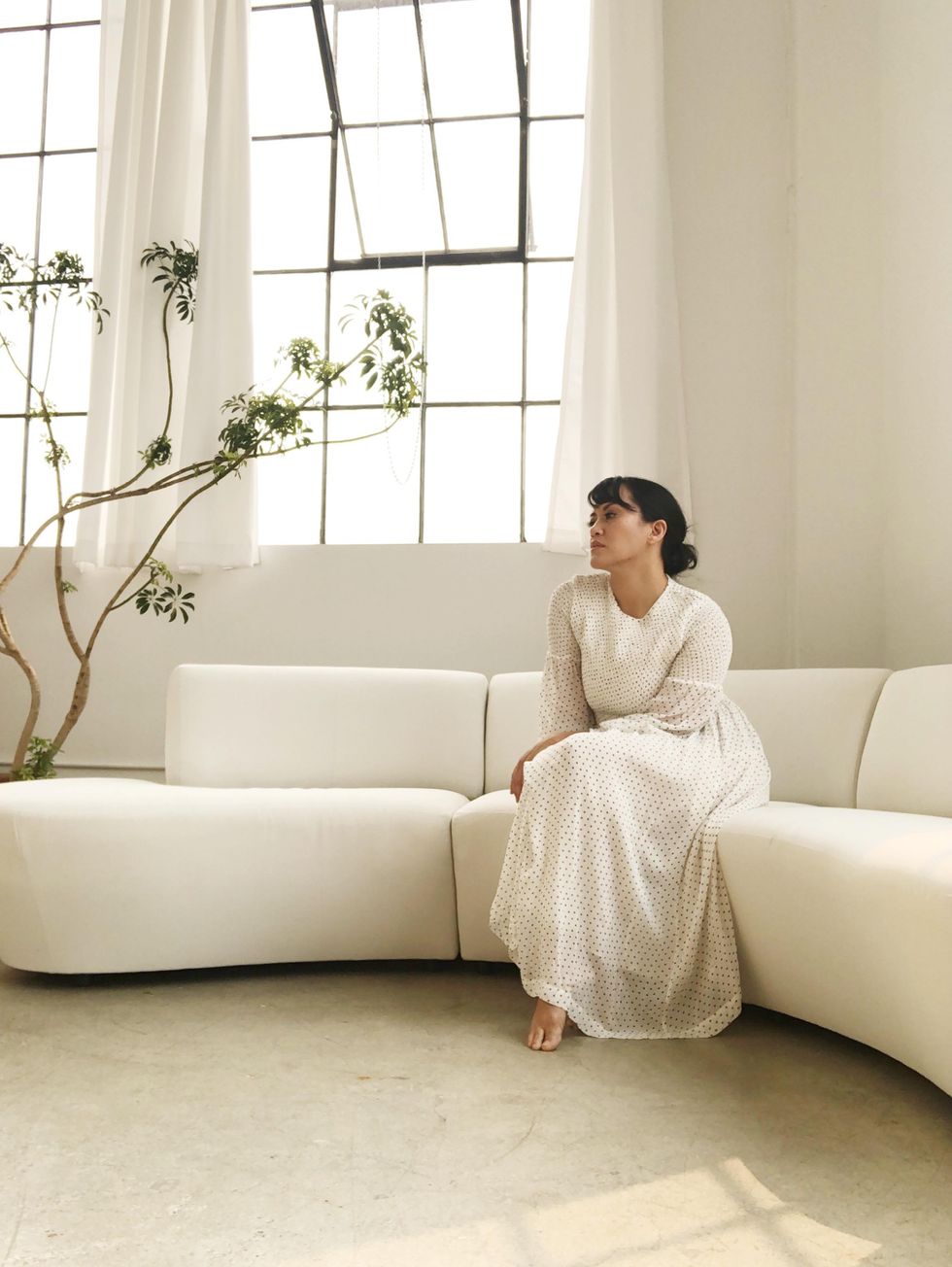 Anj: When you need to give yourself a pep talk, what does it sound like?
Dev: I usually take a deep breath then say or think "One step forward". Most of the time, I'm scared (as shit) but the thought of not trying scares me more. That one step forward can be hard as hell and maybe even heartbreaking, but I have to try.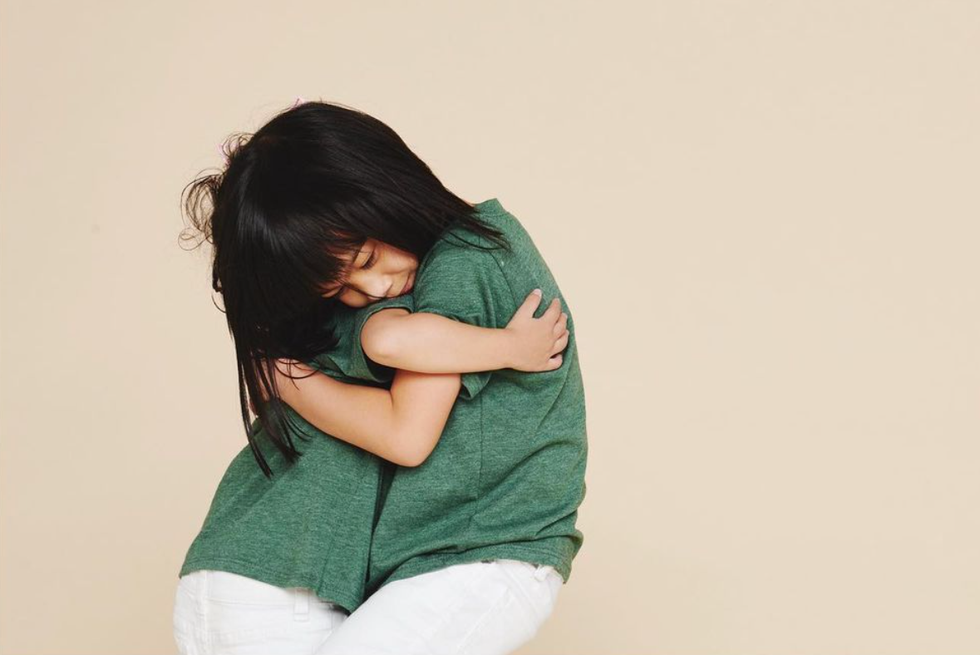 For more on this brilliant artist, mother and friend, follow Dev @_heyrana on Instagram and check out (and buy!) her artwork here.
Lifestyle