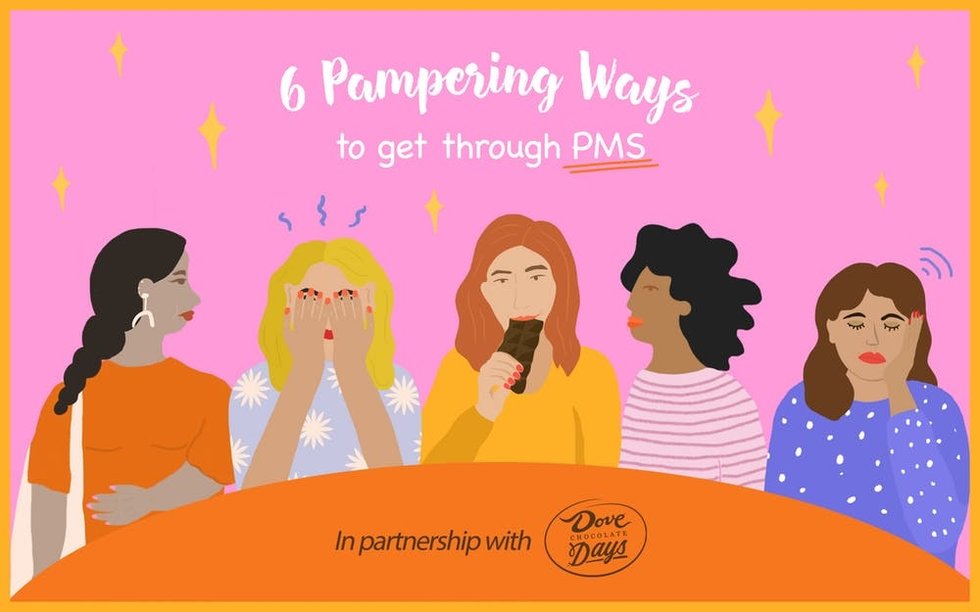 No matter how regular our periods are the symptoms of PMS always seem to pop up at the most inconvenient times: right before a high-pressure meeting, during an exam, while on vacation. We partnered with Dove Chocolate to create a PMS edition of our popular Asking for a Friend series, where we pose questions that might feel embarrassing to ask. This time we're flipping it around to Asking for Myself, because we should never feel awkward talking about something as normal as a period. Get a few moments of pleasure during your next bout of PMS with Dove Chocolate and these time-of-the-month hacks.
Why Do I Crave Chocolate Before My Period?
(Asking for a Myself)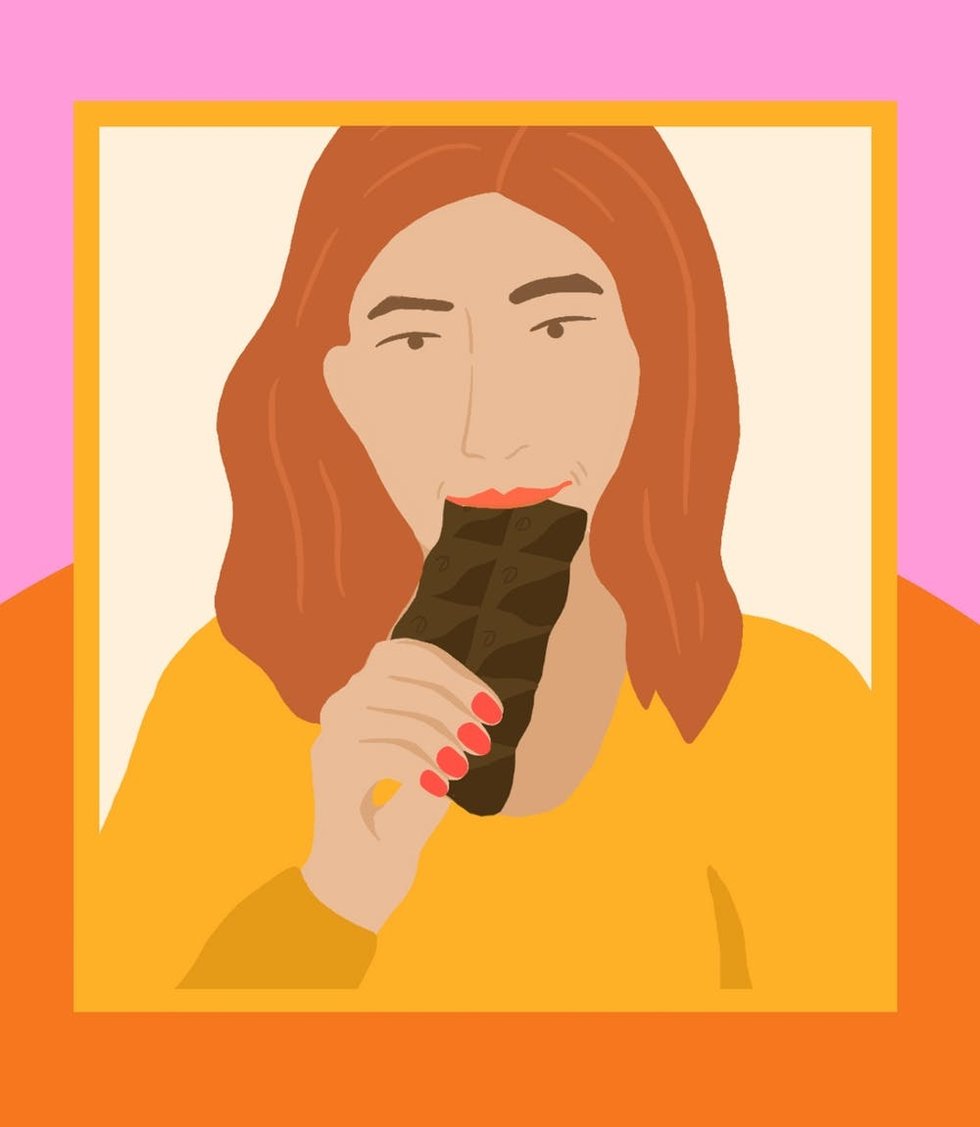 If you leave a trail of chocolate wrappers in your wake every time it's that time of the month, you're not alone. Many women (about half of American women) experience cravings right before their periods. Some experts chalk it up to hormonal changes but new evidence suggests these cravings may be associated with cultural norms (eating chocolate = reward) more than physiological causes. Still, the pleasure of eating chocolate can be a PMS stress-reducer, right? Good news is studies have shown that young girls and women burn extra calories right before their period so win-win if you want to indulge a little more than usual!
When it's that time of the month, your iron levels can take a dip. Leafy greens like spinach and kale can help replenish that iron supply. Calcium and vitamin D also ward off PMS symptoms. Stock up on fruits like oranges, lemons and limes. And don't forget the bananas, which are one of the best mood-boosting foods you can eat thanks to its high dose of vitamin B6. Have a sweet craving? Been there. Chocolate is a good source of magnesium, which not only tempers mood swings, but also helps regulate serotonin — the happy hormone. Avoiding salt, caffeine and alcohol can also help.
Shake it, girl! Exercise can kick in endorphins (those feel-good brain chemicals) and help with cramps and bloating and MOOD. Try walking, running, bicycling, or swimming and eating small, frequent meals. Large, carb-heavy meals can cause blood sugar swings and worsen irritability associated with PMS. Eating six or so small meals throughout the day rather than two or three big meals can help ease your PMS symptoms.
Math problems and PMS don't really mix. Thankfully, there are a few hacks for making sure you're comfy in your seat throughout the school (or work!) day. Prepare some herbal tea in a thermos (nix the caffeine, which can worsen PMS-linked crankiness and anxiety) and make sure to get plenty of calcium-rich foods. Exercise helps too — traveling from class to class or a lunchtime walk counts! Get plenty of sleep too, which helps to increase your body's metabolism and ease the effects of PMS.
Girls' night in with your bestie would be fun anytime of the month, but can be especially helpful when you're in the throes of PMS. Plan a movie binge and prepare a tray of peppermint tea, a hot water bottle (take that cramps!), and snacks (our secret weapon: nibbles of chocolate). Follow your movie sesh with a mood-boosting walk or run to feel better together.
First, pack a self-care PMS kit: an empty hot water bottle, herbal tea bags, yoga pants, ibuprofen if you're not allergic, tampons (naturally), your yoga pants and Dove Chocolate for when you're craving a little reward. Relax with a local yoga or meditation class to ease some of the pain and drink plenty of water. Pro tip: Go for a walk on the beach (or wherever you are) to get endorphins going!
Author: Theresa Gonzalez
Graphic designers: Casey Callahan and Lauren Jacobs
Spanish Translator: Rebecca Smith Hurd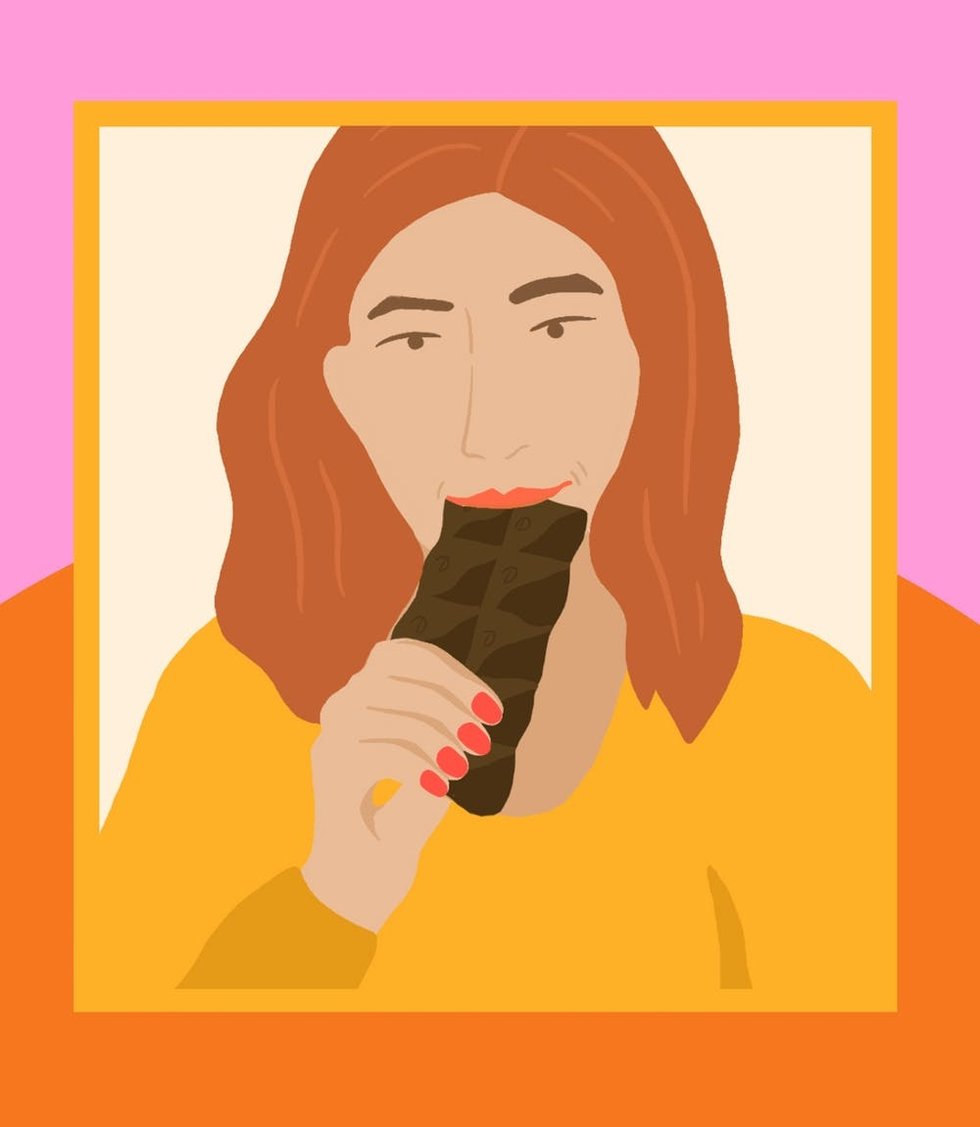 No importa qué tan regulares sean nuestros períodos, los síntomas del síndrome premenstrual (SPM) siempre surgen en los momentos más inoportunos: justo antes de esa junta estresante, durante un examen o cuando andamos de vacaciones. Nos hemos asociado con Chocolate Dove para crear "una edición del SPM" de nuestra popular serie No es para mí, es para una amiga (Asking for a Friend), en donde hacemos preguntas embarazosas que suelen ser difíciles de plantear. En esta ocasión le hemos cambiado el nombre a Es para mí, porque nunca deberíamos de sentirnos incómodas hablando de algo tan normal como nuestro período. Date unos momentos de placer durante tu próxima racha del SPM con chocolate Dove y estos consejos.
Si dejas un caminito de envolturas de chocolate cada vez que llega ese momento del mes, no estarás sola. Muchas mujeres experimentan ese tipo de antojos justo antes de estar en sus días. Algunos expertos se lo atribuyen a los cambios hormonales, sin embargo nuevos datos sugieren que estos antojos pueden estar asociados con normas culturales (comer chocolate = recompensa) más que por causas psicológicas. Y, de cualquier forma, el placer de comer chocolate puede reducir el estrés del SPM, ¿cierto? Las buenas noticias son: varios estudios han mostrado que chicas jóvenes y mujeres queman calorías extra justo antes de estar en sus días, entonces es una situación de ganar-ganar si quieres consentirte un poco más de lo usual.
Cuando atraviesas por ese período del mes, tus niveles de hierro pueden estar por los suelos. Para recuperarlos, verduras de hoja verde como la espinaca o la col rizada pueden ser un buen suministro de hierro. El calcio y la vitamina D también nos ayudan a prevenir los síntomas premenstruales. Abastécete de frutas como naranjas, limas y limones y no te olvides de los plátanos, que son de lo mejor que hay para estimular tu estado de ánimo, gracias a su alta dosis de vitamina B6. ¿Tienes antojo de algo dulce? Te entendemos. El chocolate es una buena fuente de magnesio, que no solamente estabiliza tus cambios de humor, sino que también ayuda a regular tu serotonina — esa hormona de la felicidad. Evitar la sal, la cafeína y el alcohol también puede ayudar.
¡Ponte las pilas! Hacer ejercicio puede liberar endorfinas (esas sustancias que hacen sentirte bien) y ayudarte con los molestos cólicos, la inflamación y el estado de ánimo. Trata de caminar, correr, andar en bicicleta o nadar y comer pequeñas pero frecuentes comidas. Grandes y pesadas comidas ricas en carbohidratos pueden elevar tus niveles de azúcar y empeorar tu irritabilidad asociada con el SPM. Comer alrededor de seis comidas ligeras durante el día es mejor que comer dos o tres comidas pesadas, ya que ayudan a aliviar tus síntomas premenstruales.
Las matemáticas y el SPM no se llevan bien. Afortunadamente hay algunos tips que te harán sentir cómoda en tu asiento durante las clases (o en un día de trabajo). Prepara unos tés herbales y llévatelos en termos (deshazte de la cafeína, que puede empeorar tus síntomas premenstruales — ligado al mal humor y la ansiedad) y asegúrate de comer alimentos ricos en calcio. ¡El ejercicio también ayuda! Ir de un salón a otro o moverte durante el lunch cuenta. Además, duerme lo suficiente, ya que ayuda a estimular tu metabolismo y a aliviar el SPM.
Una noche de chicas con tu mejor amiga puede ser divertido cualquier día del mes, pero en especial puede ser de gran ayuda cuando sufres con el SPM. Planea un maratón de películas y prepara una charola con agua caliente, té de hierbabuena (¡adiós, molestos cólicos!) y unas botanas ricas (nuestra arma secreta: pequeños bocadillos de chocolate). Acompañen la sesión de pelis con una caminata para sentirse bien juntas.
Primero, empaca un kit personal contra el SPM: una bolsa de agua caliente (vacía), una selección de tés herbales, yoga pants, ibuprofeno (si no eres alérgica), tampones (por supuesto) y chocolate Dove (para cuando tengas el antojo de una pequeña recompensa). Relájate con unas clases locales de yoga o meditación para aliviar un poco el dolor y rehidrátate con bastante agua. Súper consejo: Sal y haz una caminata por la playa o donde quiera que te encuentres. ¡Hay que activar esas endorfinas!