The Best Art Galleries in All 50 US States
May 30, 2016
We love a good PJ and chill, but now that the weather's gorgeous again, we're committed to dragging our lazy buns out of bed, dressing up in our trendy spring outfits and hitting the town. Instead of settling for a night out with the girls, why not splurge a little and take the cultural road trip of a lifetime? Especially if you've already hit our must-see summer exhibits at some of the top US museums, turn your attention to the smaller artistic establishments in your state (or the next one over). Here are 50 art galleries every art buff and every gallery newbie needs to visit this summer.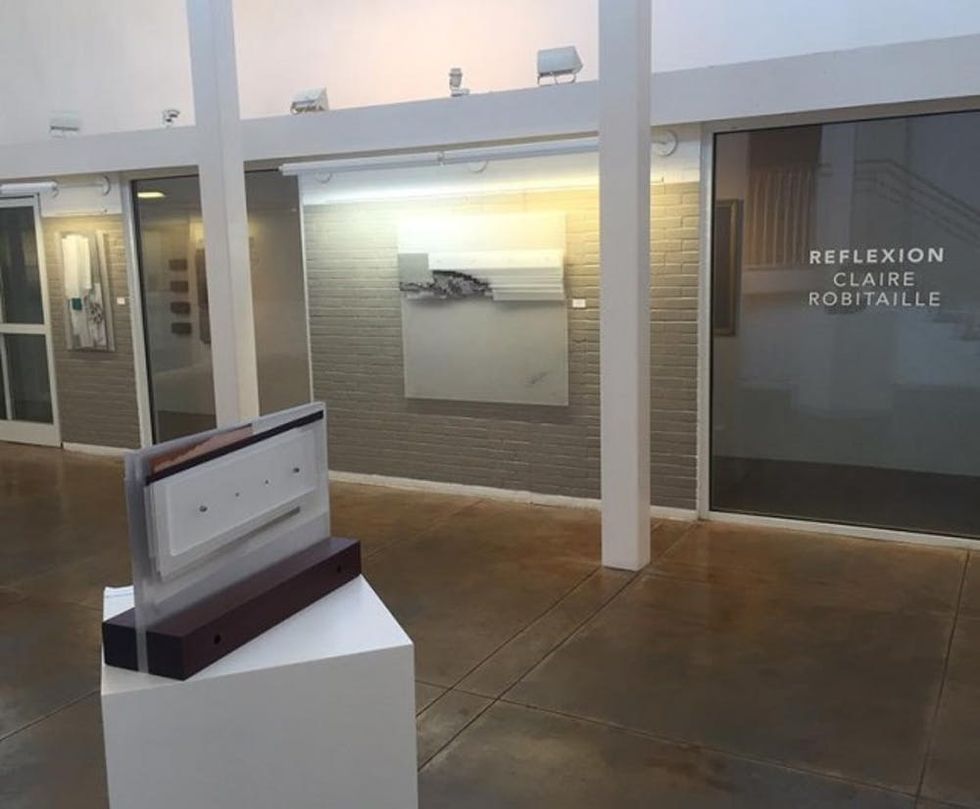 ---
Alabama: Founded in 1954 by a group of local artists and patrons, the Eastern Shore Art Center is all about bringing contemporary art to the masses. Check out the American Watercolor society's annual exhibition, on display until June 25. (Photo via Eastern Shore Art Center)
Alaska: An art gallery and a comic book store, Alaska Robotics Gallery is a great place to see art you probably won't find anywhere else. Along with hosting festivals and artist camps, you can also purchase some of their artists' work and prints in their online shop.
Arizona: Located in the heart of Phoenix's famous Roosevelt Row, MonOrchid is home to the largest art walk in America. With three galleries regularly dawning the work of renowned artists, this is a definite must-see in Arizona.
Arkansas: If you're trying to find a place to enjoy local art while walking your pooch, look no further than the Bernice Garden. Featuring sculptures from local artists, it's a lazy, relaxing stroll that's sure to put you in a cultural mood.
California: In their upcoming exhibition featuring Andrew McNamara and Ricardo Ales' works, Thumbprint Gallery hopes to showcase the "ephemeral and intangible nature of the interior life inspired by experiences of the novel and mundane." Check out the exhibit from May 14–June 5.
Colorado: Showcasing mixed-material art made out of everything from rolled paper and glue to bronze work, Robischon Gallery's newest exhibition is stunning to behold. Featuring artists such as Lorna Simpson and Judy Pfaff, people will be talking about this influential exhibition for a long time.
Connecticut: The Center for Contemporary Printmaking in Norwalk was originally founded in 1995 to help budding and established artists create original prints. Today, along with hotly pursing this goal, they host stunning exhibitions, like their current show "Re:Location," which asks onlookers to consider the role that location plays in their lives and practices.
Delaware: Built as an homage to the Howard Pyle school of design, Schoonover Studios is packed full of unique pieces for the art lover to dote over. Although the studio is open Monday to Friday, it's always a good idea to call ahead first if you plan on visiting.
Florida: If you haven't checked out Camilo Matiz's "Here Not There" collection, you have to visit Avant Gallery at the Epic Hotel in Miami, pronto. From popular artists like Andy Warhol to little-known talents from the local area, this awesome gallery is definitely worth a visit.
Georgia: Susie Pryor, Steven Seinberg, Helen Shulman… Pryor Fine Art represents over 60 artists from the US and Canada in their upscale gallery in Atlanta. Check it out for amazing abstracts, form-bending sculptures and thought-provoking figurative work.
Hawaii: At the Honolulu Museum of Art there's always something new to discover, from the breathtaking "American Array" exhibition, featuring postwar and contemporary American art, to the "Plastic Fantastic?" collection of work from artists such as Takashi Murakami and Charles and Ray Eames.
Idaho: With four exhibition spaces and an outdoor sculpture court, Gail Severn Gallery is an enormous celebration of art in all forms. Check the gallery out every day of the week (they open a tad bit later on Sundays) at their Ketchum location.
Illinois: According to Time Out Chicago, "As far as this gallery of the University of Chicago's campus is concerned, the avantest of the avant-garde is the only one that matters." Let's just say the Renaissance Society's latest exhibition, "Between the Ticks of a Watch," definitely proves them right.
Indiana:Art Bank, which, yes, is an old bank that has been transformed into an art space, sits on the northeast side of downtown Indianapolis. From watercolor classes to mesmerizing featured artworks of the month, this small Indiana treasure is just begging to be explored.
Iowa: With current exhibitions including LEGO architecture models, cameo stones and Mississippi river scenes, it's no wonder that the Figge Art Museum is one of Davenport's greatest art hotspots.
Kansas: Currently hosting exhibitions from Anne Lindberg, Alex Kvares and Corey Antis, Haw Contemporary is a great place to view outstanding fine art from both local and international artists.
Kentucky: Pairing a beautiful assortment of traditional art with a surprise collection of Louis Vuitton vintage luggage, the Balatro Fine Art Gallery has something for everyone. Check them out in Dudley Square in Lexington.
Louisiana: Nicholls State University's Chauvin Sculpture Garden proudly displays paintings, photographs, sculptures and pottery created by local artists. Always free and open to the public, this local gem is definitely worth checking out.
Maine: Not your typical art gallery, the International Cryptozoology Museum is all about showcasing "the study of hidden animals," like the Yeti and Big Foot. Featuring supposed artifacts and artwork, who knows — a quick trip to their Portland location might just turn you into a believer.
Maryland:Goya Contemporary balances public and private collections beautifully in their Baltimore location. Head there now for the exhibition "Generations," featuring work from Joyce J. Scott (who has an elaborate 14-page biography of shows and residences) and mixed-material artist Sonya Clark.
Massachusetts: If you're looking for amazingly styled photographs, you have to check out the Robert Klein Gallery. It offers old-timey portraits and elegant cityscapes galore.
Michigan: Currently hosting an exhibition featuring a select number of Wayne State University's advanced graphic design students, the Scarab Club is all about merging the new with the old. Check out their popular annual exhibition, "Blooms, Bugs, Beasts" until June 25.
Minnesota: Considered one of America's big five art centers, both the exterior architecture and the intricate and exquisite galleries inside the Walker Art Center in Minneapolis are breathtaking to behold.
Mississippi: Featuring two solo exhibitions with mixed-media artwork of Younok Jung and paintings and sculptures by Susan Klein, the Southside Art Gallery in Oxford is definitely worth a visit. The gallery is open Tuesday through Saturday.
Missouri: Portraits, landscapes, abstract pieces and much, much more — there's always something new to see at the Blue Gallery. With their current group exhibition featuring the likes of Brooke Golightly, Amy Ashier-Reyes and Bernal Koehrsen, there's never been a better time to visit.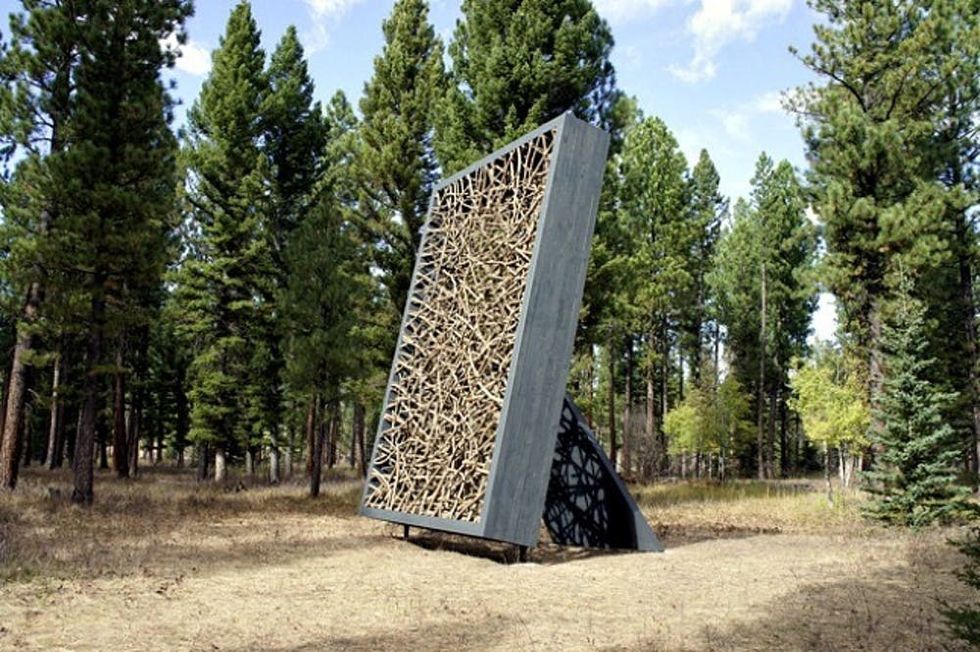 Montana: If you're looking for a free way to stretch your legs, take in some breathtaking sculptural art and enjoy a hot Montana afternoon, check out Blackfoot Pathways: Sculpture in the Wild. (Photo via Blackfoot Pathways: Sculpture in the Wild)
Nebraska: With an extensive permanent collection and fascinating temporary rotations, the Joslyn Art Museum is a great place to take your kids on a school-free morning. Plus, general admission is free.
Nevada: There's tons to do in Sin City, but if you're looking to break free from the casinos and grandiose hotels in Las Vegas, we suggest hopping over to the Neon Museum. Although you won't find watercolors or expressionism here, walking amongst the nearly 200 signs is definitely an artistic experience.
New Hampshire:The Banks Gallery in Portsmouth is dedicated to dealing in the finest American paintings and sculptures from the nineteenth century to today. Peruse their new arrivals online here before you go.
New Jersey: Modern art lives in Newark's Gallery Aferro. From LGBT activists to popular culture icons, their current exhibitions tackle all forms of modern life — making it a definite must-visit this summer for those interested in social criticism and movements.
New Mexico: If abstract art is your jam, you should definitely head over to the Richard Levy Gallery ASAP. With rockstar artists like Xuan Chen and Hayley Rheagan earning their own shows this summer, you won't want to miss it.
New York: It's almost impossible to choose a single favorite from the many, many amazing NYC galleries, but if we had to visit just one, we'd love to spend an afternoon at the David Zwirner Gallery. Check out their upcoming exhibitions page for the deets on future shows.
North Carolina: Honoring, celebrating and remembering African American culture throughout history, the Harvey B. Gantt Center for African American Arts and Culture is a definite must-see in Charlotte.
North Dakota: With a 4,000+ piece permanent collection and exquisite exhibitions — we can't wait for "You Don't Have to Put a Feather on It" — the Plains Art Museum is a truly impactful cultural experience.
Ohio: Whatever type of contemporary art you are looking for, you'll find it at Manifest Gallery. Their upcoming exhibition, "Drawn," features hand-drawn pieces from all across America (and a cheeky few from England).
Oklahoma: From year-round art classes to three floors of stunning galleries to delicious grub at the museum cafe — the Oklahoma City Museum of Art is a one-stop shop for all of your artsy needs.
Oregon: A recent addition to the elaborate Portland art scene, Upfor Gallery is a single exhibition space that consistently wows its patrons. Be sure to visit their current exhibit, "Memory Theater," if you're in the area. It's a whole visual and audio experience you won't forget.
Pennsylvania: The Andy Warhol Museum dotingly covers the entire breadth of Warhol's world-famous work — from student life to today. BONUS: Drawings by Warhol's mother, Julia Warhol, are also included in the Pittsburgh-based collection.
Rhode Island: With a goal of providing an "unjuried" and "uncensored" art forum, AS220 is all about helping the little guy. But just because they focus on up-and-coming artists doesn't mean that they host mediocre shows. Their passion and determination for free public expression definitely make for stunning exhibitions.
South Carolina: If contemporary and classical realism is your niche, you should definitely stop by Principle Gallery in Charleston. And be sure to catch the spectacular Barbara Flowers' solo exhibition, which runs in the space until May 31.
South Dakota: There's always something going on at the Washington Pavilion of Arts and Sciences — whether it's taking in a stellar art show in one of their six free galleries, grabbing a hot ticket for one of their breathtaking visual performances or sitting back and relaxing in their onsite cinema.
Tennessee: At Tinney Contemporary, modern art reigns. Not only does the art space host amazing exhibitions and showcases their beautiful galleries, but it also participates in the local First Saturday Art Crawl — where art patrons across the city gather on the first Saturday of each month to offer free art and beverages to the locals.
Texas: We admit, this isn't your typical art gallery. But one stop at the Cathedral of Junk in Austin will definitely leave you in an artsy (and upcycling) state of mind.
Utah:Phillips Gallery is a spectacular Salt Lake City gem. With nine exhibits each year and simultaneous shows in their lower gallery, it's a great outing for any and all art lovers.
Vermont: Say cheese! At the Vermont Center for Photography, it's all about the photography. Whether you're looking for jaw-dropping exhibits or a public darkroom to practice the craft yourself, you'll find everything you need in this retro chic establishment.
Virginia: With 17 years of experience under their belt, the Page Bond Gallery in Richmond has grown substantially since its opening day, now boasting more than 3,600 square feet of art space and some major international celebrity artists.
Washington: Internationally recognized for pushing the envelope, The Henry has a vast collection of over 25,000 objects — making it one of Seattle's top contemporary art hubs.
West Virginia: The extraordinary talent of Marshall University's School of Art and Design students (as well as a few professionals) is on display at the Birke Art Gallery. Come celebrate the up-and-coming talent in their always-free gallery.
Wisconsin: If Madison Museum of Contemporary Art's permanent collection doesn't make you want to plan a trip out there, their rotating exhibitions sure will. From Frank Stella prints to animations by Allison Schulnik and Wong Ping, you're missing out if you don't stop by this summer.
Wyoming: The National Museum of Wildlife Art sits high on a cliff overlooking the National Elk Refuge in Jackson. Featuring more than 550 artists and over 5,000 cataloged items, it's a niche collection that's absolutely worth a visit.
Which art gallery are you most excited for? Tweet us your picks by mentioning @BritandCo.
(Featured photo via Getty)
Ashley Macey
Ashley Macey is a lifestyle freelance writer who loves all things fitness, wellness, and creativity. When she's not exploring her home in the Pacific Northwest with her dog Max, you'll probably find her curled up with a good book and some hot tea. Follow her daily jaunts on Twitter.
Home News