20 Festival-Ready Hairstyles That Rock the Mane Stage
Mar 08, 2014
Festival style is all about effortless beauty, and nothing showcases that more than acing a "pretty messy" hairdo. From wind-blown waves to loose braids, the breezy look is a cornerstone of boho style and the number one reason behind those "how-did-she-do-it?" stares. Get the easy glam look with these 20 festival-ready hairstyles that blur the line between chic and super cool.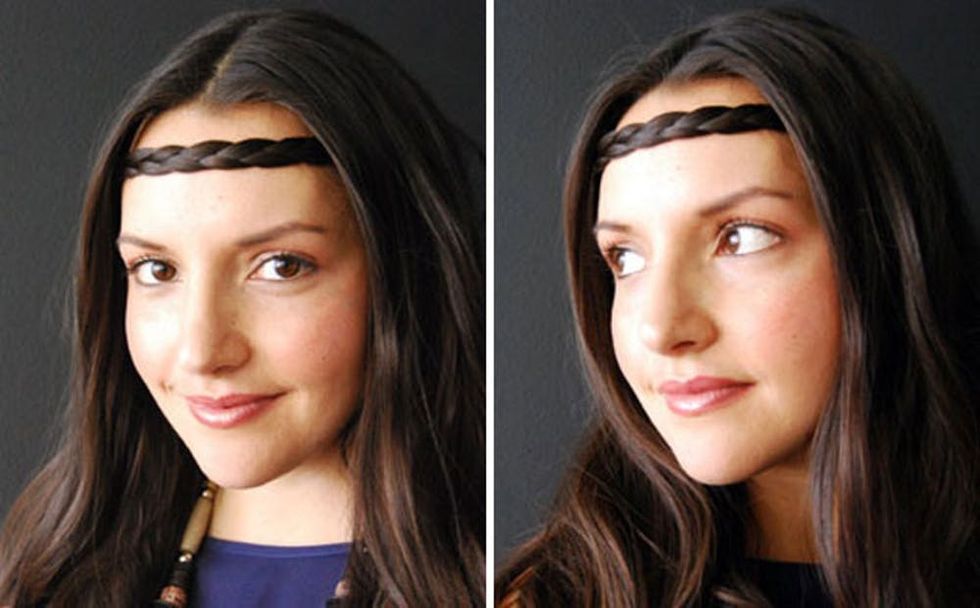 ---
1. Hair Headband: Who needs accessories when you can use your own woven locks as a stunning headpiece? Hippie chic at its finest. (via Brit + Co.)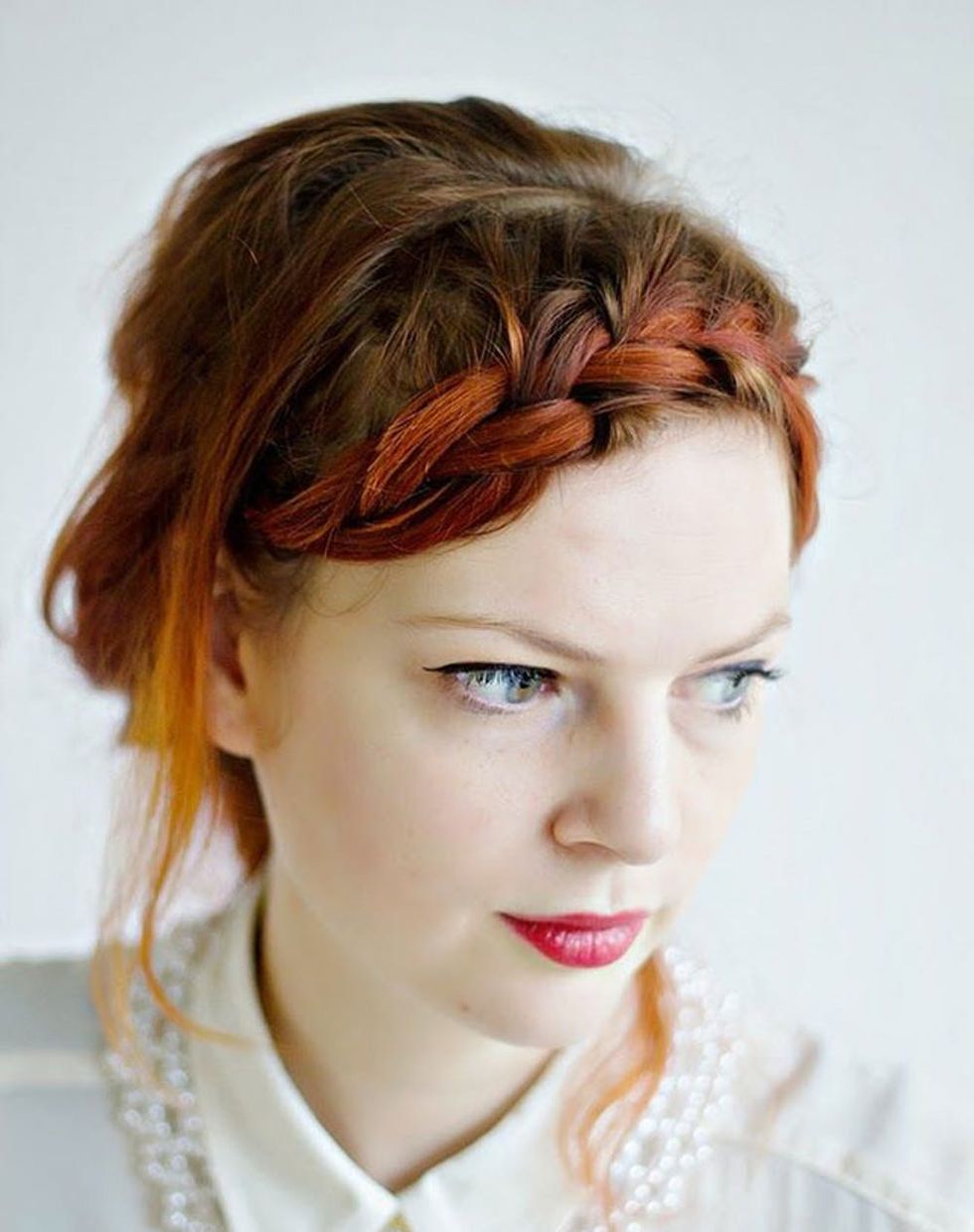 2. Braided Bangs: We're loving this take on the classic halo braid. Weave your bangs into a sweeping side braid to get this romantic boho look. (via Lana Red)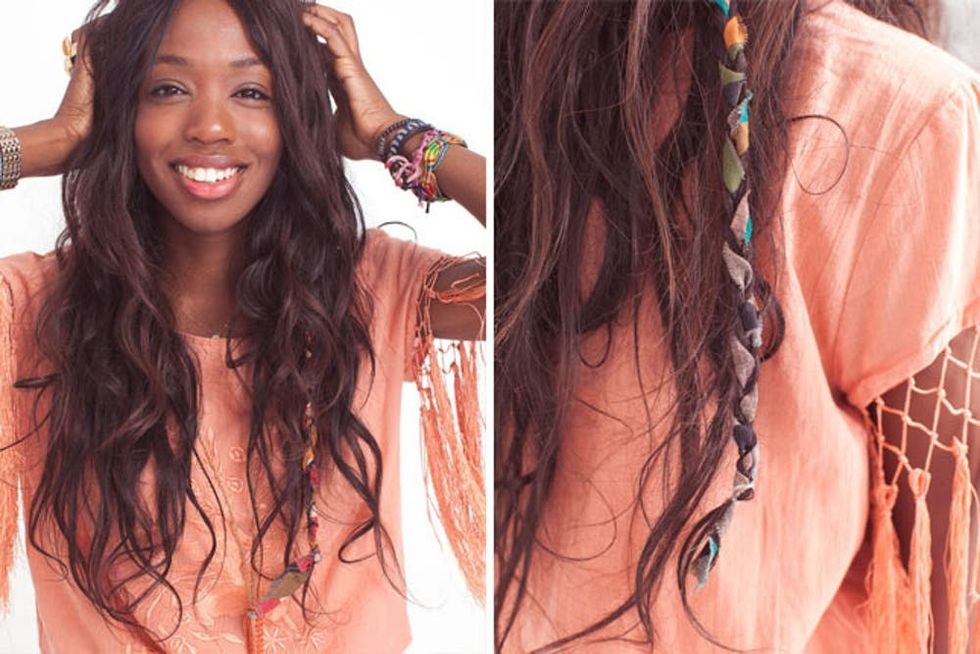 3. Grown Up Hair Wrap: Remember hair wraps? Festival season is the perfect time to resurrect this retro hair hack—use brightly colored ribbon to make it pop through dark hair. (via Refinery29)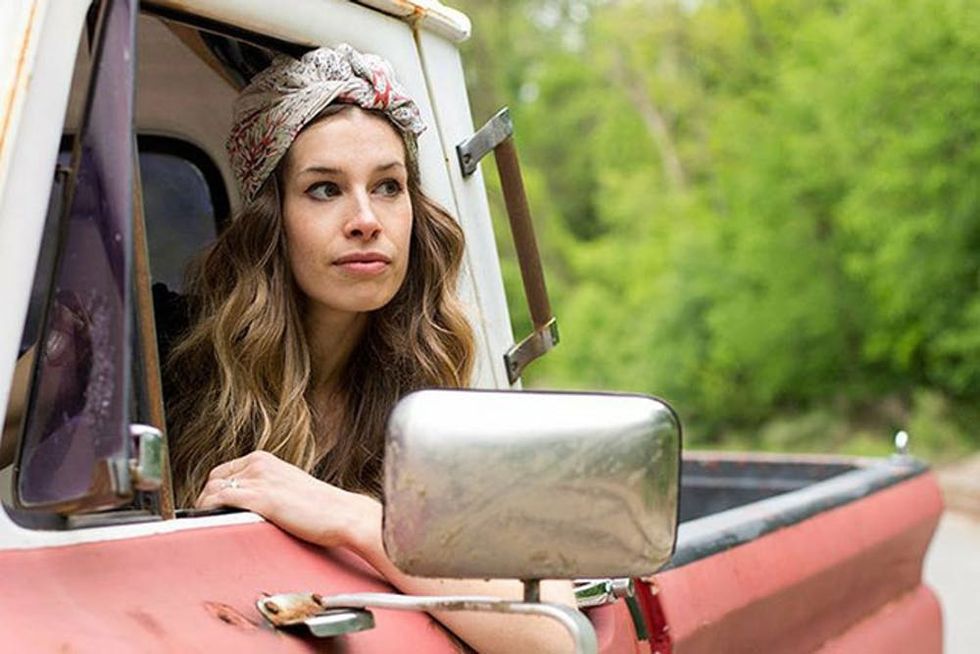 4. Scarf Headband: Learn to tie the perfect turban scarf with this step-by-step tutorial. It's a winning look paired with wind-kissed waves. (via Story by ModCloth)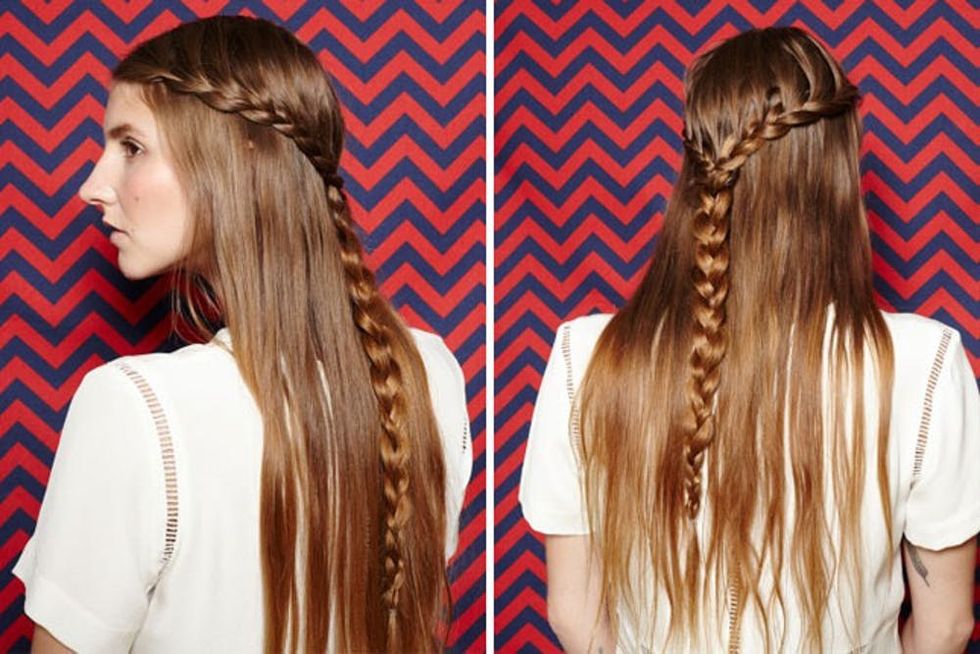 5. Waterfall Braid: This waterfall braid is like a work of art. It might be our favorite accessory-free look for ladies with long, straight hair. (via Refinery29)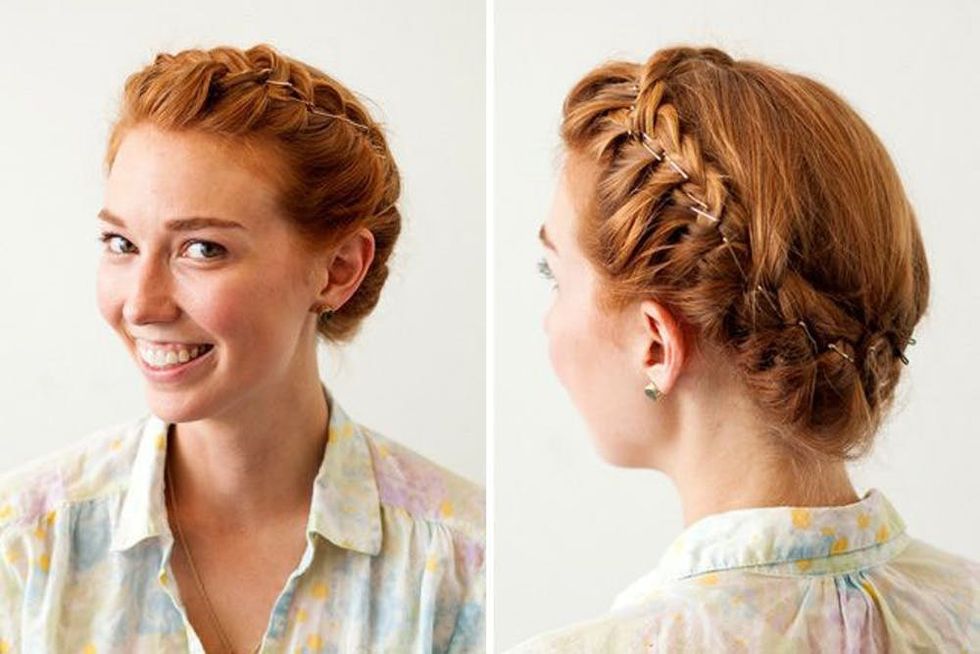 6. Bobby French Crown Braid: Add some edge to your dreamy crown braid with bobby pins! We dig the natural metallic glimmer of the silver pins, though you could always take it to the next level with colored or embellished bobbies. (via Brit + Co.)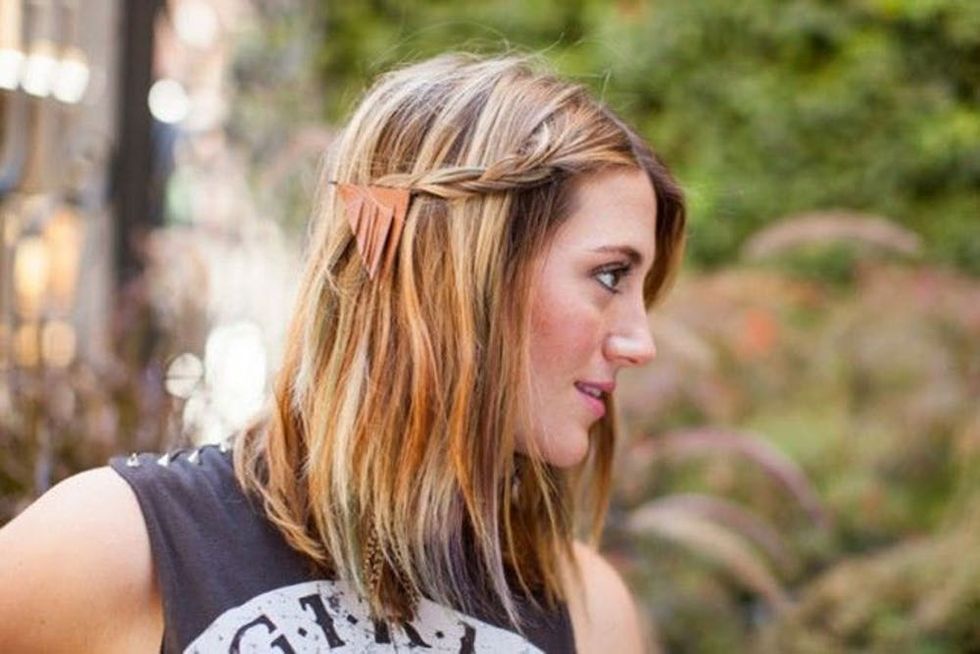 7. Simple Side Braid: This might be the easiest boho-inspired 'do to pull off ever. Pin back a simple braid with a fringy hair clip and you're ready to rock. (via Brit + Co.)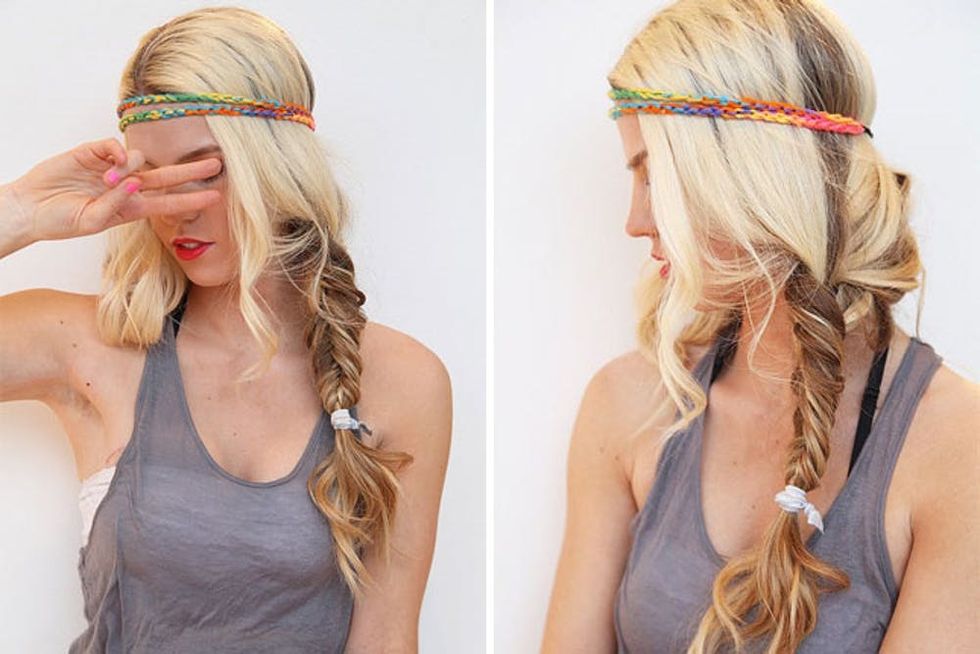 8. Twisted Fishtail Pony: We're floored by this effortless style that tames a loose fishtail braid with a neon rope headband. It's a flawless festival look. (via RaydiantApparel on Etsy)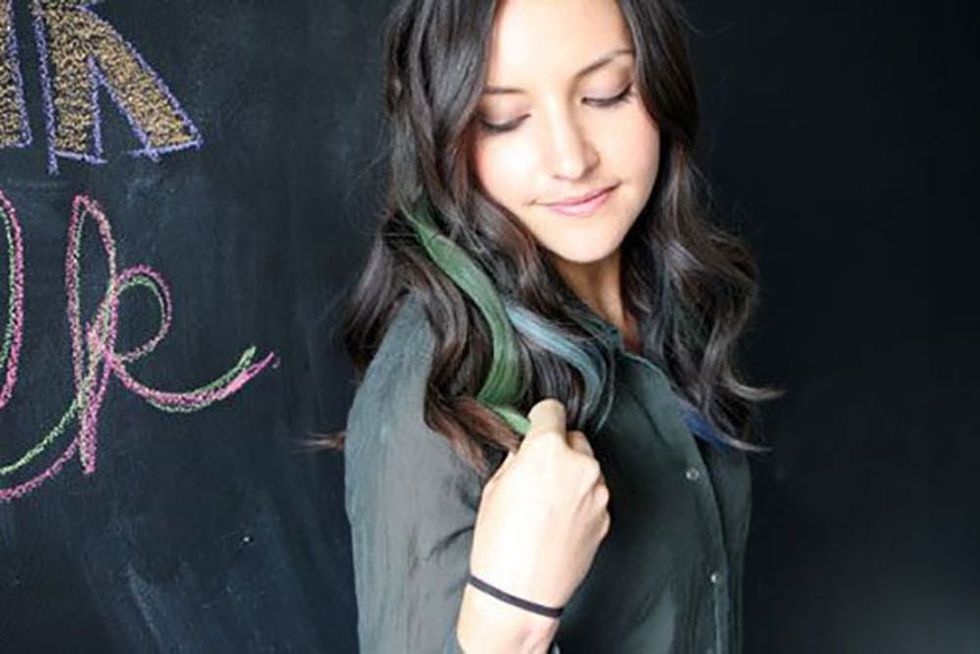 9. Waves and Hair Chalk: Why deal with the mess of hair dye when you can just paint on color with hair chalk? Tote the hassle-free pastels along to switch up your 'do all festival long. (via Brit + Co.)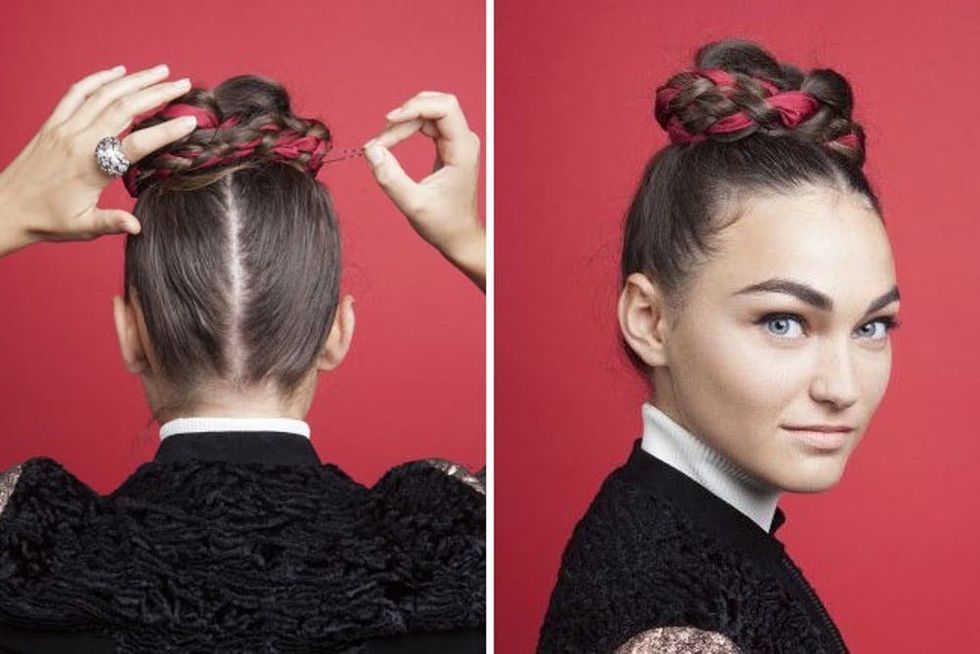 10. Fabric Woven Top Bun: Take your top bun to the next level with this fabric braided tutorial. Definitely don't skip that dramatic back part—it makes the style look super polished. (via Refinery29)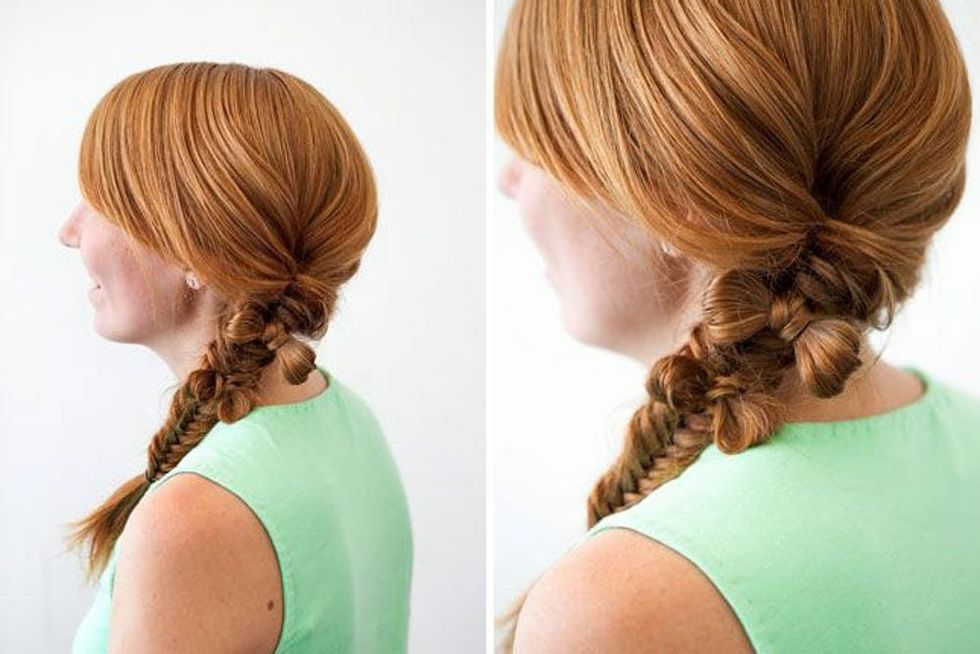 11. Fishtail Mini Hair Bows: Learn how to weave not one, but two heavenly hair bows into your fishtail braid with this tutorial. We're hands down obsessed with this girly hairdo. (via Brit + Co.)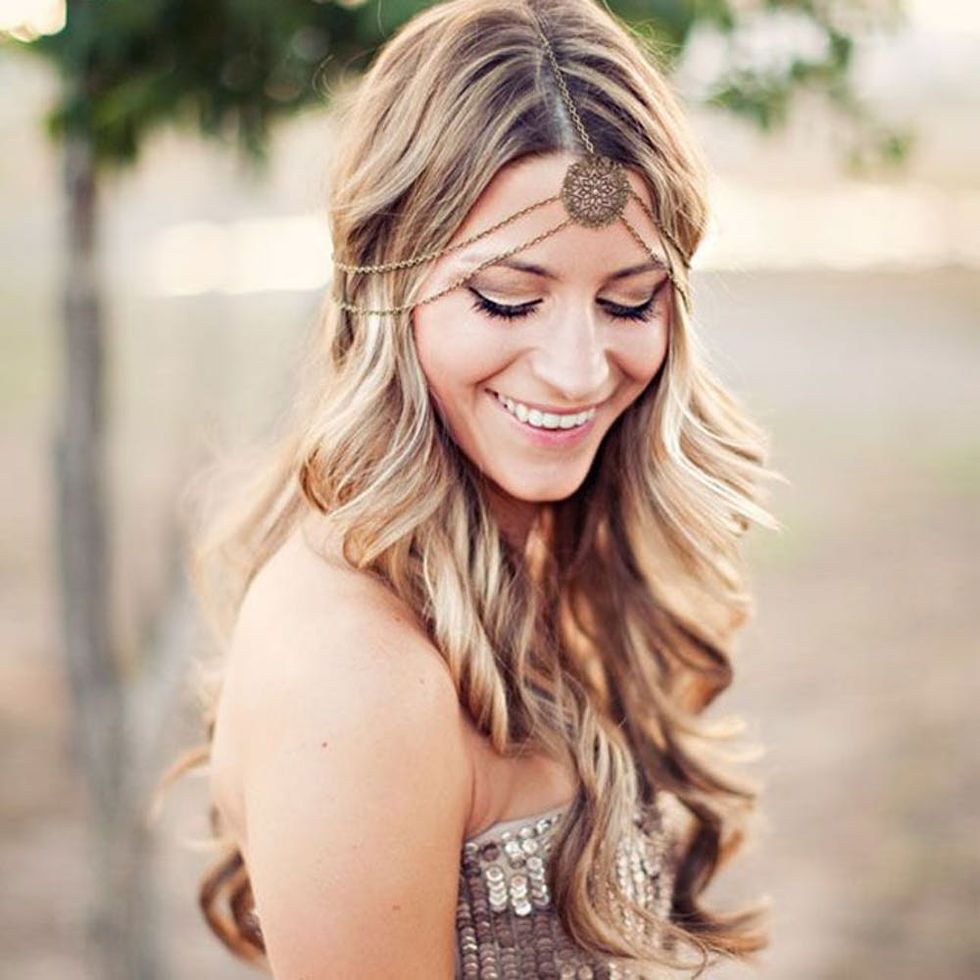 12. Boho Glam Curls: Sure that headpiece is major, but it wouldn't be as stunning if those locks weren't curled to glamorous perfection. (via Green Wedding Shoes)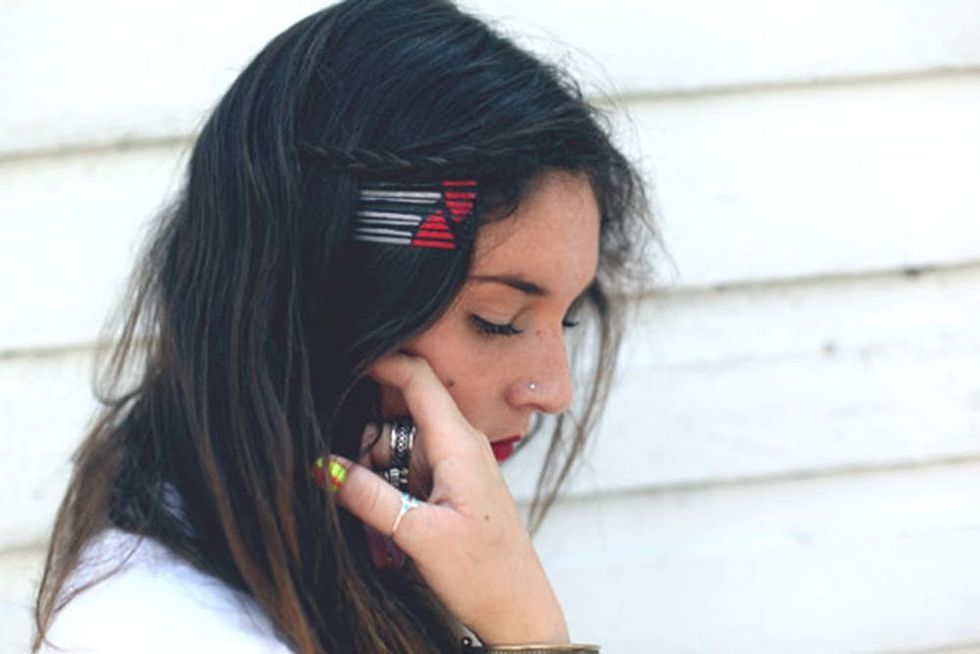 13. Painted Bobby Pins: Hair hack! Trick out your bobby pins with nail polish to get this way easy (and cheap!) festival-ready look. We love how they're clustered together here in a tribal-inspired pattern. (via Free People Blog)
14. Neon Studded Braid: Studs and bobby pins are now BFFs, and we wouldn't have it any other way. Paint a neon gradient and place them along your fishtail braid for a trendy look. (via Brit + Co.)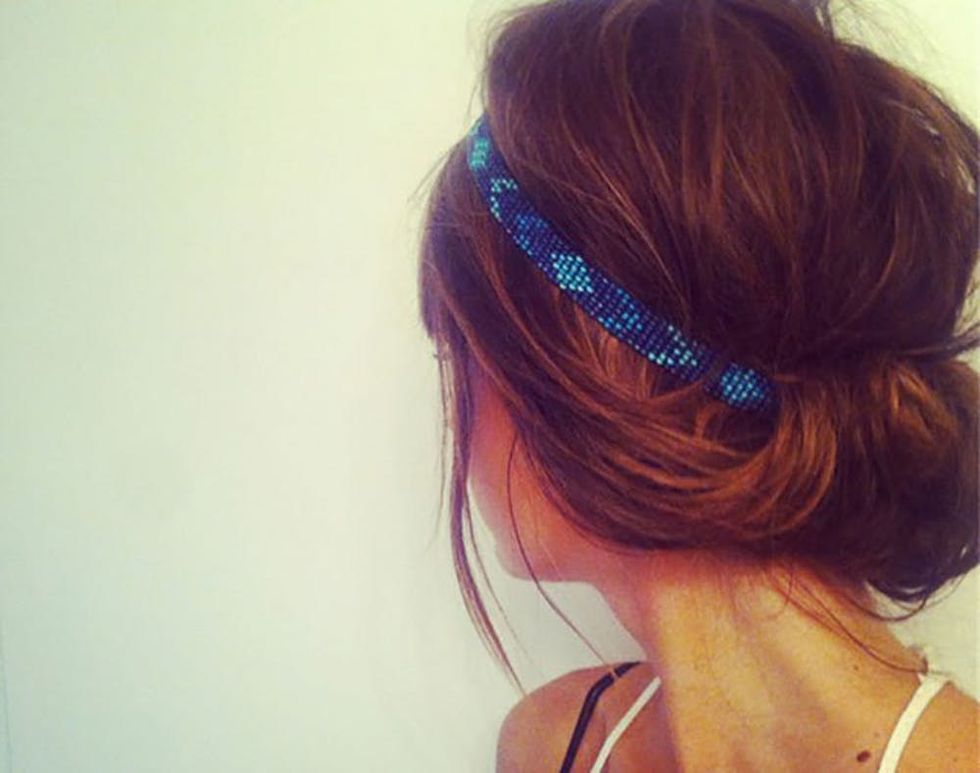 15. Two Minute Tuck: Boho 'dos don't get much easier than this! Just tuck your locks into your fave headband. Done and done. (via Treasures and Travels)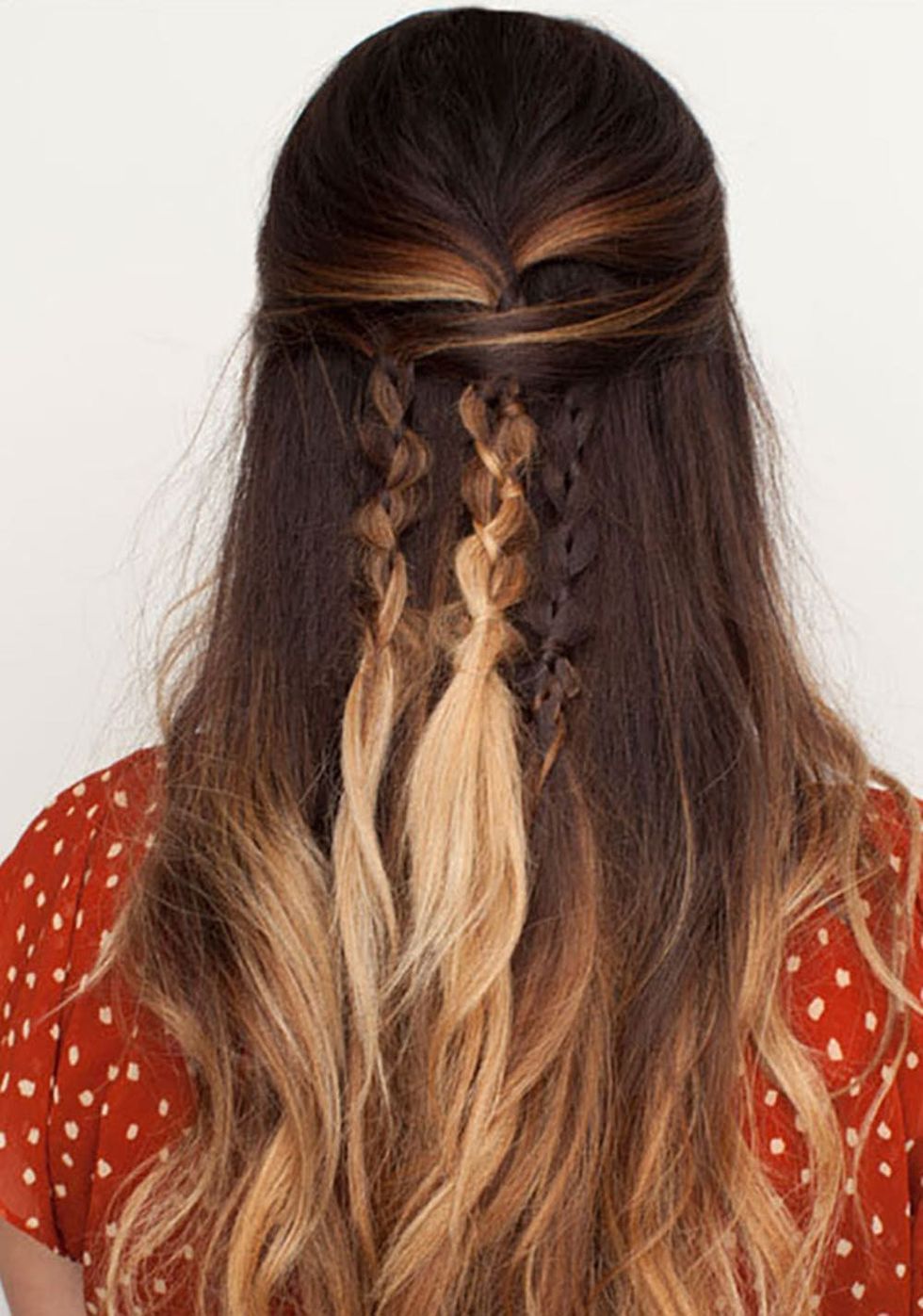 16. Triple Braided Hair: Check out this new way to braid: portion your plait out so that you have one smaller strand in order to get this wavy woven look. And as we all know, three braids are way better than one! (via The Beauty Department)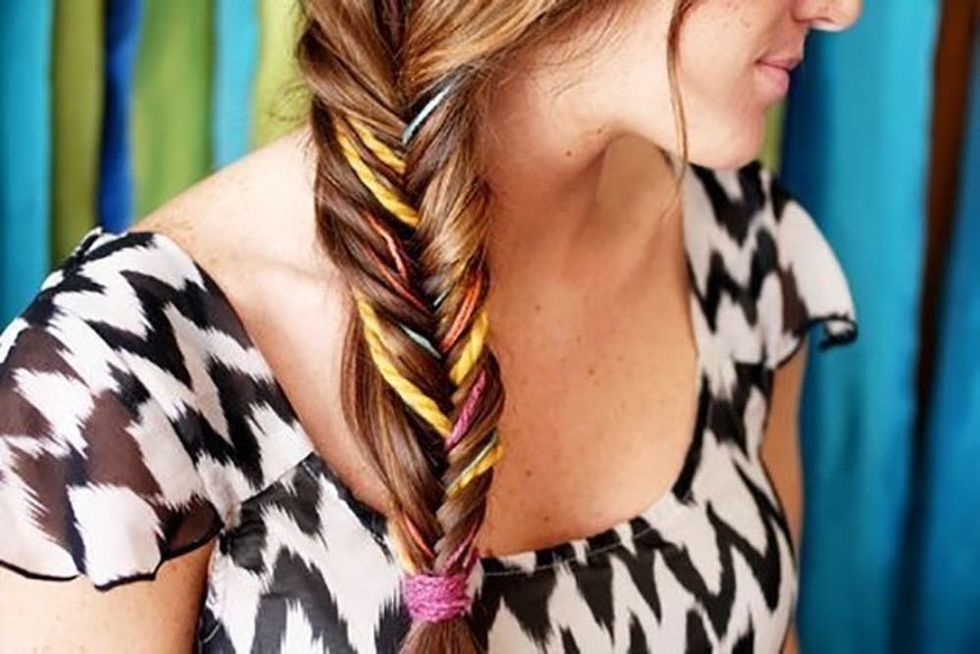 17. Woven Fishtail Braid: The neon rope adds both color and texture to the already eye catching hairdo. Best fishtail add-in ever? (via A Beautiful Mess)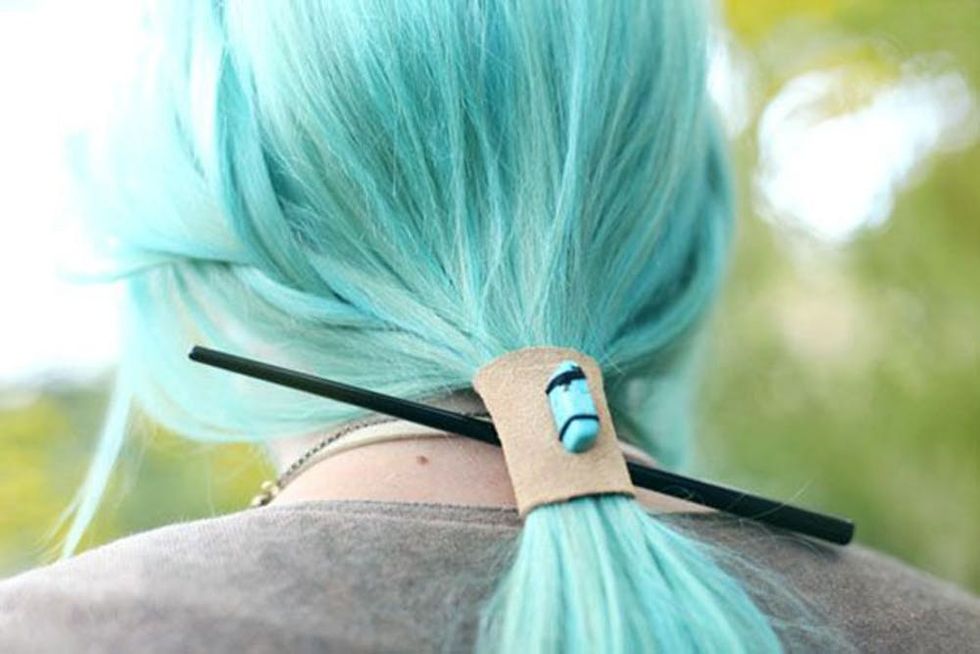 18. Chopstick Pony Wrap: Short on bobby pins? Grab a chopstick to hold your hair together instead! It's an eclectic look that's perfect for the festival grounds, especially when paired with this stone and leather hair wrap. (via Free People Blog)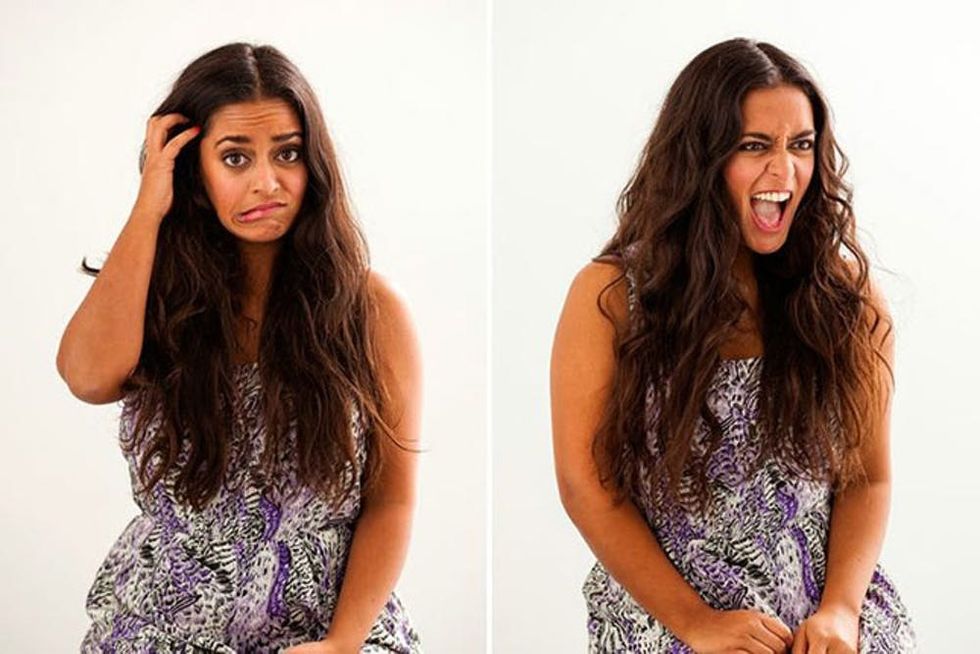 19. Wild Child Waves: Curl and scrunch your way to these colossally crimped waves. Even though this look is pretty wild on its own, we think it's begging for a hippie headband. (via Brit + Co.)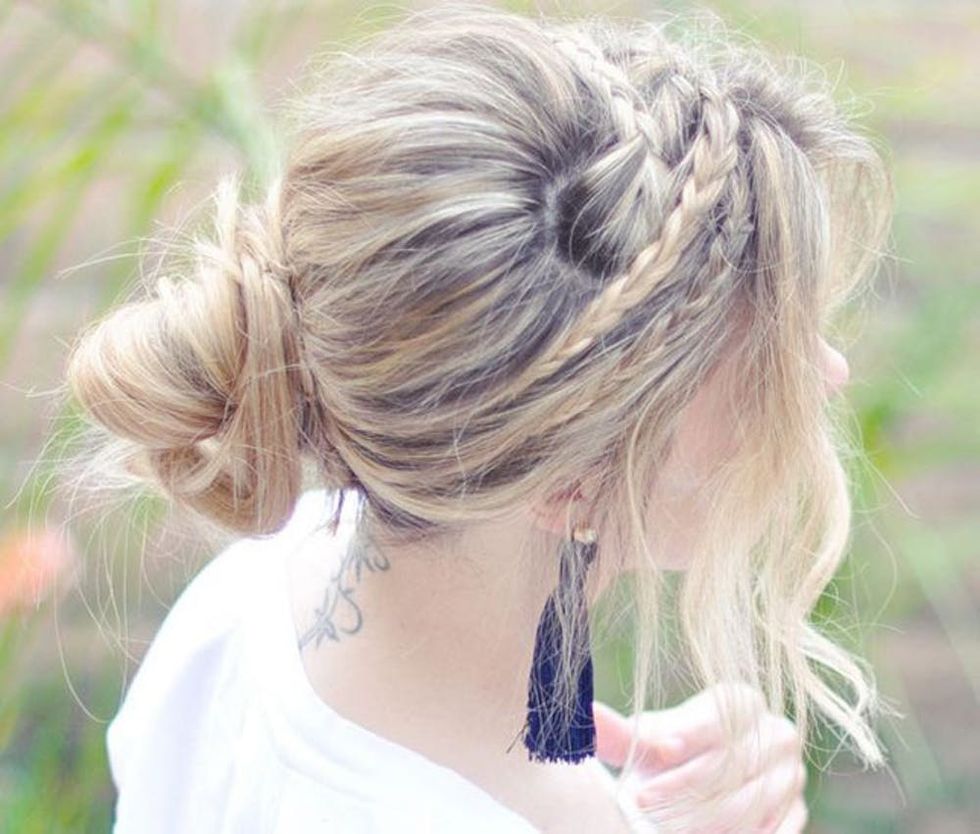 20. Rope Braids Low Bun: This might be the dreamiest festival hairstyle of them all. Draw rope braids into a messy bun to get this classic boho chic look. (via …love Maegan)
What are your favorite festival hairdos? Tell us in the comments below.
Hair