These 5 Celebs Just Proved This Dress Trend Should Be Your Holiday Party Go-to Look
Dec 01, 2015
There's something about cold weather that makes us gravitate toward dark colors. Whether we're swiping on a super vampy lipstick or throwing on layer after layer of inky outerwear to keep warm, dark colors seem to go hand in hand with this time of year. The same goes for celebrities, who've been proving this cold-weather-fashion theory is true with the latest red carpet dress trends: Black dresses with *sheer details.*
We spotted a handful of celebs rocking the see-through styles with moody flair, and our minds shot straight to one thing: They'd make a great unexpected holiday party outfit in the sea of green and gilded frocks. It's both classy (thanks to the timeless black) and fun (sheer details = FUN), which makes it perfect for when you want to turn up the swank. Just take it from these five celebs.
---
GWEN STEFANI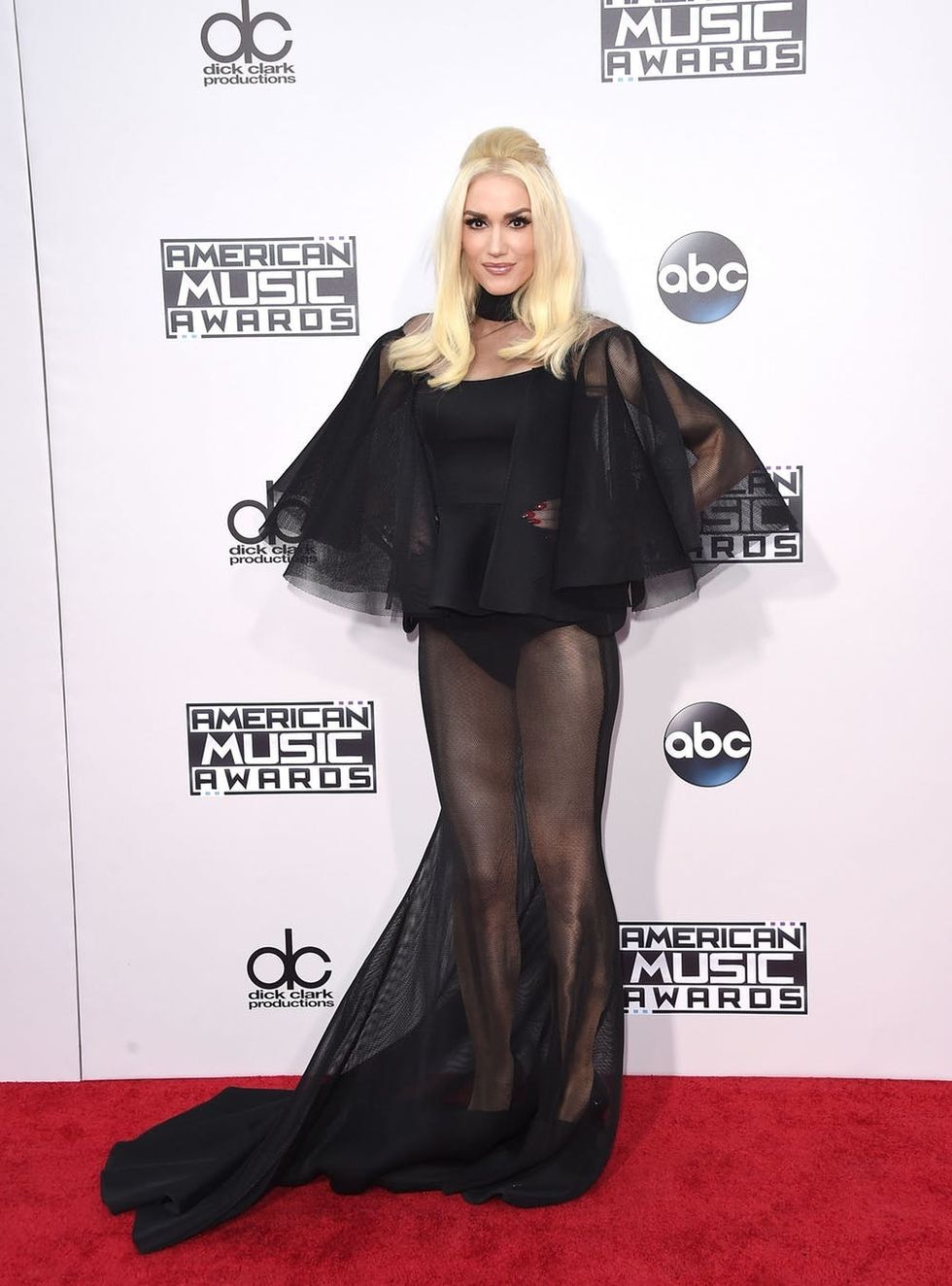 Gwen's long black dress at the American Music Awards featured a sheer neckline and sleeves that showed off serious ruffles — but that's not all. From the waist down, her dress revealed that she was wearing a leotard-like piece underneath, aka the garment of choice to wear with a sheer skirt. While it looks like Gwen is bare-legged under her flowy skirt, you could pull off this look with opaque tights underneath. We'd wear ones with major patterns or embellishments since they're peeping from hip to toe. (Photo via Jason Merritt/Getty)
CATE BLANCHETT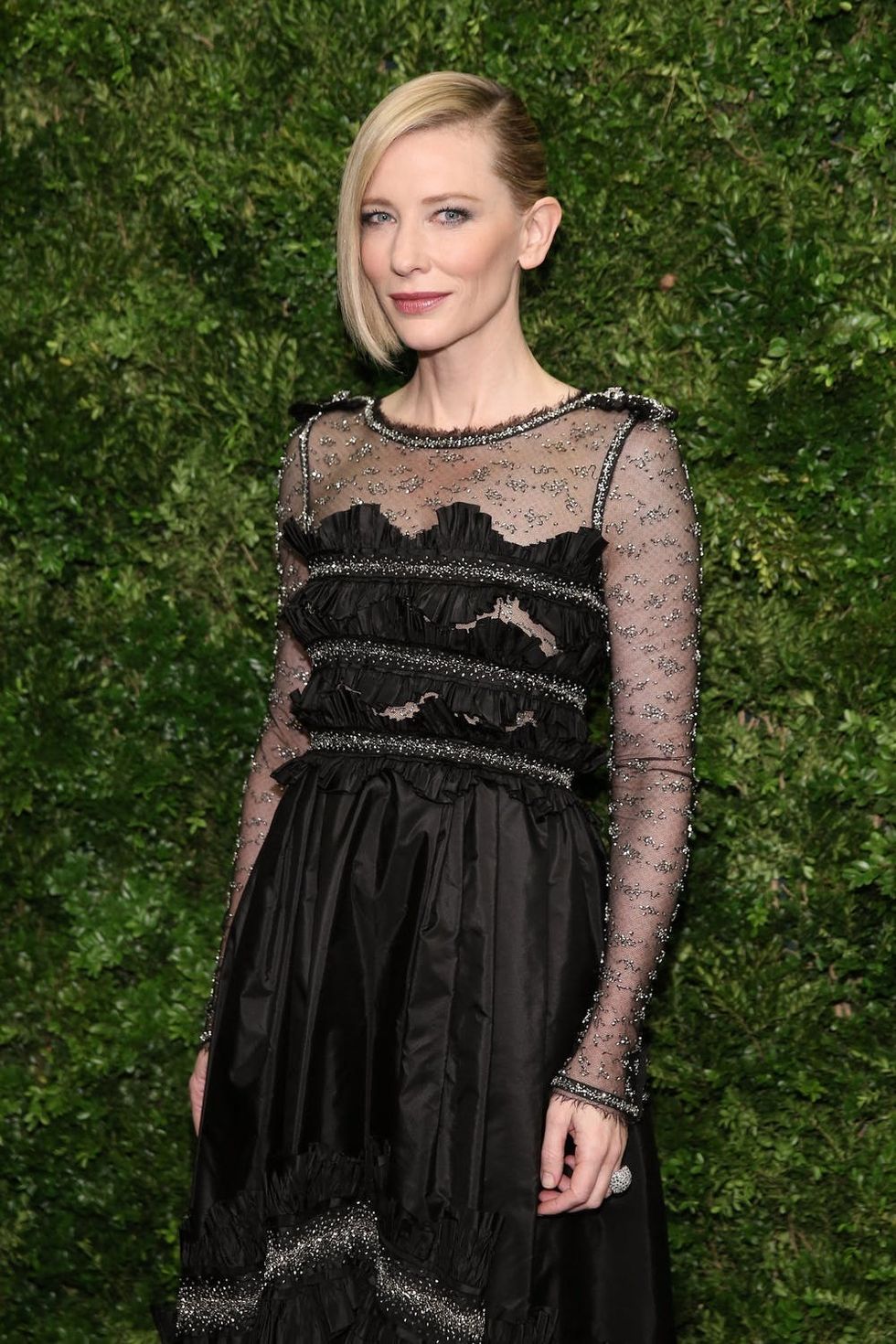 Cate looked seriously stunning in this intricately-detailed, long-sleeved dress at the Museum of Modern Art's 8th Annual Film Benefit. The tiny beads on the sheer part of her dress and thick stitching added a touch of minimalist bling — an amazing detail for the gal who wants her glitz to shimmer, but not SPARKLE — while the ruffles on her chest and midsection keep the dress super feminine. (Photo via Neilson Barnard/Getty)
JENNIFER LAWRENCE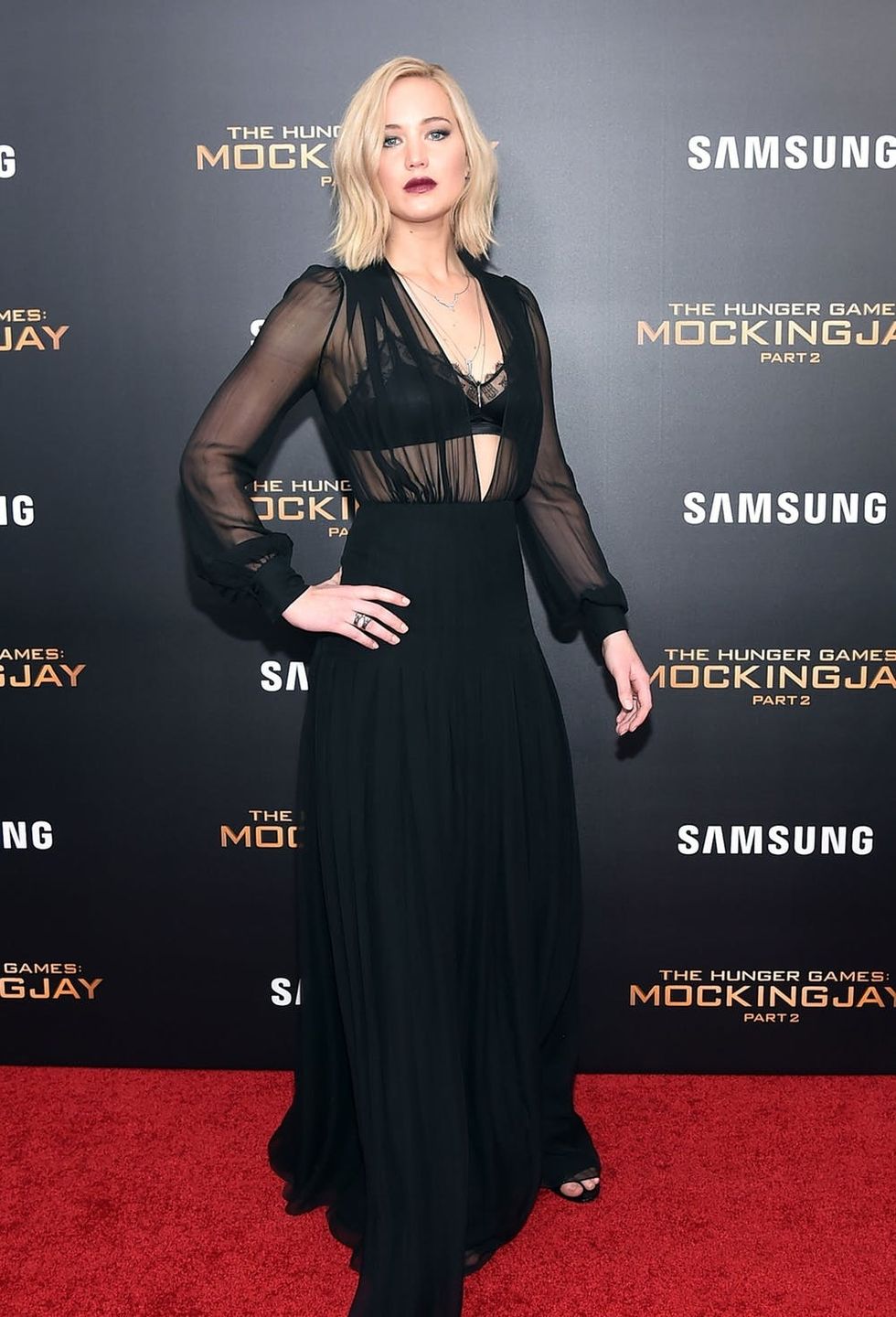 J.Law showed up to The Hunger Games: Mockingjay Part 2 wearing a sheer black dress that gave off major nightgown vibes. She sported a black, lacy bralette underneath a sheer, long-sleeved top (think of it like a next-level crop top) and balanced out the look with a long, matte skirt. It was such a striking look — especially with that vampy lip! (Photo via Michael Loccisano/Getty)
JENA MALONE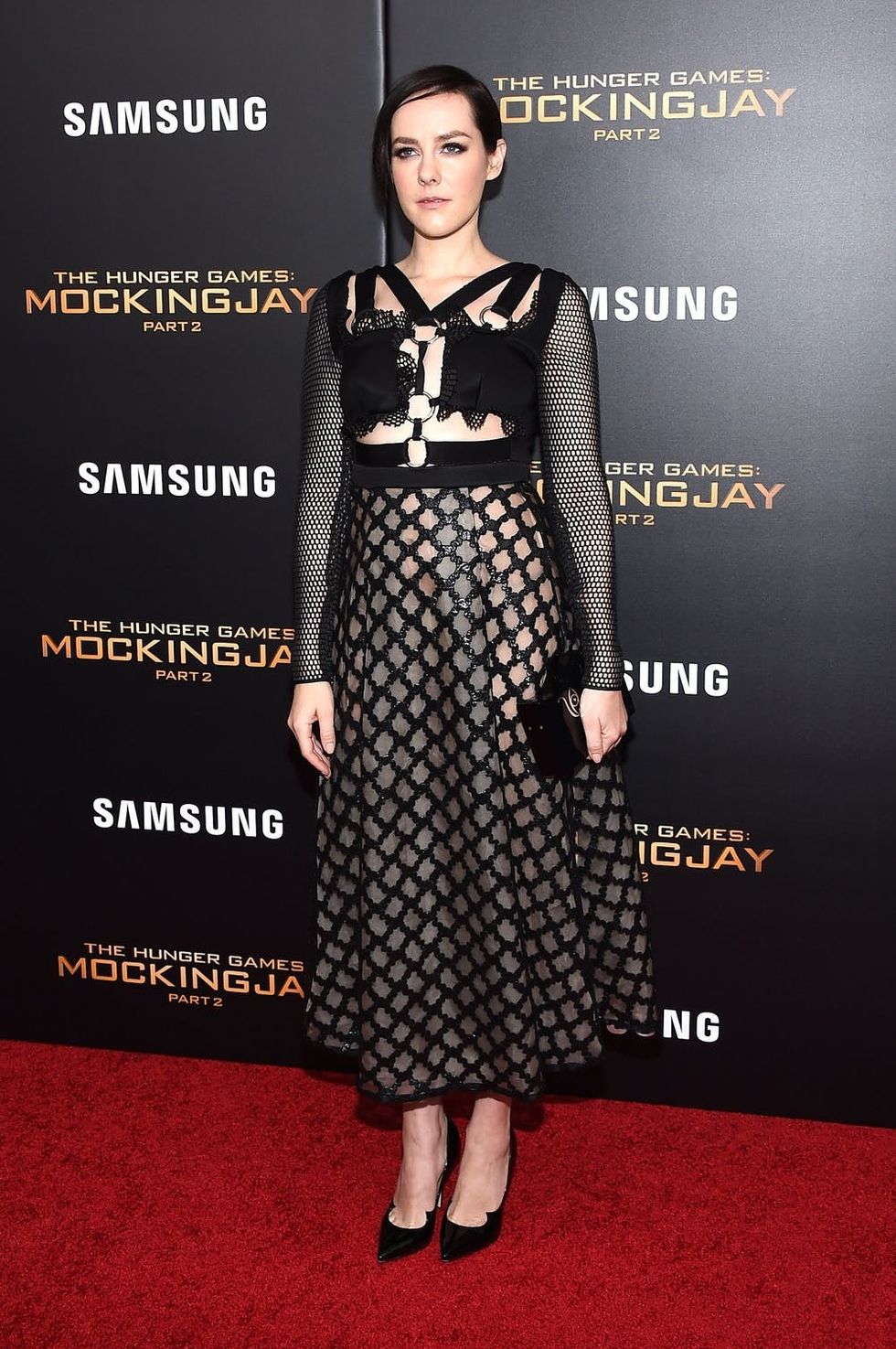 Jena's super edgy take on the sheer black dress trend on The Hunger Games: Mockingjay Part 2 red carpet was insanely unique and makes a case for going super eclectic with your LBD. A black harness-like top, sheer mesh sleeves and pattern clashing A-line skirt made this three-piecer a total standout. (Photo via Larry Busacca/Getty)
ROONEY MARA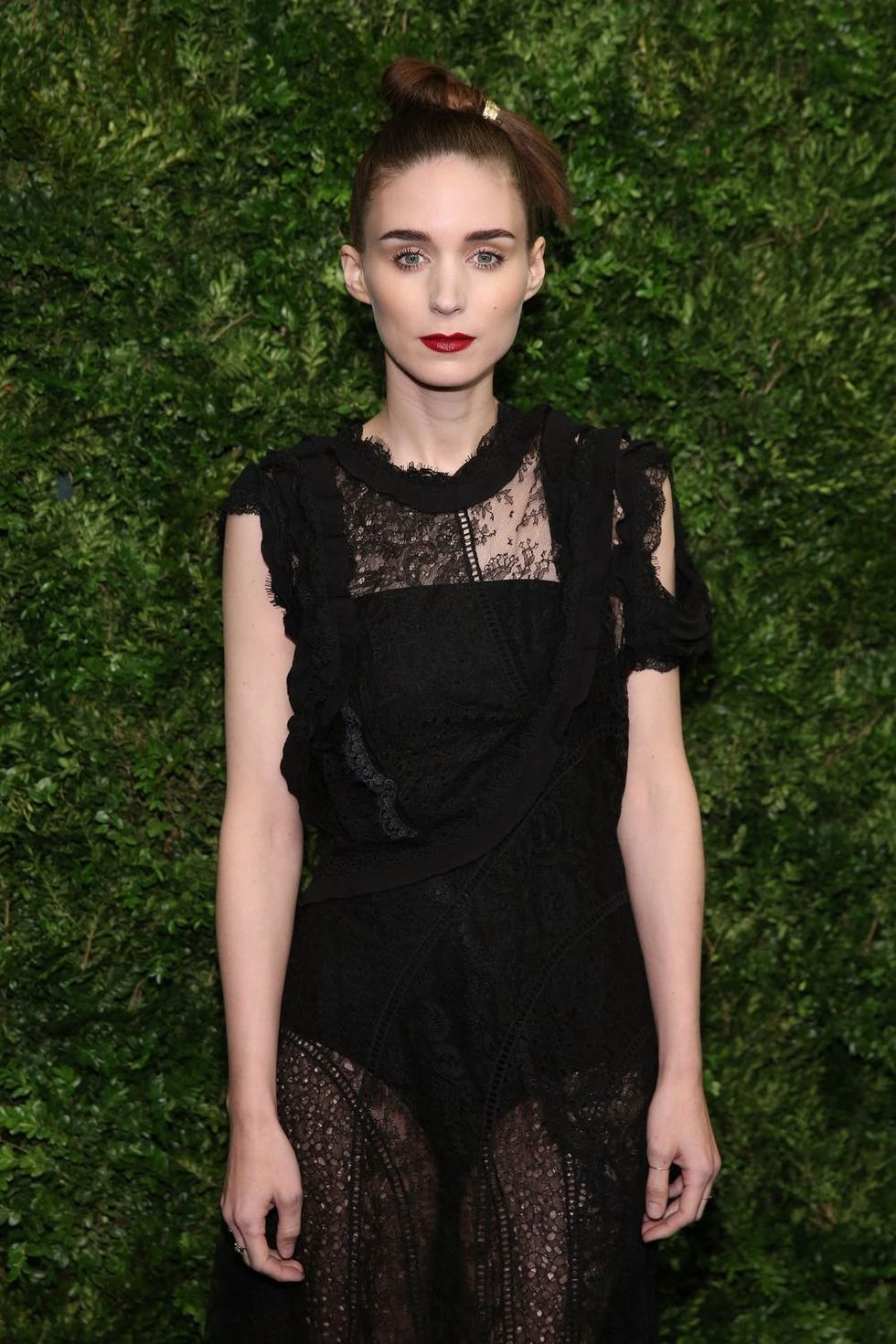 Sheer, lacy and slightly undone describe Rooney Mara's killer get up — PonyBun included — at the Museum of Modern Art's 8th Annual Film Benefit. Her lacy look proved that you can totally break the rules you think you have to follow when it comes to looking fancy, like throwing on a strapless leotard underneath an intricate lace sheath. Mimic the undone trim hanging over her shoulders by tossing on a slinky scarf over your party gear. (Photo via Neilson Barnard/Getty)
Are you a fan of the sheer black dress? Share your thoughts in the comments below.