Get Your Funky DIY on With This David S. Pumpkins Group Halloween Costume
Oct 21, 2017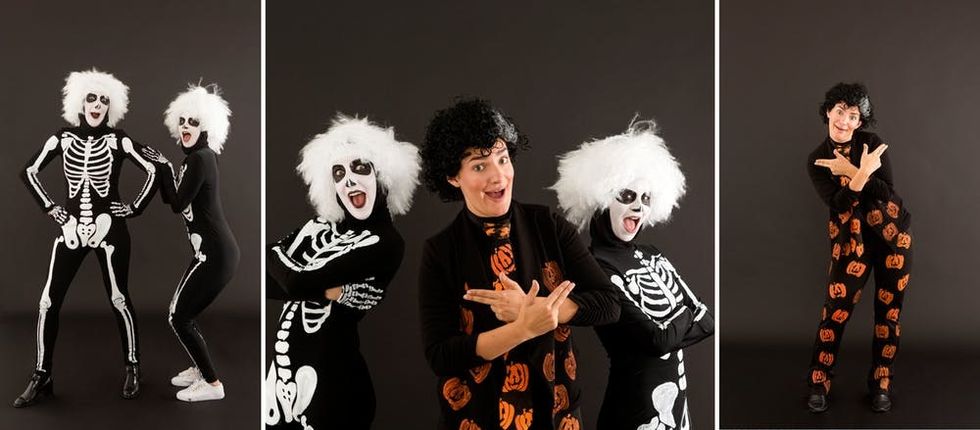 If you've yet to see SNL's David S. Pumpkins skit, then TBH, you haven't really lived. In fact, the goofy character (played by none other than Tom Hanks) is returning for an animated half-hour special on October 28. So, it's time to educate yourself on the funky wonder that is this Halloween icon, and after you're done laughing, you're gonna wanna get to crafting. Scroll on for step-by-step instructions on how to DIY your own hilarious David S. Pumpkins and Skeleton B-Boy sidekick costumes.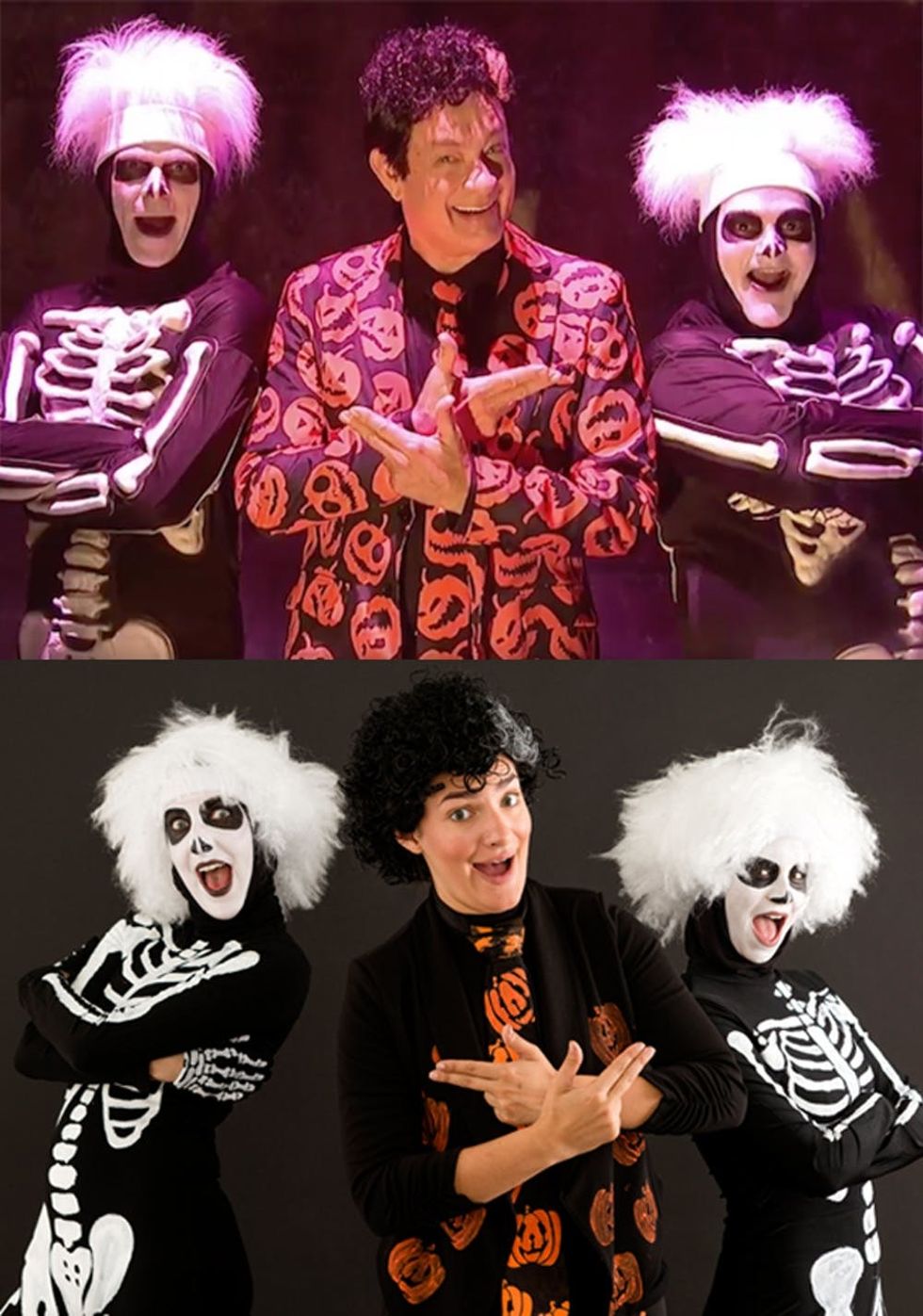 To recreate David's pumpkin suit we hit up Amazon for Straight Fit Stretchy Solid Trousers ($20), a Black Open Front Blazer Jacket ($23), and a Solid Black Tie ($10), and LOADS of orange fabric paint ($8).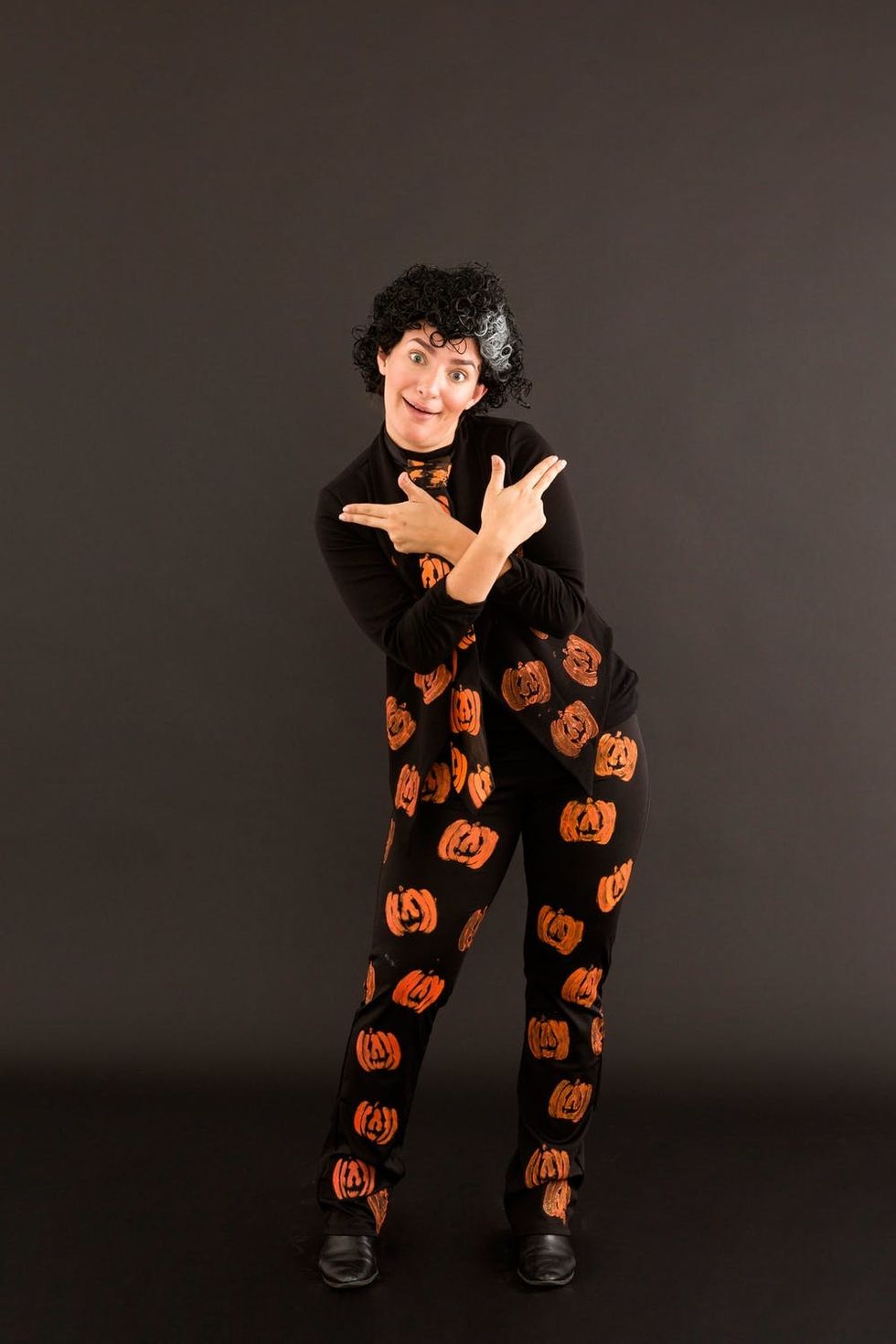 We also ordered a Halloween Decor Stencil ($13) to ensure we got our pumpkins right — and then we went to town. To re-create the goofy hair, we bought a curly wig ($15) and lightly dusted it with some gray spray paint to get that signature subtle streak just right.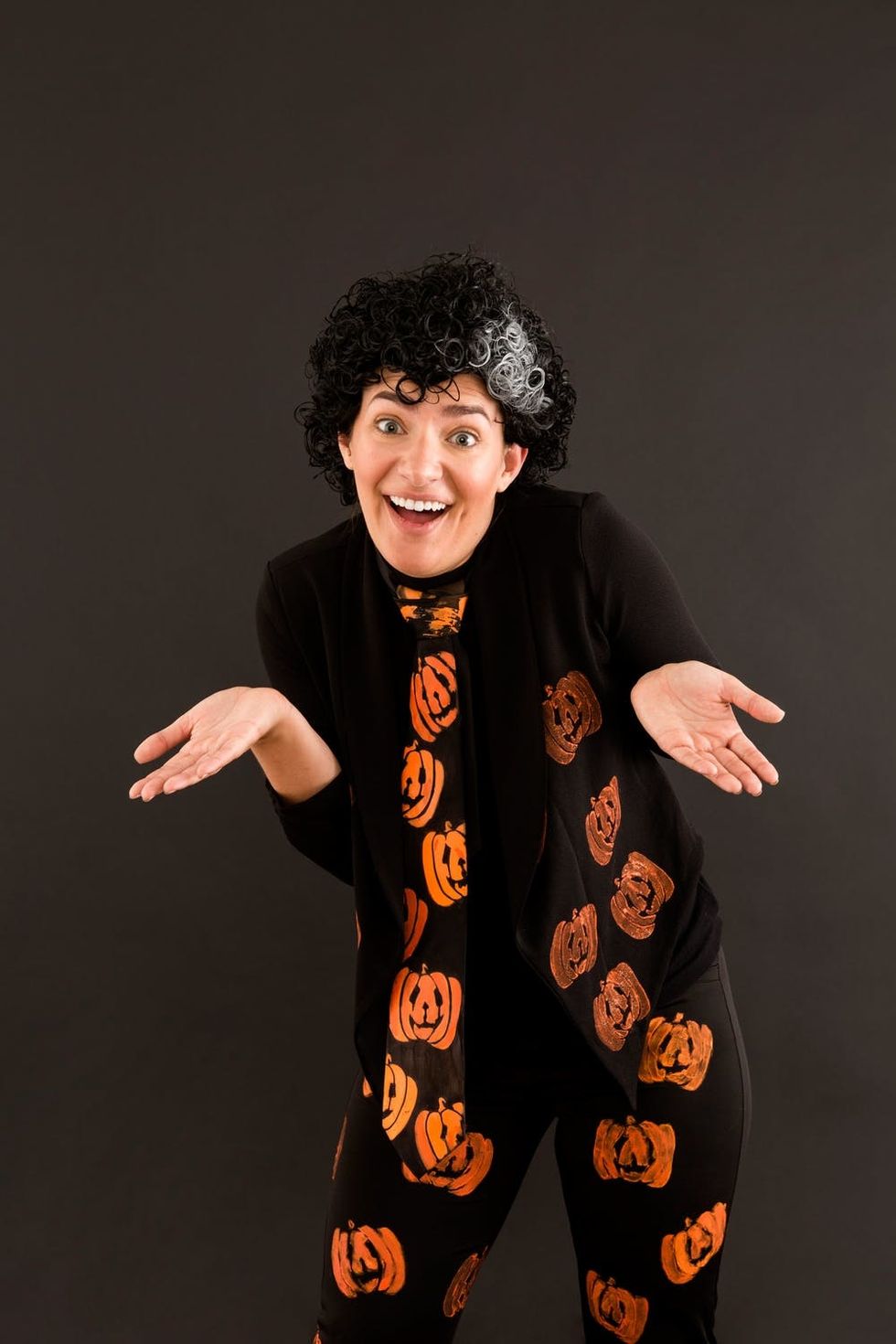 "I'm David Pumpkins, and I'm gonna scare the hell out of you!"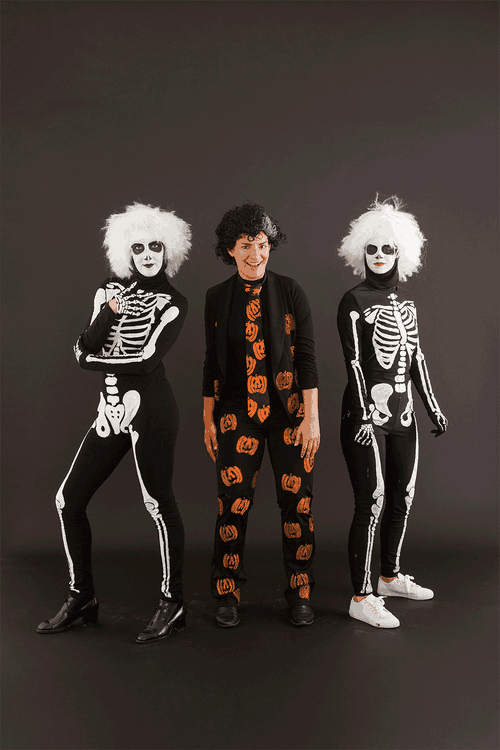 "And David Pumpkins is? His own thing. And the skeletons are? Part of it."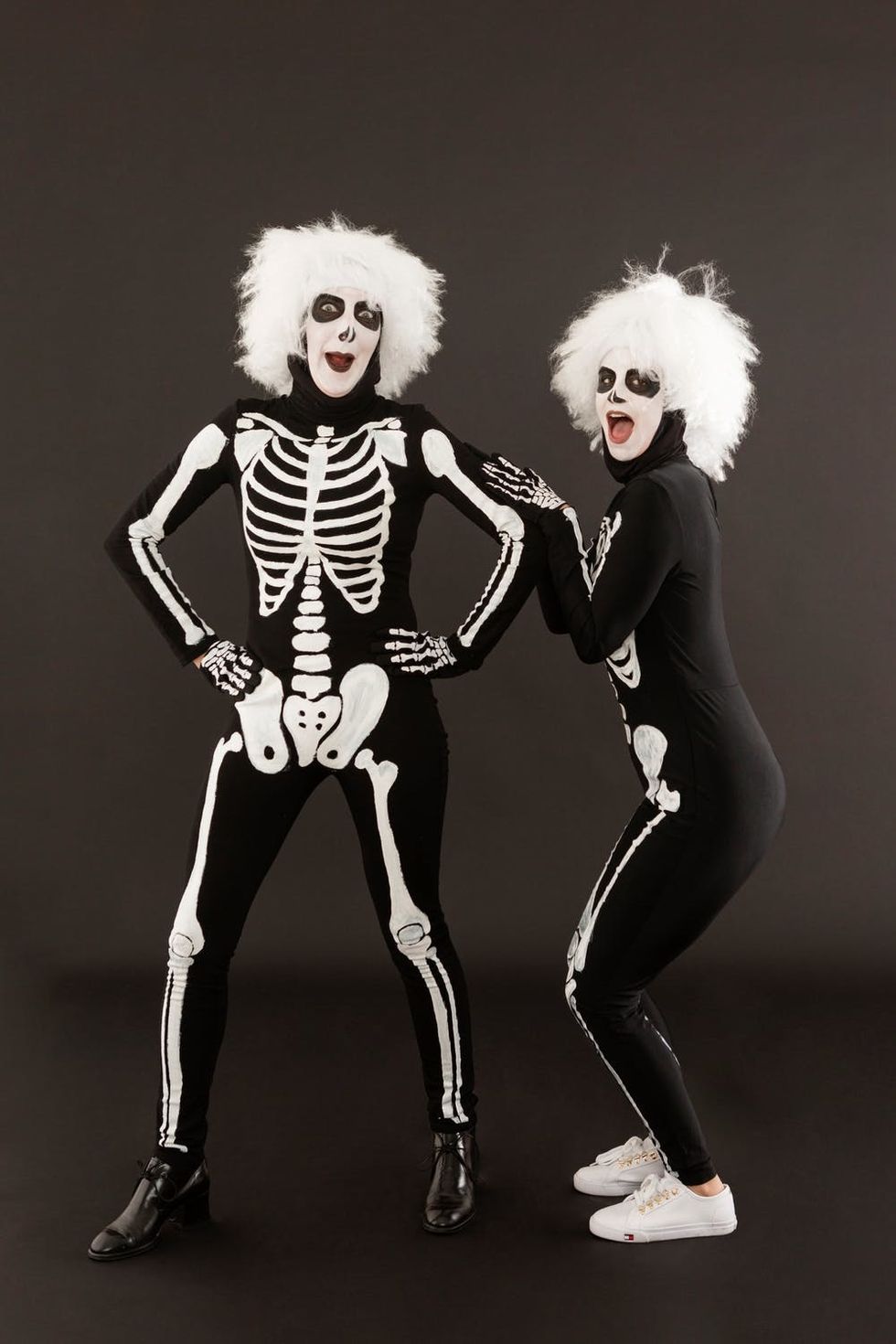 Now for our fave part — hand painting those skeleton suits. For each B-Girl we ordered a black Jumpsuit ($23), a Mad Scientist Wig ($15), Skeleton Gloves ($5), a Balaclava Ski Mask ($5), a white Sweatband ($6), and plenty of white fabric paint ($8). We used a skeleton suit we found online as a guide.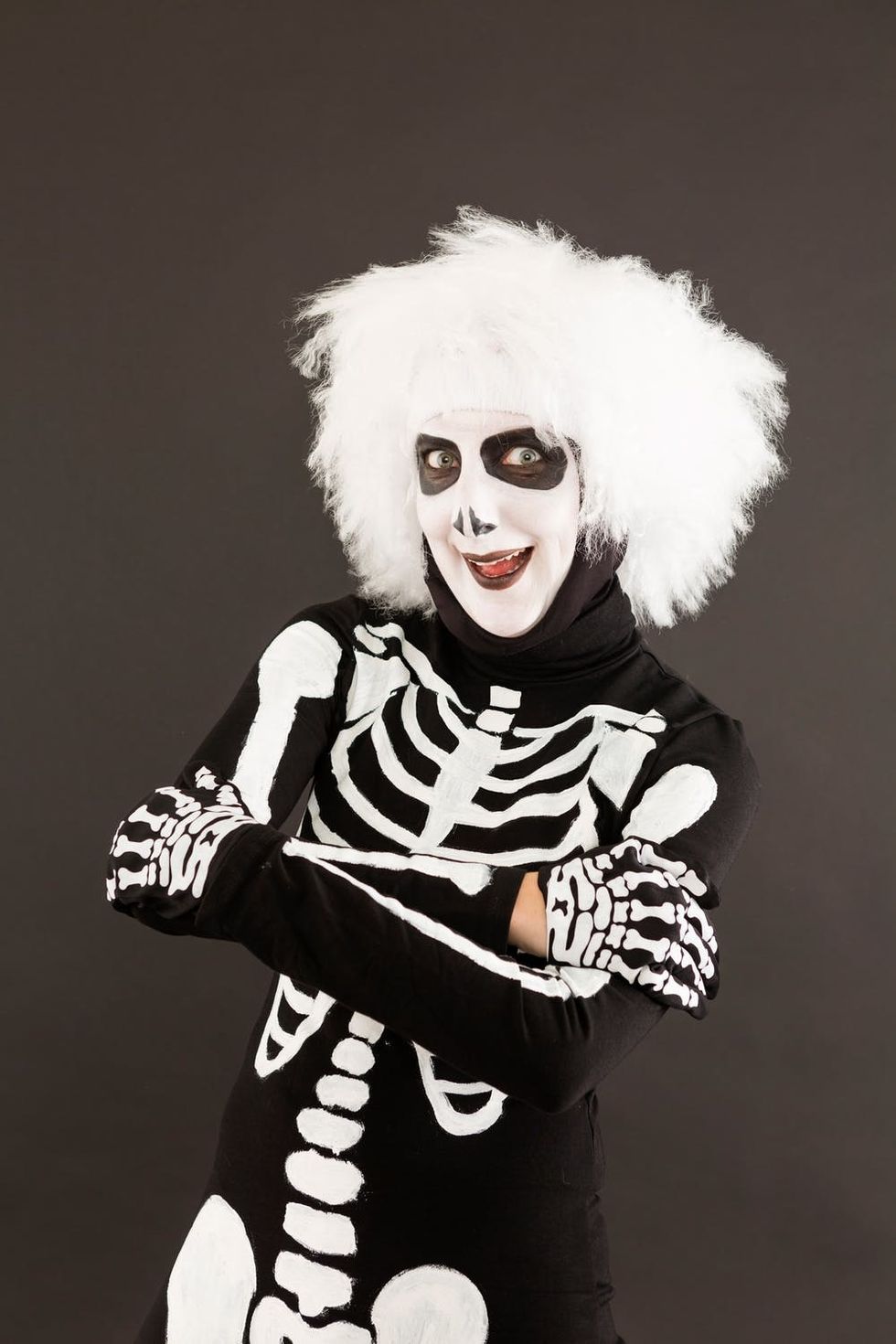 It was very time-consuming, but let's just say we were *pretty* impressed with ourselves. We decided to stay true to the skit and our oh-so-talented HMU really nailed this makeup.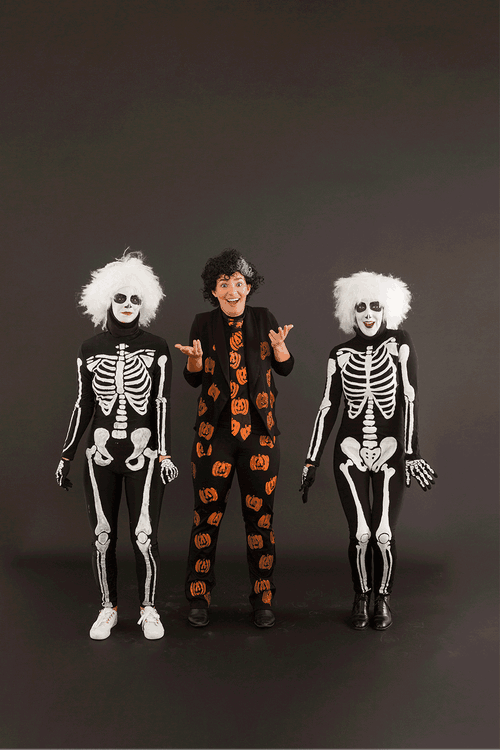 "Ready or not, here we... dance?"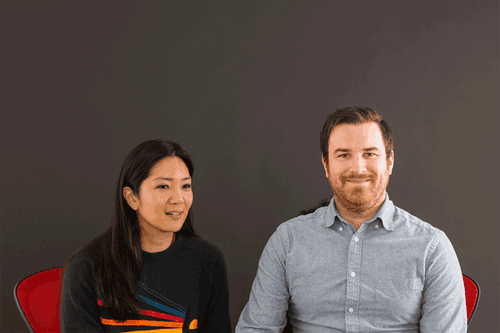 "Any questions?!"
_____________________________________________________________________________
Love making your own Halloween costume? Follow us on Pinterest for more DIY costume tutorials.
DIY Production and Styling: Lindsey Graham-Jones and Lesley Chen
Hair + Makeup: Dayna Hajiali
Models: Erin Browner, Kristina Elkus, Sydney Smith, Lesley Chen, and Kurt Andre
Photography: Brittany Griffin
Brit + Co may at times use affiliate links to promote products sold by others, but always offers genuine editorial recommendations.
Lindsey Graham-Jones
Lindsey is a lover of all things animal print, a surfer of knee-high waves, and a seeker of sunshine.