18 Ways to Re-Wear Your Holiday Party Sequins
Dec 31, 2014
Fact: Here at Brit + Co HQ, we love wearing sequins. We love wearing sequins so much that we've made a pledge to wear them beyond the countless holiday soirees and New Year's Eve shindigs. Because, if you ask us, a little extra sparkle is just what the doctor ordered. How else will we be able to combat those dreaded January blues? Check out these 18 blogger-inspired looks that make sequins completely wearable… even during the daytime.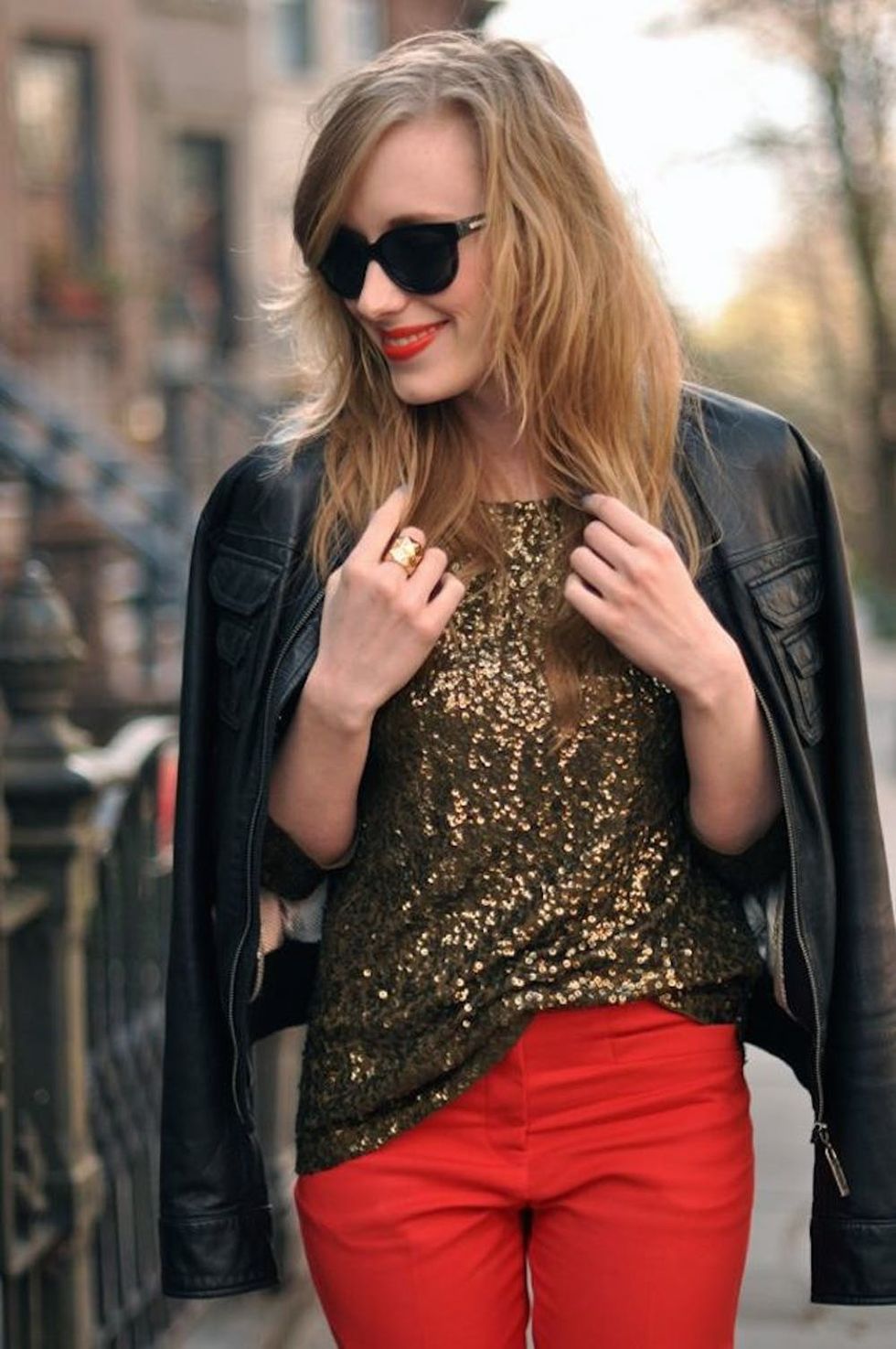 ---
1. Pop of Red: Sequins with an edge. We like it. Kimberly Pesch's bright red trousers and black leather jacket make for a rock 'n' roll look that is unstoppable. (via Eat.Sleep.Wear.)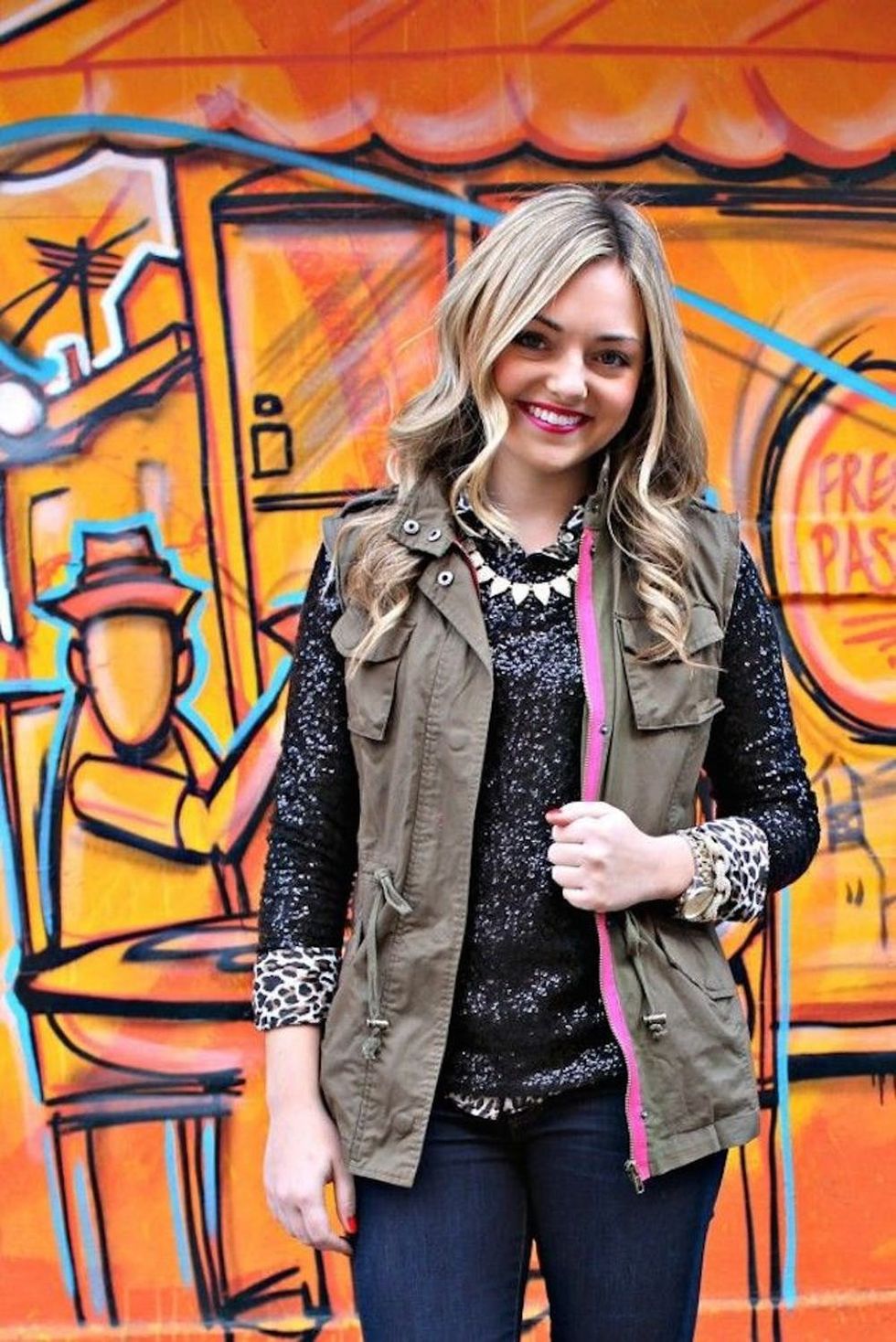 2. Everyday Sequins: Looking for a surefire way to take your outfit up a notch? Just add a sequined top, of course. When layered underneath a utilitarian vest and jeans, you'll be well equipped for a low-key Saturday. (via Bows and Sequins)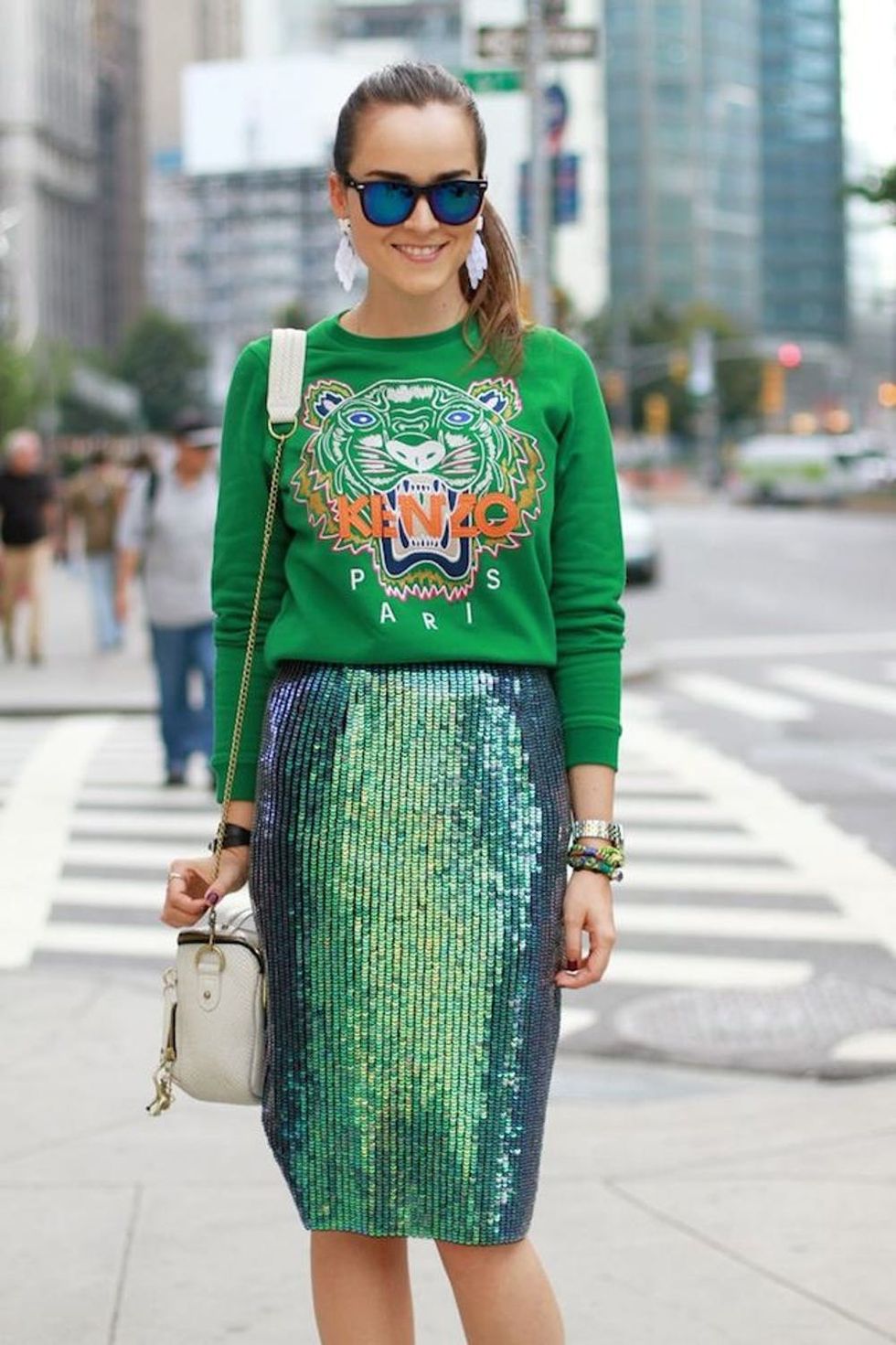 3. Green With Envy: Part sporty, part glam — we're totally digging this chic sweatshirt-approved style that has cool girl written all over it. You know what they say — go bold or go home. (via Style Scrapbook)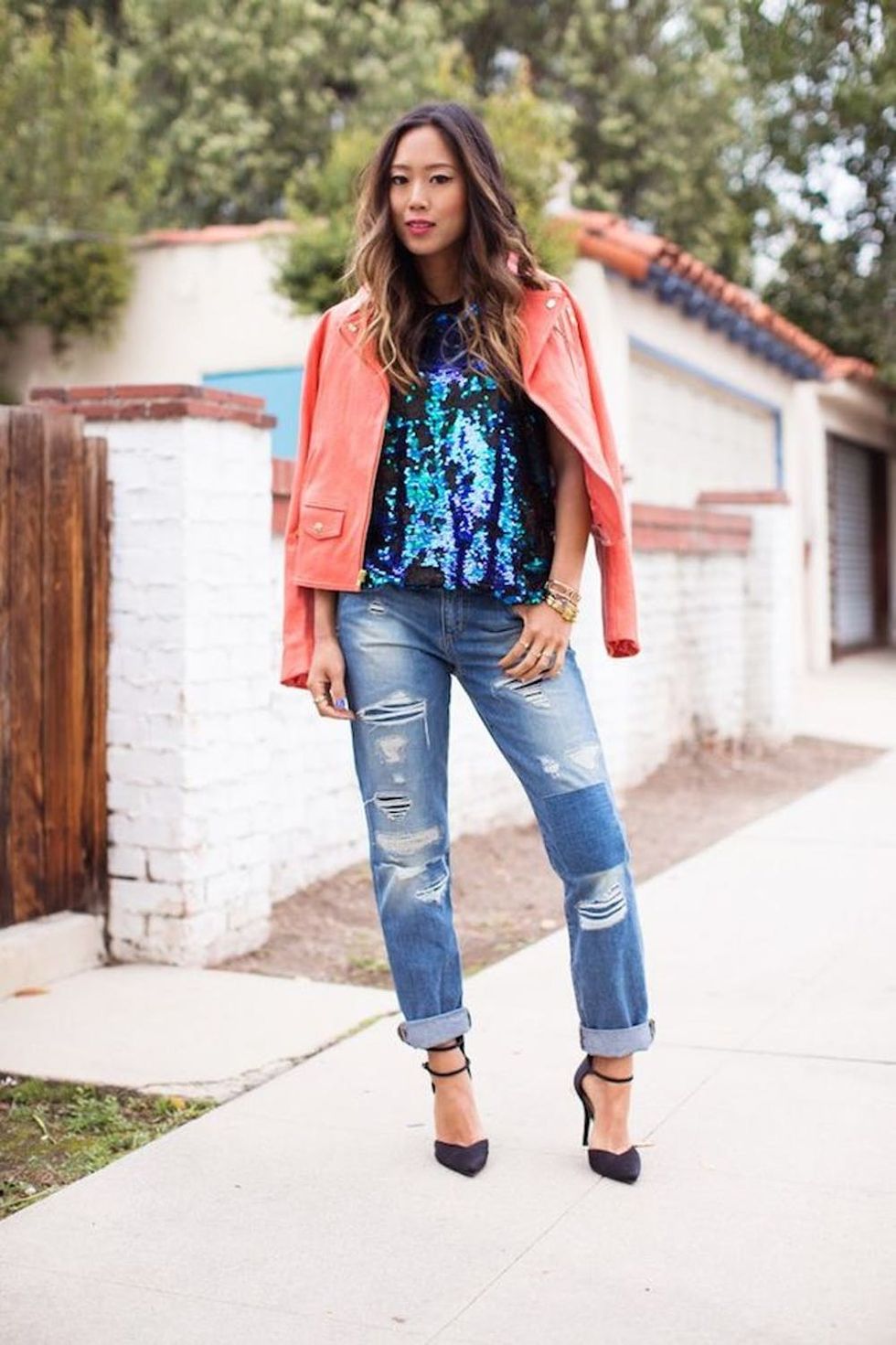 4. Sequined Tee: "No biggie, I woke up like this." For an Insta-worthy #ootd, don't hesitate to pair a sequined tee with boyfriend jeans. (via A Song of Style)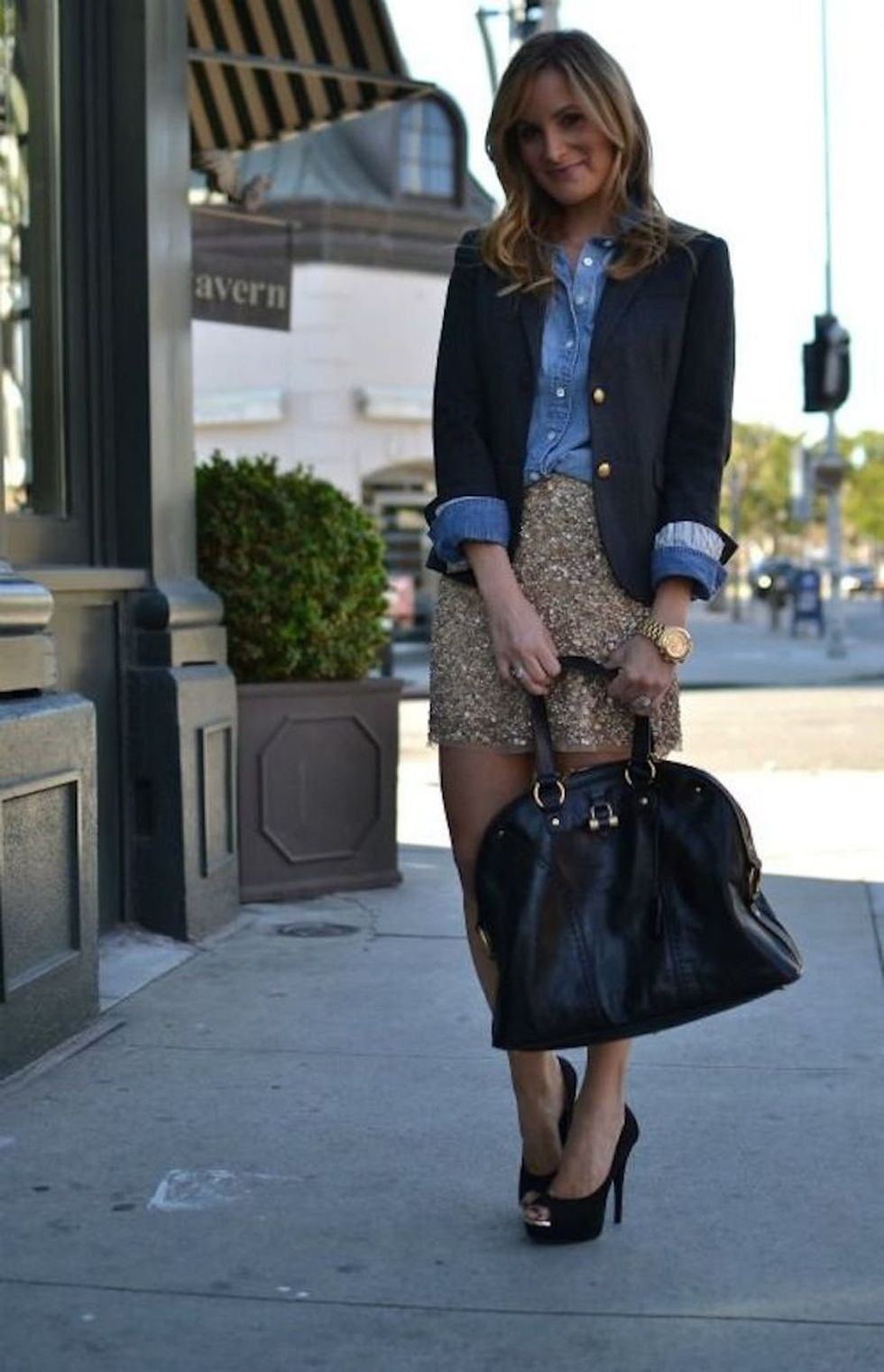 5. Business Professional: Step up your professional look by throwing a sequined skirt into the mix. When paired with a chambray shirt and schoolboy blazer, this look will take you from the conference room to after hours in no time. (via Casual Glamorous)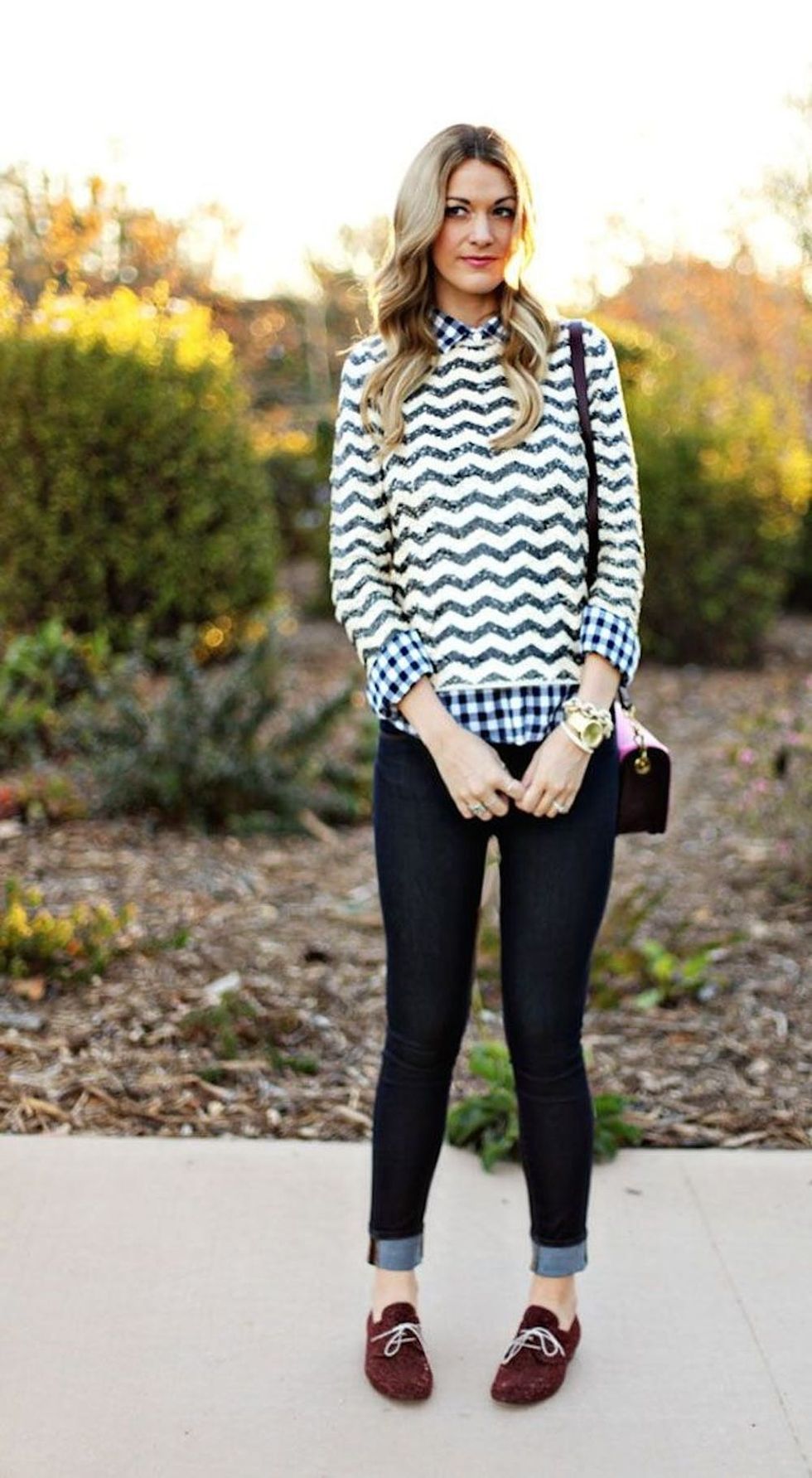 6. The Layered Look: Calling all prepsters, this look is for you. Layer your sequined top over a gingham shirt for an outfit that is visually on point. (via A Little Dash of Darling)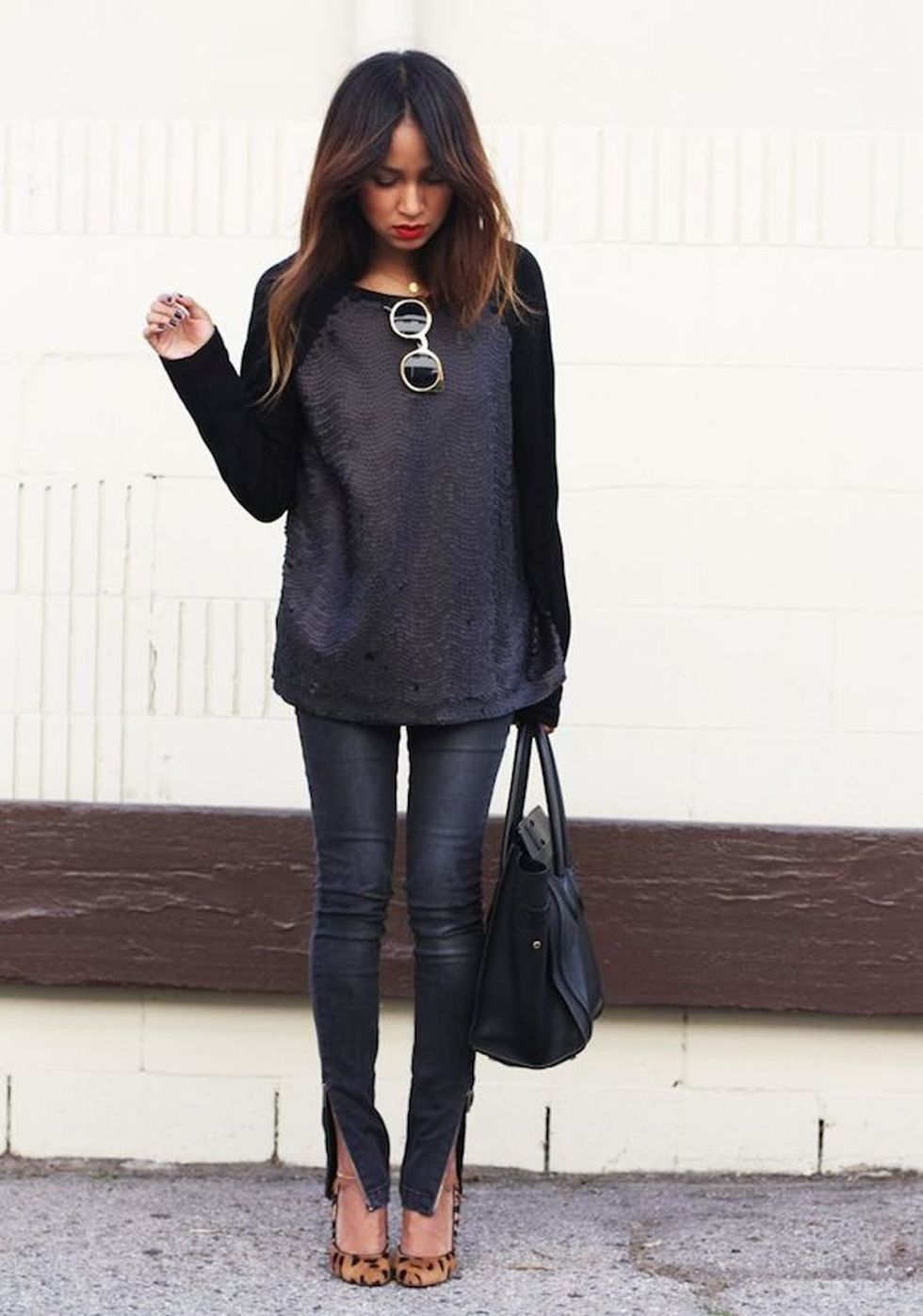 7. Minimal Sequins: Sequins need not be flashy and over the top to be deemed cool. As exhibited by Julie Sarinana, black sequins are fierce and daring in their own right. (via Sincerely Jules)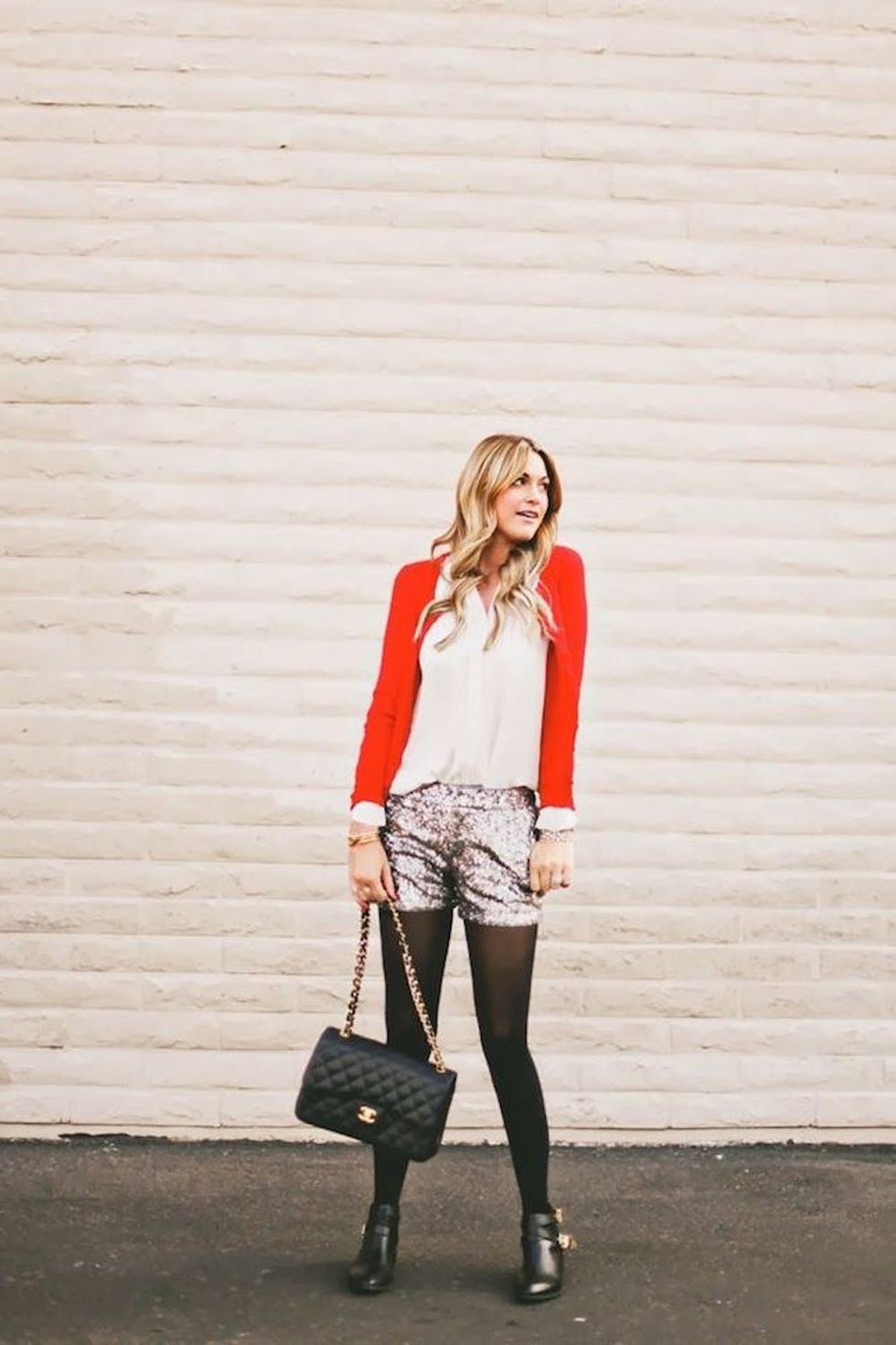 8. Sequined Shorts: DO wear sequined shorts throughout the holiday season, in celebration of New Year's AND beyond. Just add a silky blouse and tights for an A+ look. (via A Little Dash of Darling)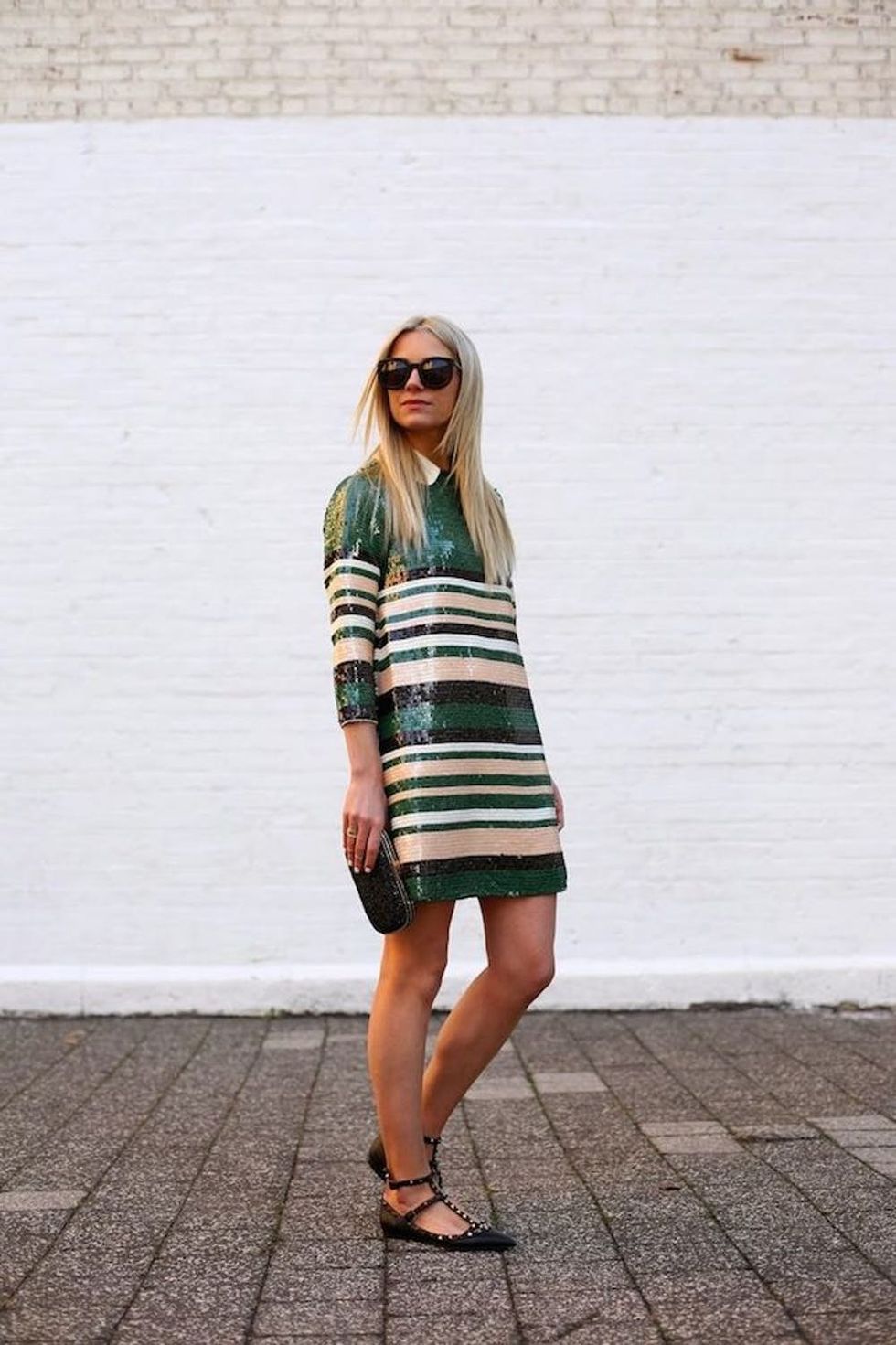 9. Striped Sequined Shift Dress: Slip on a sequined shift dress with little to no accessories. For that finishing touch, add a crisp white collar like Bee did and you'll be in business. (via Atlantic-Pacific)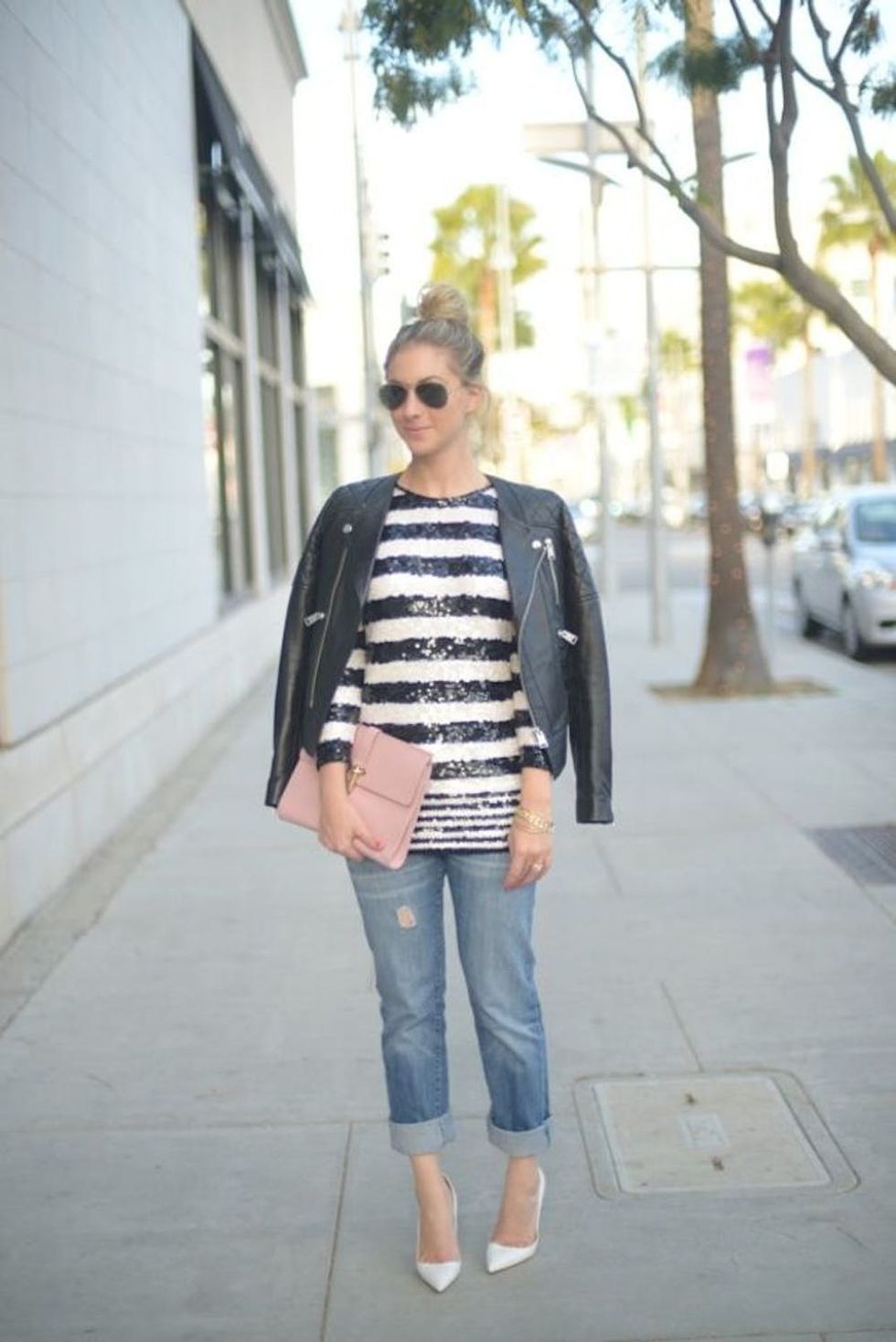 10. Sequins Dressed Down: Casual is the name of the game most days. When you're looking to add a bit of sparkle to your everyday getup, pair a striped sequined top with denim for a look that is the epitome of effortless. (via Cupcakes and Cashmere)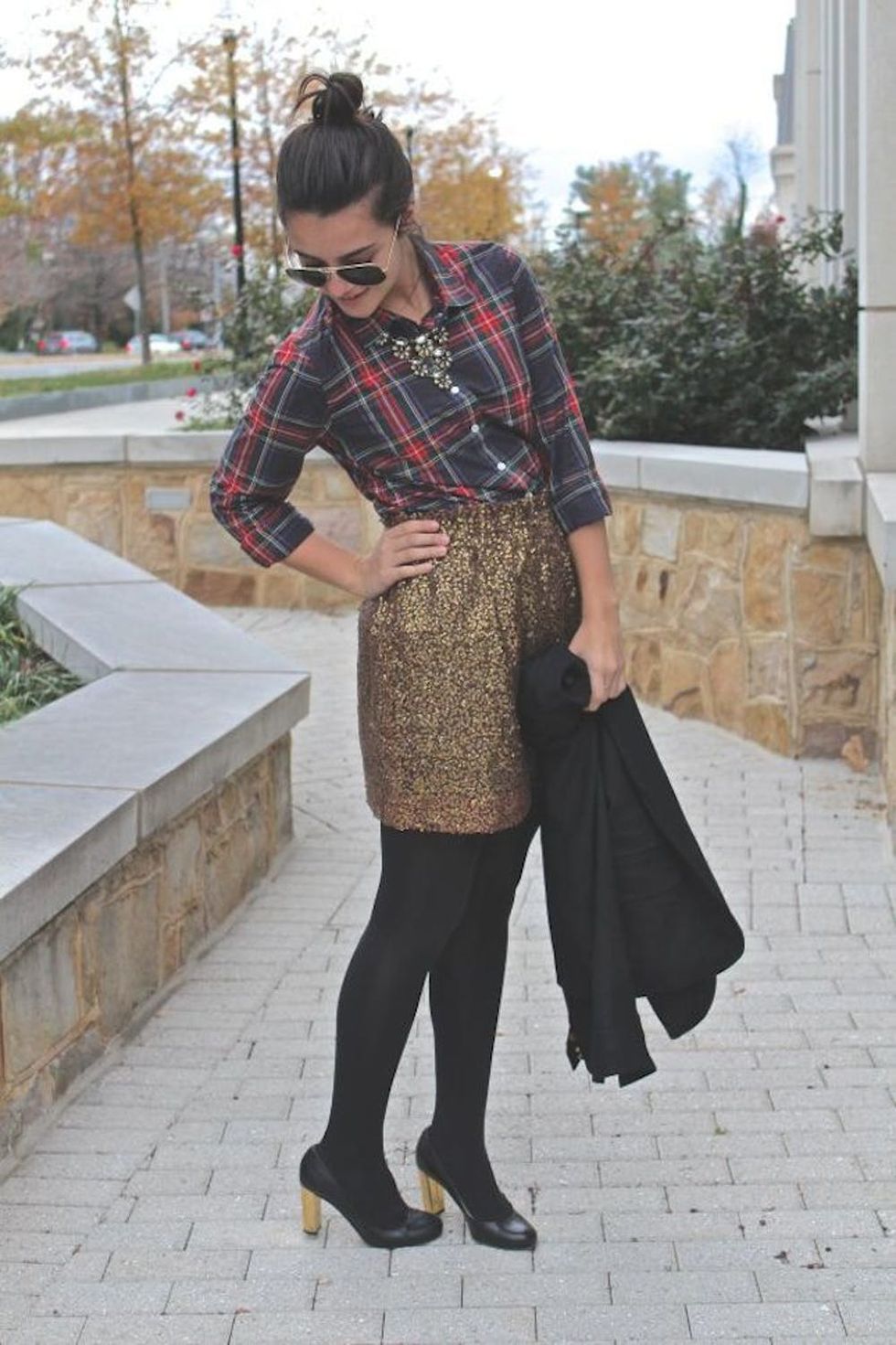 11. Plaid and Sequins: Not just restricted to the holiday season, we vote in favor of pairing sequined skirts with plaid well beyond NYE. (via Pink Champagne Problems)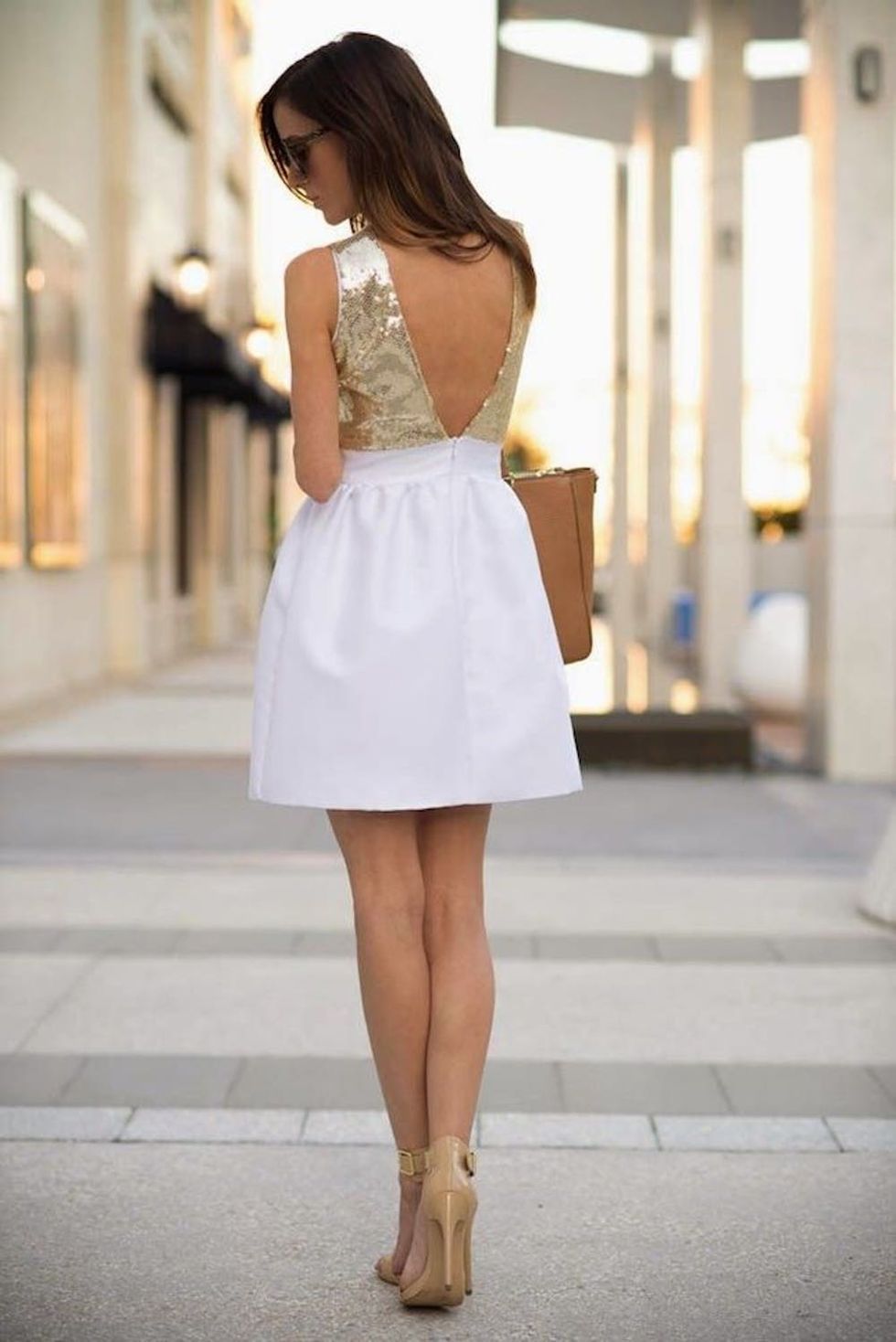 12. Little White (Sequined) Dress: That. Back. Please excuse us as we swoon over how *utterly* perfect this LWD is. (via Sequins & Things)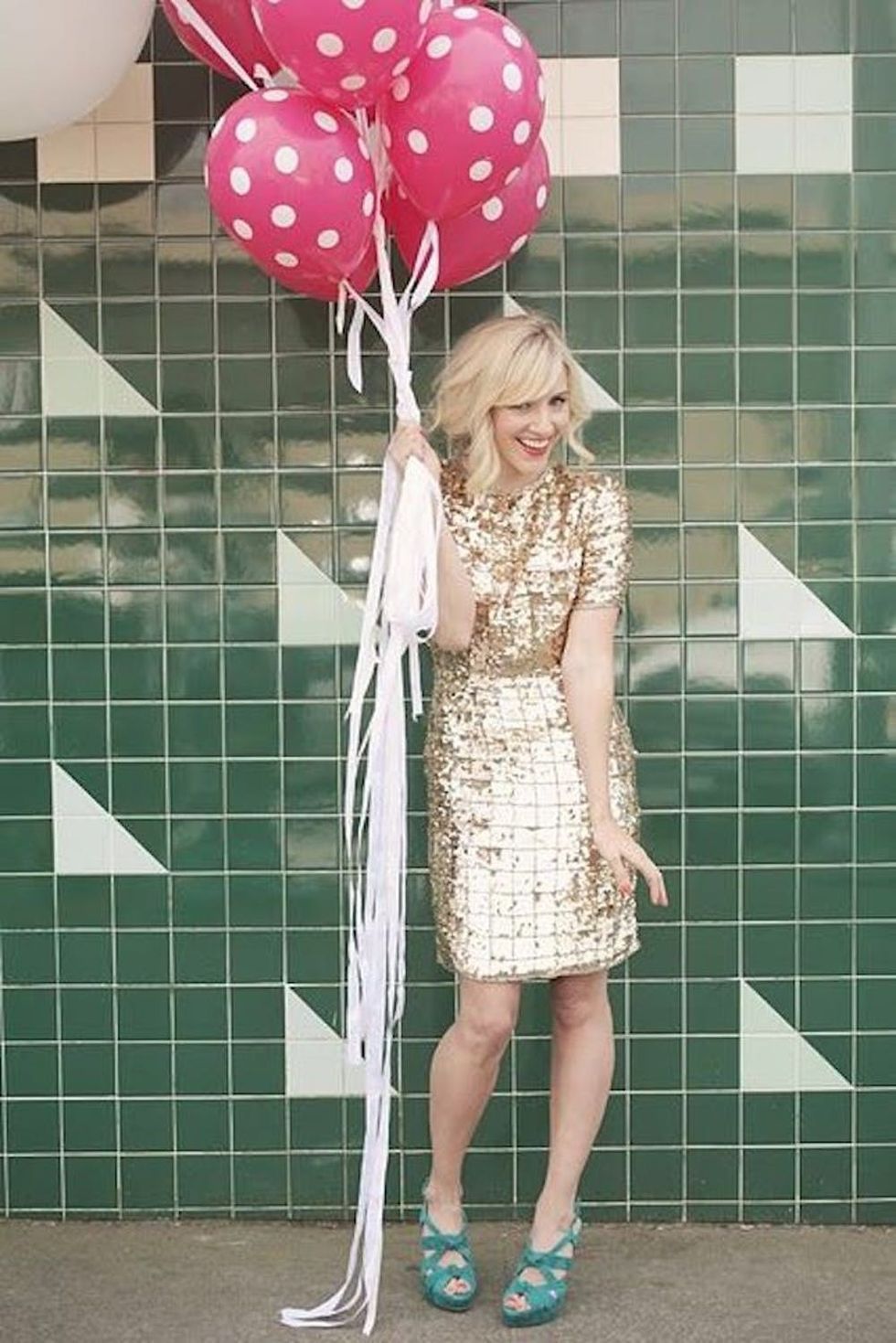 13. Party Sequin Dress: Party, party! Whether it's NYE or your birthday, treating yourself to an uber sparkly dress is obligatory. Pink polka dot party balloons not included (unfortunately). (via Sterling Style)
14. So Fancy: Is it just us or does this dazzling blue sequined skirt have serious mermaid appeal? And in case there was any doubt, Mara Ferreira's tee says it all. (via M Loves M)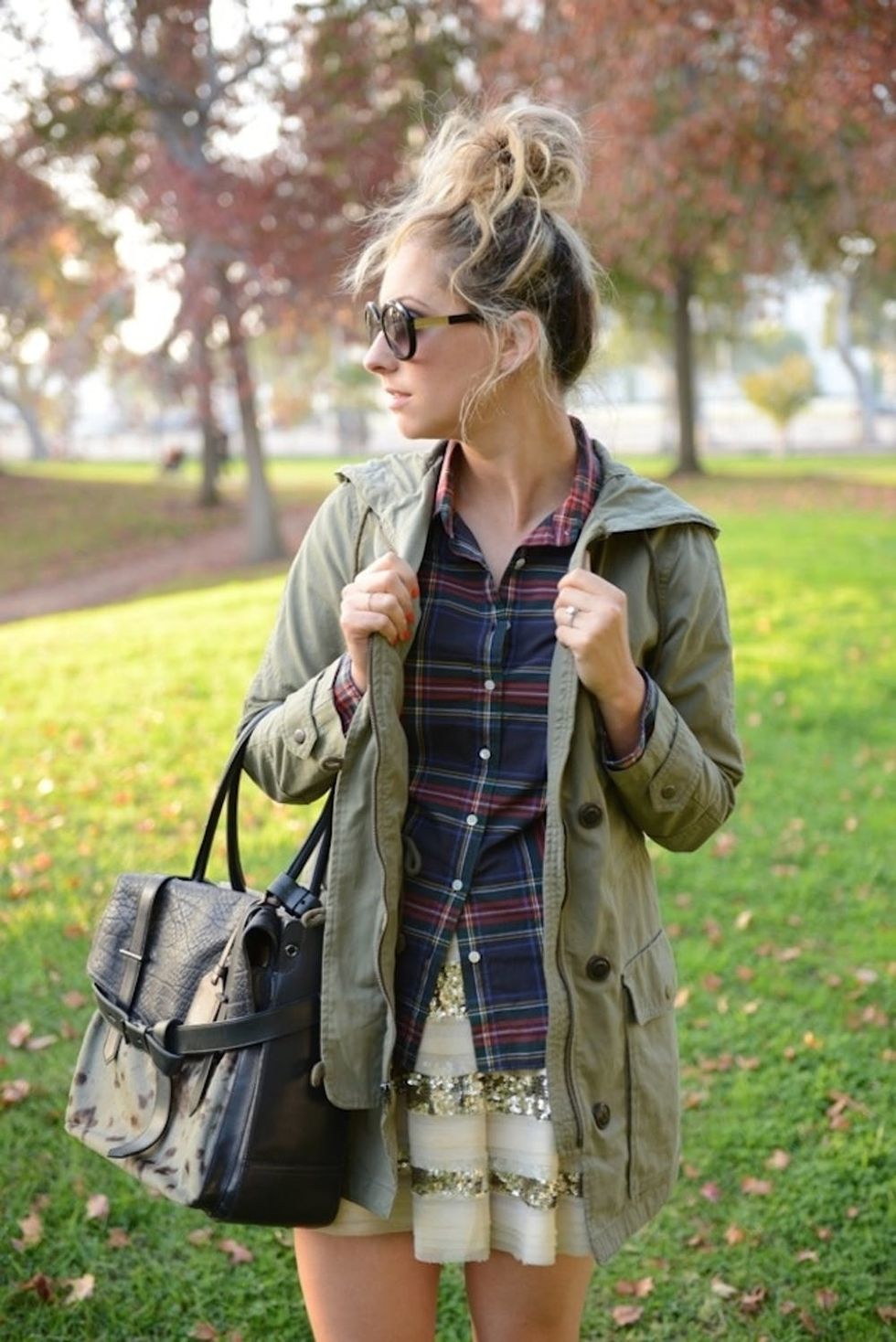 15. A Touch of Sequins: Yup, it is possible to fly under the radar in sequins during the daytime. Emily Schuman manages to do just that by dressing down her sequined skirt with a plaid button down and green utility jacket. (via Cupcakes and Cashmere)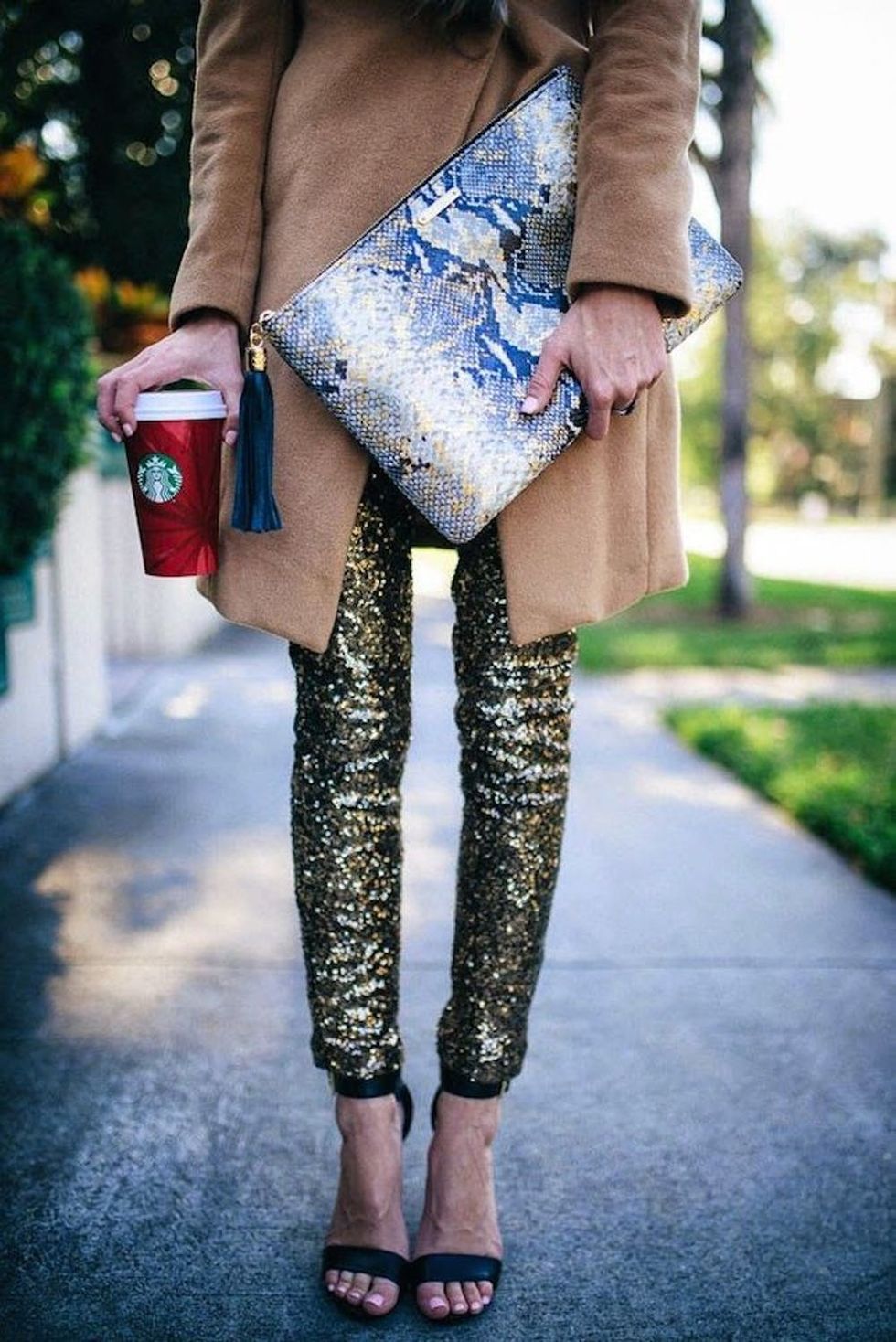 16. Sequined Pants: Fancy pants much? These chic and oh-so-haute sequined leggings are the ultimate in sparkle style. (via Sequins & Things)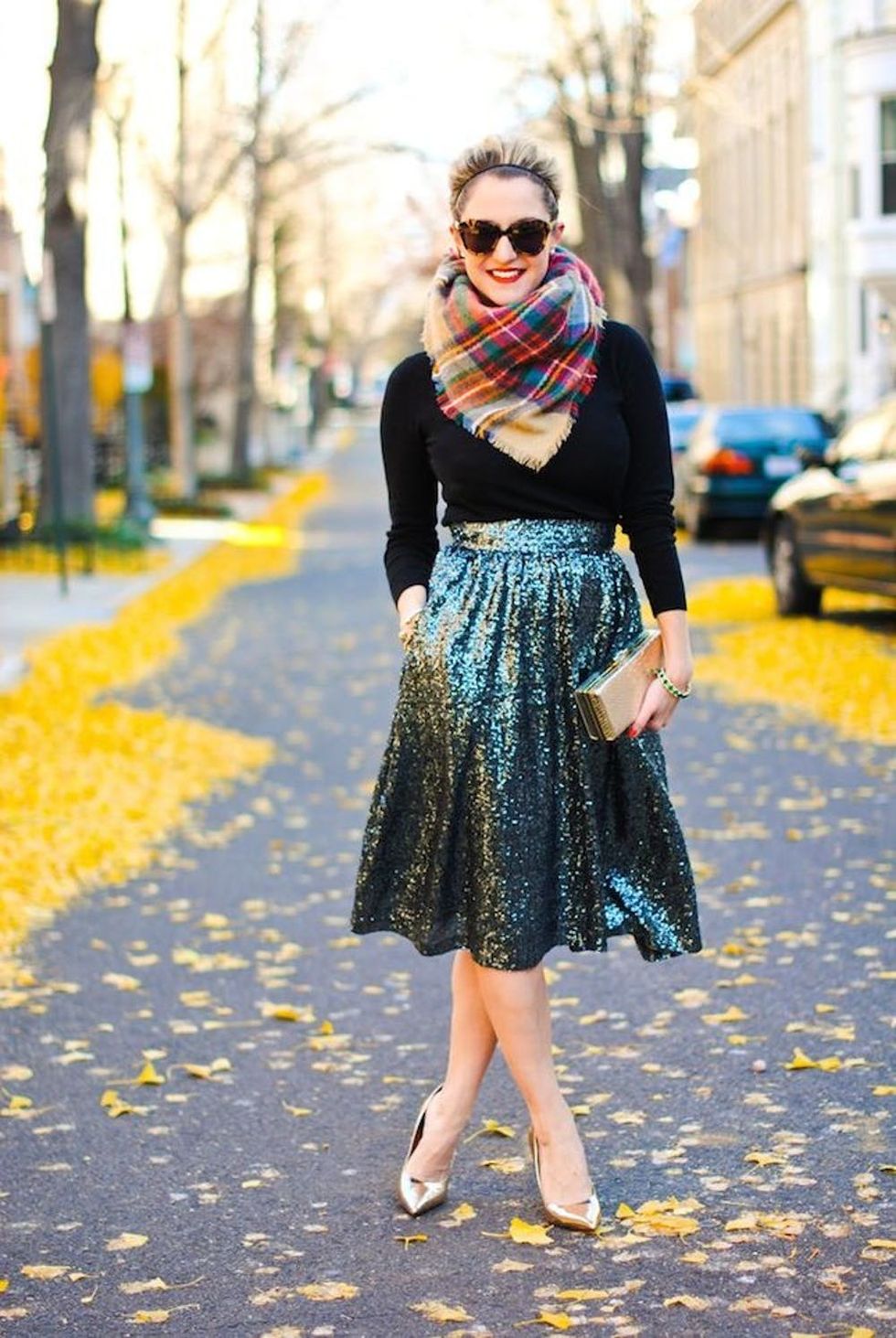 17. Season Sequins: 'Tis the season to don sparkly sequined skirts, gold pumps and plaid blanket scarves. However, we think this sparkly skirt would be perfect for almost any occasion. Just replace the plaid scarf with a bold or floral pattern. (via A Lacey Perspective)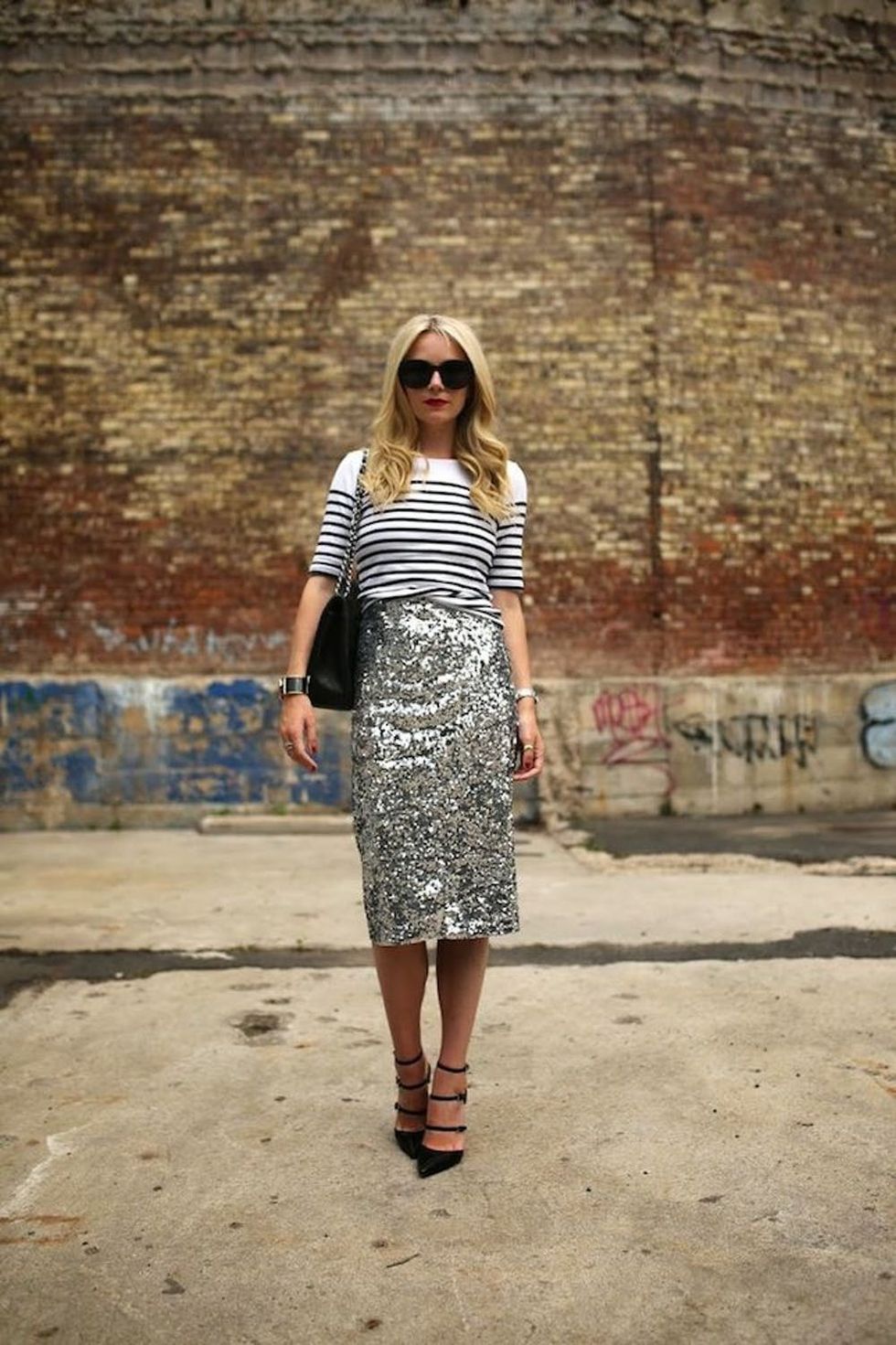 18. Stripes + Sequins: Say hello to the easiest styling trick in the book for pulling off sequins post-holidays. Just like Blair Eadie, we are prone to pairing our fave sequined skirt with a striped tee. (via Atlantic-Pacific)
How will you be wearing sequins this winter and beyond? Tell us in the comments below!
Anjerika Wilmer
Full-time grad student and all-around creative type, Anjerika leaves no avenue unexplored. Though a tried-and-true fashion girl, she counts art history, architecture and good design as constant sources of inspiration.  Most importantly, she's always in a Vienna state of mind.