Did Miley Cyrus and Liam Hemsworth Get Married This Weekend?
Dec 24, 2018
Fans think congratulations may be in order for Miley Cyrus and Liam Hemsworth. Instagram photos and videos from some of the couple's friends and relatives appear to show them in an intimate celebration at home, with cake, tears, and what look like "Mr." and "Mrs." balloons.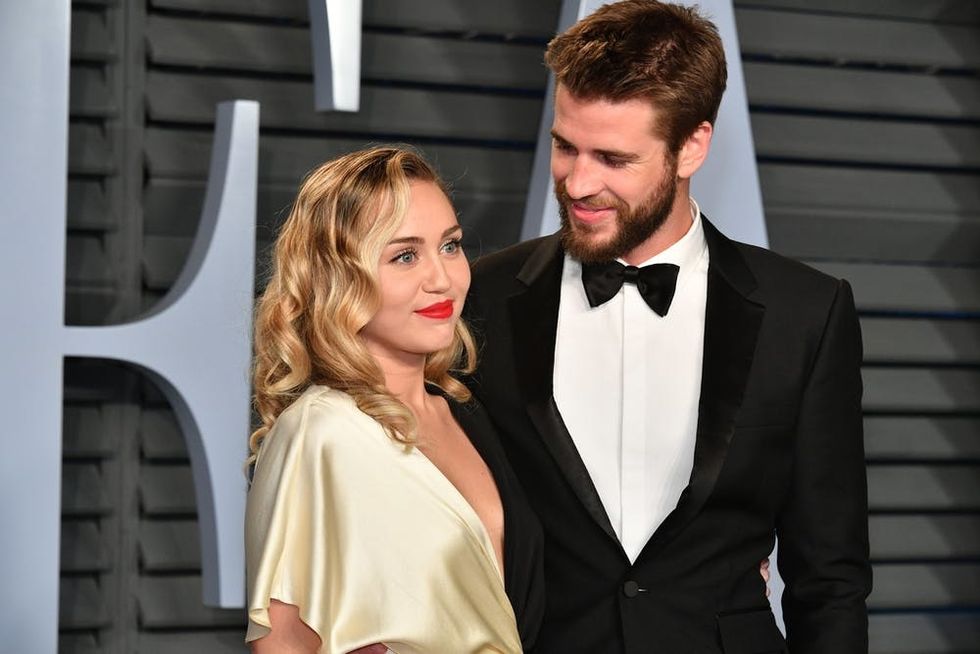 ---
One photo from their pal Conrad Jack Carr's Insta Story features Hemsworth, in a tux, and Cyrus, in a white dress, holding a knife as they prepare to cut into a white cake. Cyrus' mom Tish is in the pic, too, in jeans and a black top.
Carr also posted a video of the Hunger Games actor doing a "shotski" with his brothers Chris and Luke. As the camera pans from left to right, the "Mr." and "Mrs." balloons float briefly into (and then back out of) the frame. The balloons can also be seen in photos posted to the Instagram Story of Cyrus' sister Noah.
Of course, this isn't the first time the reunited couple have sparked marriage rumors. Back in March 2017, Cyrus' dad, Billy Ray Cyrus, posted a picture of his daughter in a white dress, which he captioned cryptically, "I'm so happy…you are happy." Fans immediately started speculating about a wedding, prompting Billy Ray to change his caption to say, "Whoa! Don't jump the gun!"
Cyrus and Hemsworth first started dating on the set of The Last Song. The Aussie actor proposed in 2012, but they split a year later. "I needed to change so much. And changing with someone else not changing like that is too hard," the "Malibu" singer previously told Billboard of why they broke up. "Suddenly you're like, 'I don't recognize you anymore.'"
By 2016, they were back together, and Cyrus was even seen wearing her engagement ring again. Fans have been waiting for a wedding announcement ever since.
Do you think Miley Cyrus and Liam Hemsworth got married this weekend? Tell us @BritandCo!
(photo via Dia Dipasupil/Getty Images)
Celebrity News
Whether you want to tap into some holiday nostalgia, or find a fun DIY to do with your kiddos, this simple snow globe craft offers both! Together with Camp by Walmart, we built a customizable crafting journey so you can execute this decor upgrade based on your style preferences and the supplies you have around the house. For this project, you'll need to decide if you want your snow globe to be inside of a mason jar or glass orb, what type of snow you want (hello, glitter!), and what holiday scene should go inside. With 16 possible outcomes, we can't wait to see what you come up with. Check it out by watching the winter wonderland snow globe tutorial now!
Holidays