Make Your Pooch Feel Like a Star With a Flower Crown-Inspired Leash
Jul 31, 2016
I am one of the youngest here at B+C and I absolutely LOVE it. I have about 50 older sisters who have advice and experience in pretty much anything you can imagine. The newest topic I'm interested in is weddings — since I am now approaching my late twenties, I've noticed that friends are starting to settle down and tie the knot! Luckily my boss Anj has attended (now over) 44 weddings and she is bursting with wedding knowledge. The piece of advice I took mental note of was bullet point #1: "Text the soon-to-be-marrieds the week before the wedding." She explained that everyone assumes they are super busy and don't want to be bothered but there is nothing worse than being lonely at the top.
---
With this in mind, I sent my cousin and soon-to-be cousin-in-law a couple of texts before their big day. I checked in and made sure she had everything she needed for the wedding. She was pretty calm and collected but requested a special dog leash for her pooch, wanting her to feel like a bride, too. With the wedding a week away, I used Amazon Prime to find all the supplies I needed to make this floral leash come to life.
– embroidery floss
– scissors
– hot glue gun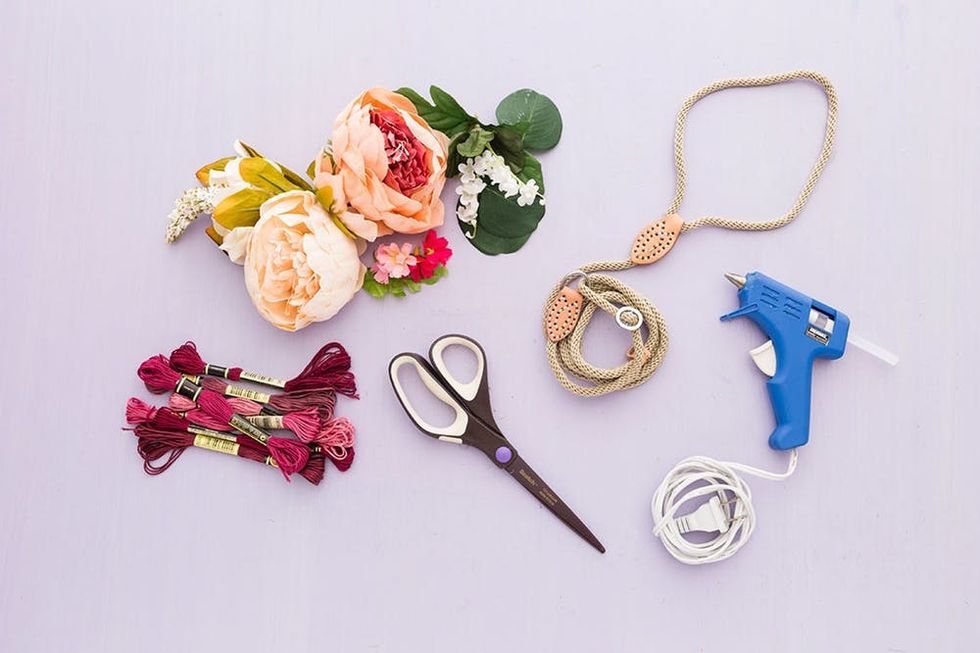 Instructions:
1. Wrap sections of the leash with embroidery floss and secure in place with hot glue. Grab another color of floss and wrap down the leash to create a criss-cross pattern.
2. Use hot glue to attach flowers at the top of the leash and base of the leash. Sprinkle smaller flowers and leaves up and down the rope of the leash.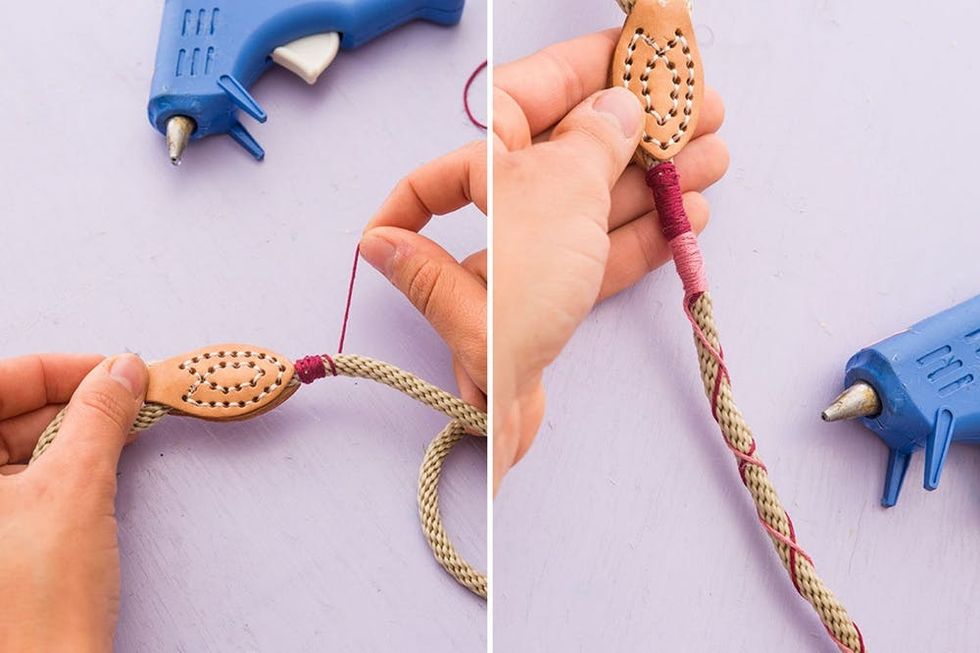 Wrapping with embroidery floss is one of my favorite DIY hacks. It's a fast and simple way to add a pop of color to almost anything. Wrap and secure the floss in place with hot glue.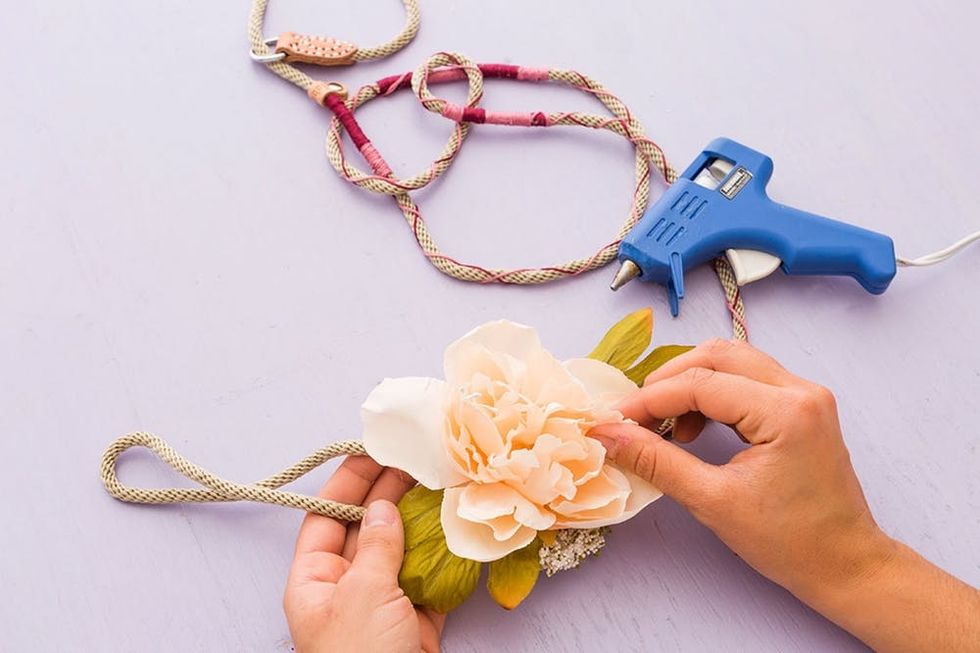 Cut the stems off of the flowers to prep them to be glued onto the leash. To really make the flowers stay in place, sandwich the rope by placing an extra leaf on the back side.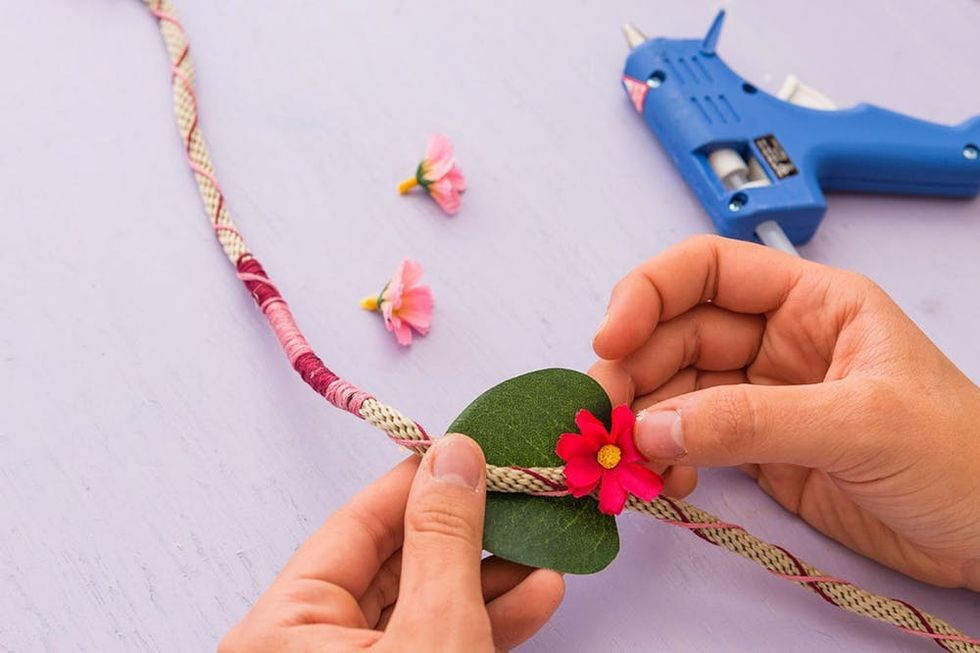 Add smaller flowers and leaves up and down the rope.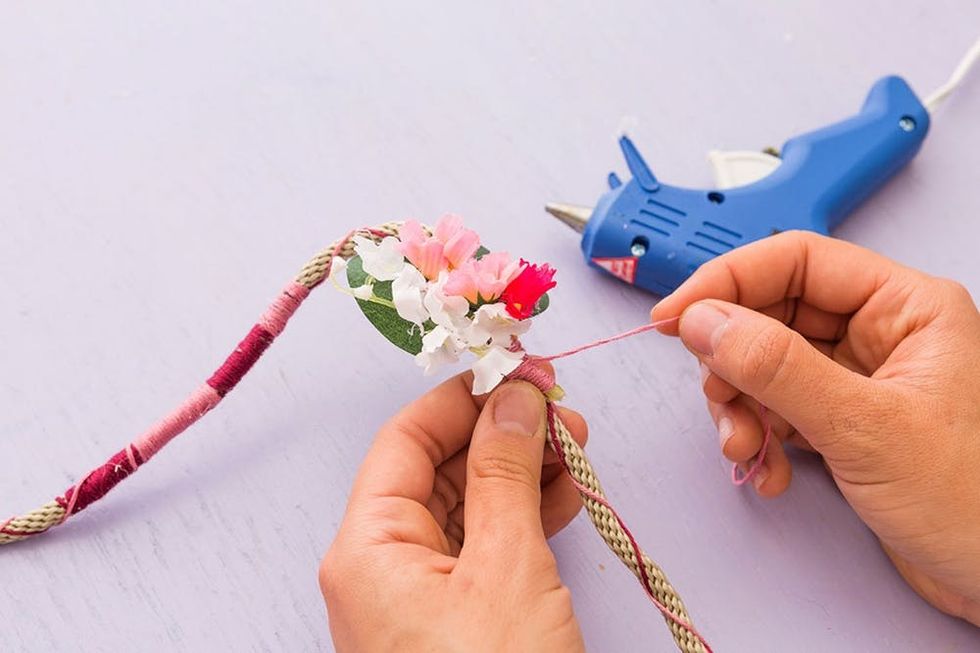 Secure flowers in place by wrapping the bottom edge with embroidery floss and hot gluing in place.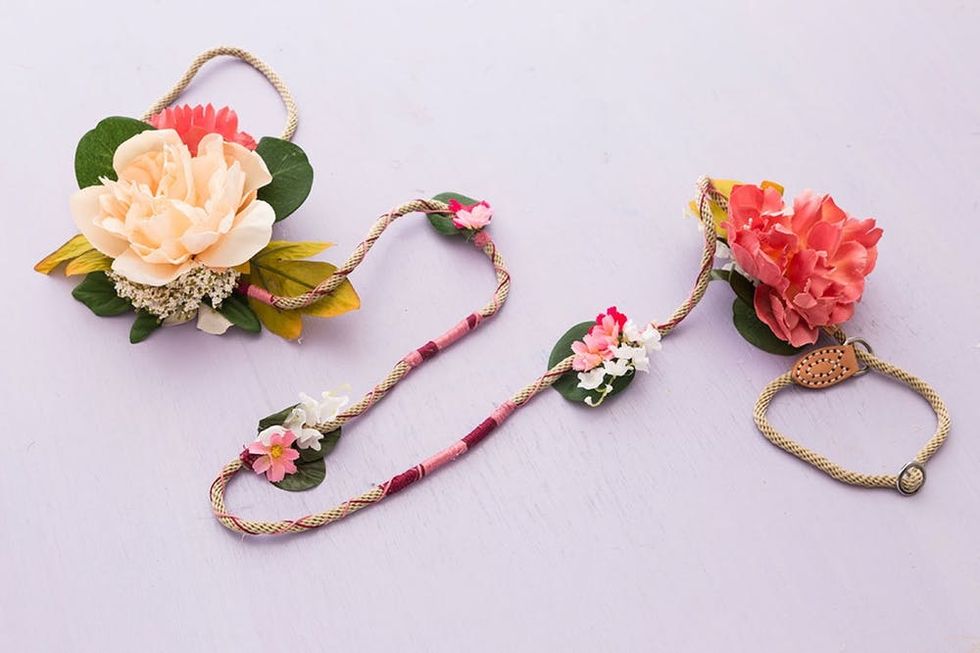 A leash fit for a dog-bride.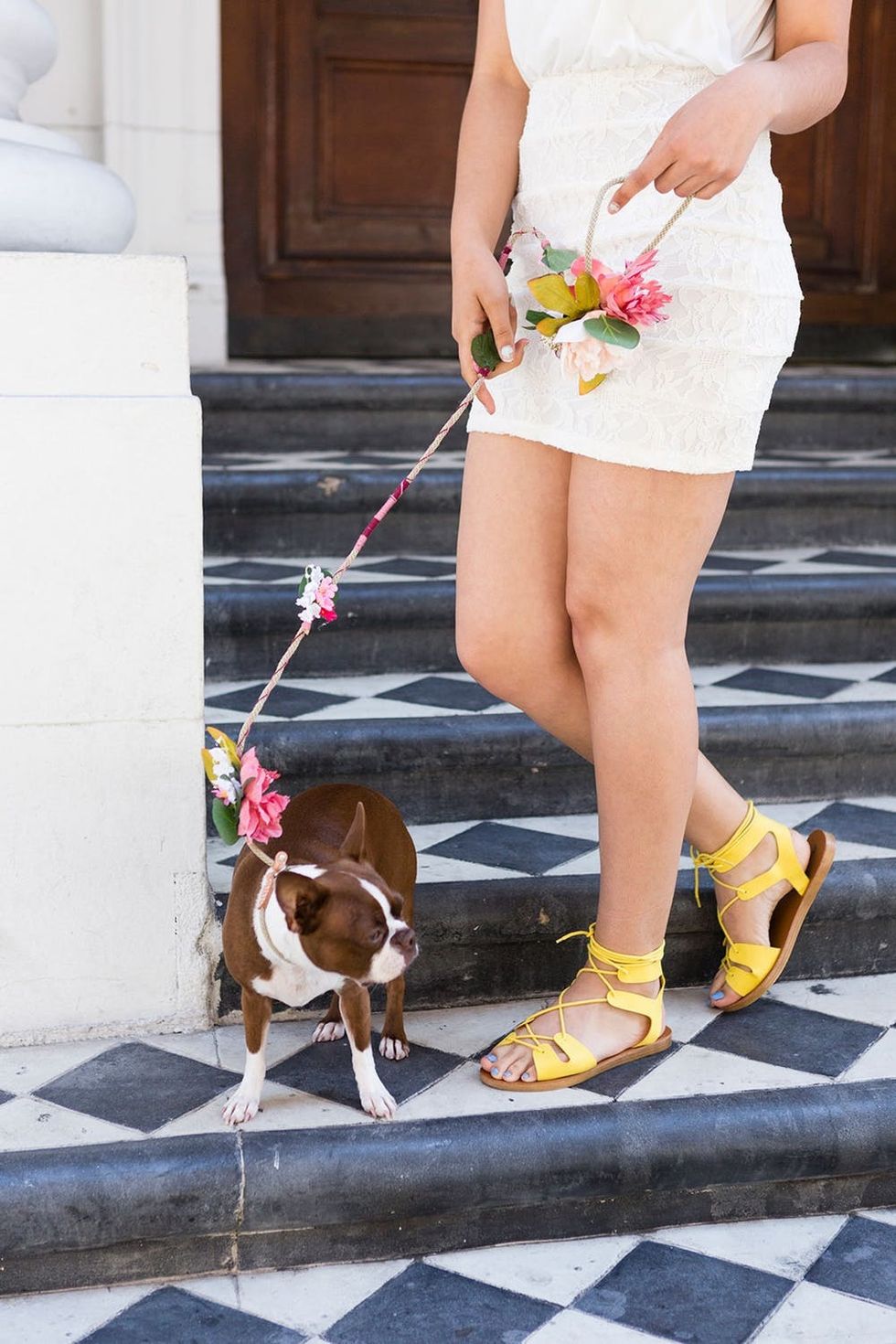 Miss Brie stepped in to help model this bridal leash. Let's just say she is all ready for her daddy's wedding day ;)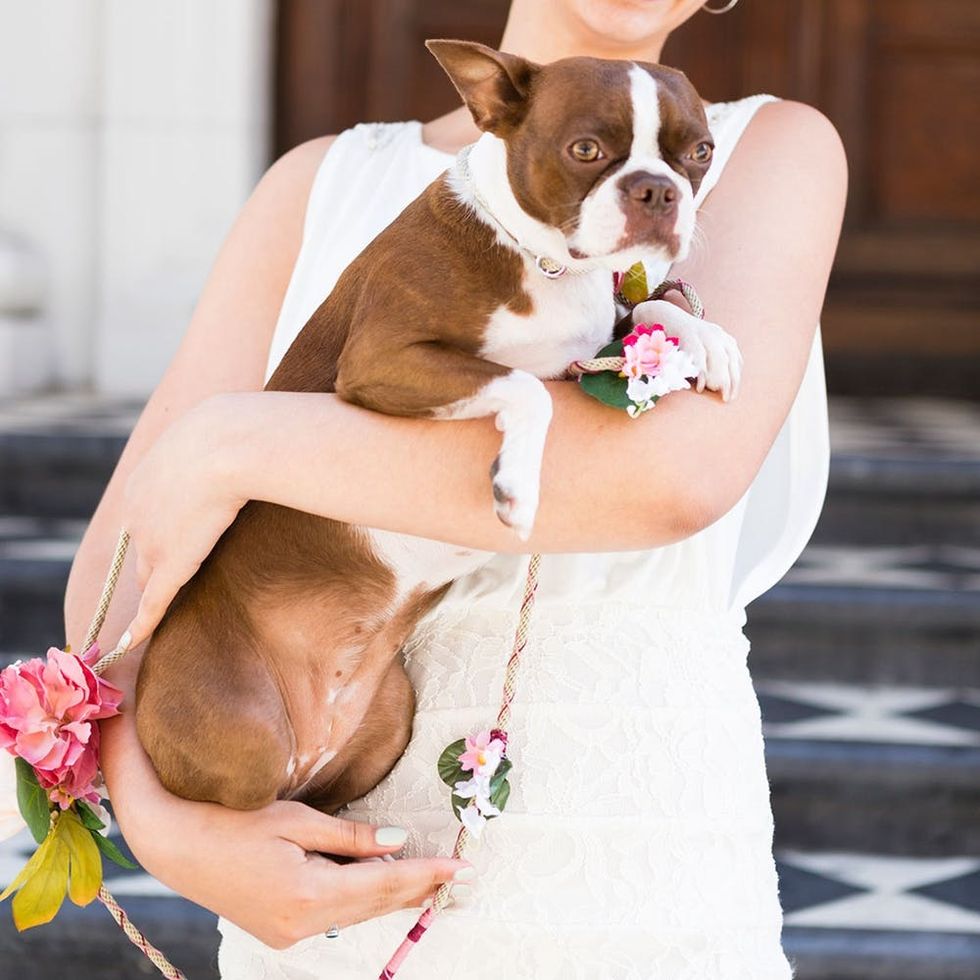 Show us your project by tagging us on Instagram + using hashtag #iamcreative!
DIY Production and Styling: Kelly Bryden
Model: Liana Ambrose-Murray
Photography: Brittany Griffin
Brit + Co may at times use affiliate links to promote products sold by others, but always offers genuine editorial recommendations.