This DIY Unicorn Couples Costume Is #GOALS
Sep 04, 2016
Unicorns are trending. Actual data scientists stand behind this statement, and so do we. Call it an ode to our Lisa Frank-influenced '90s hearts, call it a craving for a more magical time — whatever you call it, don't call it a comeback. Unicorns never left and they're here to stay. Today, we're creating a Halloween couples costume made of pure magic: a Unicorn Couple.
---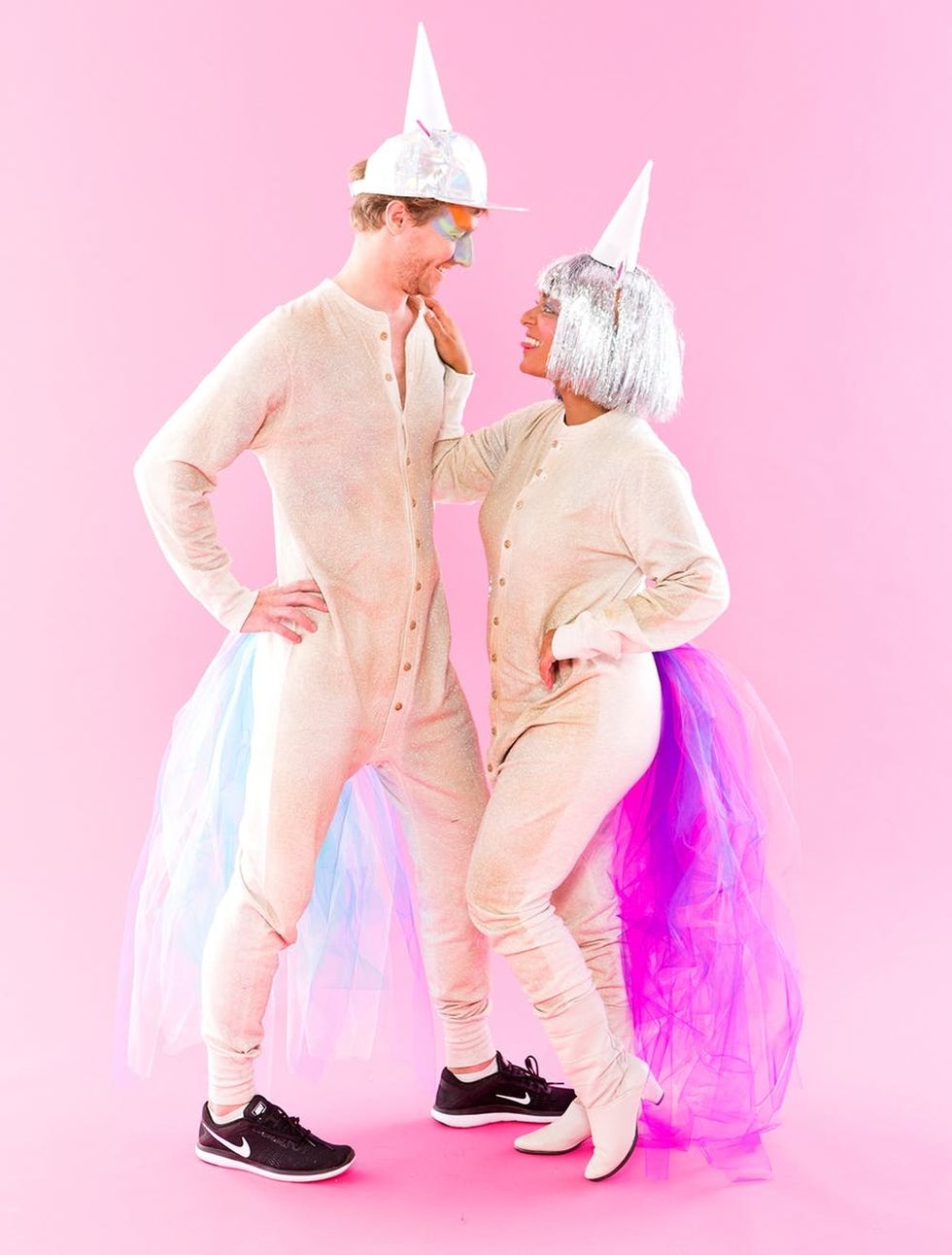 Important things you need to know before considering this costume:
1. You get to wear a pajama onesie… in public.
2. You have to accept the fact that glitter will be in your life for at least a week after Halloween.
3. You can make jokes about your horn. We'll leave it at that.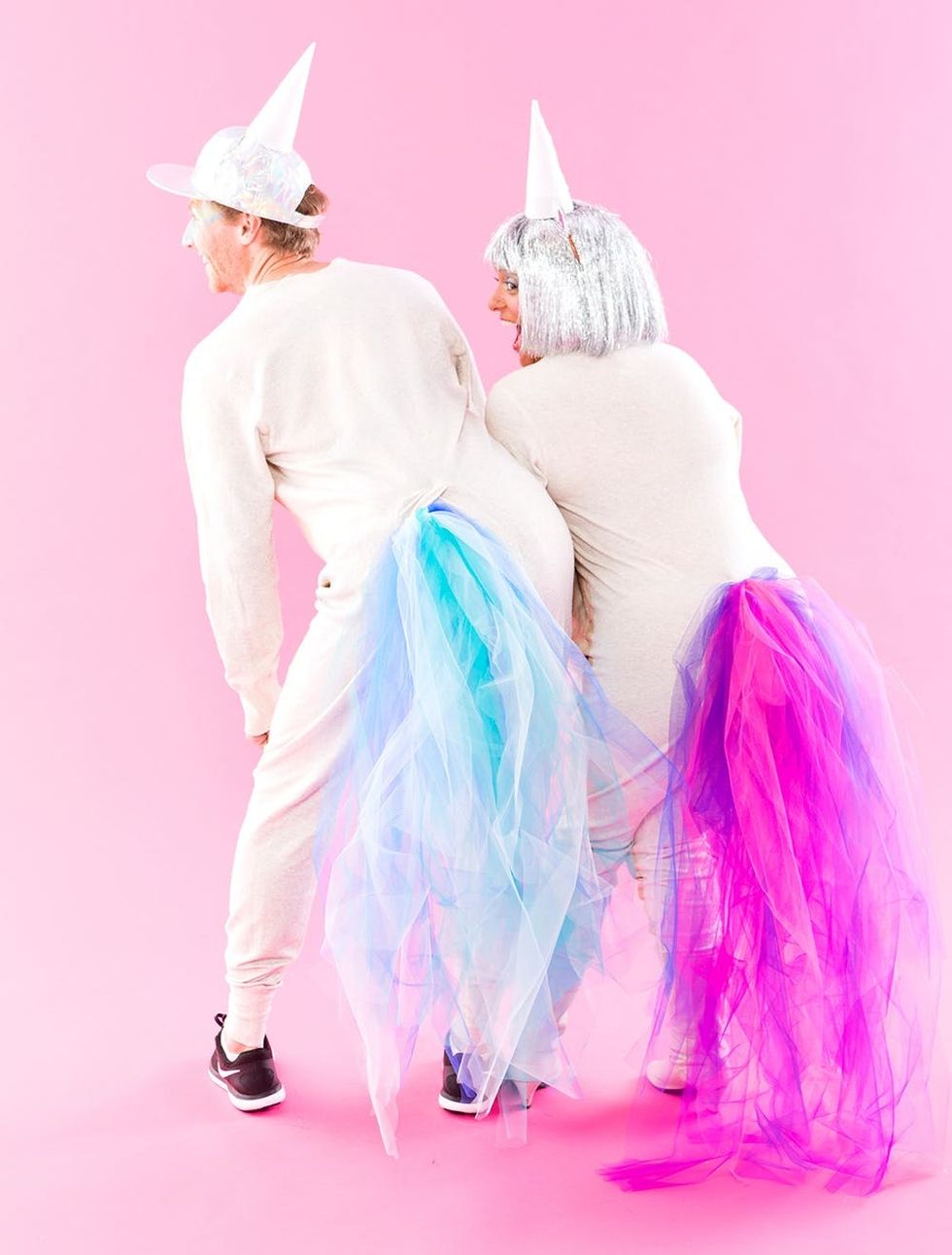 Now that you've carefully considered your commitment to becoming a unicorn, follow along to see the quick and easy steps for creating this pair of costumes. DIY Designer Kelly Bryden created these glittery onesies and terrific tulle tails, and Beauty Editor Misty Spinney added just enough sparkle to our faces to complete the look.
How to Make Your Unicorn Onesies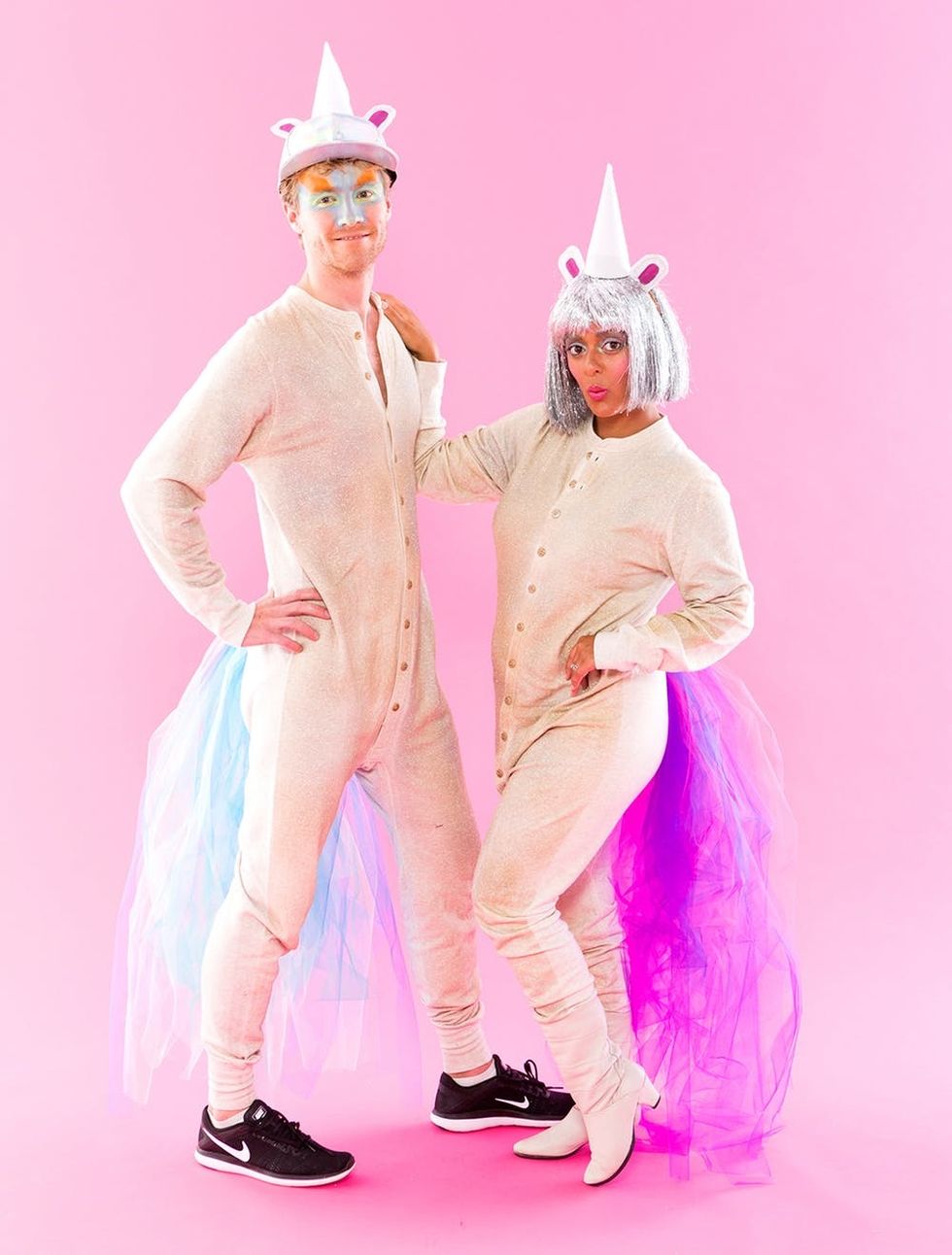 Materials + Tools:
Instructions:
1. Spray glitter all over each cotton onesie. It may take two coats and some of the glitter tends to shake off.
2. Cut tulle into strips and group together into a tail. Use another piece of tulle to tie the tail around the body. You can actually tie it onto your waist and pull the tail out of the bum flap of your onesie!
3. To create a unicorn headband, make a white cone out of cardstock. Then create two ears out of white cardstock with pink paint. Attach all of this to a headband. Do the same with the silver baseball hat.
Crazy Colorful Unicorn Makeup Tutorial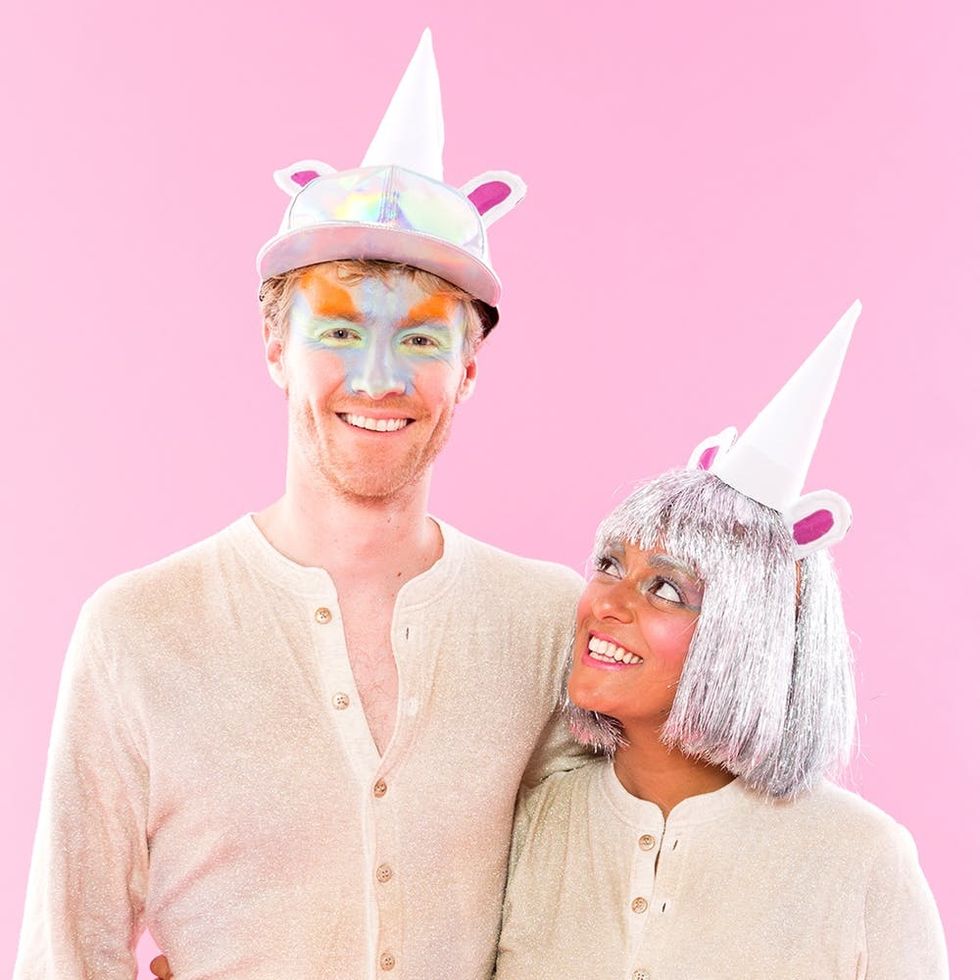 On David: To create this look, paint a light blue cream makeup on the T zone to sort of mock a horse nose and face. Then add a lime green shadow to line his eyes for a pop of color and dimension. Lastly, add an orange brow or ear-like shapes to bring that equine vibe. It's best to use paint brushes that are fine and firm so you can get the most control while painting on your face.
Subtle Silver Unicorn Makeup Tutorial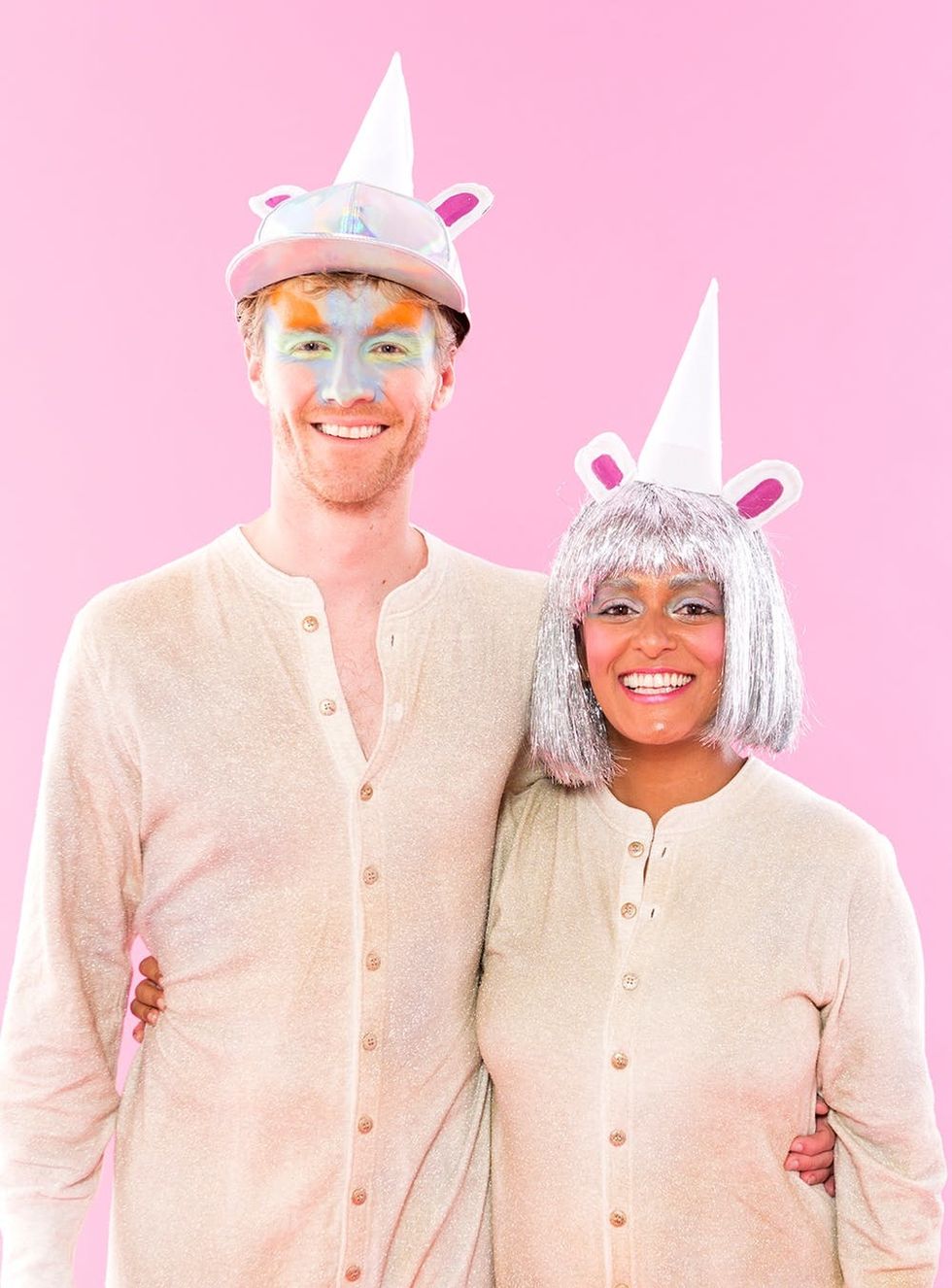 On Anj: This look pretty much consists of multi-pastel-colored cream makeup painted onto the eyes with a watercolor effect. You can be really creative with your color scheme or use the lavender, blue, pink and greens that we used here. To seal the deal, add silver to your eyebrows and inside corners of your eyes as a highlight, a bright pink blush and a metallic pink lipstick.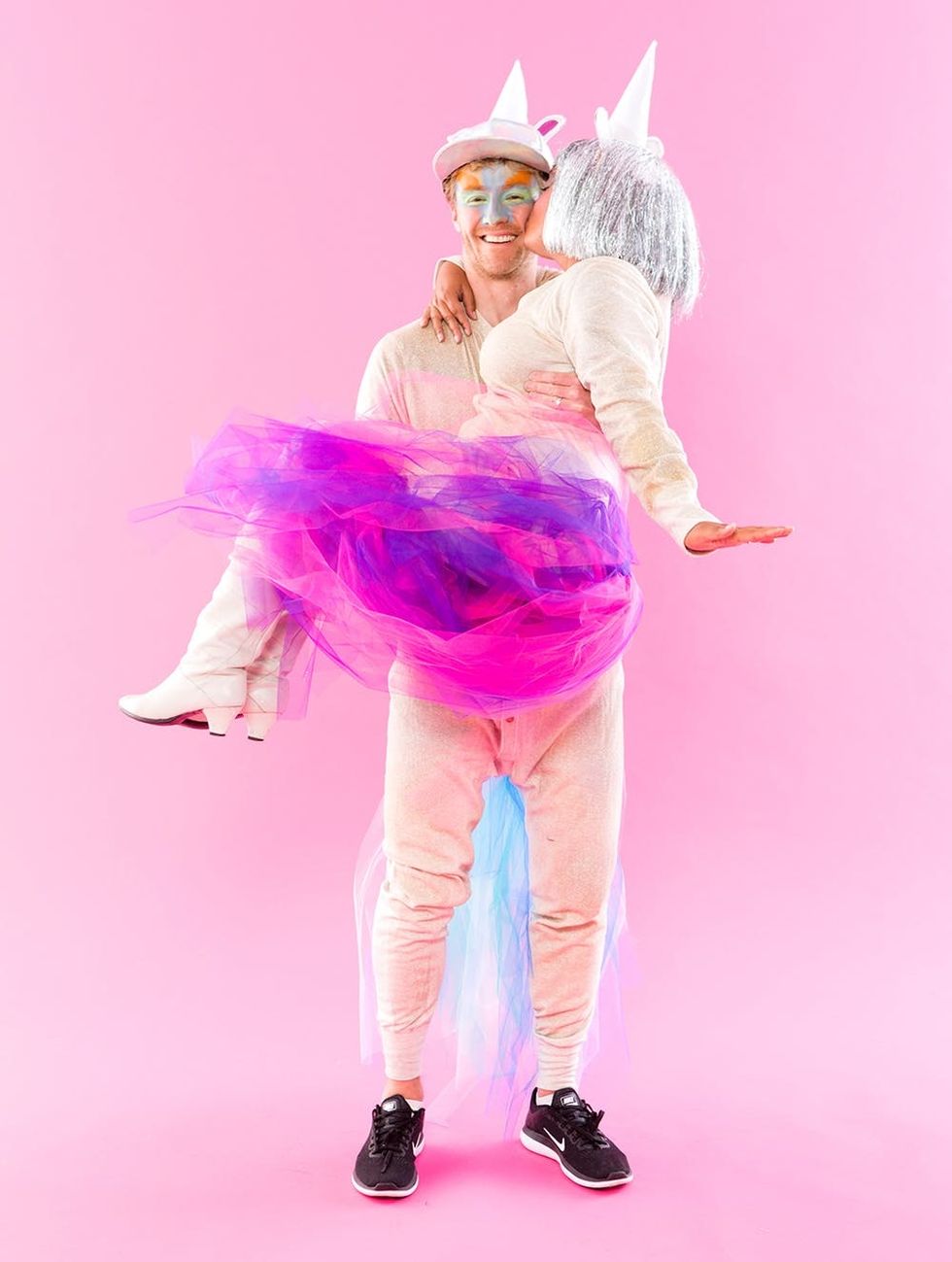 How magically cute is that?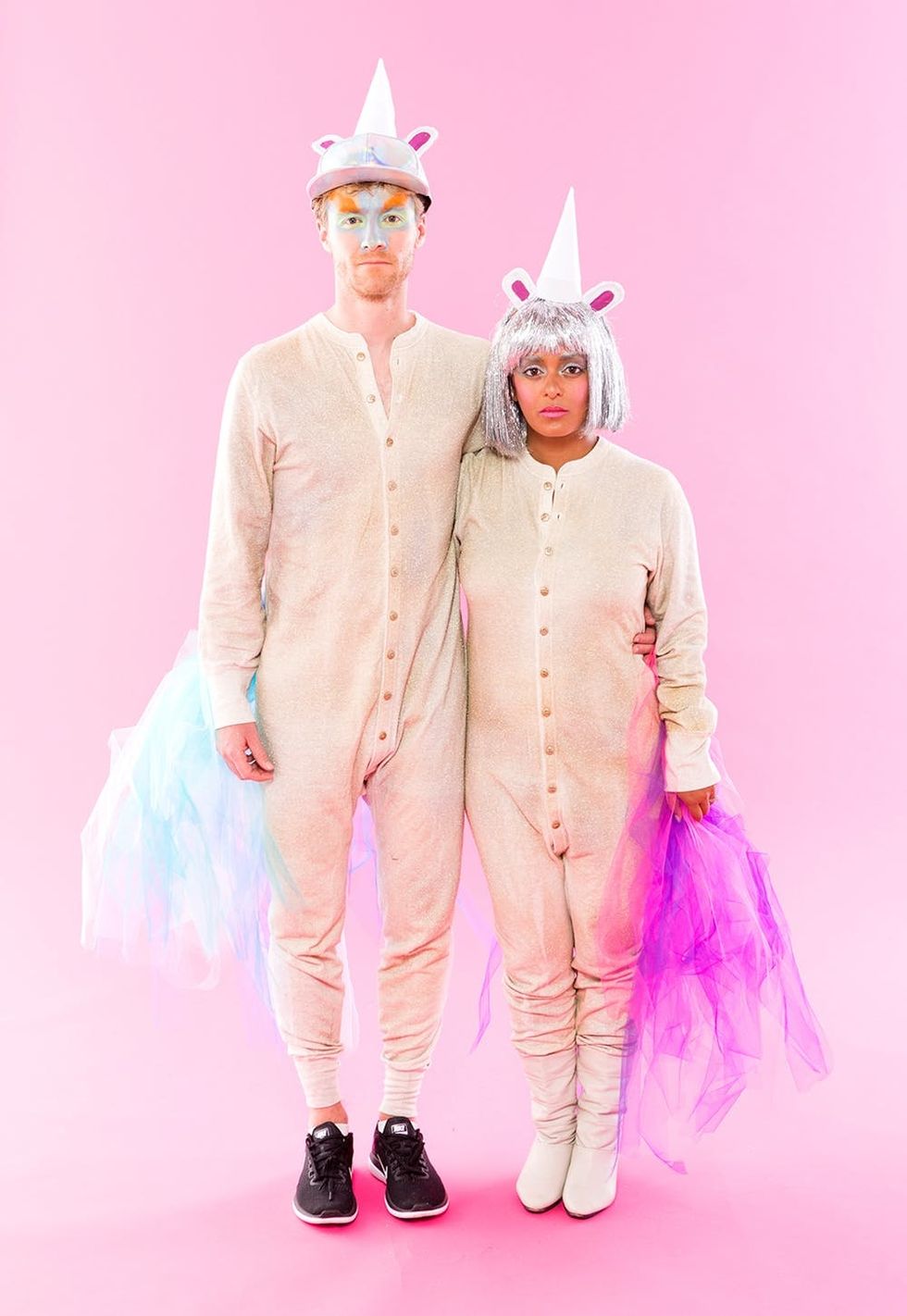 Being a unicorn is a very serious matter.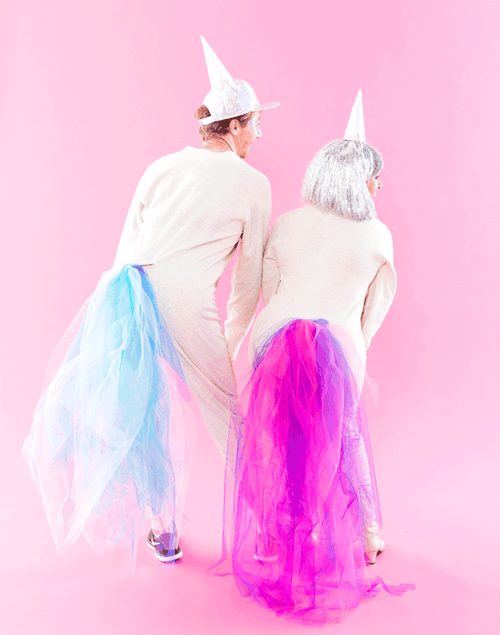 VERY serious.
Show us your finished costumes by tagging us on Instagram + using the hashtag #iamcreative!
DIY Production and Styling: Kelly Bryden
Hair and Makeup: Misty Spinney
Photography: Kurt Andre
Anjelika Temple
As Chief Creative Officer and Founding Partner at Brit + Co, Anjelika Temple brings her voracious consumption of all things creative and colorful to DIY projects, geeky gadgetry finds and more. When she's not DIY-ing her heart out, you'll find her throwing dinner parties with friends or adventuring with her husband David, their daughter Anokhi, and their silly dog Turkey.