This Vending Machine Dispenses… Fine Jewelry?!
Dec 18, 2017
Gone are the days when vending machines served up little more than soda pop and stale chips. The vending machines of (almost!) 2018 dispense just about everything, from pizza and Champagne to contraceptives, and now, you can even get something *extra* special with the push of a button: fine jewelry!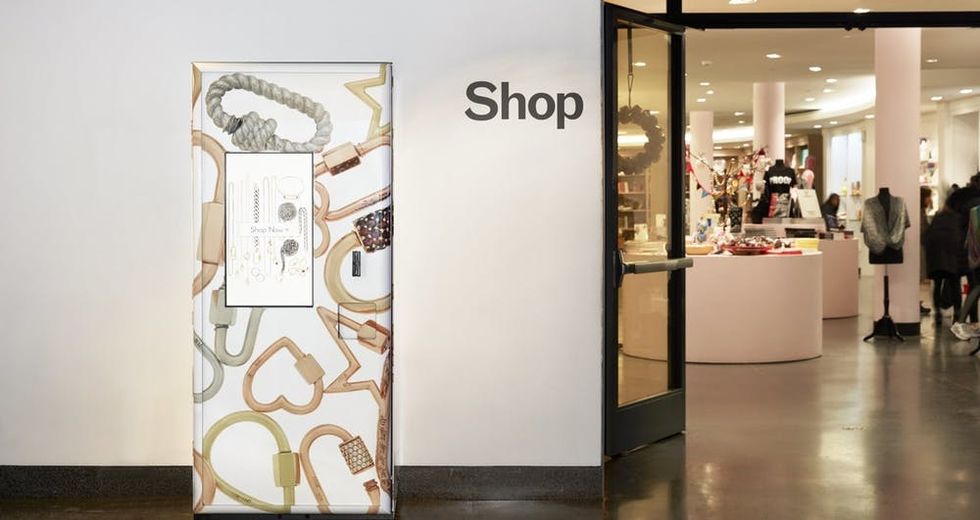 ---
That's right! New York-based jewelry designer Marla Aaron has installed a one-of-a-kind jewelry vending machine in the Brooklyn Museum. As she explained to The Adventurine, "Two years ago, when I was in Japan, I was struck by the colorful vending machines everywhere, selling all manner of goods. On the plane home, I started searching for a company to help me make one."
The format seemed a natural fit for the designer, whose work deals largely in silver, gold, and gems, and is inspired by carabiners. "I felt given the industrial nature of my collection lent itself nicely to the vending machine format," she told the outlet.
But take note: This is no ordinary machine. As seen in the video above, the dispenser is equipped with full touch screen and plays a video that tells the brand's story. You can choose from seven different pieces, ranging in price from $100 to $1,500, with new items added frequently.
After you pay for your item, it will be released in one of the brand's signature boxes, and, should you not like it, the return process is super easy.
Simply email the brand at info@marlaaaron.com for a full refund or exchange within 15 days of purchase. Our guess, however, is that you probably won't want to — just look at these stunning baubles!
What do you think of the jewelry vending machine idea? Tell us @BritandCo!
(Photos via Marla Aaron)
Shea Lignitz
Shea can be found in the nearest bookstore or brewery, exploring the great outdoors, or blasting Led Zeppelin. She grew up in the cold and rain of Northern California's redwoods but is currently wandering around Texas.
Style News