DIY Some Flower Bouquets for Random Acts of Kindness Day
Feb 17, 2017
When you're super busy job searching, exercising to get spring ready or trying to plan some epic adventures around the world, it can be easy to lose sight of the people around you. Whether it's taking part in a big community volunteer project or just offering to meet a friend for a hot chocolate, it's important to take a step back and see what you can offer someone else every once in a while. That's exactly the reason why we're celebrating Random Acts of Kindness Day with a special project. So take five minutes and make these cute flower bouquets to give your besties and colleagues. We can guarantee that being good to others makes you feel good too ;)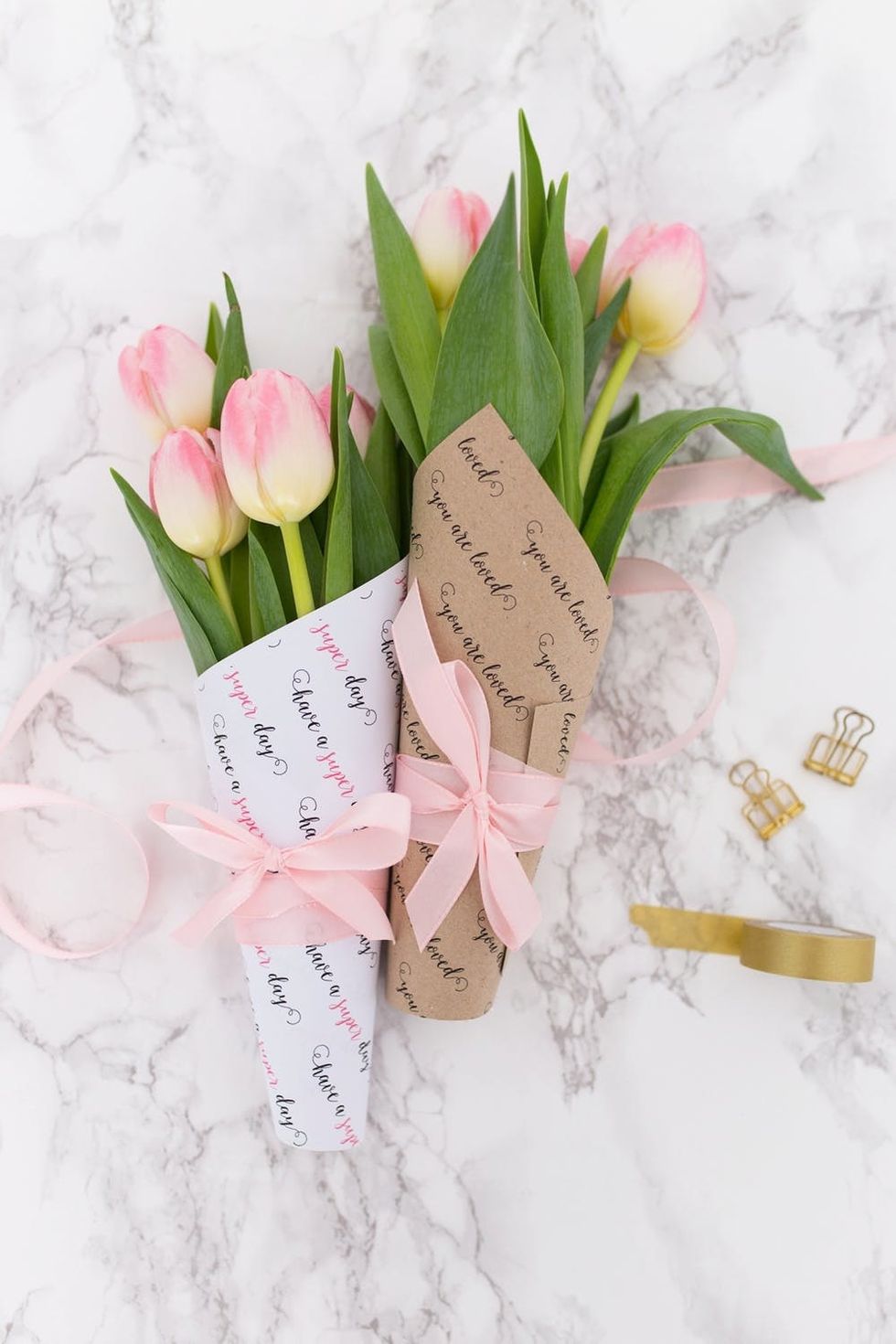 ---
Materials and Tools:
fresh flowers
ribbon
tissue paper
plastic wrap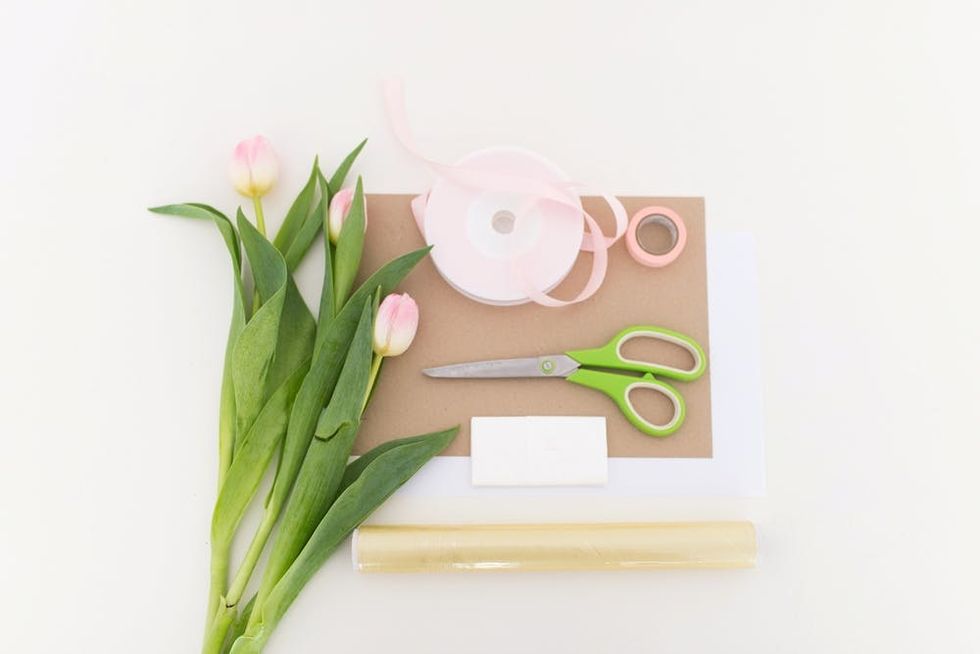 Instructions:
1. Download and print our design.
2. Trim your flowers as needed, then wrap the base with tissue paper and some plastic wrap.
3. Place the flowers over the printed card-stock and cut out the excess.
4. Shape the paper into a cone and tape along edges to keep together.
5. Tie with a ribbon.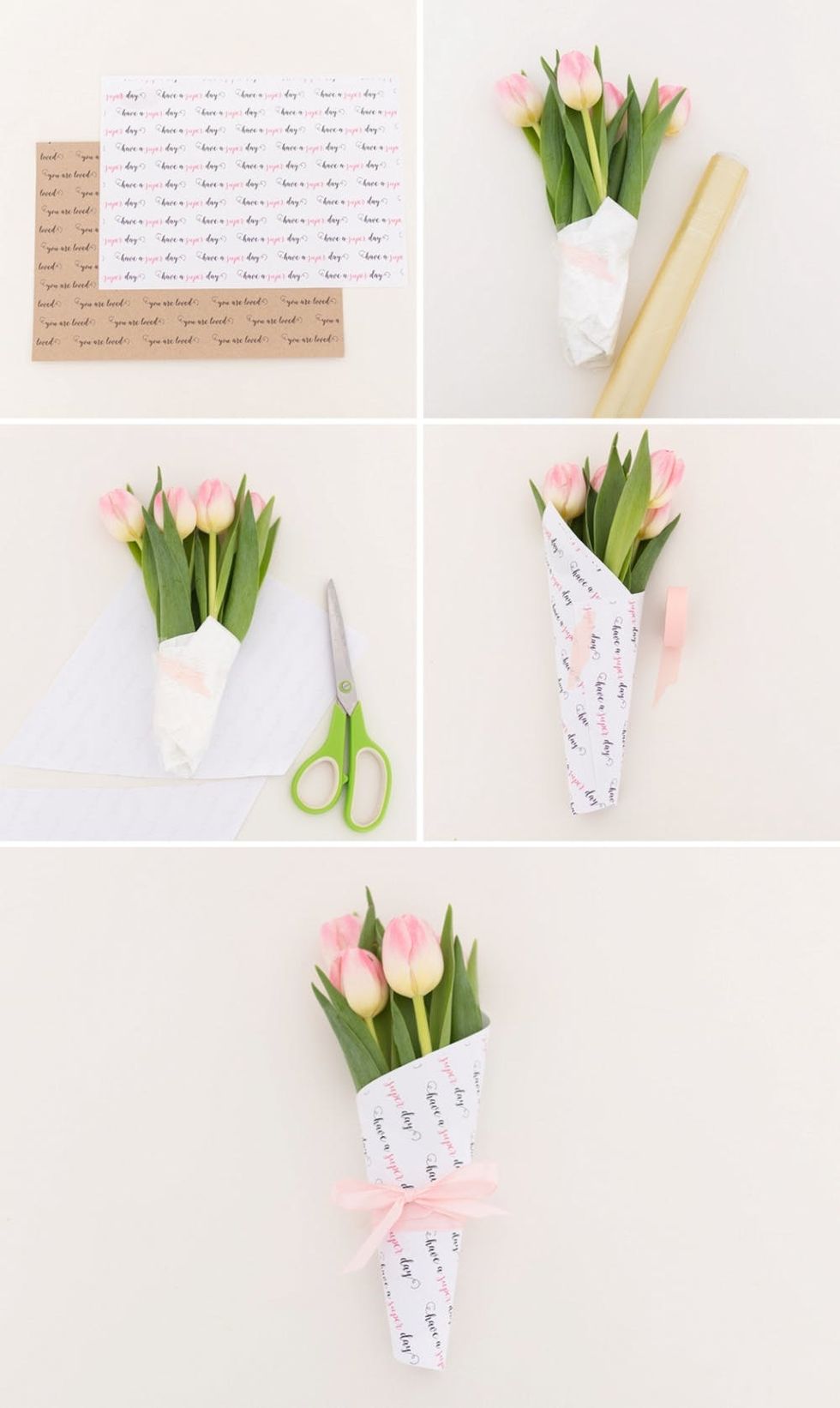 First, download and print our templates. We made two for you: "You are loved" and "Have a super day." Pick your fave or print them both. Then trim your flowers as needed and wrap the base with tissue paper and some plastic wrap so you're sure your paper won't get wet. Now place the flowers over the printed card-stock or paper and cut out the excess, as shown above. Next, shape the paper into a cone, tape along the edge and tie with a ribbon. Voilà, you're done!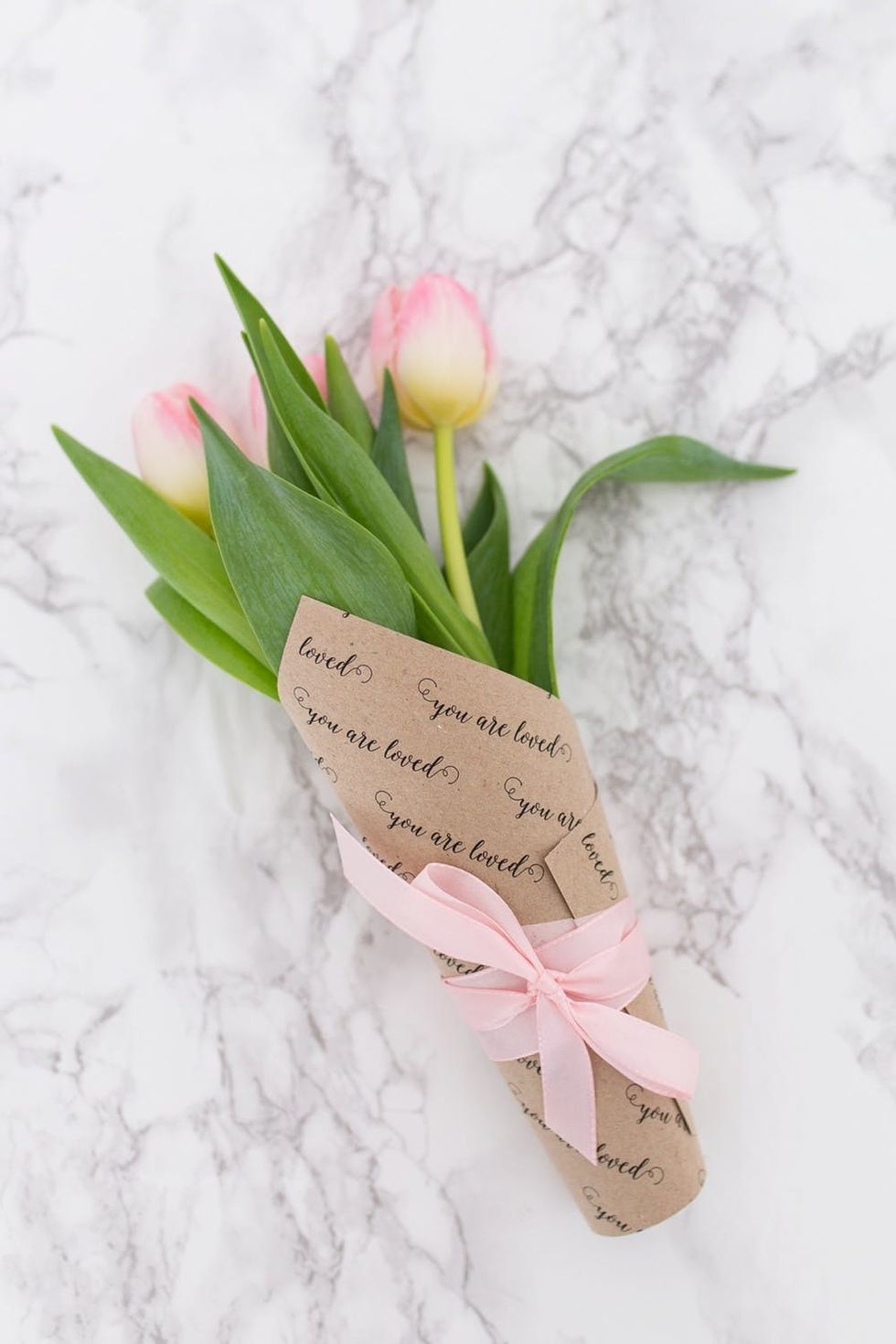 It takes a couple of minutes to do and makes you look like an even more thoughtful person than you already are for getting someone pretty flowers.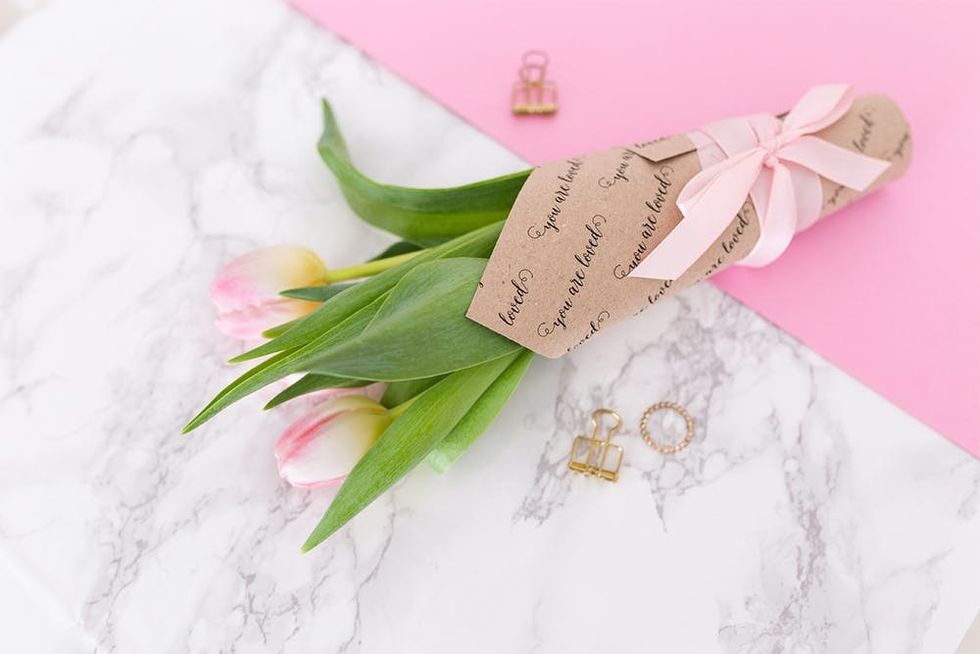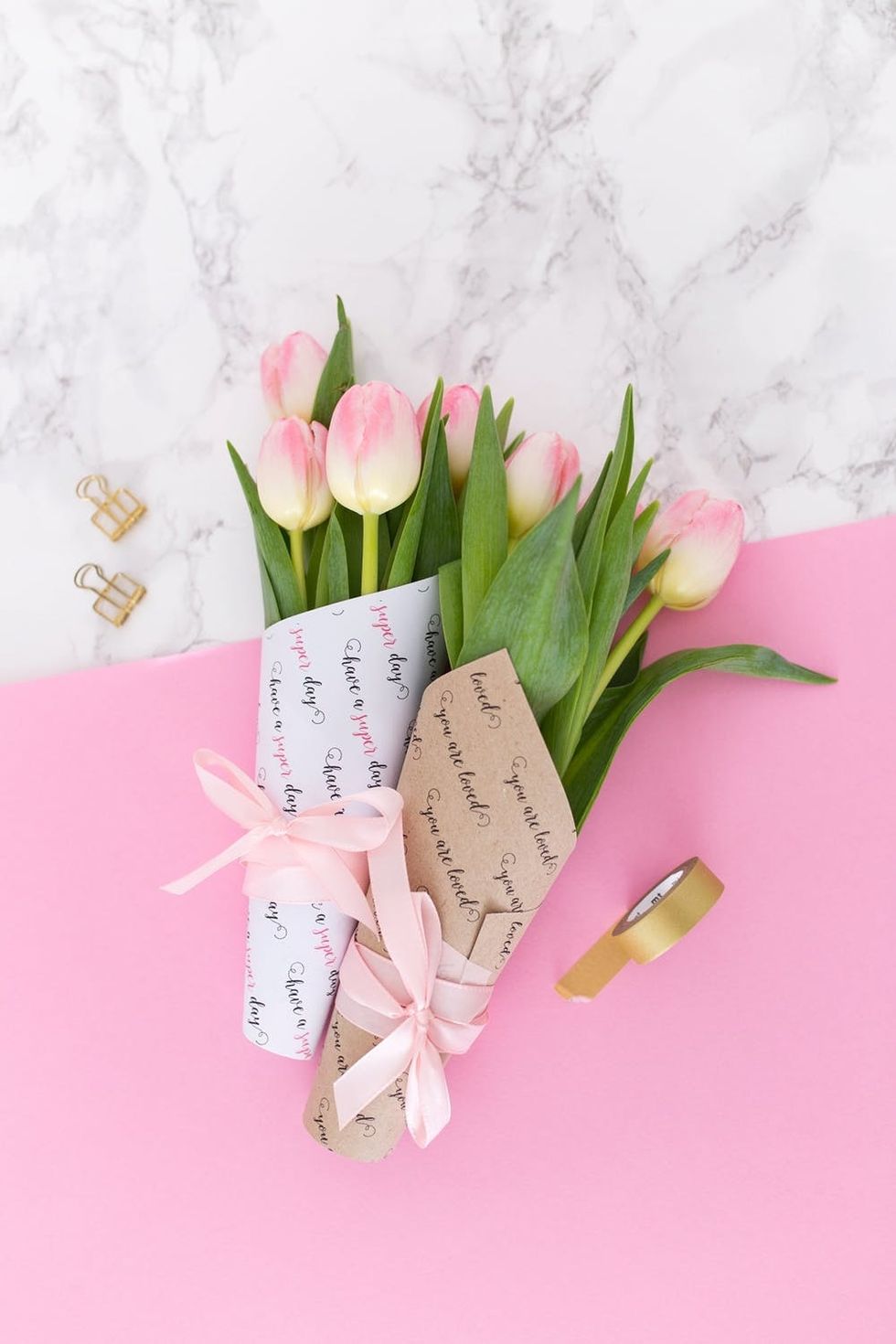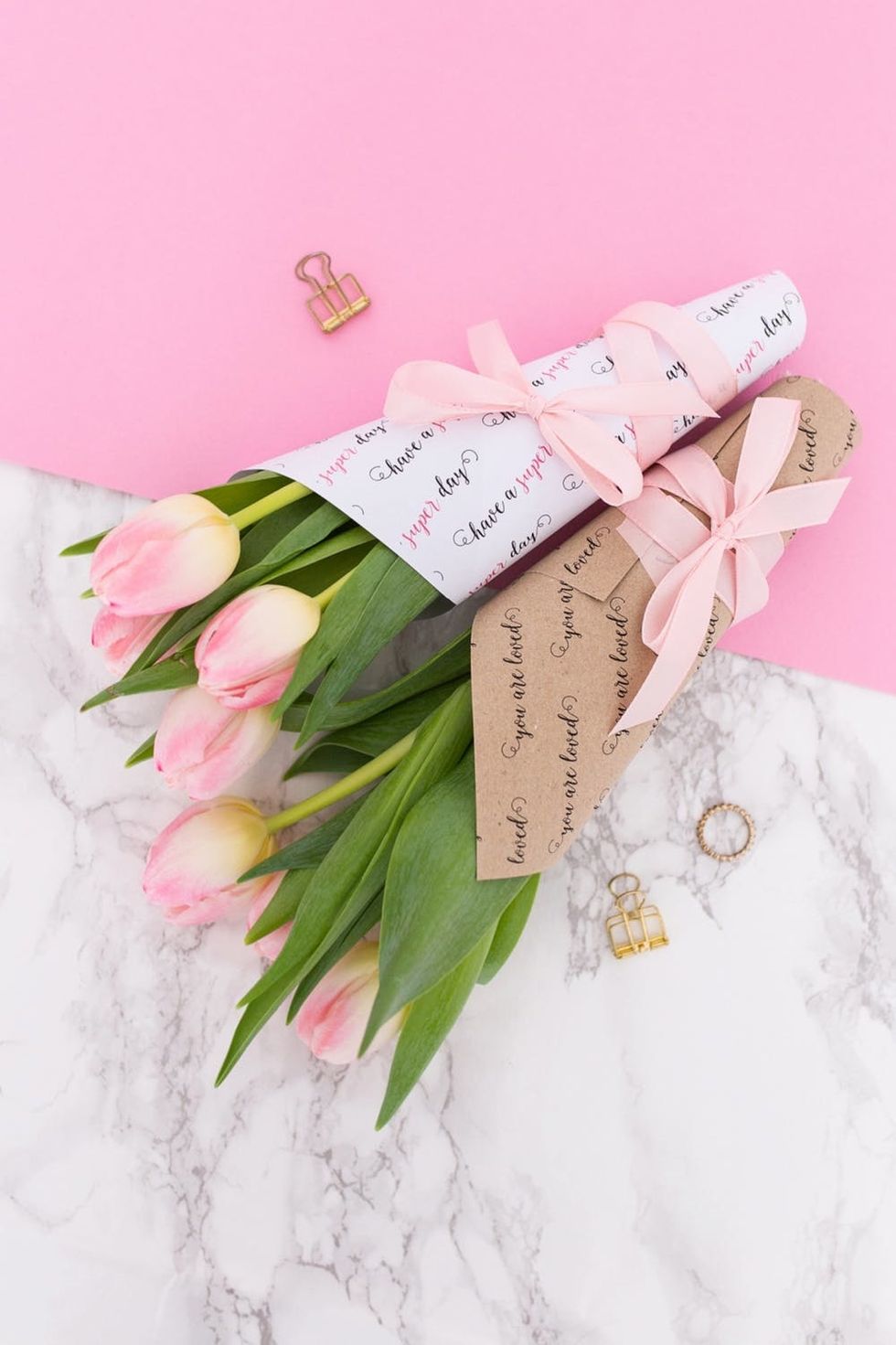 What are your favorite ways to give back? Tweet us your tips @BritandCo, and follow us on Pinterest for more DIY gift inspo.
Brit + Co may at times use affiliate links to promote products sold by others, but always offers genuine editorial recommendations.
Irene Fucci
Irene is a wedding and portrait photographer currently living in Turin, Italy. In 2013 she co-founded
One O
, where she shares DIYs, home decor inspiration and travel pictures. When she's not working on a new post, she can be found catching the golden light, sipping a soy cappuccino or trying new braided hairstyles.
Home DIY
Whether you want to tap into some holiday nostalgia, or find a fun DIY to do with your kiddos, this simple snow globe craft offers both! Together with Camp by Walmart, we built a customizable crafting journey so you can execute this decor upgrade based on your style preferences and the supplies you have around the house. For this project, you'll need to decide if you want your snow globe to be inside of a mason jar or glass orb, what type of snow you want (hello, glitter!), and what holiday scene should go inside. With 16 possible outcomes, we can't wait to see what you come up with. Check it out by watching the winter wonderland snow globe tutorial now!
Holidays