16 Ways Gold Foil Will Take Your DIYs to the Next Level
Oct 12, 2015
We have a special place in our hearts for anything and everything gold. Whether it's on a tote, our favorite pair of shoes or a blingin' necklace, we can't get enough. Gold foil takes our obsession to a whole new level, and we're not mad about it. Check out our favorite gold foil DIYs below.
---
1. Jazzed Up Sneakers: Basic white sneakers are *so* yesterday. This kit ($19) has all you need to add a little gold to your kicks. Trust us, your outfit will thank you. (via Brit + Co)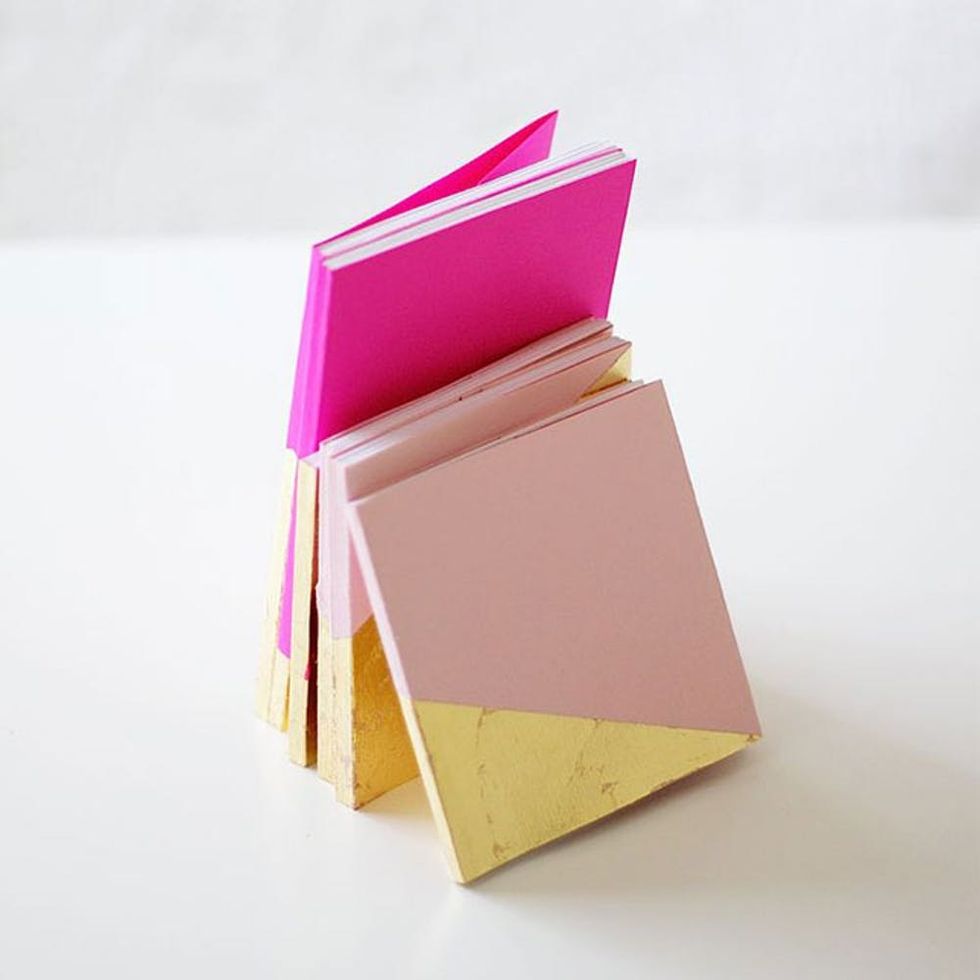 2. Color Block Notebooks: Take a solid notebook from drab to fab with this gold-dipped look. All you need is a bound notebook and a sheet of gold foil, and you're good to go! (via Eat Sleep Cuddle)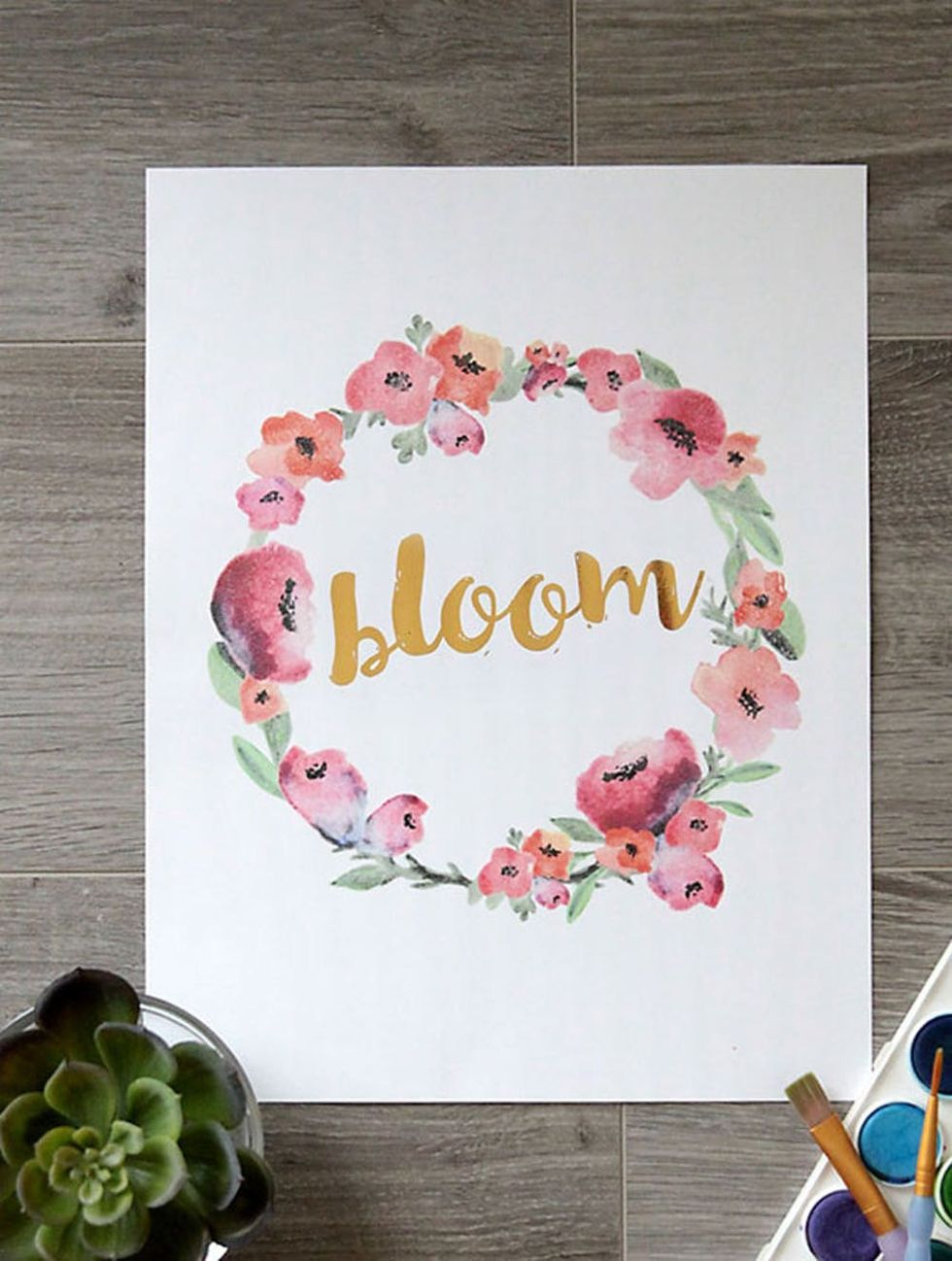 3. Watercolor Printable: Is your gallery wall in need of a little upgrade for fall? Then this DIY print is a must. Simply print off your favorite design and add a hint of metallic. (via It's Always Autumn)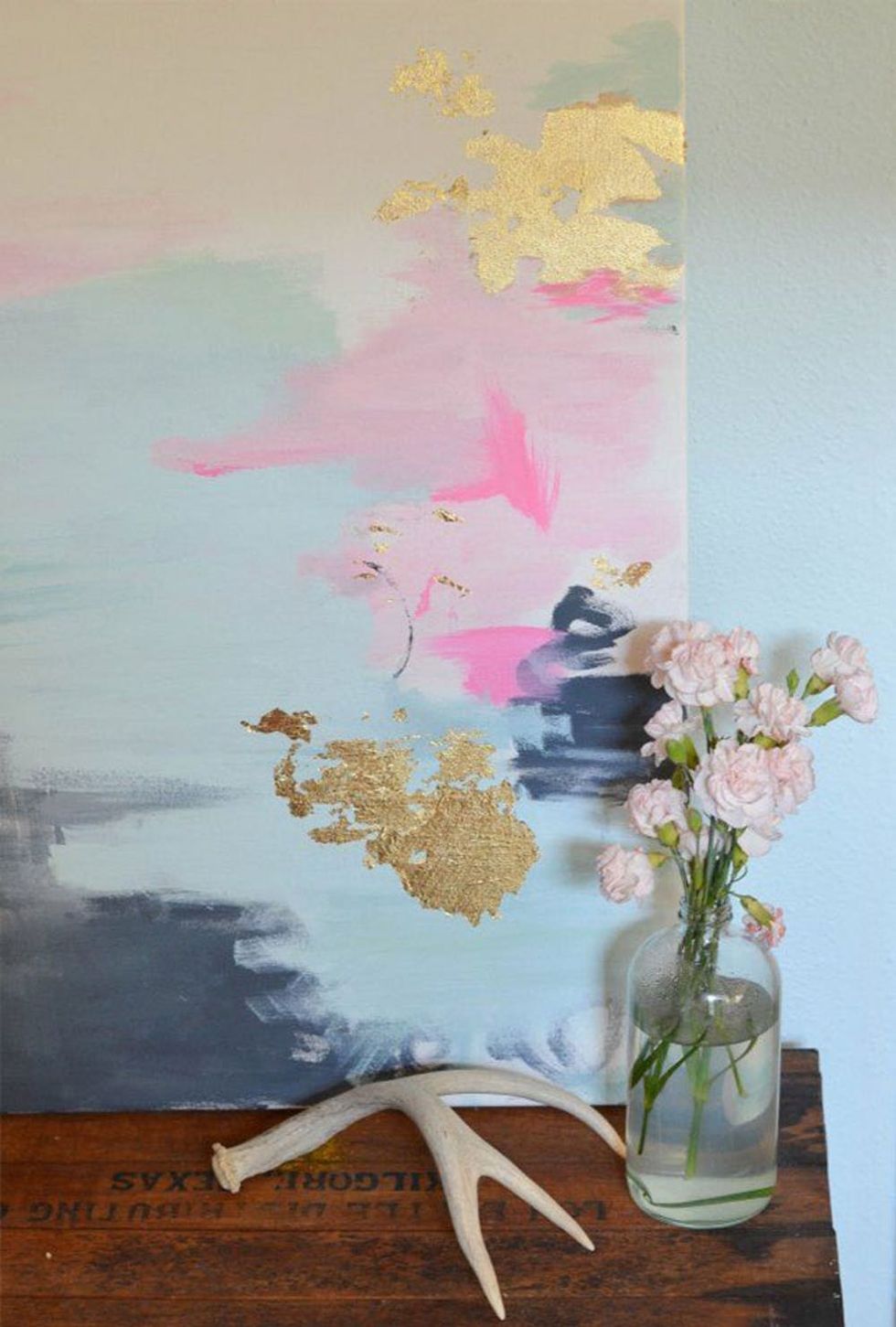 4. Brushed Artwork: We love the subtle oomph this gold foil gives. Break out the paint brushes and go to town on a canvas. Once it's dry, add pieces of foil to the finished product. (via Katrina Chambers)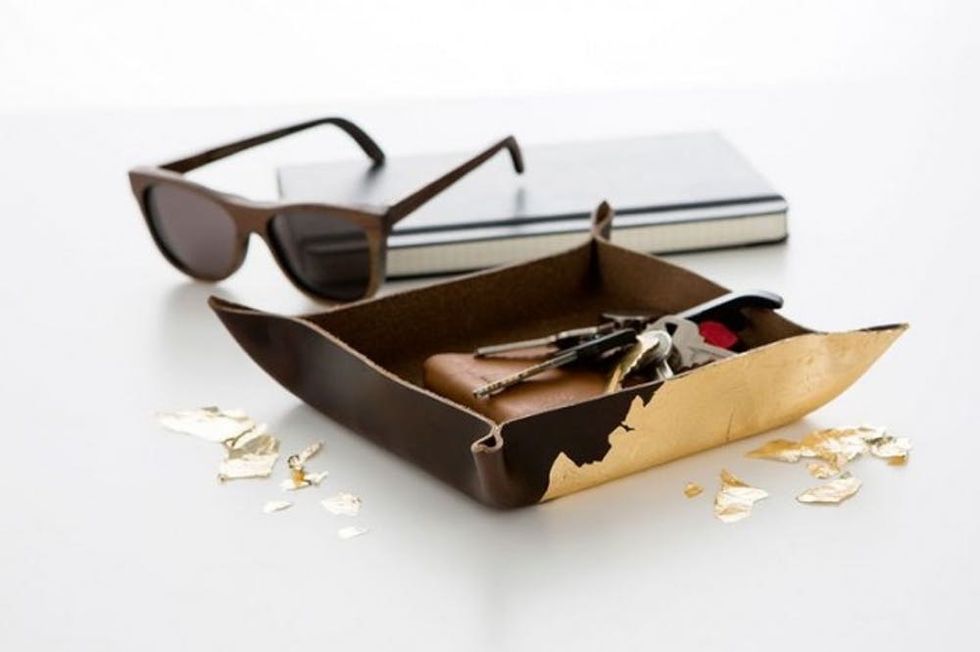 5. Gilded Leather Valet: This DIY valet (get the kit for $35 here) is the perfect catchall tray for your foyer. Your keys and sunnies just got the cutest new home. (via Brit + Co)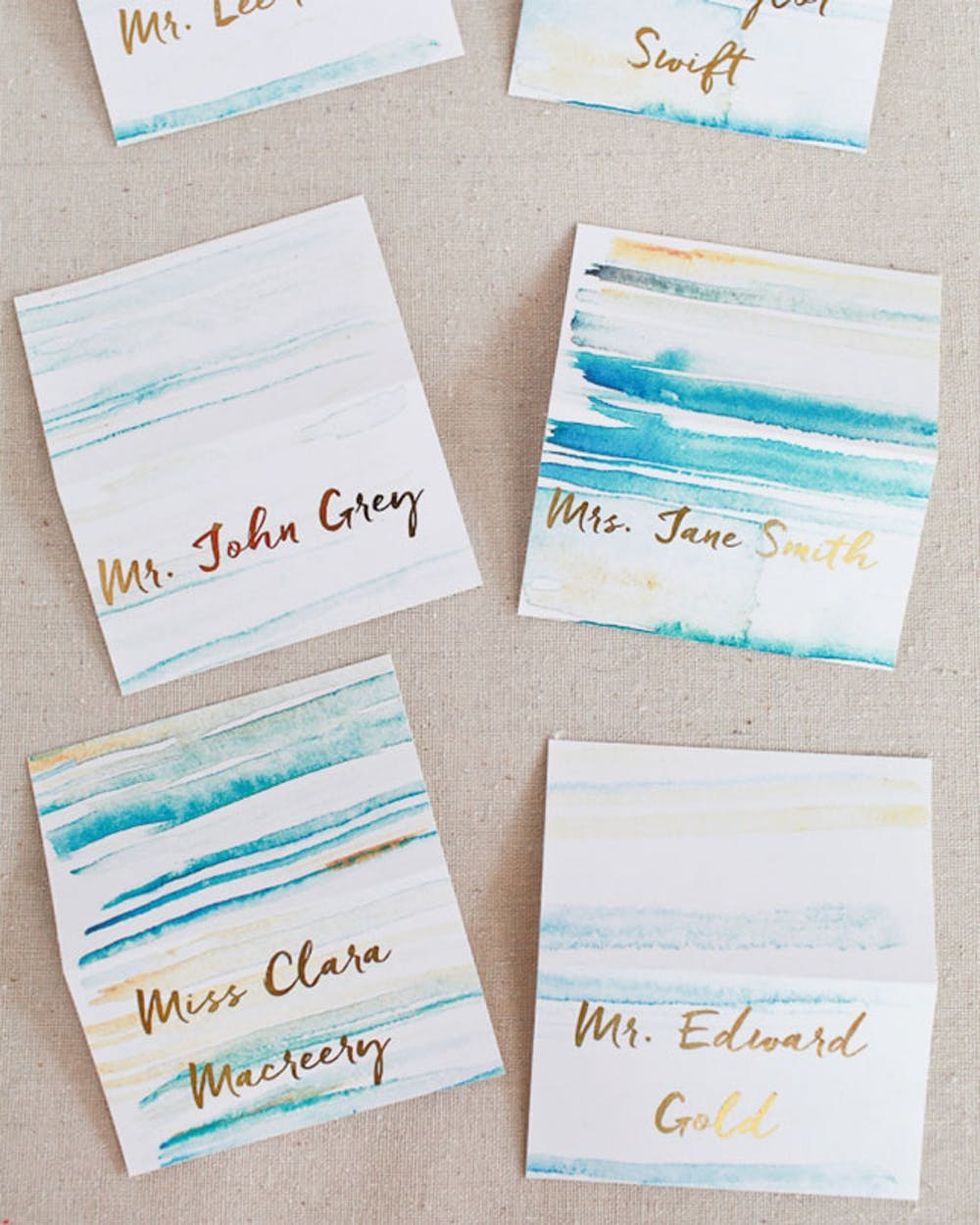 6. Place Cards: Planning a wedding this fall? This is the perfect way to amp up your place cards. Swap the Minc printer for a gold paint pen, and you'll be done in minutes. (via Oh So Beautiful Paper)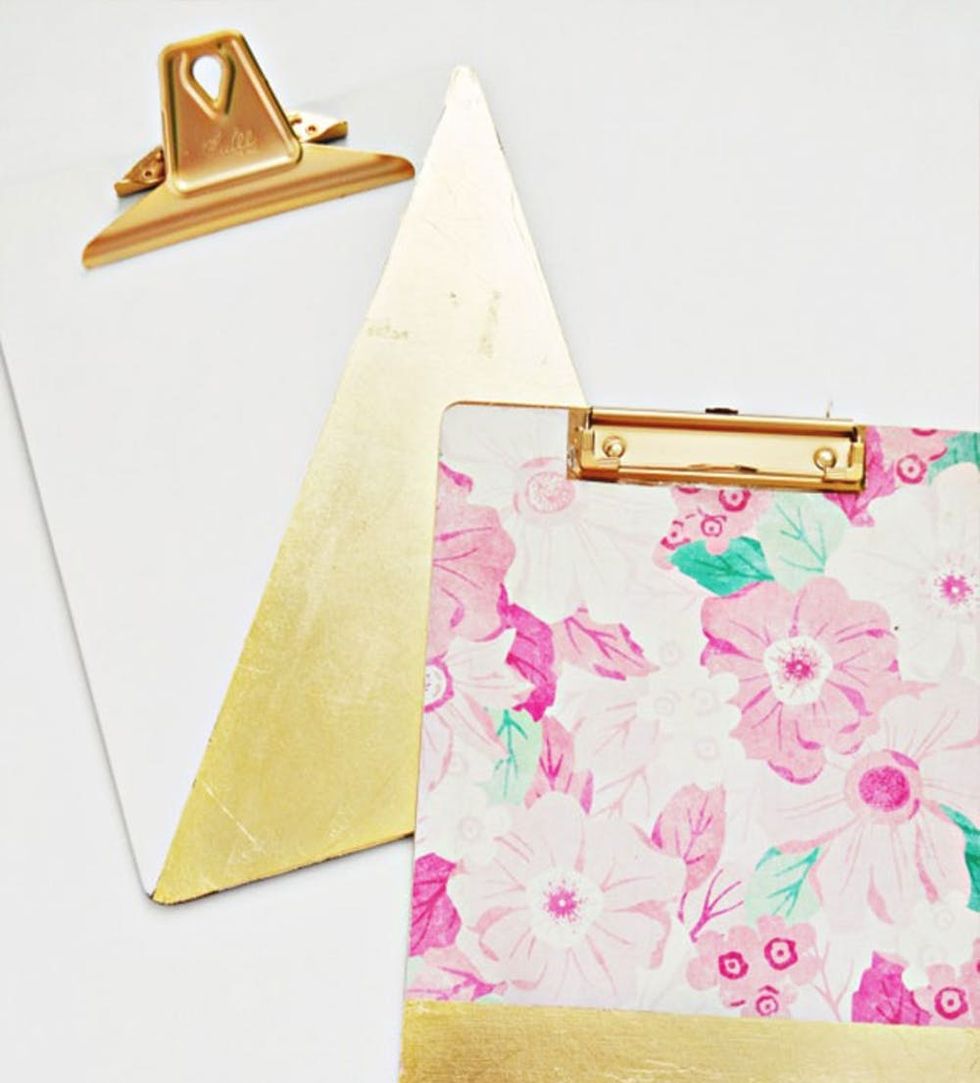 7. Clipboards: Use Mod Podge to add your favorite pattern to a clipboard, and cover the rest with foil. Let's just say your office space just got a major upgrade. (via My Fabuless Life)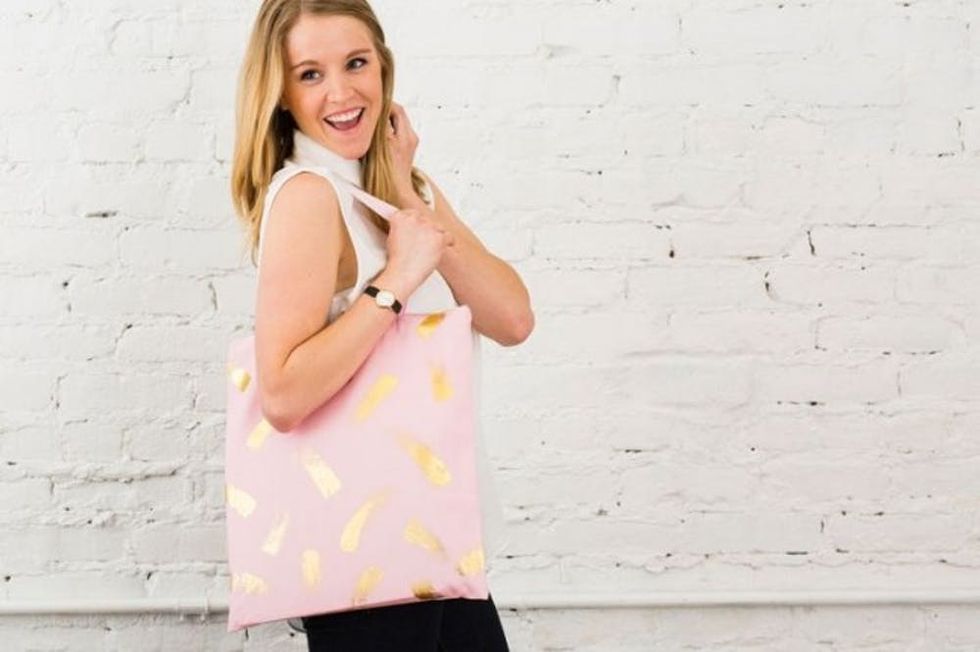 8. Brushed Tote: School? Yep. Work? Definitely. Pick up this kit ($19) in the B+C Shop to create a bag you can carry around anywhere. (via Brit + Co)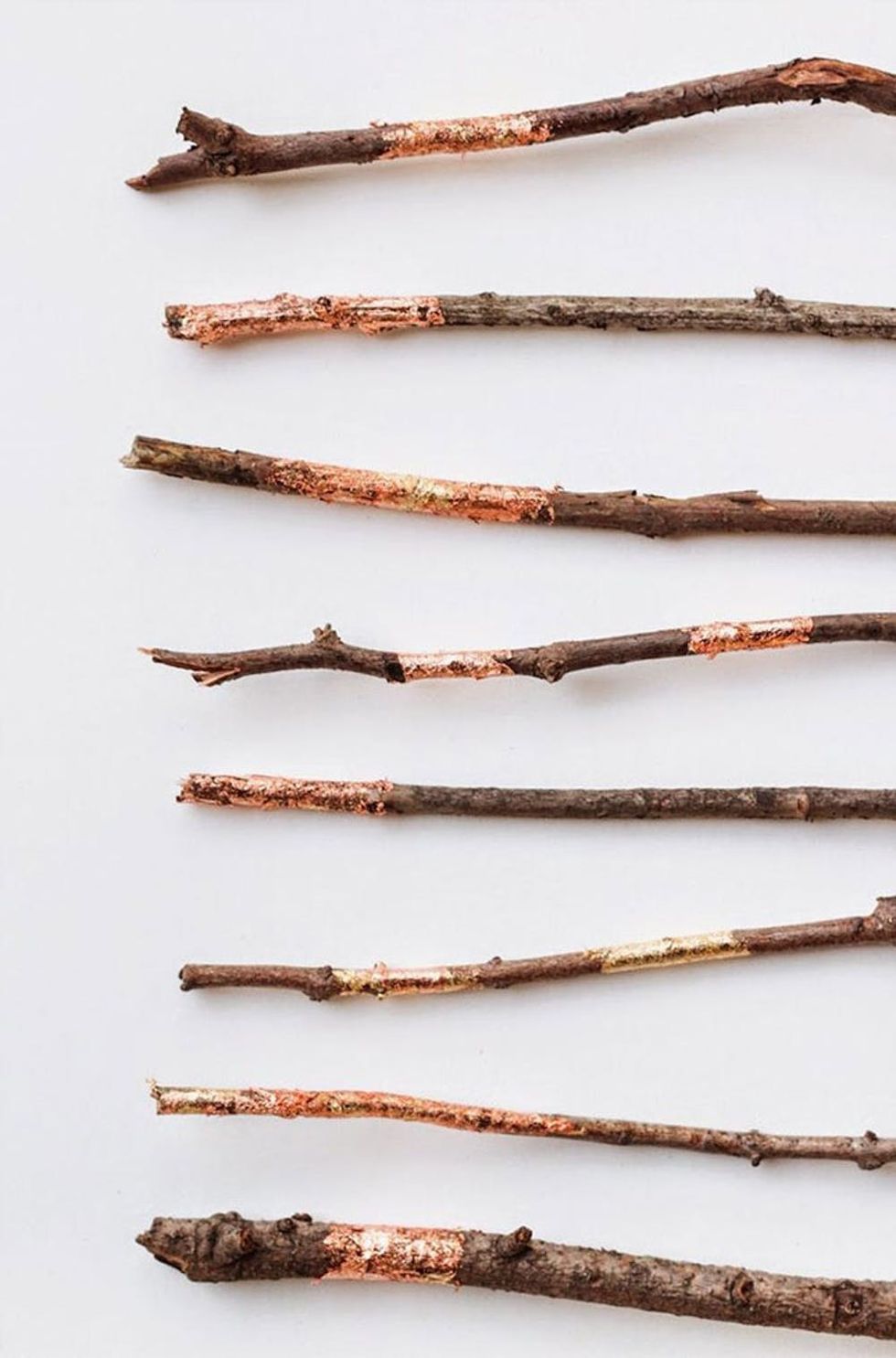 9. Copper Branches: We know what you're thinking: Really? Foiling branches? We just know they'll make your fall decor *that* much better. (via Poppytalk)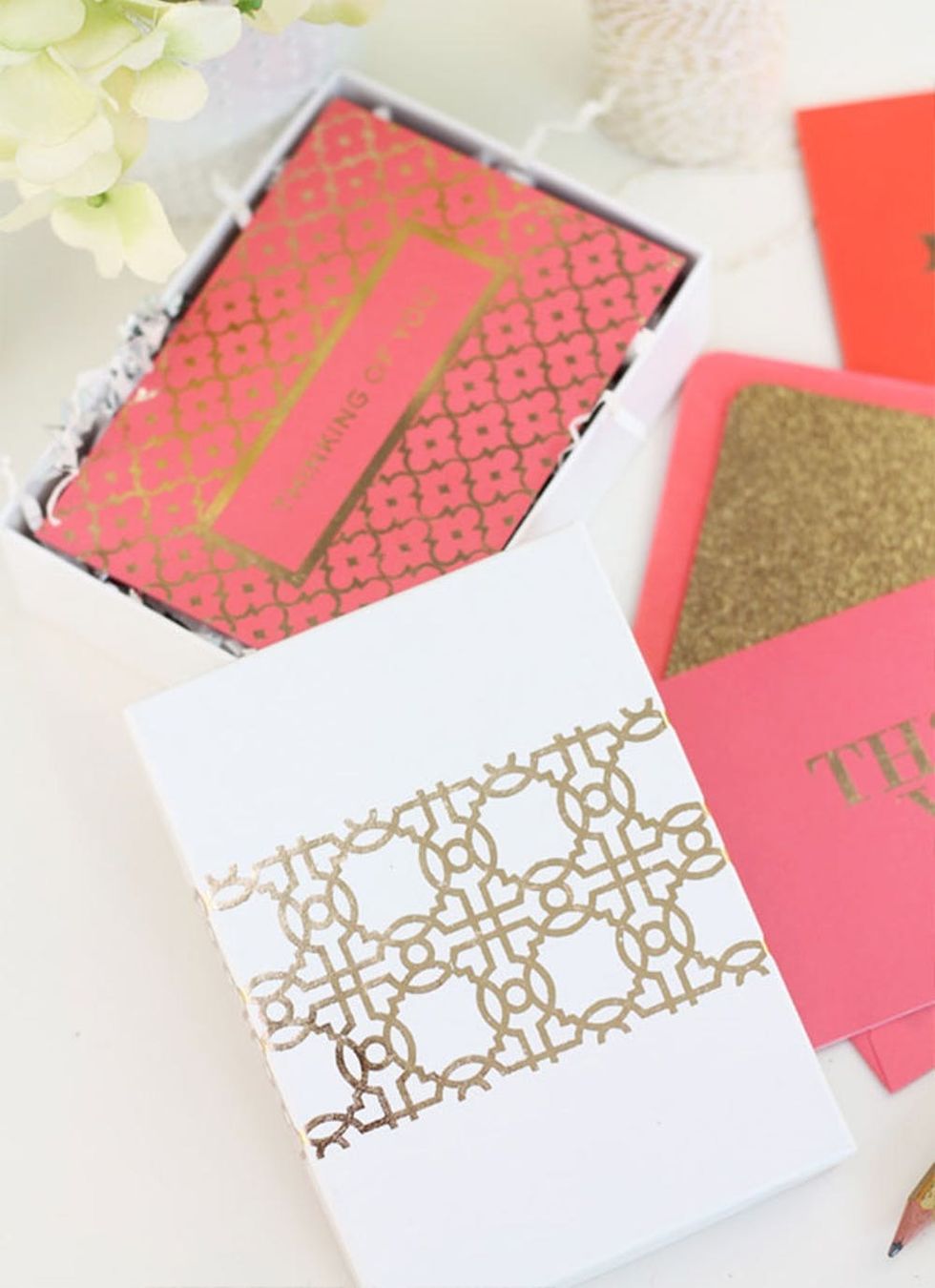 10. Stationery Box: Stash your stationery in a white box with a gold pattern. Hey, you could even use flash tatts to DIY this. (via Damask Love)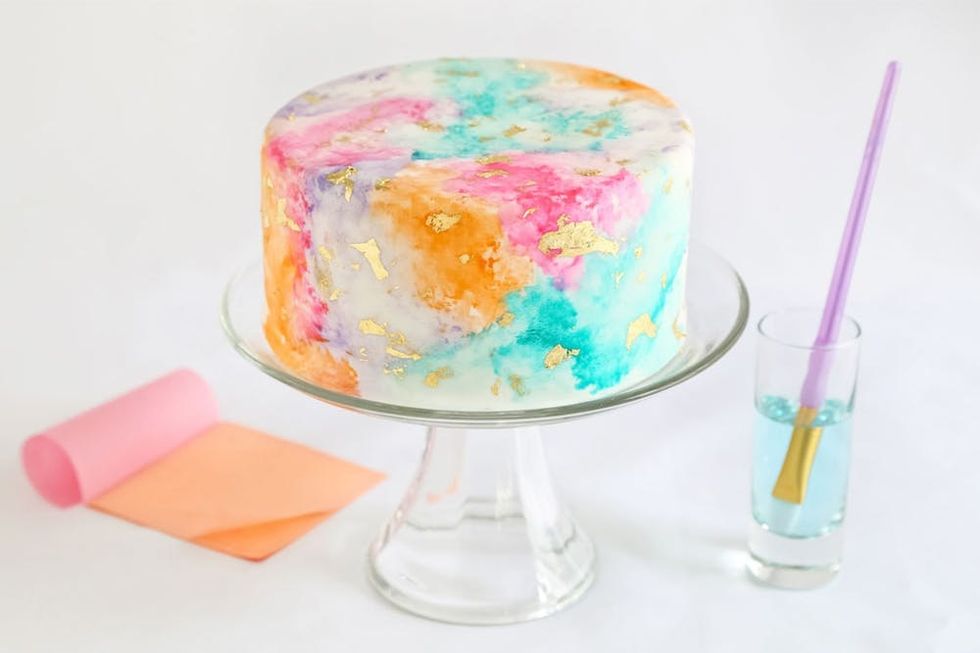 11. Watercolor Gold Foil Cake: We thought we'd seen it all, but gold-foiled cake?! We have to make it. Snag this kit ($34), and you can make one too! (via Brit + Co)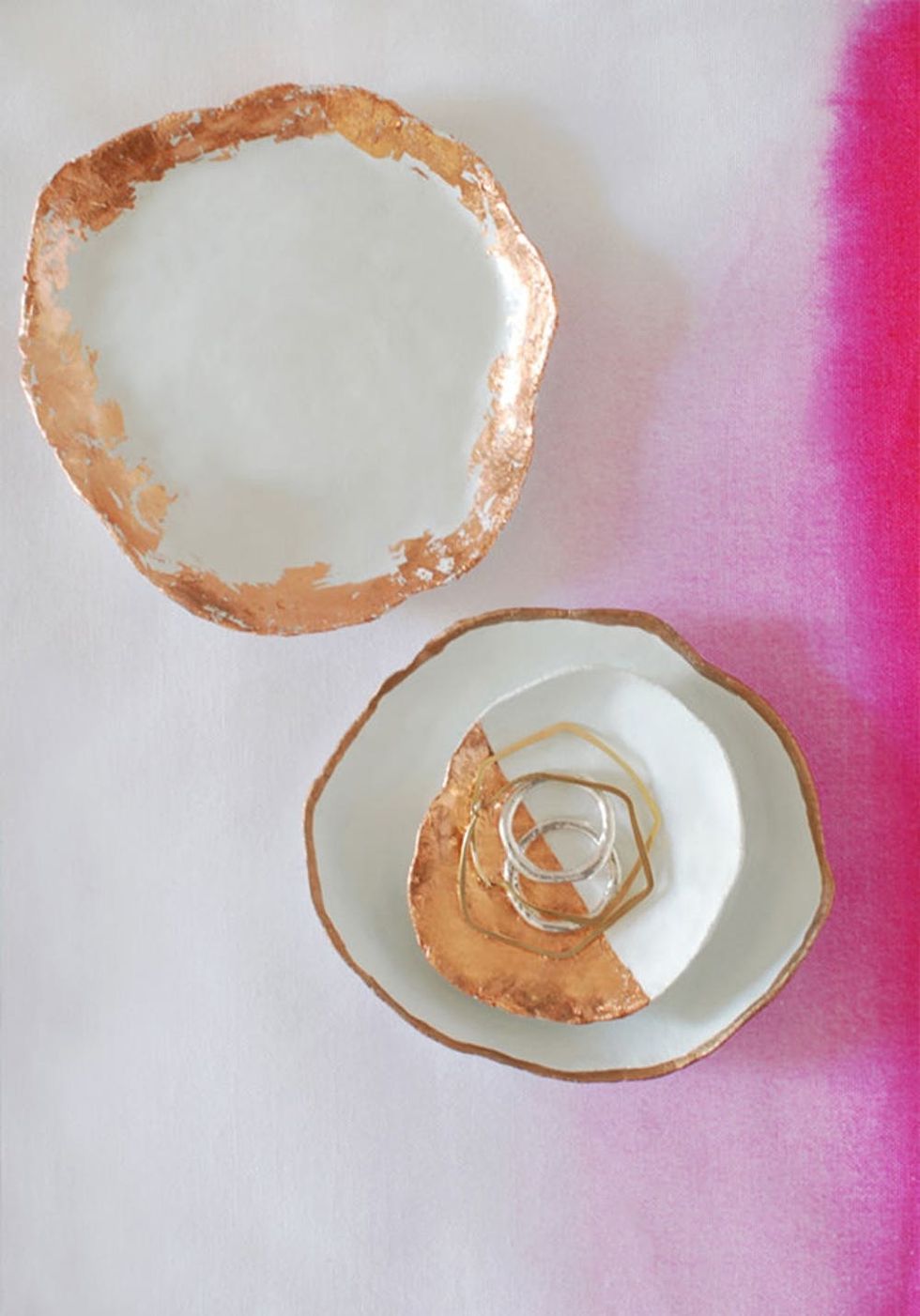 12. Jewelry Dishes: These dishes are quite possibly the *chicest* way to store jewelry. 'Nuff said. (via We Are Scout)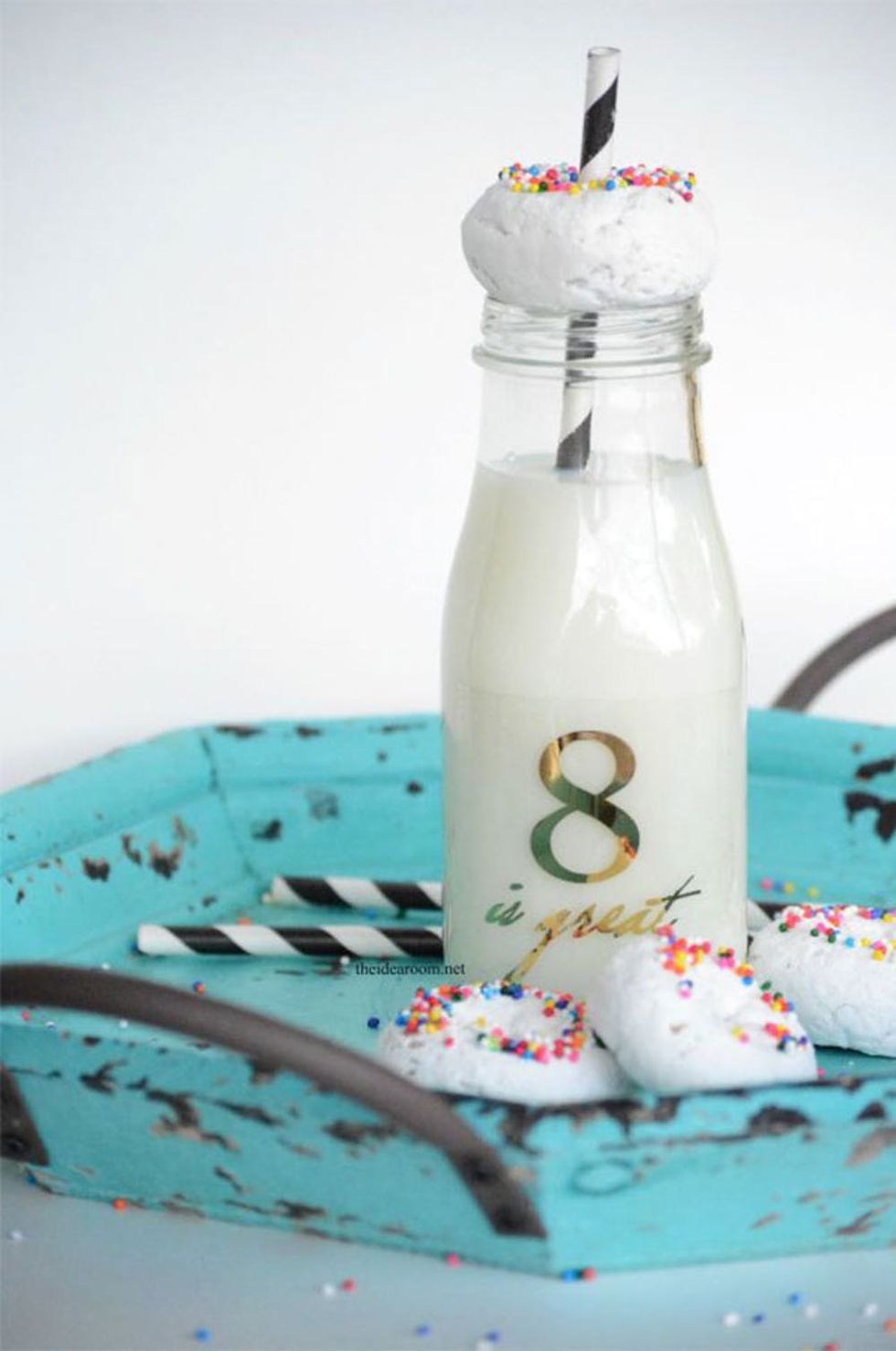 13. Drink Labels: How fun are these drink labels? They're perfect for your next party, or just to spice up your basic set of milk jars. (via The Idea Room)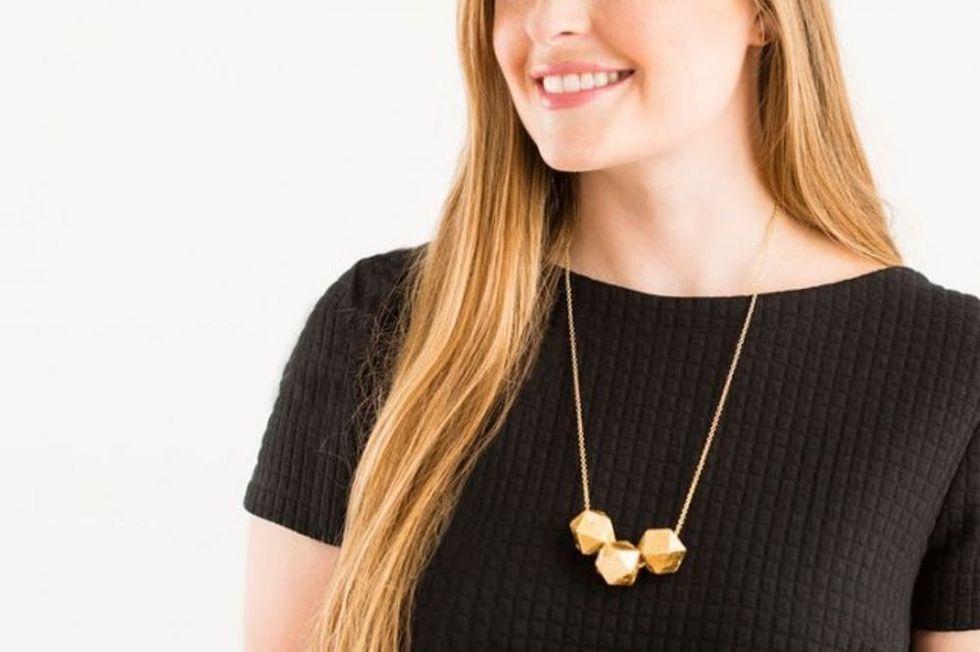 14. Wood Bead Statement Necklace: With the help of this kit ($29), all you have to do is roll wood beads in gold foil and string them on a chain. Really, it's that easy. (via Brit + Co)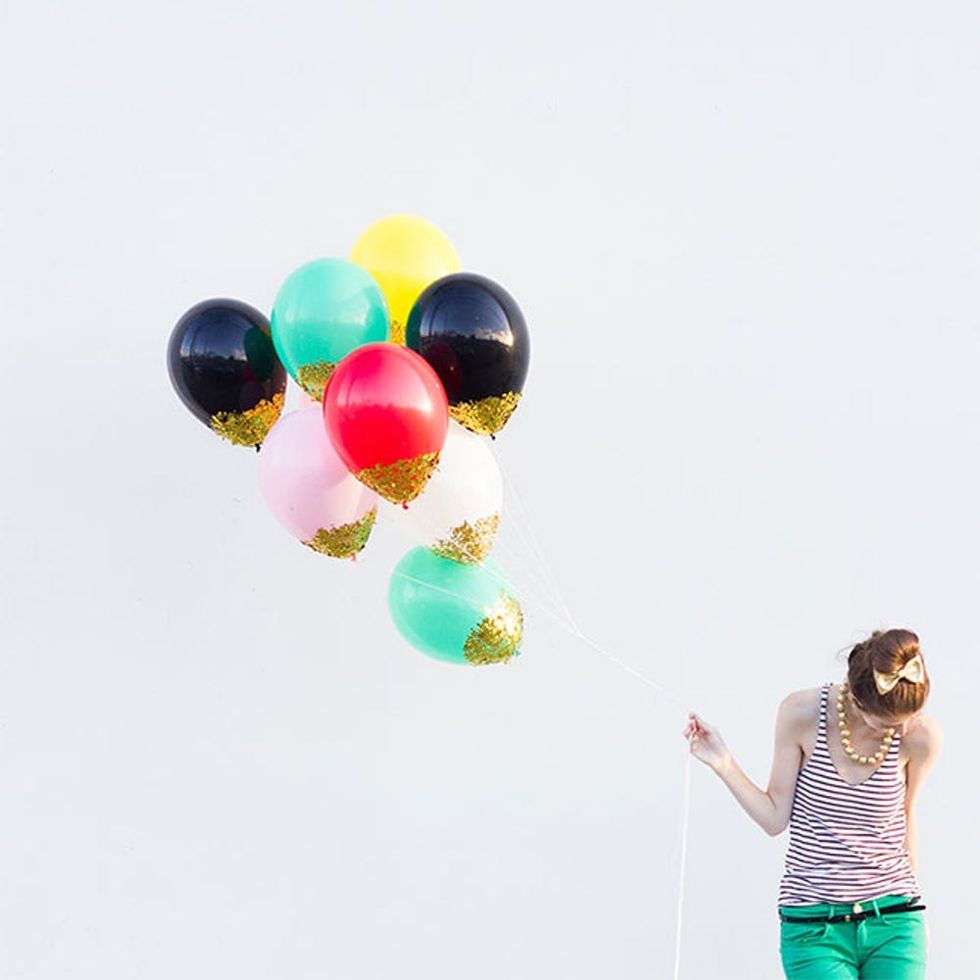 15. Confetti Dipped Balloons: Talk about festive! These balloons will make any fiesta an even better time. (via Studio DIY)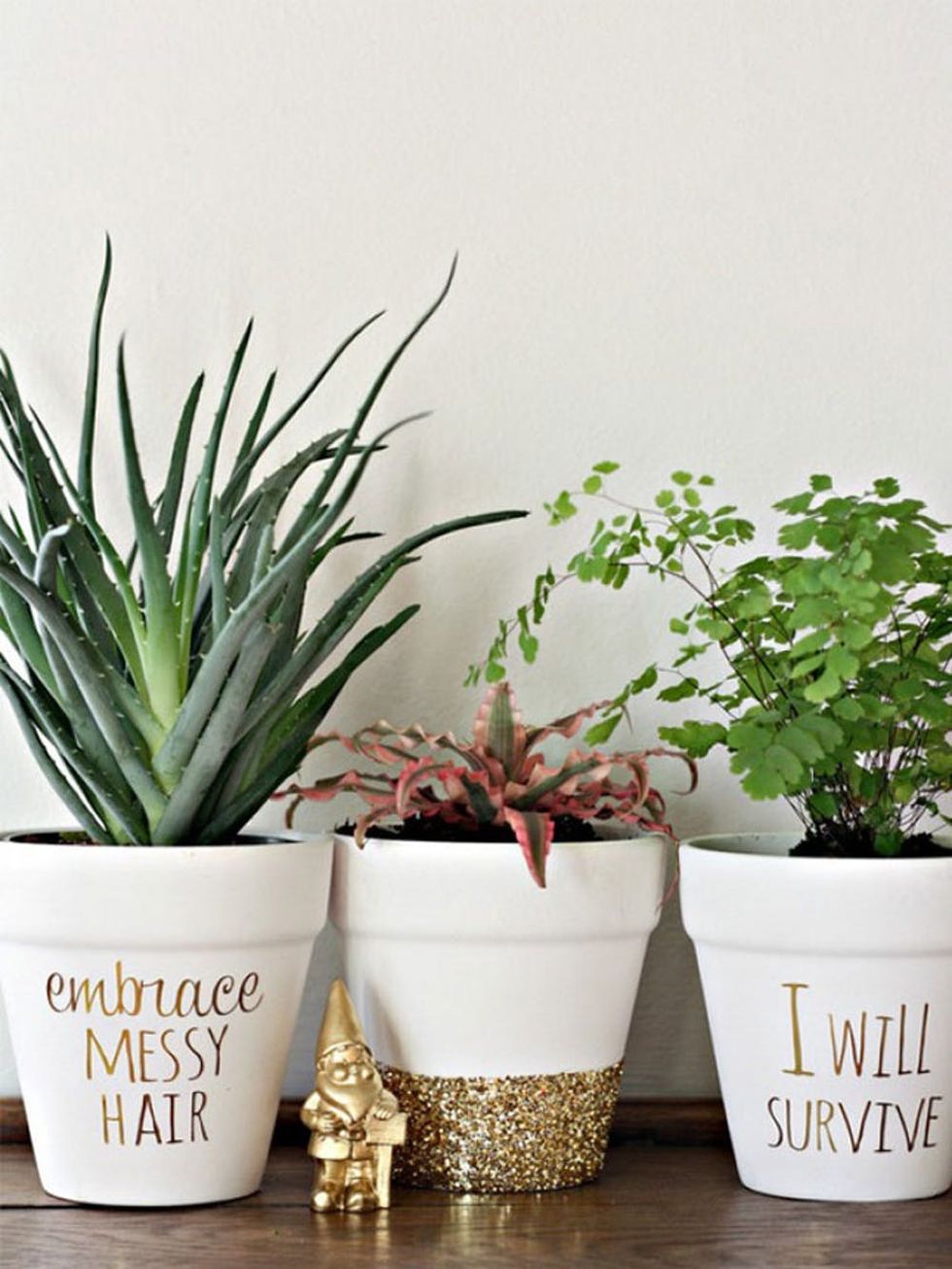 16. Flower Pots: Do like it says and embrace messy hair… and DIY these flower pots while you're at it. (via Nest of Posies)
What's your favorite way to use gold foil? Chat with us in the comments below.