23 Amazing IKEA Shelf + Table Hacks to Try Immediately
Jul 09, 2014
You know that Swedish store we all love and adore… the one that's known for its meatballs and furniture opportunity? The answer is four little letters: IKEA! Their modern styles are so popular and affordable that they're found in many homes (and apartments) from coast to coast. Sometimes, you come across a piece that is so unique, that when you ask where it came from, you're shocked to hear "IKEA!" That's probably because it's an amazing IKEA hack. And they're a slight obsession for everyone, which is why we've rounded up 23 ways to give your IKEA shelf or table a brand new life.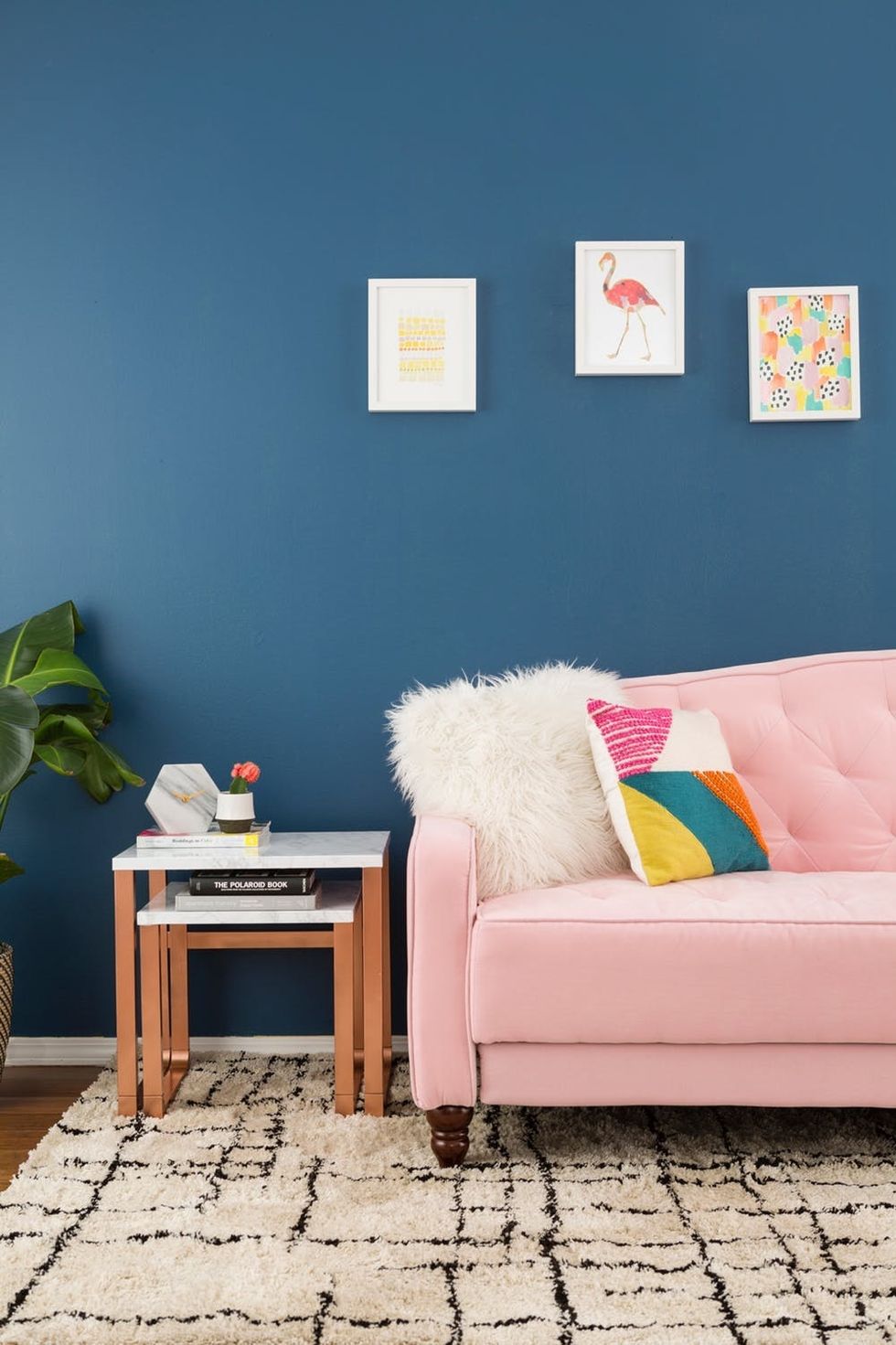 ---
1. Marble and Copper Table Hack: Place them side by side for a chic coffee table set or next to the sofa and stack them to achieve that trendy nesting table look. (via Brit + Co)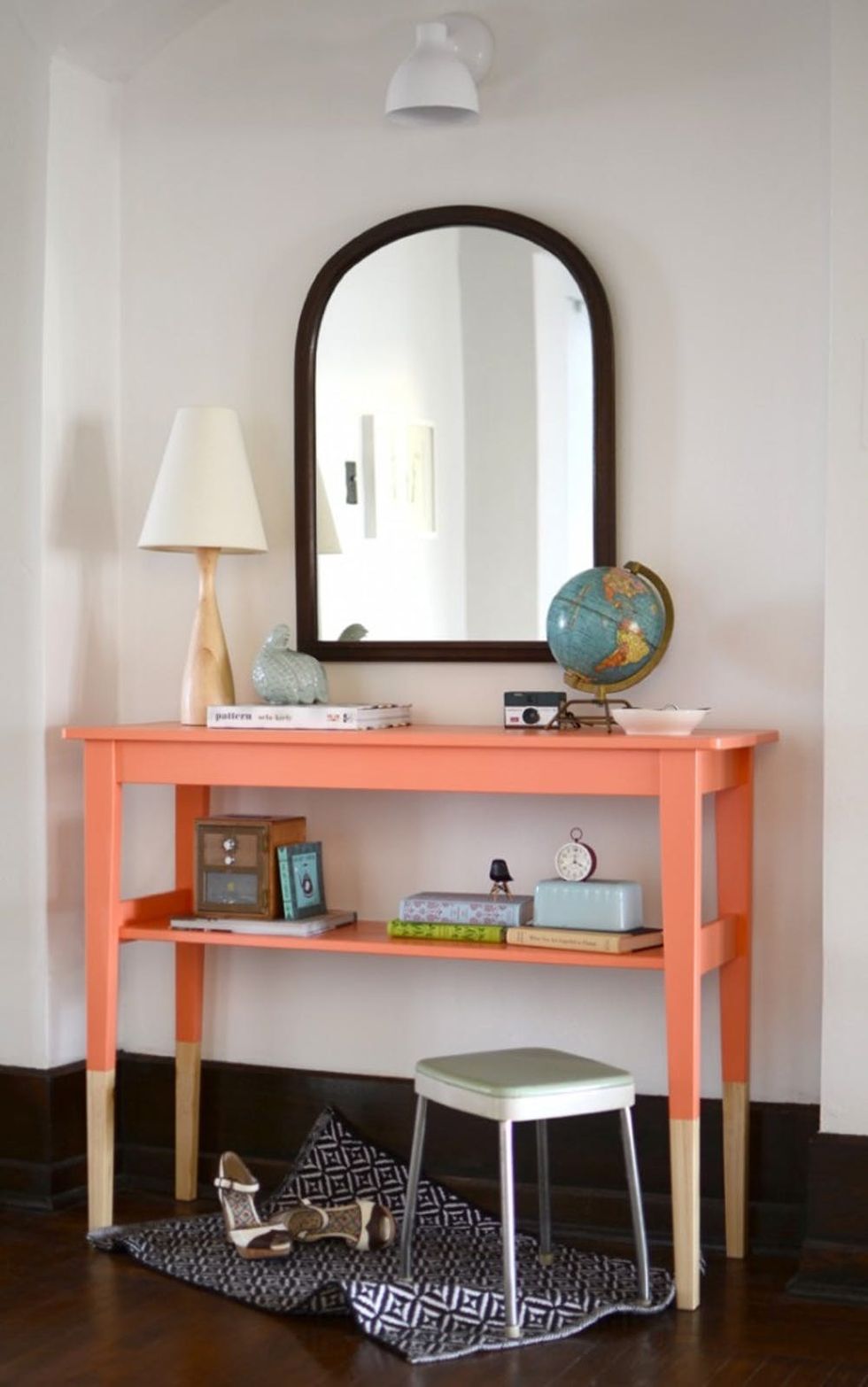 2. Dipped Svalbo: Okay, stop swooning over the peachy coral color of this hack and take a look at the whole piece itself for a minute. Originally a sideboard, this is just the right size for the entry table that houses your keys and purse. (via The Sweet Beast)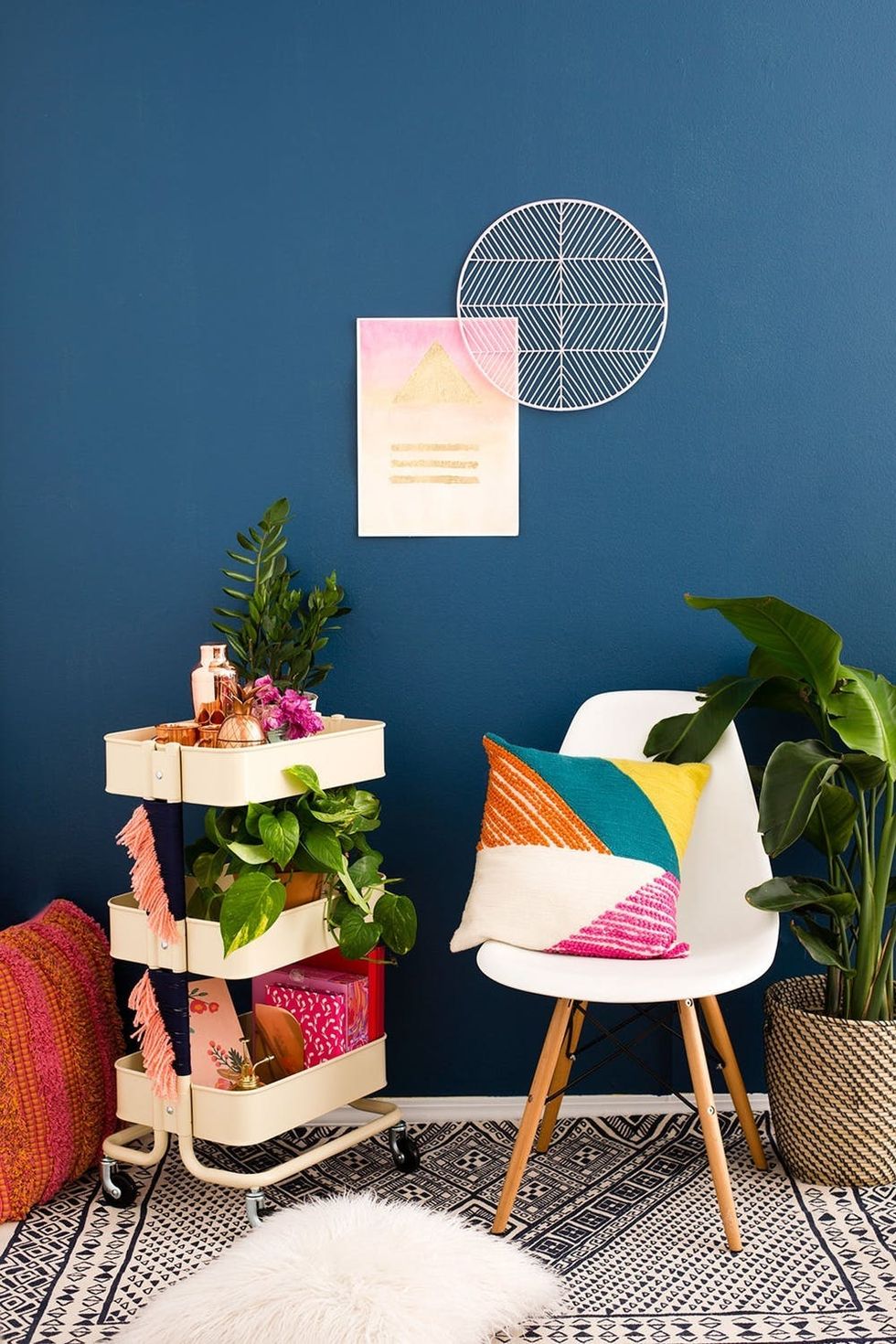 3. DIY Tassel Utility Cart: This baby is a dynamic storage solution for that awkward-to-fill space in your apartment (we all have one). (via Brit + Co)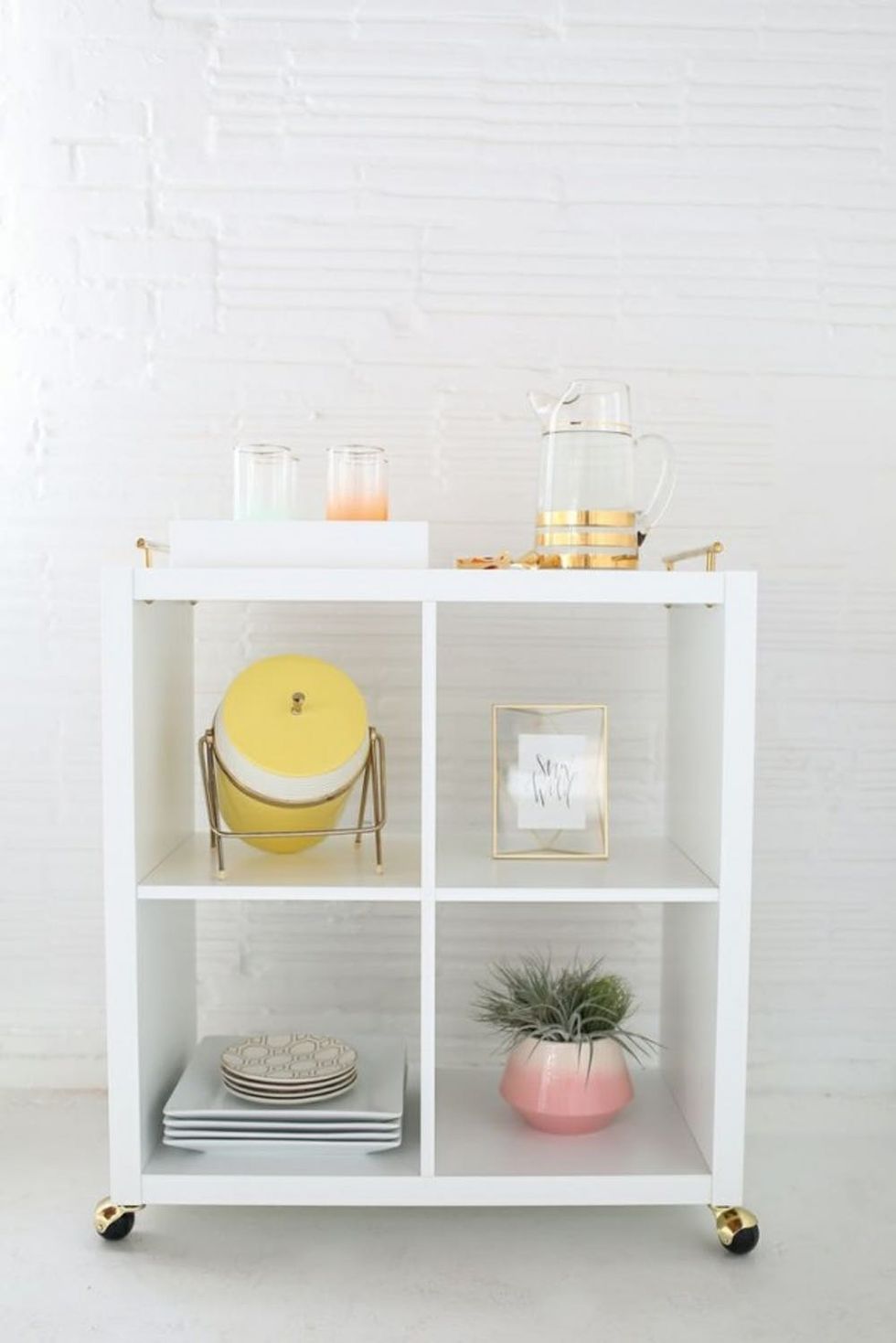 4. DIY Bar Cart: It rolls! That's right. An Expedit and some casters produce a very chic little cart for all your bartender needs. Drinks, anyone? (via Sugar and Cloth)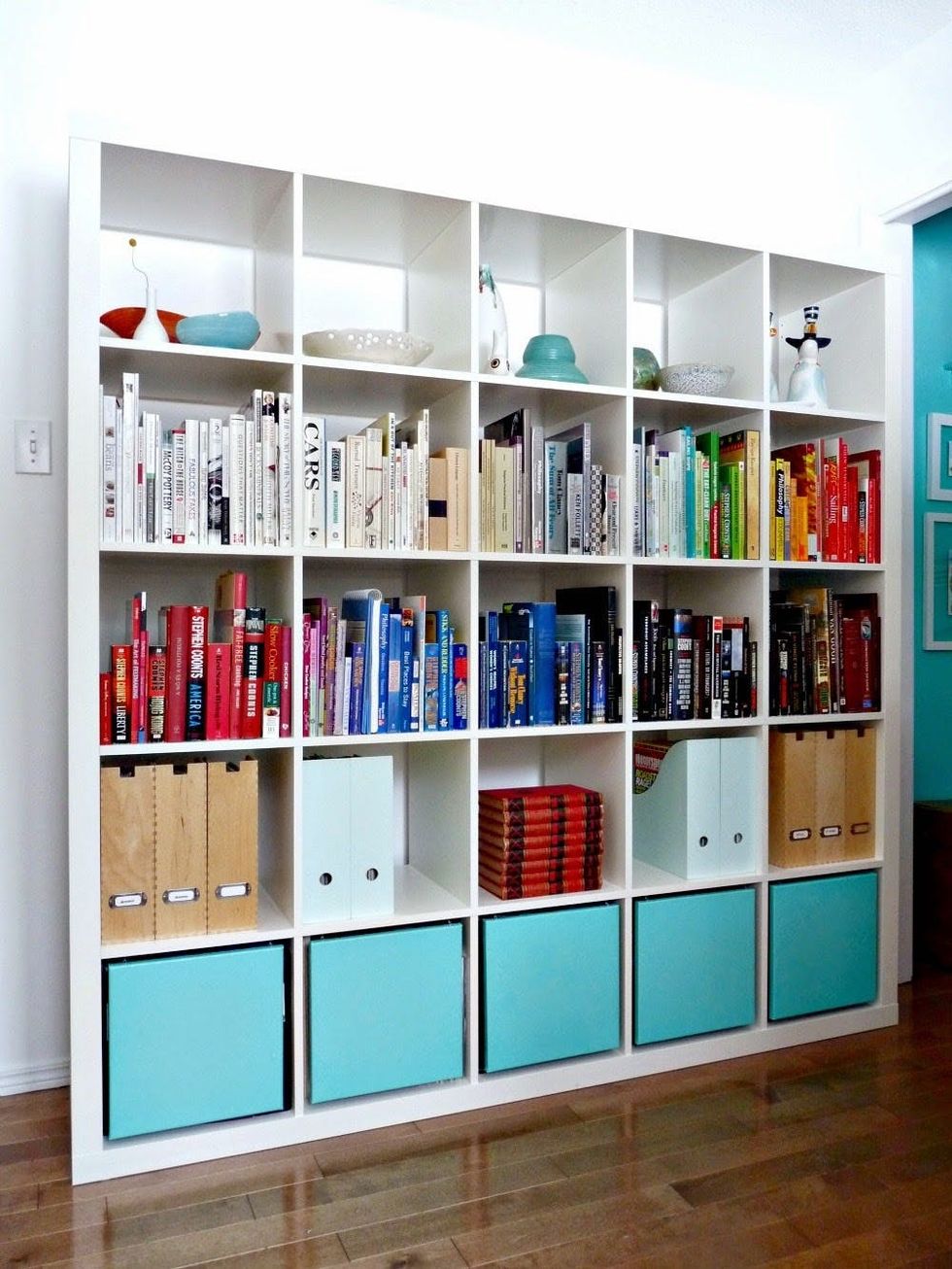 5. Artful Expedit: This hack is the perfect way to clean up the look of your Expedit or the newer Kallax. Create these turquoise swinging doors with just a couple of hooks and painted canvases. (via Dans le Lakehouse)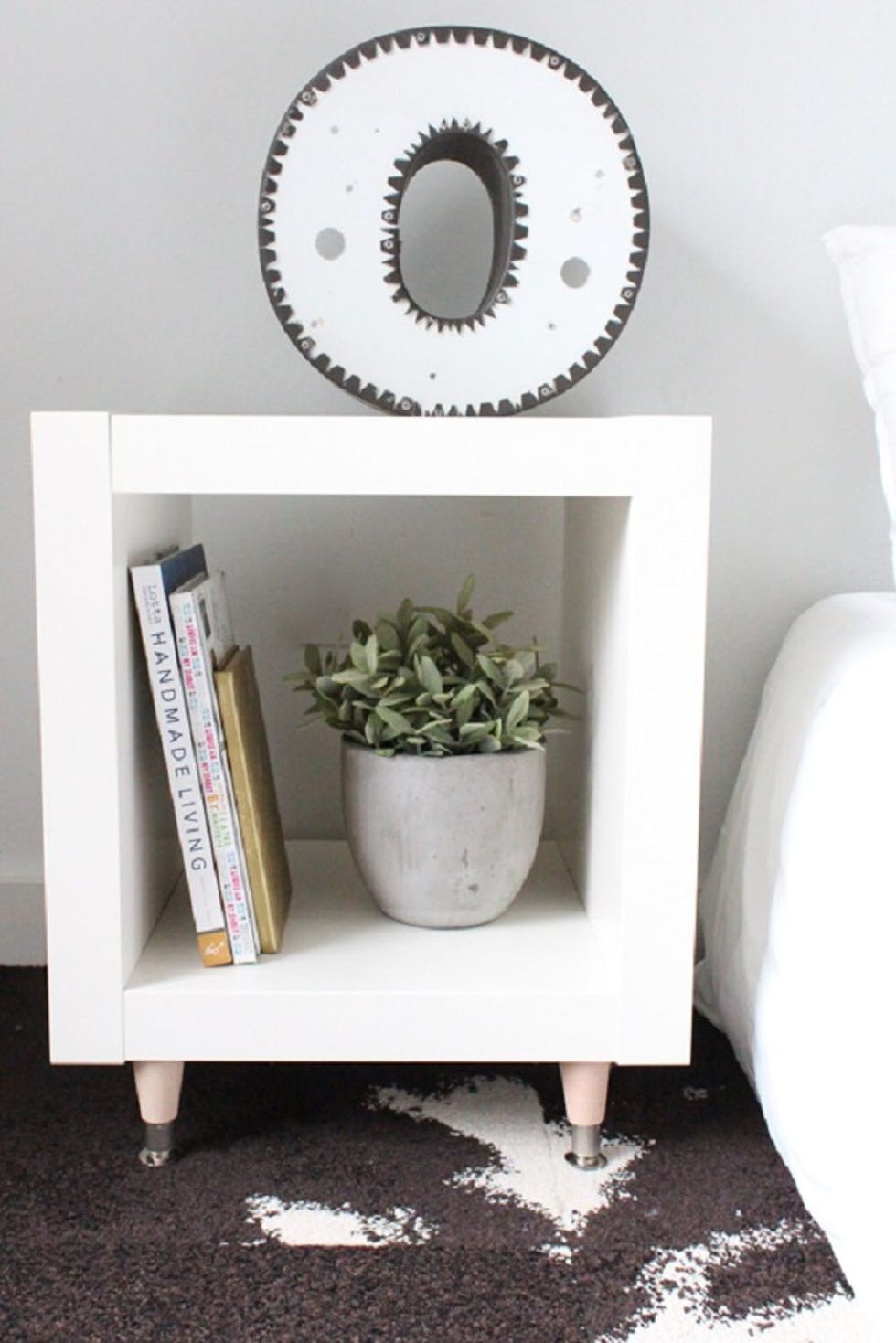 6. DIY Sidetable: This side table hack is so simple and leaves plenty of room for your own colorful styling. (via Sugar and Cloth)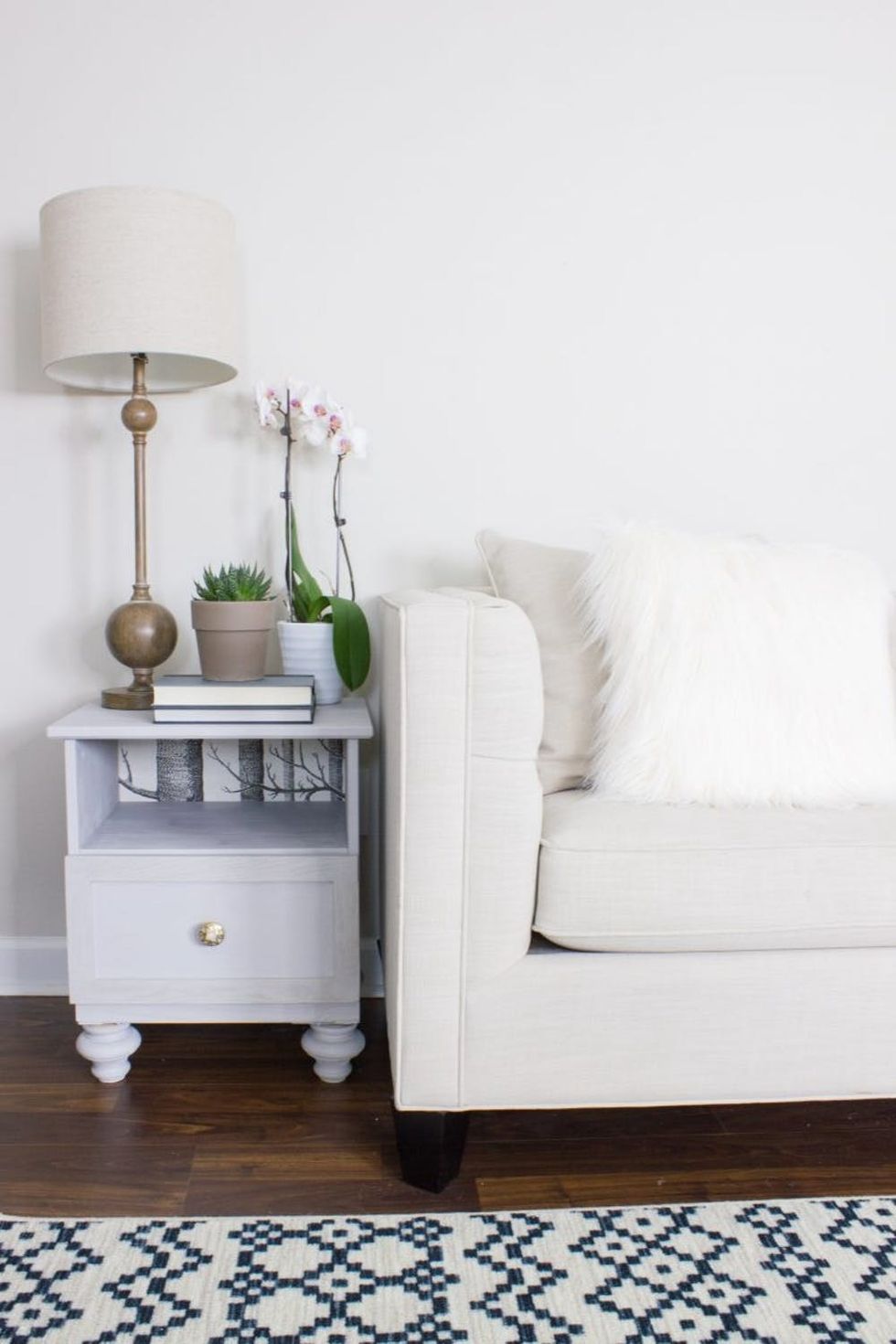 7. Stencil Art: Bedside table-turned-living room table with a touch of personalized art — for the win! (via Erin Spain)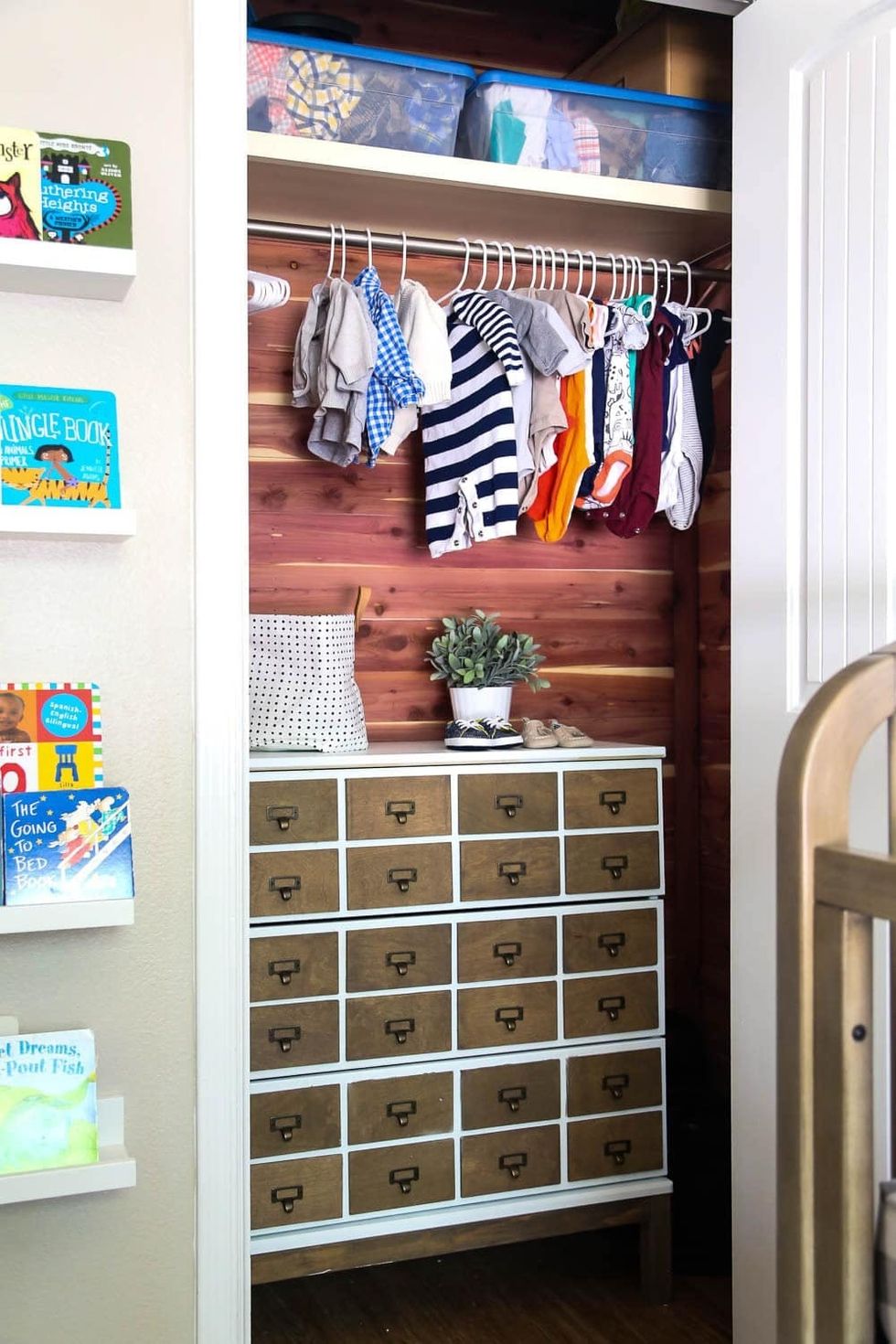 8. Faux Card Catalog Dresser: This adorable and rustic look can be achieved by hacking an Ikea card catalog into a nursery dresser. So cool! (via Love & Renovations)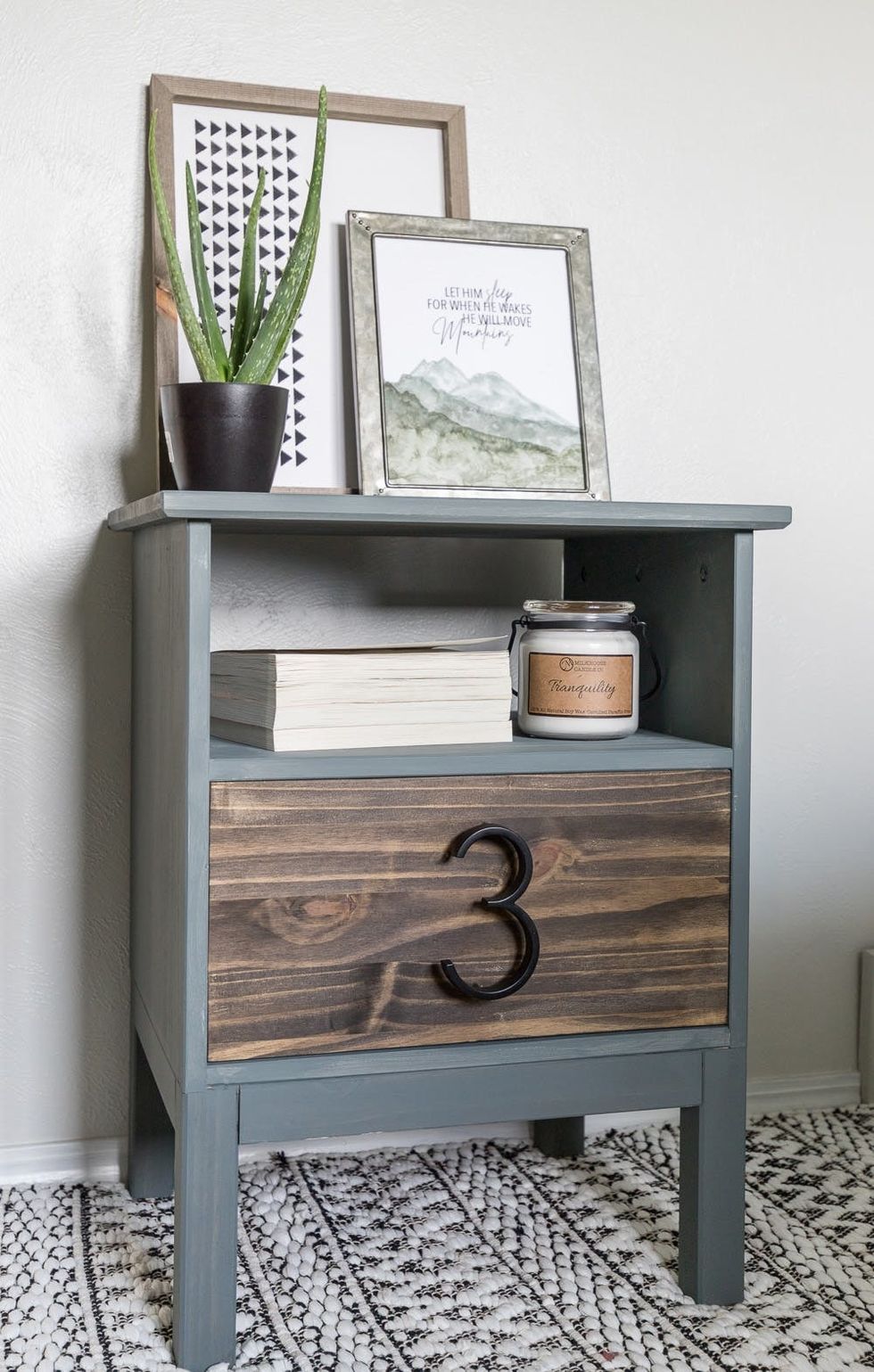 9. Tarva Nightstand Hack: Turn an otherwise basic nightstand into a next level piece of home furniture. (via Cherished Bliss)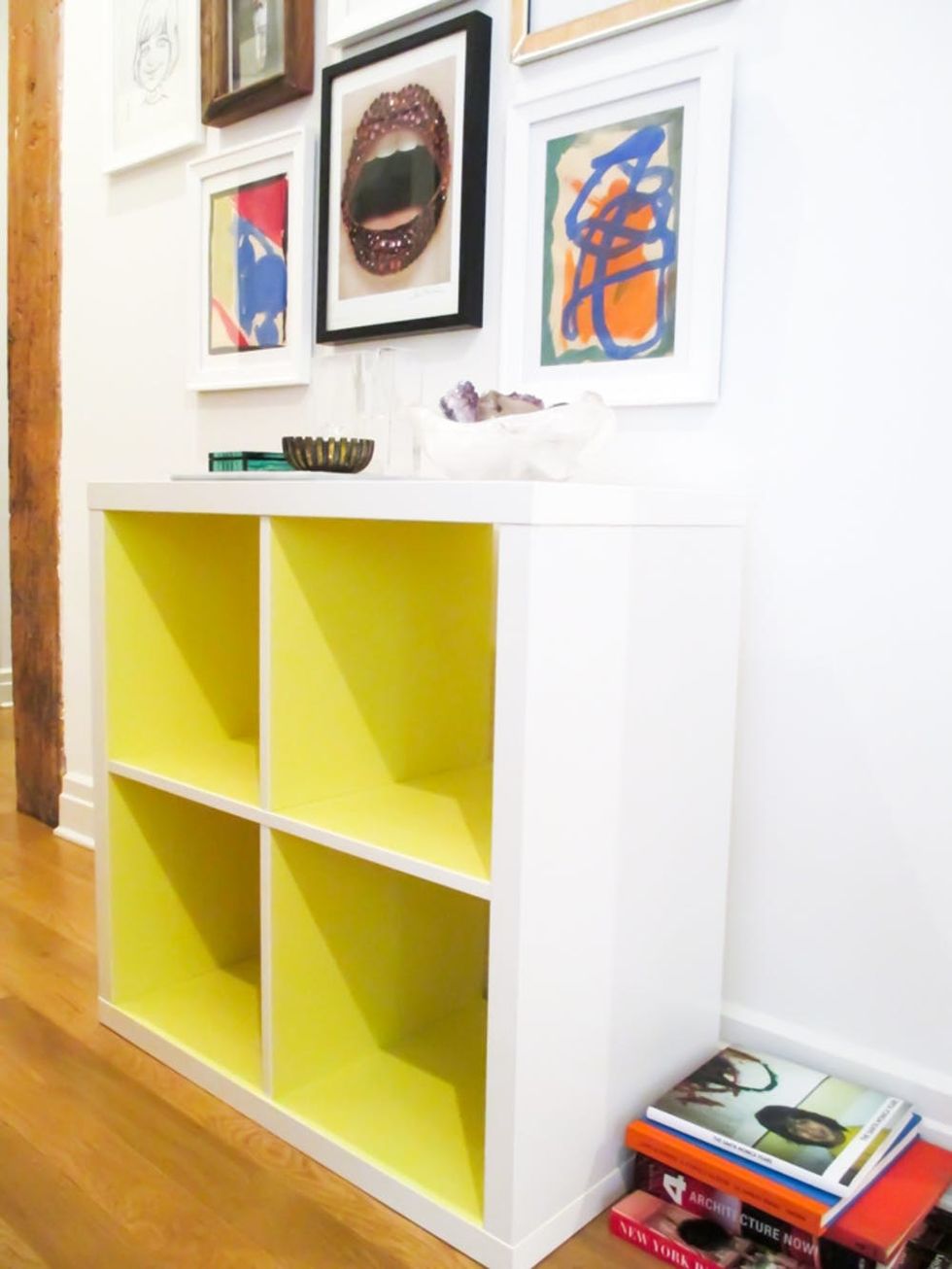 10. DIY Color: Contact paper is an easy and temporary upgrade for your IKEA pieces, and this awesome company just made it easier. Panyl cuts your chosen color or pattern to fit your shelves and drawers! Isn't that just the amazing? (via Flax and Twine)
MORE IDEAS TO CONSIDER:
11. Succulent Garden in a Cart: So maybe this isn't exactly a hack for shelves but there are several shelves on this cart, right? And we kinda can't resist anything that involves the Raskog cart. It even makes the perfect home for succulents! (via Succulents and Sunshine)
12. Kiddie Storage: Bright adorable toy storage is a must for kids and the Fjalkinge shelf helps you do just that! Oh, and you get to stain wood in this hack. Get excited! (via 100 Layer Cake-let)
13. Mid-Century Modern Sideboard: When you can add wood to an existing IKEA bookshelf, it's hard to resist. Oh, and the mid-century feel of this hack is basically genius. (via IKEA Hackers)
14. The Gold Shelf: Gold spray paint on IKEA furniture is so genius, we wish we'd thought of it first! (via Glitter and The Girls)
15. Train Table: An IKEA hack for kids? You know it! This train table is primed for imagination and storage, making it the perfect addition to your playroom. (via Apartment Therapy)
16. DIY Copper Shelves: This hack uses simple Lack shelves and copper contact paper for a shiny modern DIY. So chic! (via Livet Hemma
17. Mid Century Modern Cabinet: Yes, believe it or not, this pretty cabinet is from IKEA. Two Besta shelves never looked so good. (via Petite Apartment)
18. Expedit Platform Bed: If you prefer to stay organized, here is a way to keep even the most random things under your bed in place. And it looks awesome, too. (via Vanilla Joy)
19. Open Kitchen Pantry: With a couple customized Besta shelves and some paint, you could have this gorgeous open pantry in your kitchen, too! Better start stocking up on some glass jars. (via Remodelista)
20. DJ Table: For the retro host, the Besta shelves in this hack make the perfect DJ center. Just look at all those records! (via Unhyped)
21. Yellow Etageres: Yellow is the color of sunshine, and we think that painting your Etageres shelves with it is a brilliant idea. Pun intended. (via BHG)
22. Kiddie Closet Storage: Why do babies end up with more clothes than us adults? Sometimes it's not fair. But, you can add more storage for all those clothes by dividing it down the middle with an Expedit. At least they're cute, right? (via Project Nursery)
23. Banquet Seat: We probably all dream about a grand dining room at some point in our lives, and this hack can help those dreams come true. While we're seriously diggin' these stripes, the color and fabric is up to you (and your dining room table). (via Melodrama)
Love Ikea hacks? Follow us on Pinterest for more DIY's and decor inspiration!
Casey Watkins
Casey is a lover of coffee, interior decorating, sunshine, good food, lipstick and laughing. Just a little bit addicted to Pinterest, her kitchen frequently produces recipes she finds there. She loves the crackling sound of opening a brand new book and the smell of freshly cut grass.