20 Shiny Ways to Incorporate Marquee Lights in Your Wedding Decor
Jul 20, 2016
Nothing makes a place feel *ultra* magical like a multitude of twinkling lights, so it's no surprise that you've started seeing couples include marquee lights into their wedding decor more and more these days. After all, it's the perfect way to display your brand new initials or create one of the most stunning ceremony backdrops ever. So whether you're having a modern wedding or learning more toward rustic chic, you'll definitely find a way to put this trend to good use during your big day. Scroll on to see 20 ideas for incorporating marquee lights into your wedding decor and get ready to light up your wedding in the most memorable way possible.
---
1. Custom Wedding Logo: Creating a custom logo for your nuptials? Then you *must* make it into a jaw-dropping marquee light like this one. Hang it above your sweets table for all your guests to see. (via Eyes & Hart / Style Me Pretty)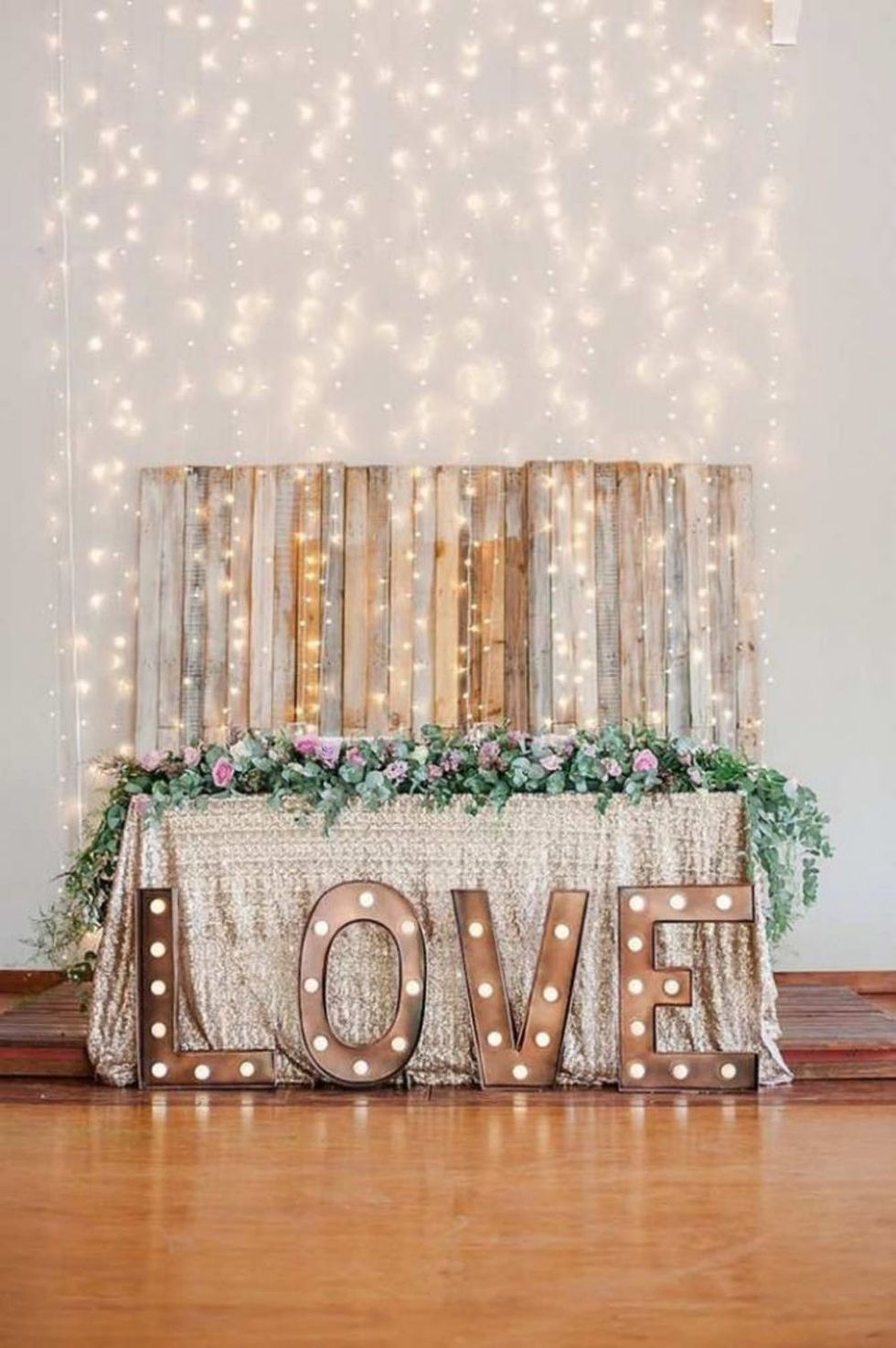 2. Whimsy Love Sign: It's all about mixing patterns when it comes to the bohemian style. Combine your favorite blooms with some greenery for a table runner and add lots of sparkling lights hanging from the ceiling. The LOVE marquee lights against the table will be the cherry on top of the cake. (via Knot and Nest Designs)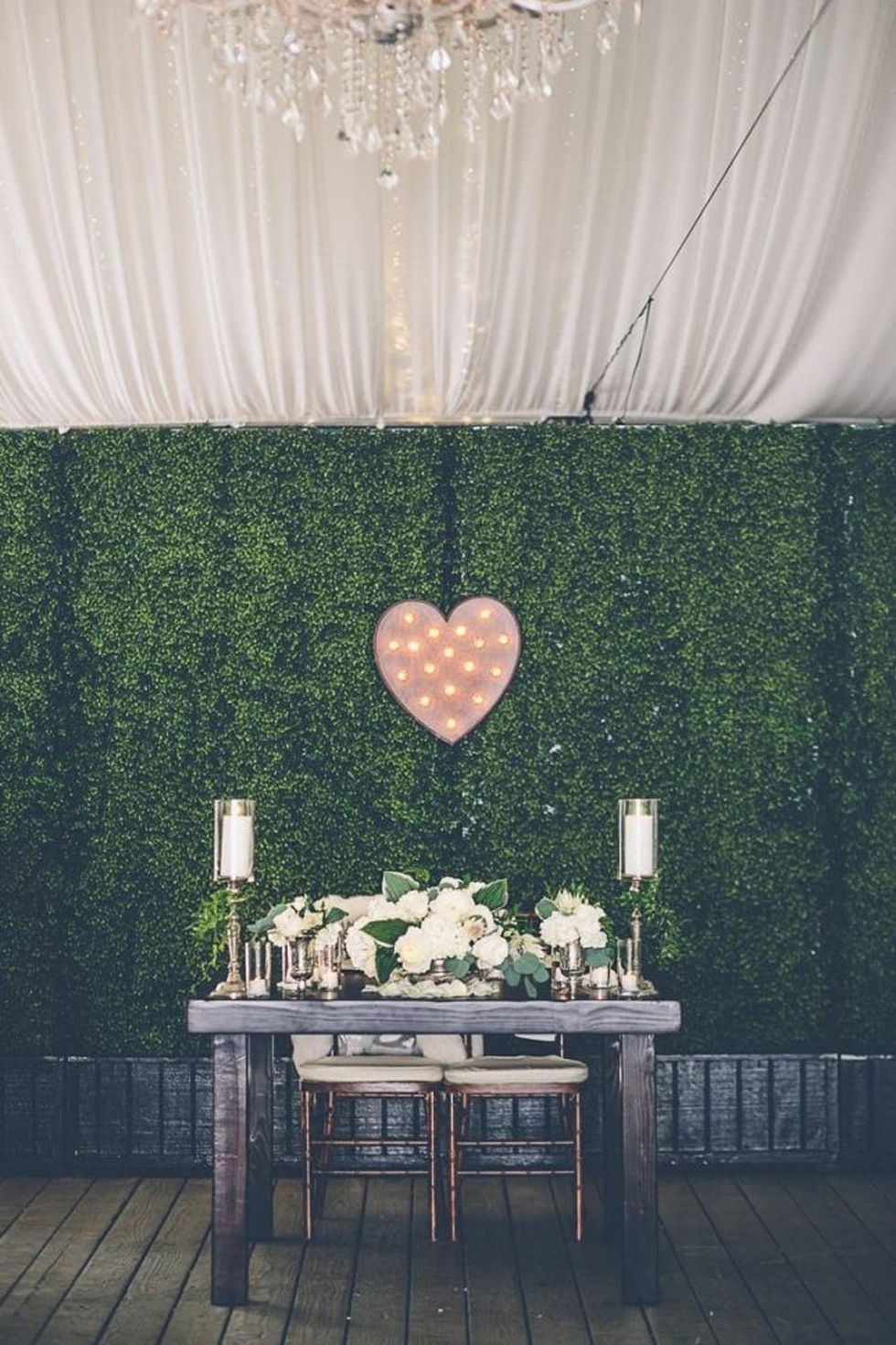 3. Sweetheart Table Installation: Don't forget to bring the pretty decorations with you on your way to dinner. Incorporate marquee lights in the shape of a heart into your sweetheart table for a gorgeous and one-of-a-kind installation. Once you assemble this stunning construct, your photos won't be anything less than *magical.* (via Gina & Ryan Photography / Style Me Pretty)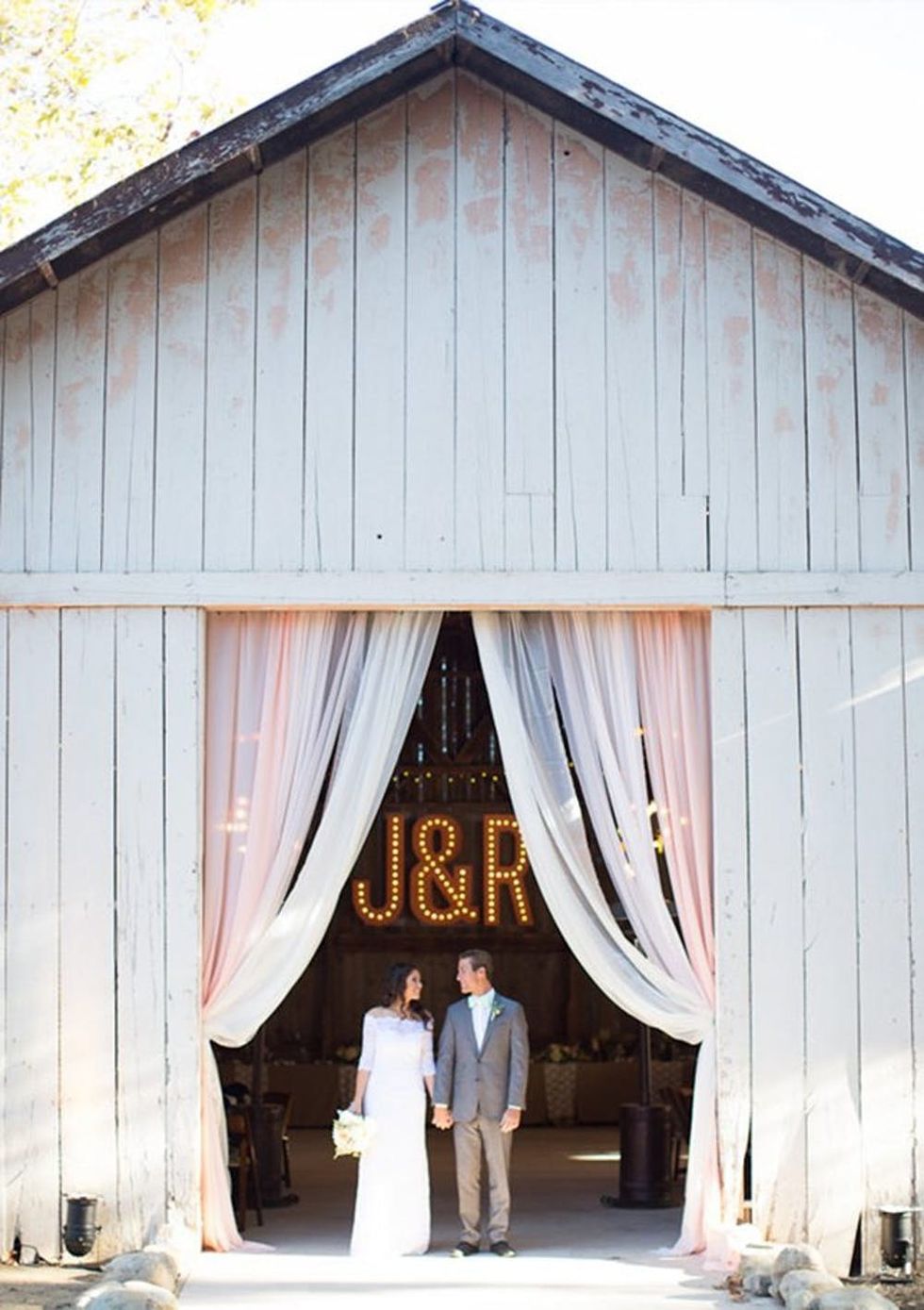 4. Wedding Venue Backdrop: If you miraculously find a wedding venue that is as breathtaking as you ever imagined, hanging a giant marquee lights backdrop for your guests to see as they enter the reception area is definitely the way to go. Add a mix of fabric curtains for some serious prettiness at the entrance and major wow factor. (via Annie McElwain Photography / 100 Layer Cake)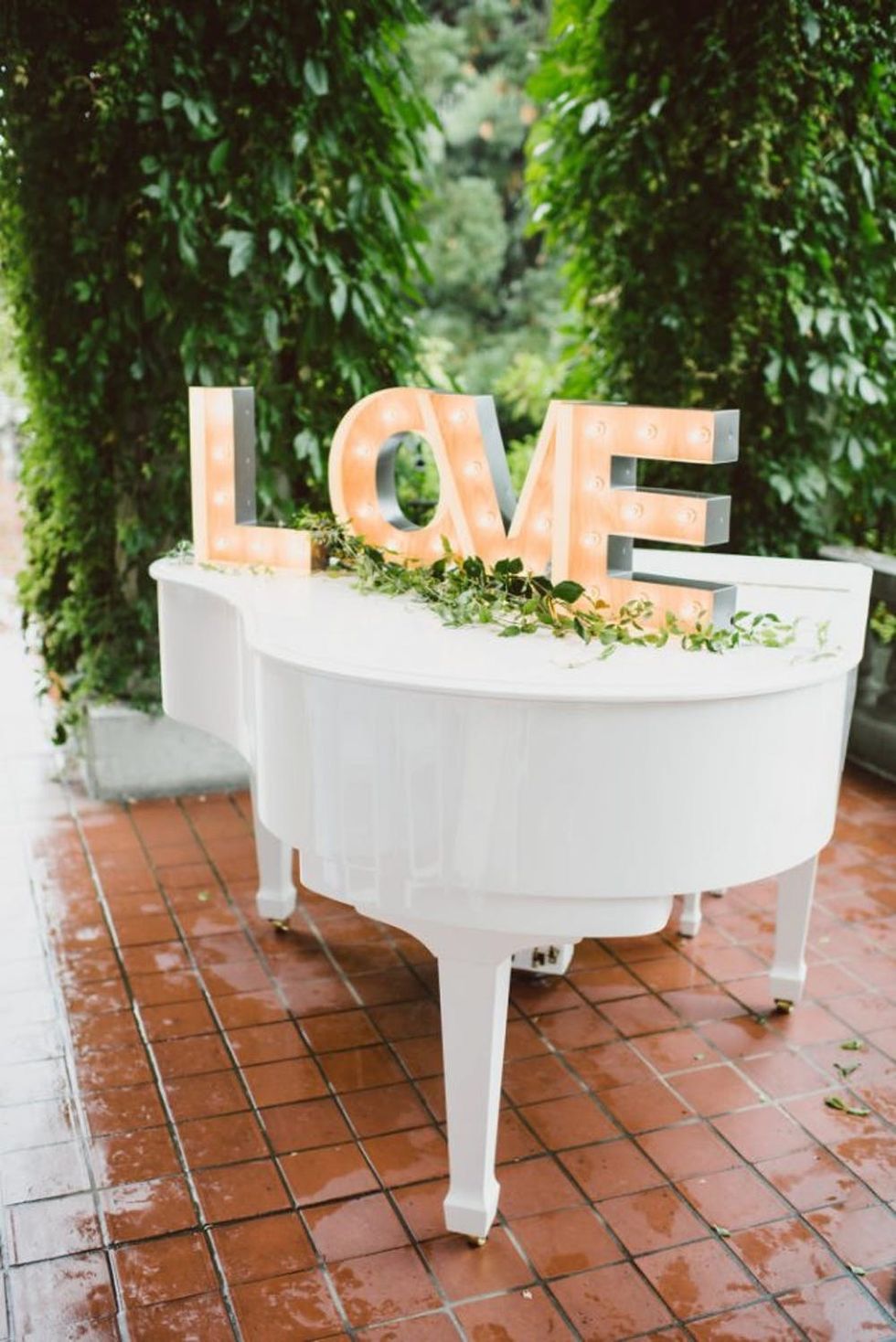 5. Minimalist Piano Letters: There's nothing like a little greenery to symbolize the start of a new chapter in your lives. If you're having live music for your nuptials, mix some olive branches with marquee letters and place them on top of the piano or instrument table for the ultimate chic decor. (via Whitney Krutzfeldt / Style Me Pretty)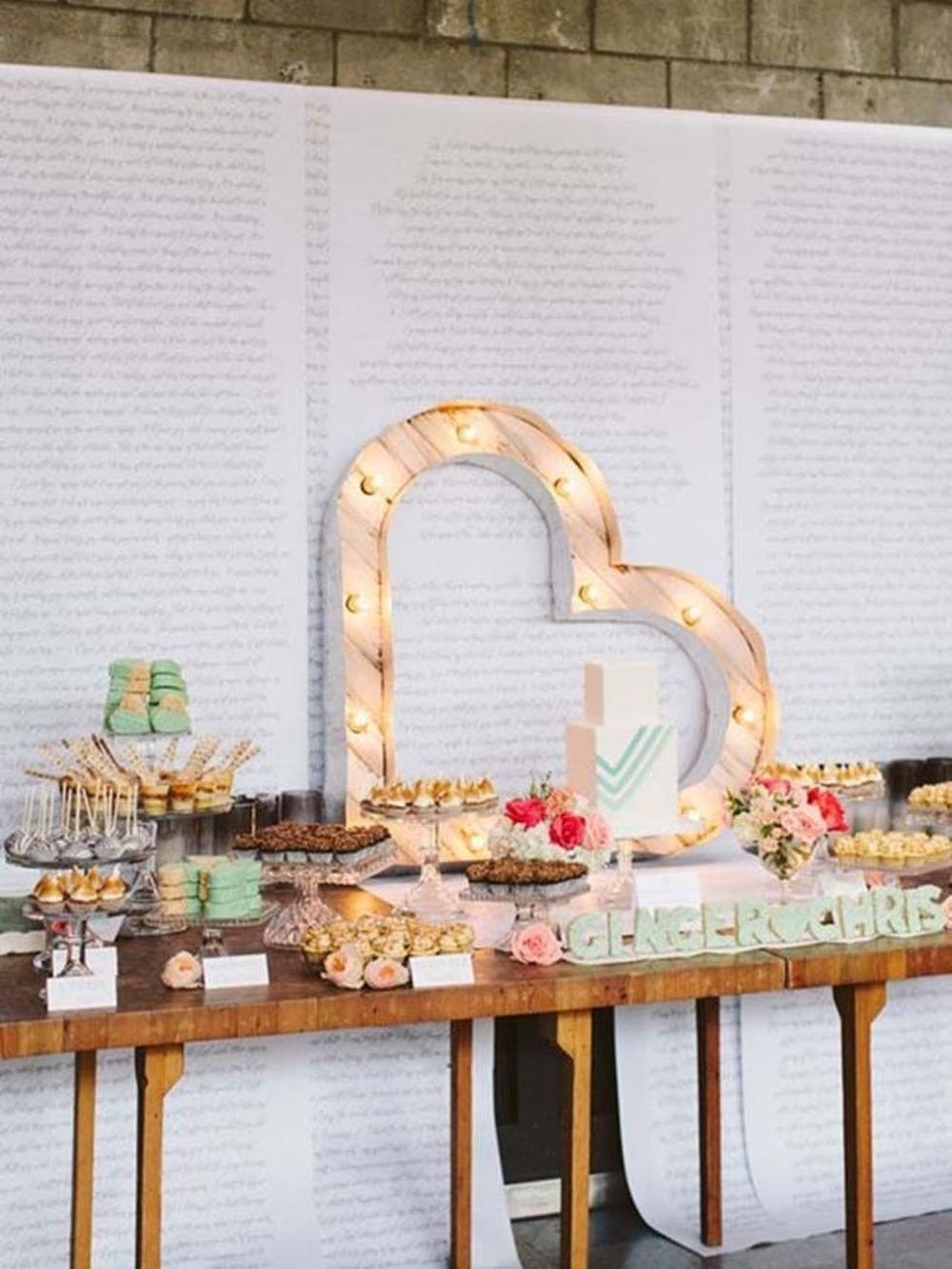 6. Heart-Shaped Dessert Table Sign: Instantly brighten up your dessert area with a decorative sign that'll gorgeously light up the table to display all your sweets. Don't be afraid to try other shapes as well, like a big star or your wedding logo for a super unique look. (via Style Lovely)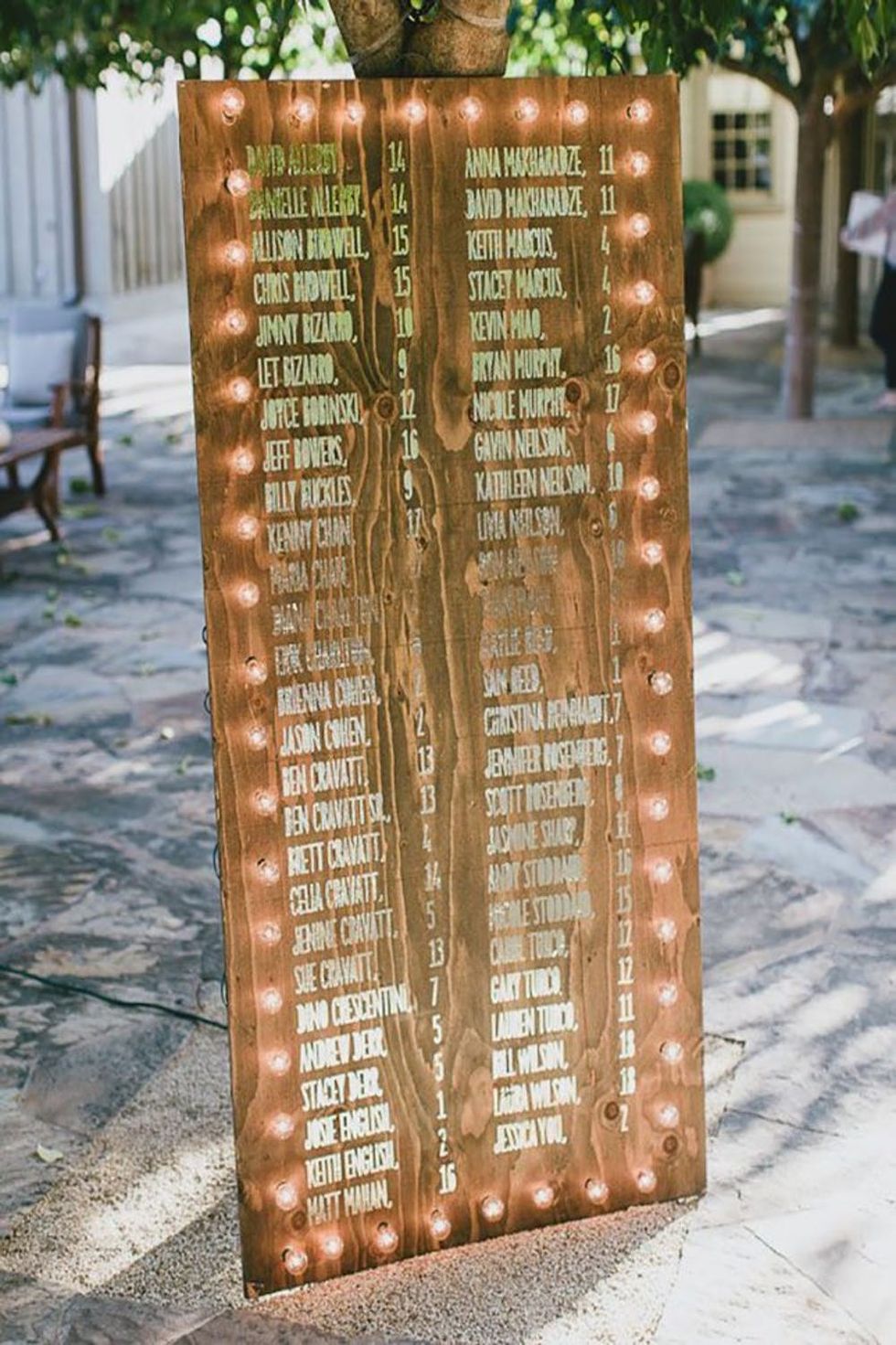 7. Wedding Menu Board: From welcome signs to menus and even wedding seat charts, a wooden board with pretty marquee lights around it will look gorg. It's just the right amount of rustic to round out those boho-chic vibes. (via Steve Cowell / Green Wedding Shoes)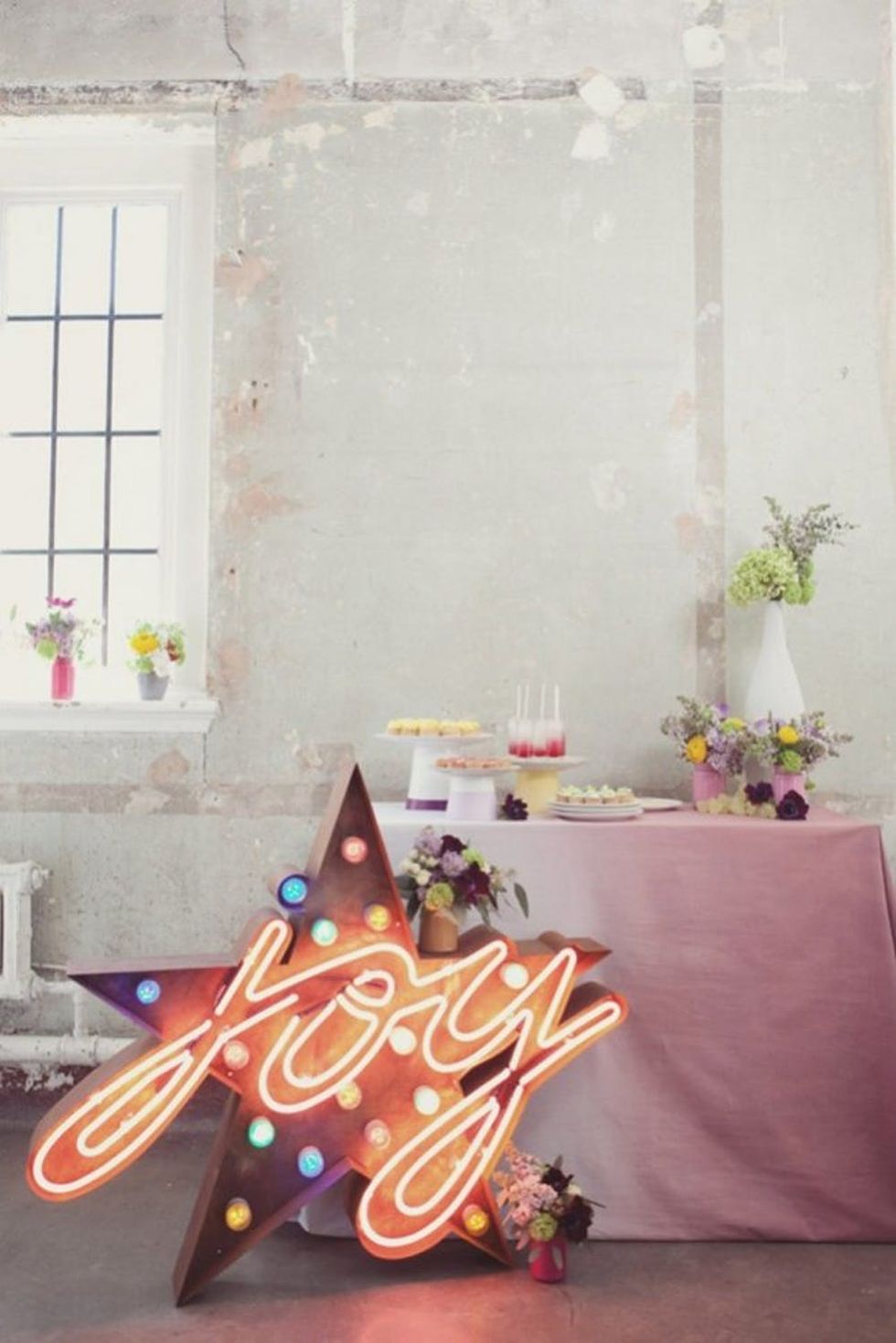 8. Colorful Joy Sign: If you have, like, zero time left for any DIY projects, but still want fabulous decor around your big day, it's amazing what a simple yet totally colorful and cool marquee lights sign can do. Let the frenzy begin with this pretty piece that will make your dessert table totally pop. (via Knot and Pop)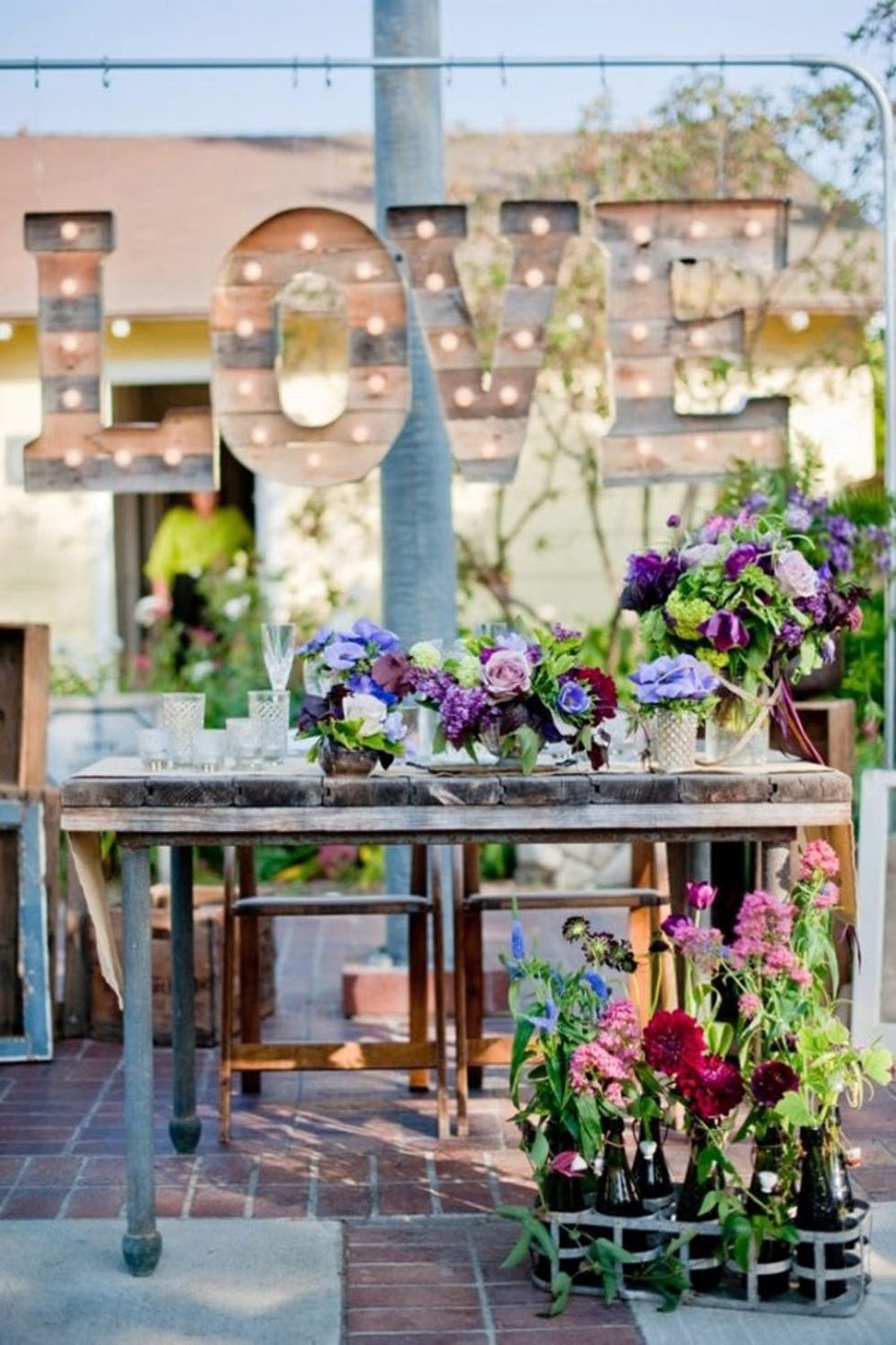 9. Wedding Favors Table Love Sign: As you send your guests off with the cutest assortment of shrubs and flowers encased in beautiful vintage bottles, brighten up the area by adding a Love sign on top. With this easy and pretty decor hack, you can cross off at least one item from your wedding to-do list. (via Mon Cheri Bridals)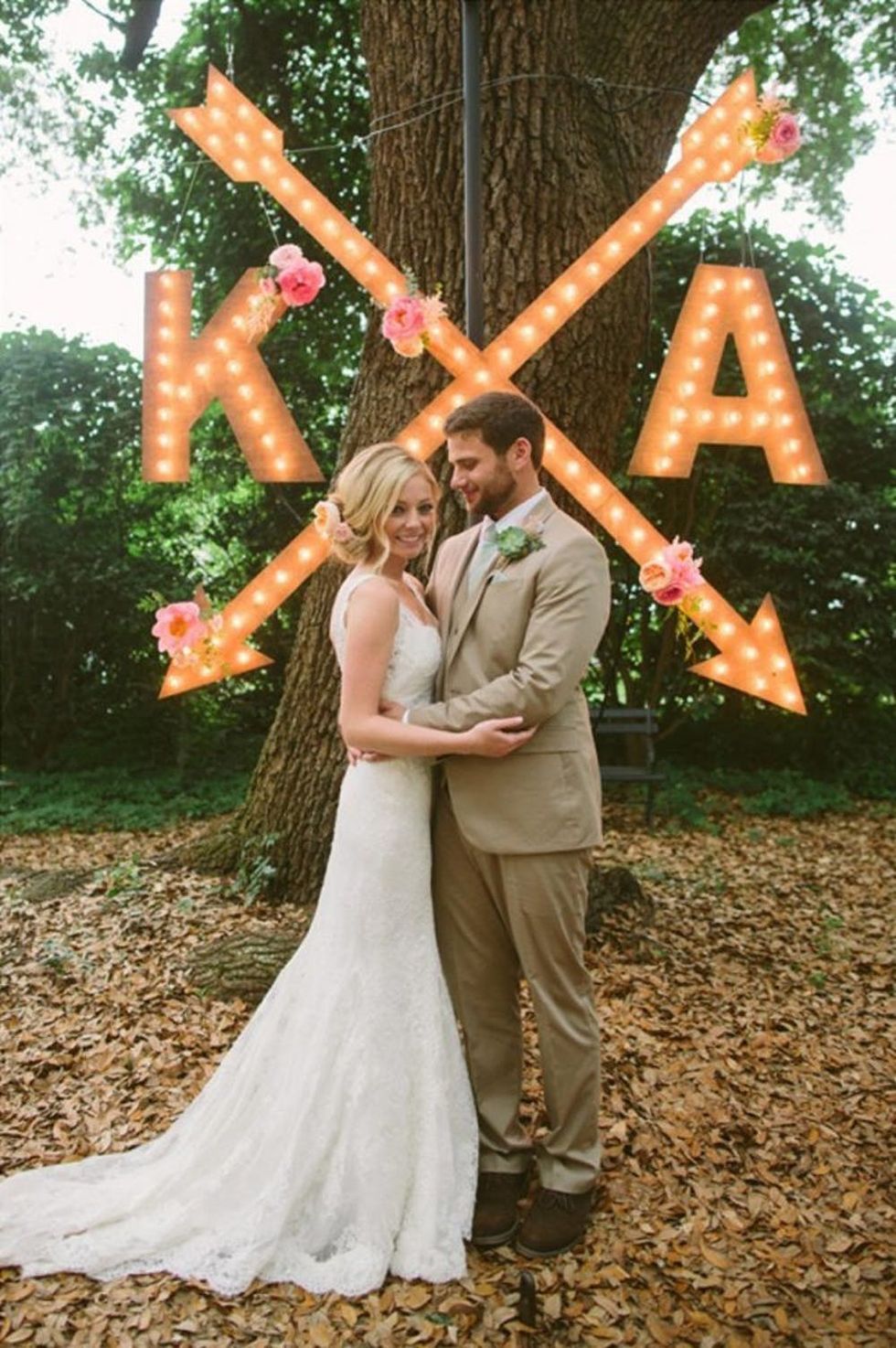 10. Initials + Arrows Backdrop: This gorgeous marquee light is what bohemian wedding dreams are made of. Whether you buy the initials and arrows or get arty with your fiancé, this sign is a definite must-have for any outdoor wedding. (via Juliet Elizabeth Photography / Wedding Chicks)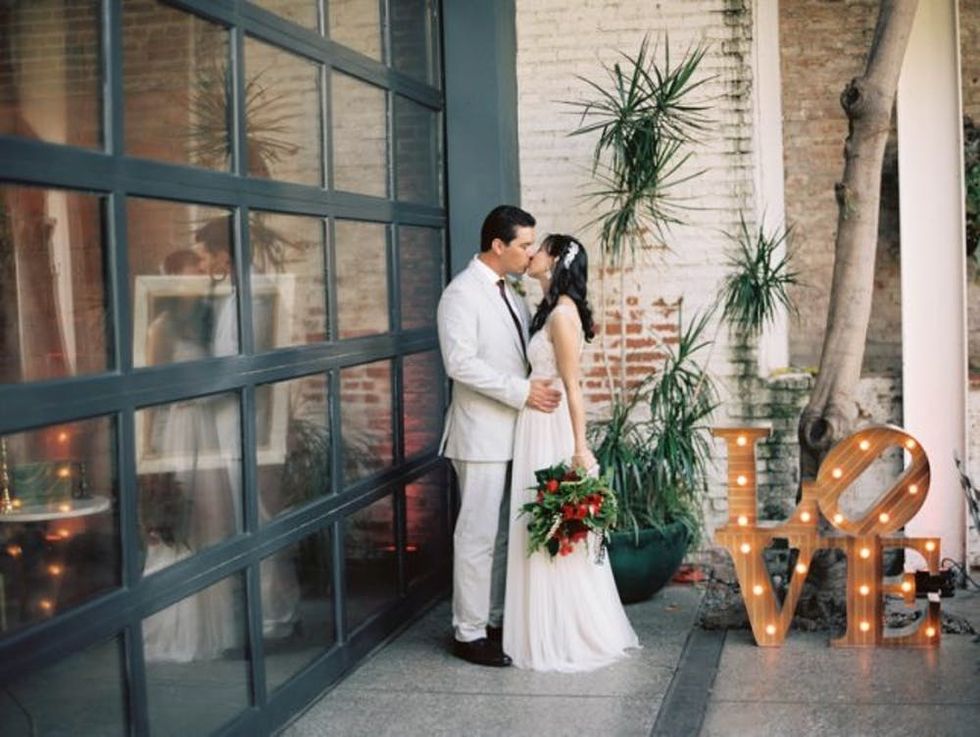 11. NYC Love Sign: Did you and your partner in crime meet or get engaged in the Big Apple? Then it's obvious that you'll want to include this landmark-inspired light for your nuptials. It'll be the perfect reminder of those sweet memories. Plus, you can keep it in your home as new decor. (via Ashley Kelemen Photography)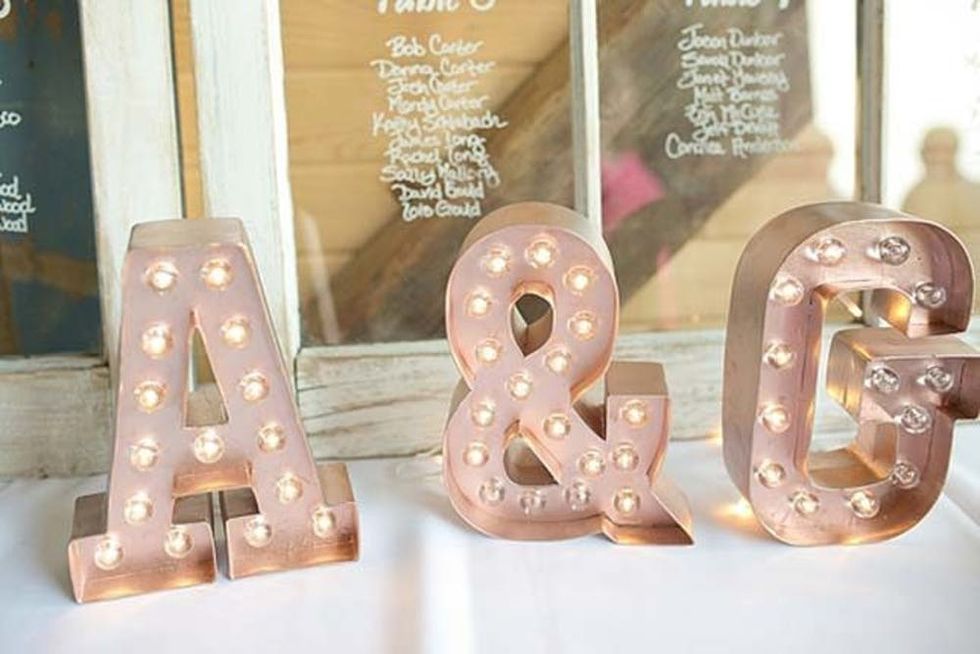 12. Rose Gold Initials: The rose gold trend isn't going anywhere, so if you're including this pretty color into your big day, go ahead and add some rose gold marquee lights to your decor. It'll give you that soft, whimsical, romantic fairy-tale vibe you're going for. (via The Cannons Photography / Heart Love Always)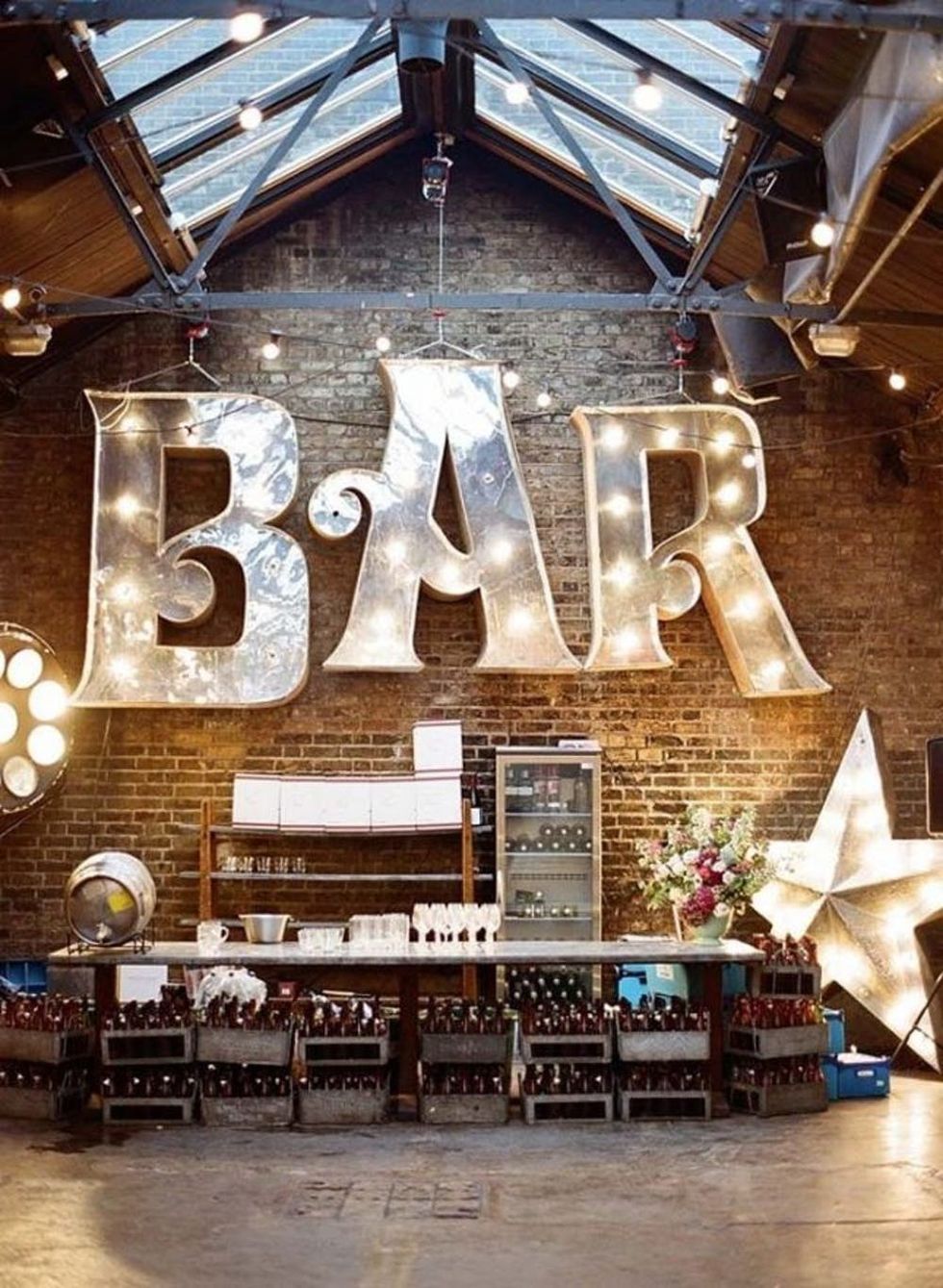 13. Giant Bar Letters: Here's an alternative way to decorate your bar area for your wedding which doesn't call for quite as many things. Hang the giant bar letters across the back wall for an easy reception decor hack. For some extra brightness, place at least one giant marquee lights star against the wall. (via Aneta Mak Photography / London Bride)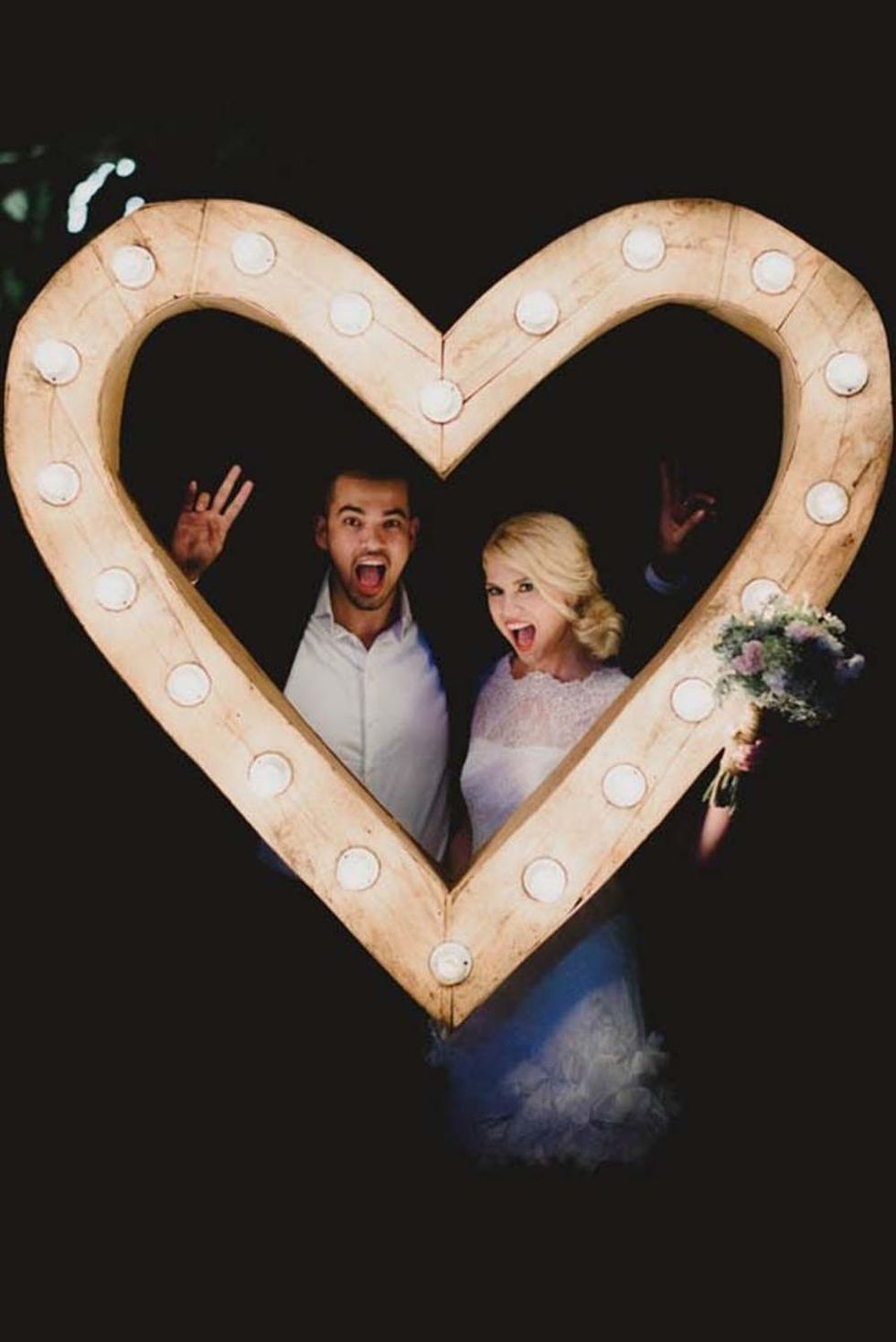 14. Wooden Photo Props: These gorgeous lights also work great as photo booth props. If you're working with an outdoor setup, create a giant heart-shaped wooden marquee prop and turn it on at night for a fun photoshoot sesh. Your guests will love all the fun photos they'll get out of it. (via Terralogical Photography / Junebug Weddings)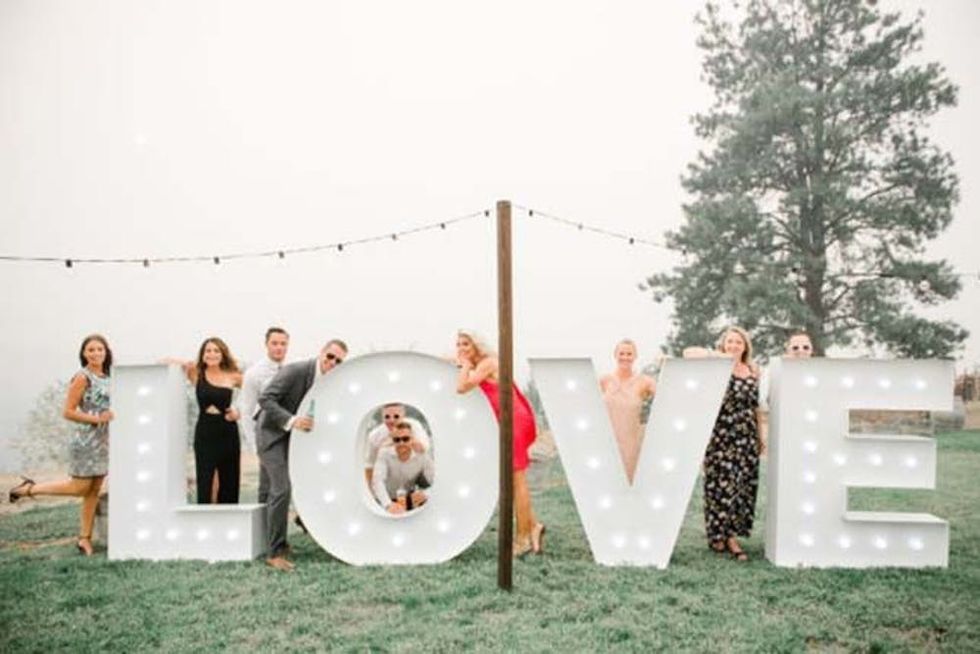 15. Giant Love Letters: If you're looking for the right backdrop to your outdoor ceremony space, try giant marquee letters. It's the perfect combination of practicality, providing photo ops for you and your guests *and* pretty decor. Feel free to spell out any other word you want, or even use your initials for it. (via Christie Graham Photography / Style Me Pretty)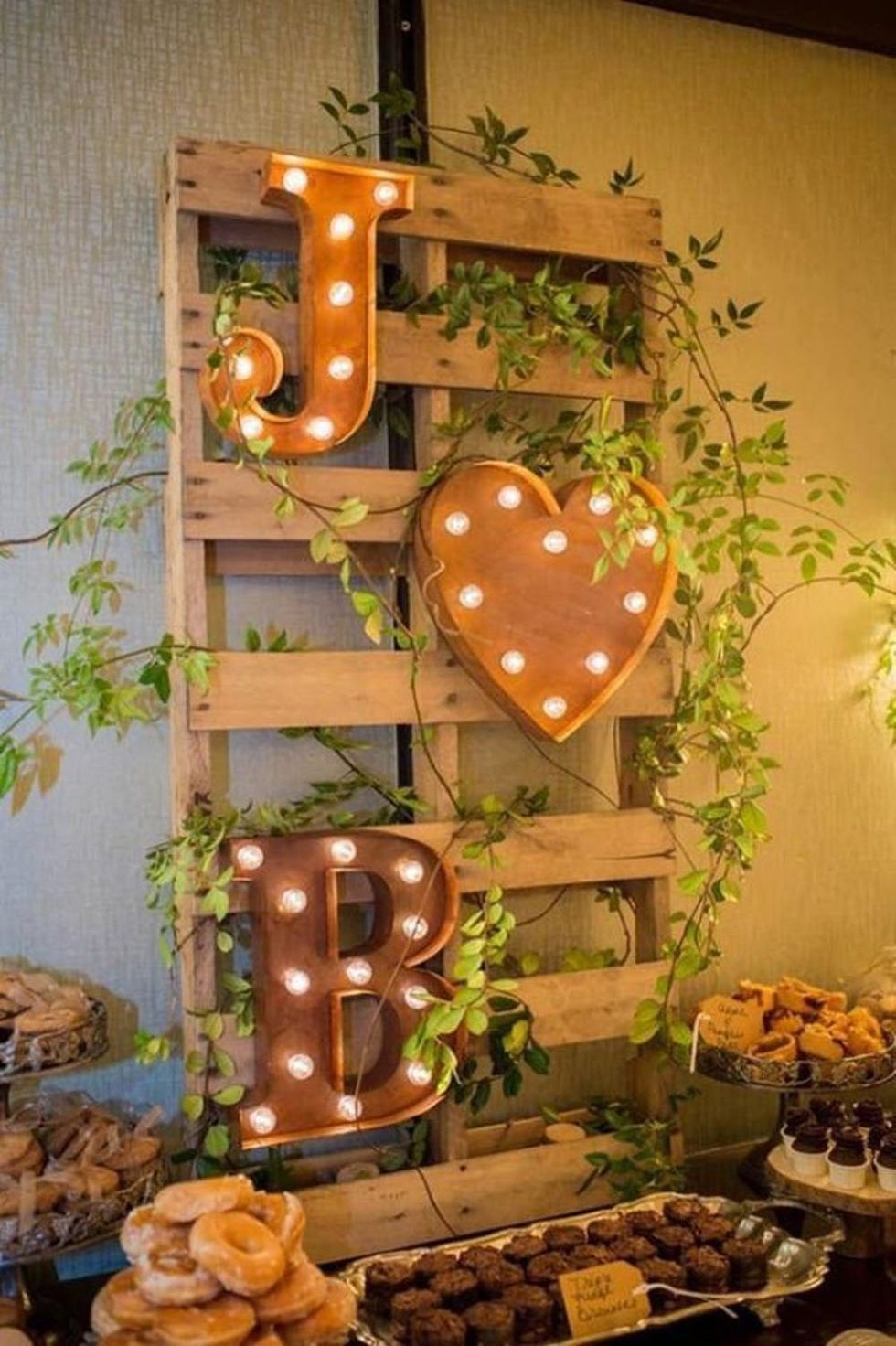 16. Boho DIY Sign: To decorate the dessert table, put your crafty hands to good use and create a backdrop using a wooden palette and marquee letters. If you're digging this whimsical boho look, combine the backdrop with some greenery and plenty of flowers for a similar vibe. (via Cary Diaz Photography / Mod Wedding)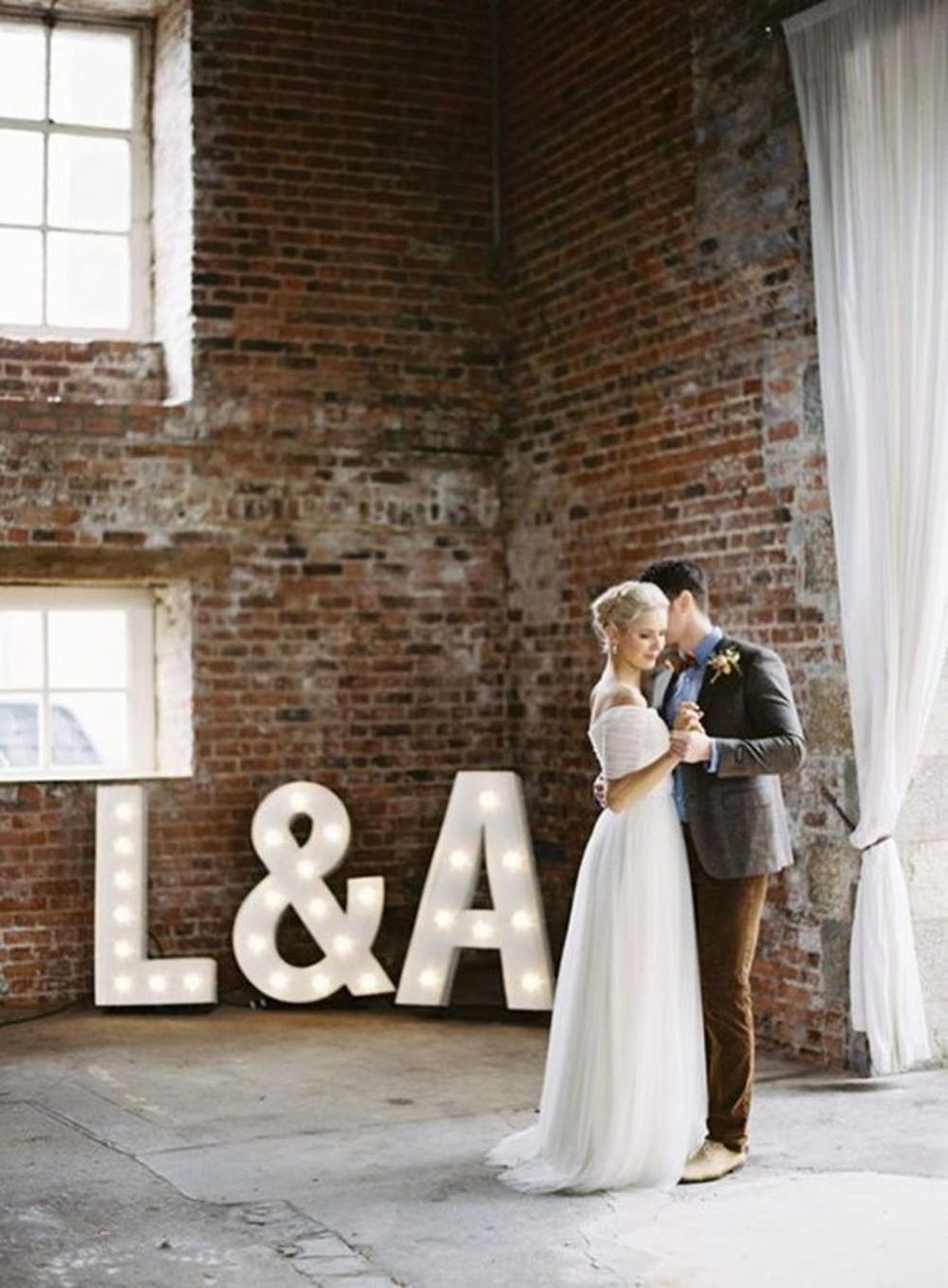 17. Industrial Initials Decor: Marquee lighting is so popular for all wedding themes, but this detail really stands out in an industrial space like the loft above. It's a steal-worthy detail you'll want to have at your own reception. Plus, it makes for super pretty photos! (via Paula O'Hara / Ruffled Blog)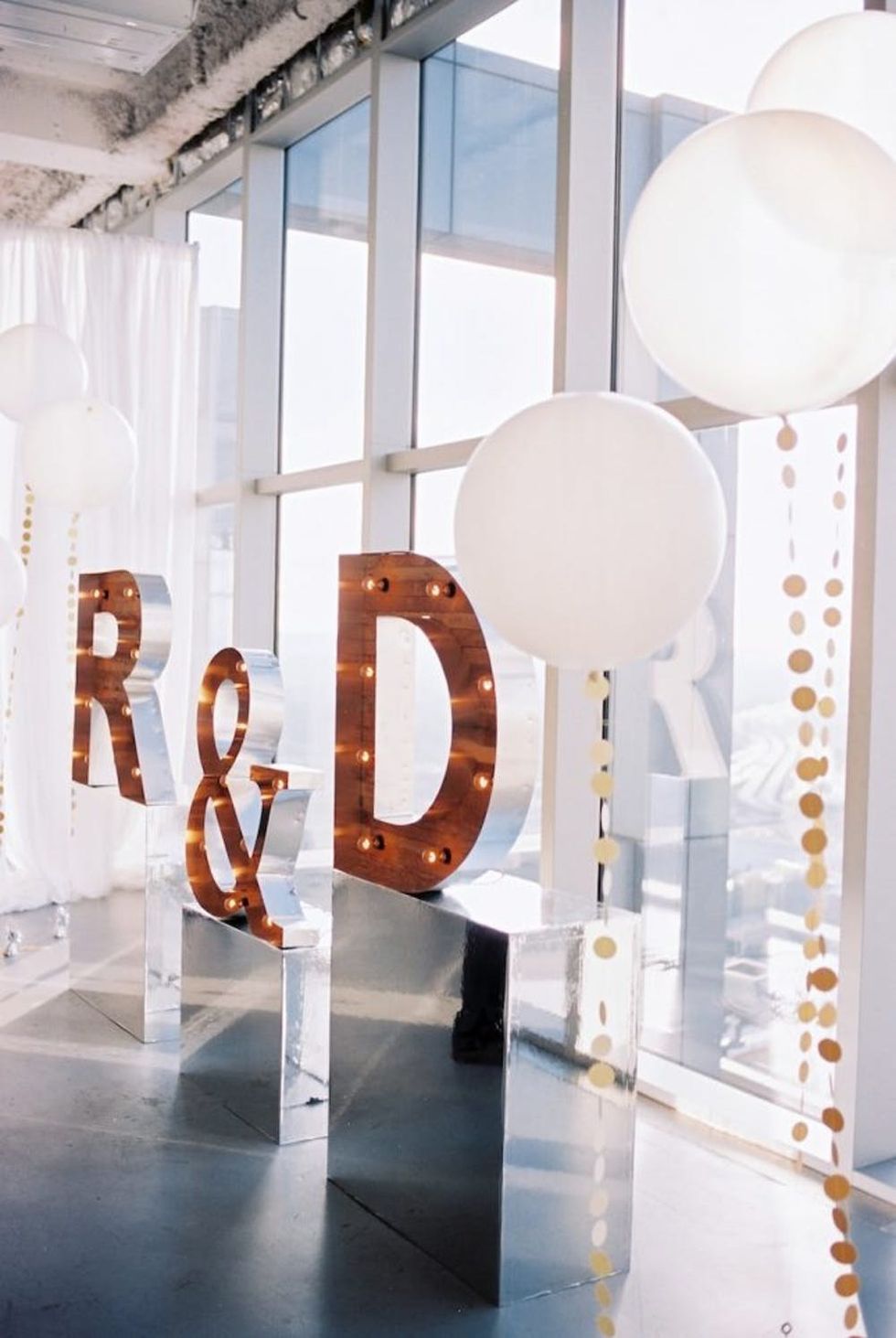 18. Large Initials + Giant Balloons: You and your partner for life are oh-so-modern and all your friends know it. As your guests walk through your wedding venue, it's only fitting that you add some giant marquee lights with your initials and equally glamorous giant balloons. (via The Brothers Wright Photography / Desiree Hartstock)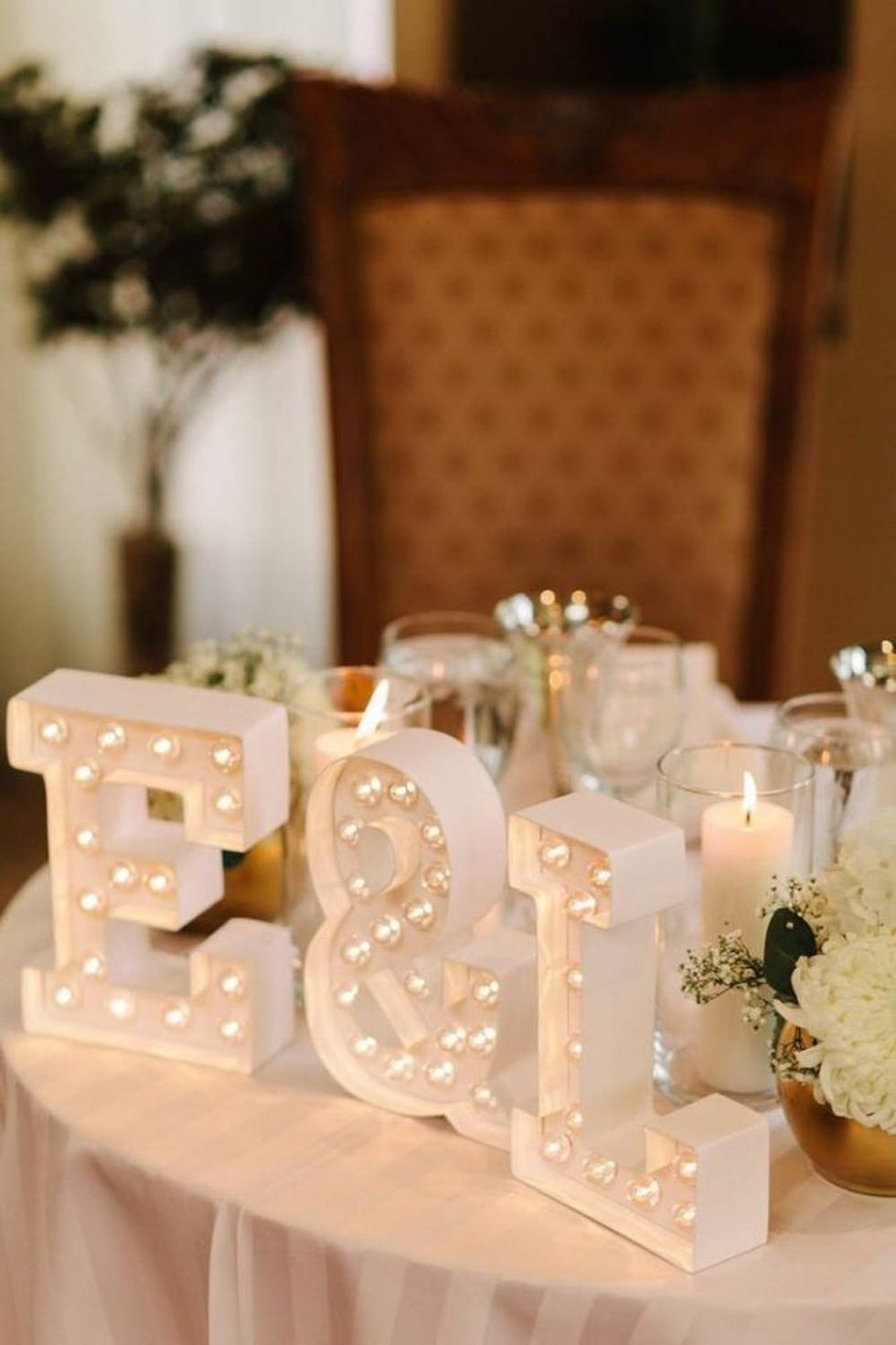 19. Mini All-White Initials: If you're into the all-white wedding scene, then you definitely need to add these mini marquee lights for a practically effortless place setting. They will take your sweetheart table from minimalist to elegant in an instant. (via Joel Bedford / Mod Wedding)
20. Glamorous Sweets Table: Thank your guests during your wedding with this chic and practical sweets table. Whether you DIY the marquee lights or buy them from your favorite Etsy shop, the result will make for a stylish dessert table your guests are sure to appreciate. (via Annie McElwain Photography / 100 Layer Cake)
Your big day is just starting! Check out all things Brit + Co Weddings, and follow us on Pinterest for more beautiful + creative wedding inspo.