This Just In: We Made a Coloring Book and You Can Buy It TODAY!
Nov 10, 2015
It's been a big year for books at Brit + Co. In the spring we released our very first book, Homemakers: A Domestic Handbook for the Digital Generation, full of DIYs, tips, recipes and more. FYI, it makes a great gift for everyone on your holiday shopping list. Then last month we launched the B+C Book Club, and now we're excited to debut our first-ever and *THE* first-ever crowdsourced coloring book for grown-ups, Pattern Play, available at Target stores nationwide and the B+C Shop. Also a perfect present for the holidays ;)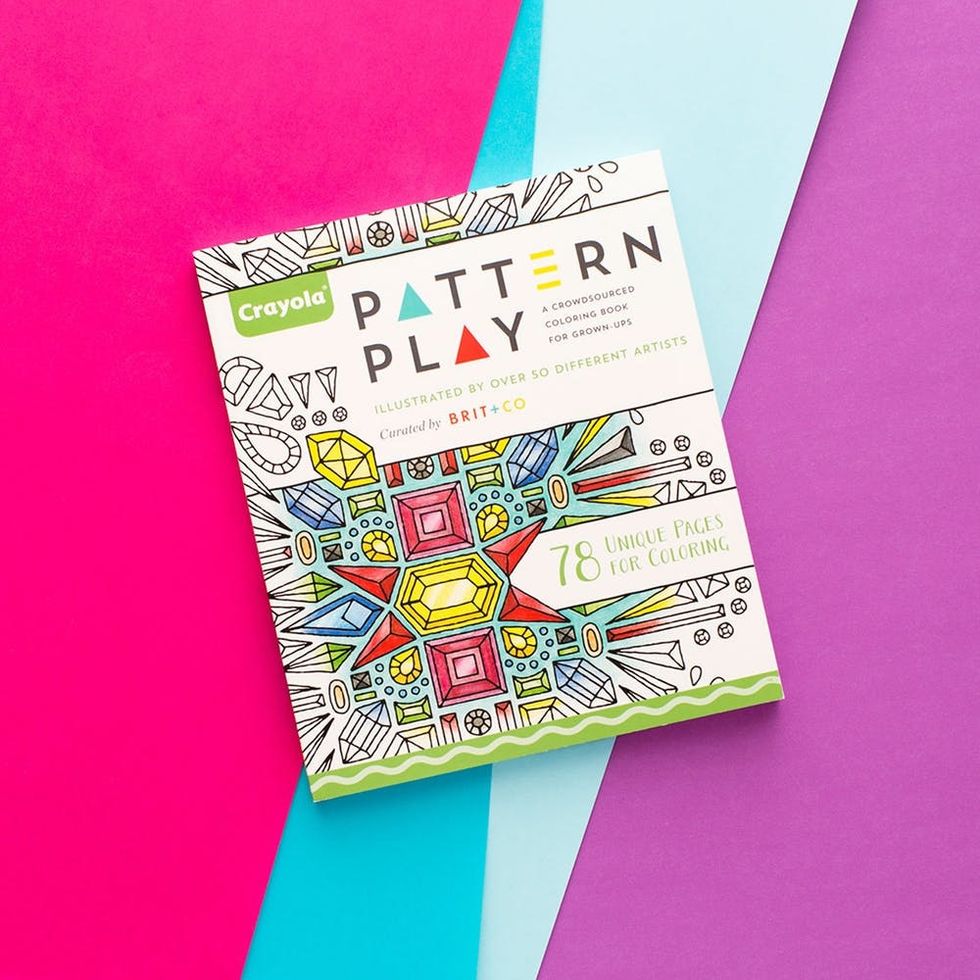 ---
Since our mission at Brit + Co is to enable adults to be more creative, it was a no-brainer for us to team up with Crayola and Target to bring you, our readers, another new outlet to let your creativity shine. Sound familiar? Well it should! We asked all y'all to submit your very own designs for this book earlier this year. Dubbed Pattern Play, this curated, 78-page interactive book is filled with unique, modern and hand-drawn illustrations by over 50 different artists, focusing on popular and nostalgic playful patterns involving donuts, phrases, animals, flowers and more. For us, the definition of patterns goes far beyond the geometric. Patterns are everywhere around us: in nature, in city skylines and even in the clothes we wear every day. In this book, you'll find dozens of patterns that are sure to speak to your artist within.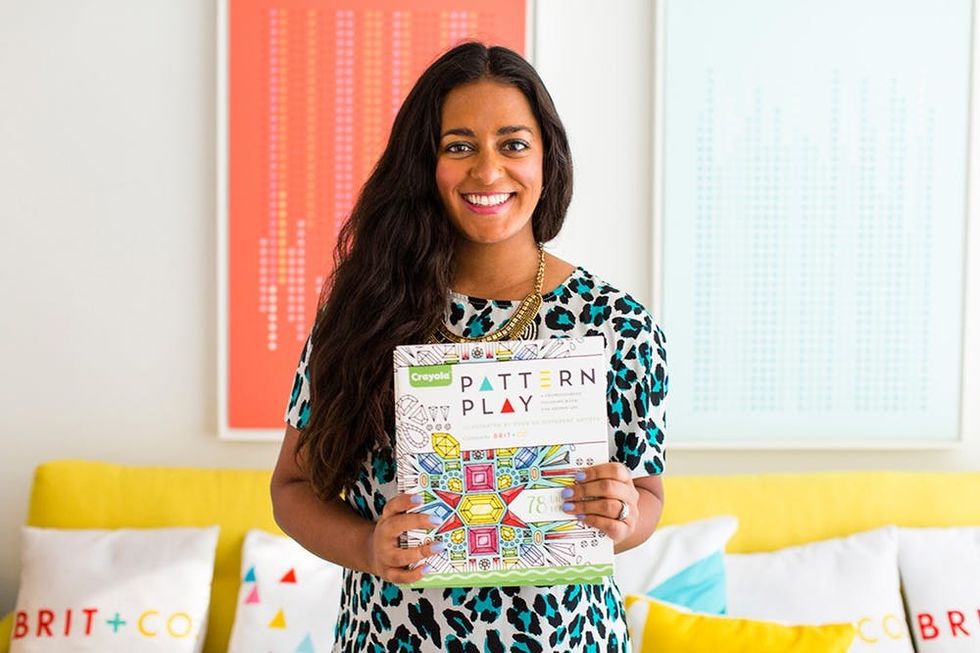 Personally, I've been a fan of coloring as a form of relaxation and creative release for years. And patterns? Well, I'm downright obsessed with them. I even curated a collection of patterned pieces in the B+C Shop dubbed, you guessed it, Pattern Play! :) For those who are creatively curious, coloring is a great way to get started. And for folks who make creative things all the time, coloring can act as a meditative reset.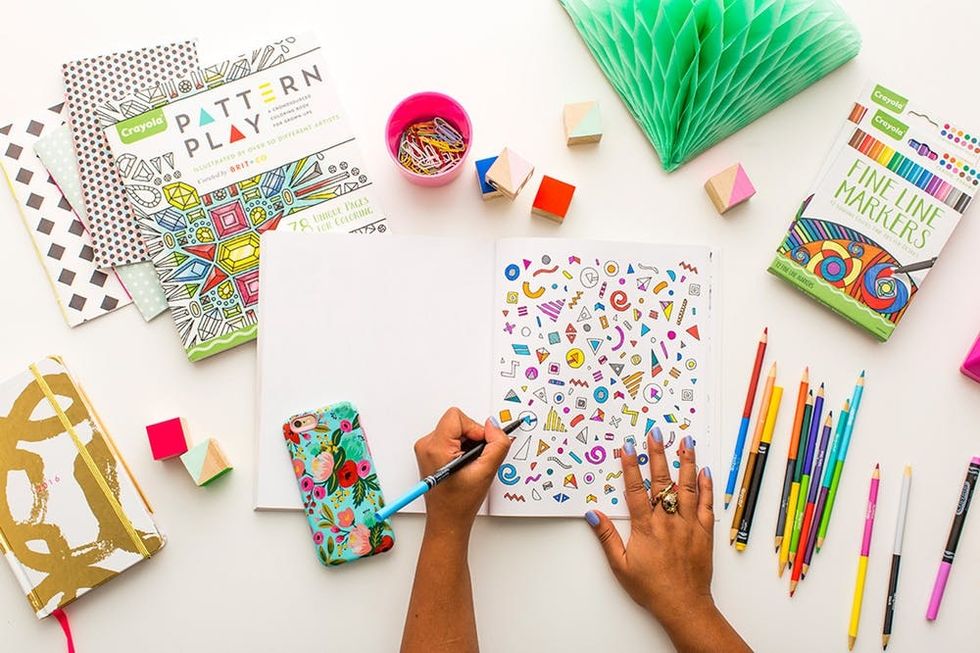 This crowdsourced collection of coloring designs — we had more than 1,400 entries, you guys(!!) — is meant to let your inner artist shine. We wanted to give the B+C community a fresh creative resource that's also an easy stepping stone to broader innovation after discovering startling facts in our annual survey, The State of the Maker Movement Report, an analysis that takes a deep look at creatives. In the report, we uncovered the average age people stop creative hobbies is 19, and they don't find their way back to those extracurriculars until the age of 26, which is exactly why coloring books have seen a resurgence in popularity — they're a simple gateway back to the world of creativity. Kids aren't the only ones that should be able to express their creativity in this fun, interactive and stress-relieving way ;)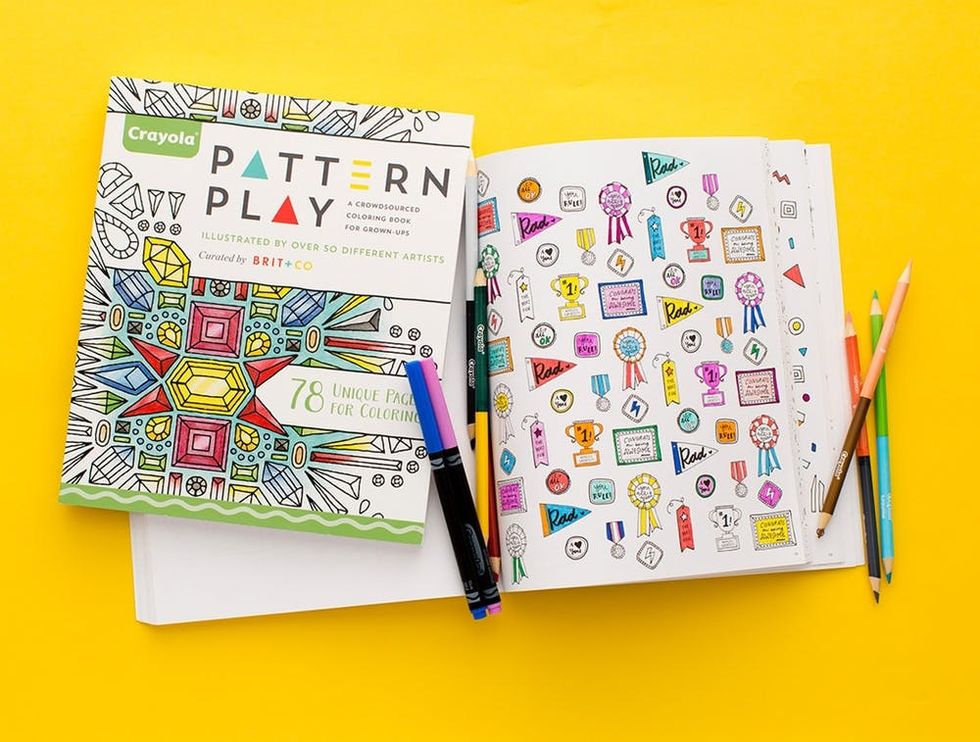 While our main drive behind Pattern Play is to encourage creativity in a fun way, it's been proven that picking up a hobby like coloring is great for the mind and body, helping cognitive, emotional and professional growth. Two birds, one creative stone, right?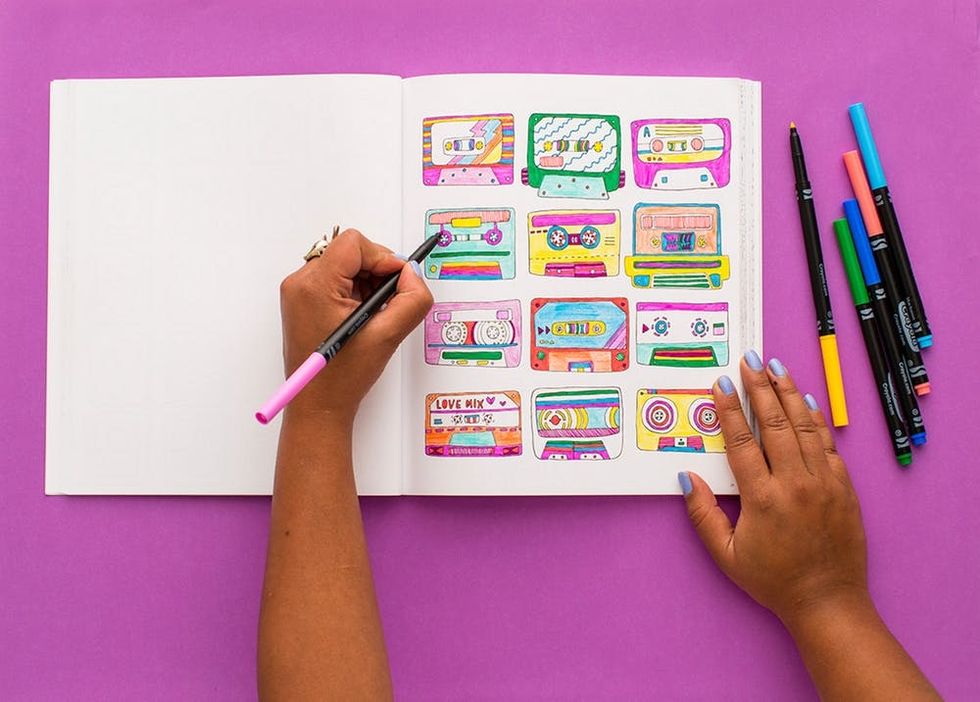 Science has shown that coloring for 30 minutes a day can dramatically reduce stress, lower depression and help you sleep better. It's also been proven that creative hobbies like coloring can be just as good for the body and mind as exercise or meditation. This year's Maker Report revealed that 88% of makers agree that their creative hobbies are a way for them to relax and de-stress. And what better way to express that inner creativity than with an activity that you can also reap positive benefits from. B+C editor Cortney Clift, who spent a week coloring, knows a thing or two about those positive impacts.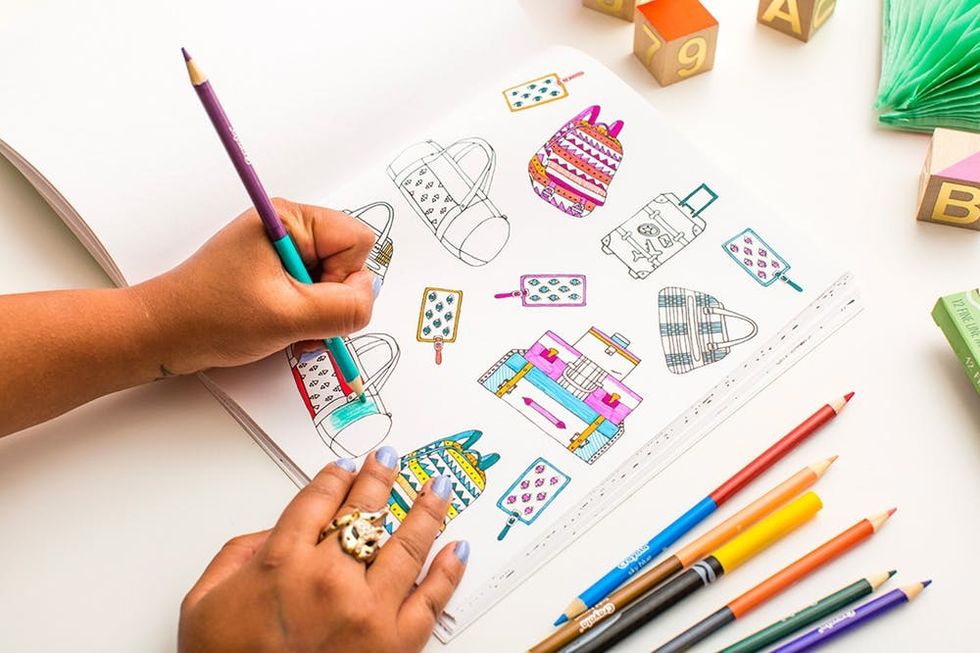 But wait, how exactly did we crowdsource a coloring book? A few different ways! First off, we teamed up with 99designs to create an informative and easy-to-use design contest page. This way, we were able to review a huge portion of design entries in one place. We opened the contest up to all of our readers (that's you!) and invited designers, illustrators and literally everyone to send a concept our way. We also worked with Behance to reach out to hundreds of artists who might be interested. Oh, and we also did some outreach right within Brit HQ! Everyone on our team shared news of our project with creative folks in their various networks and just like that, we found ourselves with over 1,400 entries in a matter of days.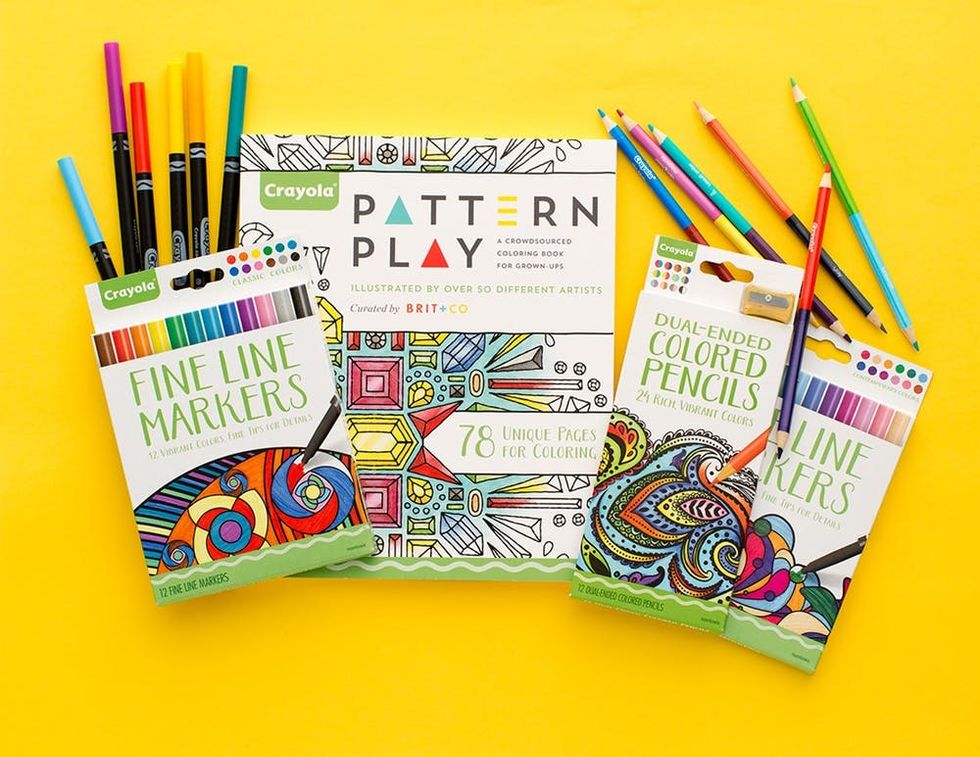 So, what are you waiting for? Turn off your computer screen, put down your phone and pause your binge-watching. The time has come to unleash that childhood creativity that you've been keeping hidden away, or haven't let dim in adulthood (way to go!). Pick up a copy of Pattern Play, or several, in the B+C Shop or in your local Target store's new DIY aisle (full of Crayola products, FYI), head home with a box of fresh Crayola crayons and colored pencils and start the fun experimenting that is coloring with the best patterns around. Then make sure you share your colorful creations — as well as how coloring impacts your life — with us on Instagram by using the hashtag #iamcreative. We can't wait to see what you create!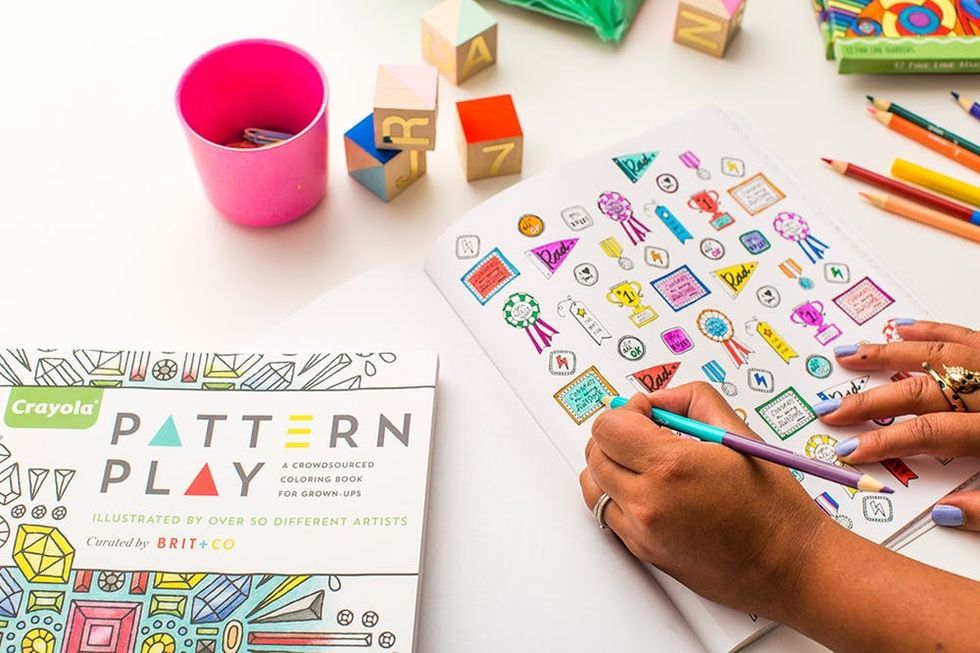 Oh, and a little insider tip: All of the illustrations featured in Pattern Play are one-sided tearaways to prevent bleeding and make them easy additions to that gallery wall of yours ;)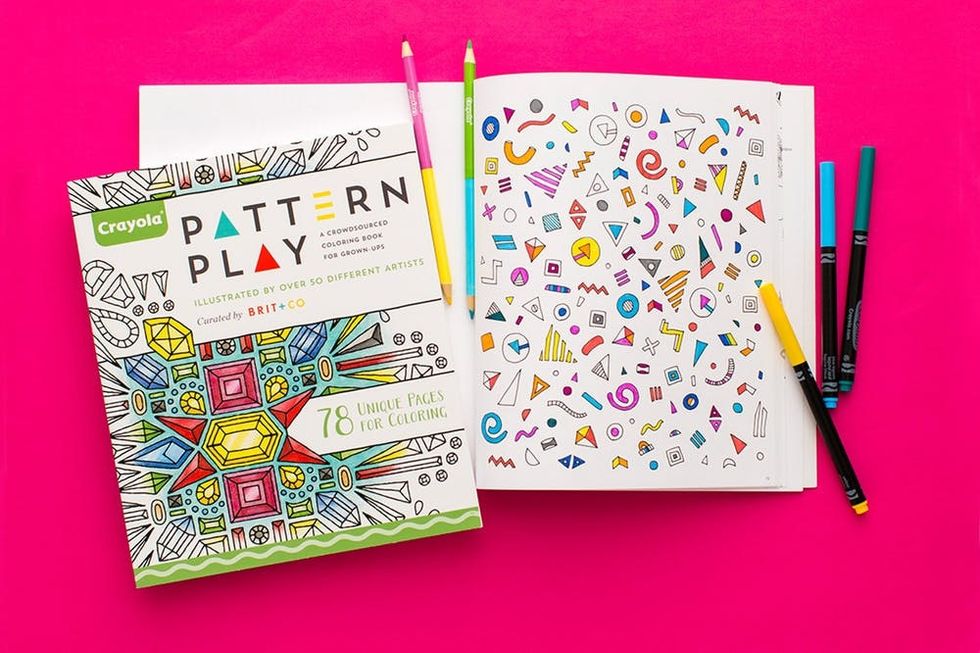 Thank you to all the artists that contributed to the first-ever crowdsourced coloring book, Pattern Play: Marisa Kumtong, Ira Shepel, Elizabeth Doyle, Anjelika Temple, Annie Kubena, Jamie McNeil, Rosee Canfield, Kelly Bryden, Brit Morin, Lee Schellenberger, Roxy Taghavian, Madeline Bachelder, Yising Chou, Irena Nikolic, Kevin Parschalk, Sidig Triwibowo, Mustafa Kembar Mayang, Alejandro Gomez, Brittany Castellano, Elizabeth Ferraro, Liz Tafaro, Brittany Griffin, Erica Halse, Anna Saguinsin, Mariaclara Golfo, Susan Lee, Jennelyn Joy Duran, Amalia Kartika, Christine Innes, Maya Assad, Yihan Wang, Claire Oswald, Amanda Battaglia, Muhammad Sirojuddin, Shoko Ryu, Ark Koss, Cristina Vela, Andrea Orlic, Jenna Rainey, Nilesh Malkani, Vicki Liu, Libs Elliott, Dina Dudina, Jani Tavanxhi, Hector Ureta Matias, Jessica Henry, Jessica Tuazon, Lesia Kabakova and Petya Hadjieva.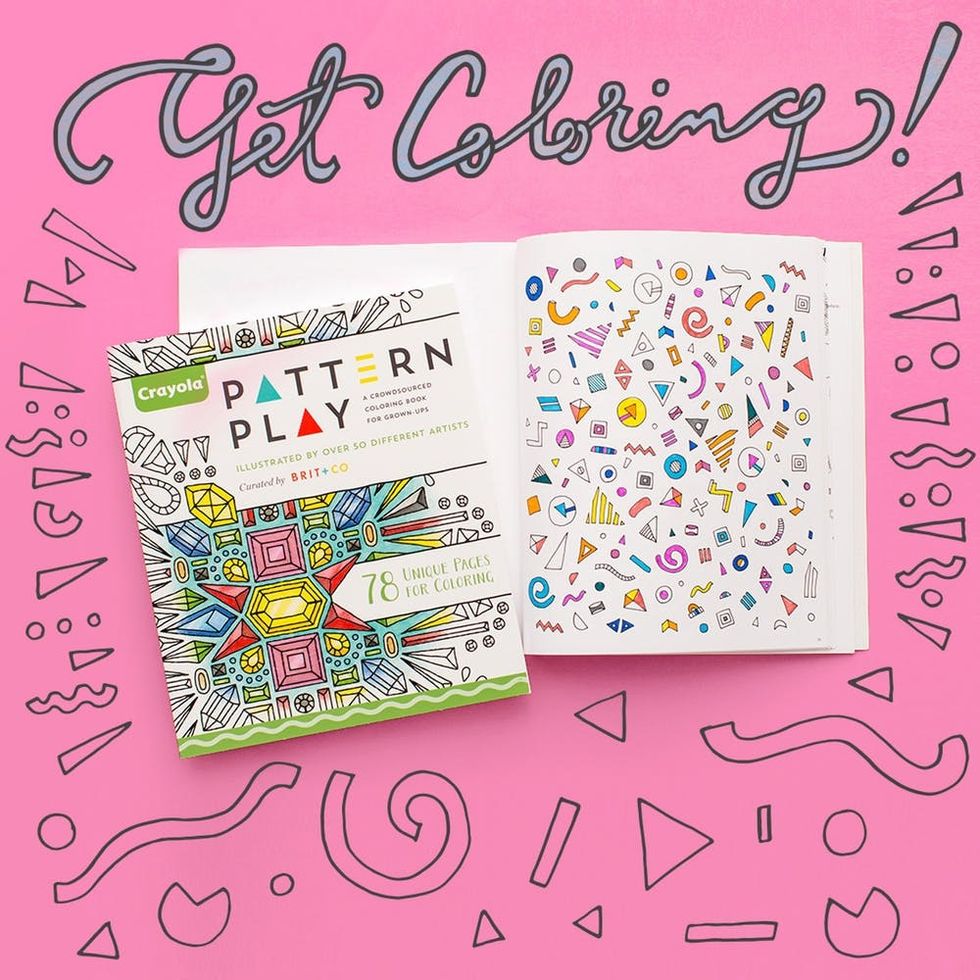 Which design are you most excited about coloring in in the new Brit + Co coloring book? Let us know in the comments and make sure to share your creativity with us on Instagram with the hashtag #iamcreative.
Anjelika Temple
As Chief Creative Officer and Founding Partner at Brit + Co, Anjelika Temple brings her voracious consumption of all things creative and colorful to DIY projects, geeky gadgetry finds and more. When she's not DIY-ing her heart out, you'll find her throwing dinner parties with friends or adventuring with her husband David, their daughter Anokhi, and their silly dog Turkey.
Lifestyle